Do you want to have a successful blog?
Of course the answer to that question is "yes."
But listen . . . you can read every blogging "how-to" article out there, and take every blogging course available, but if you don't protect your content and know how to legally use content from other sources, it could all be for nothing.
Every day blogger content is stolen, and bloggers find themselves in legal trouble for their violations of others' intellectual property rights.
Don't let that happen to you.
By arming yourself with an understanding of copyright and trademark law, and how it applies to bloggers specifically, you can learn how to protect yourself and enforce your rights.
My eBook, The Blogger's Guide to Copyright and Trademark Law, will help you do just that.
The Blogger's Guide to Copyright and Trademark Law will give you the tools you need to make smart decisions for your blog and its content, including:
The basics of U.S. copyright and trademark law
Five key ways to strengthen your blog's copyright and trademark protection strategy
Information about copyright and trademark land mines that bloggers must avoid
Real life stories and examples from bloggers

Curious about what's inside?
Section I:  An Overview of Copyright and Trademark Law
Chapter 1: Copyright Law Basics
Chapter 2: Trademark Law Basics
Section II:  Five Ways to Protect Yourself and Your Brand
Chapter 3:  Choose a Strong, Unique Name for Your Blog
Chapter 4:  Ensure Your Work is Your Own, Or Used With Permission
Chapter 5:  Make Your Rights Known
Chapter 6:  Be Proactive With Respect to Your Work
Chapter 7:  Consider the Need for Copyright and/or Trademark Registration
Section III:  Copyright and Trademark Land Mines for Bloggers
Chapter 8:  Roundup Posts
Chapter 9:  Font Useage
Chapter 10:  Printables
Chapter 11:  Recipes
Chapter 12:  Shopping, Mood Board, and/or Affiliate Link Posts
Chapter 13:  Knock Off or Look for Less Posts
Chapter 14:  Architectural and Travel Photography
Chapter 15:  Social Media
Chapter 16:  Assignments and Licensing
Chapter 17:  Contributor Posts

Wondering what others think?
"Who knew the blogging world was so full of risk and responsibility?"  Bre has done an incredible job of sharing her knowledge of copyright and trademark law in a way that truly makes sense to, and resonates with, the average blogger.  Through reading this book, I not only gained a basic understanding of copyright and trademark law as it pertains to the blogging world, but also my own rights and responsibilities within that.  Without a doubt, this book needs to make its way to the top of every blogger's to-do list!"
Kristi Mercer – blogger at Making it in the mountains
"This easy to read book is an absolutely essential resource to help bloggers understand how to avoid trampling on someone else's copyrights and trademarks, as well as how to protect our own intellectual property.  Overall, the cost of this book is really a small price to pay to minimize your risk of facing costly legal fees or fines later." 
Carrie Ypma – blogger at Kenarry: Ideas for the Home
"This book should be required reading for all bloggers from those who are just starting out to those who have been doing it for a while.  Bre takes her years of expertise in copyright and trademark law and boils it down into easy to read and easy to understand chapters that are specific to blogging!"
Cassie May – blogger at Little Red Window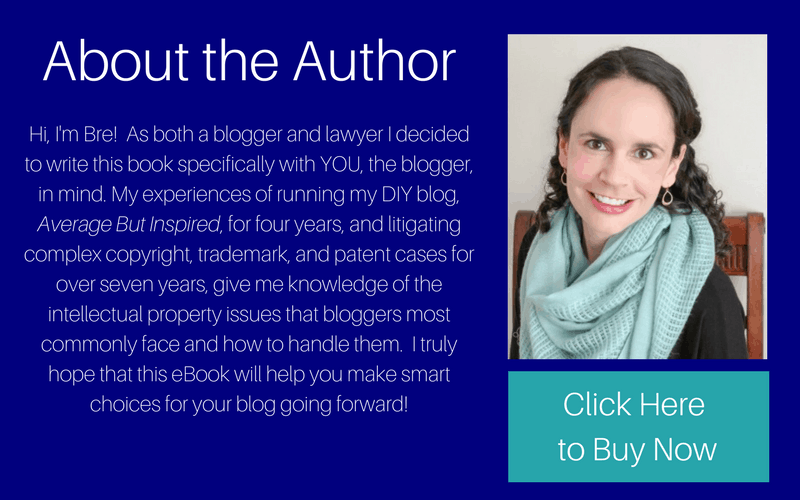 Not convinced yet? Sign up for my
FREE Copyright Basics for Bloggers 5 Day Email Course

to get practical information on protecting your blog and yourself right away!