Oh my gosh.  It feels like I have been talking about this makeover F-O-R-E-V-E-R!  I mean, I guess it's only been around three months or so, but it feels so much longer because it's been on my project to do list for years.  But now my forgotten playroom to shared office space makeover is complete, and I could not be happier to show you around!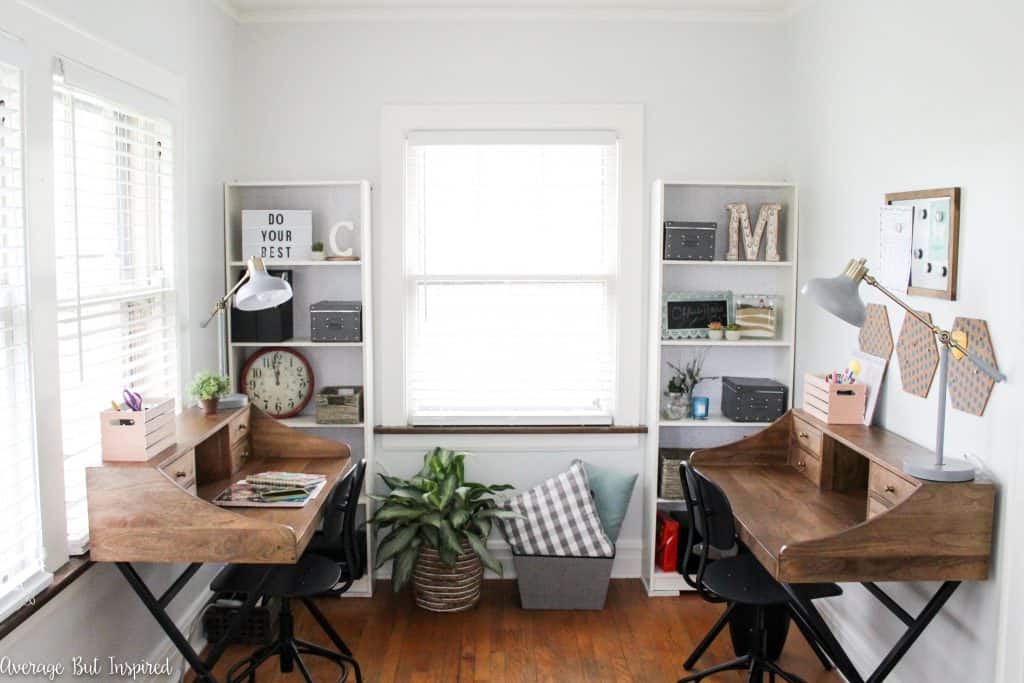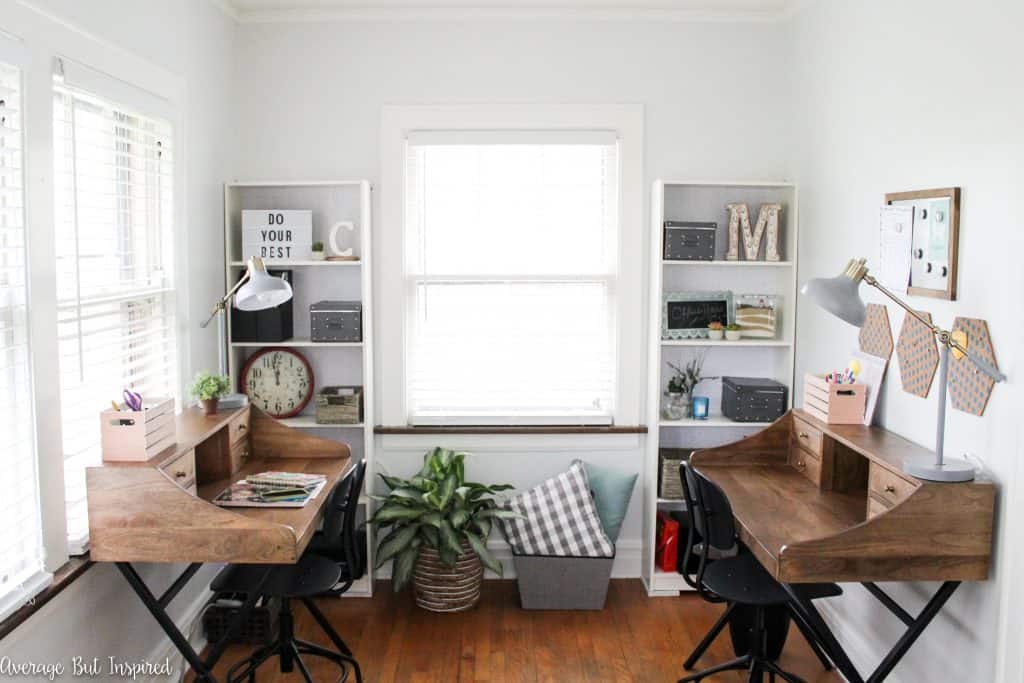 That's just a peek of what's to come.  Of course this wouldn't be a true room reveal if I didn't show you the horrendous "BEFORE" photos, right?  These are flat out embarrassing.  When I say that this room was a forgotten playroom, I am not exaggerating.  It was the room where toys went to die (and eventually be donated to Goodwill).  A mess and a total disaster.  This photo is the exact same view as the above photo.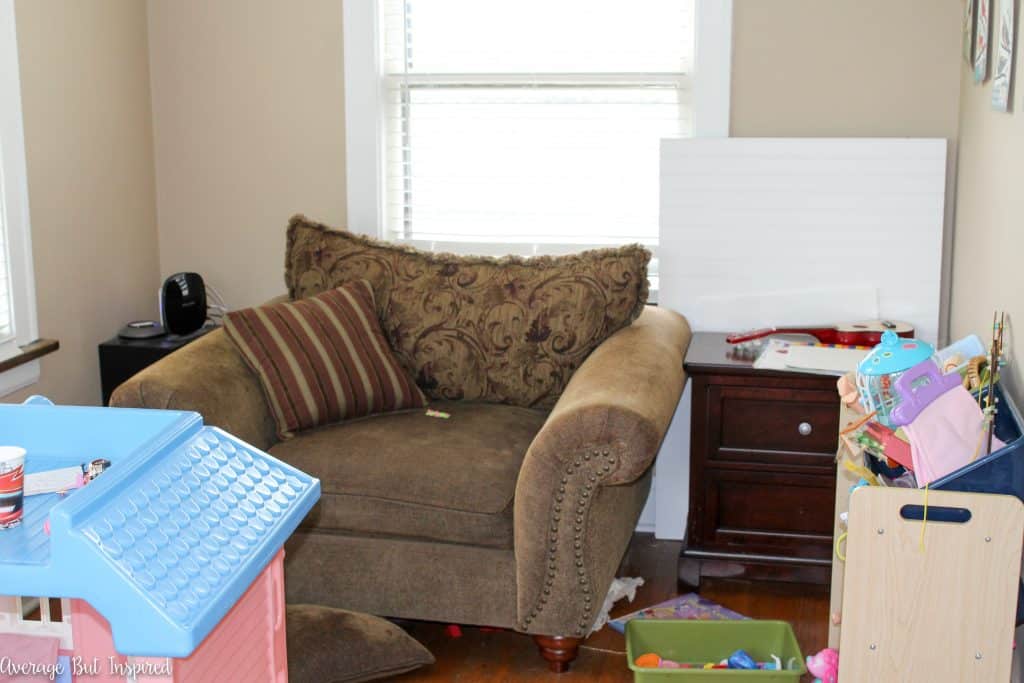 And here's the opposite side of the room.  Insane, right?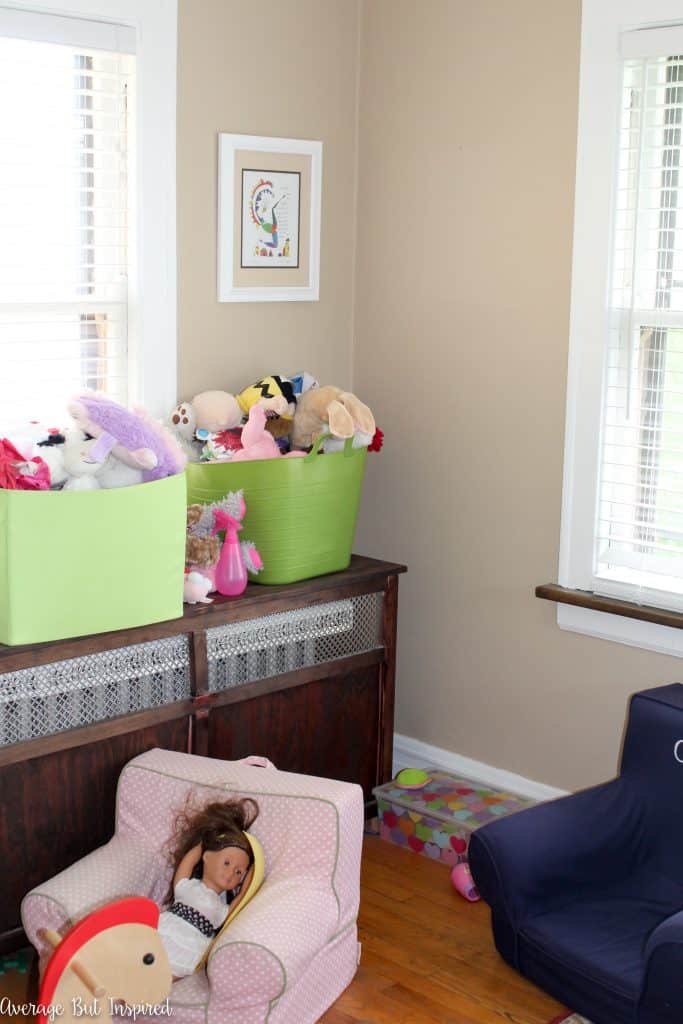 **This post contains affiliate links, which means that I earn a small commission at no added cost to you if you purchase through them.  To read my full disclosure policy, please click here.**
It's probably no surprise that it took me a while to get it cleaned out.  Once I did, I painted the walls, refinished the antique ceiling light in the room, and added a gorgeous new area rug that Rug Expedition gave me.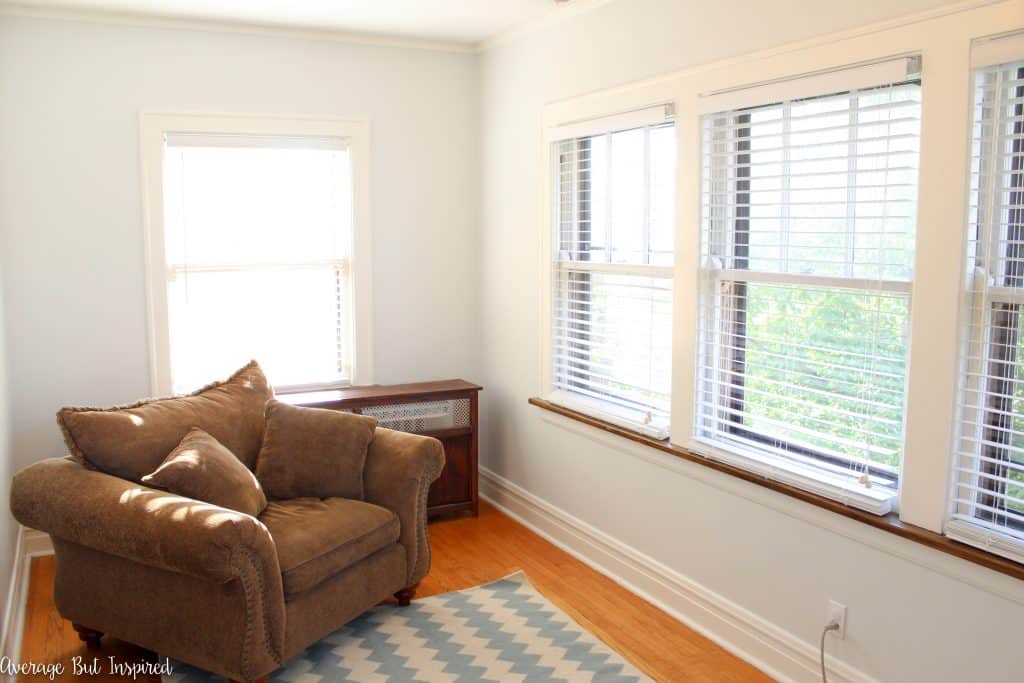 And then it just took months of scouring the end caps at Target, Marshalls, and Homegoods for clearance finds, (and also snagging some great deals online), and the room was done!  😉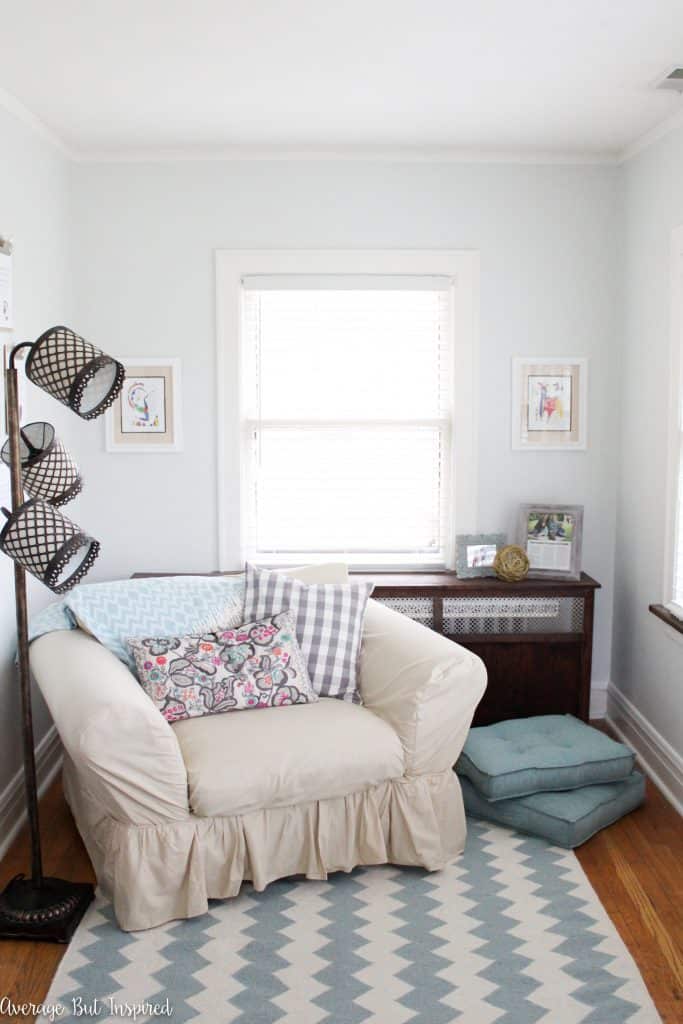 I am beyond ecstatic with the way it all came together!  I ordered two of these cool industrial-type desks from Home Decorators Collection.  They're no longer in stock because they were clearance items.  I got them for under $100 a piece.  SCORE!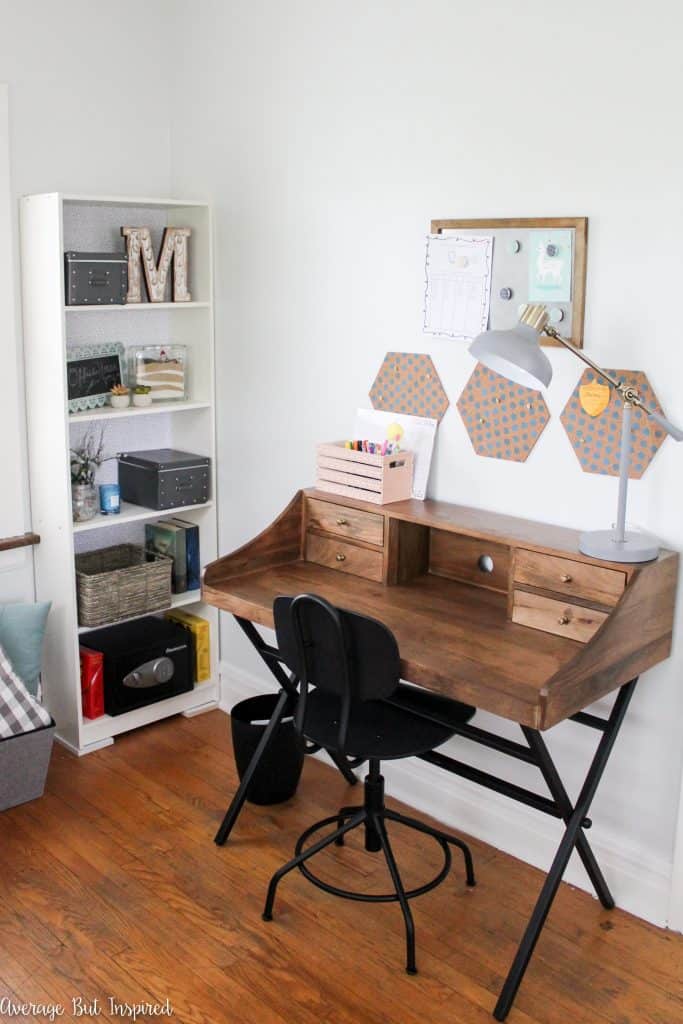 My daughter usually sits and does her homework at this one, which faces the wall, and I do my work at the one facing the window.  Someday my son will probably claim the other desk as his own, but for now, it's all mine.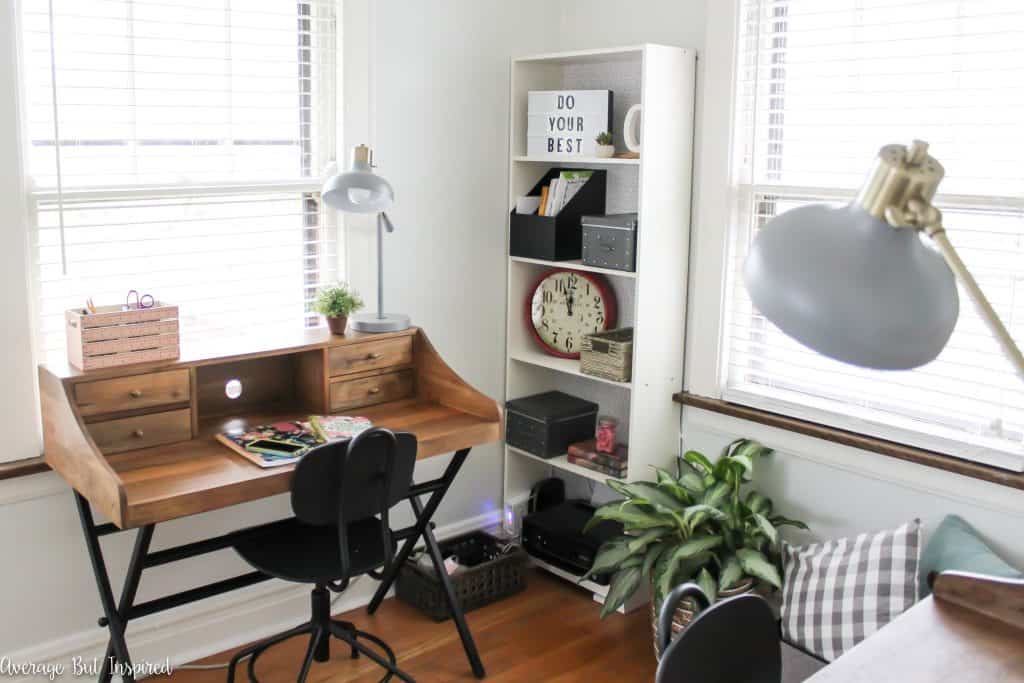 The chairs are IKEA Kullaberg swivel chairs, and the bookshelves are IKEA Gersby.  I added some fun paper to the backs of the bookshelves to give them a little pop.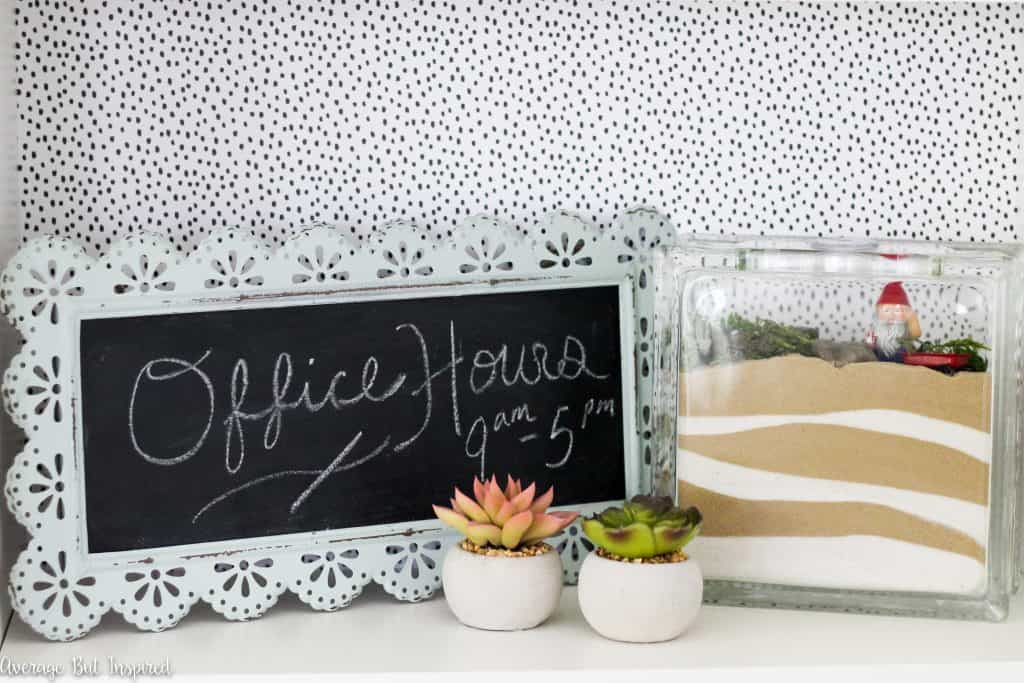 I think my favorite purchase for the whole room was this awesome lightbox.  I cannot wait to leave little notes to my kids on there!  My daughter promptly rolled her eyes at this message.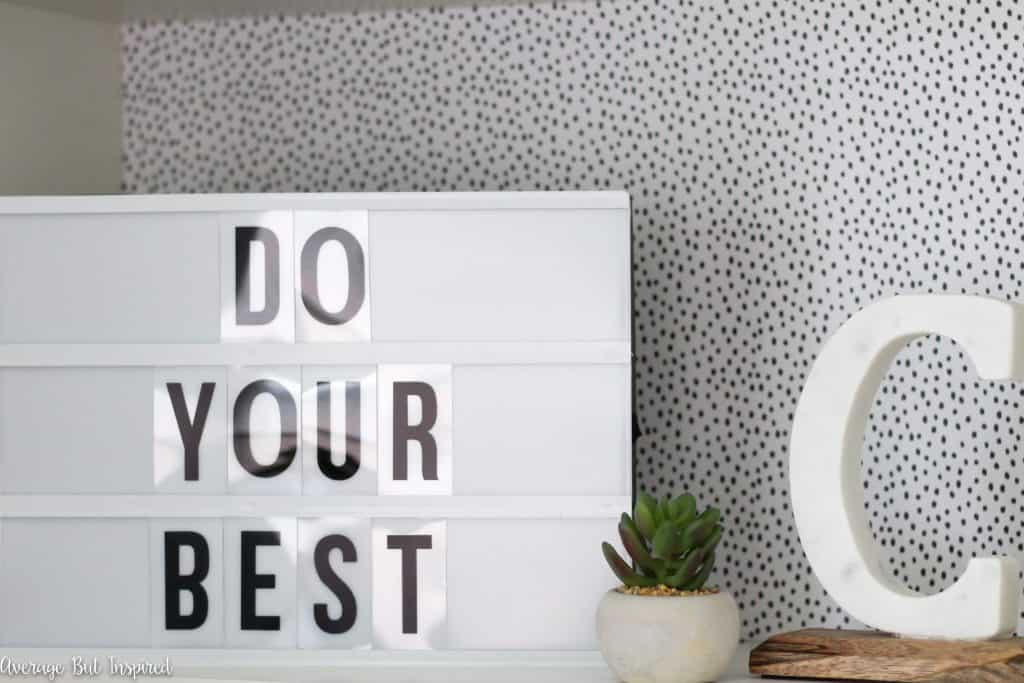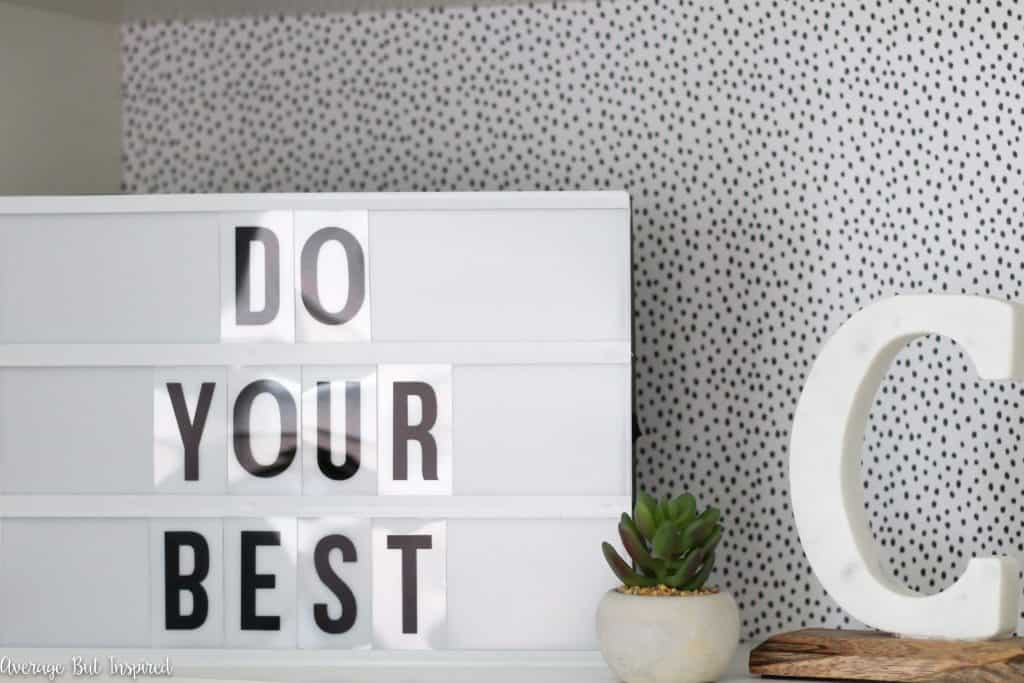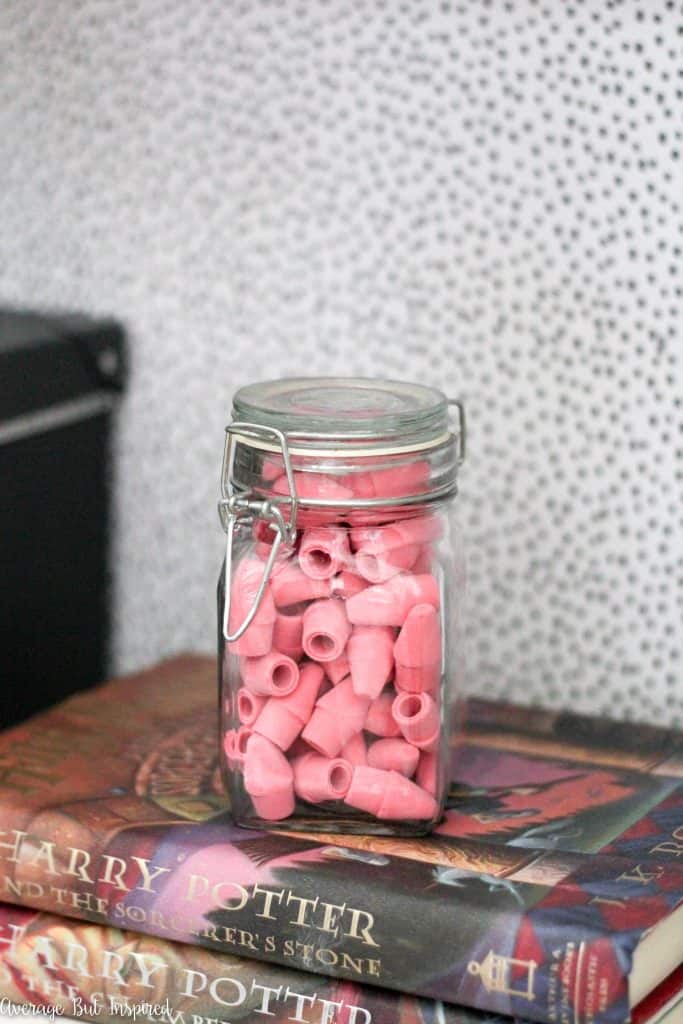 I filled the bookshelves with other fun finds, like a big clock, and other functional things, too, like storage, a printer, my internet stuff (that's a technical term), and more.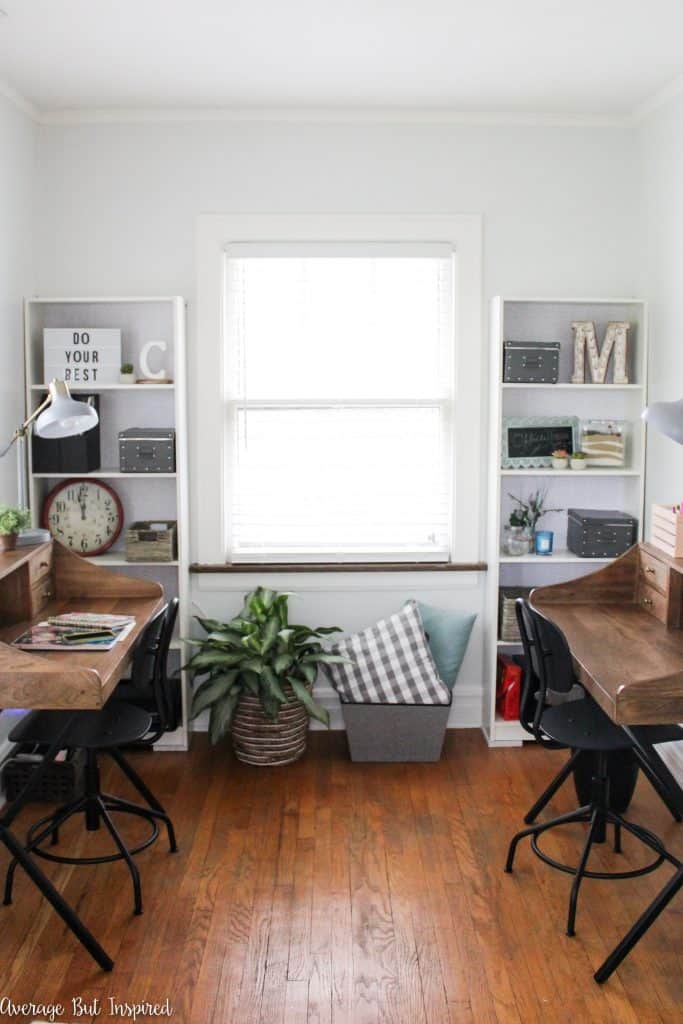 On the other side of the room, I created a little reading nook area.  I slipcovered the huge chair-and-a-half that was already in the room because it was in too good of condition to get rid of.  I would definitely prefer a smaller scale chair, but it's just not going to happen.  This was a budget makeover, people!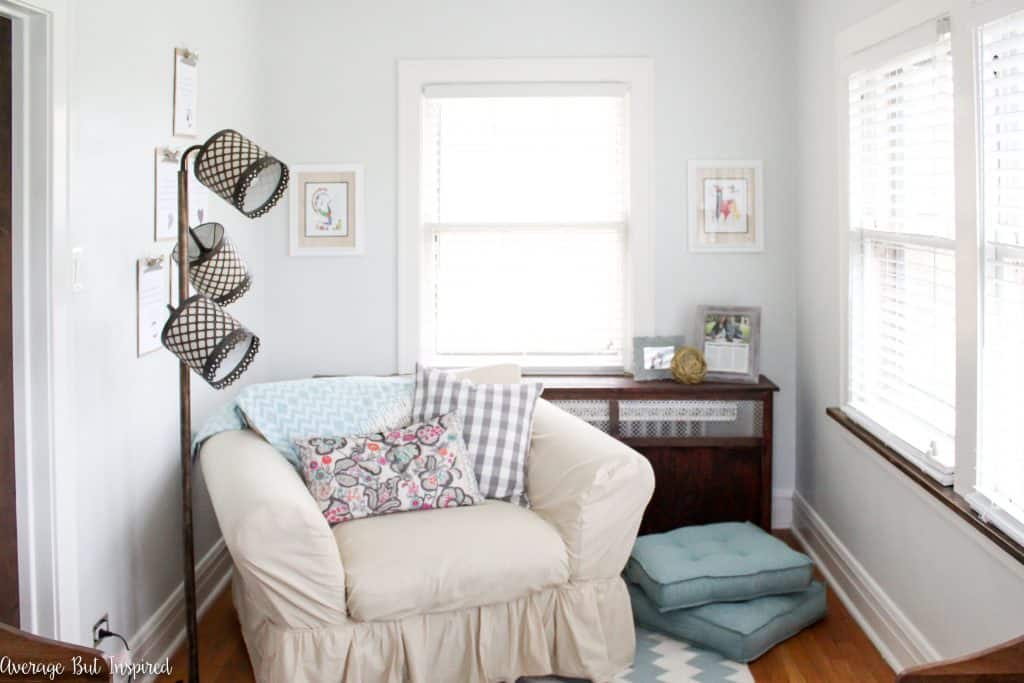 The little floor cushions are perfect for my kids to sit on while reading them stories at night.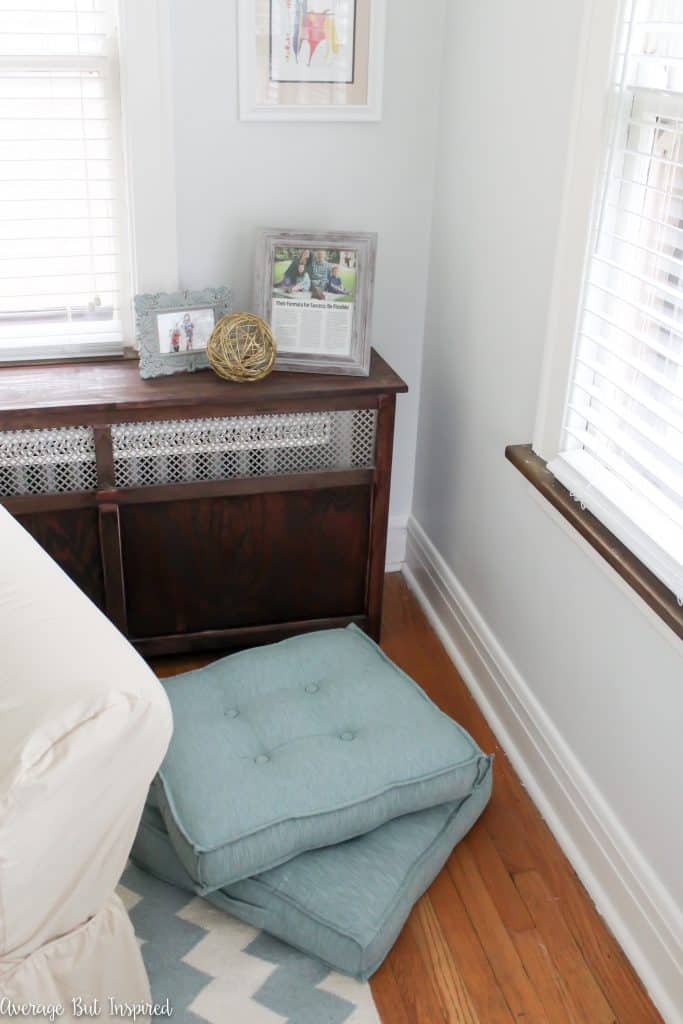 For the wall next to the chair, I printed out inspirational quotes from some of our favorite children's books.  I put them on clipboards so we can change them out as we want!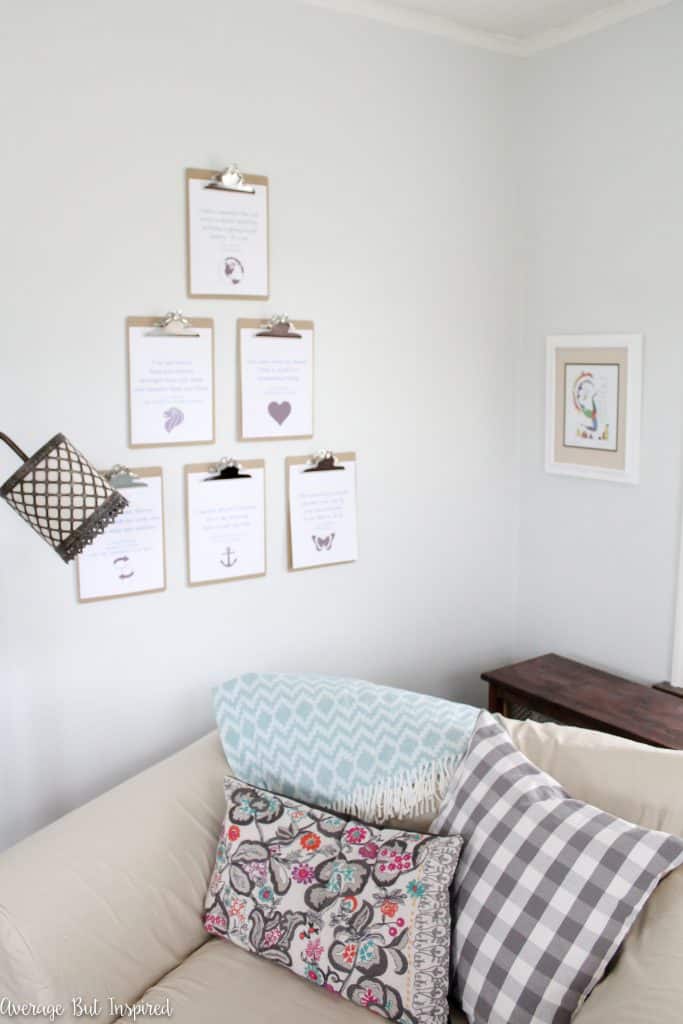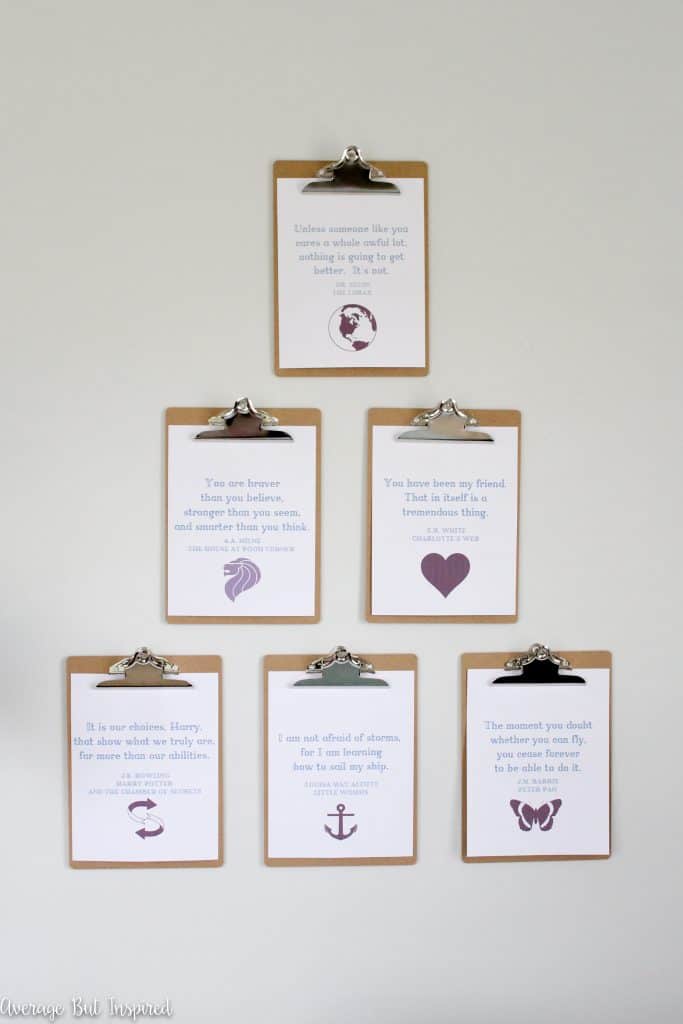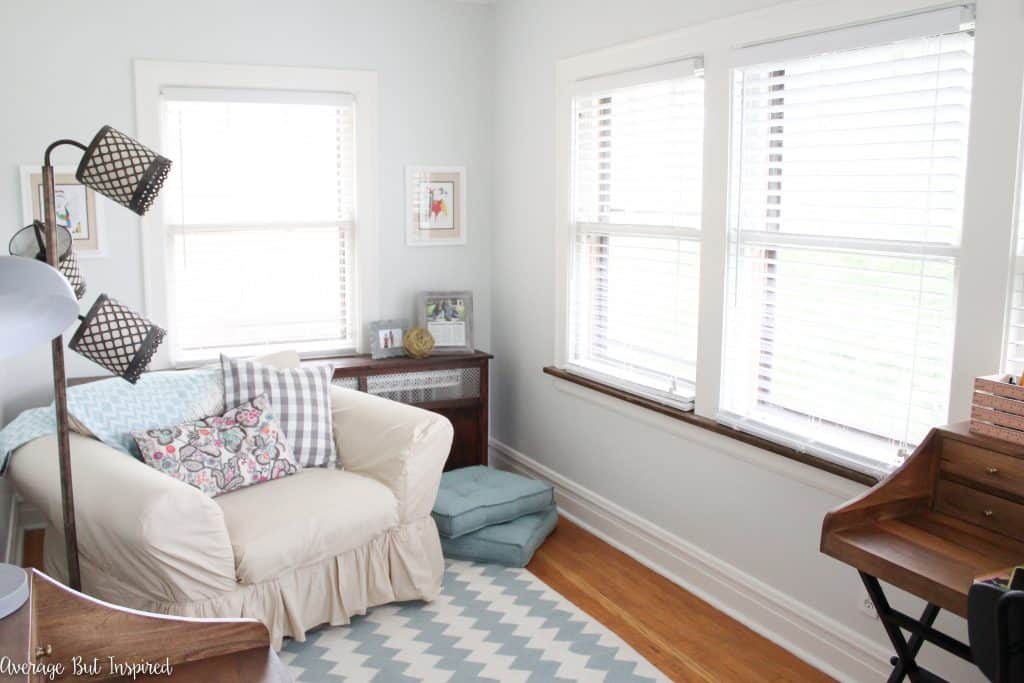 The room is so bright, clean, and awesome!  I absolutely love working in here and even my daughter is excited about doing her homework at her desk!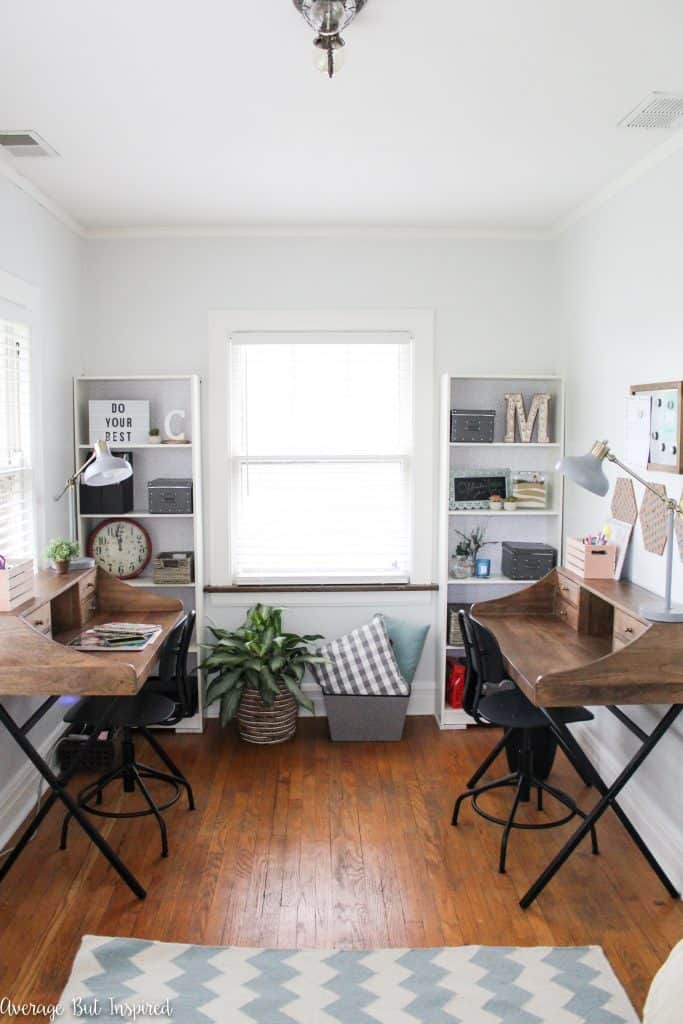 I feel like my slow speed in doing this makeover paid off, because I got great things for the room that I really love.  I know this shared office space is going to be so awesome for my family for years to come!
-Bre
Like the Look?  Click the Pictures to Shop the Post!


You Might Also Like This Vintage Airplane Bedroom Makeover!