Our house had a vibrant orange front door, which I actually loved. But when we repainted the exterior this summer, the orange door wasn't right. I decided I wanted a wood front door to coordinate with our wood-look garage door and wood-accent exterior lights, but I did not want to strip and restain the door: too messy! I became determined to figure out how to paint a door to look like wood so that I could get the wood look without all of the hassle.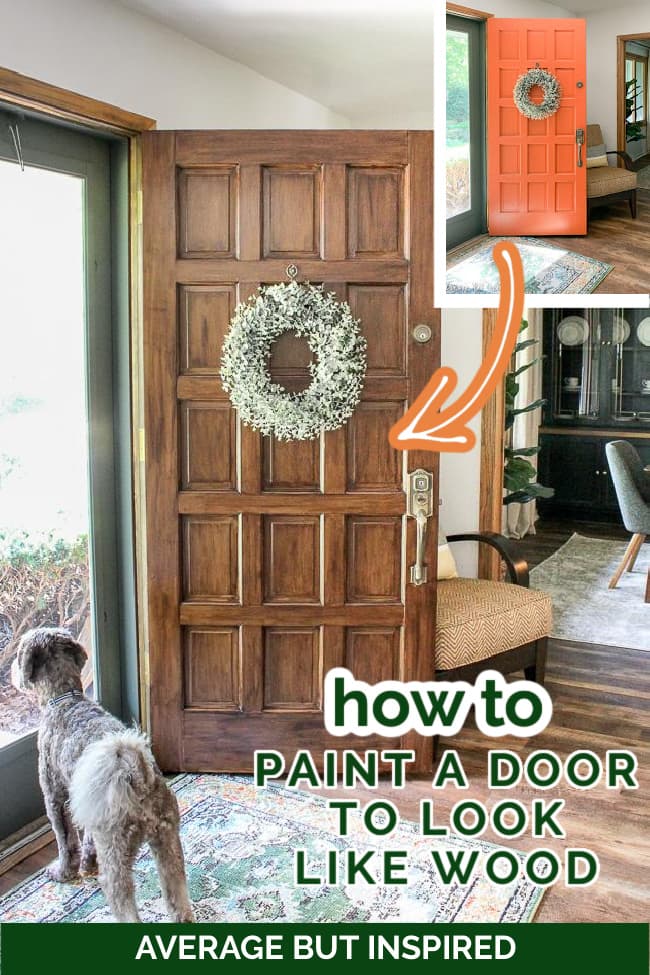 FULL DISCLOSURE: I totally messed this up at first! Because of my mistakes, I probably did not save myself any time and could've stripped and re-stained in the same amount of time. That being said, I perfected the faux wood finish technique and can now share it with you, so it isn't a total loss!
How NOT To Paint a Door to Look Like Wood (My Mistakes!)
Before we get to the good stuff and how to really achieve a convincing faux wood finish, I HAVE to show you how badly I messed this up the first time around. I was trying to get a wood finish with orange undertones . . .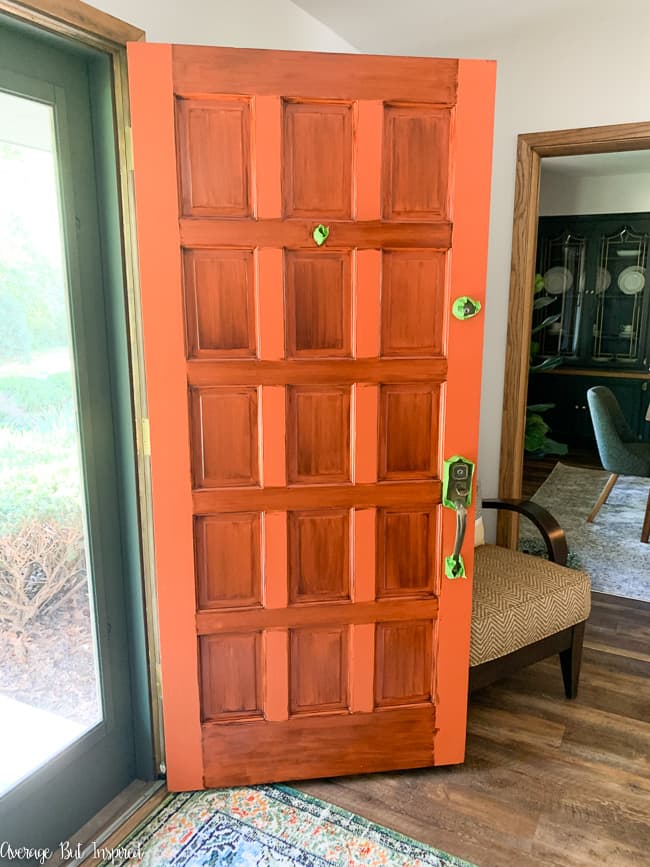 So I applied two coats of gel stain right over the orange paint. And it was awful – so bad that I could only laugh about how horrible it was!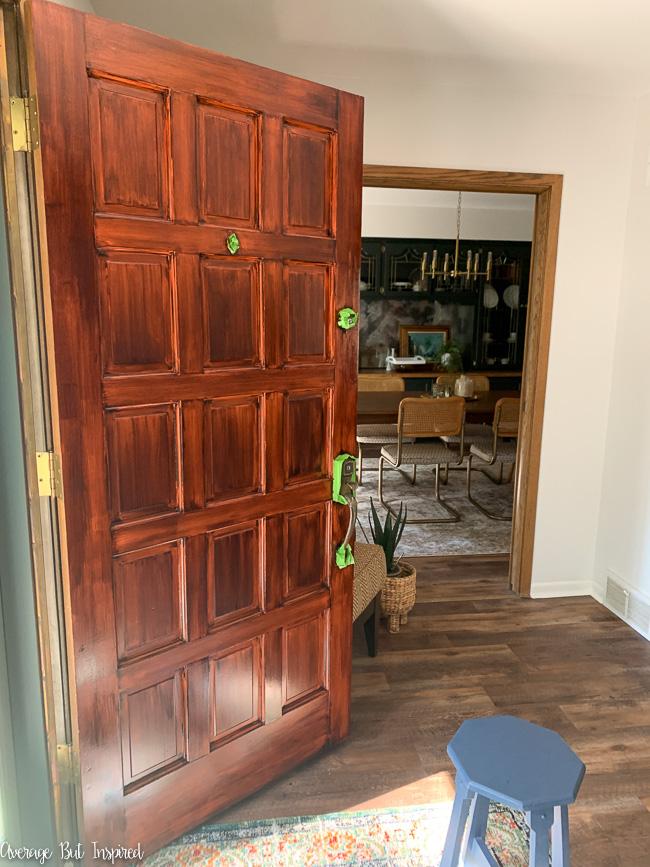 Can you believe this? It was embarrassing to even close the door for anyone passing by to see. Ha!
OK so take it from me – you cannot paint a door to look like wood with orange paint. Not gonna work!
How to Paint a Door to Look Like Wood
Now that we've gotten THAT out of the way, let me show you how I redeemed myself and actually painted my door to look like wood! You can read my step-by-step tutorial in this post and watch the video I've put together that shows you how this all went down!
Supplies Needed to Paint a Door to Look Like Wood
This post contains affiliate links. To read my full disclosure policy, please click here.
Flat latex paint in a shade of brown
Cardstock or cardboard with a straight edge
Sandpaper
**May need primer if your door has never been painted
Step One: Sand and Tape Off Hardware or Remove Hardware
Before you start, make sure to protect your door hardware with painters tape, or to remove it.
You'll also want to spread a drop cloth underneath the door to protect surrounding surfaces and the floor beneath.
Then, lightly sand the door to remove any glossy surfaces, and wipe the door clean.
Step Two: Paint the Door Brown
OK so after my orange paint plus gel stain disaster pictured above, I realized that the gel stain wasn't the problem; the orange paint was. I went to my basement and found a gallon of flat latex paint in a soft brown shade. It was left by the previous homeowners and I considered it a gift from God.
I painted over all of my ugly orange mess with the flat latex paint.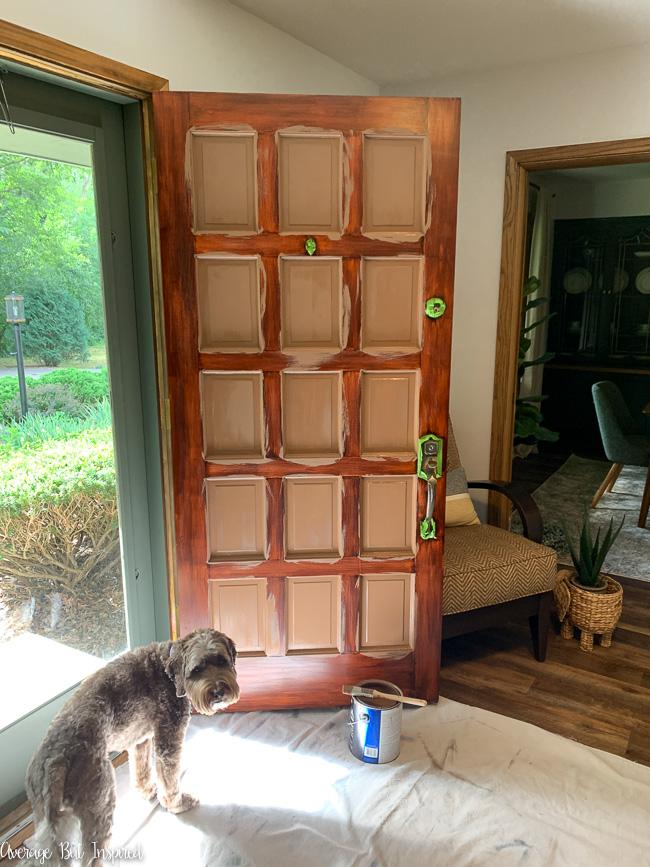 Even my dog looks sad in this photo.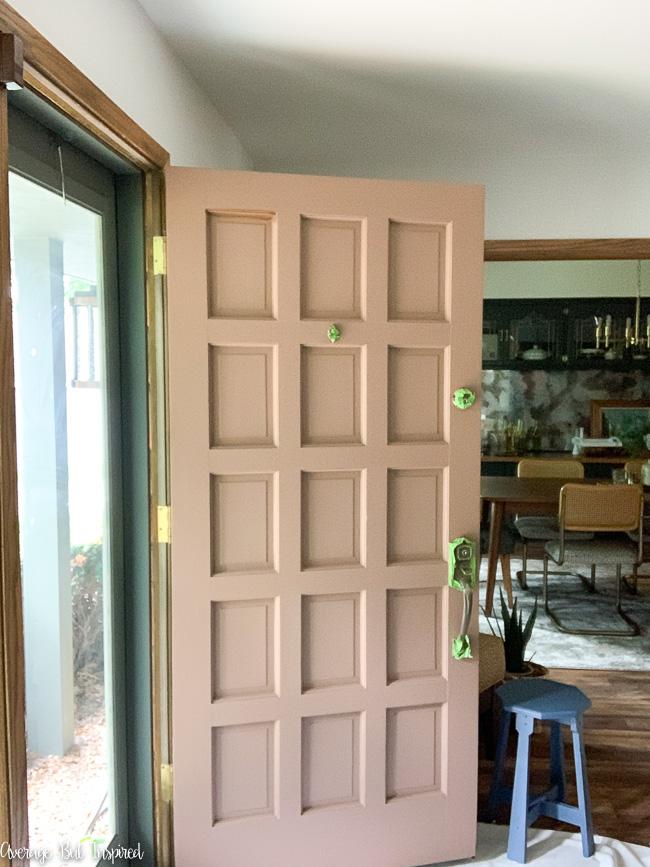 Thank goodness that ugliness was gone!
**If you're painting a door that has never been painted, make sure to prime it first!
Step Three: Apply a Coat of Gel Stain to the Entire Door
Once the paint dried, I started applying gel stain right over the paint. I began by using a 1″ foam brush to spread the gel stain but quickly switched to a stain pad, as it was much easier to get it in all the nooks and crannies. (Make sure to read my post on The Best Gel Stain Tips and Tricks, too. It will help you have better success with gel stain!)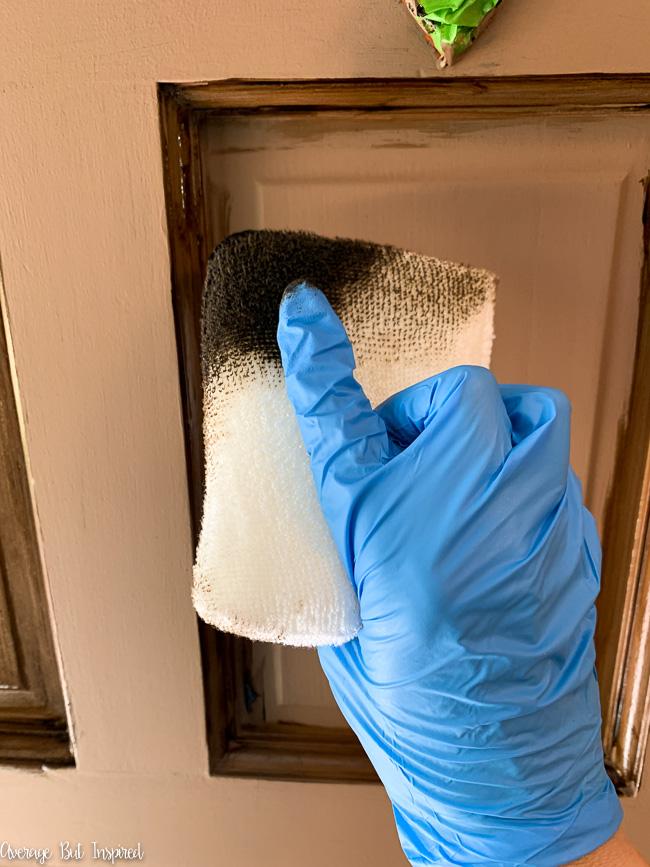 For the tight corners I used artist paintbrushes to spread the gel stain.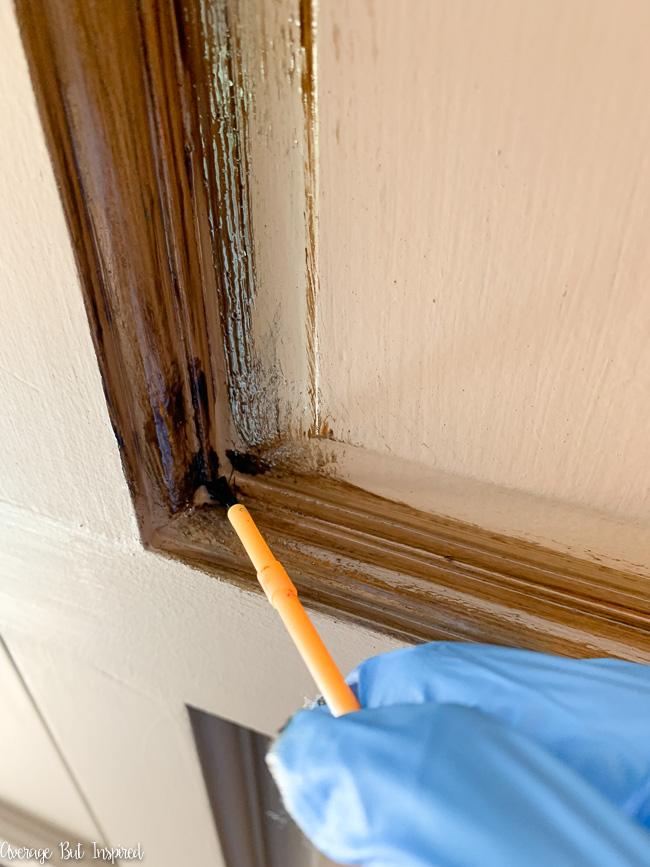 Once the whole door was covered in gel stain, I let it sit overnight to dry. It already looked better than it ever did with the orange base color, but it still wasn't great.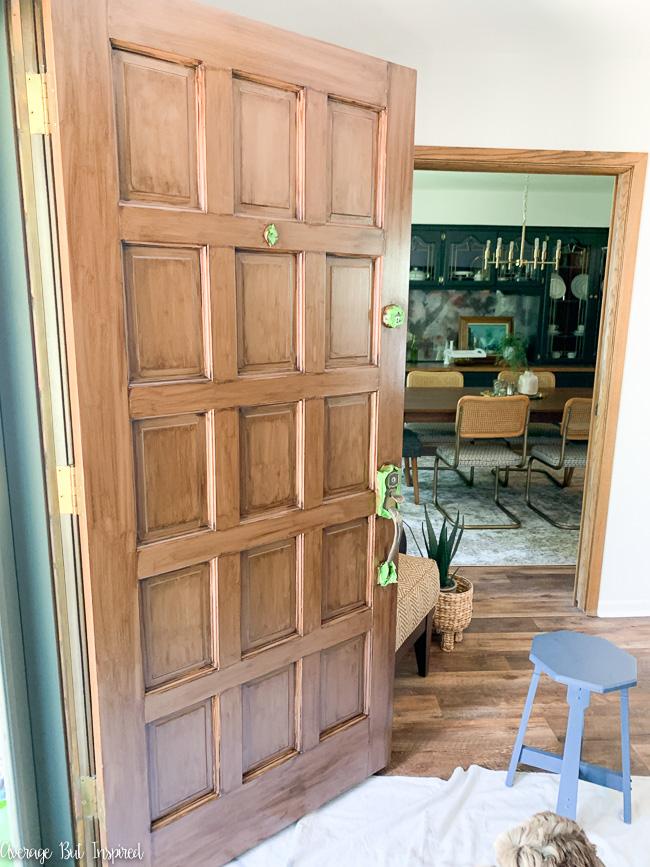 Step Four: Apply a Second Coat of Gel Stain
Here's where the magic starts to happen. For this next step, I worked rectangle by rectangle, and then row by row, and then column by column, to create the look of wood grain with gel stain.
I will show you how I did this in a rectangle part of the door. I started by applying a coat of gel stain in a rectangle with my stain pad, and I got into the corners with the artist brush.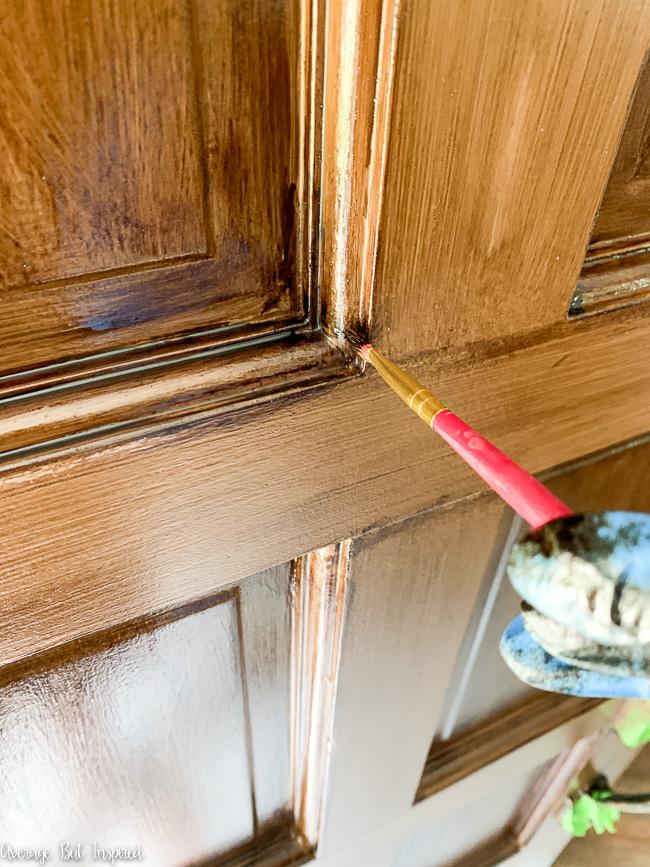 Then, I took the 3 inch chip brush, and I gently ran it over the flat part of the rectangle, from bottom to top, to remove some of the gel stain and to add a woodgrain pattern to the door.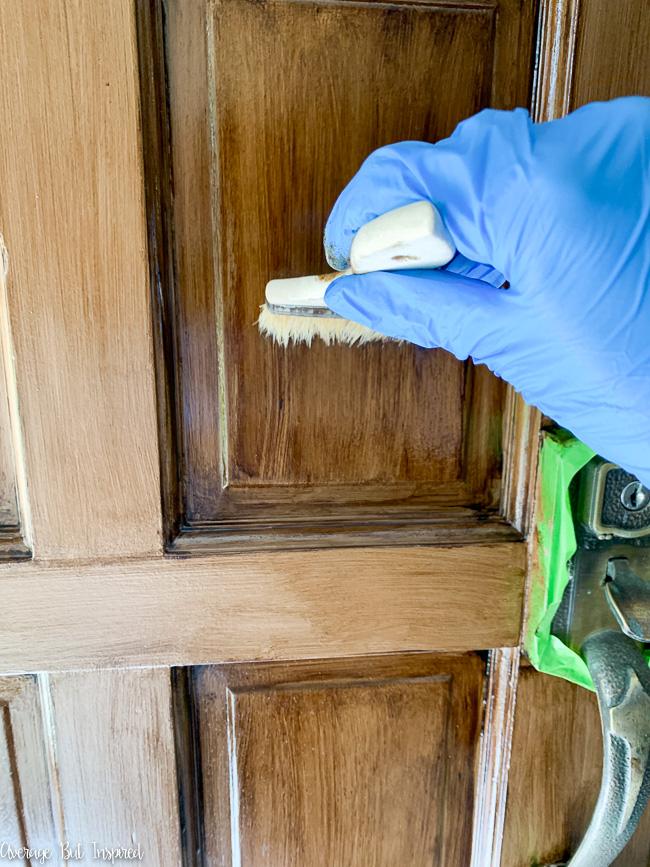 I varied how I moved the brush: in some rectangles it was straight down to up, and in others I did a little bit of a curve as you see in woodgrain sometimes.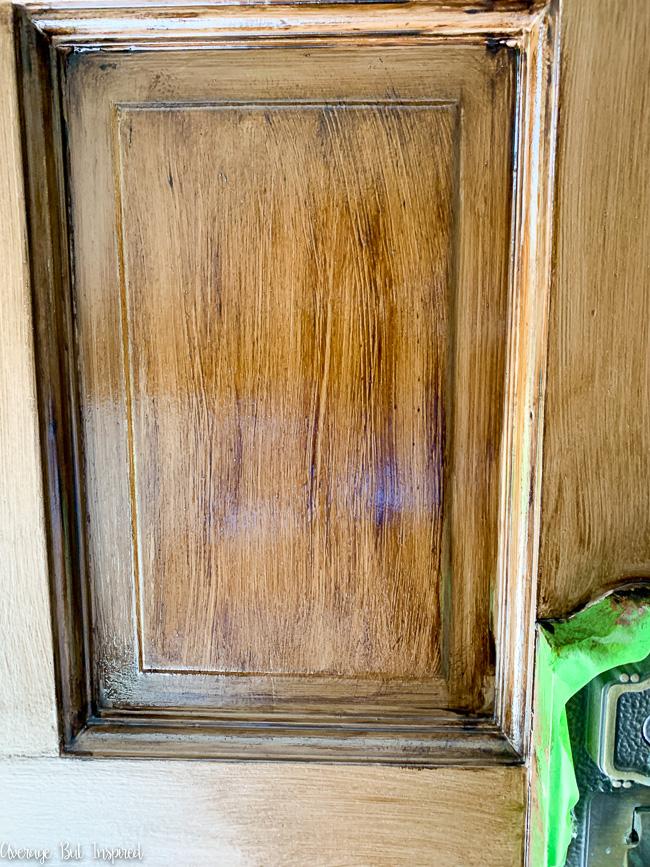 I did this "apply gel stain and then remove some of it" process all across the door. I used thick card stock at the edges of each row or column to create a barrier between the edges of each section, since the woodgrain travels in different directions in these different pieces. This made the junctions crisp, just like a regular wood door.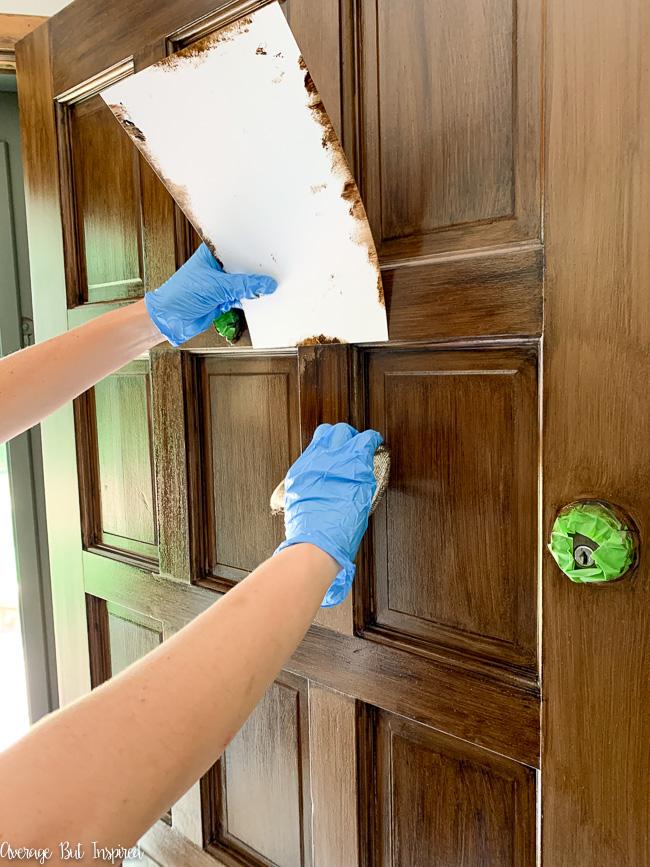 Here you can see the second coat of gel stain and woodgraining process on the entire door, except the outer columns. The second coat of gel stain is necessary for getting a wood look finish!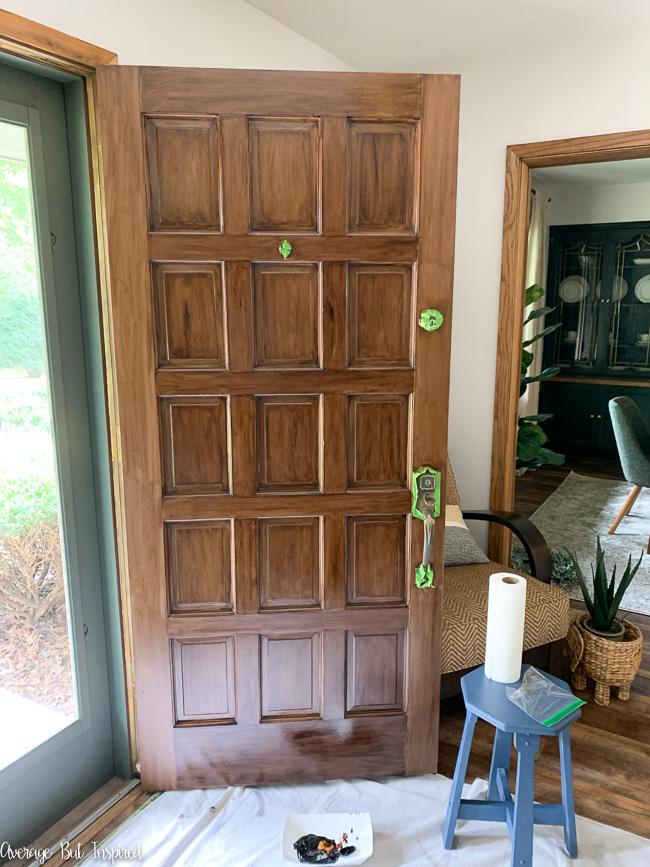 Step Five: Seal the Door to Protect the Faux Wood Finish
After I applied the second coat of gel stain to the entire door, I let it sit overnight so that it could totally dry. Then, I applied three coats of this sealer to the door throughout the course of one day (no sanding in between coats needed).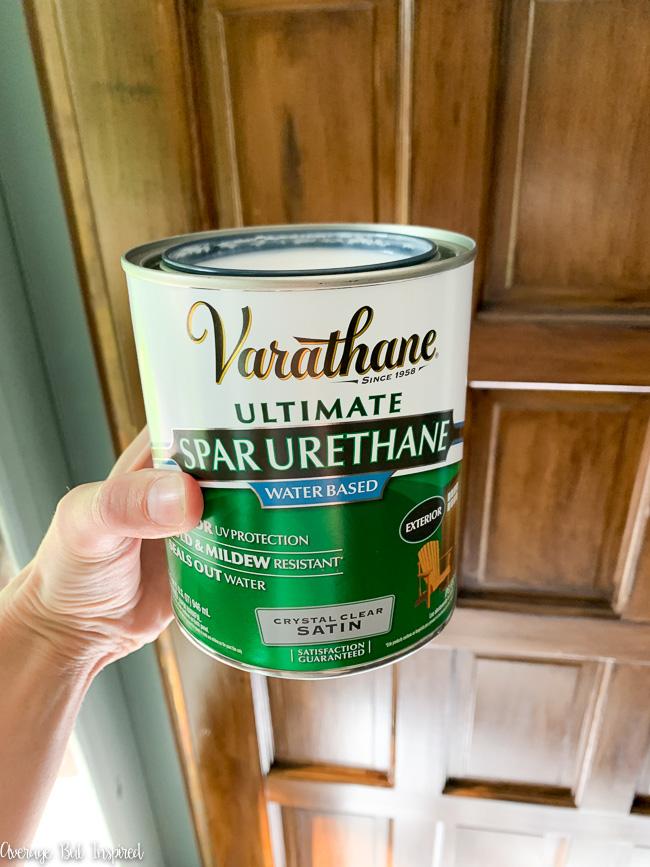 I let the door dry for the time recommended on the sealer, and in the end, I succeeded at painting my door to look like wood!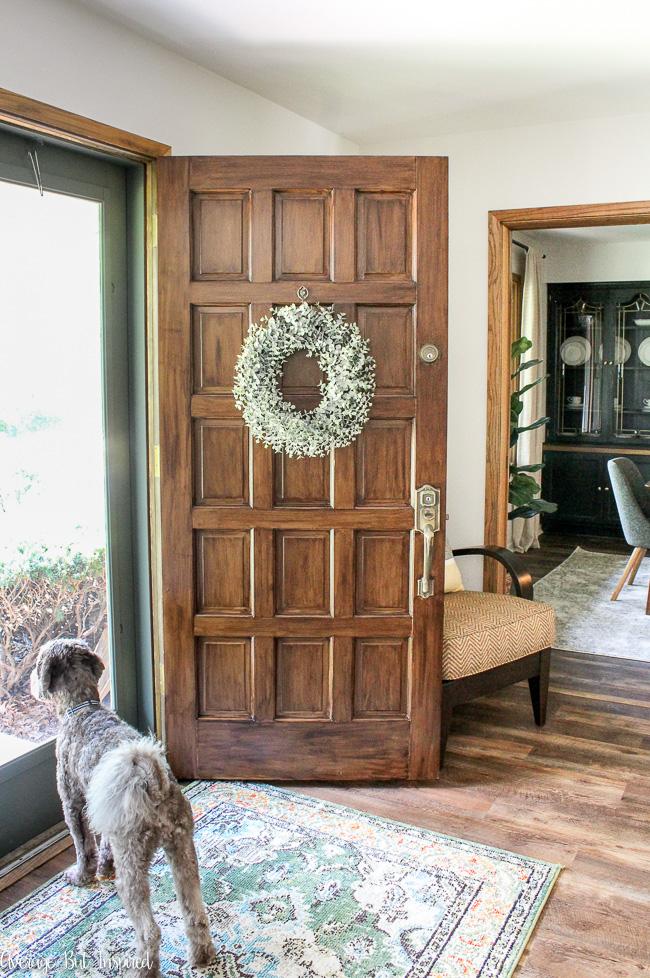 It's hard to believe I was able to fix that disaster I created the first go-round!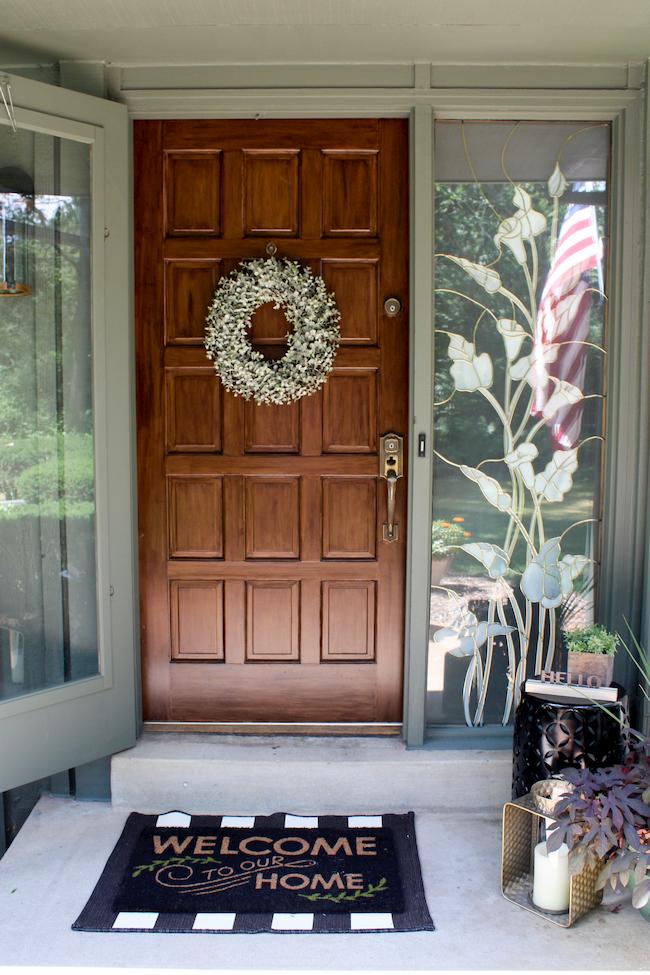 Check Out Other DIY Door Projects You Might Like!
Questions About Painting a Door to Look Like Wood
I feel like there will be some questions about this process, so I'm trying to anticipate them!
Does this process work on metal doors or fiberglass doors?
Yes! Although my door is wood, you can use the exact same process and products to paint your metal door to look like wood, or to finish your fiberglass to look like wood. Awesome!
Can you use this process to paint a garage door to look like wood?
Yes! This exact same process will work to paint a garage door to look like wood.
Can I use gel stain to refinish a wood door that hasn't been painted?
Yes! You can, and I've done it before! Check out my post on refinishing an exterior door with gel stain for all of the info you'll need.
Any other questions? Ask them in the comments section and I will do my best to answer them!
-Bre