Seven months. SEVEN MONTHS! That's how long my DIY Kitchen Makeover took from start to finish.
Last year I painted my oak kitchen cabinets and did a whole bunch of other stuff to update my 1990s oak kitchen (I'll walk you down that memory lane later in this post).
Once those projects were completed, I outsourced things like electrical, countertops, and tile work, serving as my own general contractor/project manager. Also more on that later in this post.
But now the second phase of my kitchen remodel without a renovation is complete, and I am so glad this project is finished. (*Almost complete. More on that later, too!)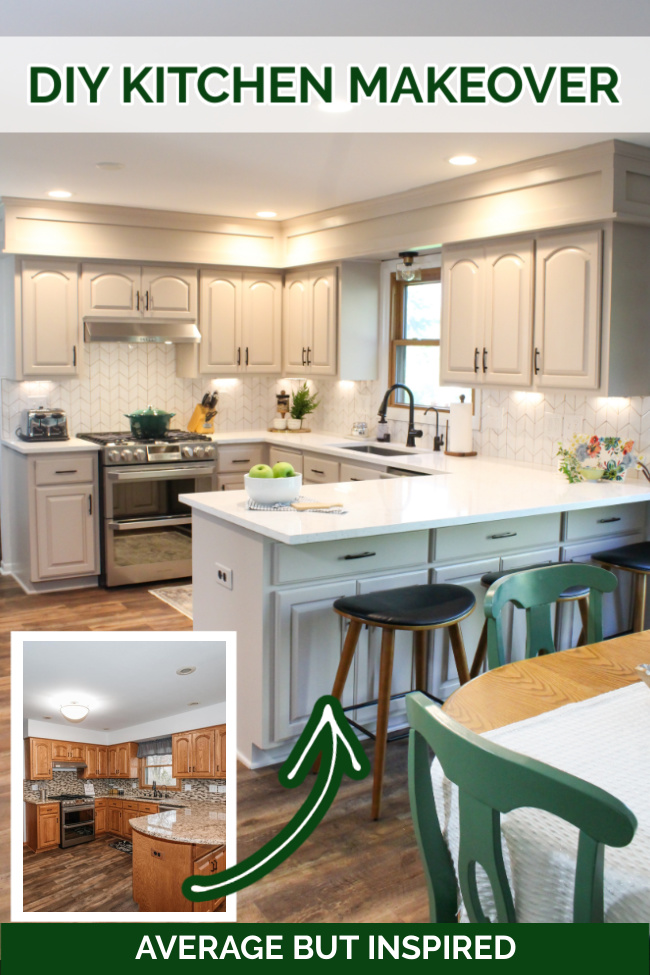 This post contains affiliate links. To read my full disclosure policy, please click here.
The Kitchen Before: Golden Oak Cabinets, Brown Countertops, and Glass Mosaic Tile Backsplash
Any good reveal post is incomplete without the before photos! So let's have a flashback to what this kitchen looked like when we purchased the home in late 2019.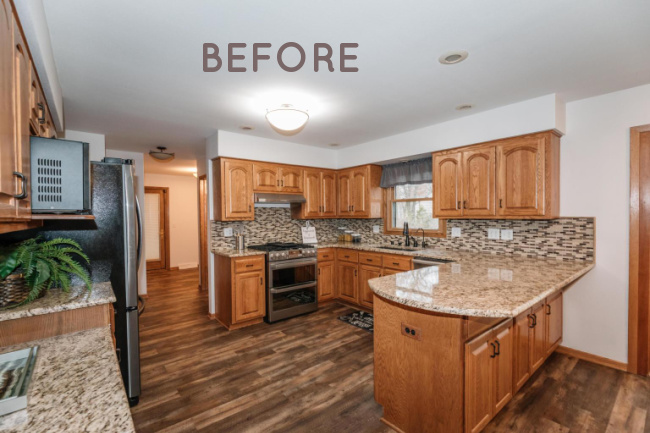 The kitchen was in great condition, but it wasn't really our style, so I set out to make it look more like us in the late summer of 2020. I got a crazy idea to paint the kitchen tile backsplash to tone down the look. The painted tile held up great and gave me the calmer look I was after.
Kitchen Makeover Part 1: Disguised Soffits, Converted Kitchen Desk, and Painted Oak Cabinets
Then, in the fall of 2020, things really got moving in my 1990s-style kitchen.
Kitchen Soffit Makeover
First, my husband and I gave the kitchen soffit a makeover, and attempted to help blend the soffit with the cabinets by adding lots of trim to them. You can read more about that project and how to disguise a kitchen soffit in the post I wrote about it.
Kitchen Desk Conversion to Trash
Then, we converted the kitchen desk area to pull-out trash, which was a better use of that space for our family.
DIY Painted Cabinets
Once those projects were finished, I got to work painting the oak cabinets. I painted, and painted, and painted. It took me weeks of work because I only had a little bit of time each day to devote to the project, but I got it done.
I painted the cabinets Hampshire Taupe by Benjamin Moore, and you can read more about my process for painting oak cabinets in that post.
The first part of this DIY kitchen makeover made a huge difference in my family's enjoyment of our home, and we were glad to celebrate Thanksgiving and Christmas in our refreshed kitchen!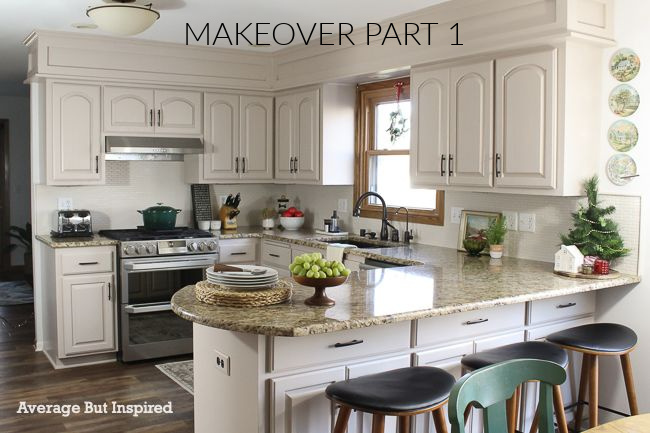 Check Out All of the Posts in This DIY Kitchen Makeover Series
Kitchen Makeover Part 2: New Electrical, New Tile Backsplash, and New Countertops
Once the New Year hit, it was time to get back to work on this kitchen makeover!
Kitchen Remodel Electrical
First up, we had new LED recessed lighting installed in the ceiling, and we eliminated the large light fixture that once hung in an odd spot in the middle of the kitchen. The recessed lighting added so much light to the kitchen – it was amazing! The kitchen was very dark prior to this.

We also swapped the can light over the kitchen sink for a cute little semi-flushmount light. I wanted this change for cosmetic purposes only. Since I have recessed lighting throughout the rest of the kitchen, I wanted there to be a cute light fixture somewhere.
Previously I added wireless under cabinet lighting (you can read about it in that post), and I still loved it so I didn't feel like adding the expense of hardwired under cabinet lights.
Painted Tile Backsplash Removal
Once we started shopping for countertops, it became clear to us that we were also going to need to replace our tile backsplash. The painted tile backsplash was holding up great, but it would be damaged during the countertop removal and installation process.
Because of that, it made sense to rip it out before the new countertops went in, and replace with a new backsplash once the countertops were installed.
We did the tile backsplash removal ourselves, and honestly – it was a horrible job. It was such a mess! I'm sure there are better ways to remove a backsplash, but we did the best we could.

Once that was out, I hired drywall professionals to hang new drywall. I've tried drywall in the past and it did not go well. Ha!
Countertop Installation
At the beginning of March, our new quartz countertops, sink, and faucet were installed. We chose MSI Blanca Statuarietto quartz because the creamy white shade with the subtle veining in browns, creams, and grays was perfect with the taupe cabinets.

We also chose quartz because of its reputation for durability and ease of care. I will be writing a post on my experience with quartz countertops so far because I think there's a lot of false or misleading information out there about this product. I love the look of these countertops in my kitchen, but I feel a bit deceived.
New Tile Backsplash Installation
Finally, in mid-April we were able to get our new backsplash installed! Since everyone in the world is renovating right now, it was hard to find a professional who could do this job for us in a reasonable timeframe! Thankfully we found a great company and they did amazing work.

I chose a very simple and inexpensive white rhombus ceramic tile, which we laid in a chevron pattern. The second I saw this tile I knew it was what I wanted!
The grout, on the other hand, was a totally different story. I could not, for the life of me, make a decision. Choosing between white grout, off-white grout, brown grout, and more was making my head spin! Thankfully my mom came with me one day to pick something. I chose Laticrete Permacolor grout in River Rock. It is slightly darker than the cabinet color, and really helps that chevron pattern pop!

I was nervous to pick something that would stand out, but in the end, it's what made me happy so I went with it. I'm really glad I did because it gives my kitchen a little personality and doesn't look like everything else on Pinterest.
DIY Kitchen Makeover Reveal
It feels so good to finally be FINISHED with this DIY kitchen makeover!

Doing the work yourself and finding/managing professionals to help you with the parts you can't (or don't want to) do yourself is a lot!

We have one issue left to resolve surrounding some scratches on our new quartz countertops, but once that's taken care of with the installer, I will be glad to consider this project totally done!

I hope this project shows you that you can update spaces in your home without a gut renovation.

It may take you a lot of time, but you'll get there eventually! And when you do, you'll be very proud of yourself! And . . . you will have saved yourself a lot of money over a gut renovation or hiring out all of the steps.
Please let me know what you think of this makeover, and also let me know if you have any questions at all! I'm always glad to help.