Dear HGTV:
I realize that what I'm about to say is putting my chance* of becoming your next home décor and DIY tv superstar at risk.   (*A .0001% chance that has now been decreased to .00000000000000001%.) But I'm breaking up with you. And it's not me, it's you.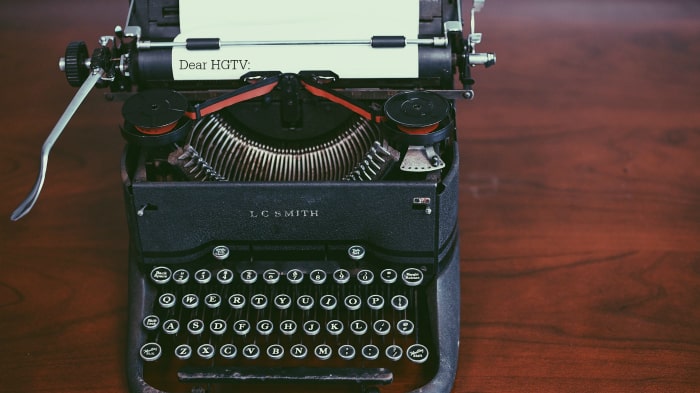 The time has come for me to lay it all out there. You see (though you might not know it), our love affair began years ago when I, on maternity leave, found myself spending hours on the couch nursing and rocking my newborn baby girl. In my half-alive state at that time, you took me off of that couch (in my spit-up covered shirt, messy ponytail hair, and makeup-less face), and put me in the middle of a world that was colorful, engaging, and exciting.
You put on your finest clothes and wooed me with shows like Curb Appeal, Selling New York, Bang for Your Buck, Design on a Dime, and Sarah's House. Your hosts' sparkling personalities and shows' interesting topics made my long days and nights so much more bearable. The way John Gidding could turn the ugliest front yards into works of art on Curb Appeal was captivating! Suddenly I wanted to re-do my yard, too! And don't even get me started with the adorable Sarah Richardson and her innate ability to mix pattern and color on Sarah's House. (Plus, her sidekick, Tommy Smythe, was so cute I could pinch his cheeks.) Those two inspired me to start decorating my new/old home with quirky accents and things I loved.
In those days, you and your shows worked hard to fill me with hope and a desire to make the spaces around me more beautiful, but in an affordable and realistic way. Your programming was diverse and unique, and I was a self-proclaimed HGTV junkie.   I'm sure you even had something to do with me starting this little blog.
But time has a way of changing things, and our relationship has soured. HGTV, you've let yourself go. You have lost yourself (or, at the very least, the "G" in HGTV – do you even have a show about gardens or landscaping anymore?). With yesterday's announcement that you've added yet another house flipping show to your lineup (Windy City Flip, with the painfully bland host, Alison Victoria (does she not have a last name?)), I realized you have cheated on me and your other loyal viewers with the devil of cheap and formulaic programming.
By my count, you now have at least NINE house flipping shows that all follow the exact same formula: man and woman buy godforsaken home, gut it, find x amount of "awful problems," install some cheap finishes, and then sell it two weeks later.  Do you really have that many viewers who are out flipping houses?  I don't think so!
And don't get me started on the FOURTEEN versions of House Hunters.  At least with those you've tried to fool me into thinking you're still interesting by giving some of them different names (like Beachfront Bargain Hunt, Caribbean Life, Island Hunters, Mexico Life, and Lakefront Bargain Hunt), and forsaking the trademark doorbell ringing sound in the opening credits.
Now that Chip & JoJo have jumped ship, you have nothing left to offer me. HGTV you are boring and unimaginative, and this is the end. It was good while it lasted, but now you can pack your boxes and exit stage left.  Me – I'll be fine sitting here on my couch with my messy ponytail and makeup-less face (the babies are grown so no spit-up anymore), watching another network.
-Bre
P.S. to any readers who feel the same way, please share this post on Facebook or Pin it!  Maybe HGTV will see it and get it together!  🙂