If you've ever hosted a party then you know that a lot of work goes into it, and it can be stressful!  Part of the stress can be paying for the party – it is NOT cheap to host a party!  Last month my sister and I hosted my mom's Kate Spade Inspired Birthday Party, and we did it on a major budget.  Despite the fact that we weren't working with a lot of cash, we still managed to put together a beautiful evening.  And because of that, I thought I would share my seven best tips for hosting a big party on a little budget!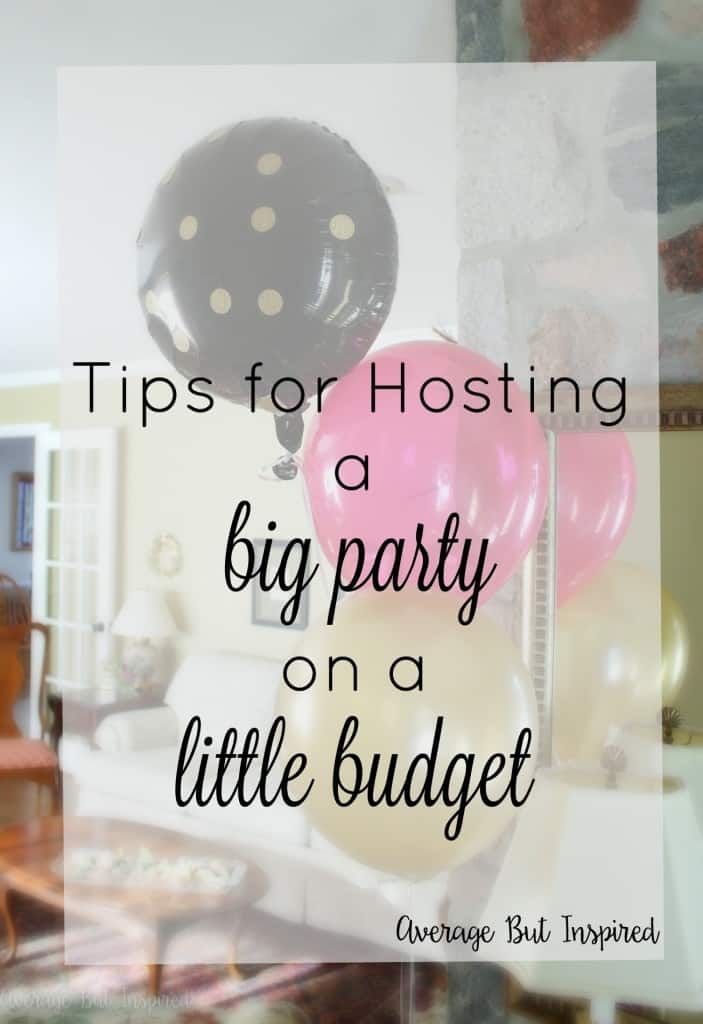 After you've read these tips, be sure to let me know if you have any others to add!
Tips for Hosting a Big Party on a Little Budget
Some of the links included in this post are affiliate links.  To read my full disclosure policy, please click here.
Tip 1:  Save Money on Invitations
Invitations are clearly a necessity for any party.  In addition to notifying your guests of the pertinent details, they set the tone of the event right off the bat.  The good thing is that you don't have to spend a fortune to make a good first impression!
Paper Invitations
If you are old school like me and enjoy sending printed invitations, check out Etsy for gorgeous, custom invitations that you can have printed at your local print shop.  I ordered the invitations for my mom's party from Etsy and paid just $9 for a fully customized file!  I printed it on cardstock at Kinko's for around $15, and bought a 50-pack of envelopes at Michaels for around $3.  They were beautiful invitations and I didn't have to spend a fortune on them!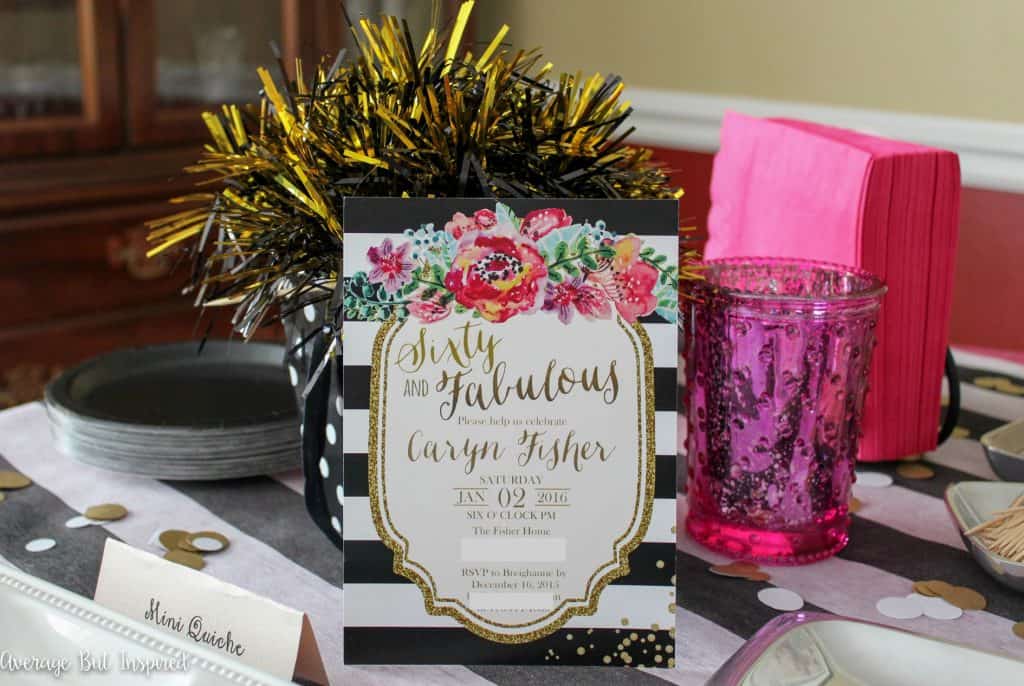 Electronic Invitations
Of course the old standby evite is an option for e-mailing invitations, but there are some really beautiful electronic invitations with added bells and whistles that you can pay a small fee to send.  I personally LOVE Greenvelope for electronic invitations because their designs are gorgeous, the tracking and reminder features are SO helpful, and it is a flat fee to send out as many invitations as you want.  It's a great way to send a pretty invitation via e-mail while saving some money.
Tip 2:  Get a Headcount
I don't know what it is with people these days, but getting them to RSVP to anything is like mission impossible.  (That's a rant I'll save for another day though.)  Anyway, when you're hosting a party and concerned about costs, it is SUPER important to know exactly how many people will be there (or darn near close to exactly how many).  Having a reliable headcount will help you not overbuy (or underbuy, for that matter), and consequently, may save you a lot of cash.
So if people aren't responding to your invitation, don't be afraid to reach out to them (probably by phone), and ask if they plan to attend (in a friendly way, of course)!
Tip 3:  Use a Food and Beverage Calculator
Once you have a close to accurate headcount of party guests, use a food and beverage calculator to figure out exactly how much food and drink you should have at your event.  This will save you so much money because you won't be overbuying expensive food and especially alcohol!
I used this great reference from Chickabug in planning my mom's party, and it was so helpful in helping me determine how much of each thing I needed to buy.
Tip 4:  Buy in Bulk
If ever there were a time to use that Sam's Club or Costco membership, this is it.  I can assure you that from the research I did for my mom's party, the prices on frozen and fresh appetizers, drinks (both alcoholic and non-alcoholic), snacks, and meat (if you're cooking for a dinner party), are cheaper than if you buy at your local grocery store.
Plus, buying in bulk and at once place saves you time and energy; both things that you need a lot of when planning a party.
As part of my planning process, I went to Costco one day and snapped pictures of all of the things I thought I might want to buy for my mom's party.  Then when I planned the menu I had exact prices and a good reminder of the foods and drinks that were available at Costco.  It made the actual purchasing trip so much easier and efficient!
Tip 5:  Stock the Bar with the Basics
If you're serving alcohol at your party, I would recommend stocking the bar with the basics: beer, red wine and white wine.  Then, plan a specialty cocktail of the night to have premixed and available for those guests who prefer a hard alcohol beverage to beer or wine.  It will be a fun addition to the bar and allow you to forego purchasing many bottles of liquor that may or may not be consumed.
Tip 6:  Borrow What You Don't Have (or Thrift It)
Instead of buying things for a party like serving platters or bowls, table linens, extra seating, or glassware, why not see if your friends and/or family will let you borrow some of theirs?  Chances are you'll be able to round up enough of what you need without having to spend a cent.
And if you just can't find someone to lend you something you need, check out your local thrift shop.  You might be surprised what you'll find there at a bargain price!
Tip 7:  Search for Free Printables Online
There are TONS of free printable party decor packs available online.  If you run a search in Pinterest for a particular party theme, you are almost guaranteed to come across pins that will lead you to free printable decorations (like banners, cake toppers, party signs, etc.), or accessories (like photo booth props, water bottle labels, etc.)  I even have a good selection on my Pinterest Printables board.  Printing some of these at home or at the print shop is a quick and inexpensive way to add some fun decor to any party!
And there you have it – my seven tips for hosting a big party on a little budget!  I hope these help you with your next big party.  Also, let me know if you have any other suggestions for ways to save cash while throwing a fabulous party!
-Bre
I Bet You'll Like These Party Ideas, Too!
How to Host a Beer Tasting Party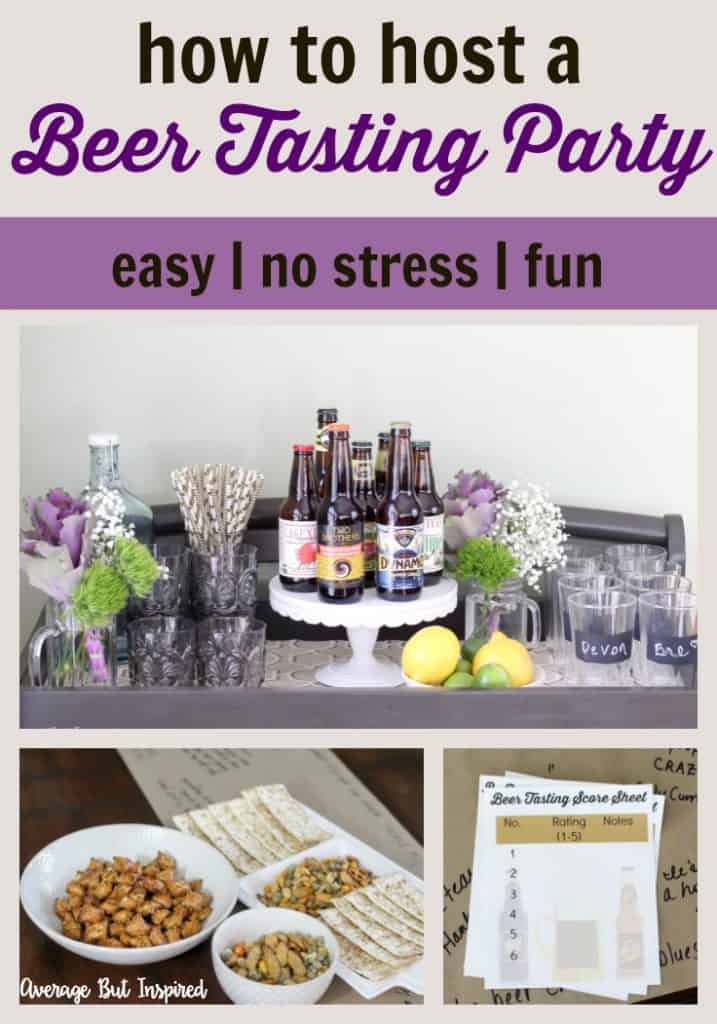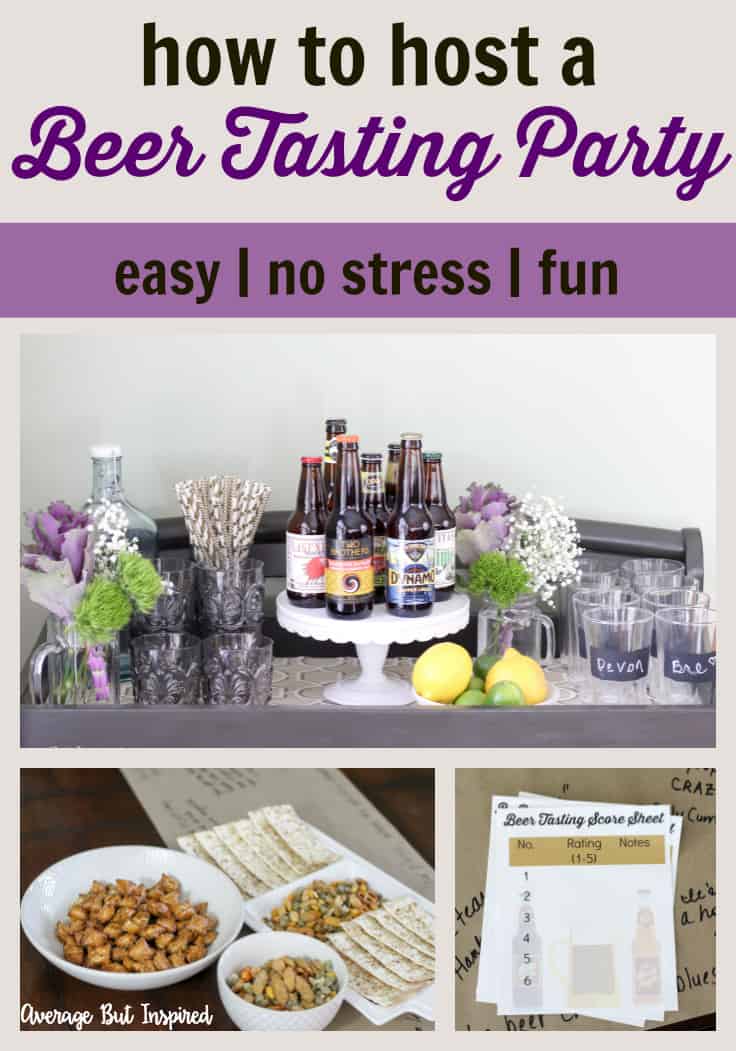 How to Host a Kate Spade Inspired Birthday Party