I have been going through total furniture painting withdrawal. The warm weather cannot come soon enough. I need to get back in the garage and breathe new life into some worn and weathered pieces that have been waiting for me since last fall.
Since reliable outdoor painting weather in Chicago is still pretty far away, however, I have to settle for smaller projects that can be accomplished indoors. Case in point, a plain wooden tray that I painted with a grain sack motif – a motif I've envisioned using on a coffee table that's waiting for me in the garage. I needed a place to corral remote controls and coasters in the living room and I figured this tray would do the trick.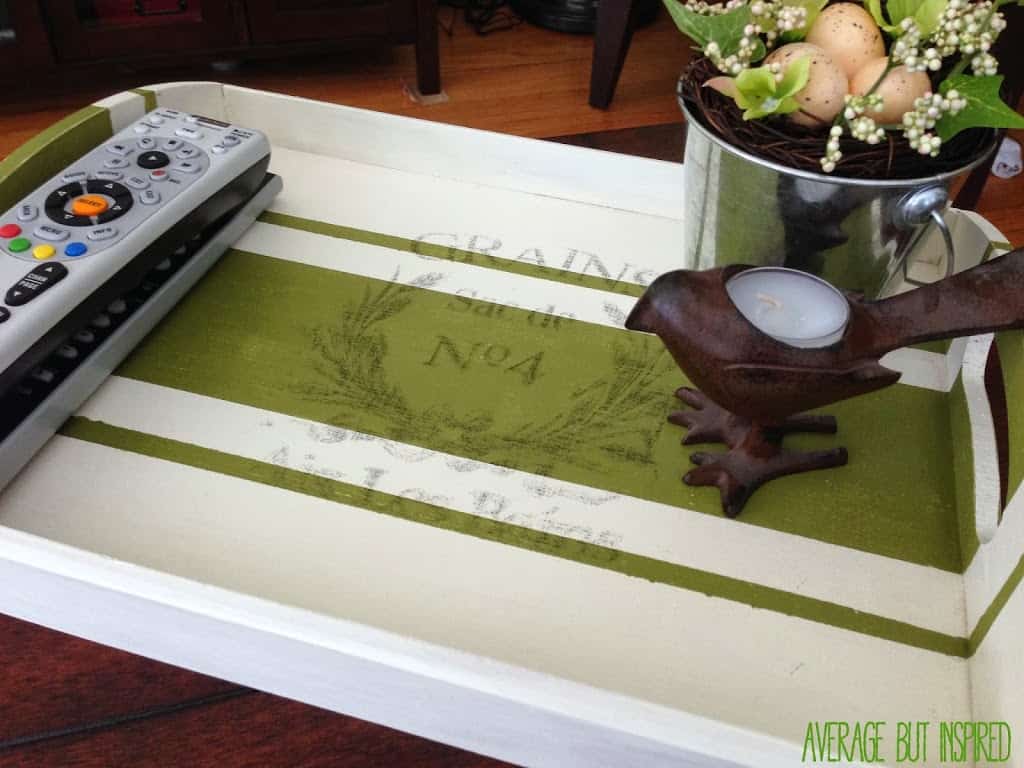 This post was first published on March 11, 2014. It was updated on July 13, 2021.
This was the perfect chance to test out painting grain sack stripes and to attempt a freezer paper image transfer technique, which is something I've wanted to try for awhile now. It turned out better than I expected, so naturally I love it. (Clearly my son loves it too. Or maybe he just loves stealing the tea light out of the bird candle holder I've placed in the tray.)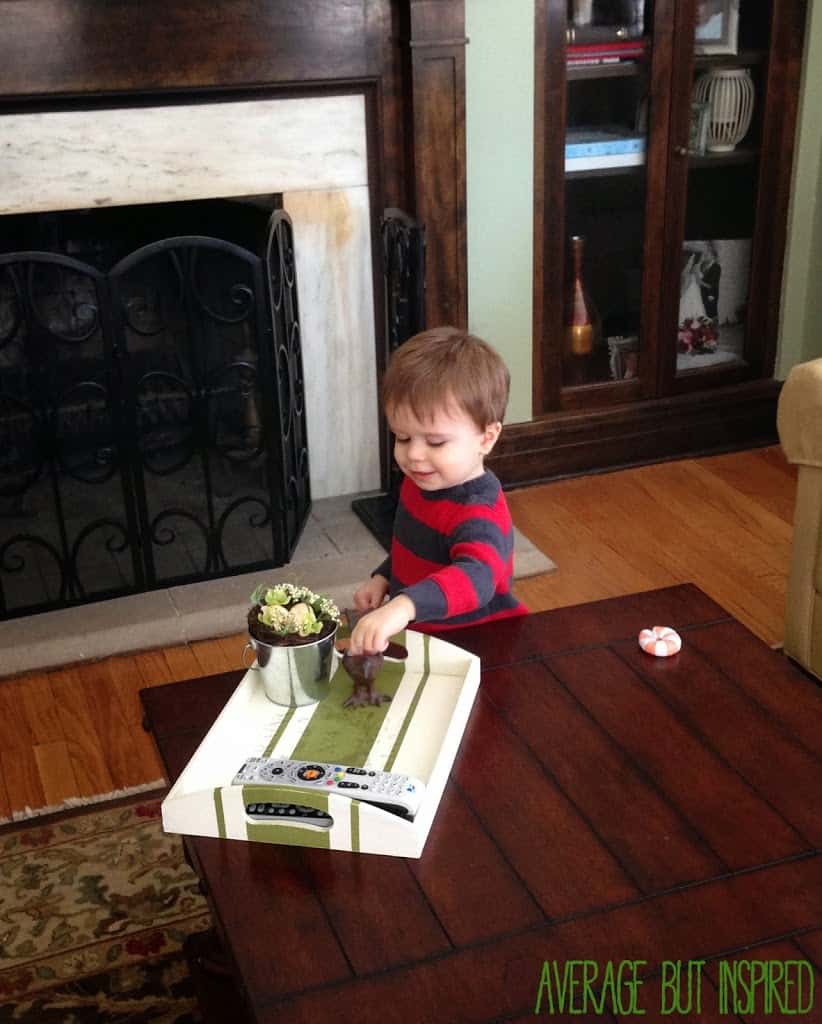 I'm telling you that this project is easy and will make even a novice crafter feel proud upon completion.
Freezer Paper Image Transfer Supplies
Here's what I used to make this tray just as it appears in this post. Please note that some links are affiliate links. To read my full disclosure policy,
click here
.
Sandpaper (220 grit will work well)
Acrylic paint in colors of your choice
Paint Brush
Spray adhesive (for image transfer)
Freezer paper (for image transfer)
Inkjet printer (for image transfer)
How to Paint a Grain Sack Stripe Tray
First, I lightly sanded the plain tray.
Next, I painted the tray all over in a creamy white.
Once the paint dried, I taped out my grain sack design on the inside of the tray and along the top of the handles. I made sure to press down along the edges of the tape so that the paint wouldn't bleed through.
I then painted two coats of green paint in the appropriate areas. Once the paint was almost dry (not totally dry), I removed the tape.
I then taped along the outside and continued the process of painting the stripes on the exterior handles. Once that paint was almost dry, I also removed that tape.
Next, I lightly sanded over the entire tray (interior and exterior), to remove some of the color and to give the tray a slightly worn look. It really softened the color in a way that I like.
Finally, I sprayed the entire tray with two coats of sealer. I decided not to brush it on because I wasn't sure if that would smudge the image in any way. I think the spray sealer was the safest bet.