Last September I announced that we were moving from our beloved home outside of Chicago to the Milwaukee suburbs. On December 21 we moved in to our new home, and since then, I have been busy unpacking and trying to make this house feel like our home! I tackled my first big project, which was a makeover of our massive 1970s fireplace, and I am thrilled to share my limewash stone fireplace makeover with you now! (Update: I subsequently finished my limewash stone exterior makeover, too! Be sure to check it out!)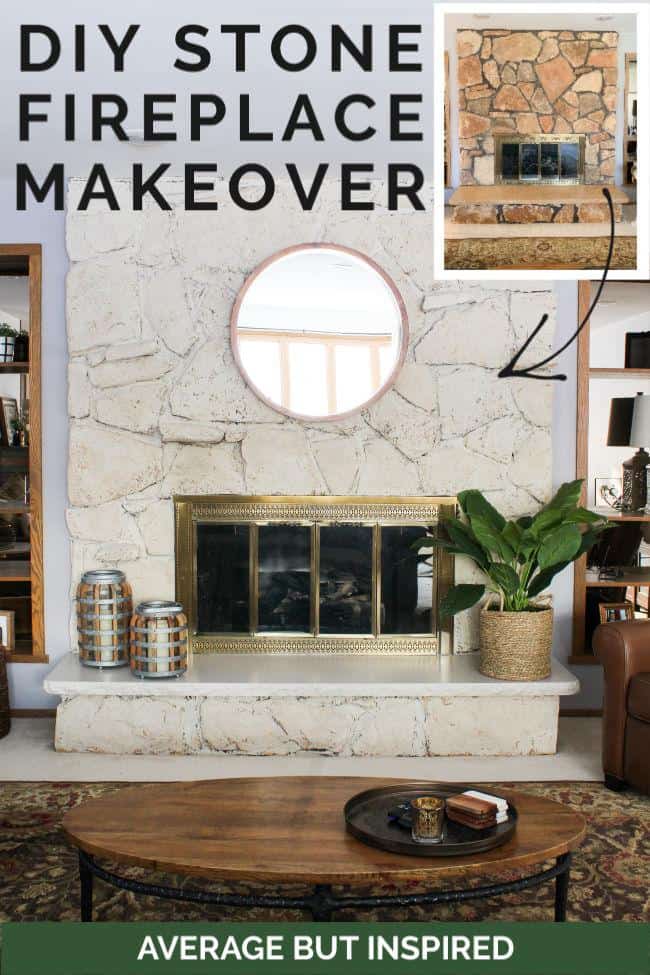 Before I show you all the pretty "after" makeover fireplace photos, I have to show you the beast I was working with! Complete with a wide variety of orange rocks, this extra large fireplace really clashed with my living room decor.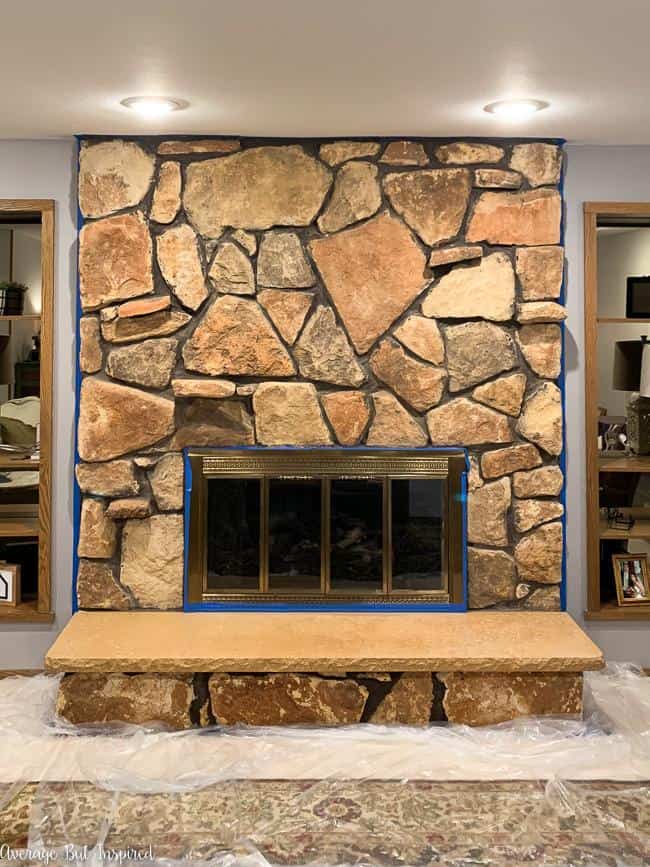 As much as I can, I like to work with what I've got, though, and I did not want to tear down this fireplace (can you imagine the dust and mess?!?), concrete over the rocks, or frame it out with wood and ruin the 70s vibe we've got going on here. So, I did some research and decided to do a DIY stone fireplace makeover with Romabio brand limewash.
What is Limewash?
Sorry if you already know this, but I thought that some of you might be unfamiliar with limewash, so let me fill you in! Basically, limewash is a heavily mineral-based paint that produces a very chalky and matte finish. The minerals seep into the porous surface to which the limewash is applied and give a really authentic and aged look. It is VERY popular for painting bricks and other masonry, like stone!
This post contains affiliate links. To read my full disclosure policy, please click here.
There are several brands of limewash on the market, and apparently you can even make your own! I chose to use Romabio brand limewash because I follow the company on Instagram and love every makeover I see with their products, and because their limewash is affordably priced and comes in many colors. I used the Riposo Beige shade for my limewash fireplace makeover.
Why Use Limewash on Stone and Brick Instead of Paint?
You might be wondering why I chose to limewash my stone fireplace instead of painting it . . .
Well, there are several reasons!
First, I like that limewash is removable within the first five days of application. This made the project seem less risky to me. Although it probably would have been messy and tedious to remove the finish if I didn't like it, I felt good knowing that it wasn't permanent if I hated it.
Next, I like that limewash has little to no odor, unlike many types of paint! I did this project in January with no windows open, and there were no stinky fumes invading my house.
Third, I liked that the finished look was completely up to me in terms of how much of the original stone color I wanted to show through. Simply by thinning the limewash with water, I would have been able to get a more translucent effect and would have allowed more of the natural stone color to show through. This is perfectly fine with limewash and does not affect the durability of the product! In my case, I was trying to mask the orange tones, so I applied the limewash in a more opaque finish. But had I wanted to, I could have allowed more of the stone color to show through.
What Supplies Do You Need for a Limewash Stone Fireplace Makeover?
Now that you have a little more background on limewash, let me fill you in on the supplies you need to limewash a stone fireplace. Surprisingly, it isn't that much!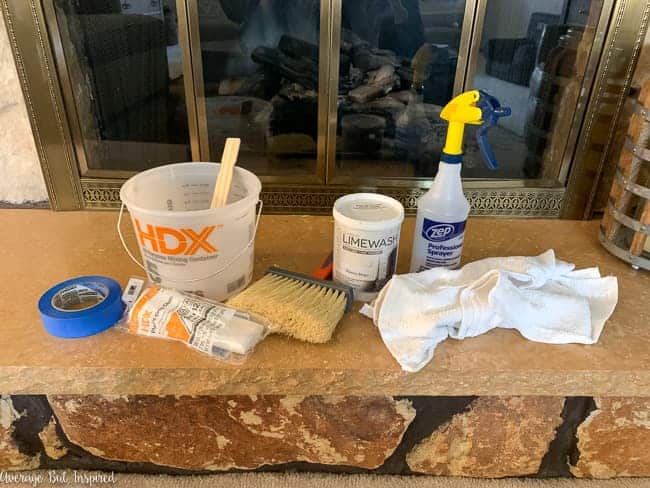 All in, this project cost me just under $70, and that is because I had to buy things like painters tape, rags, and a protective tarp (since the ones I already had are still packed away from the move). If you already have these items, your project cost will be less.
How to Limewash a Stone Fireplace
I think you won't believe how easy it is to limewash a stone fireplace!
First, make sure to protect surrounding surfaces with a tarp and painters tape.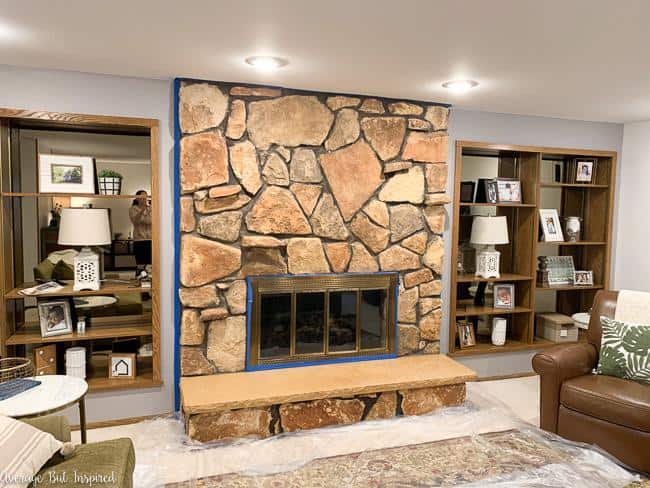 Next, clean the stone with a wet rag. Make sure to get rid of any cobwebs hiding in between the rocks, and get the rocks wet (but not dripping wet).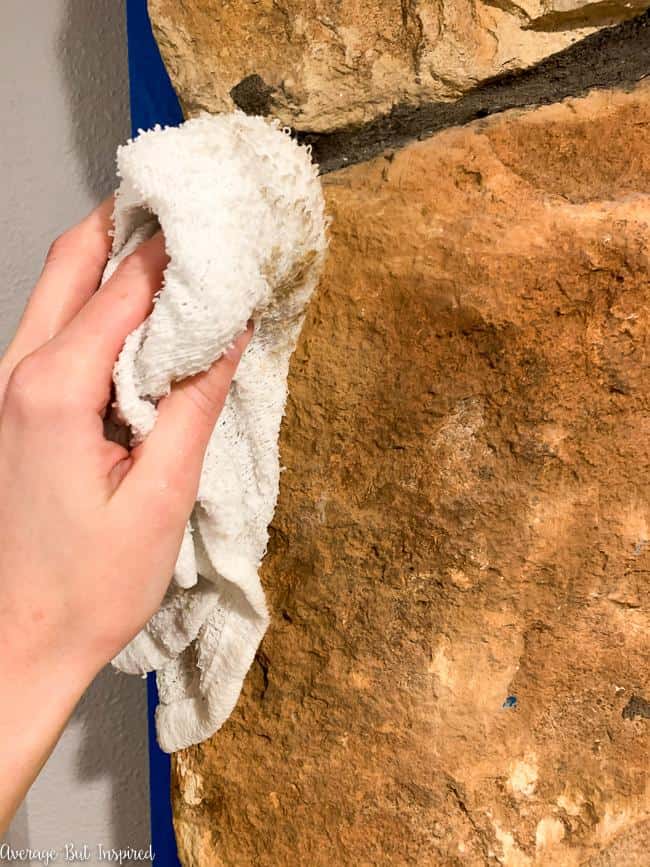 After the stone fireplace surround is clean, get out your water bottle and spray the rocks. You want the rocks to definitely be wet, but you don't want water running down the rocks.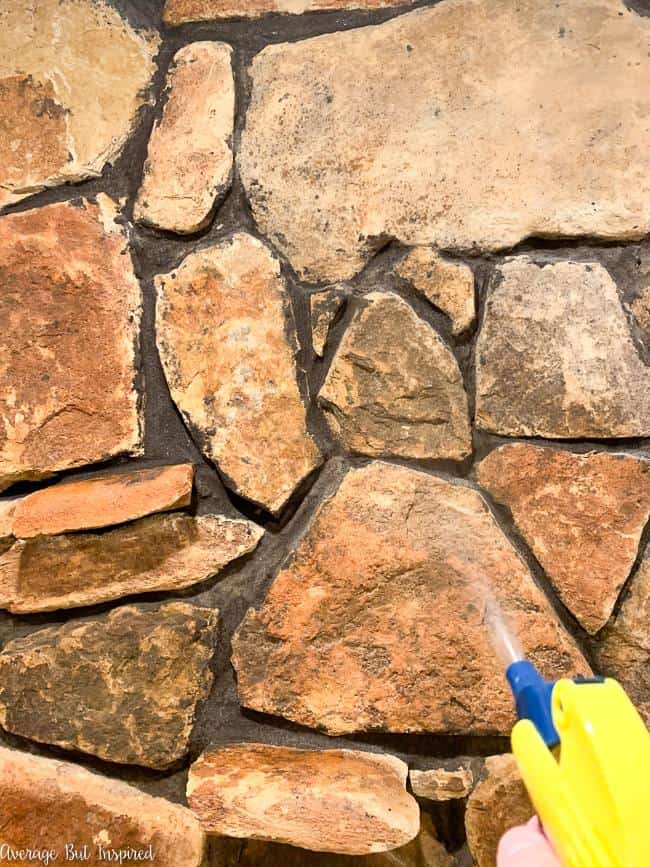 Now it's time to mix up the limewash! For this step, make sure to read the product instructions that come with the limewash you have purchased.

I chose to mix my quart of limewash with half the amount of water (so, 16 ounces in this case), and this resulted in a thicker cover of limewash. Remember to mix, mix, mix the product so that there is no extra water left at the top of the bucket, and so that everything is all mixed together. This could take up to ten minutes because limewash is very thick to begin with!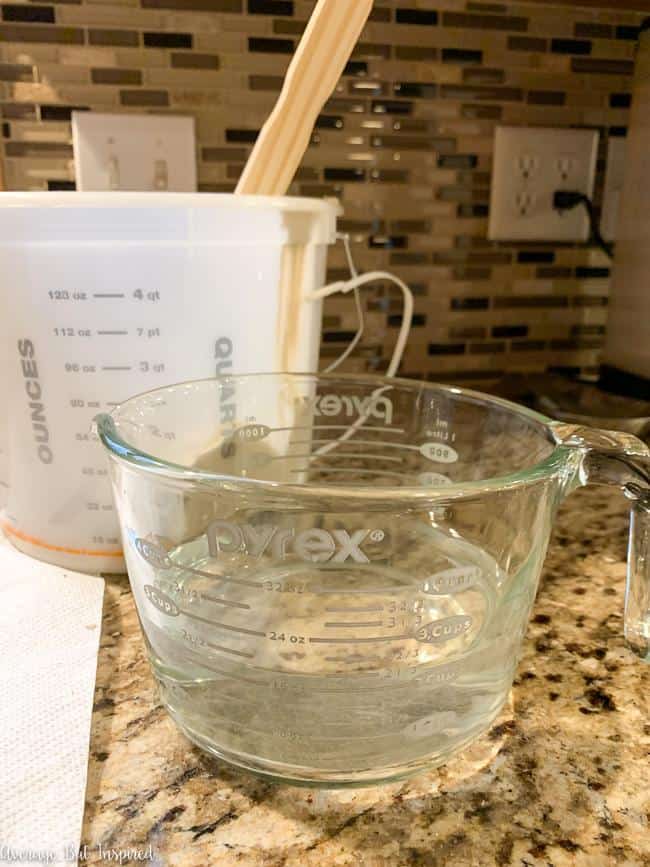 Once the product is fully mixed, it's time to apply the limewash to the fireplace. I started on the top side and worked my way down. I watched carefully to see when the limewash was almost dry (but not totally dry), and then began to wipe it off very lightly.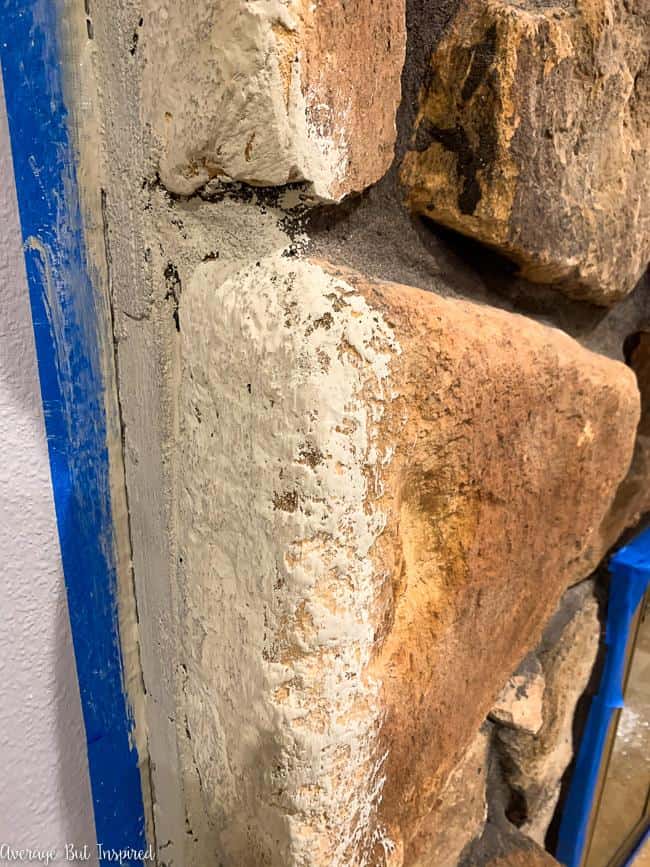 Doing this let some of the rock tones show through – but not too much!
I repeated this application / drying / wiping process across the front and couldn't believe the immediate difference the limewash made! I won't lie – I did have a minor time of doubt as it was such a drastic difference, but I know that I always do that with any project, so I calmed down and kept working.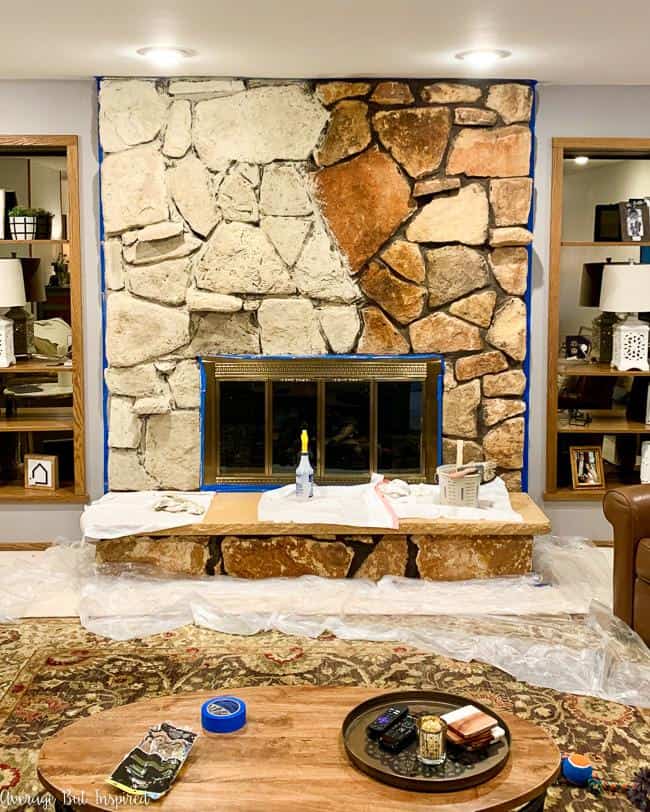 Once I finished the entire fireplace, I went back in to the nooks and crannies I missed with the bulky masonry brush, and touched up those spots with a small paintbrush. (If you're working with a limewash solution that is more diluted than my mixture, this may not be an issue for you!)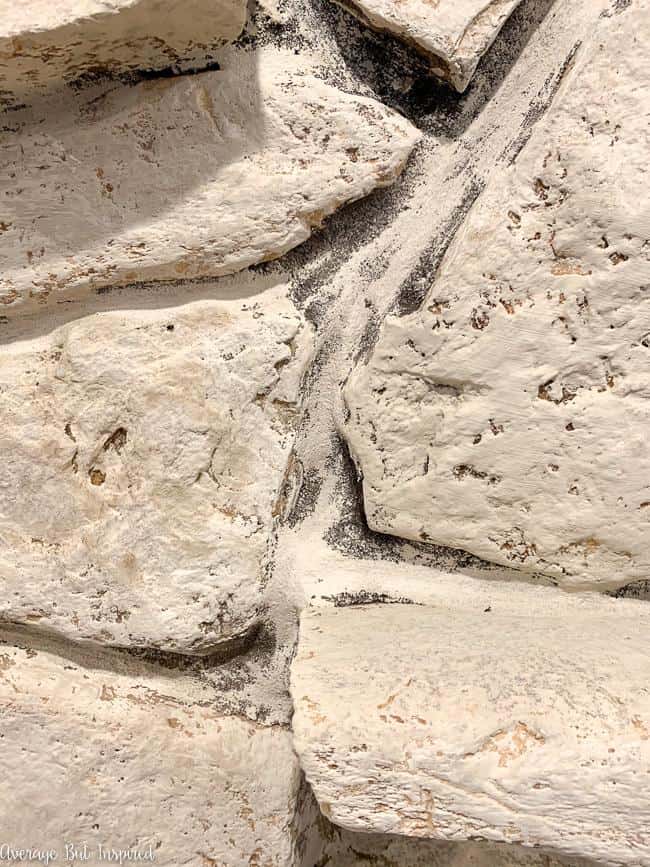 I stood back and admired the look of my limewashed rock fireplace, and then noticed how awful the orange hearth looked against it. I felt a pit in my stomach because I couldn't let this orange hearth ruin this makeover! The limewash did not work on the marble hearth (I accidentally got some on the hearth and it wiped right off even though it had dried), so I had to think of a different solution.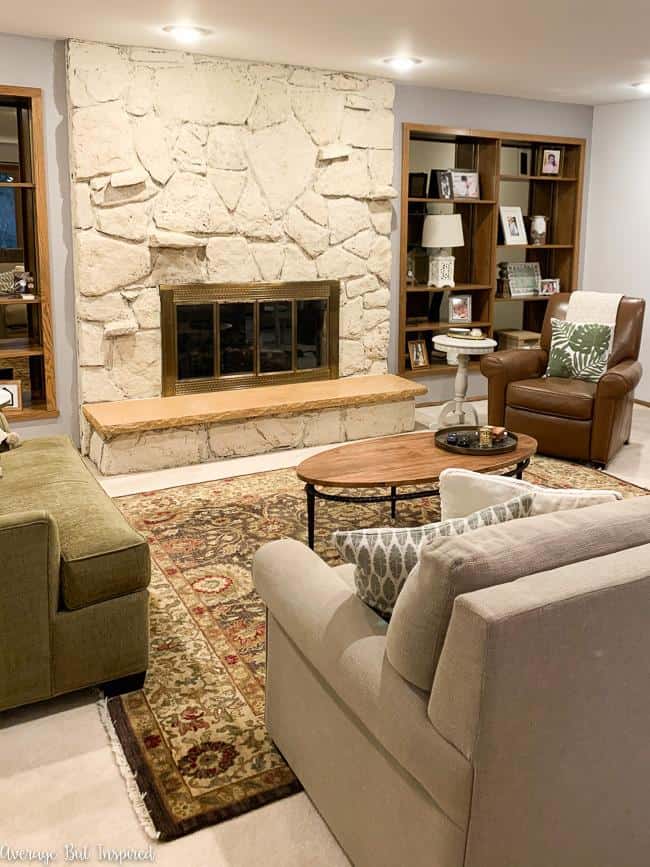 The good news is that I did come up with a way to paint my marble fireplace hearth, and the whole project came together gorgeously! (Click that link if you want to learn how to paint a marble fireplace hearth, too!)
The Completed DIY Stone Fireplace Makeover
I know, I know – you want to see it! Here is the completed fireplace makeover – it looks so different!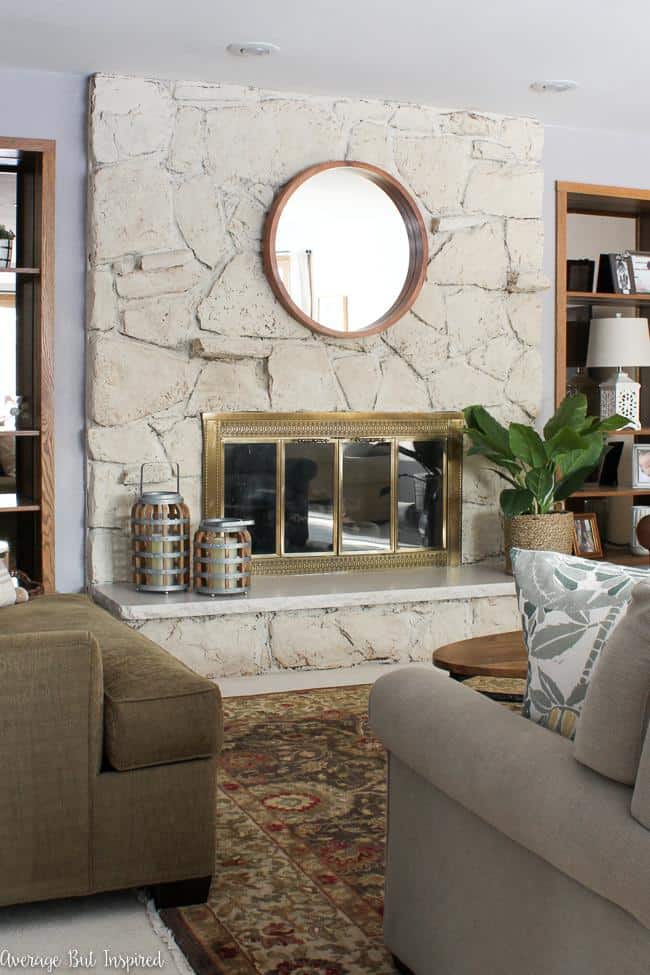 I cannot believe what I accomplished for under $70!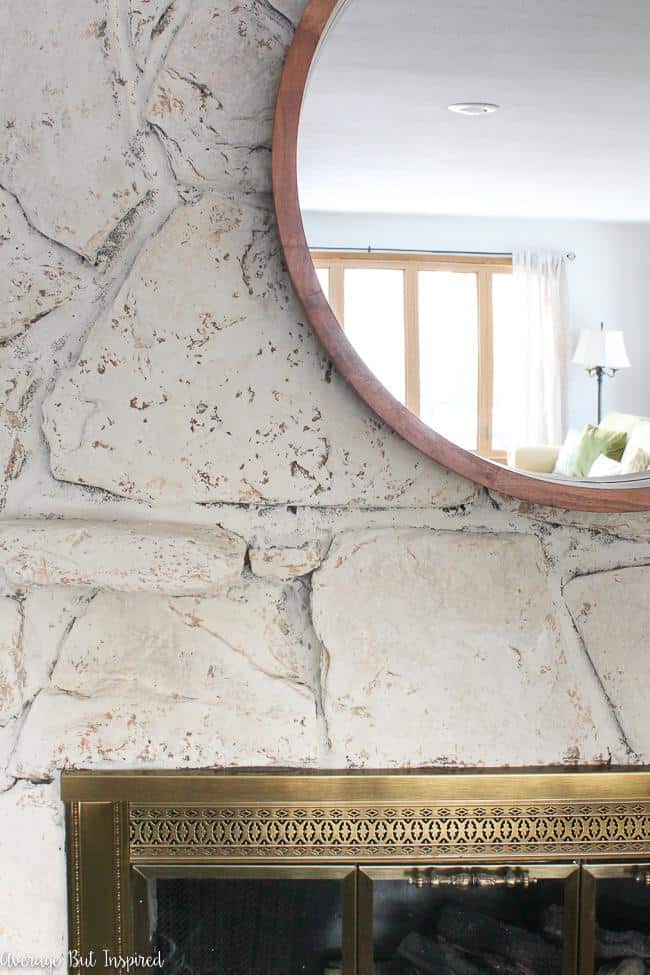 And in case you're wondering why I didn't paint the brass fireplace doors – it's because I like them! Brass is one of my favorite finishes.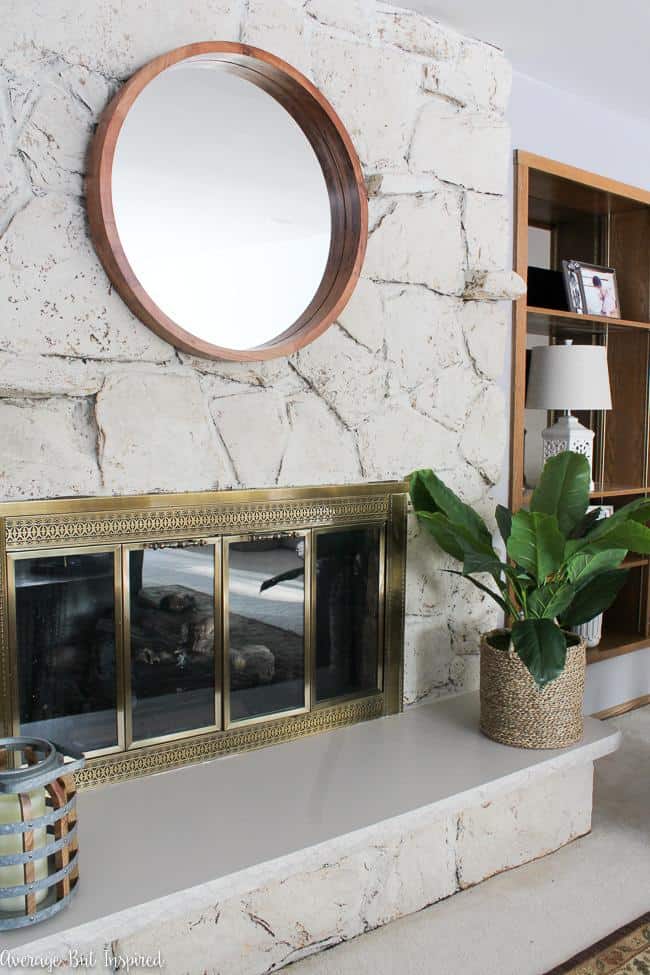 Decor should be about what you like and not what others say you should do, so I am leaving them. (For now, at least. ;-)).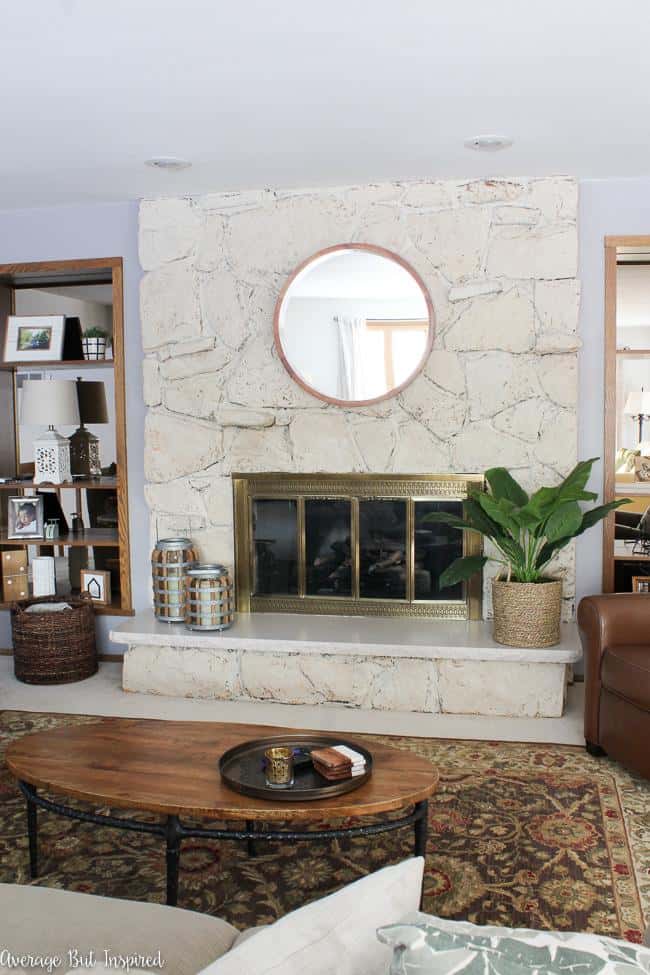 Final Thoughts and the Nitty Gritty on a Limewash Fireplace Makeover
In total, I spent just about 4.5 hours on this DIY stone fireplace makeover – from cleaning, to wetting the stone, to mixing the limewash, and applying the limewash. Note that if your limewash solution takes longer to get to the "wipe off" phase, your project time could be longer.
It was TOTALLY worth it. My living room is so much brighter, and my fireplace looks so much better. I didn't have to spend a ton of money to make it look fresh, and I am so thankful to have found out about limewash!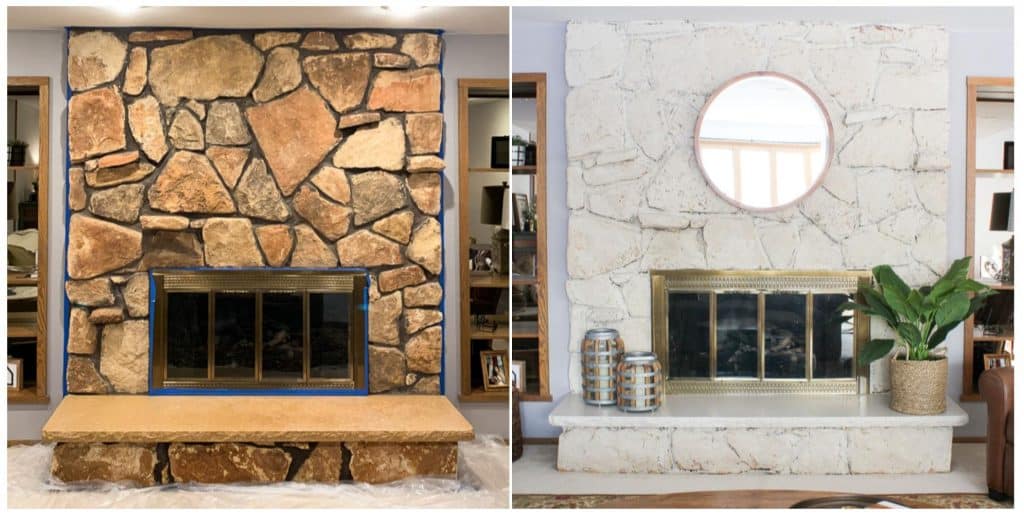 I used an entire quart of limewash in the Riposo Beige shade for this fireplace and I didn't have any left over. If you use Romabio Classico Limewash, they have helpful tools on their website that will let you figure out how much product you need for your specific project. They say that generally, a quart is enough for a fireplace makeover.
The next step in this living room overhaul is to paint the wall surrounding the fireplace (it's currently a gray/purple color), and then paint the built-ins and get rid of the mirrored backs! UPDATE: I finished the mirrored built-ins makeover, and we replaced the carpeting with luxury vinyl plank flooring (you can read my luxury vinyl plank review here!) We would also like to have a mantel built for the fireplace, but it is surprisingly expensive (according to the one quote I've gotten), and my large round wood mirror gives the natural wood look we're after – at least for now!
So, what do you think? Was this 1970s stone fireplace makeover a success? Let me know in the comments and please share this post to Pinterest to help others learn how to limewash their fireplaces, too! Us stone fireplace people need to stick together! 🙂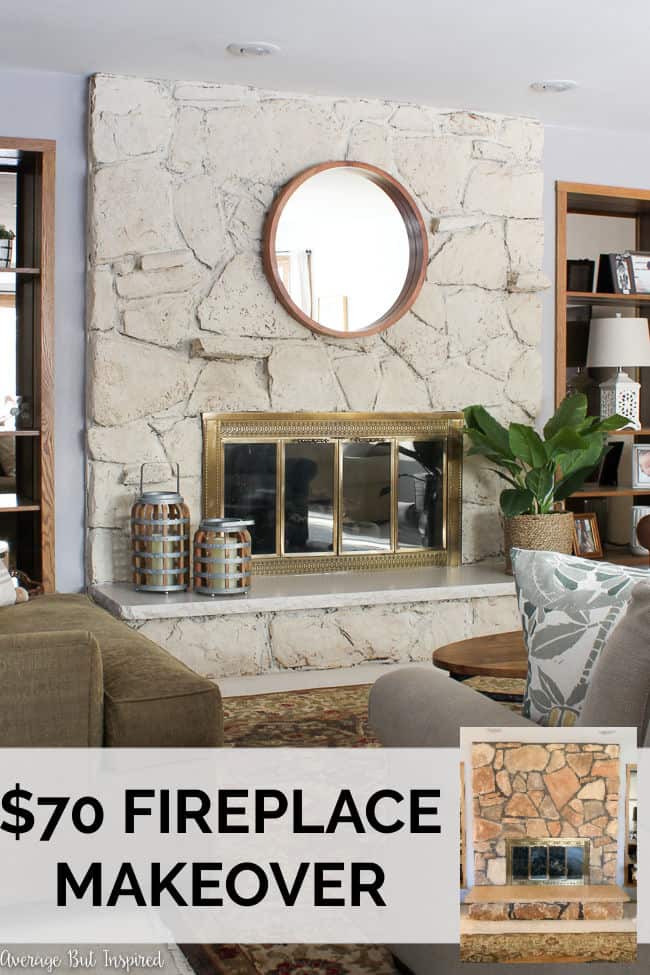 -Bre