You might think that a post about refinishing a door is boring. But I promise that this is not a boring topic. Instead, this post is super exciting and about a product that has changed my life (well, my front door's life, at least), and made my home's entrance look amazing! And no, this is not a sponsored post in any way, shape or form – it is simply me sharing my enthusiasm with you because I can't stop staring at my new, old door!
You see, my home had a very sad and neglected wood front door. My husband and I believe that the door is original to the home (built in 1927), and that it had been unloved since that time. It was dull, scratched, worn and looking like a piece-of-you-know-what. Not a very welcoming entrance to the home that we've put so much time and effort into! But, after a few days of refinishing it during my kids' nap time, it is now an asset instead of an eyesore.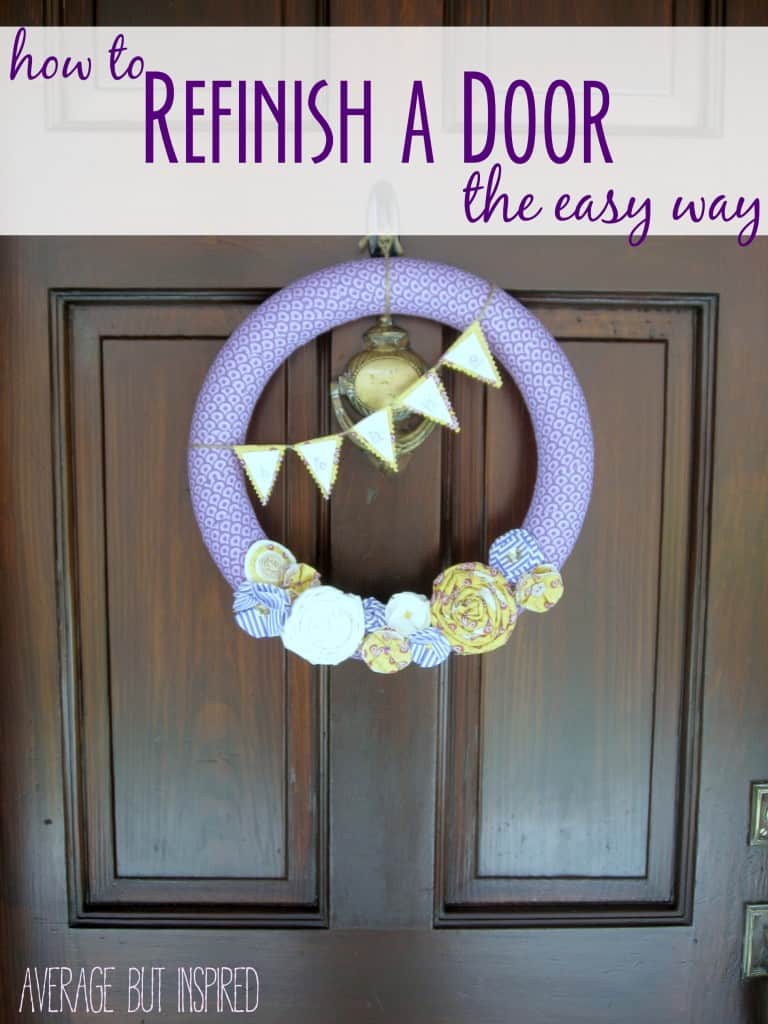 Before we get to the makeover fun, let me tell you that since our door was in such bad shape, we really wanted to replace it with a new, craftsman-style wooden door with windows. But then our roof decided to spring a massive leak and leave us with a huge repair bill. Needless to say, a new door was no longer in the budget.
Because of that, I decided to simply paint the door. But then I started feeling guilty about that. I was thinking that Nicole Curtis (The Rehab Addict), might come to my home and beat me down for painting over the original woodwork.
Materials Needed to Refinish a Wood Door with Gel Stain
This post contains affiliate links. To read my full disclosure policy, please click here.
How to Refinish a Wood Door with Gel Stain
I washed the door to remove the dirt and grime that had accumulated over the years.
I lightly sanded some parts of the door, focusing on the areas that still appeared to have some protective finish on them. Then I used a cloth to remove the dust that appeared during sanding. (NOTE: If your door has protective finish left on the entire thing, make sure to sand the entire door. You want the surface to be in the same condition on the entire door when you start staining.)
I used my cheesecloth to wipe off the excess stain on the area to which I'd recently applied the stain. I repeated this process until I finished the entire door. Here you can see that stain had been applied to the right side of the door, but not the left. Look at the difference already!
I breathed easy because I hadn't ruined the door. (Oh, and in case you're wondering why I didn't remove the door knocker and the lock and handle . . . I tried. I just couldn't get them off.)
I then let it dry overnight, and repeated the staining process again.
This is the door with two coats of stain, but no protective topcoat yet. Already beautiful, right?
Can I just say that my door is now GLEAMING? It looks totally amazing – almost like a new door.
I couldn't be happier, and I think Nicole Curtis would be proud.
P.S. If you're a total slob like me and get stain all over your hands during application, rub some vegetable oil on them afterwards – the stain will come off easily and almost instantaneously!
2019 UPDATES AND FAQ'S
FAQ 1: How does your door look now?
A1: It's now 2019 (4 years after I wrote this post), and I want to tell you that my door still looks FANTASTIC. The only signs of wear are knicks that my family created; nothing to do with the finishes used or the finishing process. This process has stood the test of time and is one I really believe in!
FAQ 2: Are you sure it's OK to use gel stain on an exterior door?
FAQ 3: Are you sure it's OK to use a water-based topcoat over the gel stain?
FAQ 4: Does gel stain have a strong odor?
A4: There is an odor, but it's not awful or overpowering.