As I've alluded to before, I am super impatient when it comes to my projects (and well, most everything in life. Patience is not my strong suit.). I love instant gratification and I don't like for any project to take too long. That's probably why I fell in love with chalky finish paint; most every painted furniture project can be finished in a few hours or so. But there's always that pesky topcoat that must be applied after painting. Whether its wax or poly or some other type of finish, the paint needs to be sealed in some way. That part of the refinishing process always annoys me – I just want the project to be finished!
So when I found out about a new paint that is perfect for furniture and that doesn't require a topcoat of any kind, I jumped at the chance to try it! DecoArt graciously gave me a jar of this new paint, and I am so excited to tell you how you, too, can paint furniture without using a topcoat or sealer!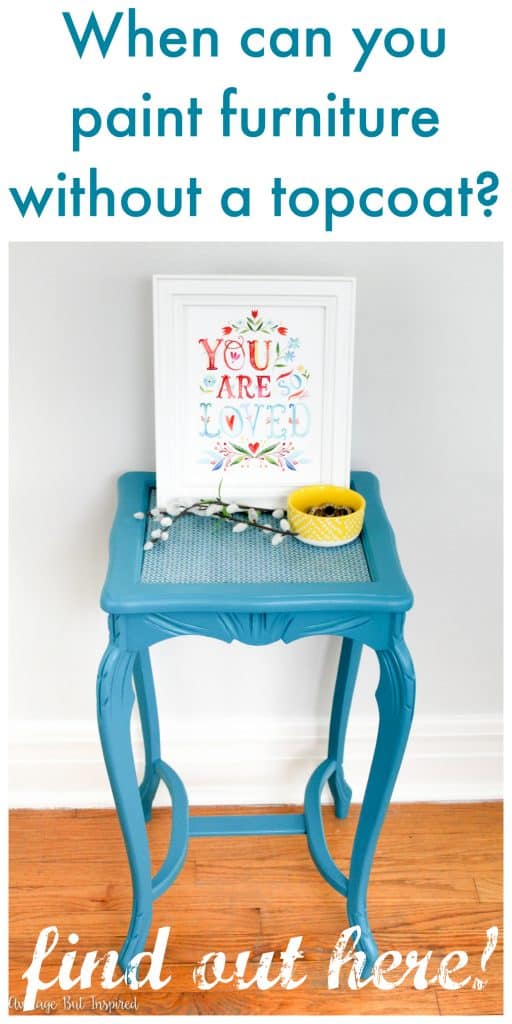 So before we jump into the nitty gritty, let me show you what this table looked like when I started.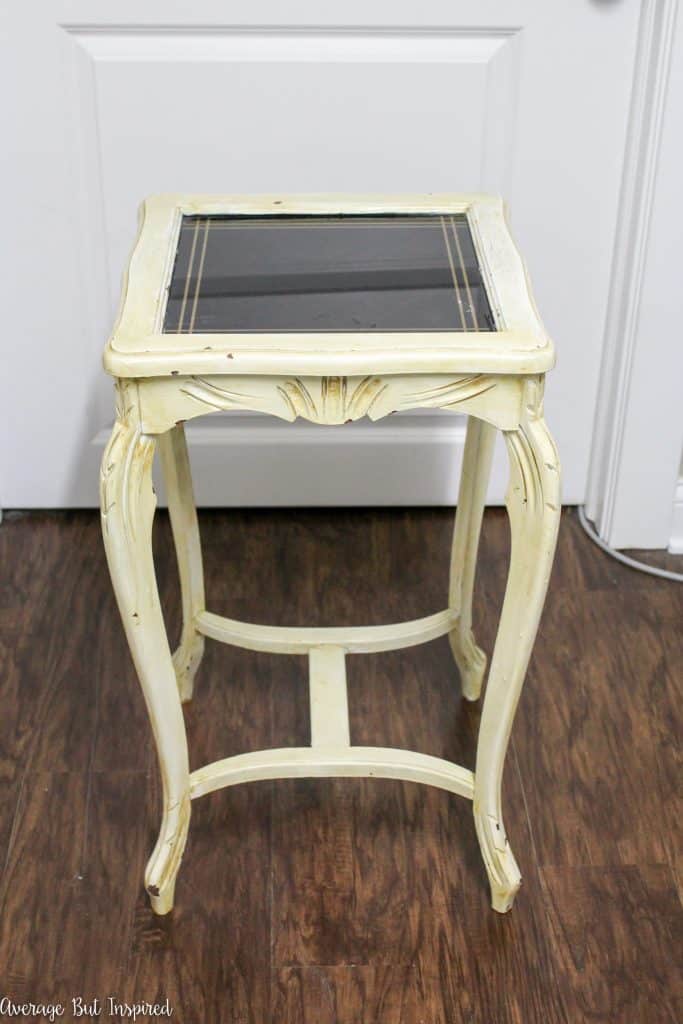 It originally belonged to my Grandma, but my Mom has had it in her guest room for a few years now. At some point in its life, it got a really, really bad paint job. That paint had started chipping off and it desperately needed a refresh. Plus, the black glass tabletop was scratched and ugly.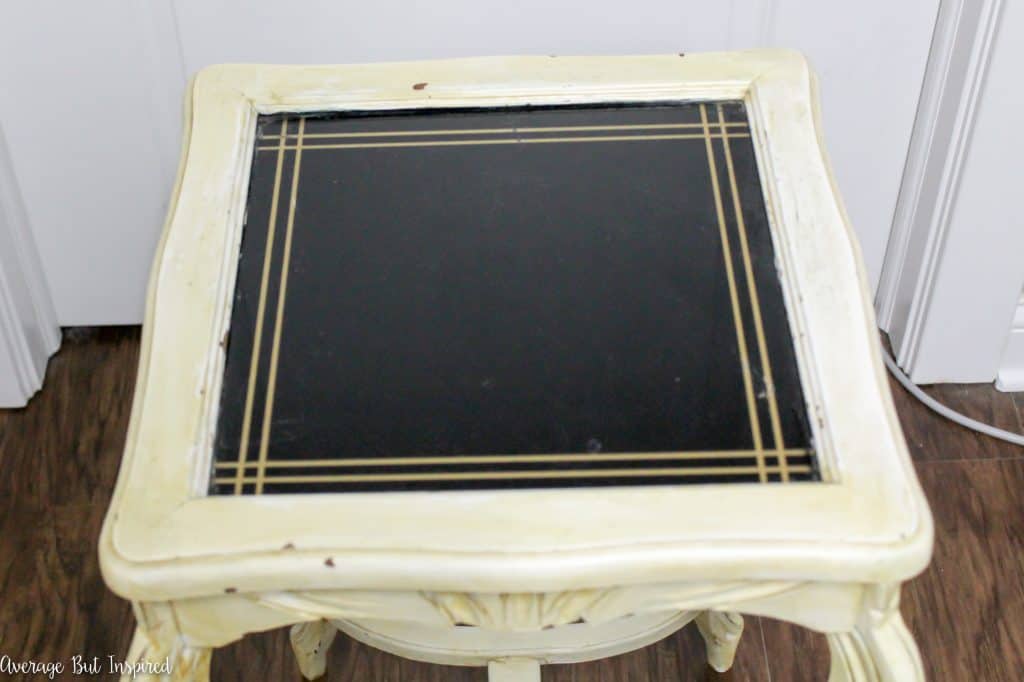 It was definitely time for a new look.
Supplies Used for This Painted Furniture Makeover Without a Topcoat
Some of the links in this post are affiliate links, which means I earn a small commission at no added cost to you if you purchase through them. To read my full disclosure policy, please click here.
How I Painted Furniture Without a Topcoat or Sealer
I started by using my electric sander to remove the chipping paint. Once that was done, I wiped down the entire table with a damp rag to remove any of the dust or dirt left on the table.
Then, I mixed up the DecoArt Satin Enamels Paint and got to work – no primer needed! Because of the difference in the original paint color and the teal I used here, it took three coats of paint to cover all of the original paint color. (Note: despite needing three coats, I still have a lot of paint left over.)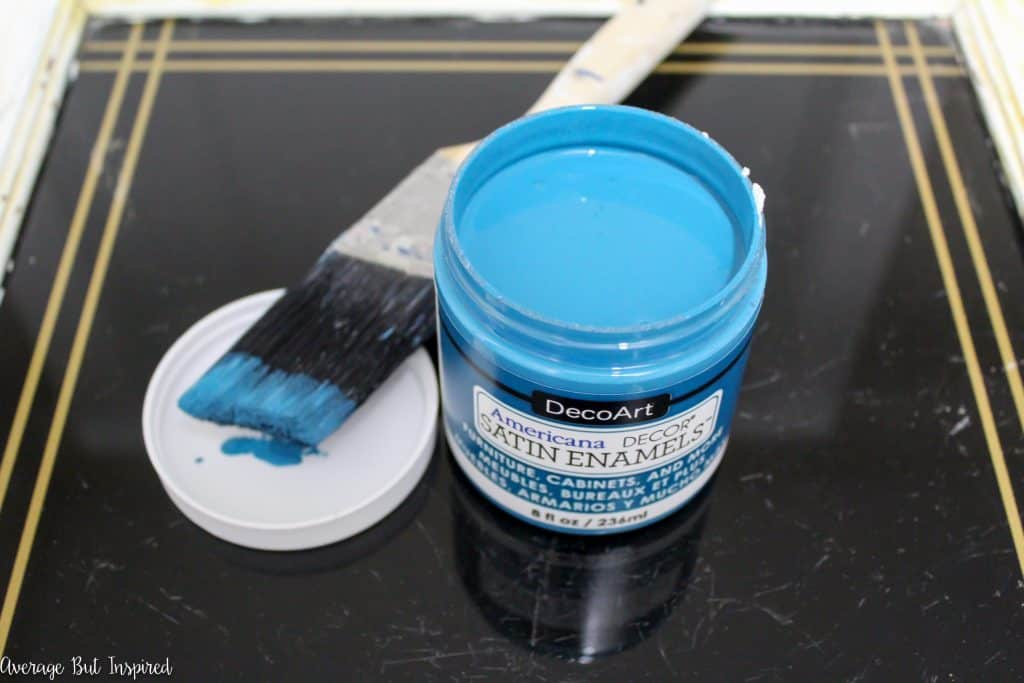 The paint dried quickly and evenly – and I immediately fell in love with the sheen of the finish and the richness of the color!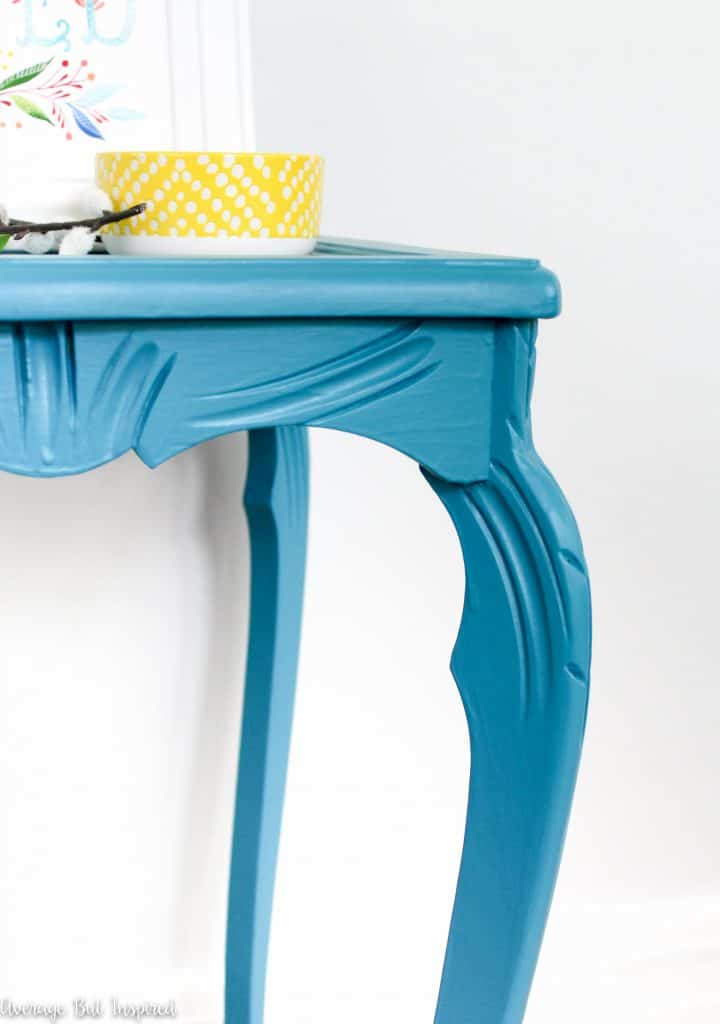 While the paint could have covered the glass table top, I decided to add some pattern to this table by decoupaging some fabric onto the top. (If you want to learn how to apply fabric to furniture, check out this post of mine that gives you step by step instructions.) I think it is such a fun addition to this little table!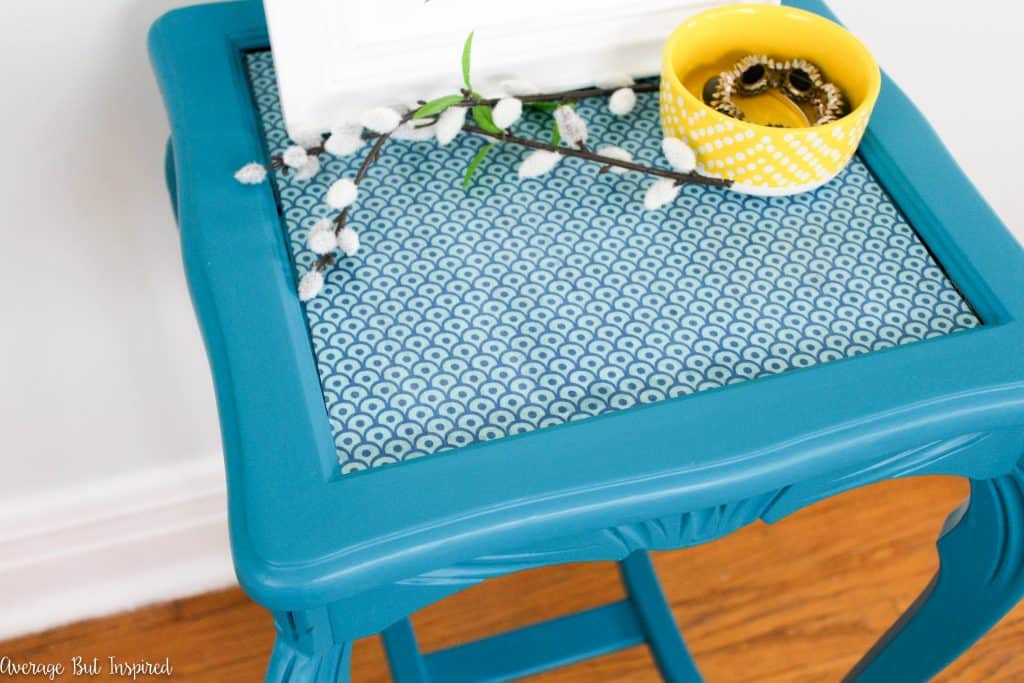 I cannot tell you how pleased I am with the Satin Enamels paint. The shine is just gorgeous – it's not too shiny, and it's not too dull. It is literally JUST right!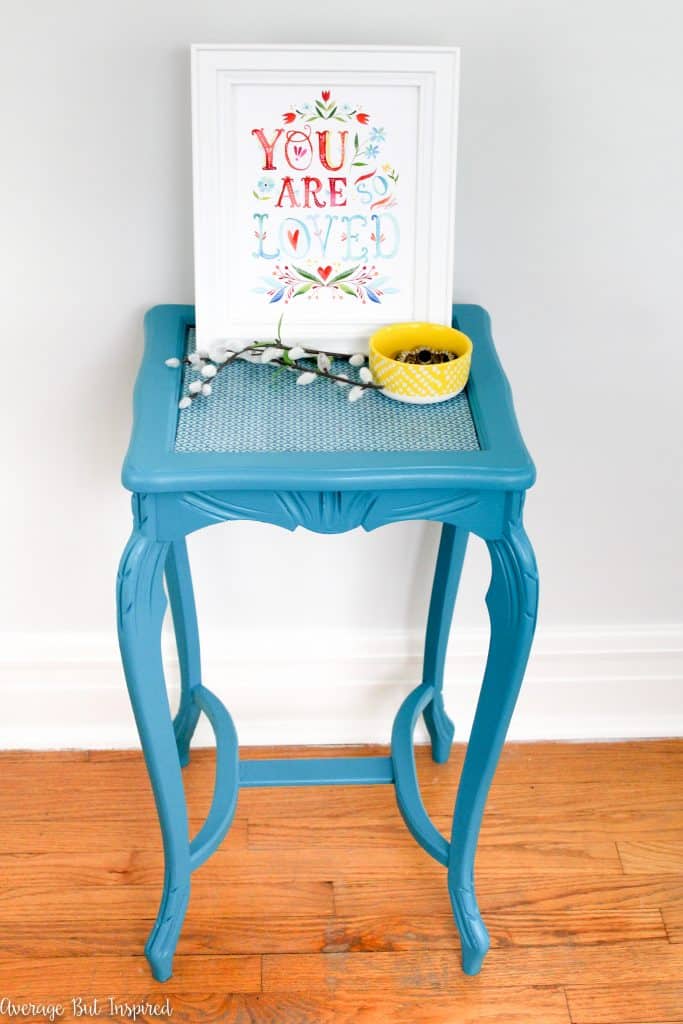 And the fact that I didn't have to use a topcoat or sealer of any kind on the paint cut my project time down drastically.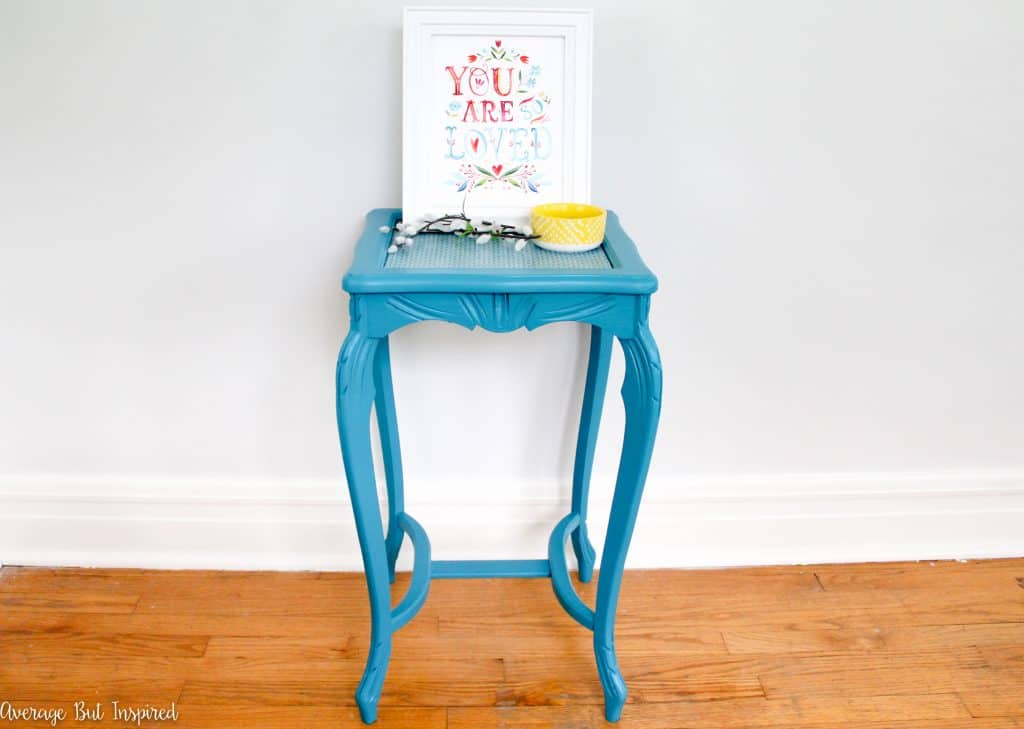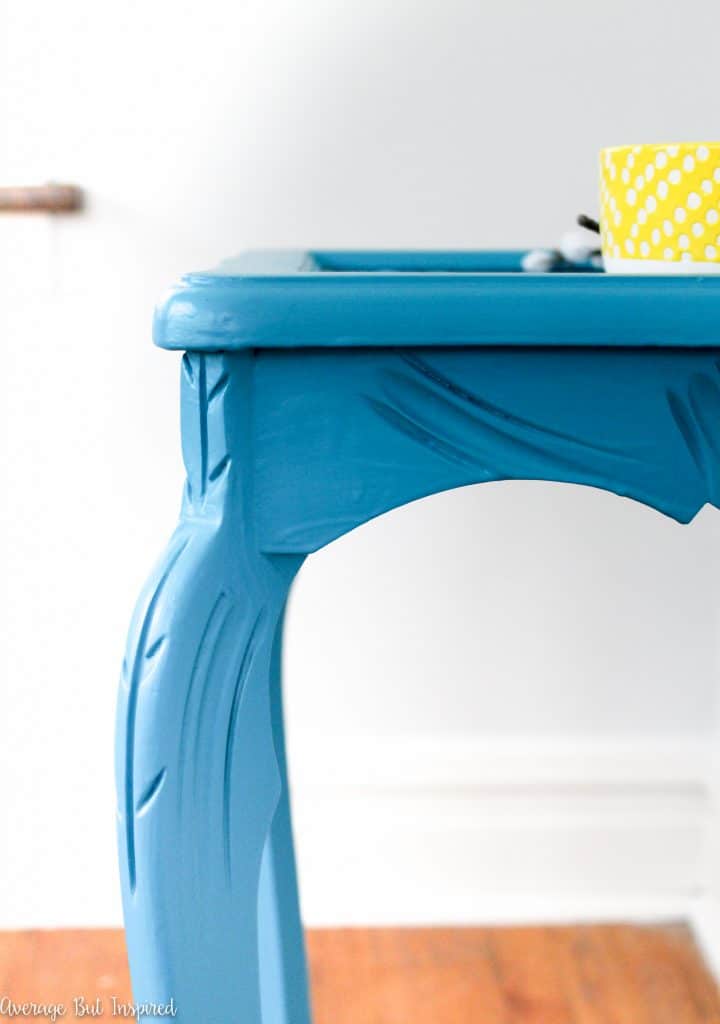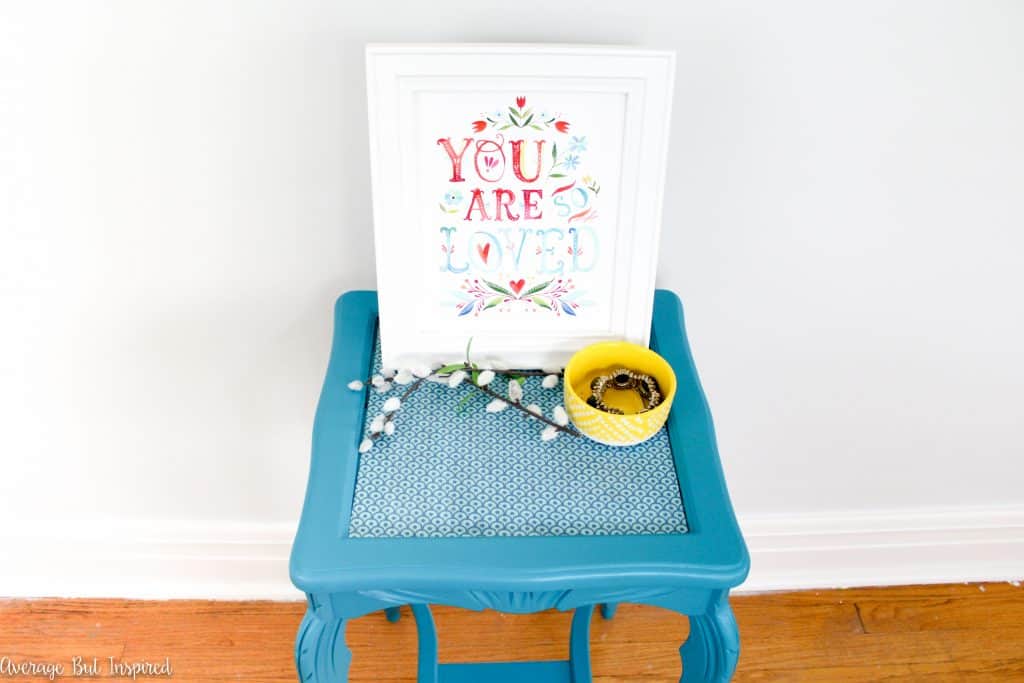 I will always have a spot on my paint shelf for chalky finish paint, but this new Satin Enamels paint is going to give it a run for its money. The fact that I don't have to use a topcoat or sealer is a game changer, in my opinion.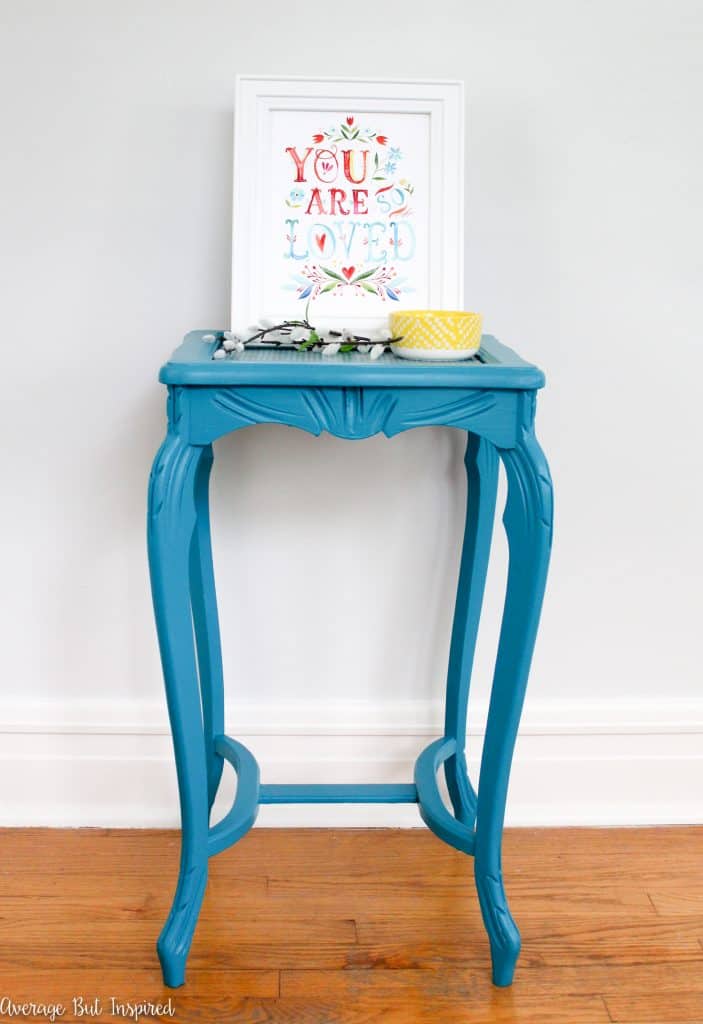 I'm really looking forward to getting this table up to my Mom's house soon. I think it's going to give her guest room a happy new feel, despite the fact that the table is very old and a family piece. That's one of my favorite things about refinishing furniture – you make a piece with sentimental value work for you and your style, all the while retaining the specialness of the piece. And when you can do that AND save time in the process, I'm a happy camper.
Bre