Earlier this year I totally transformed my 1970s orange rock fireplace with limewash. Because that project went so well, I decided to try my hand at a DIY limewash stone exterior makeover of the same 1970s orange rock on the outside of our house, too! (This orange rock musta' been on sale in 1977!)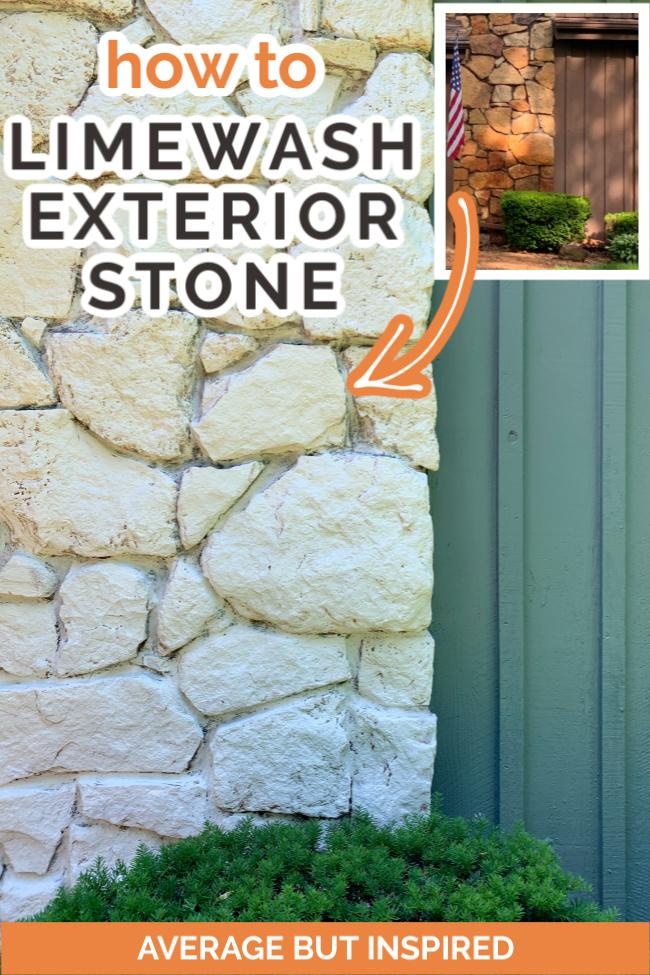 This limewashed stone project was the first part of our outdoor overhaul (which you can see here!), and was an absolutely PERFECT DIY project that significantly updated my home's exterior! Limewashing is definitely the easiest way to change the color of a home's stone facade or rock facade.
What Supplies Do You Need to Limewash Exterior Stone?
This post contains affiliate links. To read my full disclosure policy, please click here.
Listed here are all of the supplies I needed to limewash my exterior stone column. Some of the items I needed may not be required for your job – especially if your stone or rock is low to the ground. I have noted those items with an asterisk (*) in the list. The rest of the items are actually quite inexpensive, so this job can be done on a budget.
Romabio Classico Limewash (I used two of the one quart containers of the Riposo Beige color to complete my large stone column) (**Limewash comes in many colors. Make sure to choose a shade that coordinates with your home's paint colors, roof color, etc.)
Drop cloth or tarp
*Scaffolding (we rented it from a local rental company for around $180 for a week) or ladder
How Do You Limewash Stone Outside?
Limewashing exterior surfaces is actually easier than limewashing interior surfaces because you don't have to be as careful to protect surrounding surfaces (limewash is all natural so it doesn't harm plants!), and you don't really have to clean the surface the way you do inside.
Now that you know that, let me show you how it's done!
Mixing Limewash
Begin by mixing the limewash for the first section of your project. I mixed one quart at a time to keep the limewash "liquidy" the entire time I was using it.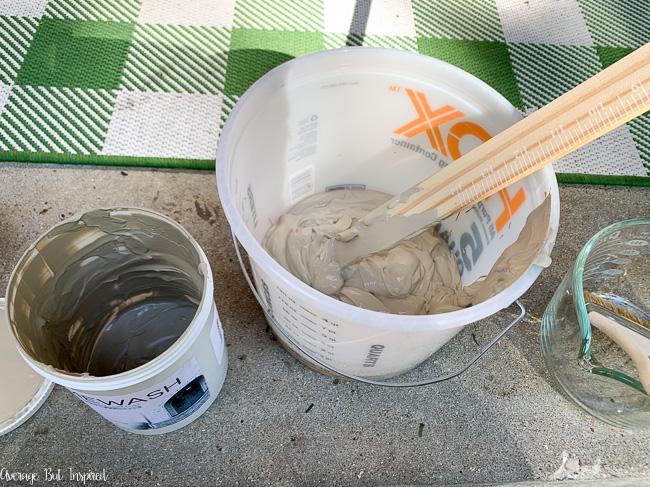 I emptied the one quart container of limewash into my mixing bucket, and thinned it with three cups of water. When mixing your limewash, check to see what dilution ratio you'd like. The product contains instructions for how much water to add. I diluted this batch of limewash more than the limewash I mixed for my fireplace makeover, because I wanted to let a little more of the rock show through.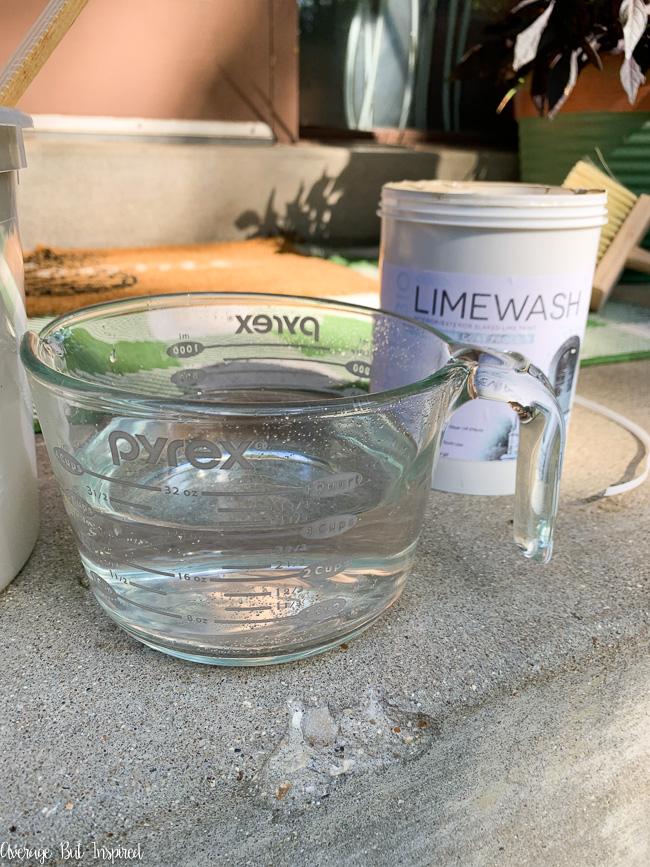 I made sure to stir until all the lumps and clumps at the bottom had dissolved. Once everything's mixed, it's time to get to work.
For me, that meant climbing the scaffolding. I was scared to do this! When my husband could sense my fear and said (in a nice and caring way) that he didn't think I was going to be able to do this, I got the jolt I needed and climbed right up. Once I was up there, I was fine (see – I'm smiling!).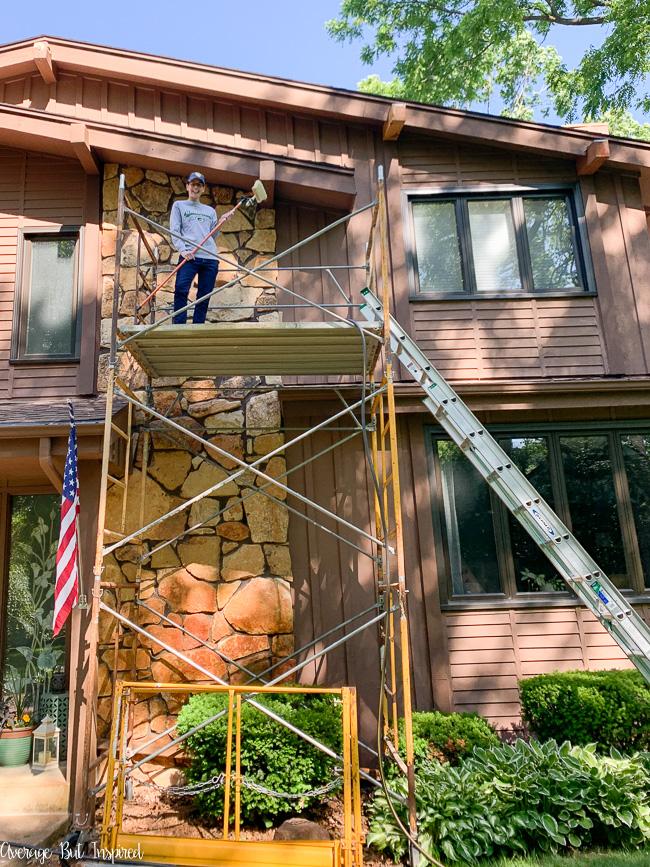 Wetting the Stone or Rock
To start the actual limewashing of the stone, I sprayed a small section of the rock with the garden hose. As Romabio (the manufacturer) recommends, I worked from top (left to right), on down.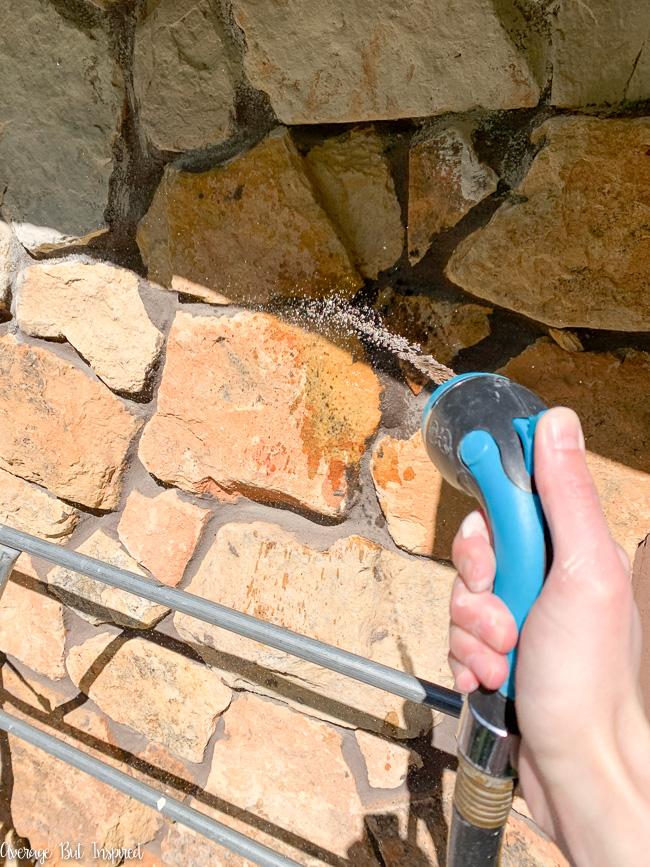 Within each section, I used my water spray bottle to re-dampen stones prior to applying limewash, where necessary. I found that as I got to the end of a section I'd sprayed with the garden hose, the sun had dried up much of the water. So, the water bottle was a great way to get the stone wet again to accept the limewash, without wetting it too much with the garden hose.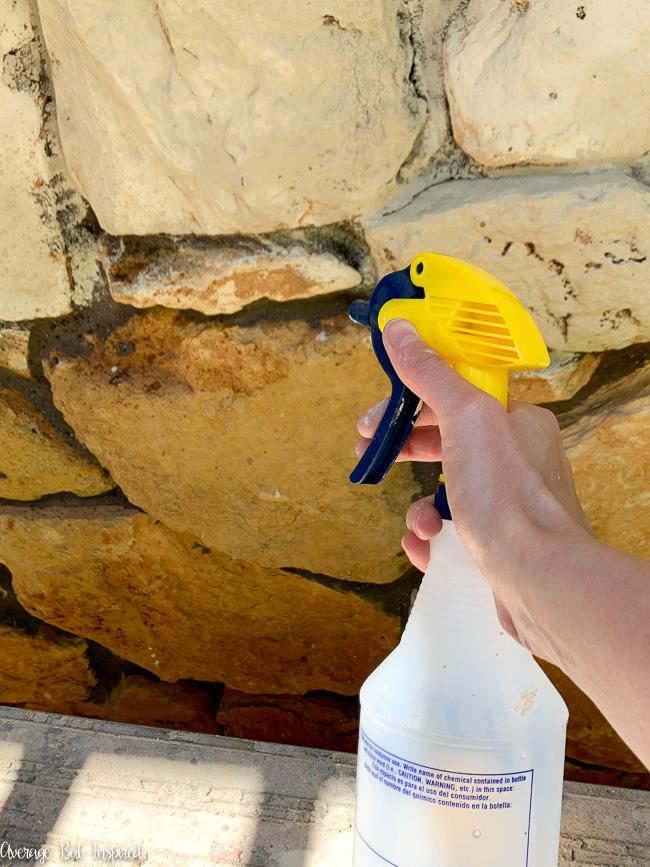 Applying the Limewash to the Stone
With a small section wet, I began applying the limewash to the stone. My scaffolding didn't get me high enough to reach the top left corner of the stone column, so I used my extension pole and brush extender to reach that corner with the masonry brush.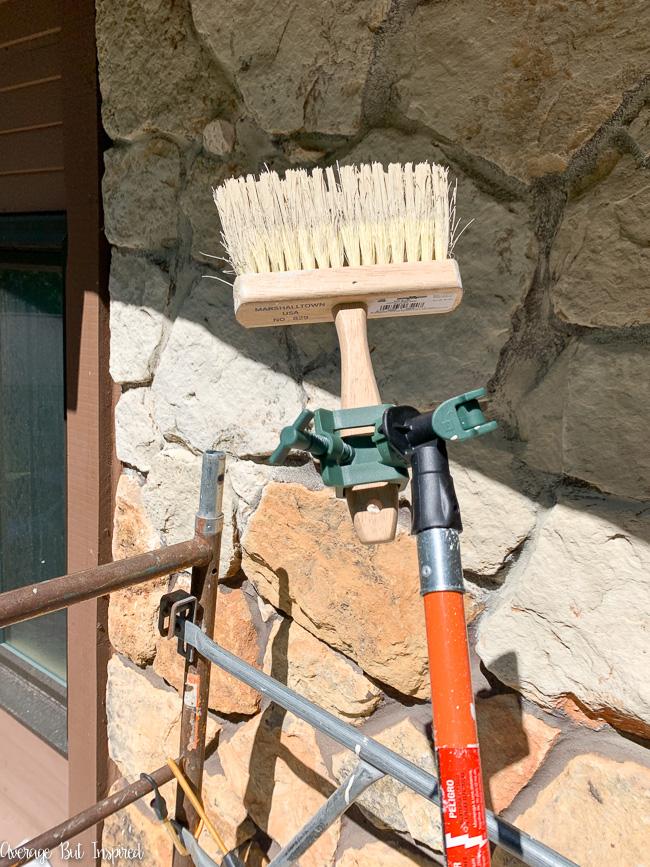 I used the masonry brush to cover the large stone pieces and rocks, and then I got into the grout and crevices with the 3″ chip brushes. I find the masonry brush too unwieldy to get into the grout, but the chip brushes make this part of the job easy.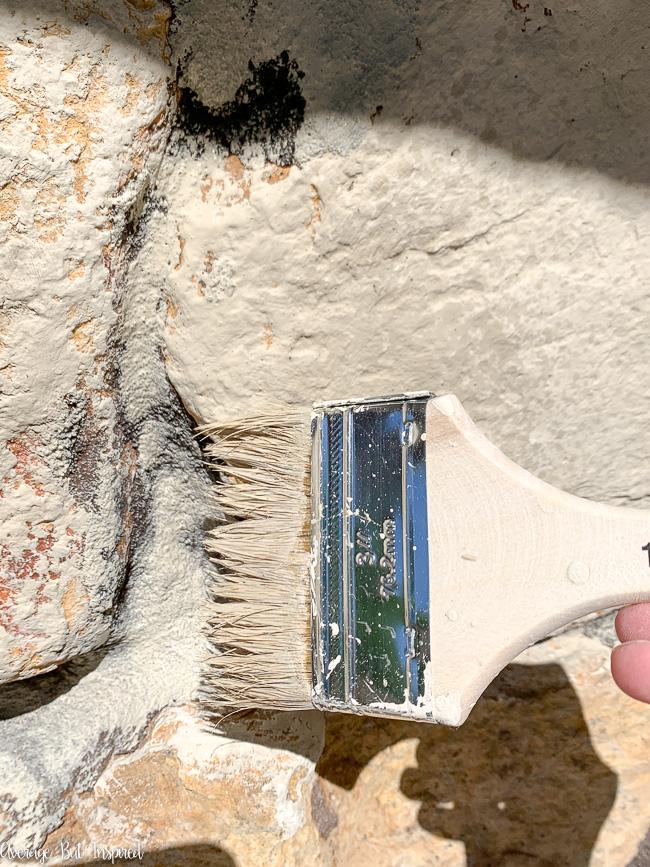 Because the sun was pretty hot on the day I was painting, I was wiping off excess limewash pretty soon after applying it to the rock. I didn't have to do too much of that, however, because the rock was so crevicey and jagged that a lot of the natural stone was showing through anyway. The terry towels worked great to cover my bucket of limewash and catch drips, too.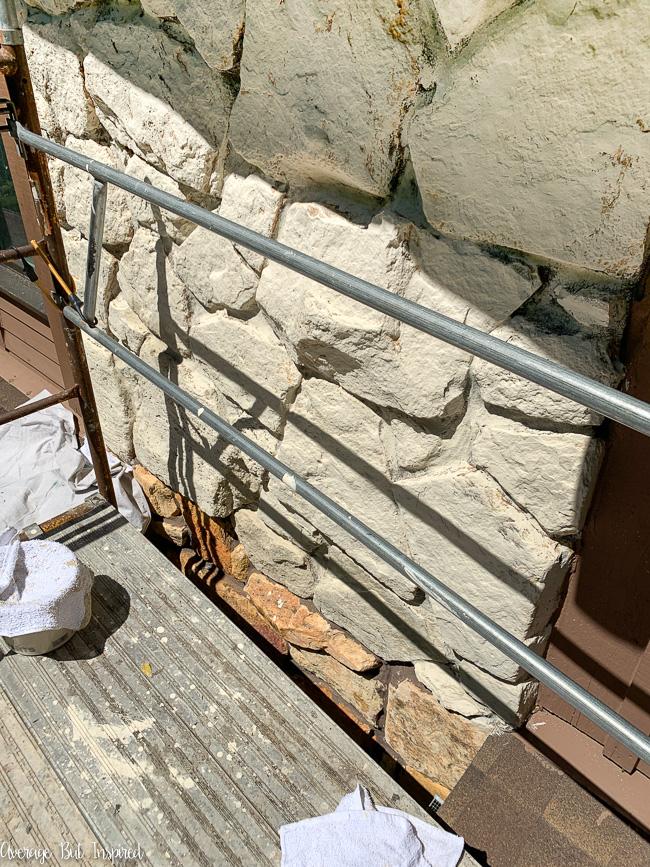 I worked section by section, going down the column, making sure to keep the application uniform and to pay attention to parts that were easy to miss, like the sides of rocks and bottom parts of rocks.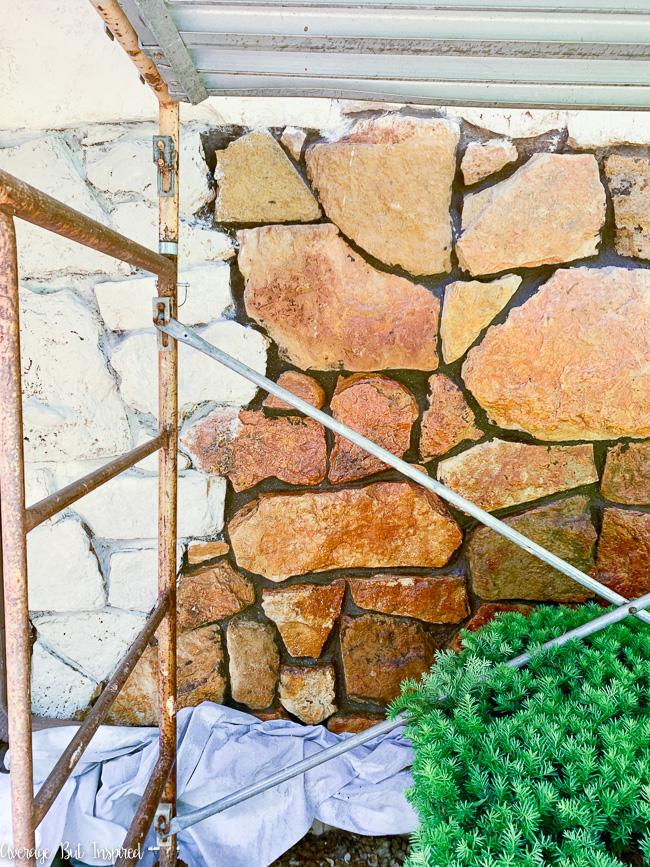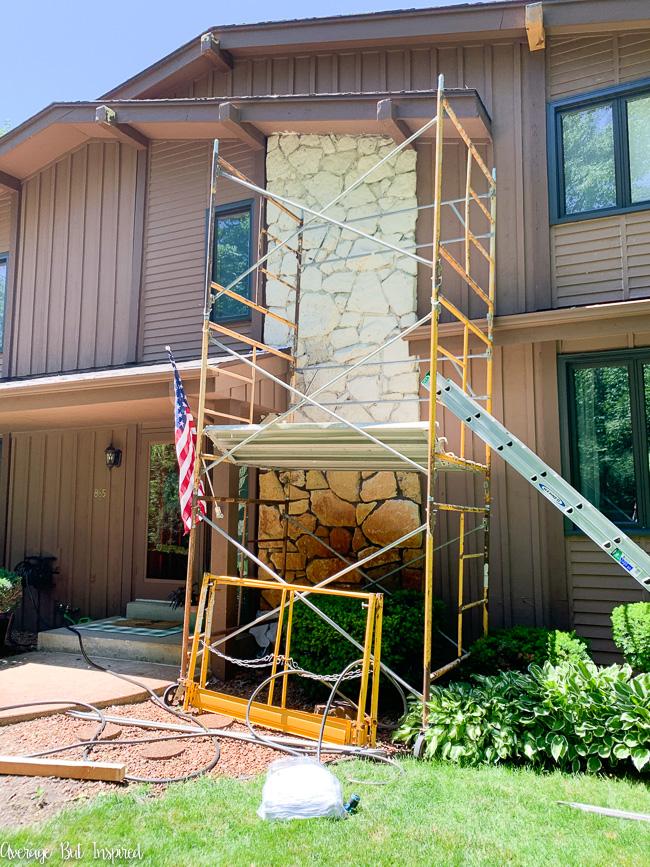 I finished the entire column in a day of work (about 7 hours, including a lunch break), and saved myself a lot of money by limewashing the exterior stone myself.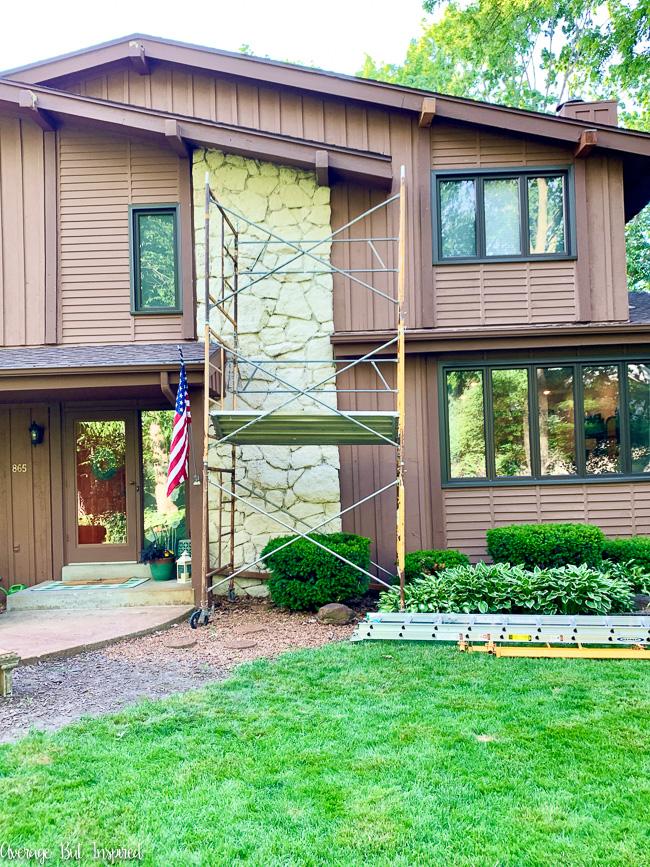 Admittedly, the Riposo Beige limewash doesn't look fantastic with the 1970's brown siding of the house. I think it's too stark of a contrast. It does, however, look FABULOUS with the new color of our house (which you can see in my 1970s exterior makeover post)! Here's a teaser to whet your appetite!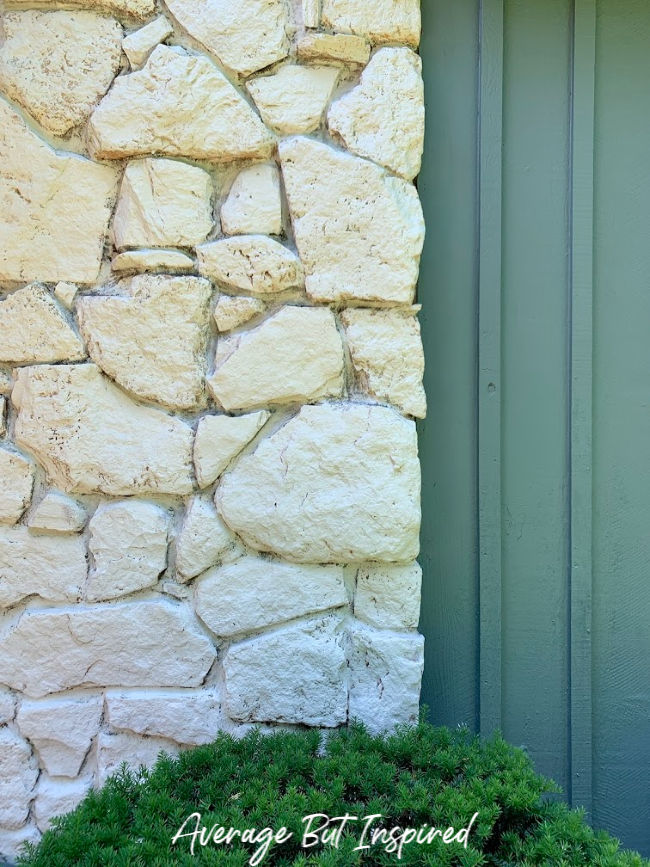 Why Limewash Exterior Stone Instead of Painting It?
I know you're probably wondering why I chose to limewash my exterior stone column to change its color instead of painting it or whitewashing it, and I have lots of good answers for you!
First of all, limewashed rock – unlike painted rock or whitewashed rock (whitewash is just thinned down paint) – has a much more natural appearance. It is ultra matte, just like rocks and stone, and allows the natural patina to show through (where desired). I did not want a totally polished or covered look that paint would have given, so limewash was the natural choice here!
Next, limewash can be removed within 5 days of application! So, I knew that if I limewashed the stone column and hated it, I could rent a powerwasher and remove it. That "insurance policy" is huge, in my opinion!
I also like that the limewash will continue to patina and age with time, unlike paint. I didn't want to destroy the rock – just update it to work with our new color scheme – and that is easily accomplished with limewash.
Finally, limewash poses no harm to the environment or surrounding surfaces. I didn't have to worry about some of it dripping on the bushes or grass below the stone, because it's totally natural and non-toxic and washed away as soon as it rained. It was nice not having to think about any of that!
This limewash finish will last approximately 10-15 years, which is the same as an exterior paint job. So, I will have to re-do it at some point to maintain the look, but that is the case with any painted finish.
Let me know if you have any questions about the limewashing process at all. I am such a huge fan of this material and want to sing its praises from the highest mountain! It is so DIY friendly and makes such an impact at a low price. It's amazing. 🙂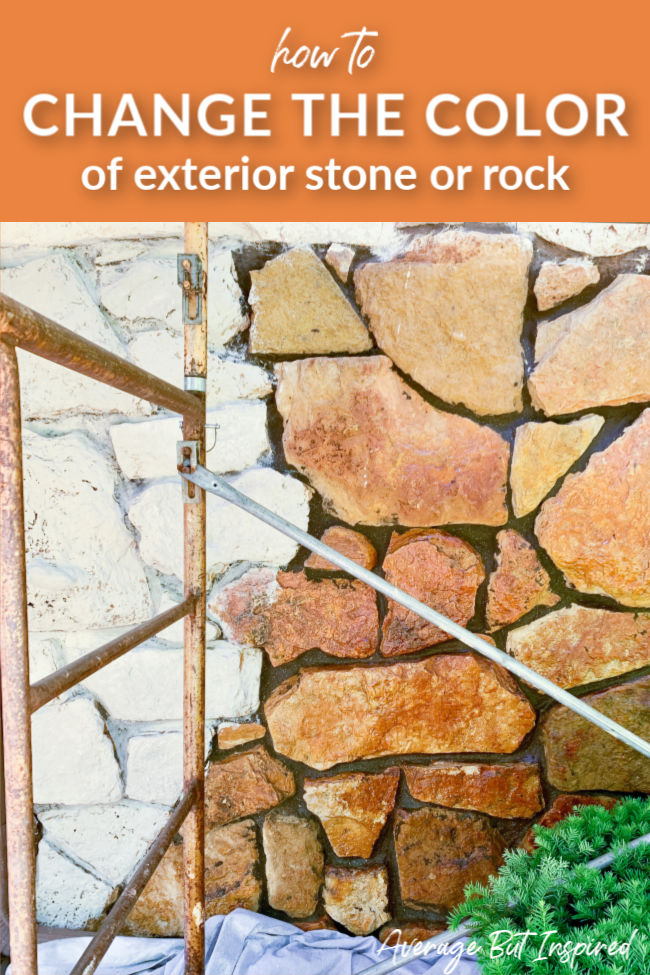 Make sure to come back in a week or two to check out the entire exterior makeover reveal!
-Bre