My "new" house has a lot of trees and no streetlights. It's really dark here – especially in the winter! We needed to brighten things up ASAP, so we installed wireless solar LED landscape lights: both solar path lights and solar uplights. They have made such a difference, and I'm excited to tell you all about this easy landscape lighting solution!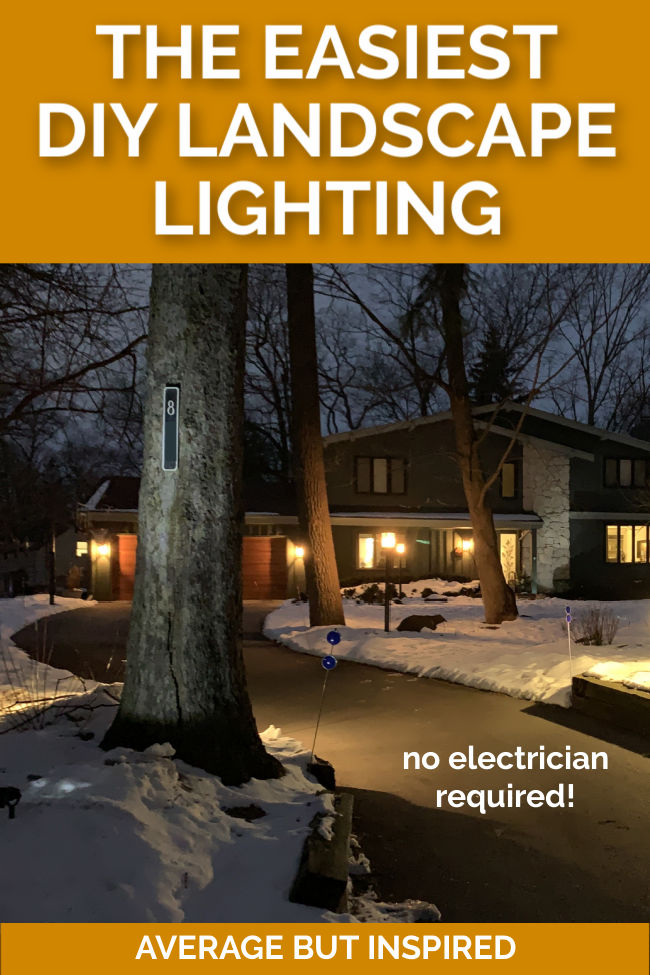 This post is sponsored by Brightology, but all content and opinions are my own. To read my full disclosure policy, please click here.
Upgrading our landscaping is on the list of projects for 2021, and that included adding path lights and uplighting to the trees and around the house. We figured we would need to wait until late spring or early summer to install landscape lighting, because traditional landscape lights are wired, which requires trench digging and the ability to bury wires.
That can't happen during a Wisconsin winter!
When I found out about Brightology, a solar LED landscape lighting company, I knew their products could solve our outdoor lighting problem immediately – even in the winter!
Brightology sells a wide variety of solar LED landscape lights in different styles and colors. Amazingly, they're all wireless, they're all recharged by the sun, and they're all very bright lights.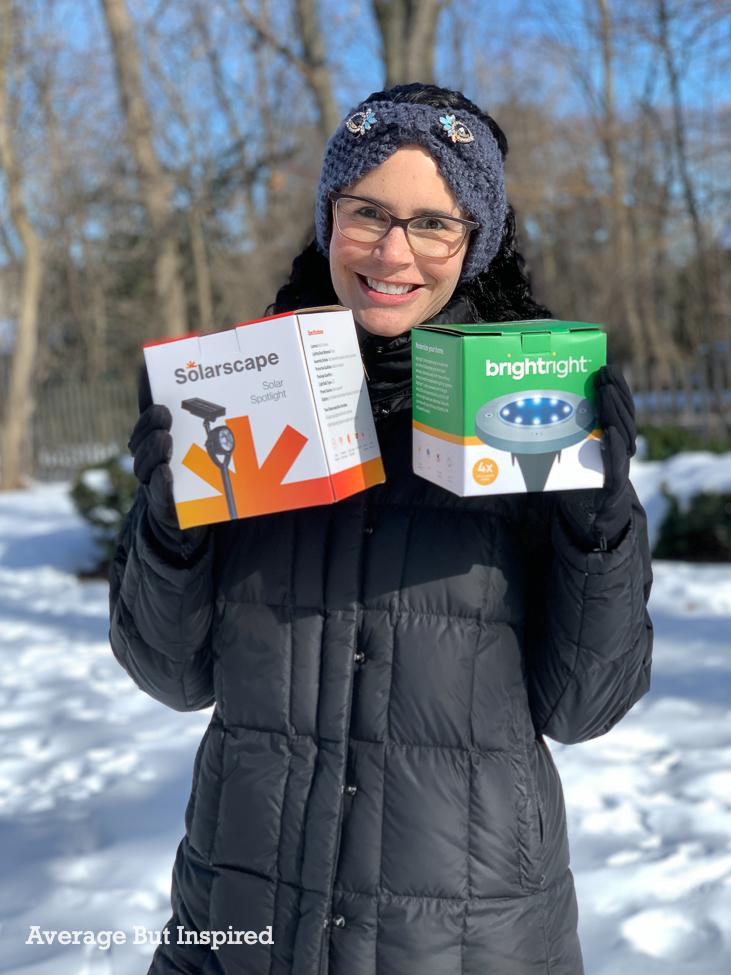 For my yard, I chose the Solarscape solar spotlights for uplighting and the Brightright solar path lights to illuminate my front walkway. These are NOT your dollar store solar lights, folks! As a previous purchaser of junky solar lights, I can attest to that.
Solarscape Solar Spotlight
For uplighting trees and dark portions of our home, I installed four Brightology Solarscape Solar Spotlights throughout my yard. Installation of these solar LED landscape lights is incredibly simple: just flip the switch to the "on" position and stick the light in the ground.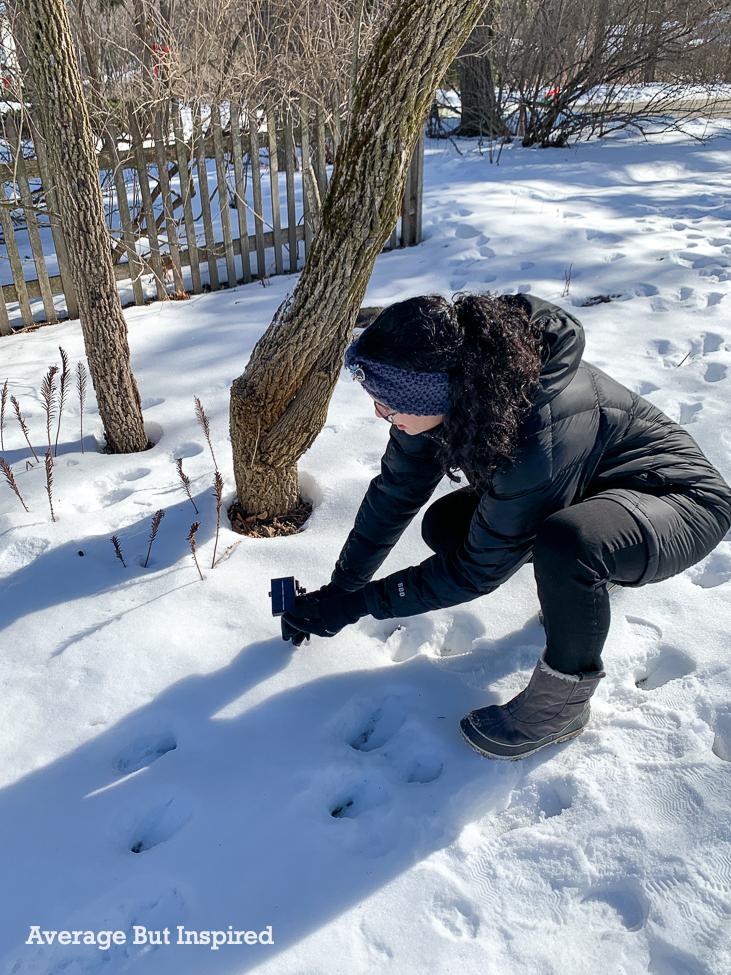 The light portion of the spotlight has an easy-to-turn dial to tighten the spotlight in place, and the solar panel is easily adjusted to any angle so that it can collect the most sun for recharging.
My favorite spot where I installed a Solarscape spotlight is at the foot of the driveway, to illuminate the house numbers on a tree. They were previously not visible at night! Now you can finally see the address, and food delivery people are very happy.

I installed two others to illuminate dark spots on the house, and one to uplight a tree near the front of the yard. My husband and I are amazed at the boost these solar lights have given the house.

Brightright Solar LED Path Lights
In addition to adding wireless uplighting around the property, I also added Brightology Brightright solar LED path lights at the edge of the walkway to the front door.
As with the Solarscape lights, these were incredibly simple to install in just minutes! I just popped the stake into each light, and switched them to "on" so they could charge.

These are low-profile LED path lights, so they take up hardly any space, but still provide amazingly bright light so nobody will stumble on their walk to my door. (Again, happy food delivery people!)

If you prefer a more decorative style of pathway light, Brightology has those, too! They even have solar LED pathway lights available in every color of the rainbow.
In the summer months, I plan to relocate these path lights to the back walkway to my patio, since that's where the good times will be happening! Since these solar LED landscape lights have no wires and install so easily, this will be no problem at all.
Solar LED Landscape Lights – Your Questions Answered
Now, if you're like me before I installed these Brightology landscape lights, I'm sure you have a lot of questions about solar landscape lighting!
How long do Brightology solar LED lights last?
These solar LED landscape lights last up to eight hours a night!
The lights soak up sunlight during the day to charge the batteries, and then turn on automatically when it gets dark. At the time of writing this post (January), my lights are turning on around 5:30 pm and are still on when I go to bed at 10:00 pm. And this is with multiple days in a row of NO sunlight at all – just gray, cloudy skies.
How bright are Brightology solar LED lights?
On nights following a sunny day, these solar LED landscape lights are extremely bright! To me they appear as bright as regular LED lights – I would not guess that they are powered by the sun.
On nights following a cloudy day, the landscape lights are still bright and visible, though not as bright as when they've had a full day of charging in the sunshine.
Can you leave Brightology solar lights out all winter?
According to Brightology, these weather-resistant solar LED landscape lights can be left out in the winter. If the temperature is expected to drop below 32 degrees, they suggest that you move the lights to a frost-free location until it warms up. Since installation is so easy, this really is not an issue.
Are Brightology solar LED lights worth it?
The convenience and light output of these lights makes me believe that they are definitely "worth it." In under ten minutes I set up eight new landscape lights in my yard and illuminated areas that had previously been pitch black.
Plus, purchase Brightology solar lights through this link and automatically save 15%!
The fact that Brightology solar LED landscape lights provide good lighting, and that I can replace the batteries in the future, makes them a smart investment, in my opinion.
If you're looking to add lighting to your yard but don't want the hassle of running wires and hooking up electrical, these lights are the perfect solution.
-Bre