Nothing makes as much of a curb appeal impact as a beautiful front door.  If your wood front door has seen better days and needs to be refinished, do not fear! It's so easy to restain a front door with gel stain, and the best part is that you can refinish it without removing it from the hinges!
My home had a very sad and neglected wood front door.  My husband and I believe that the door is original to the home (built in 1927), and that it had been unloved since that time.
It was dull, scratched, worn and making a very bad first impression.  Not a very welcoming entrance to the home that we've put so much time and effort into!  This "before" photo actually makes the door look better than it should.
Since our door was in such bad shape, we really wanted to replace it with a new, craftsman-style wooden door with windows.  But after researching the cost of replacement doors, we decided that refinishing the door was better for our budget.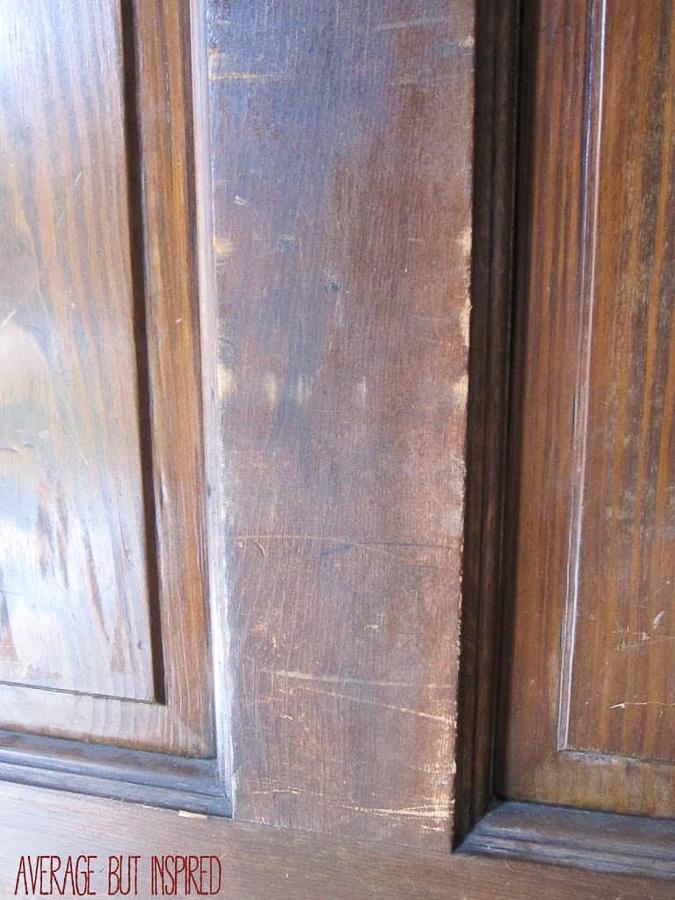 We weren't sure if I could get a wooden door that looked THIS bad to look better, but we figured it was worth a shot.  (Spoiler Alert: it TOTALLY WORKED and I'm going to show you how to get the same results!)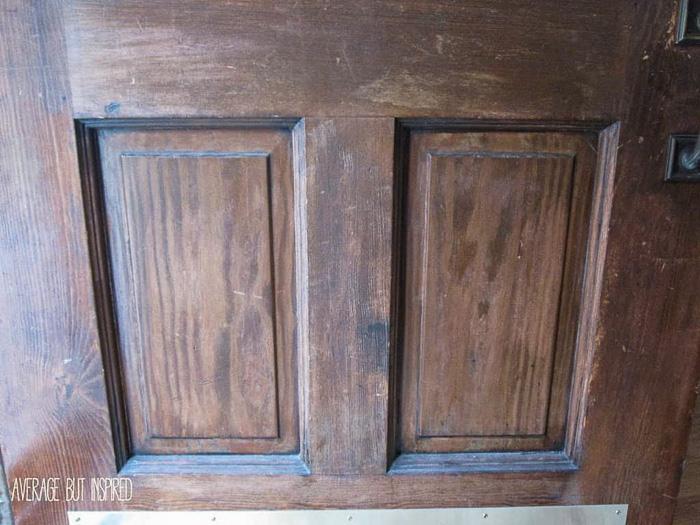 After doing a lot of product research, I settled on using gel stain to refinish this wood front door.  Restaining a door with gel stain has a lot of benefits – one of which is that you don't have to remove the door from the hinges, strip the door prior to restaining, or do any extensive prep work.  The easy way is my way.  Sold.
What Is Gel Stain?
In case you're unfamiliar with it, gel stain is different from traditional stain because it does not penetrate the wood.  It sits on top of the wood, much like paint does.
When applied, it has a pudding-like consistency and looks rather opaque.  But when you wipe off the excess gel stain, it has a translucent finish that lets the wood grain show through, just like regular stain does.
Since originally publishing this post, I have used gel stain on LOTS of projects.  I even have a helpful blog post on Helpful Gel Stain Tips and Tricks for a Perfect Finish.  I recommend reading that post after this post to give you even more information about the process of refinishing a door with gel stain.
Can You Restain a Door That's Already Stained?
Before we jump into the step-by-step process, I want to answer the number one question that I get on this topic: can you stain a door that's already been stained?
The answer is YES!  You can use gel stain to restain a door that's already been stained.  That is exactly what I show you how to do in this post.
The key to restaining a previously stained door with gel stain is sanding just enough to remove any protective sealer that's left on the door.  You don't need to sand down to bare wood, but you do need to remove that shiny layer of protection before staining again.
Can You Use Gel Stain on Exterior Applications?
Throughout the years, many people have asked me if it's okay to use gel stain on an exterior door.  Some people have told me their cans of gel stain say the product is for interior use only.
My can of gel stain says nothing about it being for interior use only, and my door's finish stood up wonderfully! I moved out of this house in 2019 so I haven't seen it since then, but from 2014 – 2019, my restained door was in excellent condition.
Also, in my new home, I painted the front door to look like wood with gel stain!  This is another exterior use of gel stain that is working out just great.
So, you may be nervous to refinish your front door with gel stain, but I assure you that it's going to look fantastic!
Supplies Needed to Restain a Wood Door with Gel Stain
These are the supplies I used to refinish my wood front door as shown in this post.  Obviously you can use a different color of gel stain to refinish your door.  Pick a shade that works best for your home!
This post contains affiliate links.  To read my full disclosure policy, please click here.
How to Restain a Wood Front Door with Gel Stain
This is the complete process of how I restained my wood front door with gel stain, and without removing it from the hinges.
STEP ONE: Clean the Door
I washed the door to remove the dirt and grime that had accumulated over the years.  Then I taped off the door knocker and handle set because I couldn't get them off the door!
STEP TWO: Sand the Door
I lightly sanded some parts of the door, focusing on the areas that still appeared to have some protective finish on them.  Then I used a cloth to remove the dust that appeared during sanding.
VERY IMPORTANT: If your door has protective finish left on the entire thing, make sure to sand the entire door.  You want the surface to be in the same condition on the entire door when you start staining.  This will ensure that the stain looks even.
STEP THREE: Apply Gel Stain to the Door
I followed the directions on the can of
gel stain
, and I applied stain to a small section of the door with a foam brush.

I had a temporary freak out when it appeared to be a really dark, solid color – almost like pudding.  I thought I'd ruined my door.
STEP FOUR: Remove Excess Gel Stain
I used cheesecloth to wipe off the excess gel stain on the area to which I'd recently applied the stain.  Here you can see that stain had been applied to the right side of the door, but not the left.  Look at the difference already!

I repeated this process until I finished restaining the entire door.  I breathed easy because I hadn't ruined the door.

STEP FIVE – Repeat the Gel Stain Process
I then let it dry overnight, and repeated the staining process again.

This is the door with two coats of gel stain, but no protective topcoat yet.  Already beautiful, right?
STEP SIX – Apply Protective Topcoat
After the second coat of gel stain had dried 24 hours, I began applying my
protective topcoat
, per the manufacturer's directions.
I applied four coats throughout the course of the day, which allowed me to finish the topcoat portion without sanding in between any of the coats.  This was key to ensuring ease of application.
Several people have asked if I am sure that it's okay to apply a water-based topcoat over gel stain.  I am totally sure that it is okay to use water-based topcoats on gel stain!  General Finishes (the manufacturer of the gel stain I used to refinish my door), even says
it is ok to use water-based topcoats with gel stain
.
The Restained Front Door
Can I just say that my wood door is now GLEAMING?

It looks totally amazing – almost like a new door.

This restaining process took some time, but it was time well spent.  Refinishing the door with gel stain made a huge impact on my home's curb appeal, and it was an inexpensive way to upgrade the look of the door.
I'd love for you to Pin or share this post to help others learn how to restain their front doors, too!


How to Restain a Front Door with Gel Stain
Active Time:
6 hours
5 seconds
Total Time:
2 days
6 hours
30 minutes
5 seconds
Learn how to restain a front door without removing it! Refinish a wood door with gel stain for an easy curb appeal update. Your front door will look better than ever!
Materials
Gel stain
Protective topcoat (I used Spar Urethane in Satin finish)
Foam brushes
Cheesecloth
Sandpaper
Disposable gloves
Painters tape
Instructions
Start by cleaning the door. Wash it to remove dirt and grime.
Once dry, use painters tape to protect any areas of the door that you don't want to get gel stain on.
Sand the door to remove any protective topcoat that is left on the door. The finish of the door should be as even as possible prior to restaining with gel stain. You do not need to sand the door down to bare wood; you just need to get off the shiny topcoat protecting the original stain.
Follow the directions on the can of gel stain and begin applying it to a small section of the wood door with a foam brush.
Let the gel stain sit for a few minutes, and then use cheesecloth to wipe off excess gel stain. Do not let the gel stain dry too much or it will become difficult to remove, resulting in an uneven finish.
Repeat this process until the entire door has a first coat of gel stain applied to it.
Let the door dry according to product instructions, and then apply a second coat of gel stain to the door.
Let the door dry according to product instructions, and then apply a protective topcoat to the door. I used four coats of Spar Urethane, following the product directions closely and ensuring to apply subsequent coats of product within the specified timeframes.
Let the door thoroughly dry before resuming normal use.
Notes
Gel stain works best if you choose the same color as the original wood stain finish, or a darker color. It is almost impossible to make a wood door a lighter color with this refinishing process.
I recommend that you wear gloves while restaining a front door with gel stain. If you do not and you happen to get gel stain on your hands, it is easily removed by rubbing your skin with cooking oil.