Well, it's that time of year again when the realization of summer's fleeting presence hits us all. For many, the last month or so of this most wonderful time of year is an action-packed race to the finish line. I am no exception, and one of my favorite activities to squeeze in is a visit to the Wisconsin State Fair.
The pig races and livestock barns are always a big attraction, but let's be honest – the food is what really fuels my 1.5 hour drive across the Illinois state line. The Wisconsin State Fair is known for its cream puffs and cheese curds, but it also touts a fantastic "food on a stick" selection. Take the "beer battered macaroni and cheese bites with bacon on a stick" or "Frosted Flakes chicken on a stick," for example. Apparently everything tastes better if you put it on a stick, and I guess that's why the Wisconsin State Fair is offering twenty-one "on a stick" selections this year.
So, I thought I'd test this theory out at a recent barbecue by spearing my fruit salad instead of tossing it, as is usually done. The result was beautiful and delicious, even though nothing was deep-fried. I used strawberries, clementines, pineapple (canned), kiwi, blackberries and grapes, but you could obviously mix this up any way you choose. Next time I do this I will use fresh pineapple instead of canned. That was a mistake as it was mushy and not as flavorful as fresh pineapple.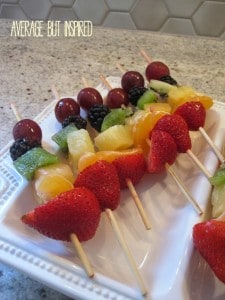 What's your favorite food on a stick?