This post was updated in January 2019.
My favorite kinds of crafts are those that I can complete during my kids' afternoon naps. Give me some quiet time and a glue gun and I'm a happy camper! This Easy DIY Ribbon Chandelier turned out to be one of those projects. It was quick and easy, and I love the way the finished product looks hanging in my daughter's bedroom.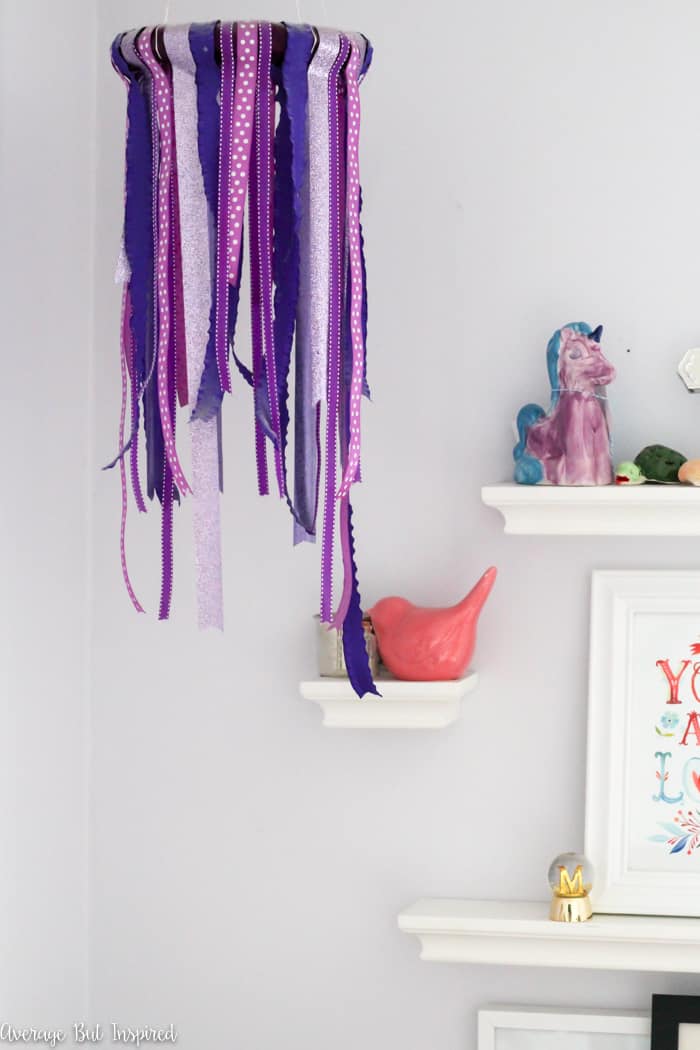 Supplies Needed to Make a DIY Ribbon Chandelier
For this project, you'll need the following supplies:
Hoop or wreath form (I used a 4″ grapevine wreath from Dollar Tree. You could also use an embroidery hoop or a styrofoam hoop);
Variety of Ribbon (I used five spools of ribbon of varying widths, patterns and shades of purple)
Glue Gun (You could also tie the ribbon to the hoop, but I think gluing the ends gives it a cleaner look)
Fishing Line or Twine (for hanging once complete)
How to Make a DIY Ribbon Chandelier
Unfortunately I don't have step by step photos of this project! This was the second blog post I ever wrote, and I didn't know what I was doing! It's so easy that I think you'll be able to figure it out without photos though.
Hot glue the end of a very long ribbon to your hoop.
Wrap the ribbon around the hoop to cover the form.
Cut ribbons of varying length, which will serve as your chandelier pieces.
Loop a ribbon around the top of your covered hoop and hot glue the back piece to the longer front part of your ribbon.
Repeat all around the hoop.
Hang and enjoy!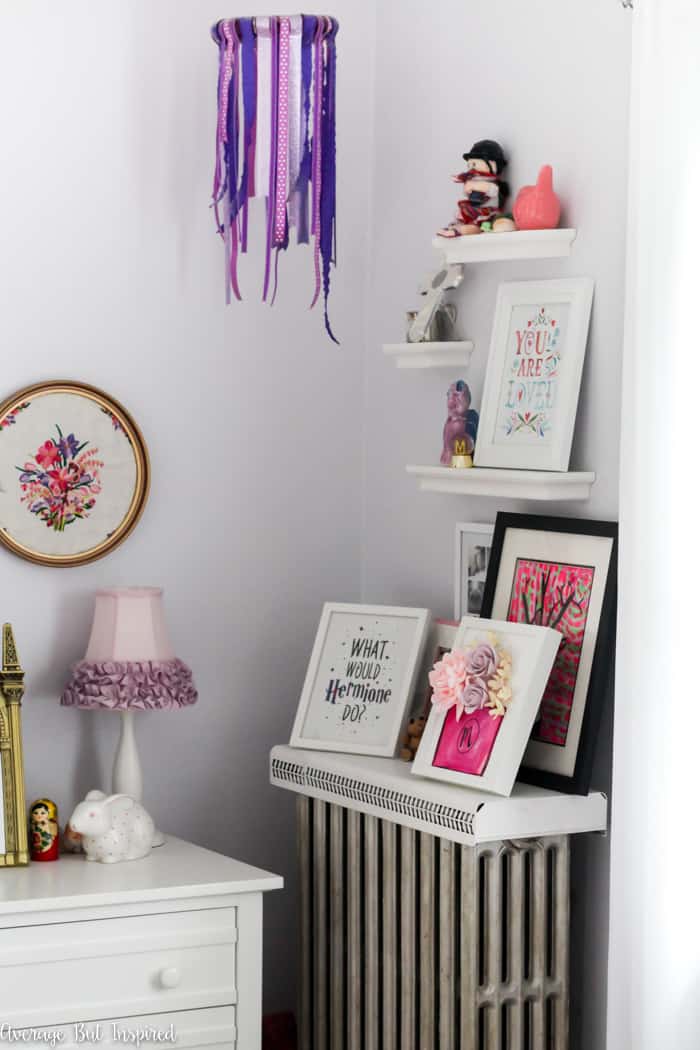 These DIY Ribbon Chandeliers would also look cute grouped together in varying sizes and/or colors. Another inexpensive variation for parties would be using streamers instead of ribbon.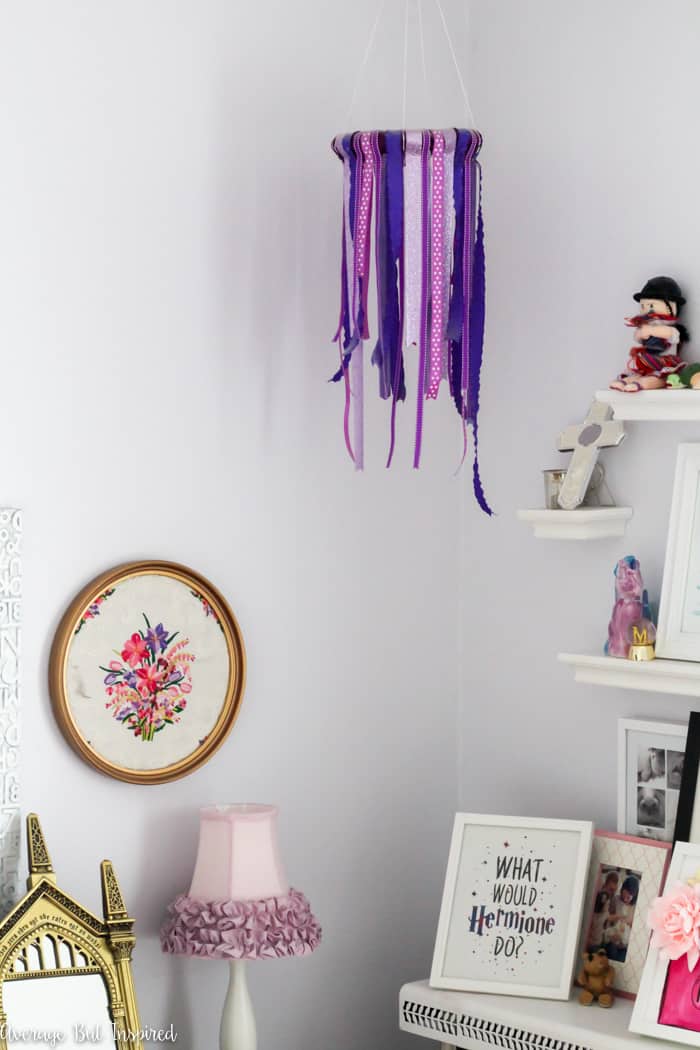 It's such an incredibly simple way to add a fun element to any room or event!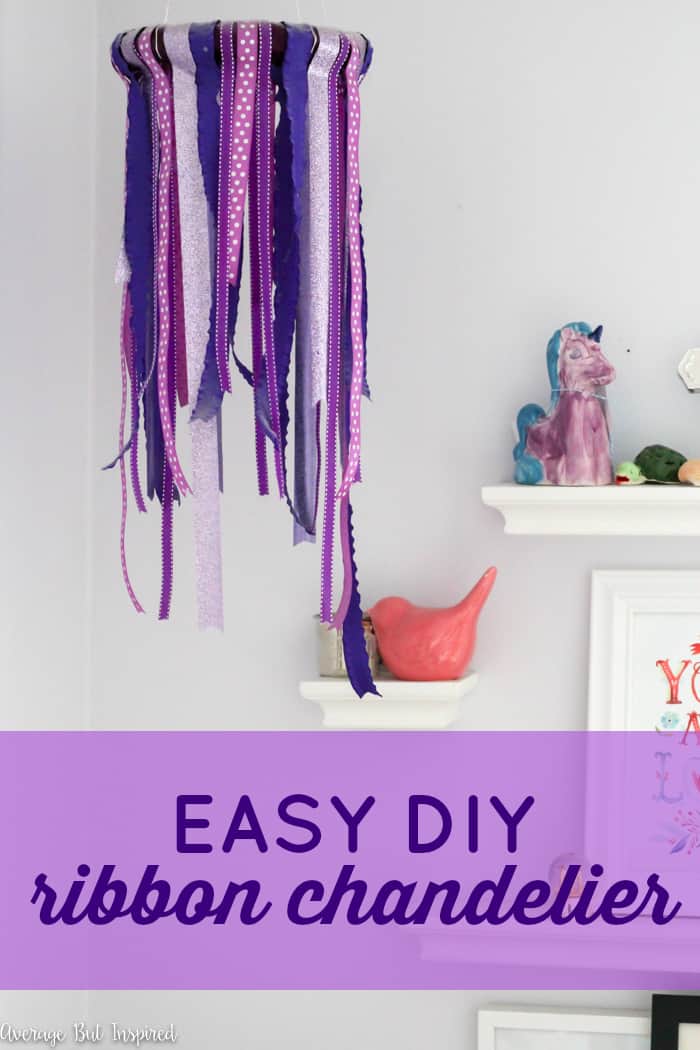 -Bre