My favorite kinds of crafts are those that I can complete during my kids' afternoon naps.  This turned out to be one of those projects.  It was quick and easy, and I love the way the finished product looks hanging in my daughter's bedroom.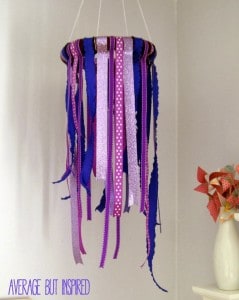 For this project, you'll need the following supplies:
Hoop (I used a 4″ grapevine wreath from Dollar Tree. You could also use an embroidery hoop or a styrofoam hoop);
Variety of Ribbon (I used five spools of ribbon of varying widths, patterns and shades of purple); and
Glue Gun  (You could also tie the ribbon to the hoop, but I think gluing the ends gives it a cleaner look)
All it takes to make your own ribbon chandelier is this:
Hot glue the end of a very long ribbon to your hoop.
Wrap the ribbon around the hoop to cover the form.
Cut ribbons of varying length, which will serve as your chandelier pieces.
Loop a ribbon around the top of your covered hoop and hot glue the back piece to the longer front part of your ribbon.
Repeat all around the hoop.
Hang and enjoy!
These would also look cute grouped together in varying sizes and/or colors.  Another inexpensive variation for parties would be using streamers instead of ribbon.
What do you think of this ribbon chandelier?
I Bet You'll Like These Posts, Too!