Hallelujah!  The Craigslist chairs saga has come to an end!  They are finally finished!  After heading out to my garage each weekend for (what feels like) an eternity, these bad boys are looking fine with their fresh coats of homemade chalk paint, paste wax and dark Briwax.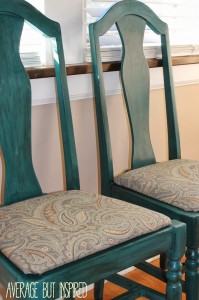 These chairs started out old and uninspired.  I decided to follow my heart and repaint in a bold color, so I chose Benjamin Moore's Beau Green for the paint, which is a deep teal color.  Then, I swapped out the seat fabric for Robert Allen's Modern Paisley.  The new fabric features teal, beige and brown tones – all of which work well with the paint color and dark wax I applied over the paint.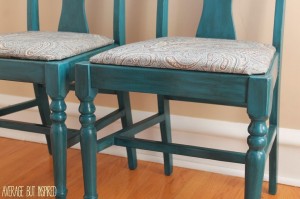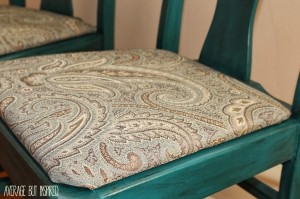 I think these chairs have been given a whole new life!  They're no longer sad and plain, but bold and sophisticated.  I love them!
Now I just need to figure out what to do with them . . .
P.S. if you're interested in refinishing furniture with your own homemade chalk paint, check out my previous post on my Target Table Makeover.
P.P.S. Follow me on Pinterest and Twitter for more great ideas!