In 2009 my husband and I moved from a small condo to a much larger home. We had a lot more space to fill and hardly any furniture. Recognizing that we looked like squatters in our new home, my mom gave us an old side table that used to be my grandma's. It wasn't exactly the style we were going for, but we were grateful to have something that we didn't have to buy or assemble. Plus, the sentimental value of it having been my grandma's was priceless.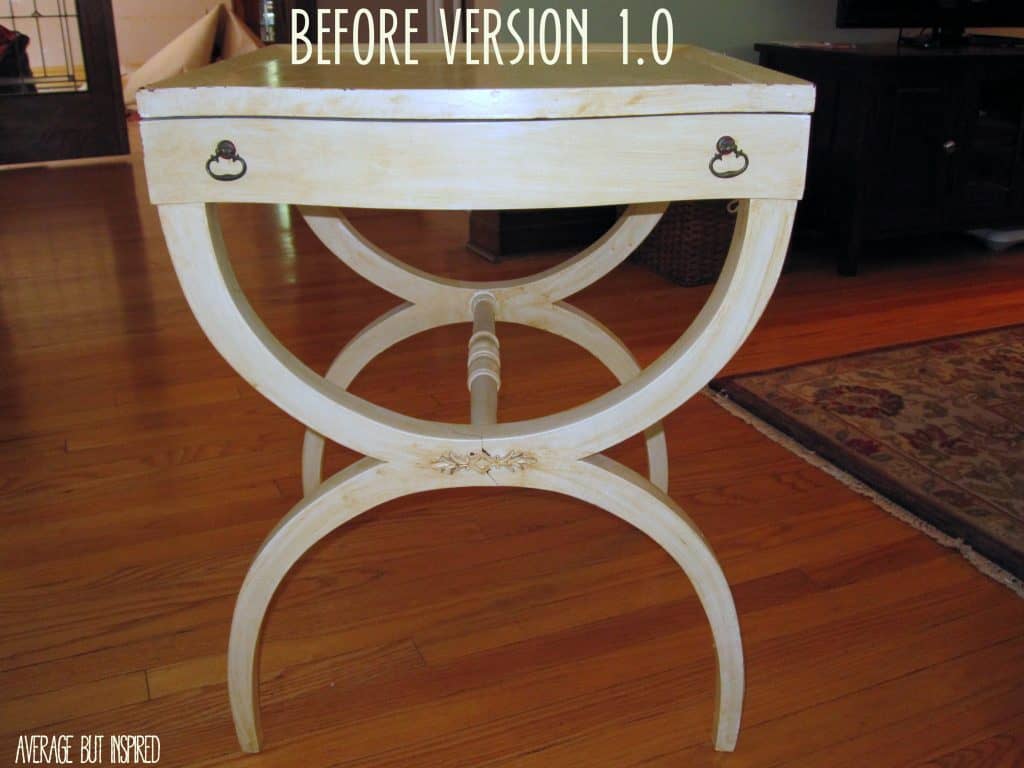 Fast forward to the summer of 2010. I decided to paint this little guy a beautiful shade of red. (My husband contends the color was pink, but I think he's color blind.) Anyway, I had a brand new baby, was completely sleep deprived, and had NO idea what I was doing. (This was pre-Pinterest, people!) So I opened a can of latex paint and slathered it on. No prep work, no sealing, no nothing. Let's just say it was the worst.paint.job.ever. And the paint peeled off all over. And, embarrassingly, I kept it like that for FIVE years.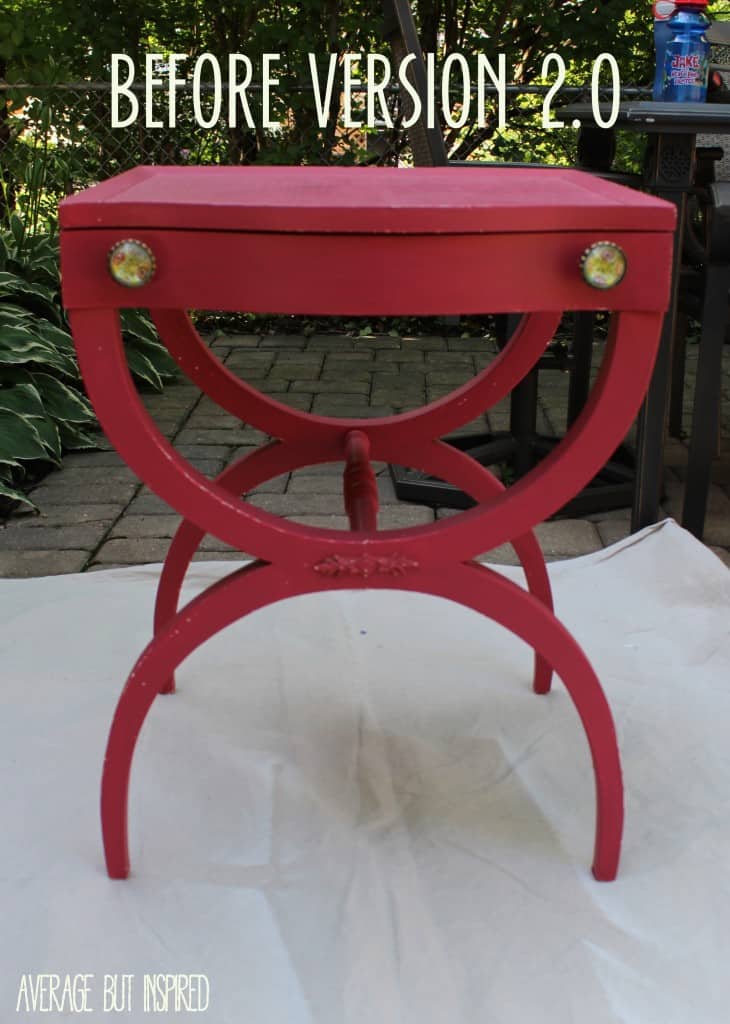 Thank you to Country Chic Paint for providing the paint used in this project. The project, post and opinions are all my own. Also, this post contains affiliate links, which means I receive a small commission if you purchase through them. To read my full disclosure policy, please click here.
OMG, I cringe just thinking of it. So yeah, anyway, I seriously had to repaint this little eyesore, er side table. I decided to go in a different direction and try one of Country Chic Paint's limited edition colors, Forever Green, and go for it. At first it looked like Christmas gone wrong. Not gonna lie, I definitely had a minor freak out.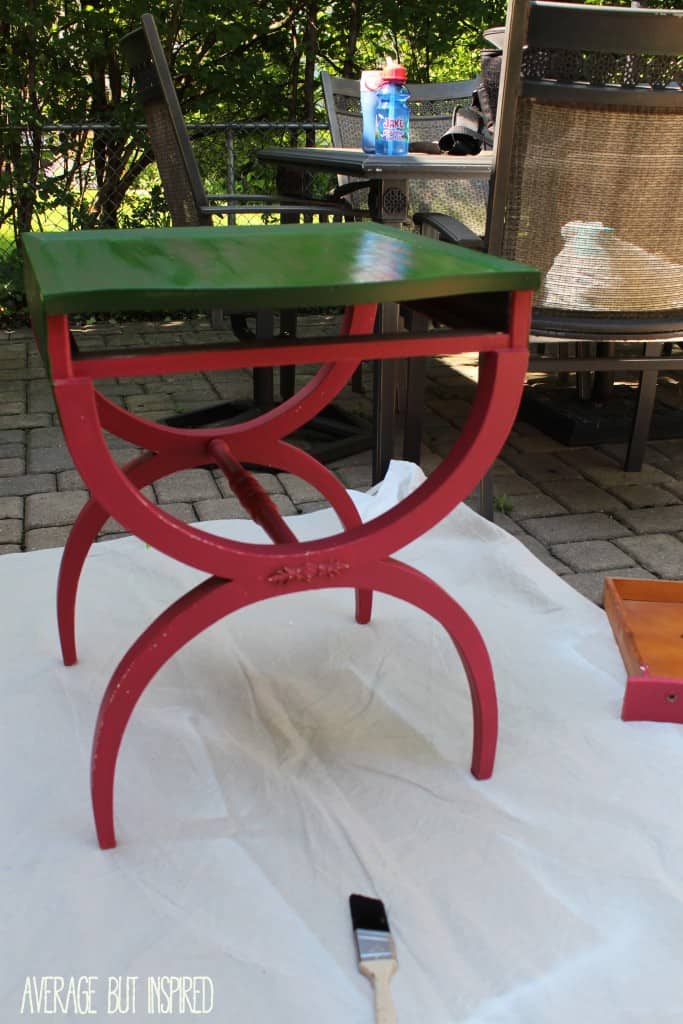 But I powered through my doubts and gave the entire table two coats of Forever Green, and accented the little decorative detailing on the front with some Rub 'N Buff.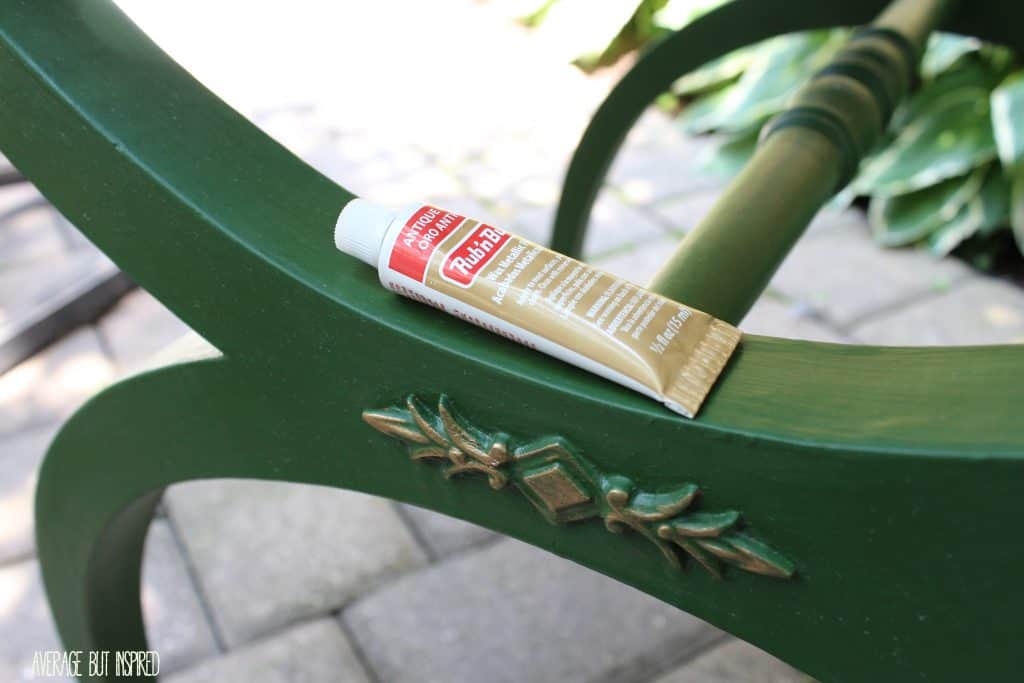 And of course, I properly sealed it this time. I used my tried and true S.C. Johnson Paste Wax and let it cure outside, due to the strong smell. Once I brought it back in, I kicked myself for waiting so long to repaint it!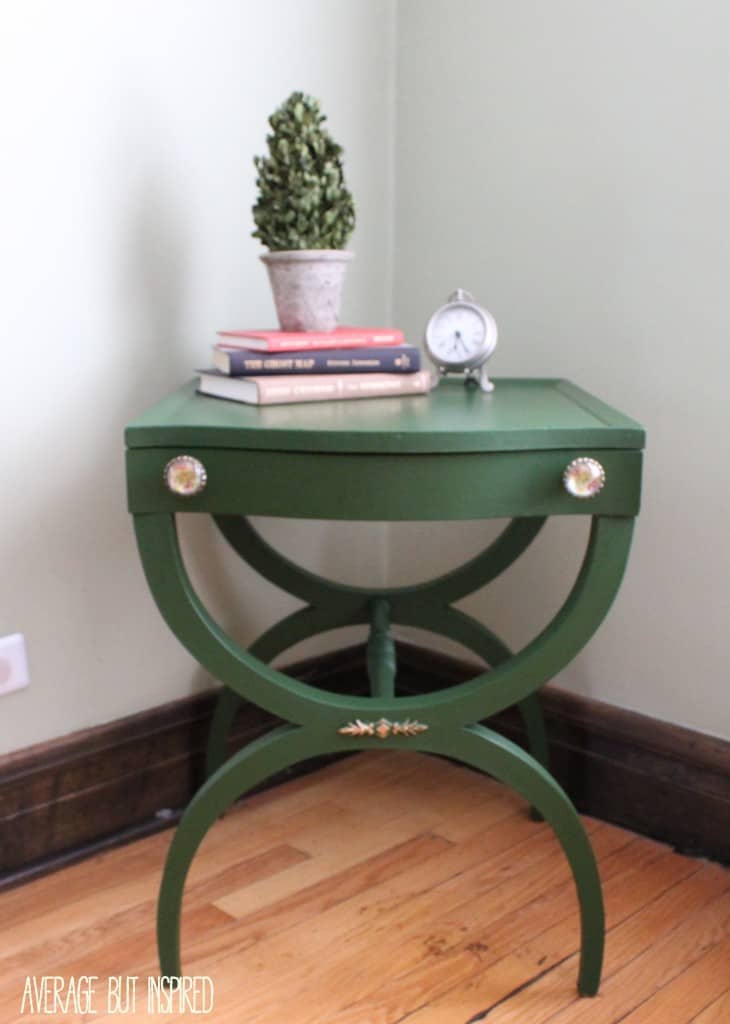 It looks twelve million times better. Oh, and look at this other FUN detail I added. . .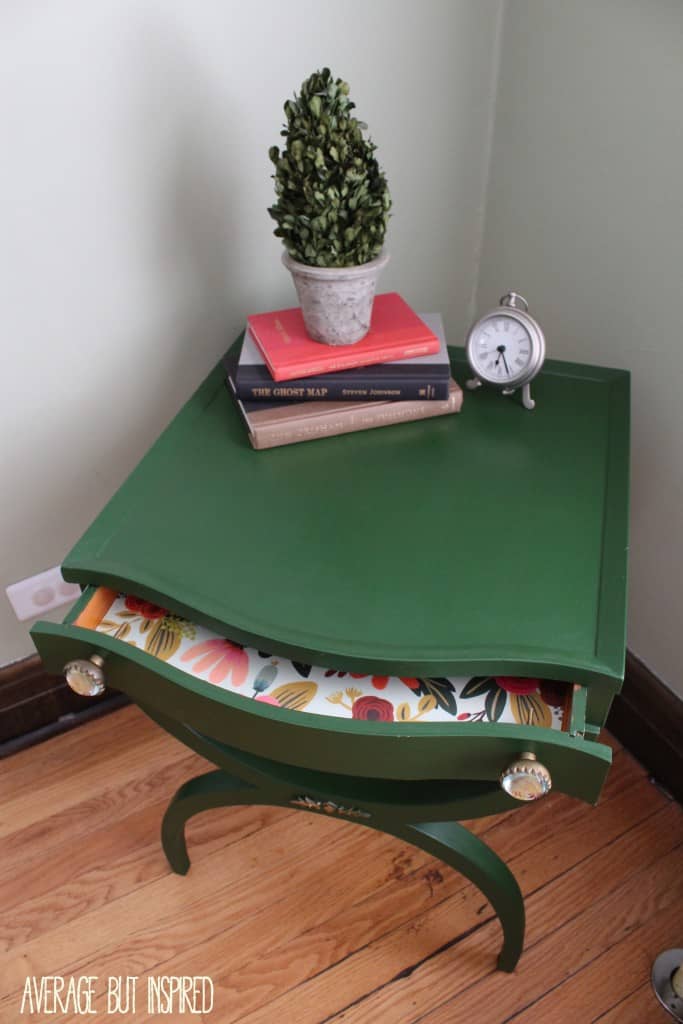 Super cute paper lined drawer and drawer sides. Love it!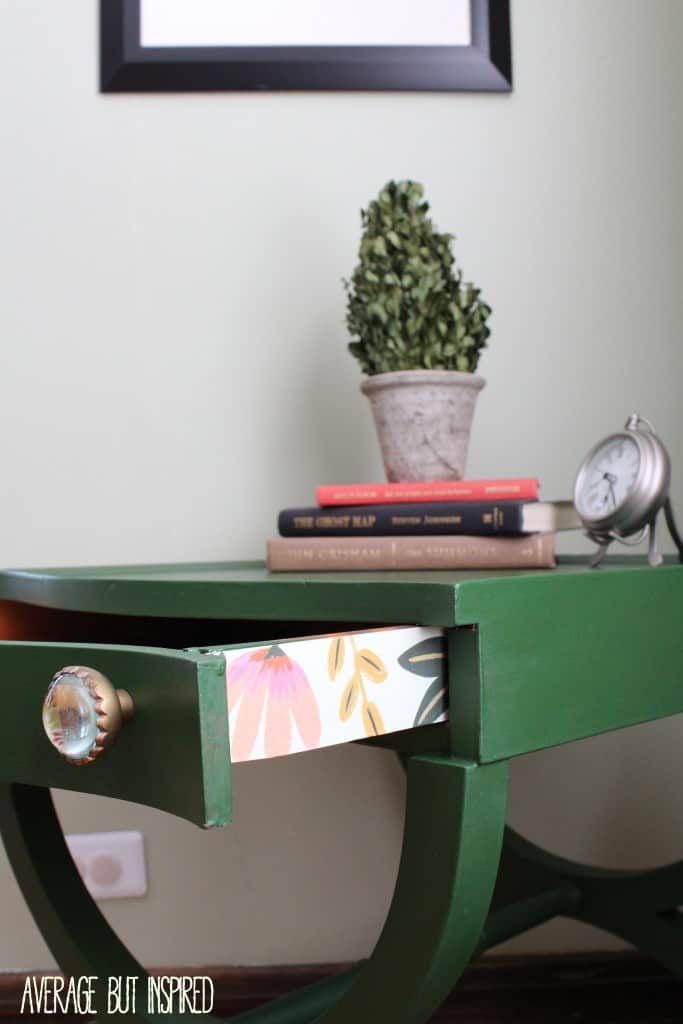 The pulls from Anthropologie are too adorable, too. Pinch me.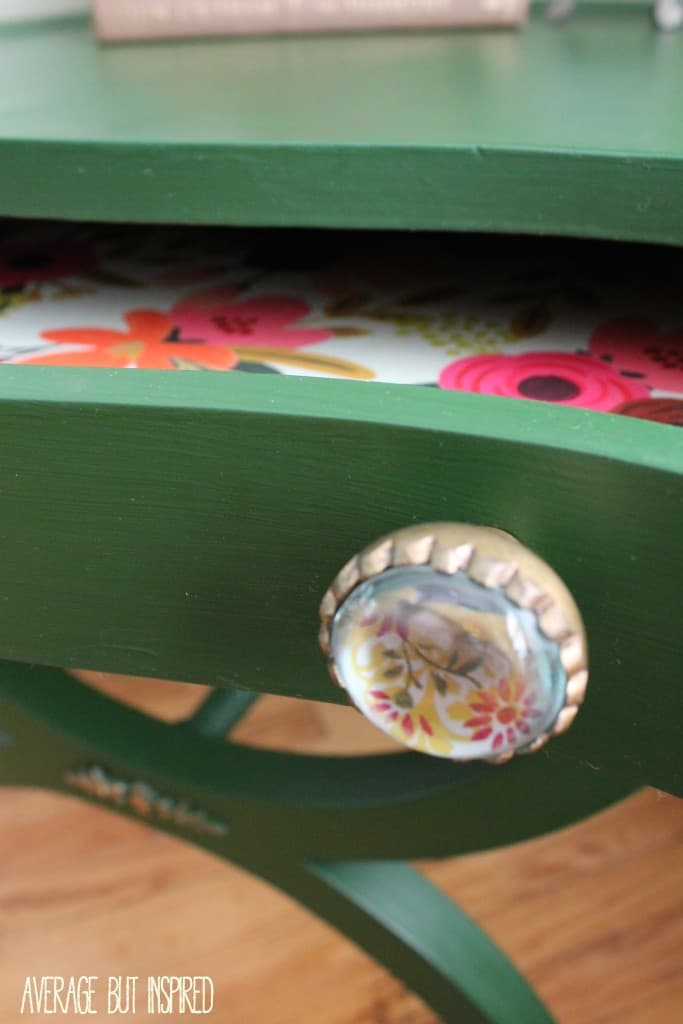 All in all, I think I redeemed myself from my horrible red makeover circa 2010. Thank goodness.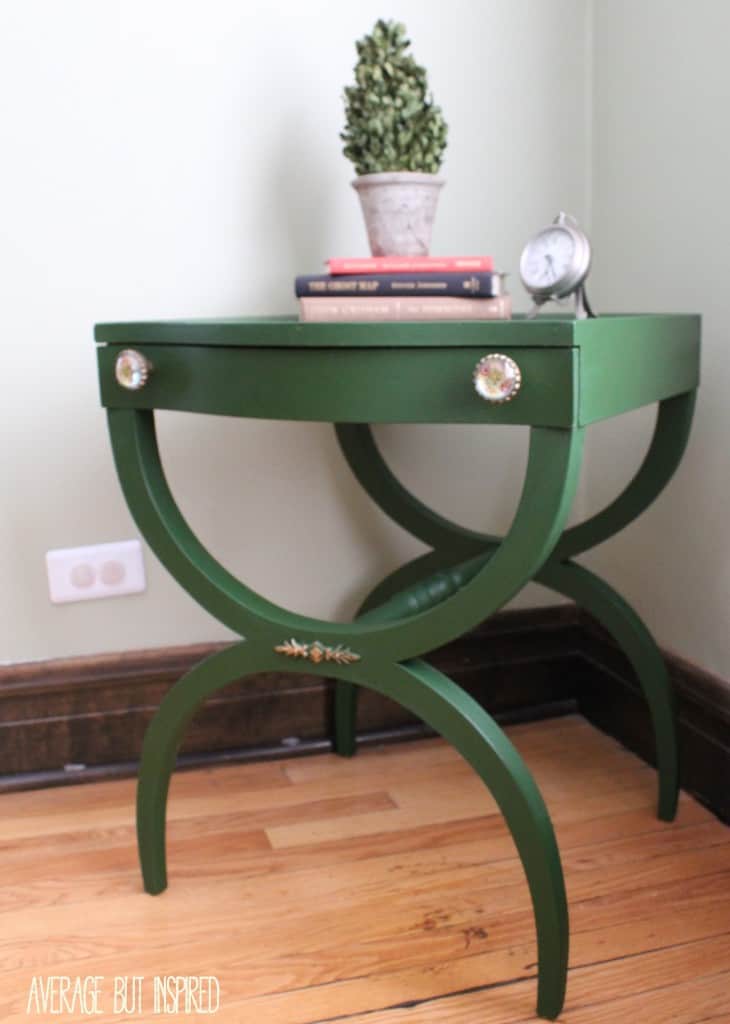 What do you think? Are you digging the green?
– Bre