Nail polish marbling has been floating around Pinterest for a long time now, and it's one of those things that I've always wanted to try.  But it kept getting pushed down the list because I couldn't find just the right thing to marble.  (Or really because I just kept forgetting to do it.)  But then I found some plain porcelain ornaments at Michaels and I finally had a reason to give the old nail polish marbling technique a try.  Now I have some GORGEOUS marbled nail polish ornaments adorning my tree, and I love them!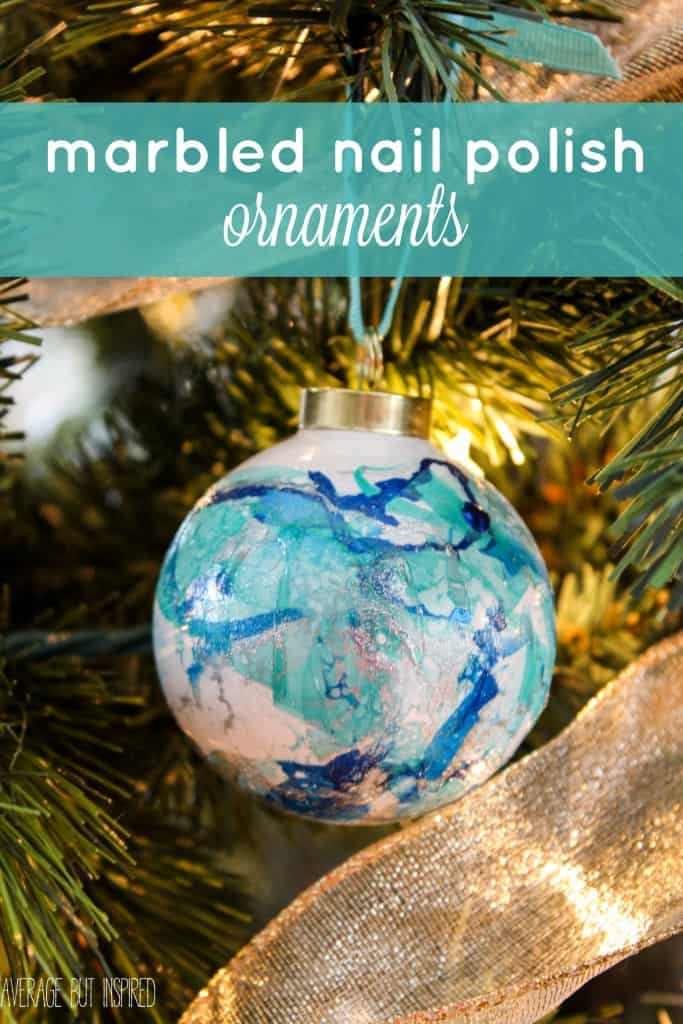 I have to tell you that this project was SO fun, although a bit stinky.  I recommend doing it outdoors, if at all possible, but at the very least in a well-ventilated space.  (The weather gods were smiling on me the day my kids and I made these ornaments, and we were able to be outside!)  Otherwise, you're going to feel like you were trapped in a nail salon – minus the pretty nails.
With that caveat, here's what you need to marble your own ornaments!  Please note that this post contains affiliate links – you can read my full disclosure policy here.
Nail polish (I bought cheap polish at Dollar Tree) – NOT quick dry!
Plastic container
Water
Popsicle stick (or other stirring tool that can be thrown away)
Paper towels
Pretty ribbon or string
Rubbing alcohol
First up, wipe off the entire porcelain ornament with rubbing alcohol.  This will ensure that it doesn't have anything on it that will prevent the nail polish from sticking.
Next, fill a plastic container with water.  Holding the nail polish close to the surface of the water, gently pour it onto the water.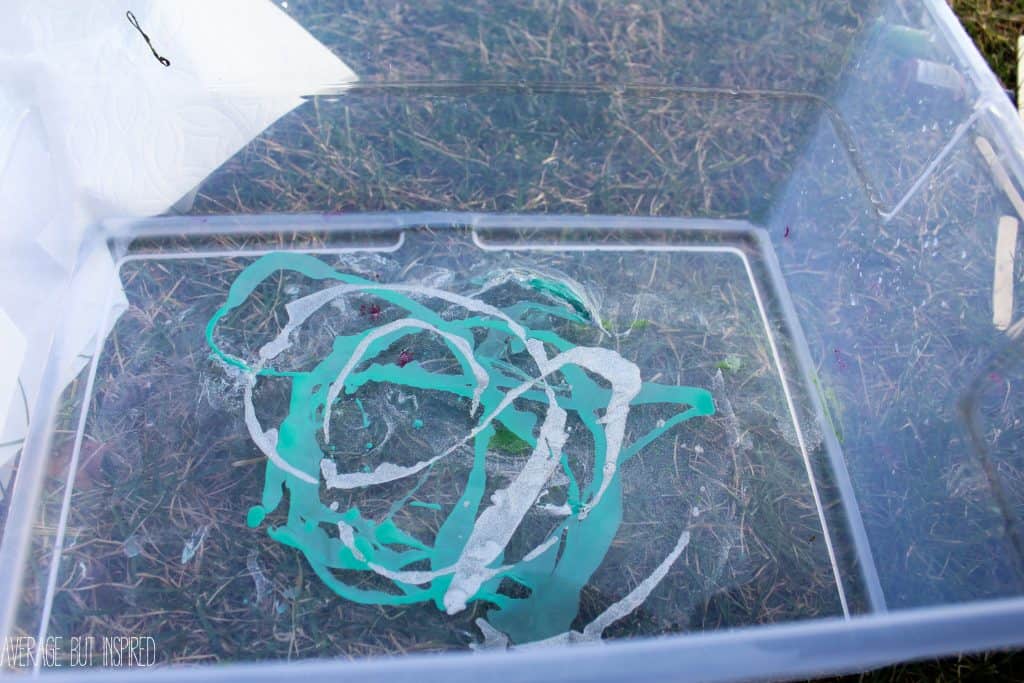 TIP: do not pour the nail polish from too high above the water, as it will hit the water too hard and sink to the bottom of the plastic container. You want it to stay on the surface.
Next, use the popsicle stick to gently stir the colors together to create a marbled effect.  Quickly place the clean porcelain ornament onto or into the nail polish.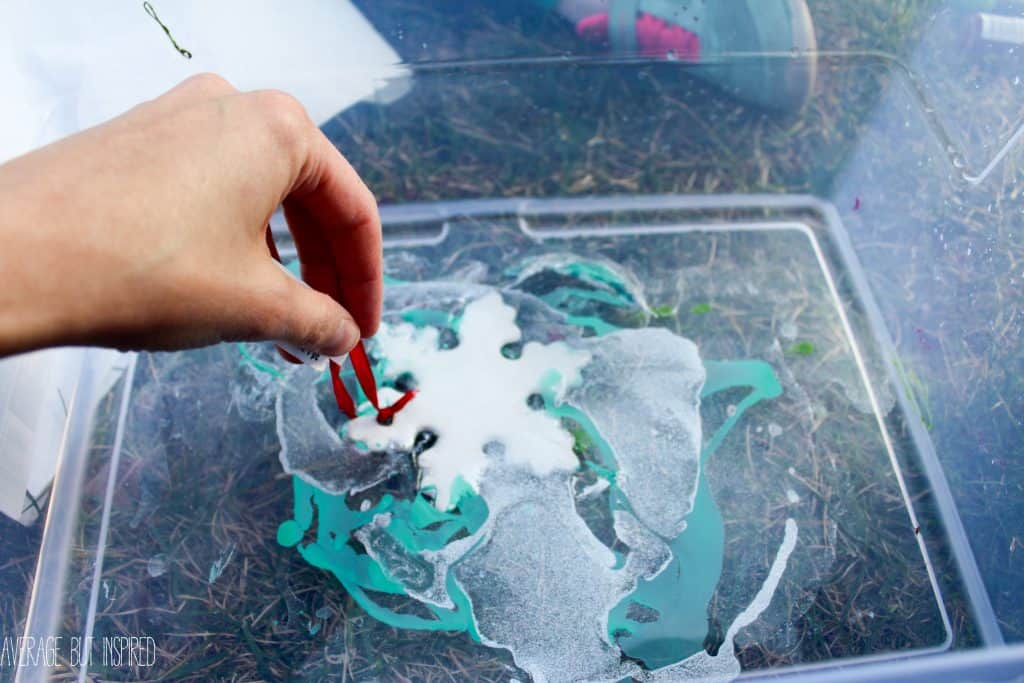 Remove the ornament from the plastic container and try to shake off the water.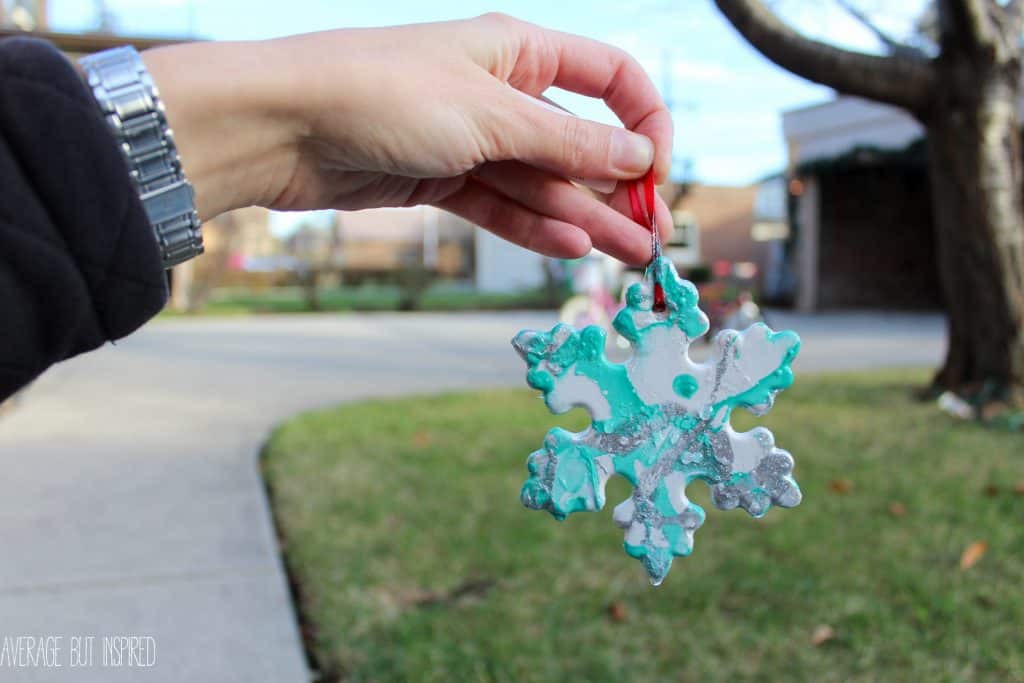 Once it's had a couple of minutes to dry, use a paper towel to gently blot off the excess water droplets. BE CAREFUL because the polish will not be totally dry yet, and you don't want to ruin your beautiful marbling!  Hang the ornament to dry somewhere.
Cut off the ribbon that came with the ornament and replace it with a pretty ribbon that matches the colors used in the marbling.
TIP: For my snowflake, I used two colors.  My kids used three colors – including a really bold blue – and I think theirs look better.  I would recommend three colors in the same family, as I think that's what works best!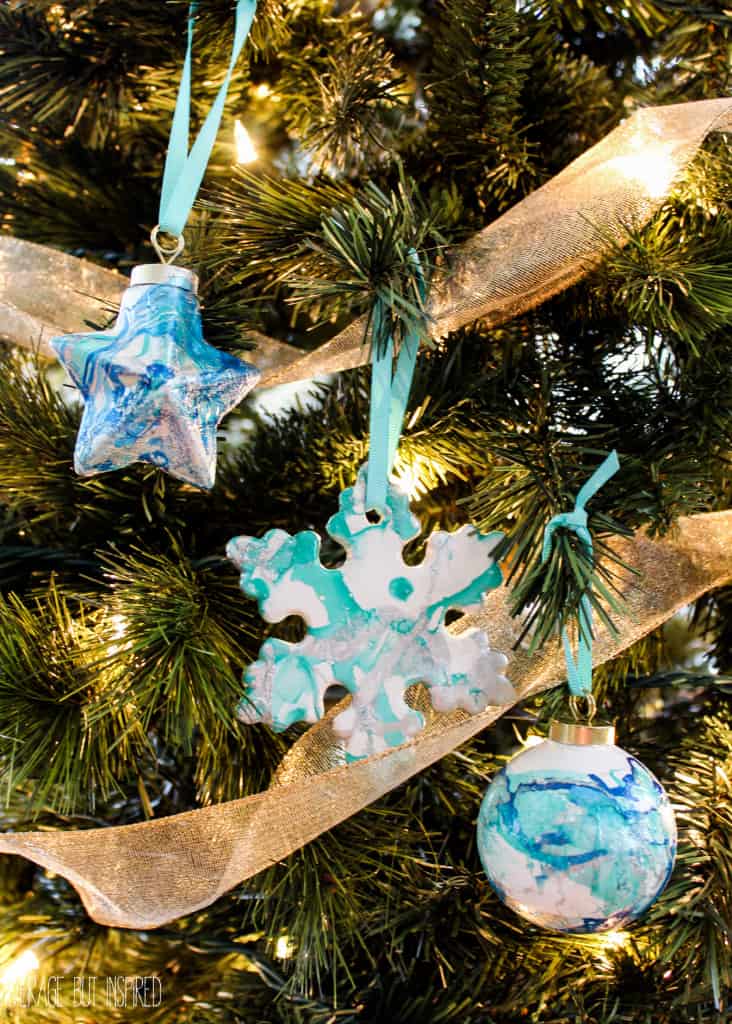 TIP: If you plan to give these as a gift, give yourself a couple of days lead time. They need to air out a bit before gifting.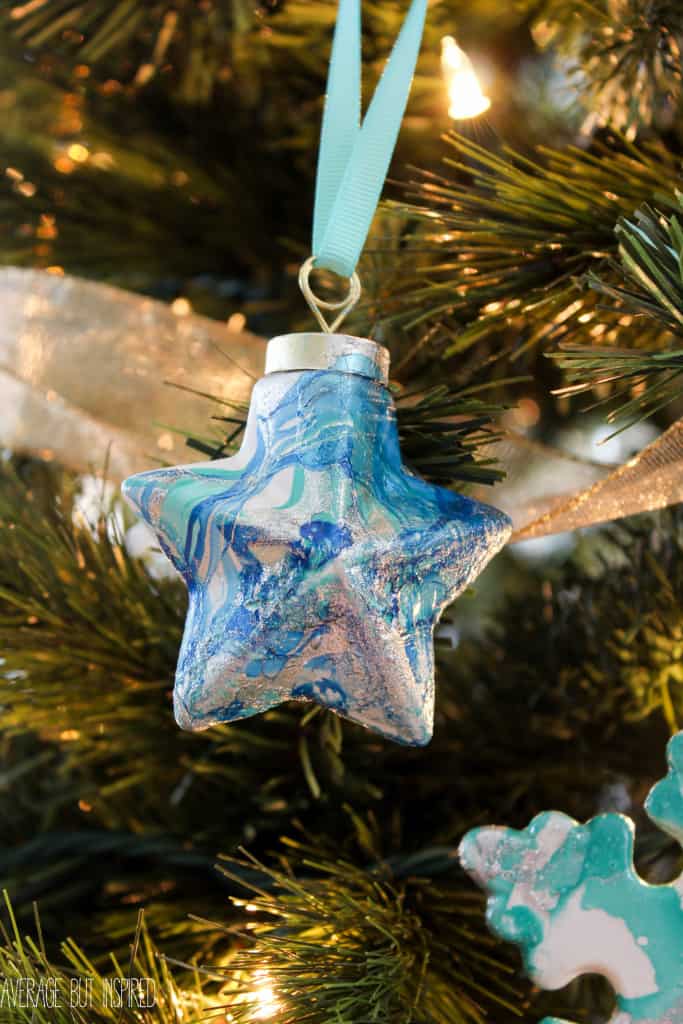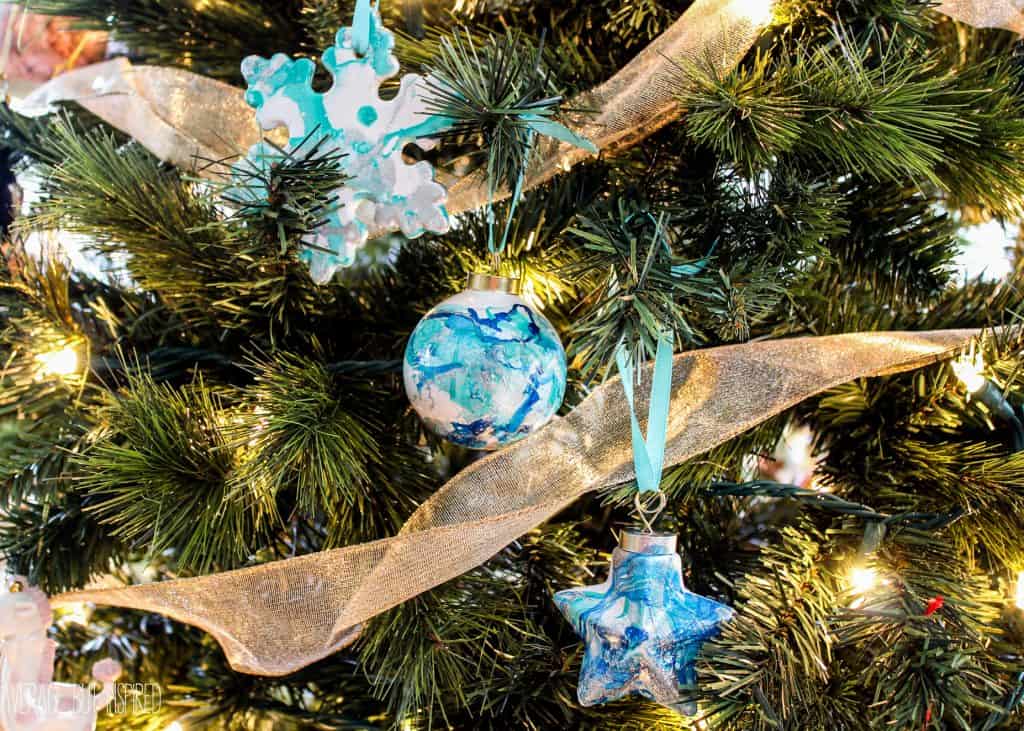 They are really pretty though. I think the best part about them is each one is totally unique!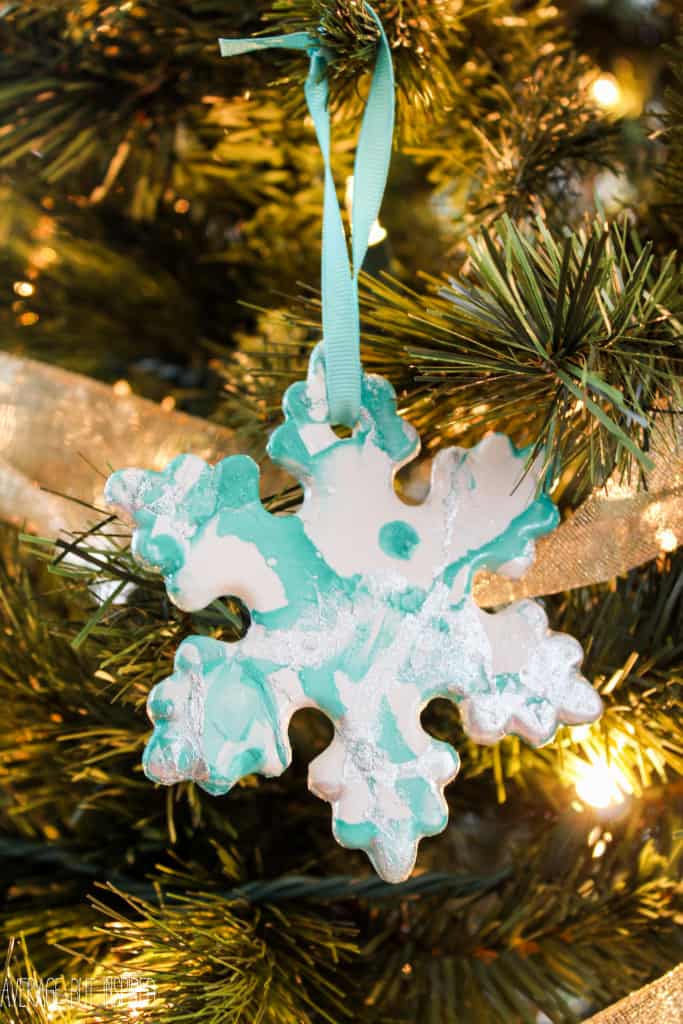 This project would also be a great way to use up some of that old polish in your stash!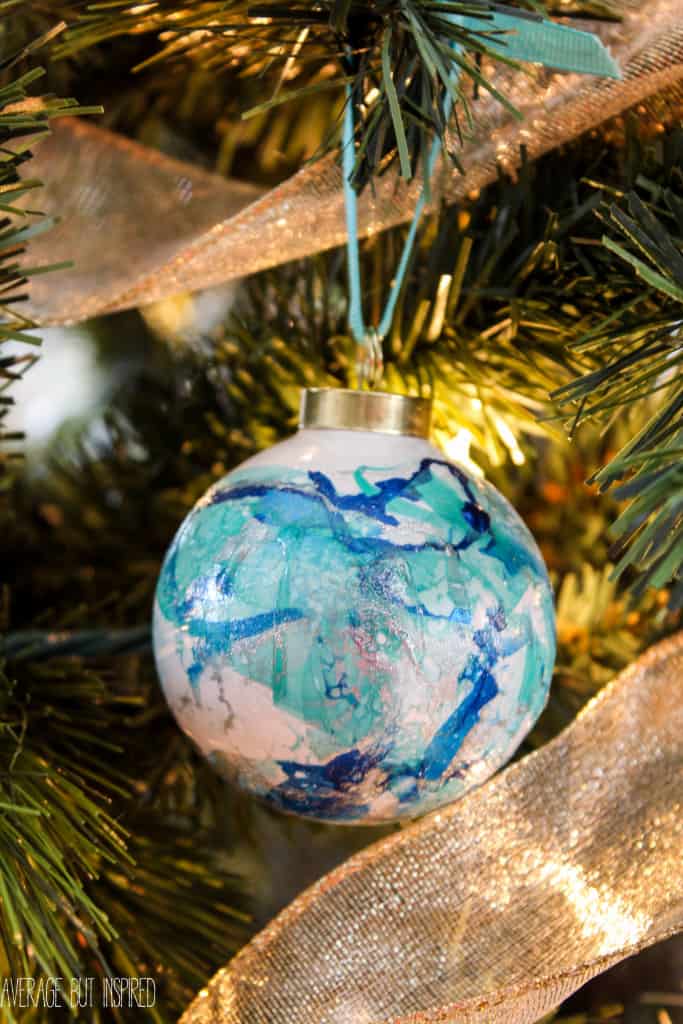 Have you tried nail polish marbling? How did it go for you?
-Bre