The CRAZIEST thing has happened in my household. My kids have become thrift shop lovers – I'm talking "Mama, can we please go to Goodwill today" thrifting junkies. In our house we call it treasure hunting, and I couldn't be happier that my kids are hopping on the treasure hunting train. On a recent trip they each scored some cool jewelry boxes (my son calls his a treasure box), and I got some random stuff, including this nasty wooden box.
Why did I buy this ugly box? I don't know. I just did. My kids were buying stuff and I wanted in on the action. So I picked this lame-o thing.
And as the story goes, it sat there on my craft desk for many days until one night the idea popped into my head to turn that beat up wooden box into a cute indoor herb garden for my kitchen. Since we are in the midst of a perpetual winter in Chicago, we're turning to gardening indoors this year. And now, my ugly wooden box is a refreshed and cute indoor herb garden!
Supplies Used to Make an Indoor Herb Garden
This post contains affiliate links. To read my full disclosure policy, please click here.
How to Make an Indoor Herb Garden
First up, I washed that nasty box. Once it dried, I painted it with brown chalky finish paint.

Next, I painted on some crackle medium and let it dry.

After that was dry, I painted on a coat of light gray chalky finish paint. It was so fun to see the paint finish crackle right before my eyes as it dried. This gave the box a really weathered and old look, which I love!
Next, I downloaded this awesome graphic from The Graphics Fairy, and I transferred it to the outside of the box using the freezer paper transfer method.

It came out much lighter than I wanted, so I grabbed some of the dark gray chalky finish paint and went over the transferred graphic in certain spots. Once that dried, I lightly sanded the text to give it a weathered look.

Once the paint dried, I added some hardware to the sides of the box for a fun look. Then I headed to Lowe's and picked up some awesome herbs to grow in my kitchen!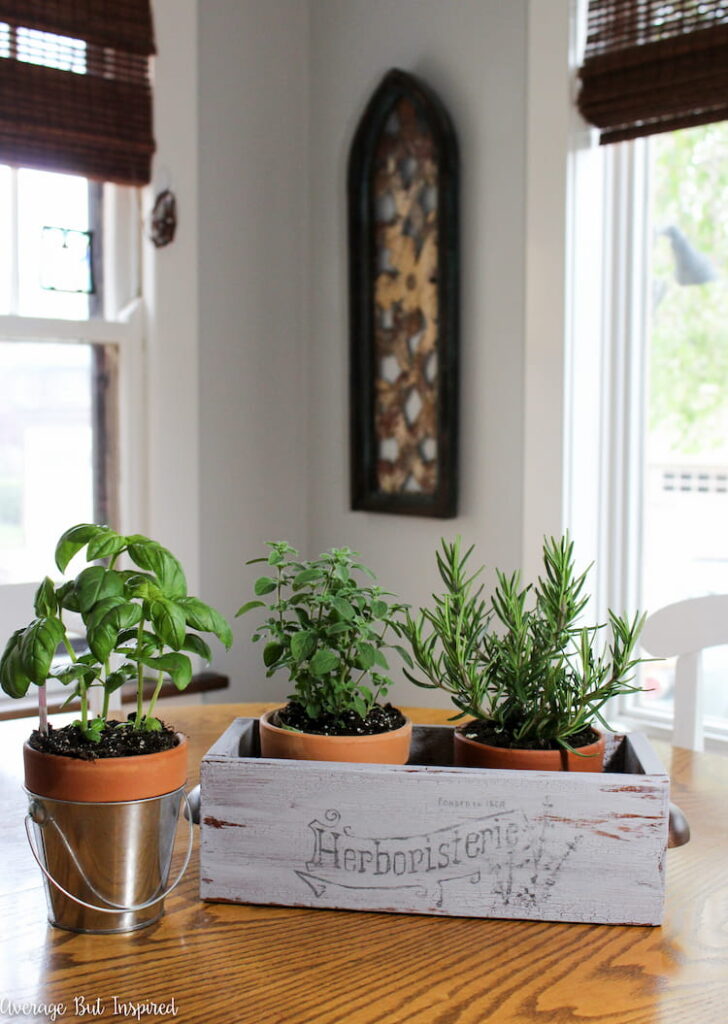 This was a great project for my kids to watch because they saw me transform one of our thrift shop treasures into something else that's awesome and that can be used in our home!

They're also super excited about growing edible plants right in our kitchen!

I really hope this means they'll want to eat the food I cook that uses the herbs.

Of course that means I will actually have to remember to water these plants and keep them alive. I'll keep you posted on that.
In the meantime, if you enjoyed this thrifty upcycle, please pin or share it!

-Bre
Sharing this post at Thrifty Decor Chick.