Even if you don't have the space for an expansive garden in your yard, you can enjoy a summertime bounty with this DIY Vertical Herb Garden project!
Simple, pre-made supplies are all you need to make this DIY vertical garden. You can put the entire thing together in an afternoon!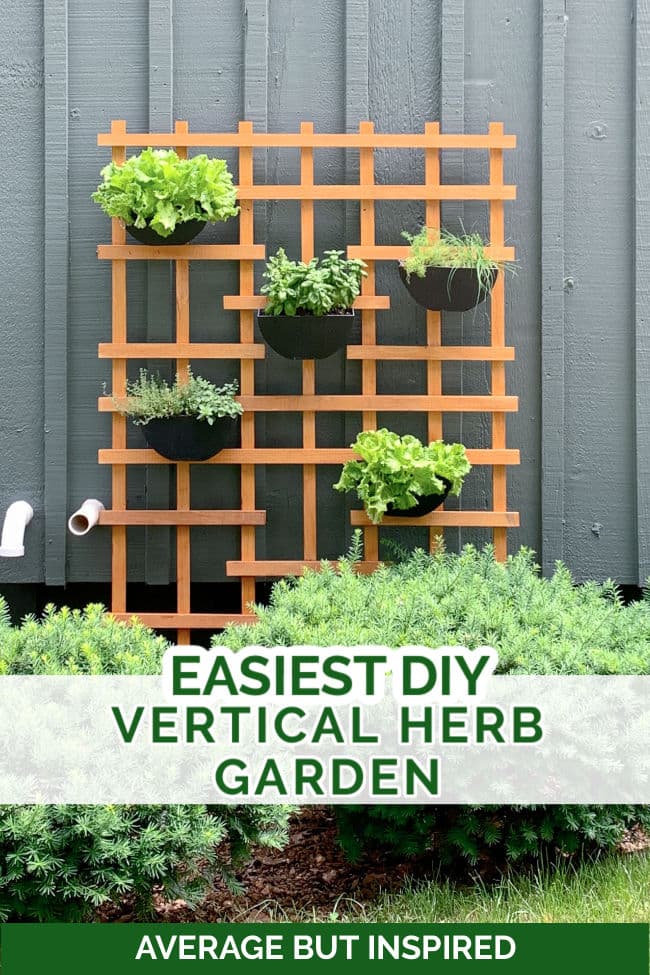 Materials Needed to Make a Vertical Herb Garden
These are the materials I used to make the vertical garden as shown in this post. Feel free to substitute items to fit your own needs! Also, this post contains affiliate links. Read my disclosure policy for more information.
Premade trellis (the trellis I bought is not available online. Here is a similar trellis)
Exterior wood stain (if desired)
Scrap wood block (optional)
How to Make a DIY Vertical Garden
There are all kinds of fancy, elaborate vertical gardens online that can cost you hundreds of dollars.
This isn't one of them.
This vertical garden costs under $100 to make, and it is so easy you'll have it together with your garden planted in no time!
Bonus that it looks cool, too! Even if you have a black thumb (like me) your garden will be interesting.
Step One: Prepare the Wall Planters
The wall planters I used are gray, but that was not the look I wanted. So, I spray painted them black.
Make sure to use a spray paint that's suitable for outdoor use if you choose to paint your planters. Also, don't paint the inside of the planters, as the paint may affect the plants you place inside.

I also drilled drainage holes in the bottom of the planters. They came with one hole pre-drilled, but I added a couple others just to be safe.
Step Two: Attach the Trellis to the Wall
Next, fasten the trellis to the wall so that the weight of the filled planters doesn't make it topple over.
Because of the type of siding I have, we fastened the trellis to the siding with a piece of scrap wood in between. This may be unnecessary for your project: it all depends on your siding.
Make sure to use an exterior screw!

Step Three: Attach the Planters to the Trellis
Using zip ties, attach the planters to the trellis. It's as easy as that!

Trim off the zip tie ends so they aren't as noticeable.
Step Four: Fill the Planters and Enjoy the Vertical Herb Garden
Finally, fill the planters with potting soil and fresh herbs. I found that basil, thyme, and cilantro grew very well in my vertical planter. The lettuce got a little yucky.
This year I'm trying oregano, lemon basil, cilantro, sage, and thyme.

Every time I go outside to cut herbs for my dinner, I say I'm going farming. It's so much fun!
Also, can I just say that I LOVE the way the cedar-toned wood contrasts with my Pewter Green siding? The addition of this vertical garden and the wood window boxes helped make the flat back of my house much cuter!

Have you tried vertical gardening? What would you grow?