My house has many enormous, old radiators.  Slowly but surely I've been painting them to fix years of neglect (think chipping paint and/or rust spots), or poor paint color choices from previous owners (think mustard yellow).  
I can honestly say that, until recently, radiator painting was my LEAST FAVORITE JOB IN THE HISTORY OF THE WORLD.
But now I've finally figured out how to paint a radiator the easy way, and I am happy to pass along my tips to you!
Before I figured out how to paint radiators with the method I'm going to tell you about, I painted them by hand.  Each of the medium-sized radiators I brush painted took about a week of half-day painting sessions to complete.  
A week of stinky oil-based paint smell in my house, blocked off areas so that paint would not get smudged, and the mess that accompanies any painting job.
Needless to say, I was really dreading painting the radiators in my living room, which were gigantic yellow monstrosities. Here's one . . .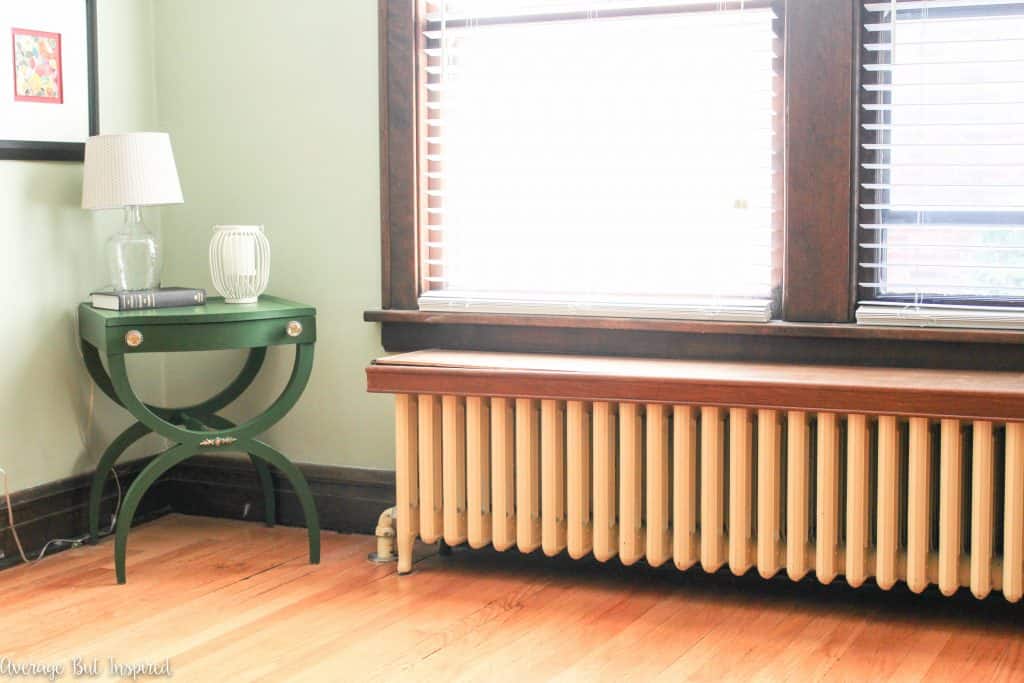 And here's the other. . .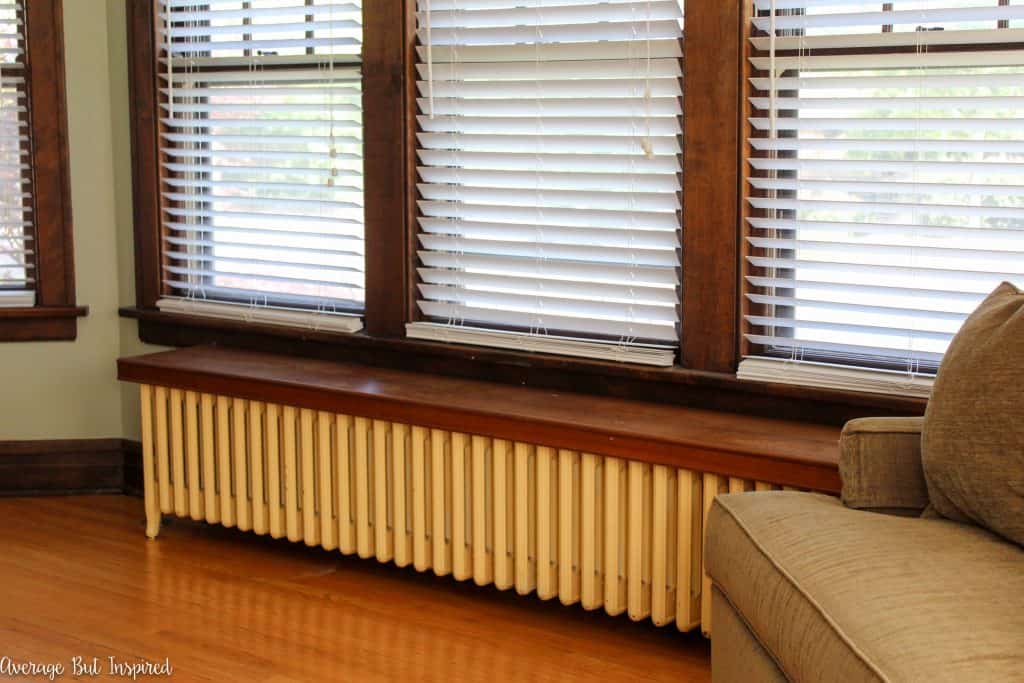 I figured that each of these yellow beasts would take me about two weeks to refinish. And that's why painting these radiators kept getting pushed to the bottom of the to-do list.
But now I know the SECRET of how to paint a radiator the easy way, and I am so glad to tell you that this method is life changing. Seriously!
Supplies Needed to Paint a Radiator the Easy Way
Thank you to HomeRight for providing product used in this post. The project and opinions are all my own. Also, this post contains affiliate links. To read my full disclosure policy, please click here.
The KEY to painting a radiator is a spray painter.  I am telling you that it makes all the difference in the world (and is MUCH cheaper than hiring a painter to tackle your radiators).  I used the HomeRight Finish Max Sprayer for the first radiator I refinished in this room, and the HomeRight Super Finish Max Sprayer for the second radiator I refinished in this room.  Both sprayers worked great for refinishing radiators, but you can read about why I liked the Finish Max Extra Fine Finish Sprayer more in the updated portion of this post near the end!
Spray Painting Mask (I wore a head sock like this; no joke.  I didn't post a photo of myself in it because I looked a little bit like a murderer or a terrorist.)
Rustoleum Protective Enamel (I used a Satin finish)
Acetone (for thinning the oil-based paint to use in the sprayer)  (NOTE: if you use the HomeRight Finish Max Sprayer I talk about in the updated section of this post below, you will not need Acetone.)
Mineral spirits (for cleaning up the sprayer once you're finished)
TSP pre-paint cleaner
Vacuum with hose extension or long feather dusters
Recommended: lead paint testing kit
Instructions for How to Paint a Radiator
Before you do anything, make sure the radiator is turned off! Painting radiators is a job best done in the spring or summer, when you're not using them.
Step One: Remove Loose Paint
Begin by scraping any loose paint areas from the radiator by using the metal brush.
VERY IMPORTANT: YOUR RADIATOR COULD HAVE LEAD PAINT ON IT. MAKE SURE TO USE ALL PROPER PRECAUTIONS BEFORE SCRAPING PAINT, AS INHALATION OF LEAD PAINT CAN HAVE SERIOUS HEALTH CONSEQUENCES. TO LEARN MORE, PLEASE VISIT THIS LINK.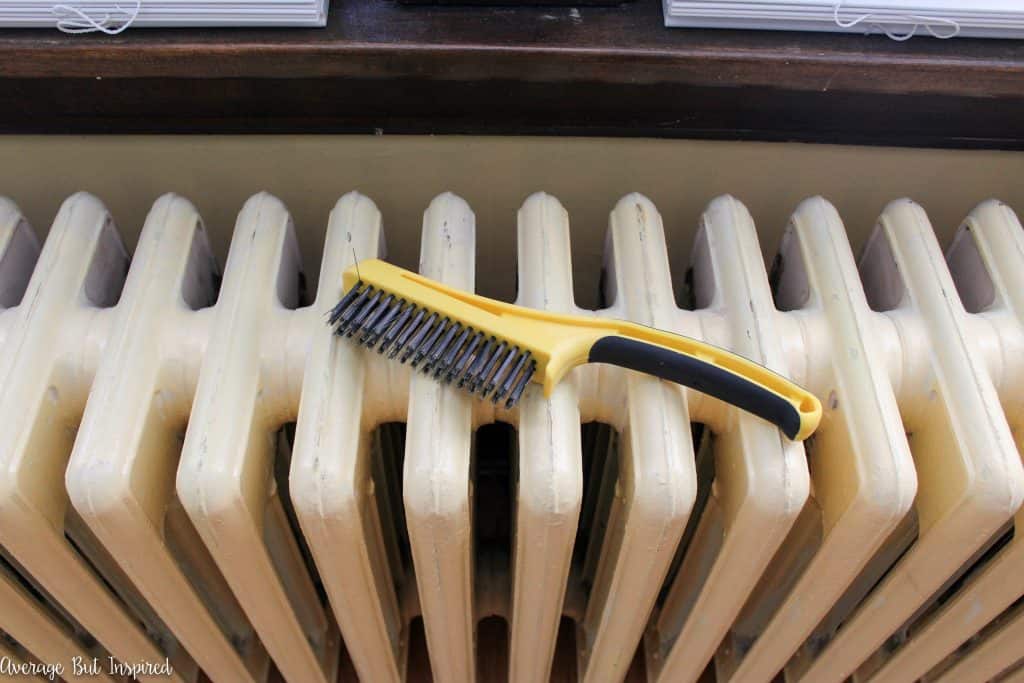 Step Two: Clean the Radiator
Next, clean the radiator like the Queen of England is coming to visit, and her butler will be giving the place a white glove inspection.
Begin by vacuuming as much dust off of it as you can, and then washing it down with TSP. Once it's dry, dust it again. I promise you, it will still be dirty.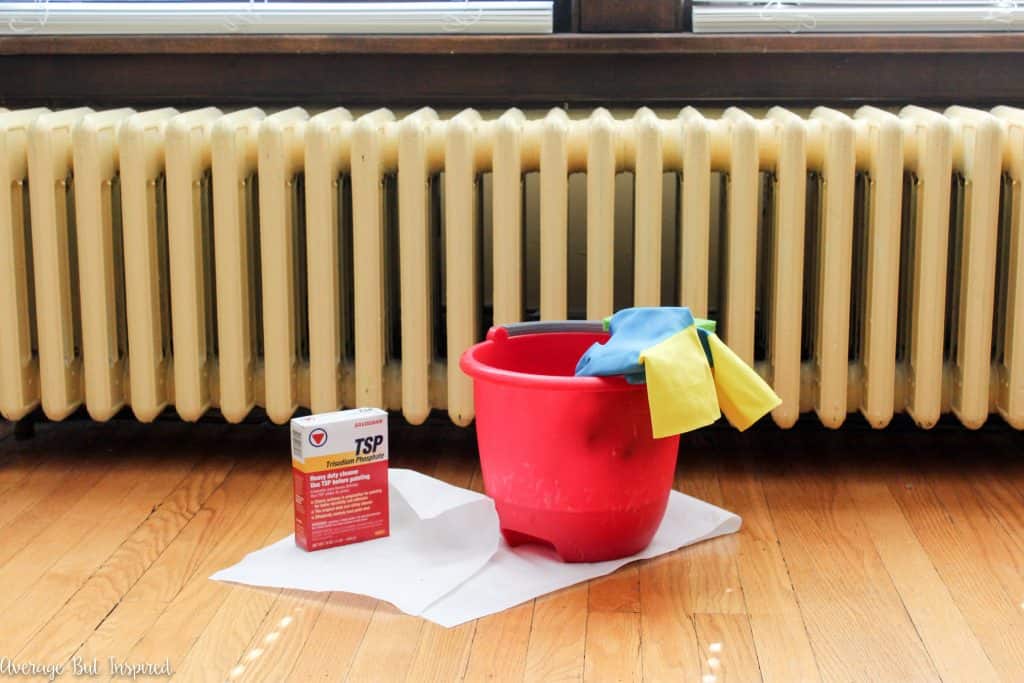 Step Three: Protect Surrounding Surfaces
After you've cleaned the radiator, protect the entire area around the radiator with the masking film.  Tape it everywhere.  The last thing you want is oil-based paint all over your walls or floors.  
The masking film is actually really easy to hang and goes up pretty quickly.  I told my kids it was our new curtains; they were not impressed.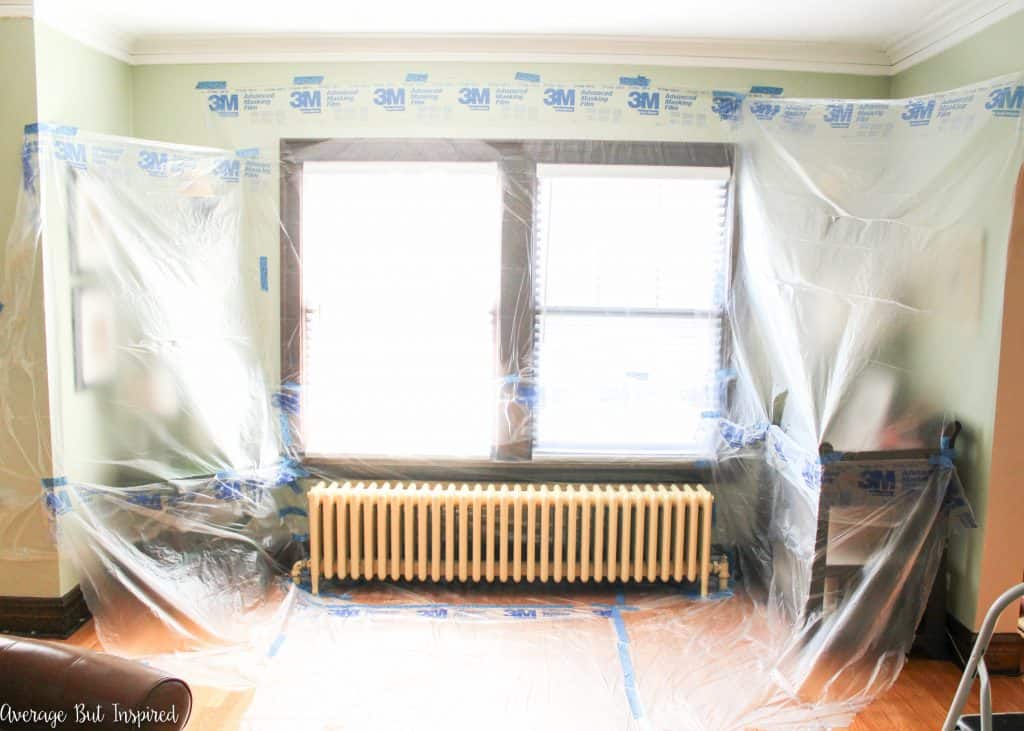 Step Four: Prime the Radiator
Once you have the entire area protected, set up your sprayer and thin the primer according to the manufacturer's directions.  (NOTE: if you use the HomeRight Super Finish Max Sprayer I talk about in the updated section of this post below, you will not need to thin the primer.)  
Then spray the entire radiator with primer. It will already look a million times better!
(TIP: If you've never before used the sprayer you'll be using for this job, you should test it out on a piece of cardboard first.)
(TIP: Oil-based paint smells REALLY really bad. Make sure you have the windows open and a fan going when you do this.)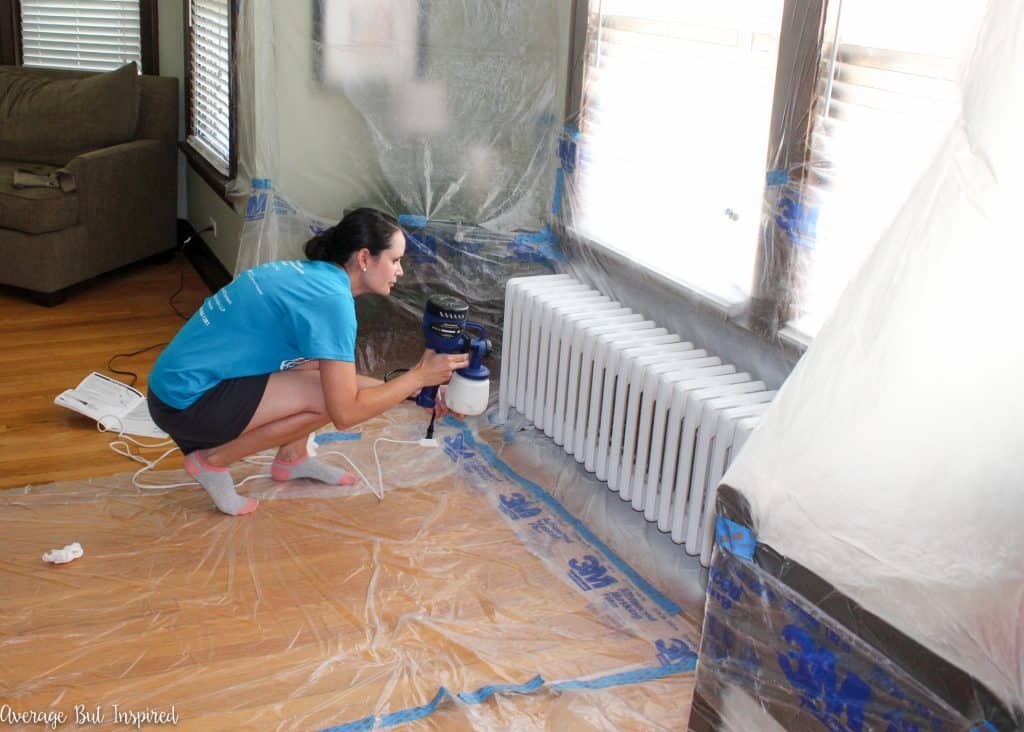 Step Five: Paint the Radiator
Let the primer dry according to the manufacturer's directions, and then spray the protective enamel on as the topcoat. Smile at your spouse or significant other because you're so happy with the way this project is going! Seriously – you will not believe how much time you're saving because of using the paint sprayer.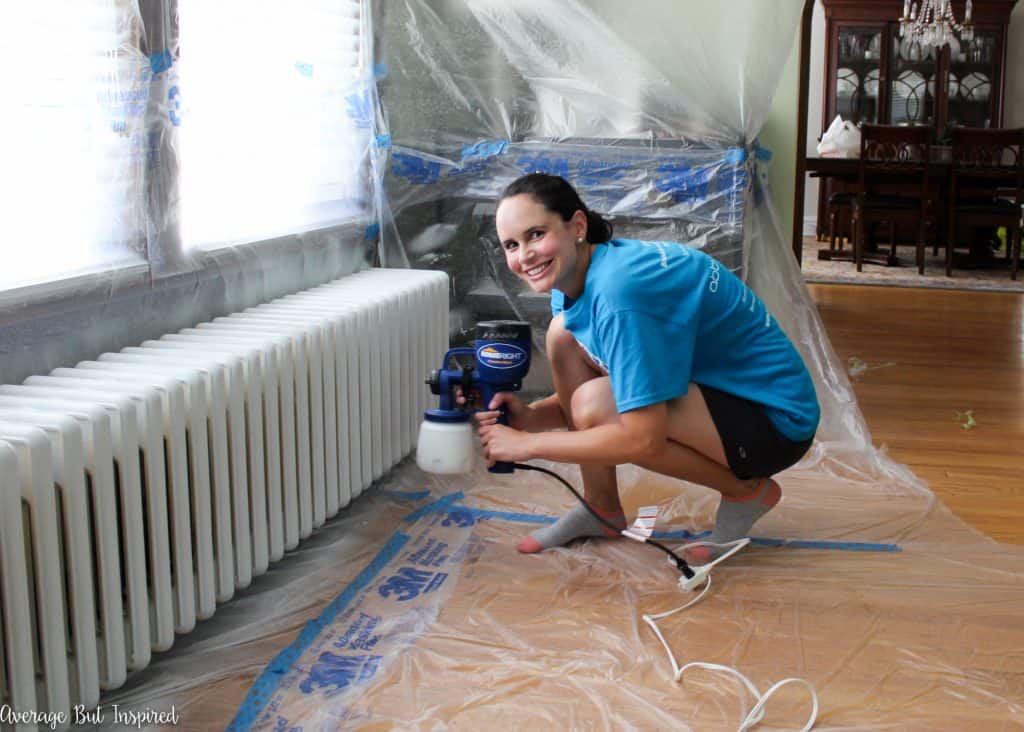 Once the entire radiator is sufficiently covered, clean the paint sprayer like the Queen's butler will also be giving it the white glove inspection. Prepare yourself that it will be a pain, simply because you've used oil-based paint for your radiator painting project, and oil-based paint is chronically frustrating and time consuming to clean up.
Still, even though the clean up process is a bit involved, the entire project can be completed in less than a day, which is SO MUCH FASTER than hand brushing a radiator.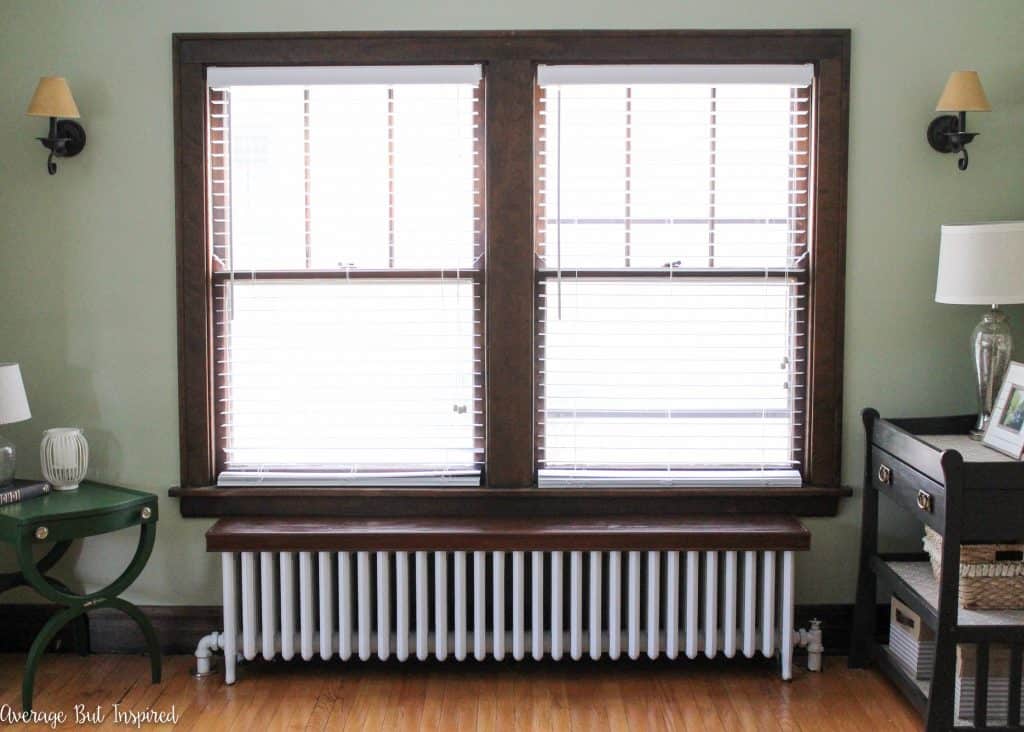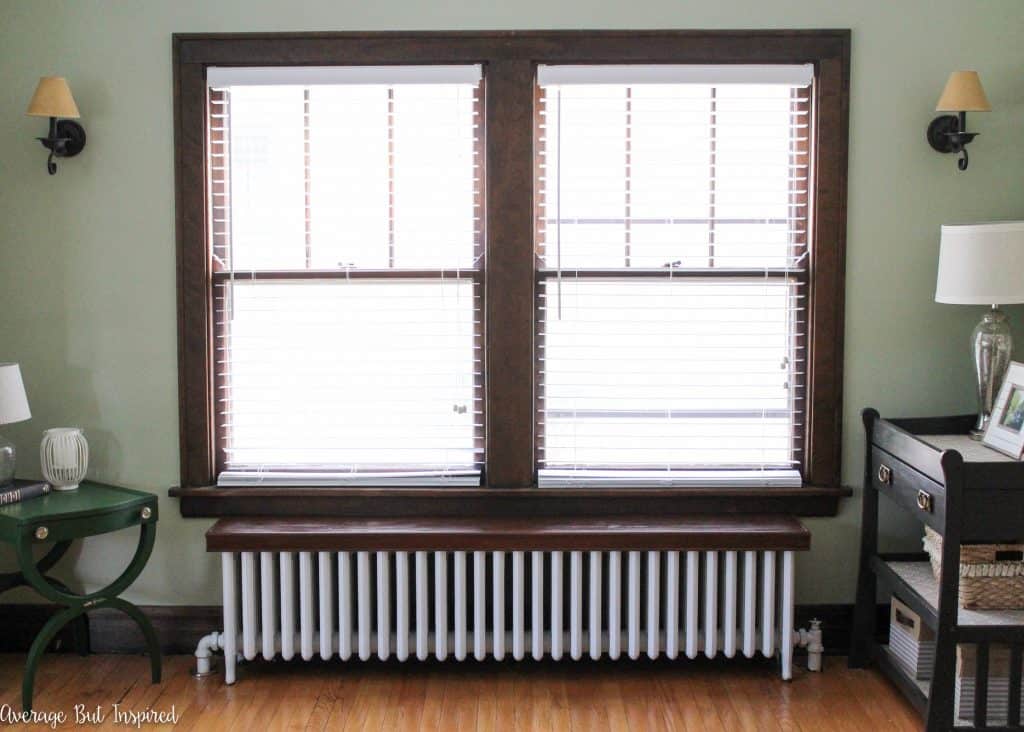 The finish is SO smooth (unlike the finish on the radiators that I hand brushed), and I am thrilled with the result! I vow to NEVER paint a radiator by hand again. Never.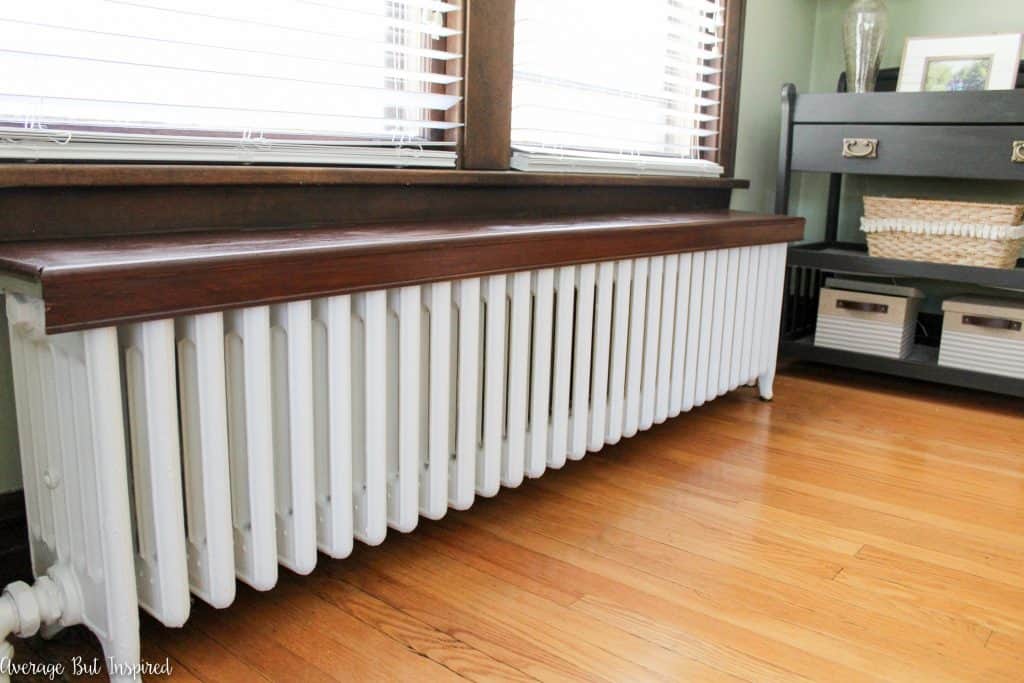 Thank goodness the mustard yellow radiator paint is gone!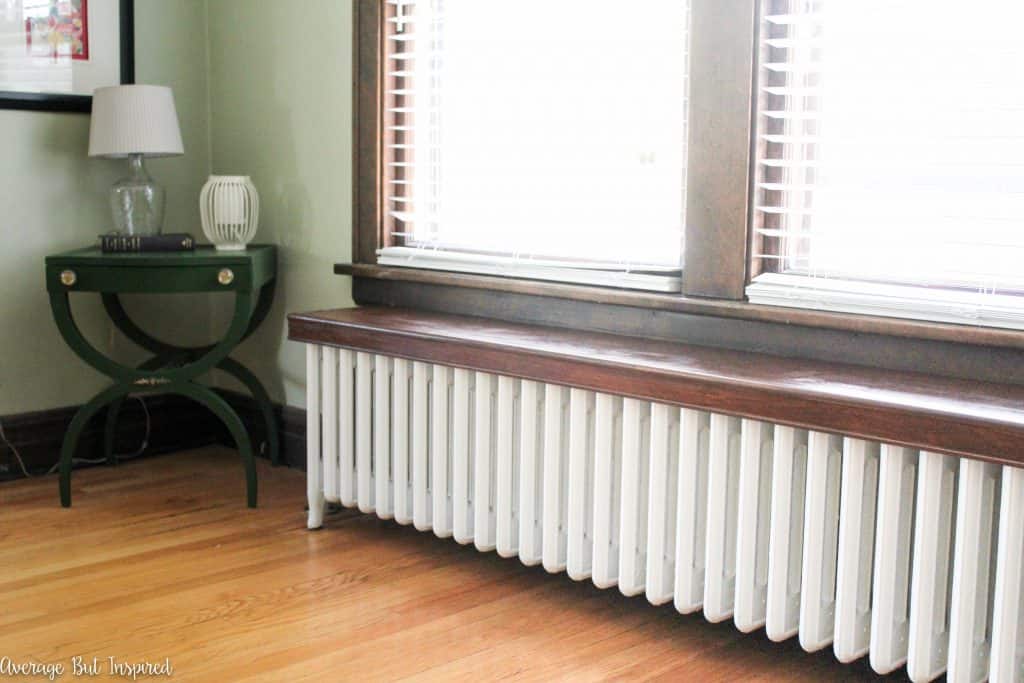 I still have one of the radiators in my living room left to paint, but I'll get that done in the next month or so.  I wanted to make sure this method actually worked before I tackled both of the yellow beasts at once!
Update: Radiator Painting with HomeRight Super Finish Max Sprayer
Although I planned to spray paint that second radiator last fall, I didn't get around to it before we turned the heat back on.  It all worked out in the end, however, because HomeRight came out with a new version of the Finish Max Sprayer, the HomeRight Super Finish Max Sprayer, which has a few more features that made radiator painting even easier than when I originally wrote this post!
The feature I liked best about this new version of the sprayer is that I didn't have to thin the primer, and I only thinned the radiator paint a tiny bit (and just as a precaution).  
I don't even think thinning the paint was necessary; I only thinned it a little because I still had acetone left from the radiator I spray painted last year.  Not having to thin the paint and do straining tests to see if it will work in the sprayer was a huge timesaver!
I also really liked that this new version of the sprayer has a flow control dial built right in, so I could easily adjust the amount of paint coming out of the sprayer depending on which part of the radiator I was working on.  
The Super Finish Max Sprayer also comes with different nozzles and air caps so it can be used on a wide array of projects like cabinets, furniture, fences, decks, and more.  (I most recently used it to paint my oak kitchen cabinets!)
I took my yellow radiator from this . . .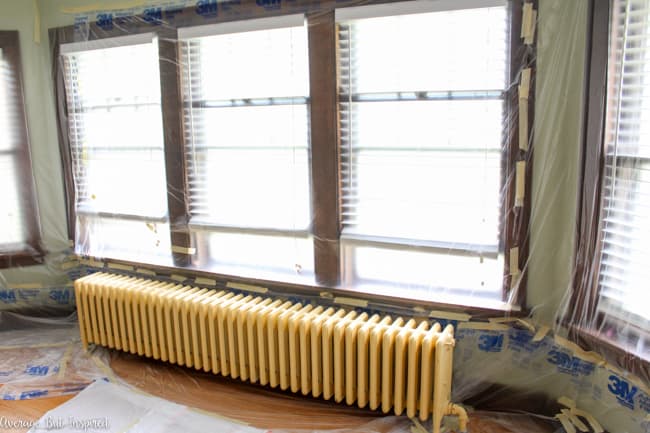 to this . . .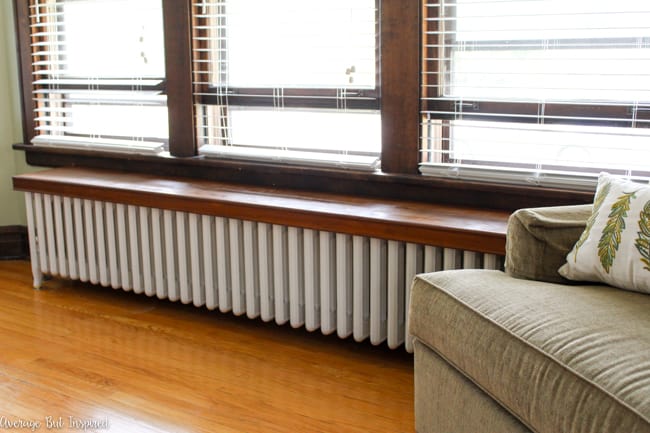 even faster than I did the first time around.
I cannot emphasize how much easier the the HomeRight Finish Max Sprayer and the HomeRight Super Finish Sprayer made this job.  Anyone who knows me heard me complain about hand painting my radiators in the past.  I promise that all anyone's heard about this project is how wonderfully easy it was!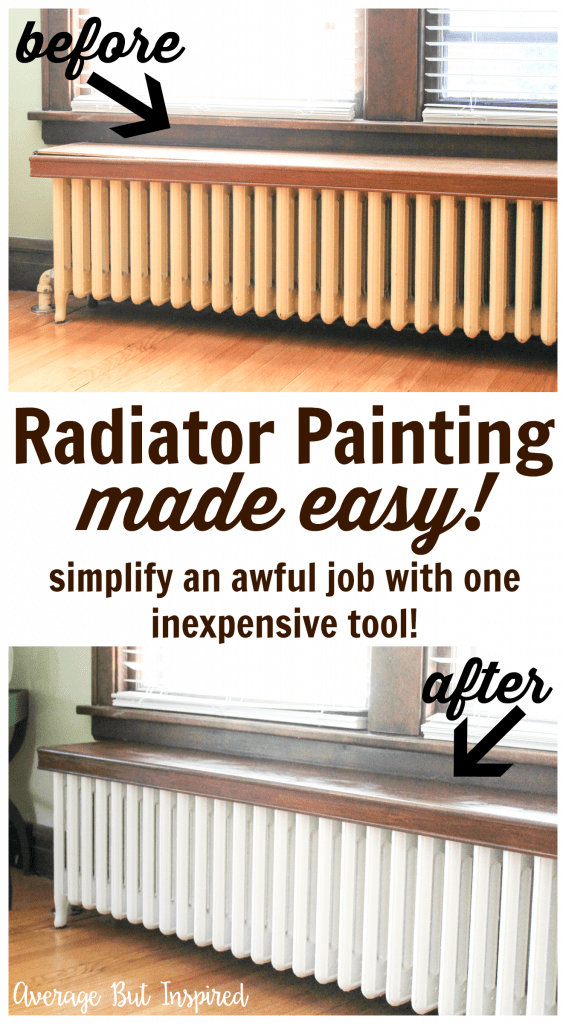 If you have any radiators to paint in your home, I absolutely recommend that you use this approach to paint them – do not hand paint them.  You will want to pull your hair out!