Thank you to Cost Plus World Market for sponsoring this post!  The beer tasting party ideas you'll read about here are all my own!  Also, this post contains affiliate links, which means I earn a small commission at no added cost to you, should you purchase through them.  To read my full disclosure policy, please click here.
I think I've mentioned before that I am obsessed with country music.  Literally . . . obsessed.  I first discovered country music when some strange country music video channel suddenly became available on my parents' non-cable TV.  Toby Keith's "Should've Been a Cowboy" was on all the time, and I remember loving that song (and Toby's mullet), and watching the video through the grain and interference of our rabbit ear antenna TV.  I was hooked!
My love for country music grew even more in the early 2000's when the Dixie Chicks were turning Nashville upside down.  I headed into a broadcasting major at college and got an internship at Milwaukee's country radio station.  It was the BEST!  I was backstage at tons of concerts, meeting country artists, and having the time of my life.
I ultimately took a different career path, but to this day I can't get enough country music!  The first two presets on my car radio are country radio, and I'm working on turning my kids into mini country fans.  Because of that, I'm super excited that "The CMA Awards" are airing again soon.  I love watching as the country music industry honors its best entertainers, and dozens of my favorite artists perform live on stage.  It's like some of my best friends come right into my living room for one night each year!
Now I'm not delusional.  I know these country music superstars are not my friends, but I can share my love of country music with my REAL friends by hosting them for a beer tasting party while we watch "The CMA Awards"!  Country music + beer = a guaranteed good time!  If you want to have a good time, too, keep on reading for my five tips on how to host a beer tasting party of your own!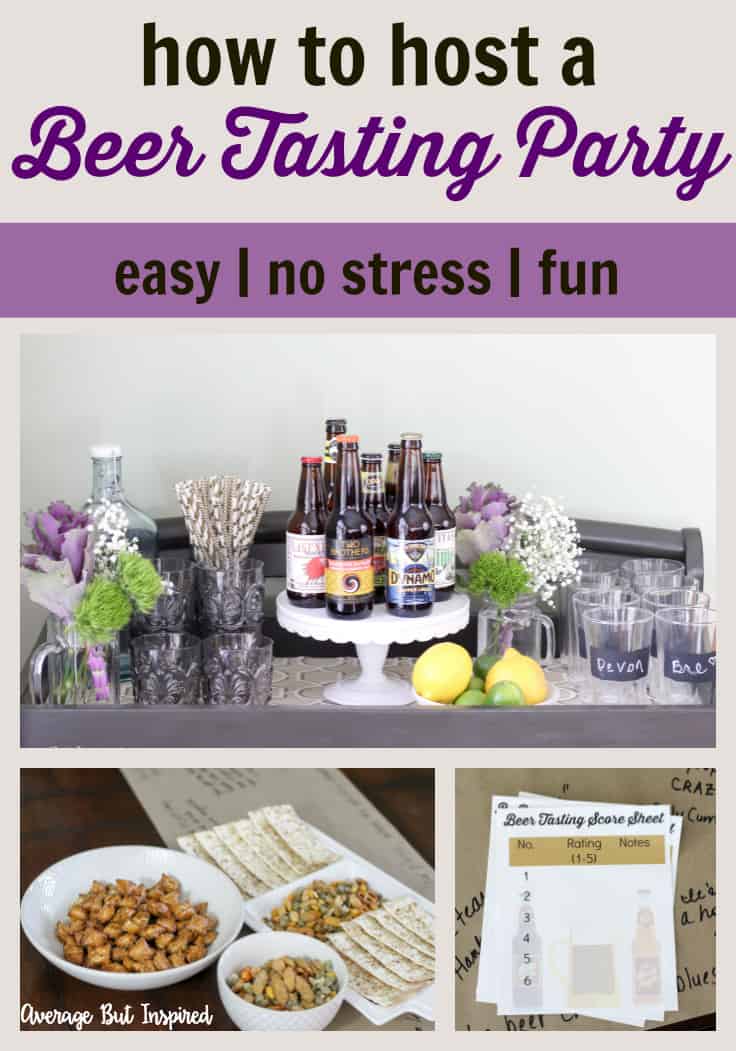 Five Tips for How to Host a Beer Tasting Party
Hosting a beer tasting party is a fantastic way to get your friends together because it's a low-cost, low-stress, high-fun gathering!  With these five tips, you can host a beer tasting party of your own during "The CMA Awards" or any other time, and your friends will love it.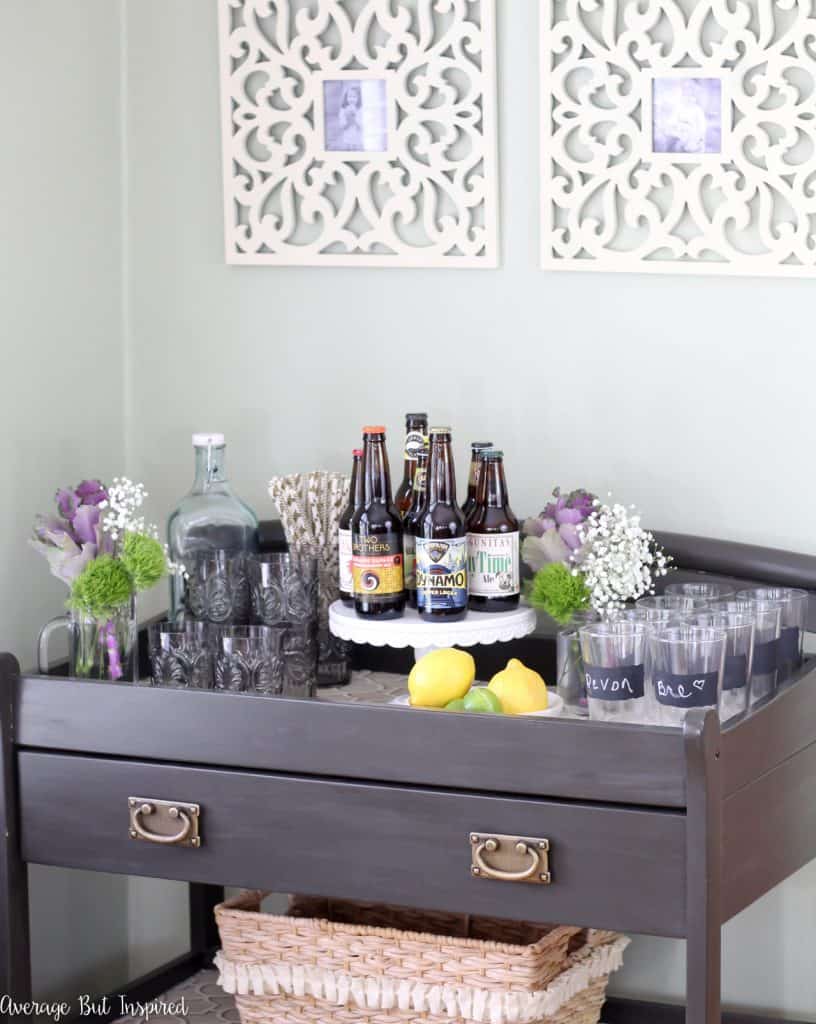 Tip One – Simplify Your Shopping
I believe that the key to enjoying parties you host is keeping things simple!  And that simplification starts with the planning and preparation process.  Instead of being stressed out by making trips to several stores, get all of your beer tasting party shopping done at one store.  I got everything I needed for my beer tasting party at Cost Plus World Market.
Cost Plus World Market has a huge selection of beers in so many different varieties.  You'll definitely find something to delight your guests' tastebuds in their beer section.  I chose the fantastic Local Brews 9-packs for my beer tasting party because I got a variety of different beers all in one package.  Variety is important for a beer tasting party; it's the whole point!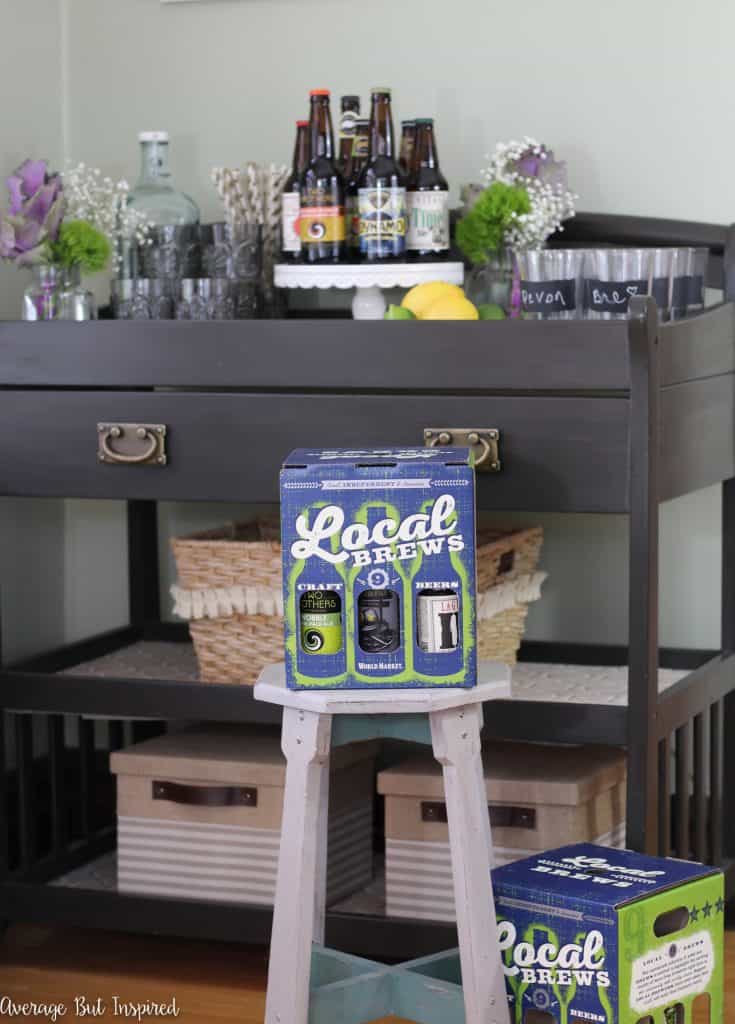 I was also able to buy lots of snacks for the party at Cost Plus World Market.  Their Barkeeper's Mix, Peanut Butter Filled Pretzels, and Flatbreads are the perfect items for guests to much on in between sips.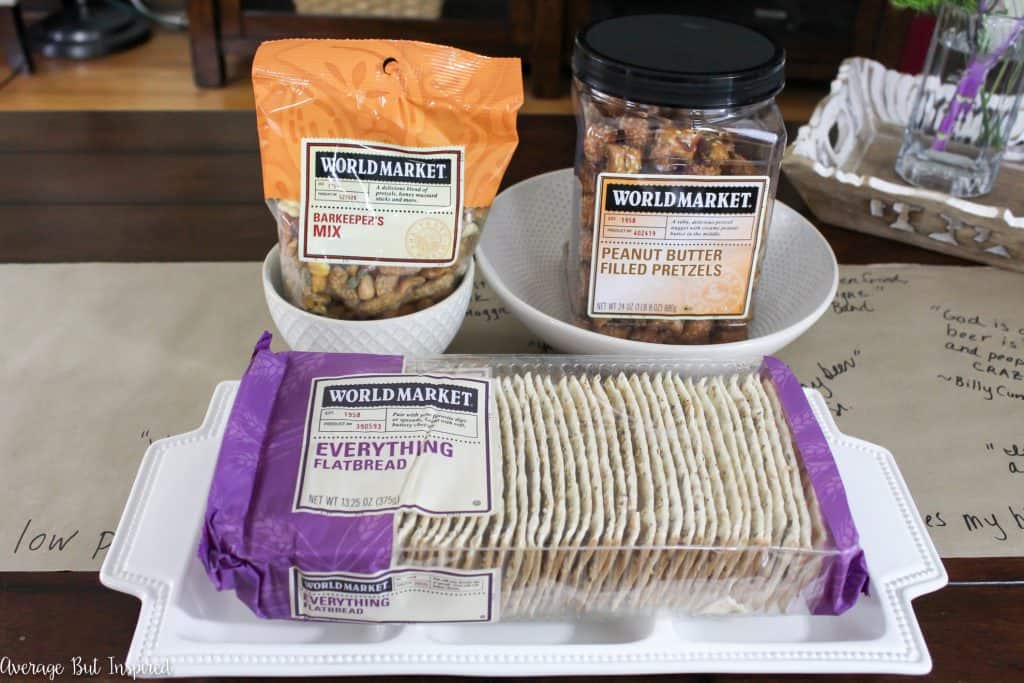 If you need any other entertaining essentials for your beer tasting party, you'll also be able to find them at Cost Plus World Market.  I cannot tell you how much easier this made my party shopping!  I had both of my kids with me and was still able to finish all of my beer tasting party shopping in under 45 minutes.  That's incredible!
Tip 2 – Label, Label, Label
Beer tastings are often blind, meaning that the guests don't know the brands or types of beer that they're trying.  If you want to host a blind tasting, simply cover the beer bottle labels with decorative paper and label them with some type of designator, such as a letter or number, so that guests can judge the beers they taste.
If that sounds like too much work, no worries!  Leave your beers as they come and let guests knowingly pick which ones they want to try.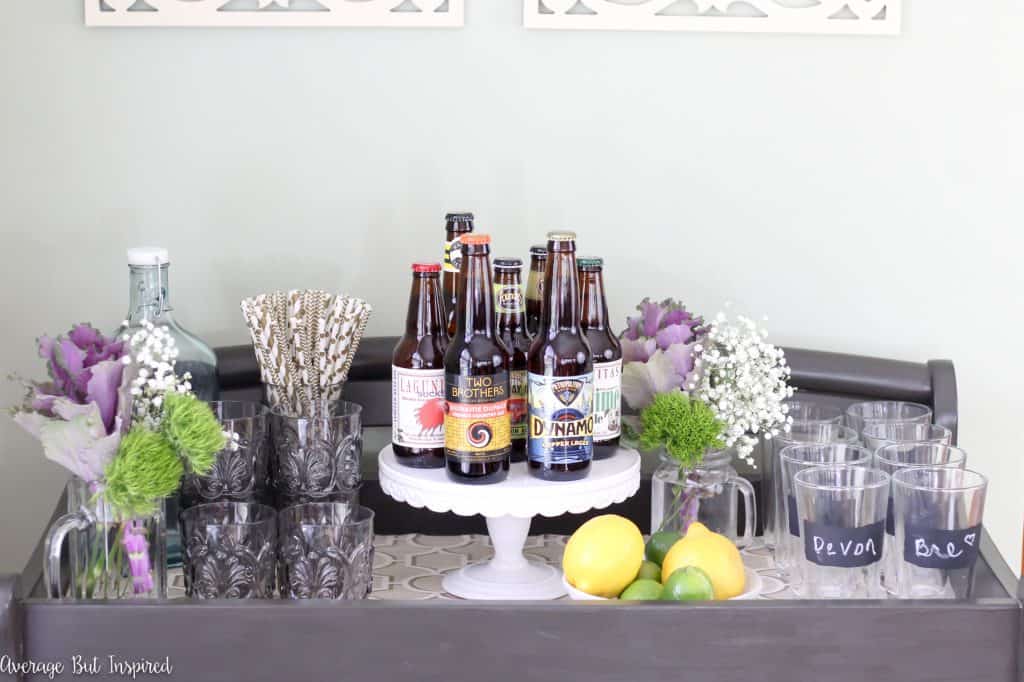 One type of labeling that definitely should be done is of your guests' glasses!  Who wants to accidentally drink from someone else's glass?  Gross, right?  Chalkboard labeled glasses let guests keep their drinks straight.  Plus they're super cute (and wash up just fine in the dishwasher).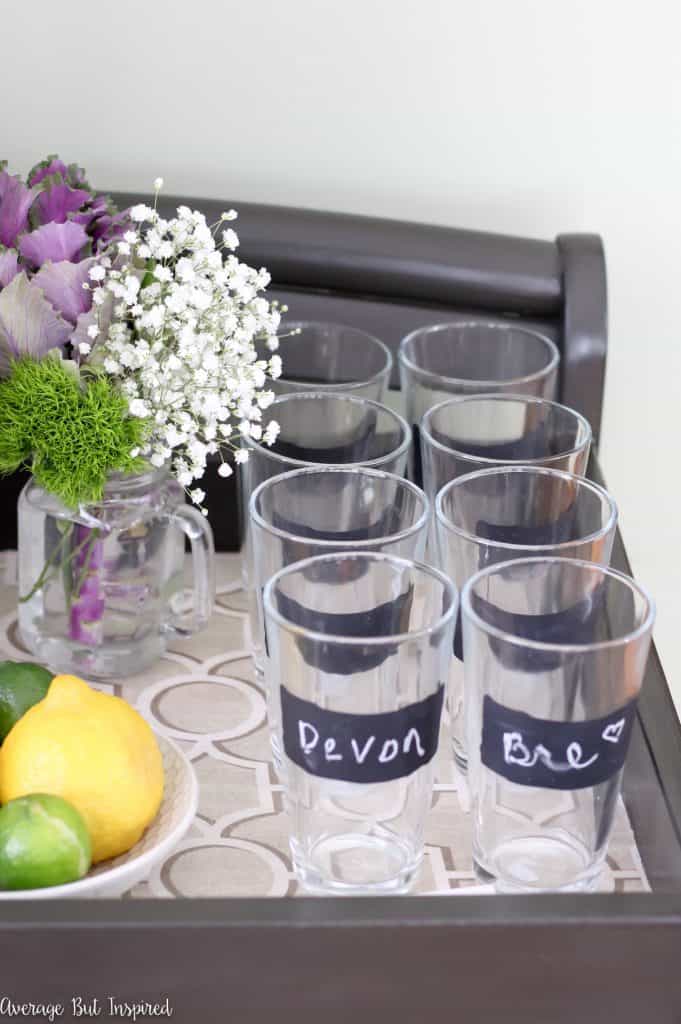 Tip 3 – Incorporate Simple Beer-Themed Decor
Since you want your beer tasting party to be low-stress, keep your decor on-theme but easy!  My favorite decor item for this beer tasting party is glass beer mugs and country jar glasses filled with beautiful flowers.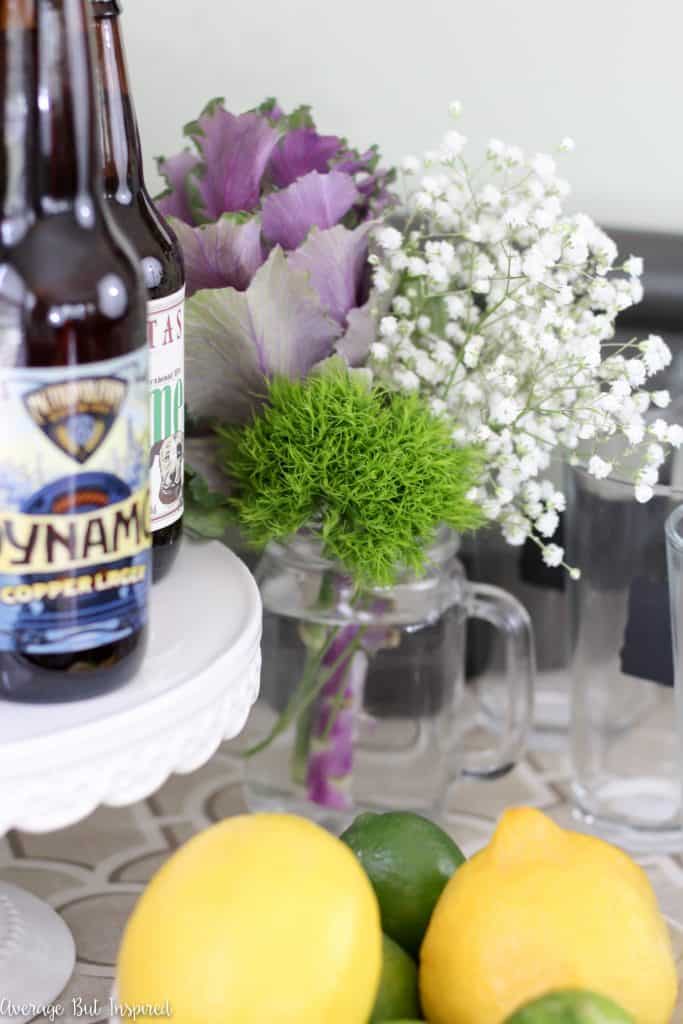 I also took some simple brown kraft wrapping paper and used it as a runner on the coffee table.  Since this is a beer tasting party celebrating "The CMA Awards," it seemed appropriate to add some country music beer quotes to the runner!  Let me tell you . . . there is no shortage of drinking songs in country music.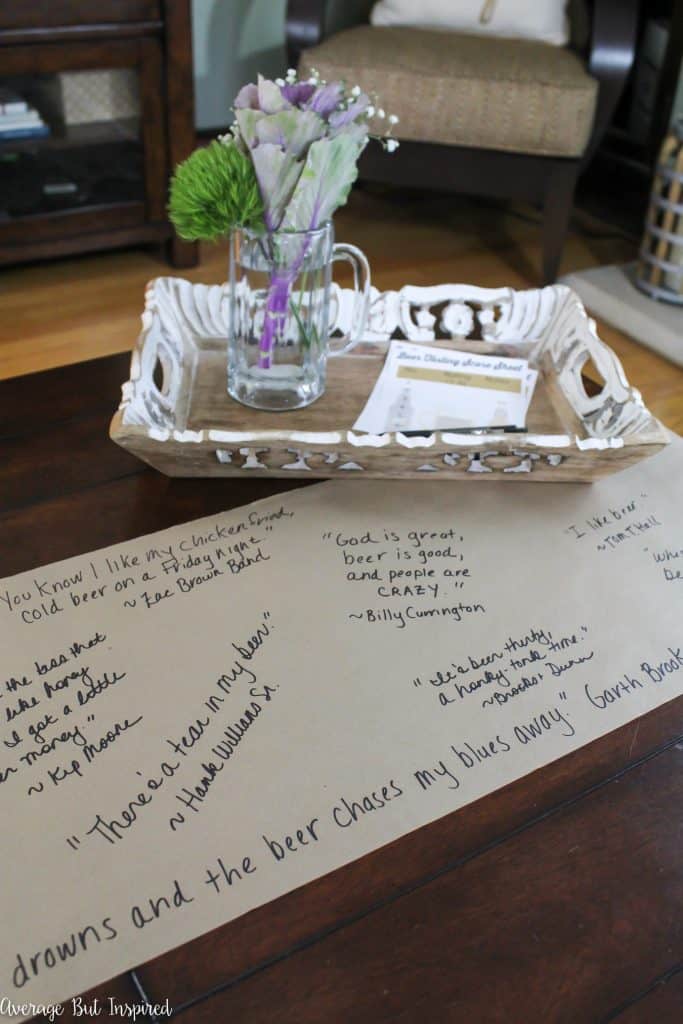 And of course, every beer tasting party needs a beer tasting score sheet!  Let your guests keep track of their likes and dislikes by printing out these beer tasting score sheets right here.  (They're free.  You're welcome.)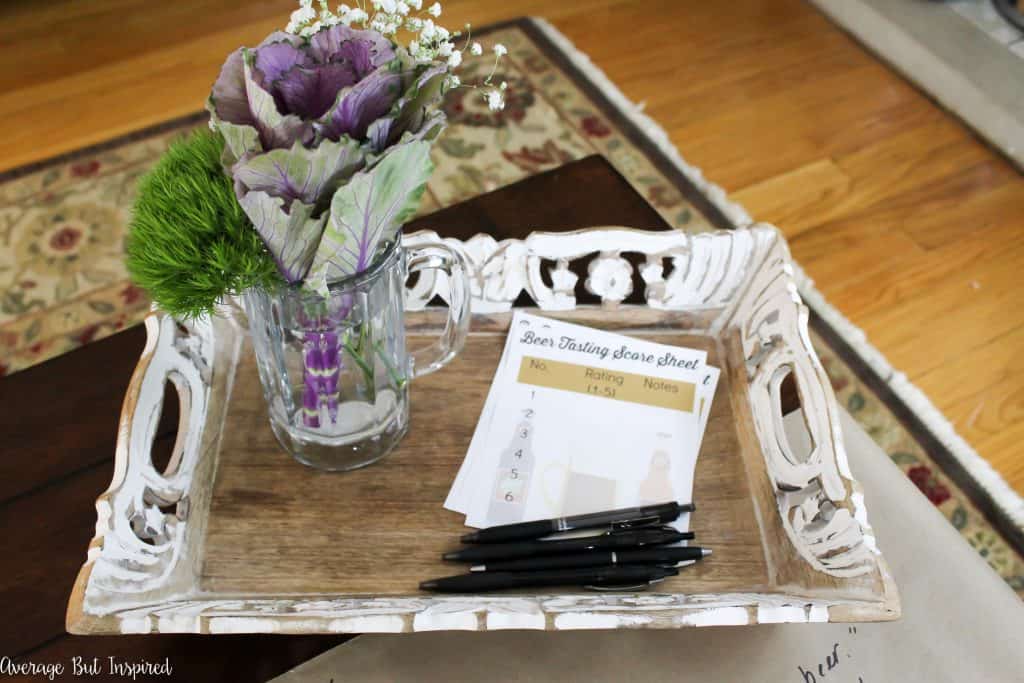 Tip 4 – Keep Your Guests Hydrated
In order to let your guests really enjoy the flavor of each beer you're serving, make sure they are able to cleanse their palates in between selections!  Keep fresh water easily accessible so that your guests can do this.  Using a beautiful glass jug with a sealed lid will prevent spills at the bar, and decorative plastic tumblers will add a pretty look to your set up!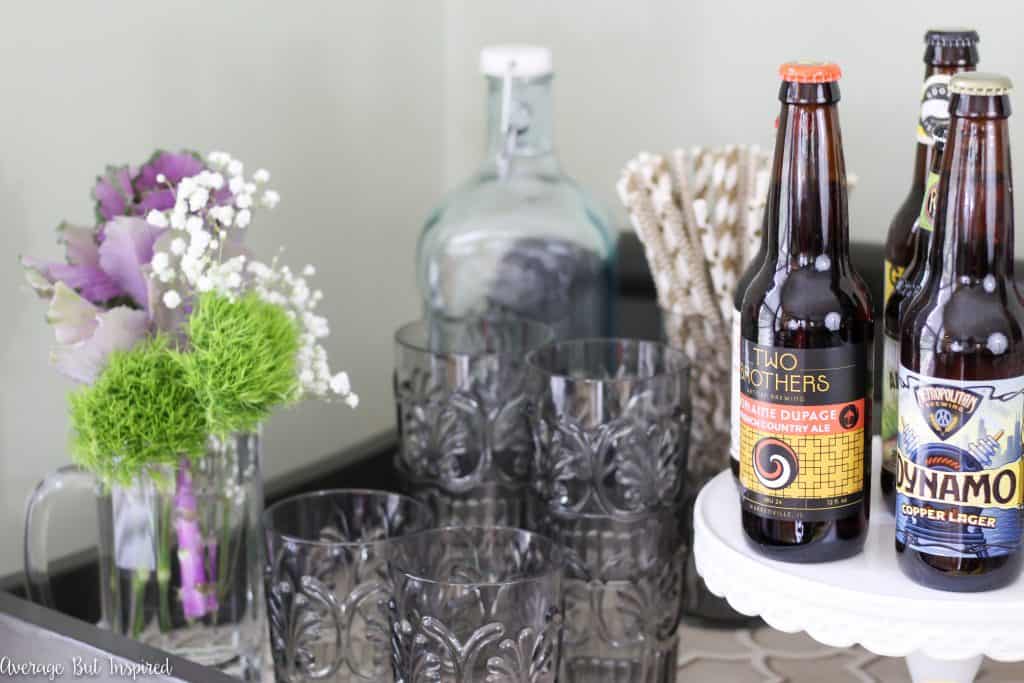 Having lots of fresh water available is also important for any designated drivers in the group!
Tip 5 – Have Some Entertainment
Although a beer tasting party is an event in and of itself, it's a good idea to have some kind of entertainment happening to make sure your guests have a great time!  Host your party during "The CMA Awards" and keep your bar nearby – the performances and award presentations will keep your guests happy!  Or, download a great beer drinking playlist and pull out some board games.  The point is to have fun and give your guests something to talk about, in addition to the beer they're drinking!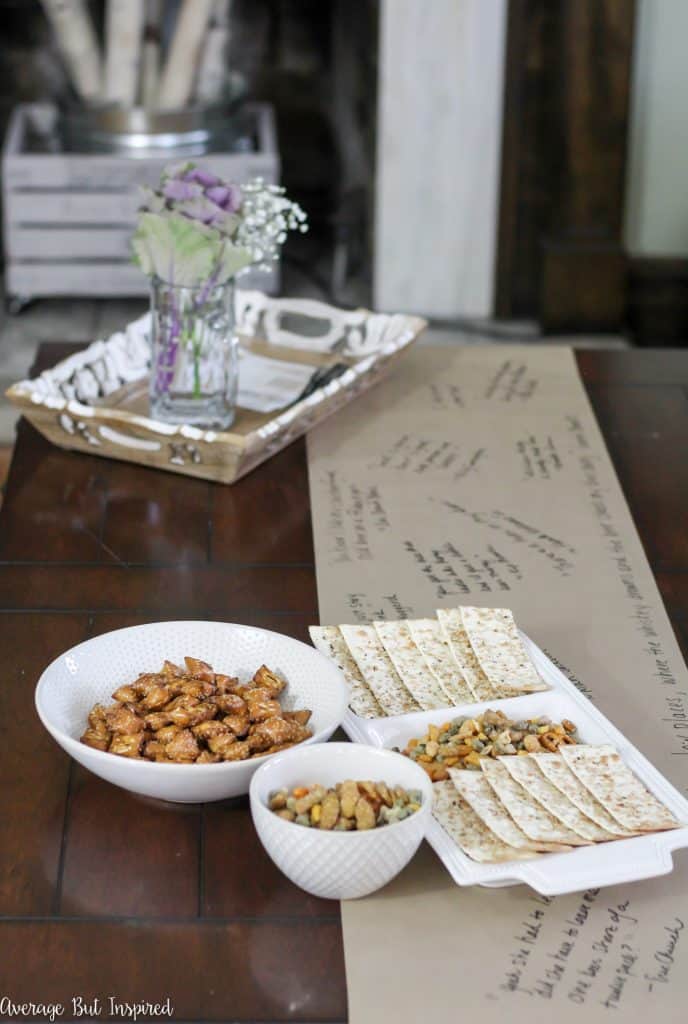 Shop the Post – Get all of Your Beer Tasting Party Supplies
 Scroll through to shop the beer tasting party supplies used in this post!  Easy, right?


You know I'll be watching the CMAs with a cold beer in hand!  Cheers, friends!
-Bre