I don't know about where you live, but here in Chicago we have been FREEZING since, well, it feels like forever!  The temps have been unusually low and I've been craving everything cozy.  Although the cold is annoying, I guess I have it to thank for inspiring this Upcycled Sweater Embroidery Hoop Art, because sweaters, blankets, and hot tea are all I seem to think about these days!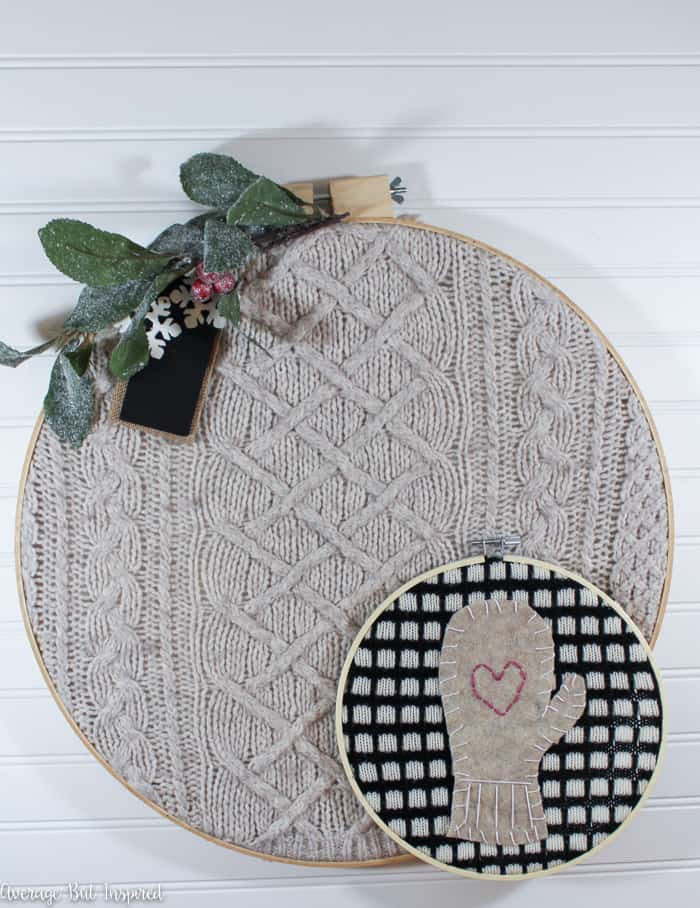 This project is a fantastic way to give new life to any sweaters of yours that have seen better days!  Or, if your sweaters are all in perfect condition, buy some at a thrift store to make these cute sweater embroidery hoops!
Supplies Needed for Upcycled Sweater Embroidery Hoop Art
This post contains affiliate links.  To read my full disclosure policy, please click here.
Old sweaters
For the Mitten Hoop:  Acrylic felt in color of your choice, embroidery floss (I used white and pink), needle, pencil & paper
For the Plain Hoop:  Faux greenery of your choice, chalkboard tag, snowflake tag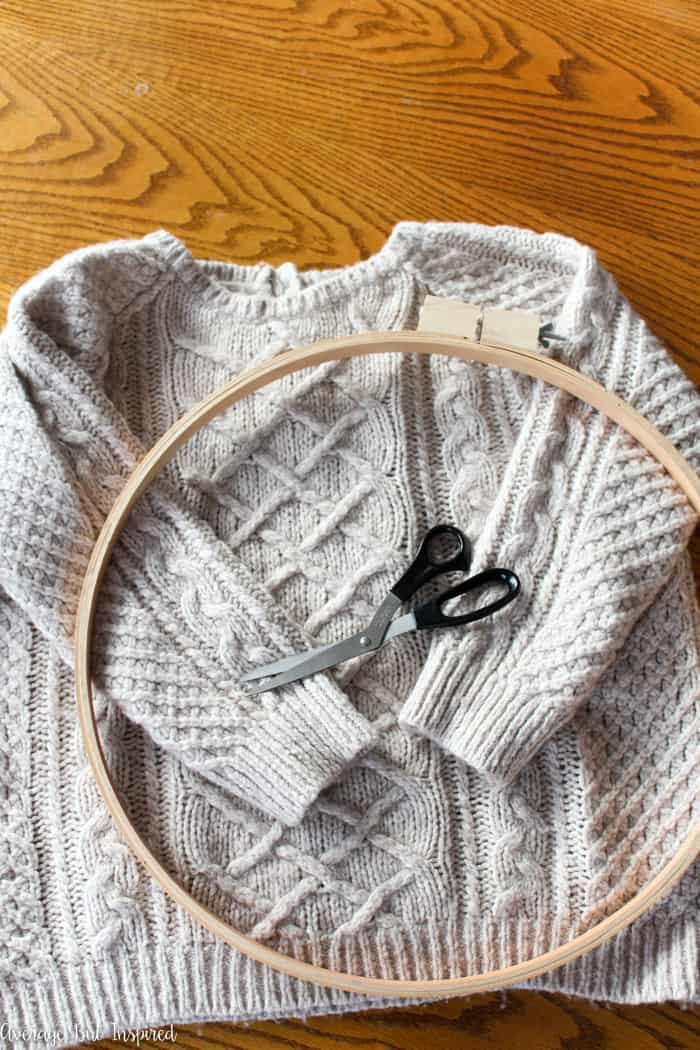 Instructions for Making Upcycled Sweater Embroidery Hoop Art
I love how simple but cute this project is!  It only took me about 20 minutes per hoop, which isn't bad at all!  I began by cutting a sweater to be slightly larger than the embroidery hoop.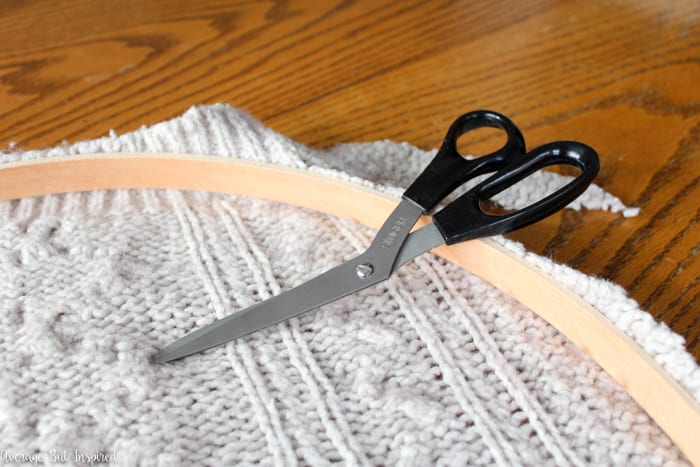 I pressed the pieces of the embroidery hoop together, with the sweater between them, and then trimmed all along the edge of the hoop to remove excess fabric.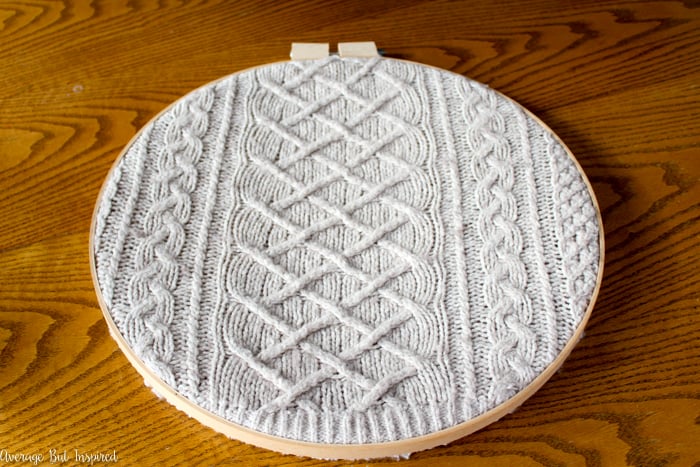 If you do this and the sweater feels a little saggy, just pull gently at the edges and trim additional excess fabric.
Once I had the sweater placed in the hoop just how I wanted it, I hot glued some greenery, a chalkboard tag, and a snowflake ornament to the top of my embroidery hoop.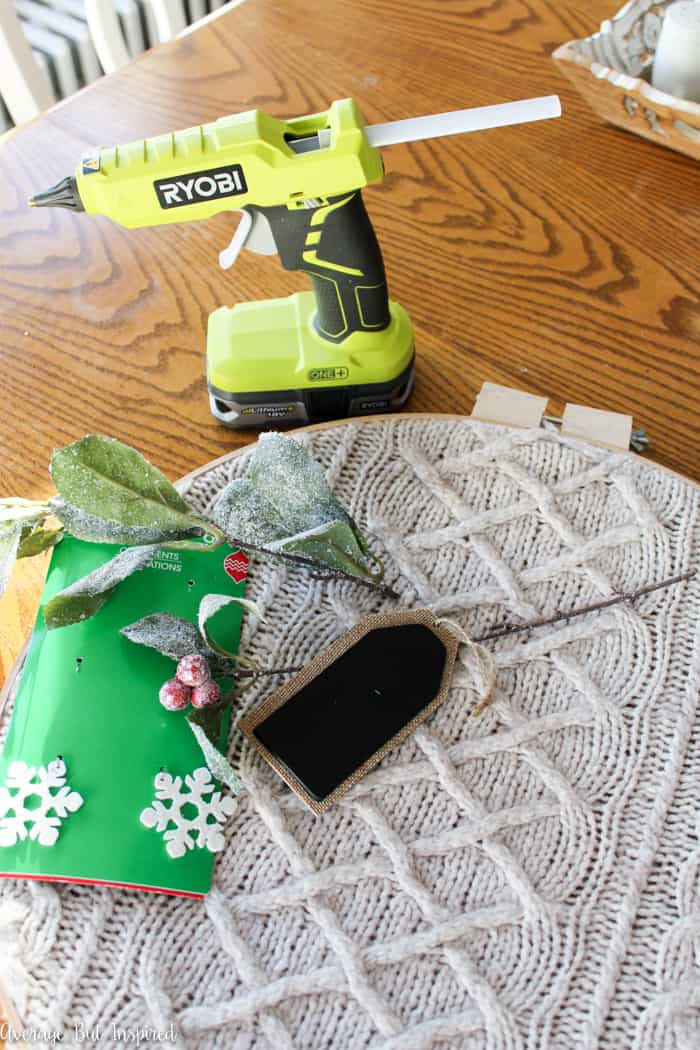 Do you see my pretty new hot glue gun in this photo?  I didn't know it was possible to be in love with a hot glue gun, but you guys, it is!  This cordless hot glue gun is a workhorse!  I think I could hot glue anything I wanted now!  Plus, not having a cord makes working with it so much easier.  If you use hot glue regularly, you should DEFINITELY get one of these!  (Note: if you don't have any Ryobi tools already, make sure you also purchase the rechargeable battery to go with it!  You can use the battery on any other Ryobi too, too.  Awesome!)
This embroidery hoop art came out looking simple but pretty.  I love it!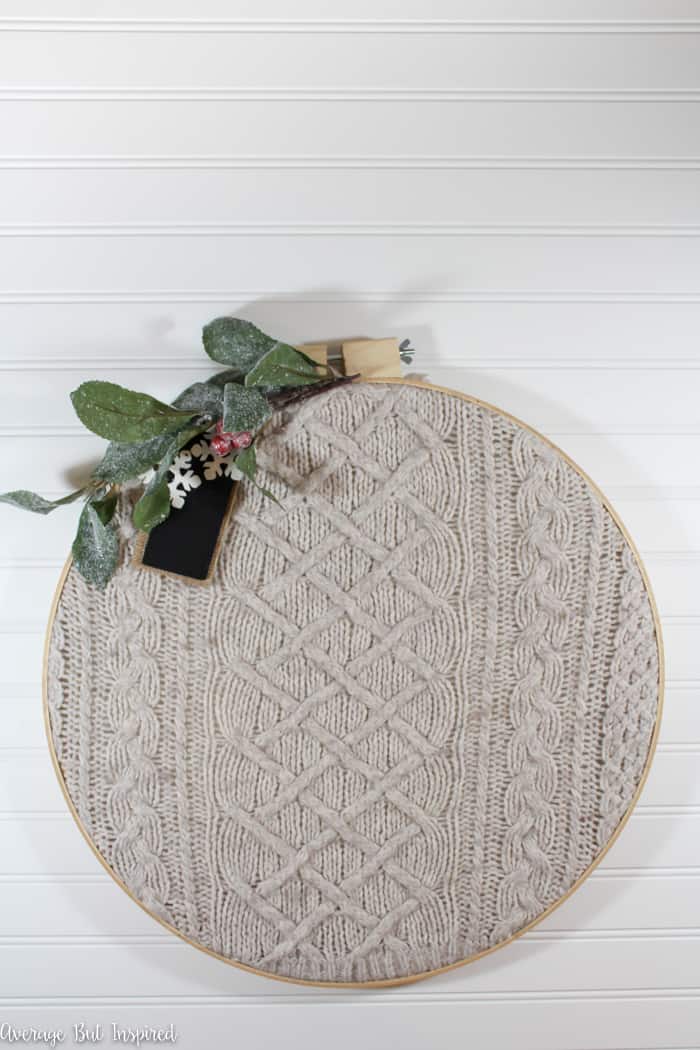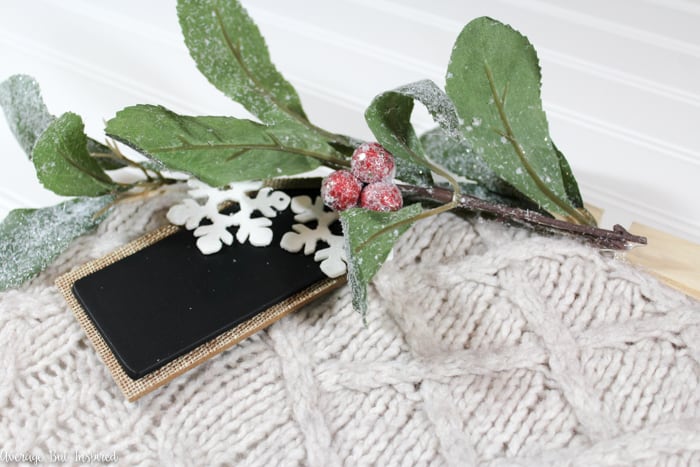 For my next sweater embroidery hoop, I decided to use a fun, patterned sweater, and Jasper the labradoodle tried to interfere with my work.  (Poor Jasper needs a haircut.)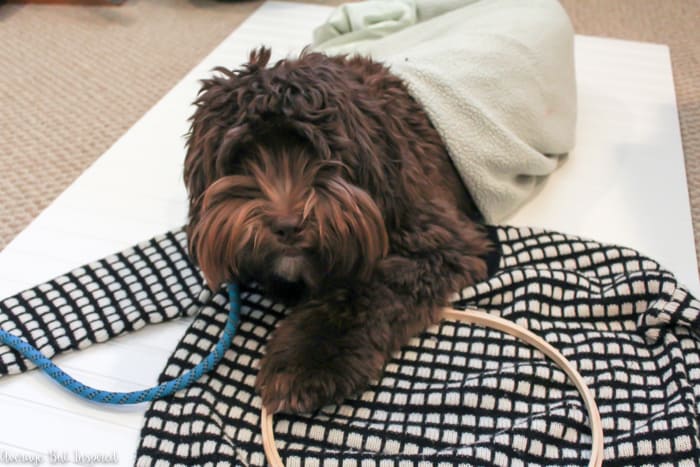 Once I moved him out of the way, my sweater hoops looked like this.  (Yes, there are two.  You'll see both of them next week when I share my winter mantel decor with you!)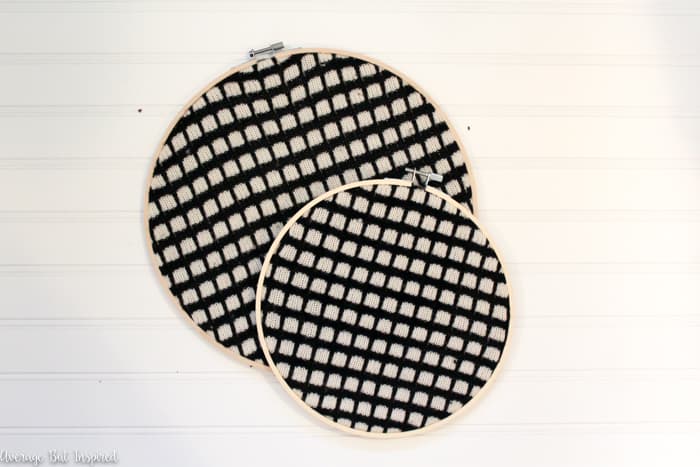 To add something extra, I drew a mitten on a piece of printer paper and then used that as a template for cutting out a felt mitten.  (Sorry this photo is kind of blurry.  I was taking photos in my basement and the lighting was awful!)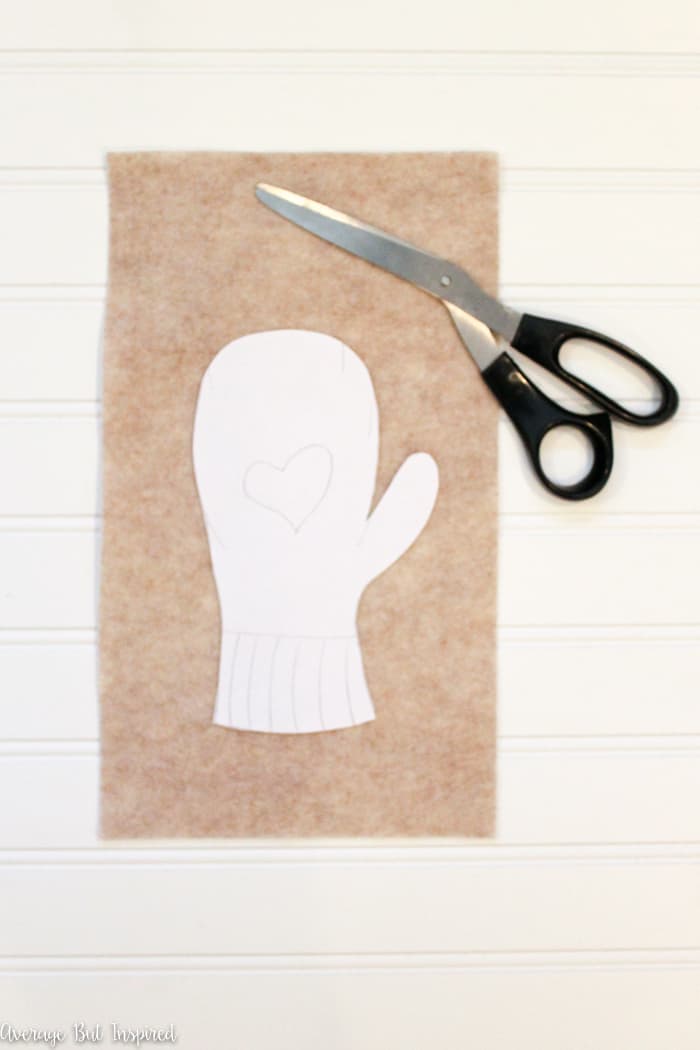 Next, I freehand stitched some details onto the felt mitten – like edging and a heart.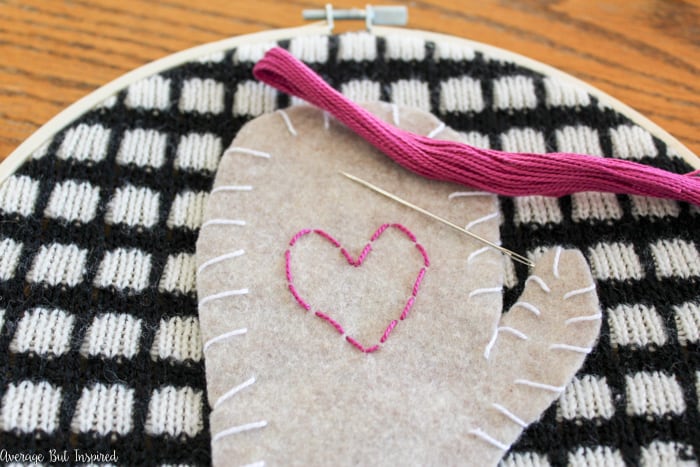 I used my big daddy hot glue gun to secure the mitten into place on the embroidery hoop instead of sewing it on.  I was worried that sewing it would deform the sweater in some way and make it look wonky in the hoop.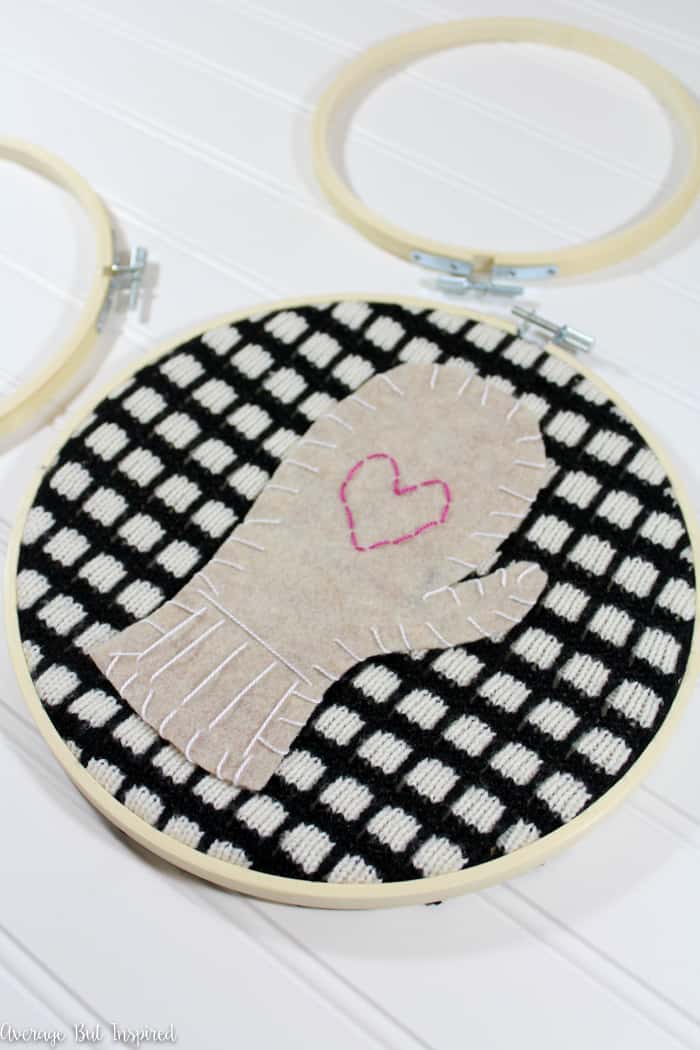 If you're not into mittens, you could put any shape you want on your sweater embroidery hoop!  And if you're not good and free-handing designs, just look for some clip art online that you could trace.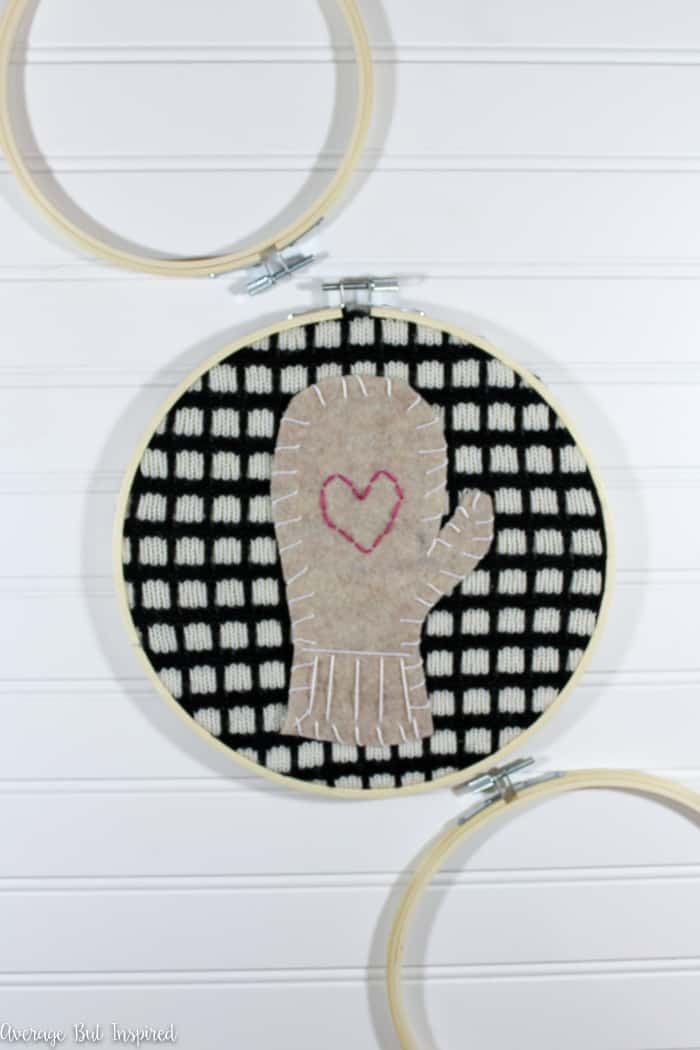 Don't you just love that you can re-use your old sweaters in such an adorable way?  Make sure to come back and visit next week when I show you how I used these upcycled sweater embroidery hoops in my home decor!  They're a key part of my winter mantel, and they look so cute up there!  In the meantime, I would appreciate it if you'd pin this post so that others can find it!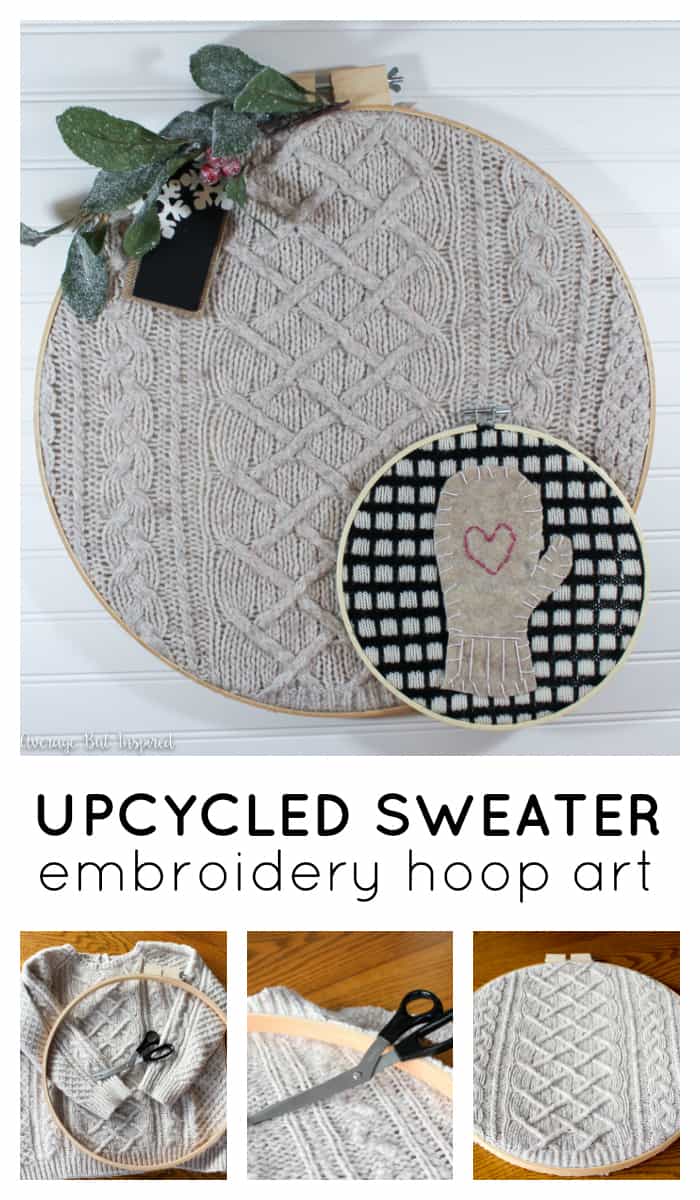 Have you upcycled sweaters before?  What did you do with them?  Leave me a note in the comments to let me know!
-Bre
Here's Another Easy DIY Home Decor Idea For You!  DIY Dollar Store Plates Decor