Most of the time I share "pretty" things on my blog – like decor or design projects.  But sometimes projects that aren't as "Instagram worthy" (as the kids say these days), are the ones that deserve the most love because they're actually useful!  That's how I feel about this DIY Hanging Mason Jar Storage project, which is a BRILLIANT* way to gain some extra storage space for small things by using the space above your head (or under a cabinet or shelf, perhaps)!  (*No, I'm not full of myself calling this project brilliant – it was my husband's idea so he's the brilliant one!)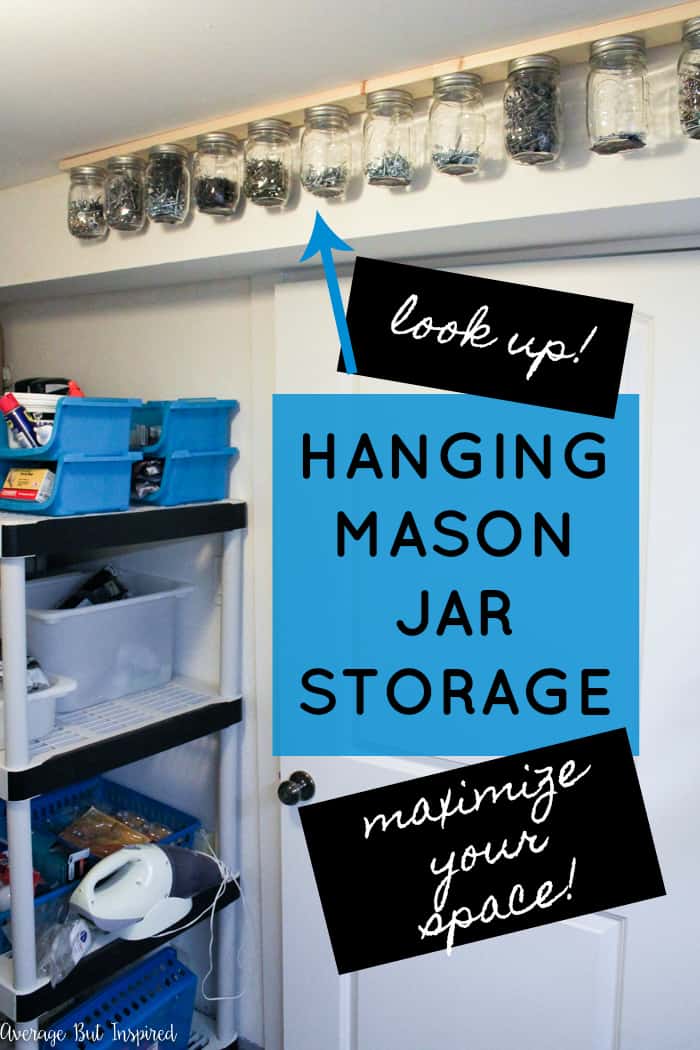 We installed our hanging mason jar storage in our utility room and filled the jars with screws and such, but you could use the exact same concept to store things like spices, craft supplies, and all other small odds and ends!  Keep reading to see just how easy this is to make!
Supplies Needed for DIY Hanging Mason Jar Storage
This post contains affiliate links.  To read my full disclosure policy, please click here.  
Wood Strip cut to fit the space where you're hanging the jars (we used a 1×4)
Plastic mason jars (note: we used glass mason jars because it's what we already had, but if it were up to me, we definitely would have used plastic)
Drill
Screws to mount the mason jar lids onto the wood (make sure you use screws that are shorter than the depth of the wood into which you're drilling)
Screws to hang the wood strip (and also anchors if your space requires it) – we used drywall screws
How to Make DIY Hanging Mason Jar Storage
Begin by cutting a wood strip to the correct length (and depth, if necessary), for the space in which you plan to hang it.
Next, drill pilot holes into the mason jar lids.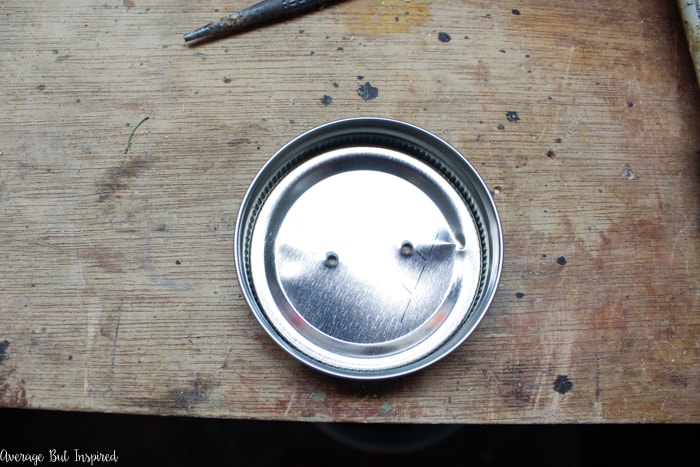 Place the lids onto the wood strip and screw them into place.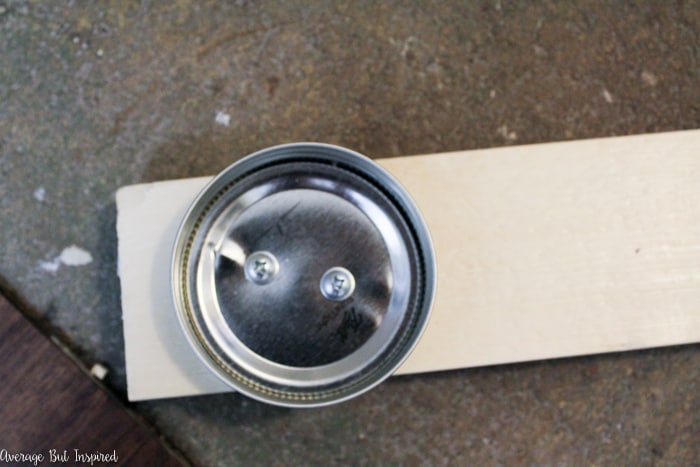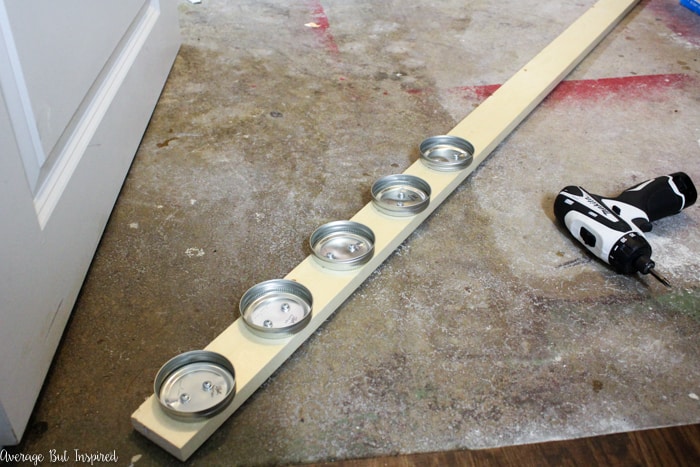 Once all of the lids are in place, screw the wood strip into the ceiling or area where you want to hang it.  Make sure to securely attach it to the ceiling!  Find your studs and/or get anchors that will hold the weight!  Obviously you don't want this to come crashing down on your head.  Ouch.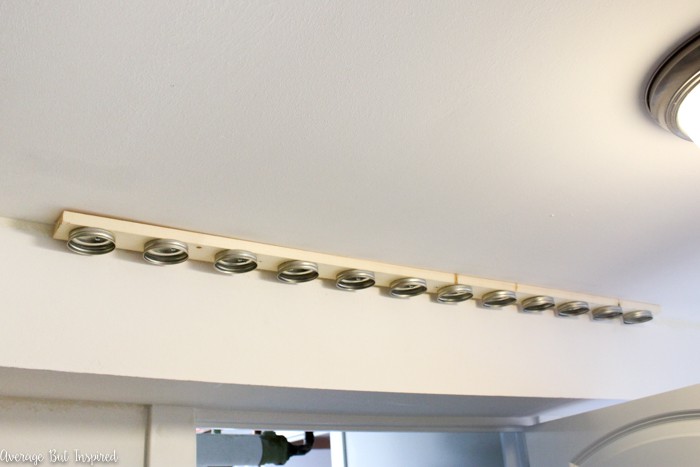 Put the objects you're storing into the jars and screw them onto the lids!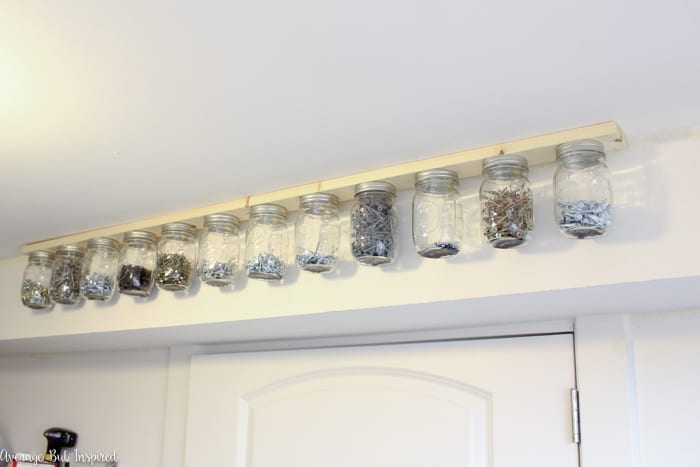 Add labels to the bottoms of the mason jars to help you identify the contents of the jars.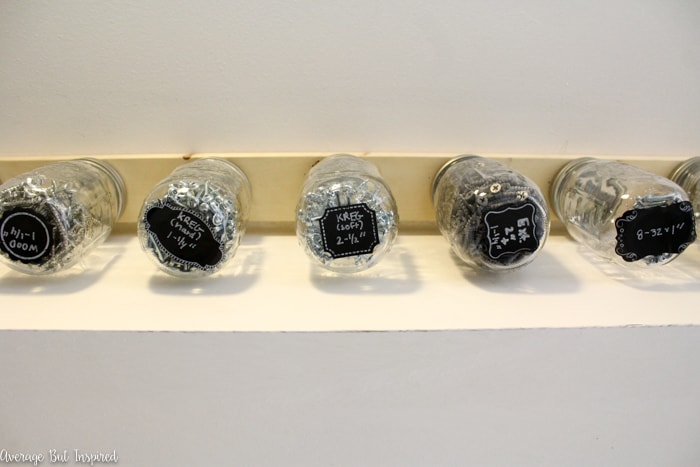 And that is IT.  So incredibly easy and such a great way to maximize space that would normally go unused!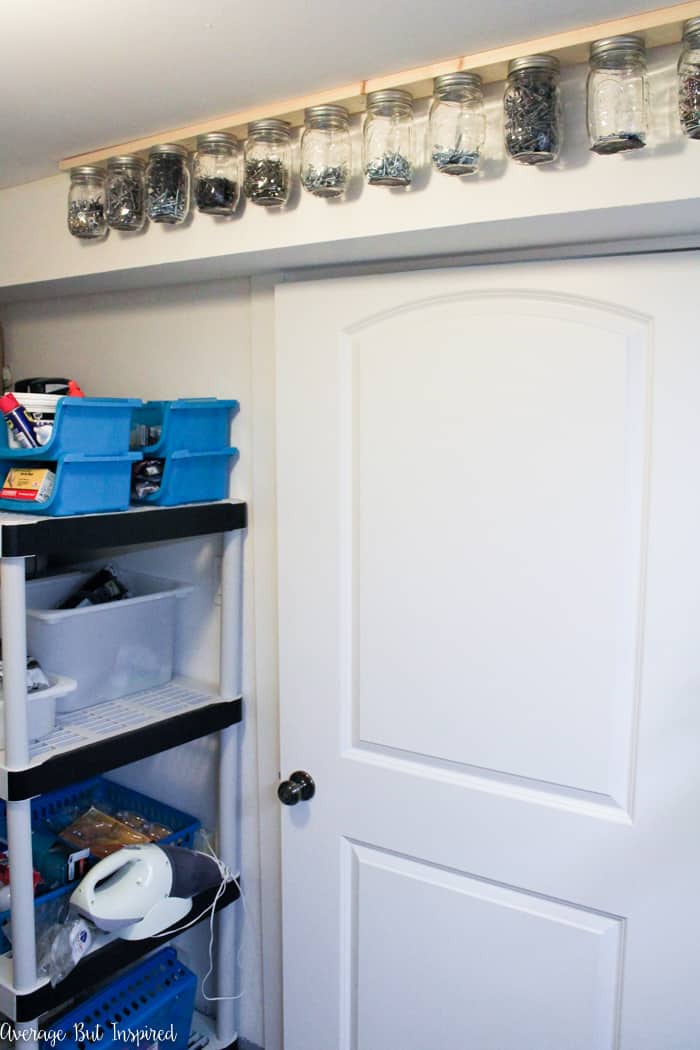 Before making this hanging mason jar storage system, we had boxes of screws and nails all over the place.  It was such a mess!  This truly helped us get our utility room area under control.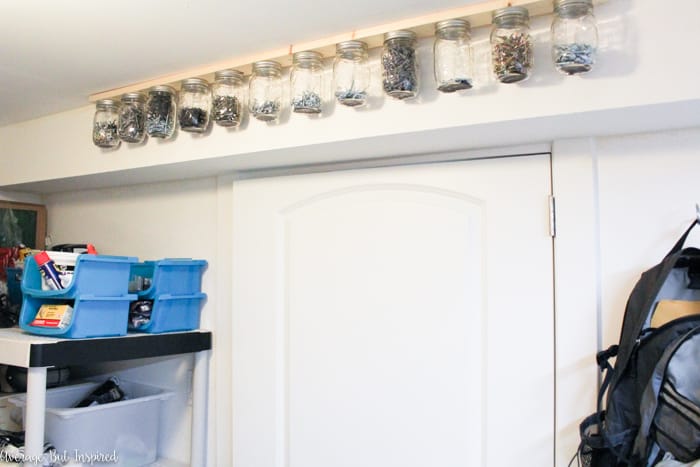 So what do you think – was my husband's idea brilliant or what?
-Bre
Looking for More Organization Ideas?  How About My Linen Closet Makeover?