During a recent night out with my friend from college, Jessica, we had a couple of drinks and decided we were taking a quick trip to Waco, Texas to see the Magnolia Market and the Silos with our own eyes.  My husband was thrilled with this news because it meant he would never have to go there.  (Ladies – play this angle if your significant other gives you any pushback on a desire to visit Magnolia.)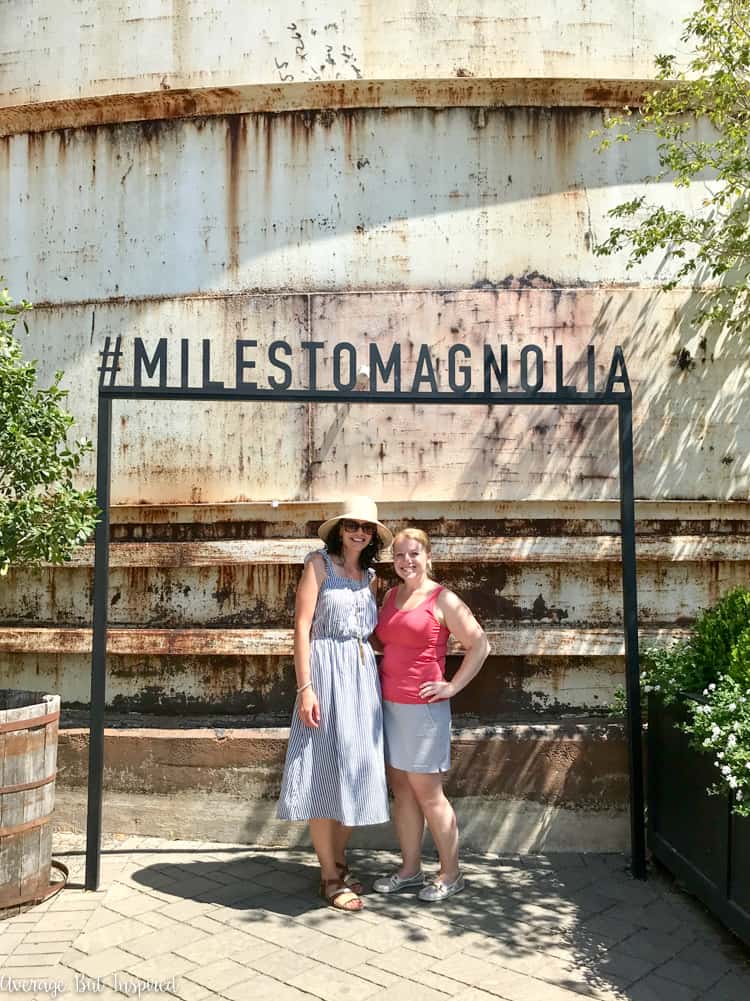 We took our trip last week, and I can honestly say that we both had an even more amazing visit that we expected.  The entire experience was so uplifting and we came home feeling renewed, inspired, and full of home cooked goodness!  If you've ever thought of taking a trip to Waco, I highly encourage you to do so.  To help kick your planning into high gear, I'm sharing my five can't miss tips for a trip to the Magnolia Market and the Silos, and I hope you enjoy them and seeing some of my favorite photos from the trip!  
This post contains affiliate links. To read my full disclosure policy, please click here.
Tip 1: Make Time for Magnolia Table
For some reason, going to Magnolia Table (Chip and Joanna Gaines' new restaurant), wasn't at the top of my to-do list.  I have the Magnolia Table cookbook (which is AH-MA-ZING), but felt like food was the least of my concerns while in Waco.  Plus, because Magnolia Table is not at the same site as the Silos or Magnolia Market (it's definitely driving distance apart), I was a little worried about getting to those locations later than I wanted.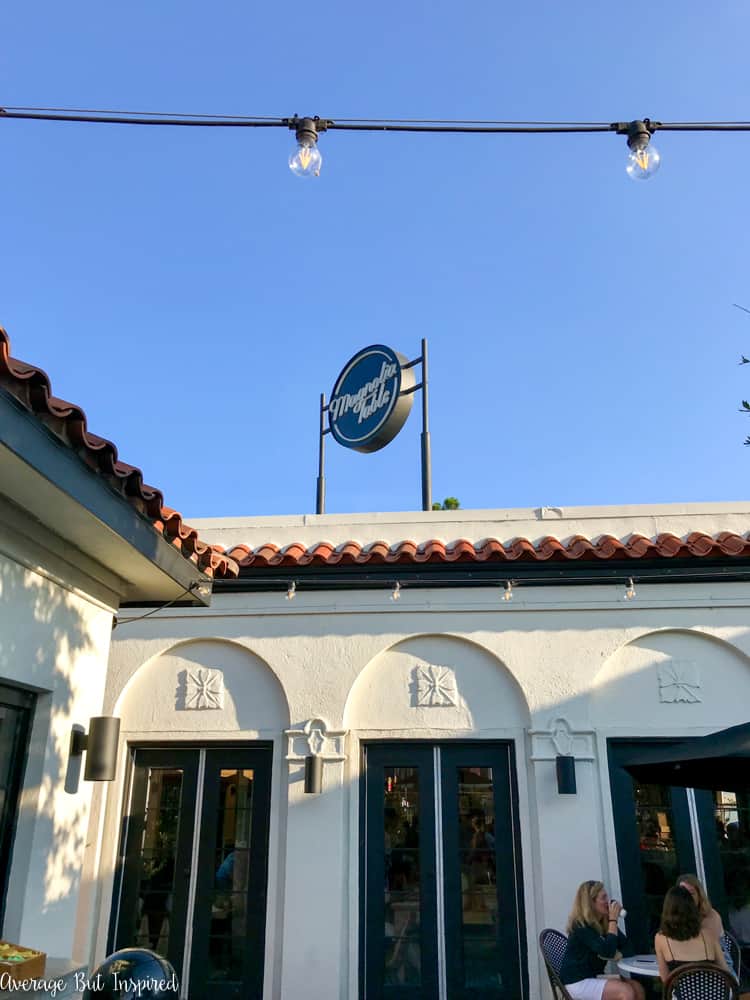 I'm so glad my inner doubting Thomas didn't prevail because the restaurant exceeded my expectations.  Although we had to wait about an hour for our table (this was on a Saturday with a 7:45 am arrival), the restaurant staff went out of their way to make the wait pleasant.
There is a very large outdoor waiting area with a lawn section for kids to play games, a coffee and pastry bar so you can munch on something while you wait, access to a gift shop, and a convenient check in system on your phone that lets you see how long your wait is while you're waiting!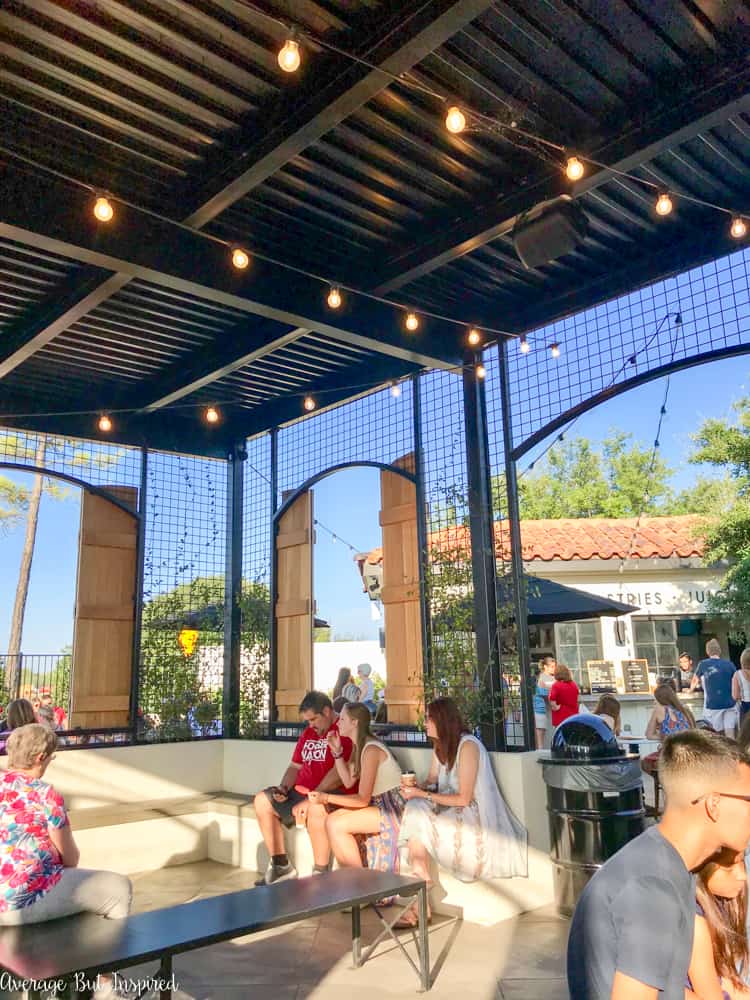 Jessica and I munched on blueberry muffins and diet cokes, and perused the menu before we went in.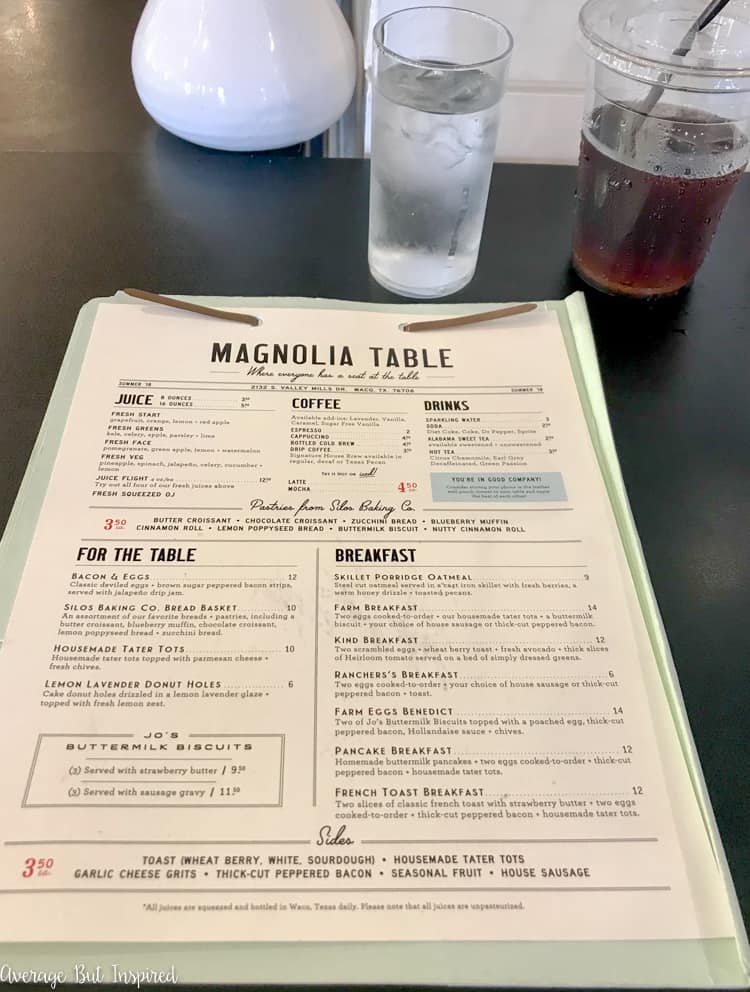 Inside the restaurant was a warm atmosphere with common tables and individual tables.  We sat at a common bar area, which worked just fine for us.  We're friendly like that.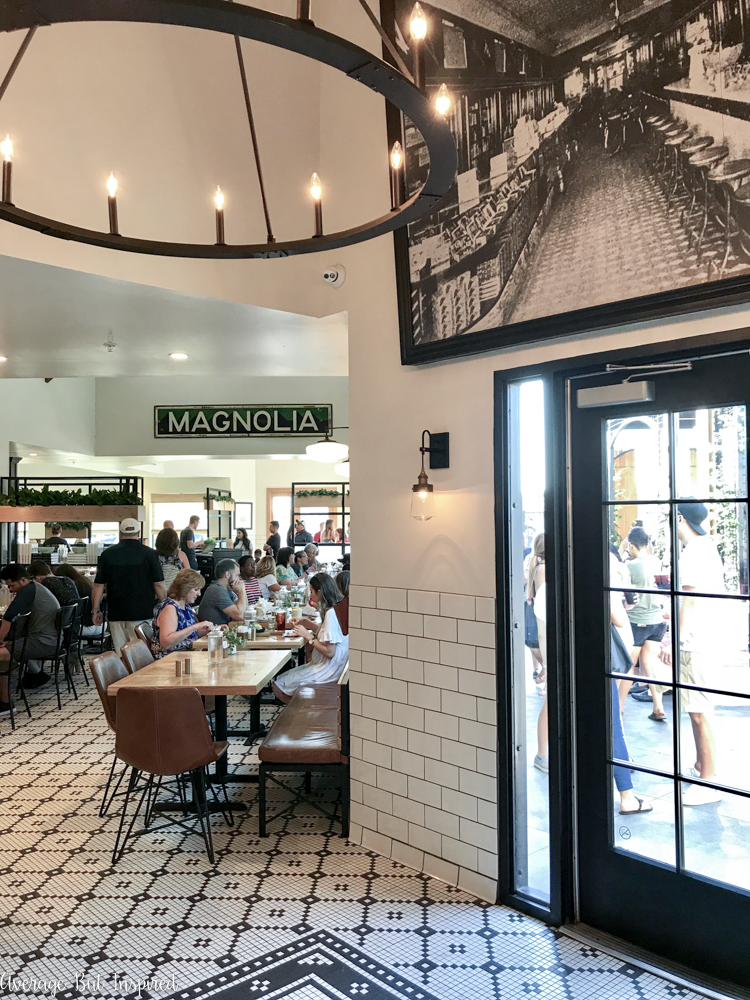 I ordered the Farm Eggs Benedict, which was THE BEST BREAKFAST I HAVE EVER HAD!  Jessica ordered the Farm Breakfast and also loved it.  Neither of us took photos of our food because we were too excited to eat it.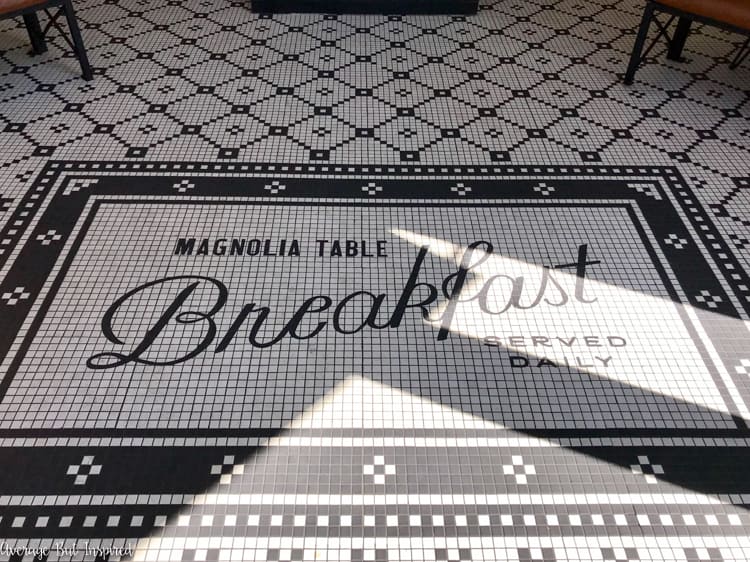 We were so full when we left Magnolia Table that we didn't eat again until dinner.  The food absolutely did not disappoint and the Fixer Upper vibe inside the restaurant makes Magnolia Table a must visit stop on your trip to Waco!
Tip Two: Ask for Tips
I'm pretty sure that a prerequisite for working in any of Chip and Joanna Gaines' businesses is that you have to be exceedingly nice.  Every employee we encountered was outstanding, including our waiter at Magnolia Table.  We asked him for his best tips during our visit, and he told us that Joanna's original store (the tiny shop located on Bosque Blvd.), was open that weekend for a warehouse sale!  He told us it opens a few times a year and they sell discounted merchandise from the Silos there.
We scooted over there as fast as we could and were literally giddy with excitement to be part of the "in crowd" that knew about the deals to be found!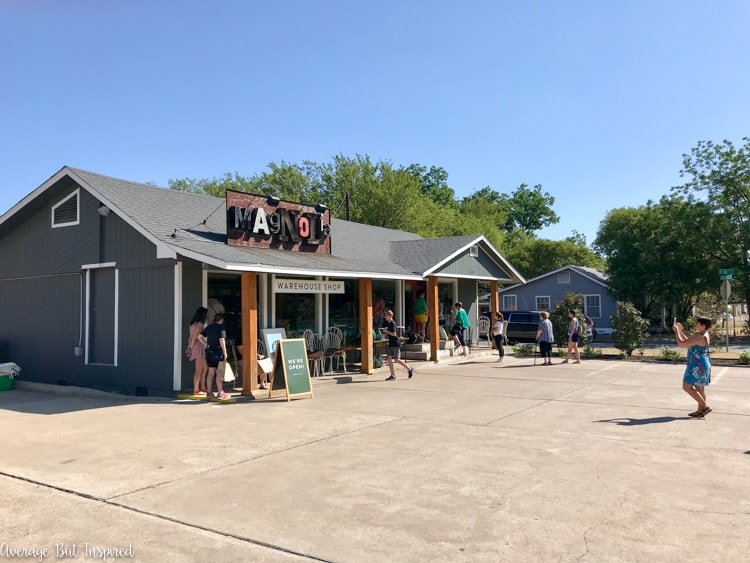 Inside was a bit crowded, but the staff managed the crowd well, and there was more merchandise outside.  Jessica and I both walked away with some awesome purchases for 40% off the prices at the Silos!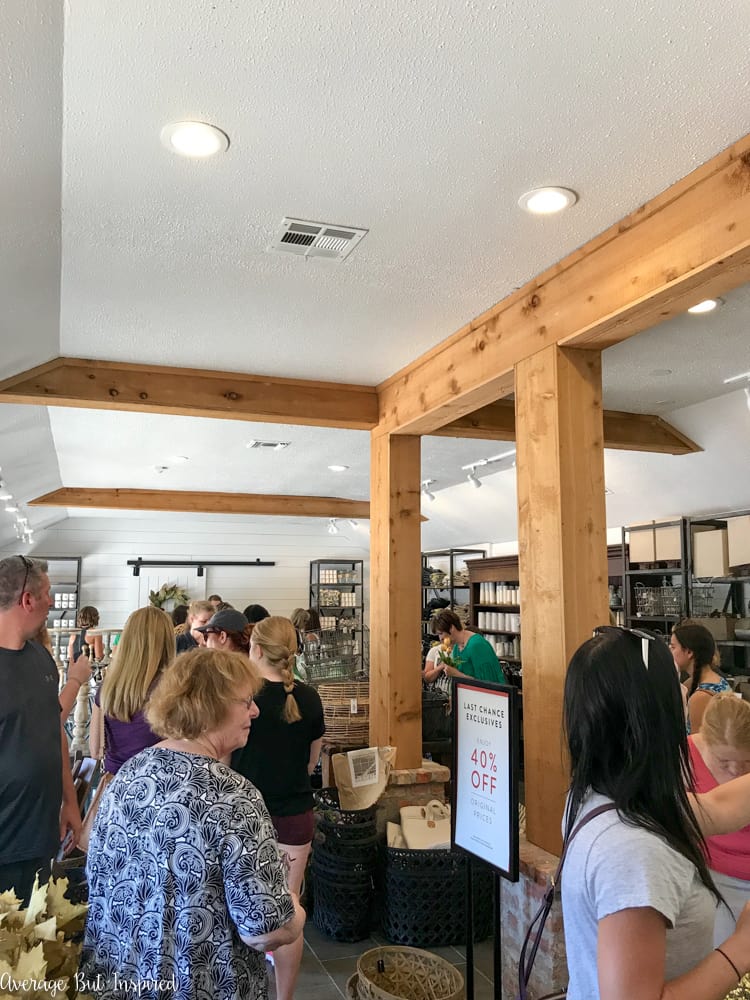 Other tips we got were where the least crowded bathrooms were and to try the sweet tea at the Alabama Sweet Tea Co. food truck at the Silos.  Although neither of us "yankee doodle dandies" was a big fan of the sweet tea (too sweet!), we loved the adorable souvenir mason jar glasses they came in.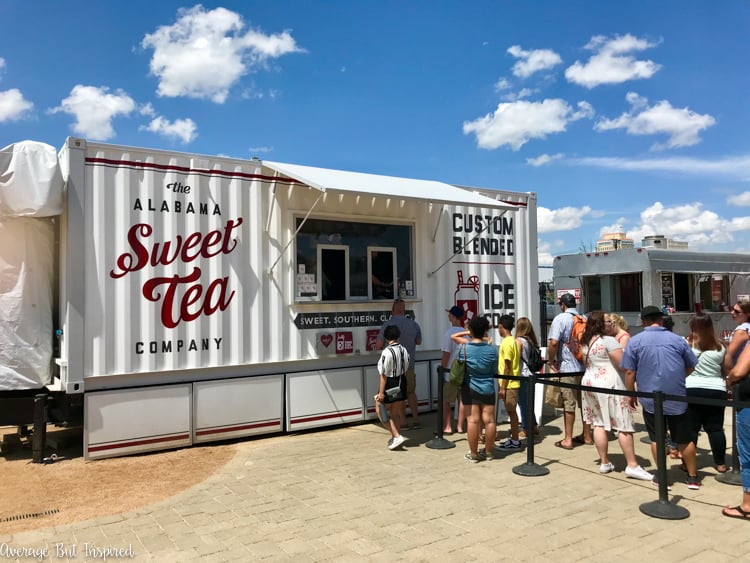 Had we not asked for tips from people in the know, I'm pretty sure none of these things that helped make our trip special would have happened!
Tip Three:  Plan Your Transporation
It's not well marked, but the Silos has free parking in a gravel lot right next door!  It's so convenient if you're traveling by car.  We saw many lots nearby charging for parking (minimal amounts under $10), so if you can get the free parking, do it!  Even though it was busy when we were there, the lot was not full.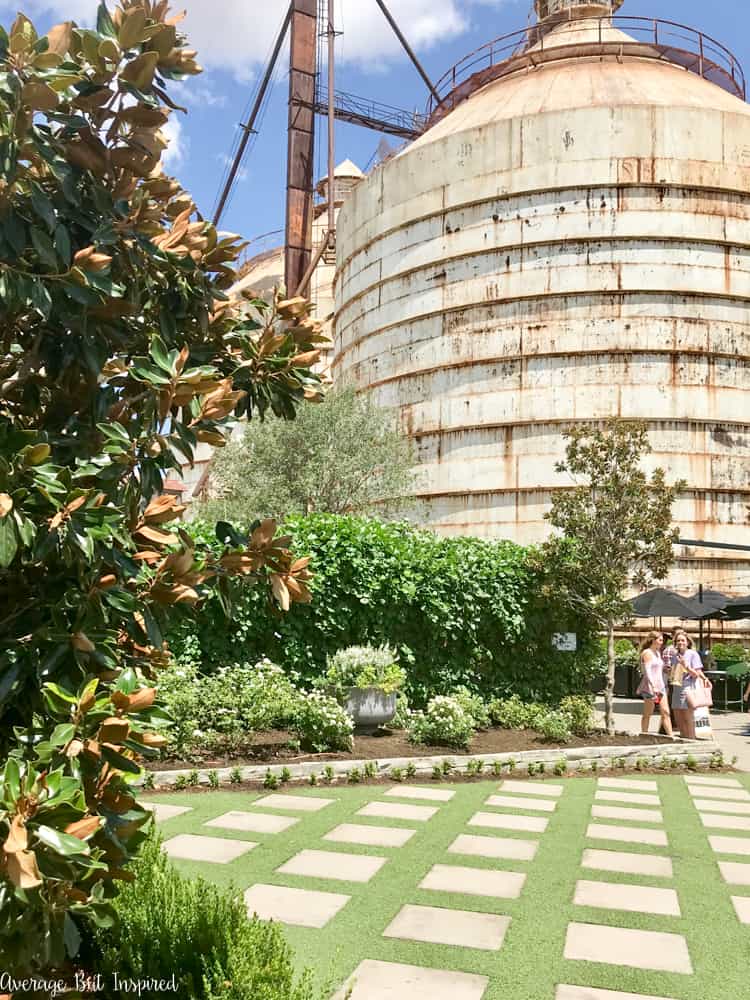 Alternatively, take the free Silo District Trolley!  You get free parking with that, and free transportation to and from the Silos, as well as other downtown Waco destinations.
They've done a good job managing the crowds in the area with the parking lot and the trolley, so make use of those resources during your visit!
Tip Four: Bring an Extra Suitcase
You are going to do some shopping while you're at the Magnolia Market – trust me!  So be smart if you're flying (or traveling by any way other than car), and pack an extra suitcase or bag so that you're able to get all your goodies home with you!  Jessica and I both packed duffel bags inside our suitcases so that we had an extra bag to bring our purchases home.  We were so glad we did because we bought A LOT!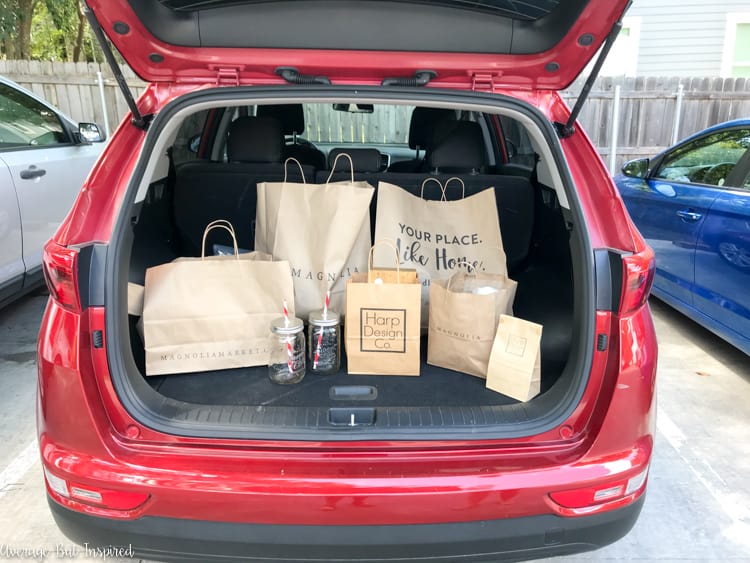 The market itself is filled with beautiful items for your home as well as souvenir-type items emblazoned with the Magnolia branding.  I don't think you could leave without buying something!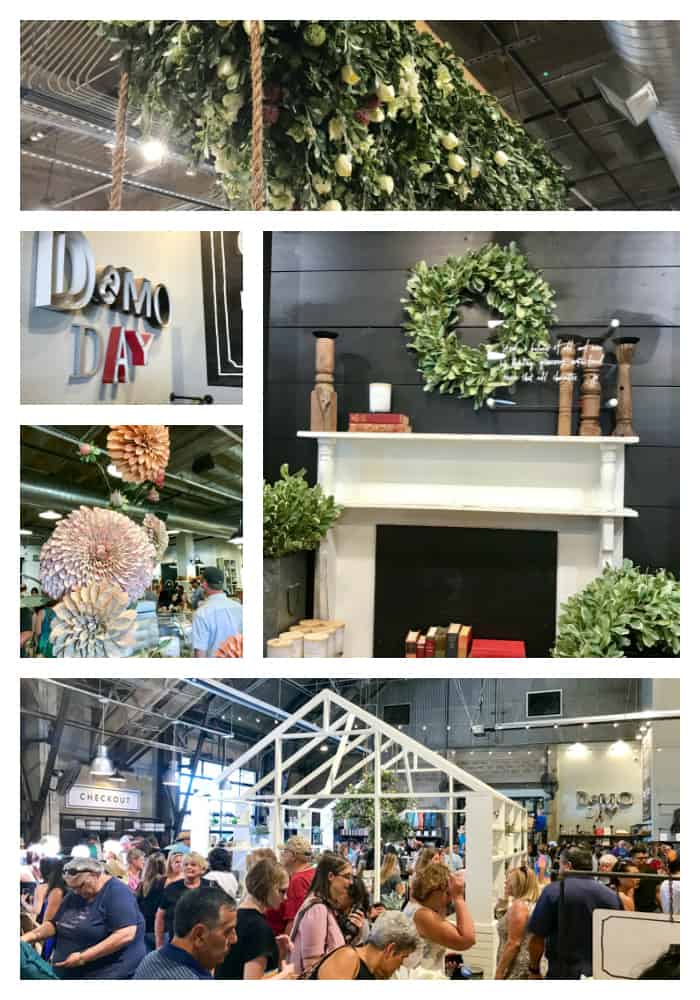 Plus, in the back corner of the Silos, there's the adorable Magnolia Seed & Supply shop, which houses fantastic finds for your garden and outdoor spaces (as well as a real, working garden, from which the Magnolia Table restaurant gets lots of its produce!).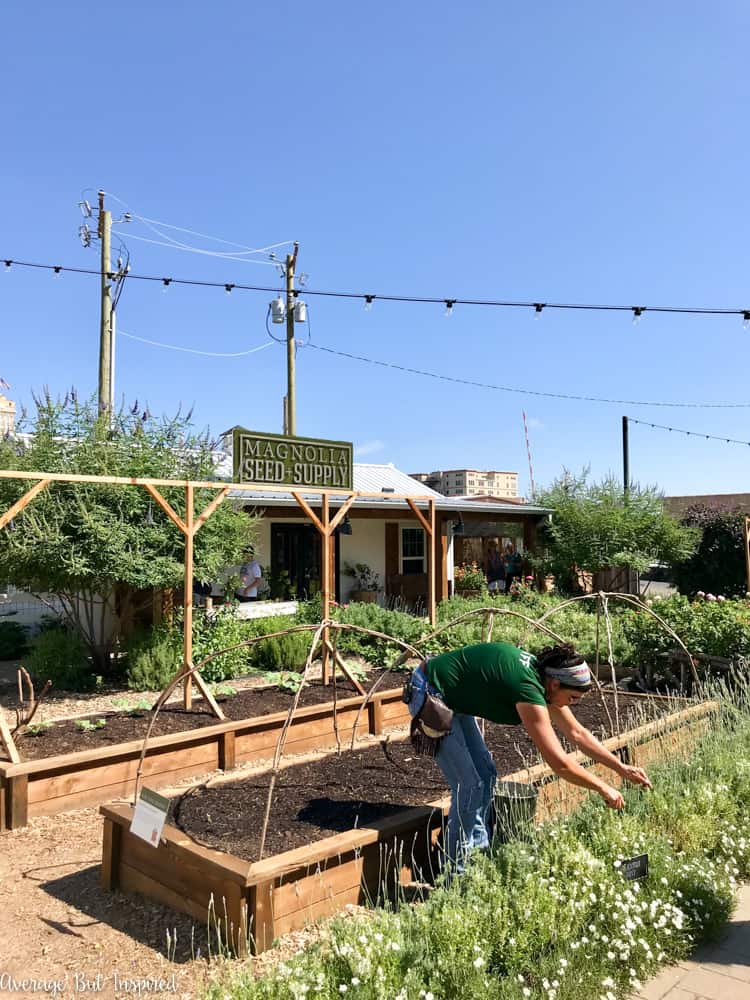 Oh, and there's also a little teepee if you're inclined to hop in for a photo or a rest.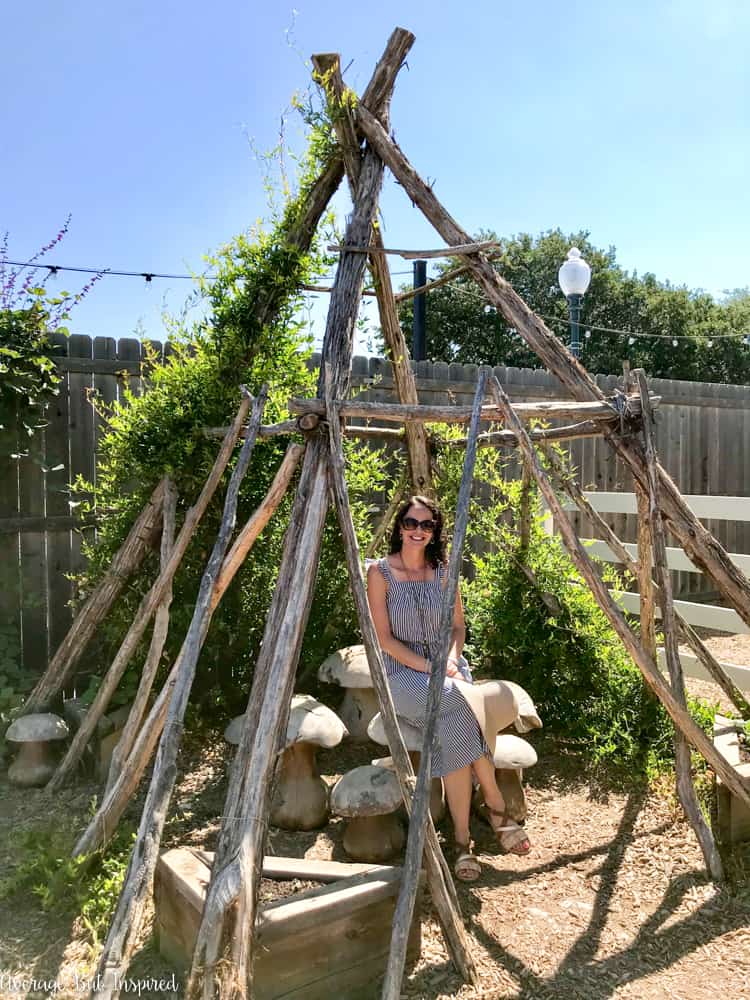 So yes, at the end of the trip, we were both very glad that we were able to consolidate our purchases into our extra suitcases and get them home without a hitch!
Tip Five: Explore Outside of the Silos, Too!
Not surprisingly, all around the Silos adorable little shops have popped up!  Jessica and I took a stroll over to several of them and loved what we found.  

The Findery was our favorite spot, and it is just steps from the Silos!  The main location was filled with beautiful home decor treasures, and just a block away their warehouse also had lots of larger scale furniture items.
Other shops in the area, like Iron Willow and Savage Finds Antiques & Oddities, had interesting things to look at and shop for, and their pretty stores provided a great break from the heat!
Later in the day we hopped back into our rental car and drove to Harp Design Co. to check out Clint Harp's little spot.  It was definitely not within walking distance of the Silos.  You'll need a car to get there.  The shop was small, but had lots of nice things available to buy for reasonable prices.
(P.S. if you want to see what I bought during my visit, check out my Instagram TV video right here!)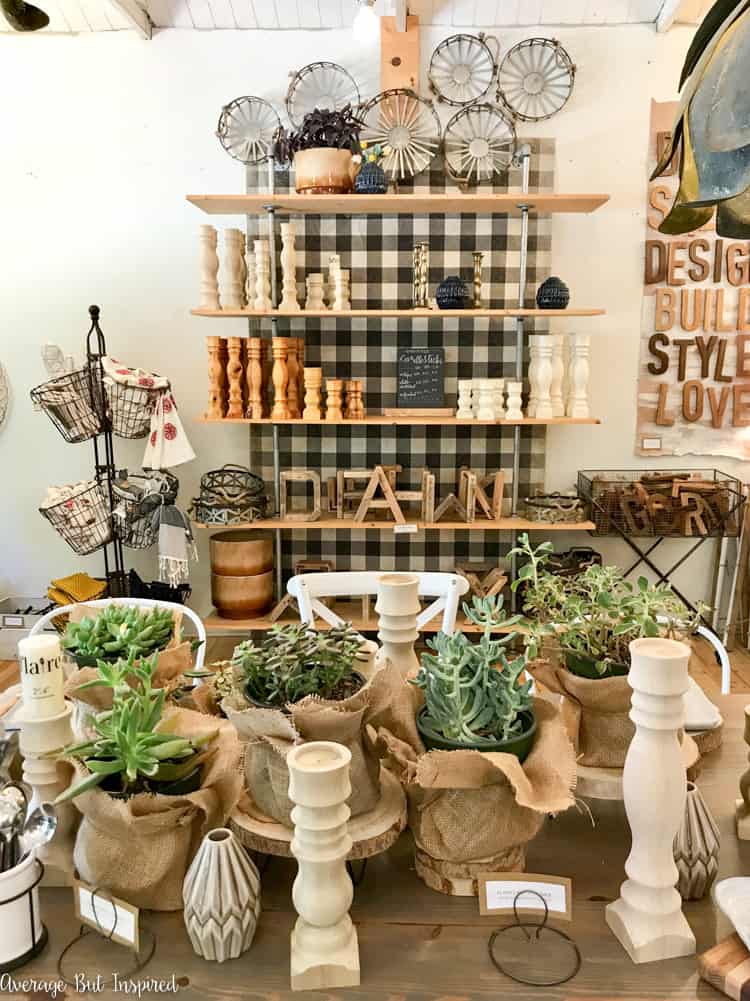 And of course, we drove over to the Magnolia House Bed & Breakfast, which was featured in season 3 of Fixer Upper.  Now that was a drive!  We couldn't believe how far it was from downtown Waco, and how the town it is in (MacGregor) did not have much in the way of shopping, restaurants, or anything, really.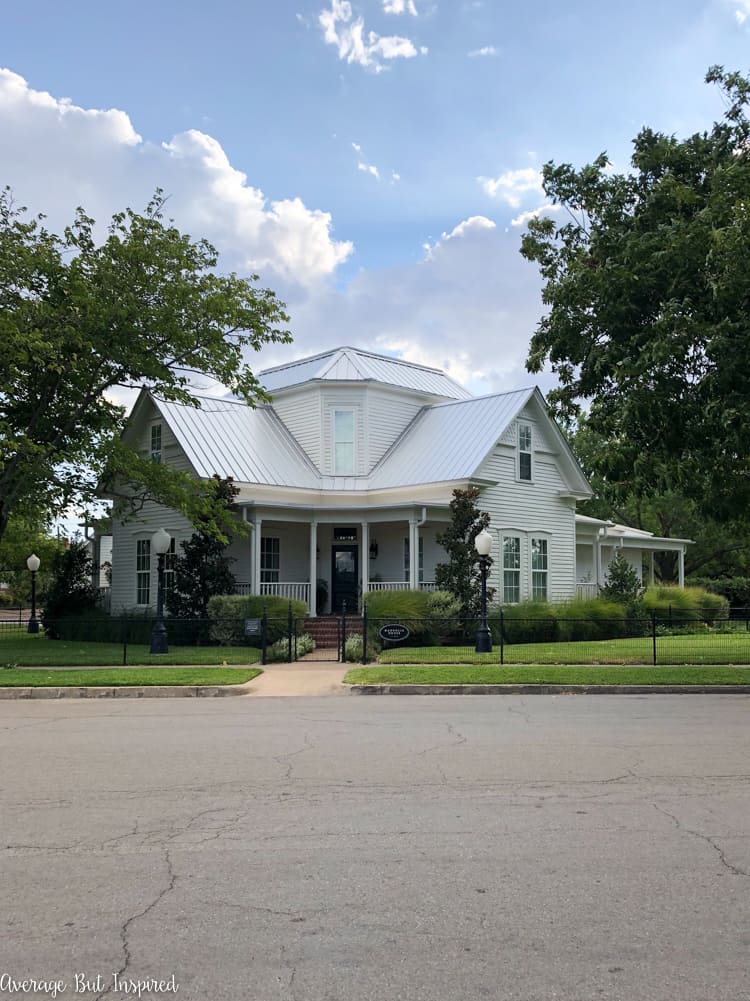 Neither of us would say this was a highlight of the trip.  However, on our drive back to the hotel, we took some country roads and ended up driving right by Jimmy Don's ranch (he's the iron work artist featured on Fixer Upper) AND the Gaines' farm.  And I swear on everything I own that both of these drive by's were completely by luck.  We were not stalking either Jimmy Don or the Gaines.  (And that is why I am not posting any photos of their residences here!)  Seeing the Gaines' farm WAS an exciting bonus though!
After that excitement, we went to bed and got up early the next day for our flight.  You can do all of this in one day, no question.  So if you're thinking a trip to Magnolia Market and the Silos is a big commitment, think again.  Get down there with some friends or family and enjoy!  I feel like I've been on an inspiration high since I got back (over a week ago now), and that made this trip more than worthwhile!
Even though I don't decorate in a farmhouse style, I have really grown to appreciate the good business sense the Gaines' have, as well as their commitment to helping others and enriching their community.  I definitely look up to them as I partake in my own creative endeavors, and feel very blessed that I was able to make this trip with one of my oldest friends.  Thanks for checking out my photos and tagging along.
-Bre