It's pretty safe to say the one thing that's always certain about my home decor is that it's always changing! I am constantly tweaking things. But, even though the decor is always evolving, I'm not spending a lot of money to get a new look, and you don't have to either! Today I'm going to give you my top three awesome tips for budget redecorating – all of which were used in the mini-makeover I just gave my foyer (you may be interested in seeing the foyer makeover I did last summer for some before photo reference!).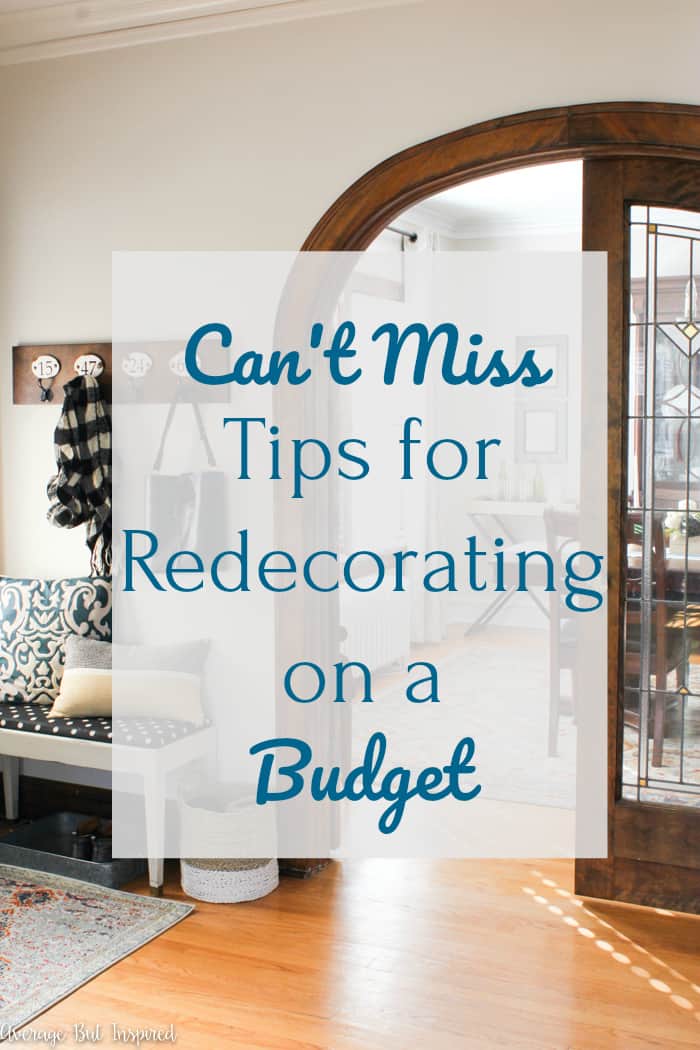 Tip No. 1 – Paint, Paint, and More Paint
If you've visited my blog before, you know by now that paint is my FAVORITE way to give things new life! Whether you're painting your walls or your furniture, nothing packs as much of a punch as paint, and it is (in the grand scheme of things), VERY budget-friendly.
Since my last foyer makeover post, we had our walls painted a lighter color because the foyer doesn't get a lot of natural light. I also painted my foyer table the most gorgeous shade of blue called Jitterbug by Country Chic Paint, which they graciously gave me to use for this project! This table began its life as black and turned rusty red when I first painted it in 2013. Seeing as I used red nowhere else in the house, it always bothered me a bit and didn't feel quite right. Now it flows perfectly with the adjoining living room and dining room, and I just love it!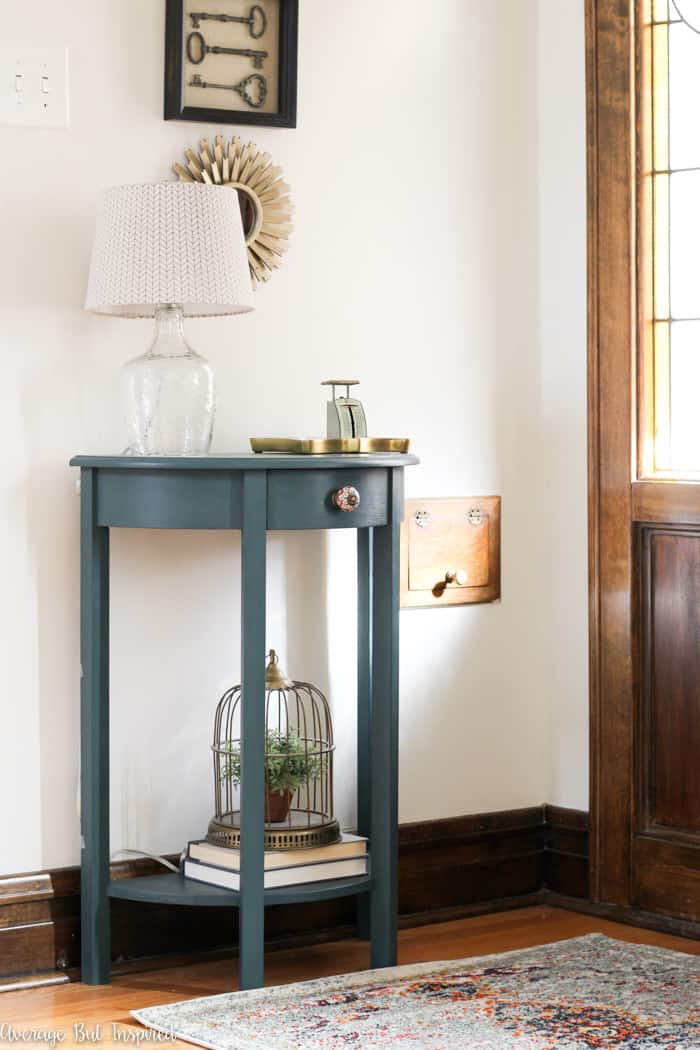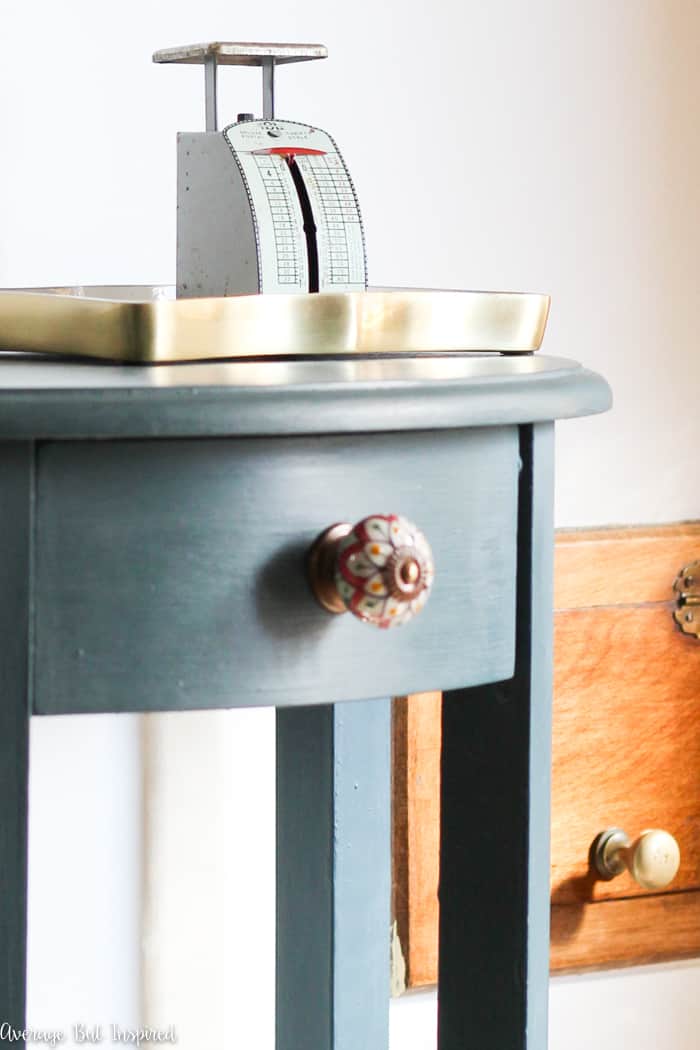 Picking up a paint brush every few years and investing just a small amount of money in paint has allowed me to "redecorate" my home time and again without buying anything new! I just love how I can get an entirely new look with a little bit of time and hardly any money.
Tip No. 2 – Shop What You've Got
If you're not keeping a bin or box of home decor in your attic (or basement or closet or wherever you've got a bit of space), you need to start doing that now! One of my favorite places to shop is in my own house! As I move things around and find new pieces to bring in, I put old pieces into my storage box. Then, when I "need" to freshen up a room's look, I go hunting for something I already have and try to make it work!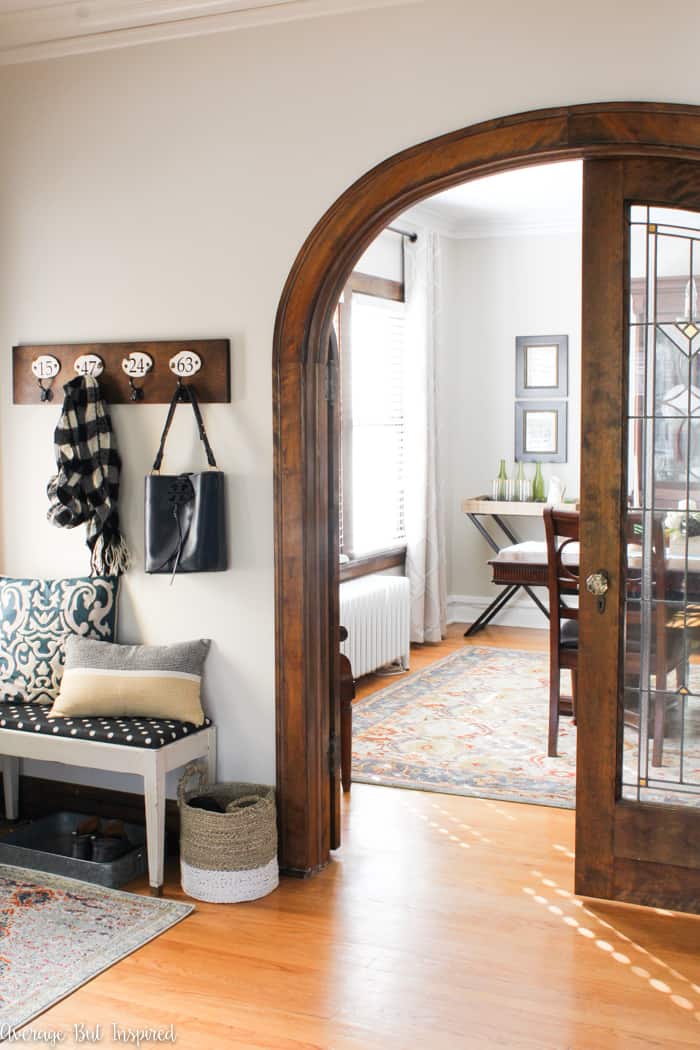 That is exactly what happened with these pillows I added to the bench opposite my blue table. The teal pillow used to be on the couch in my basement, and the black and yellow pillow cover that I had in my storage box went over a "Give Thanks" seasonal pillow in my storage box.

Adding these pillows helped tie in the table and the rug with the bench, and it added yet another welcoming element to this foyer space.
Tip 3 – Sign Up for Store "Clubs"
These are affiliate links. To read my full disclosure policy, please click here.
This is my newest way of saving money on home decor, and I am LOVING it so far! Recently I've noticed that some of my favorite home decor stores (like World Market and Pier 1) have been rolling out loyalty programs or membership programs. These programs usually involve you signing up with your email address or phone number, but you can earn some really great perks! Because of my World Market Explorer membership, I got 50% off this new area rug for my foyer, and it was a bargain!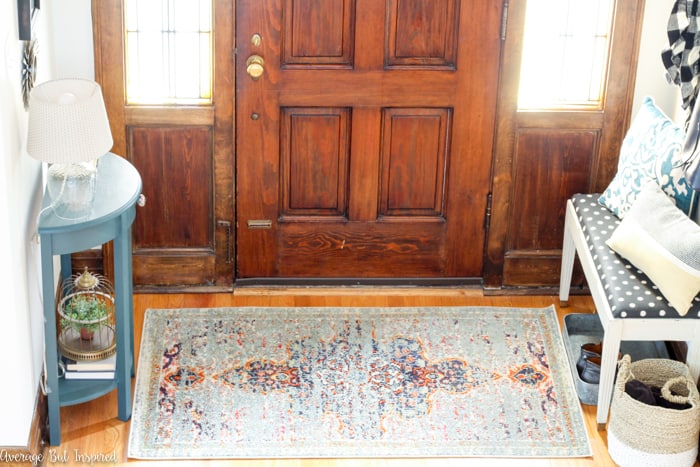 Had I not gotten that special discount code due to my membership in their rewards program, I probably would not have bought a new rug for this space. But the colors work perfectly with everything here, and I just could not resist.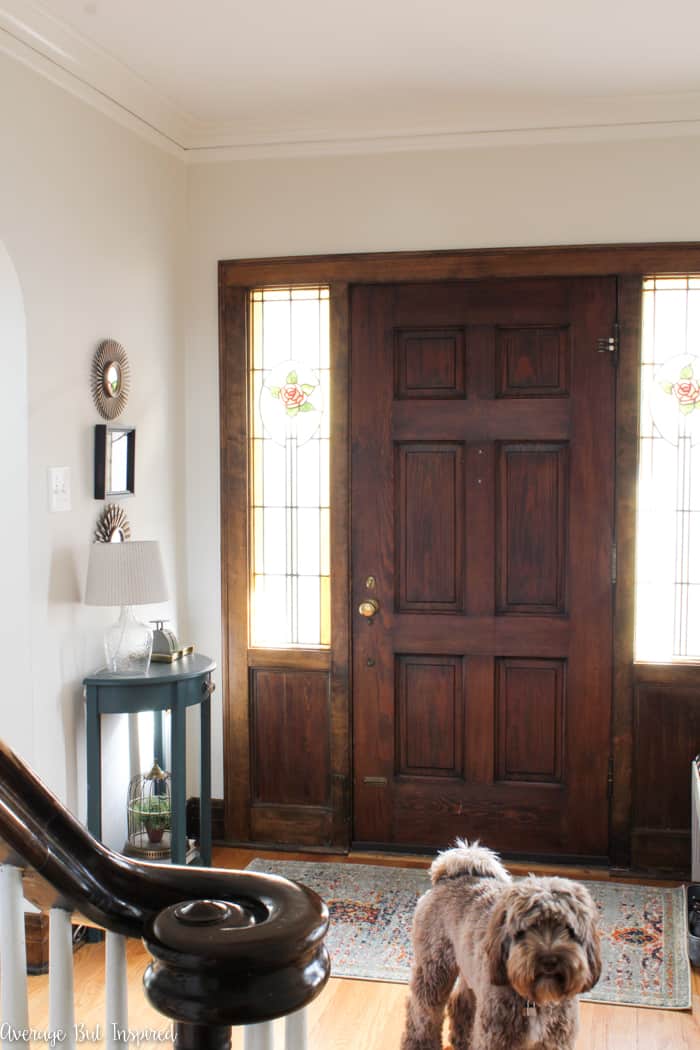 So there you have it – three easy and practical tips for budget redecorating. Do you have any tips to add to this list? Make sure to let me know in the comments below!
-Bre
YOU MAY LIKE THIS MAKEOVER, TOO!