I don't know about you, but Christmastime brings out my desire to craft like no other time of year! Whether it's making decor for my house or gifts for someone else, I just want to make make make! Unfortunately the added time constraints of this season can leave little time for crafting, but as creative people, WE MUST MAKE!
So, for this week's edition of the More Merry, Less Stress Holiday Action Plan, we're taking time to indulge our inner craft gods and goddesses and create something special – even if it's a super quick craft like this adorable Paper Christmas Tree Garland I'm going to show you how to make in this post! Taking a little bit of time to create will help you feel more fulfilled and less stressed – trust me.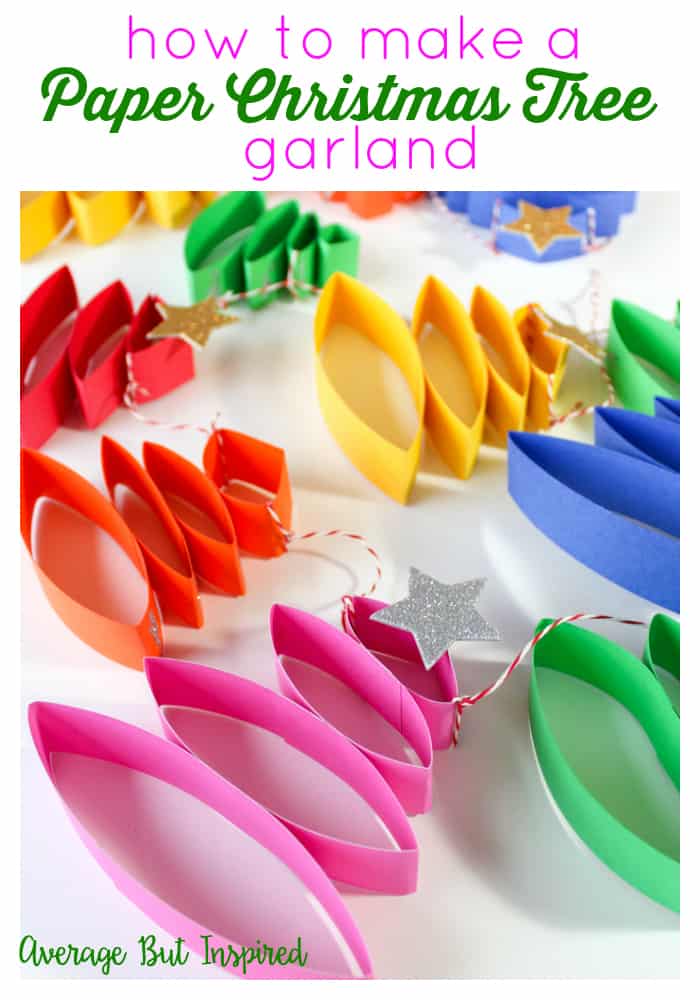 Supplies Needed for a Paper Christmas Tree Garland
This post contains affiliate links. To read my full disclosure policy, please click here.
How to Make a Paper Christmas Tree Garland
Okay, I was so creatively uninspired and sorting through my craft supplies to see what I could make for a Christmas craft. I found a whole bunch of 8.5″ x 11″ rainbow cardstock that I bought for who knows what reason. I grabbed it and my paper cutter and started messing around. A little while later, I figured out how to make these adorable paper Christmas trees and I decided to make this garland. It's so easy!
Begin by cutting four, 11″ long and 1″ wide strips of cardstock. If you have a paper cutter, this is SUPER easy! (If you don't have a paper cutter, you need to get one! I bought mine back in 2005 when I was wedding planning and I have used it so much since then!) If you don't have a paper cutter, you can either measure with a ruler and cut with scissors, or just eyeball it and cut freehand.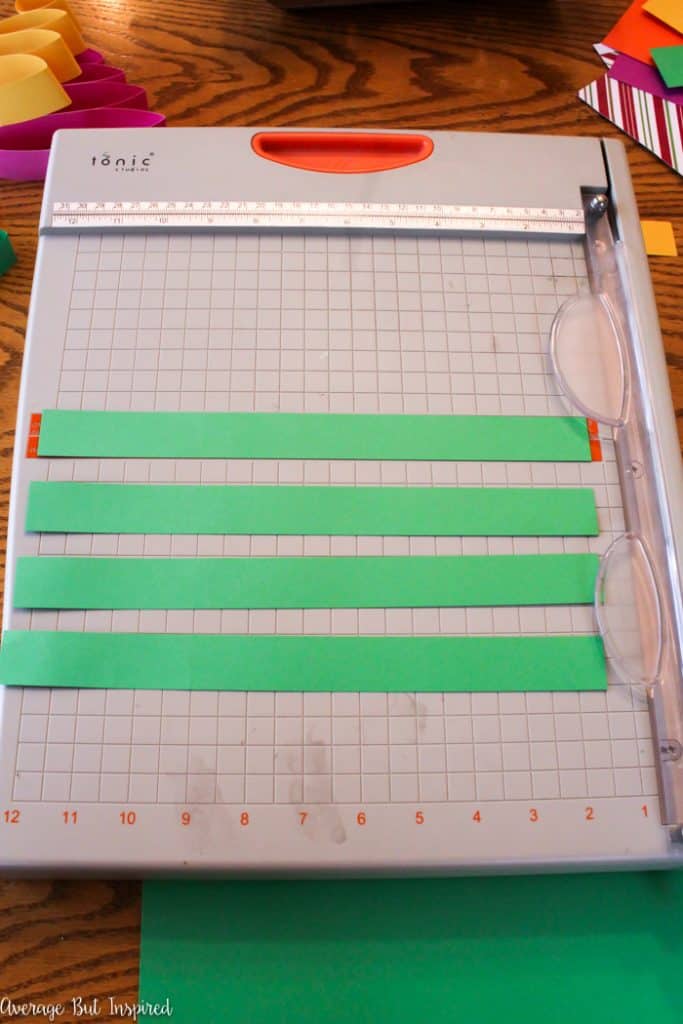 Next, shorten these strips of paper as follows:
For larger paper Christmas trees: keep one strip 11″ long, cut one down to 9″, cut another down to 7″, and cut the last one down to 5″.
For smaller paper Christmas trees: cut one strip down to 9″, cut one down to 7″, cut another down to 5″, and cut the last one down to 3″.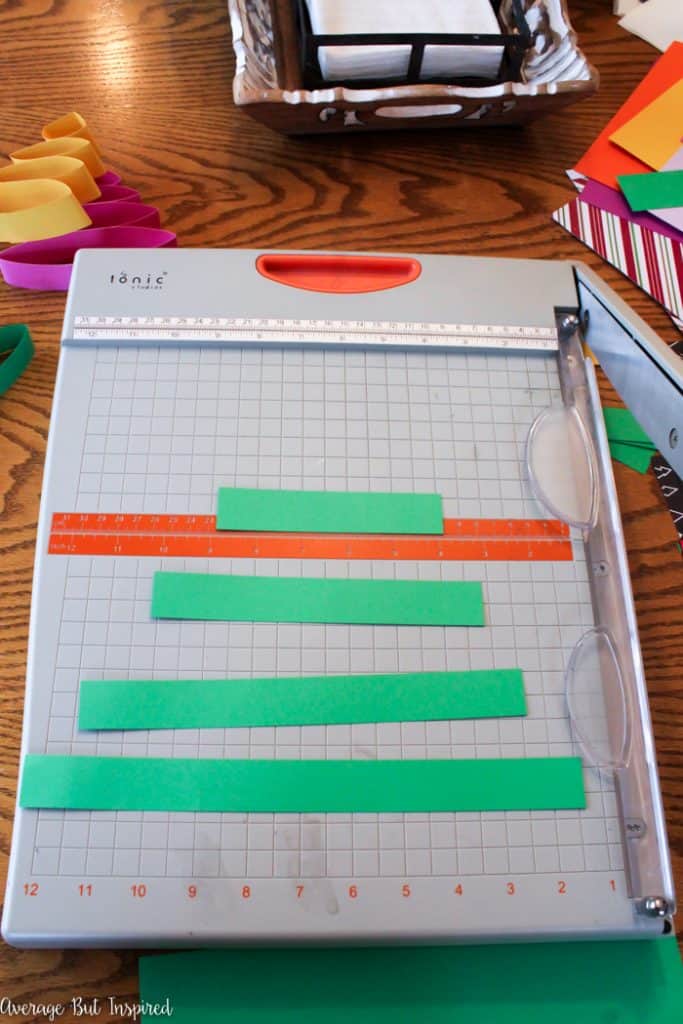 Next, use the Glue Dots or double-sided tape to attach each strip together at the ends to form rings. Alternatively, use hot glue to create the paper rings.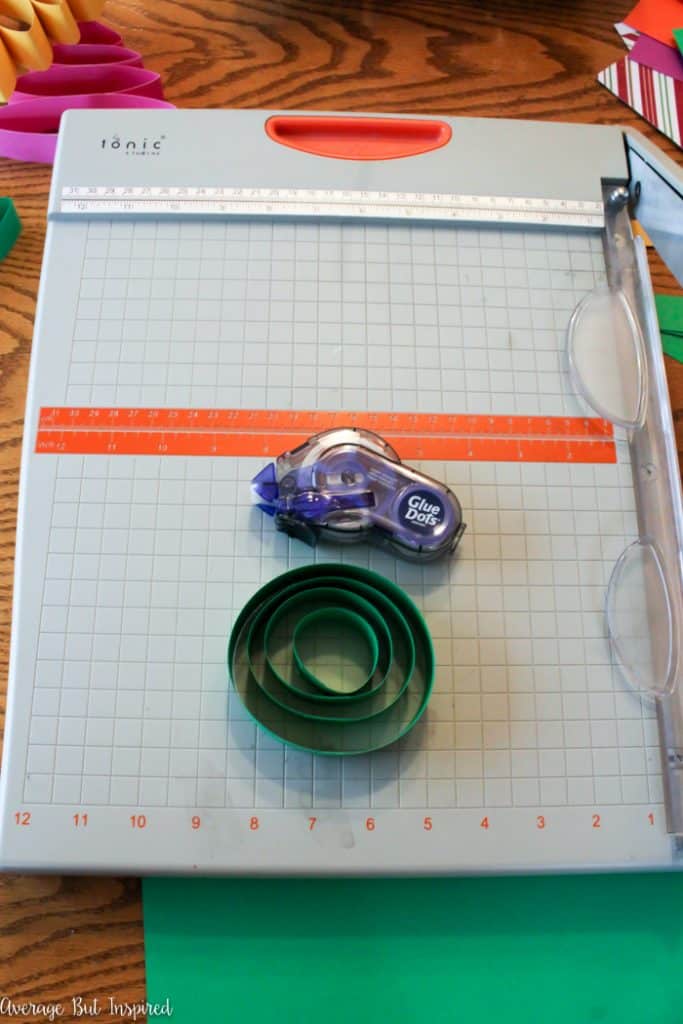 Then, take the largest ring and press it down in half, so that the folds are crisp. Place more of the double-sided tape or hot glue in the middle. Repeat this process with the other rings and stack them one on top of the other. For the smallest ring, push it into a point at the top so that it looks like the top of a Christmas tree!

Repeat this process until you have a forest of paper Christmas trees. At this point, adorn the tops of the trees with chipboard stars, add glitter to the edges to look like snow, glue on sequins to look like ornaments – whatever you want!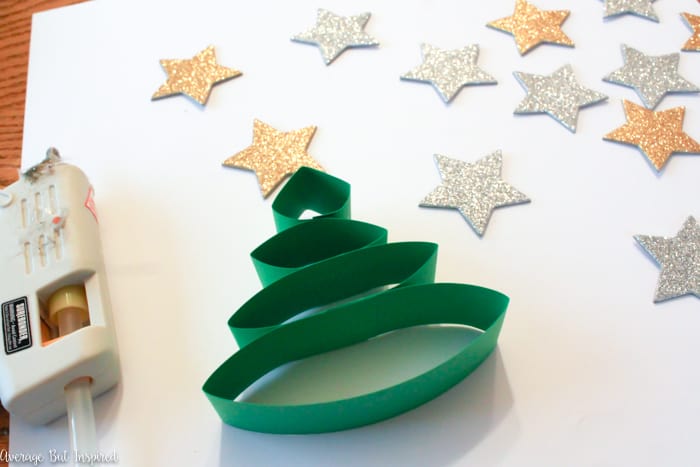 After the trees are complete, tie them together with twine or string to create a darling paper Christmas tree garland.

This garland is so unique! I haven't seen any like it online, and I love the festive touch it adds in my kitchen.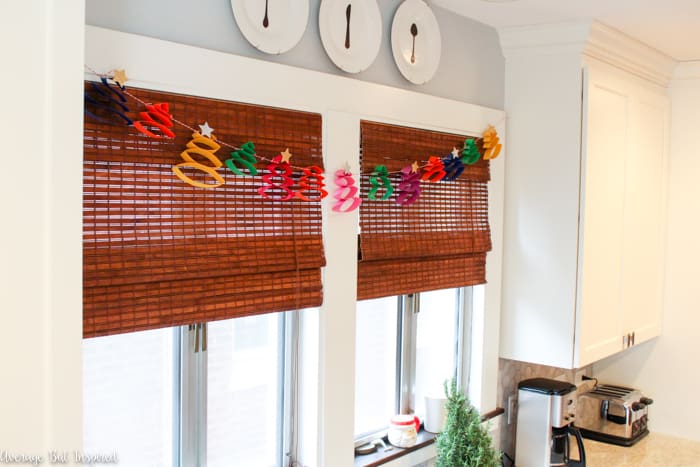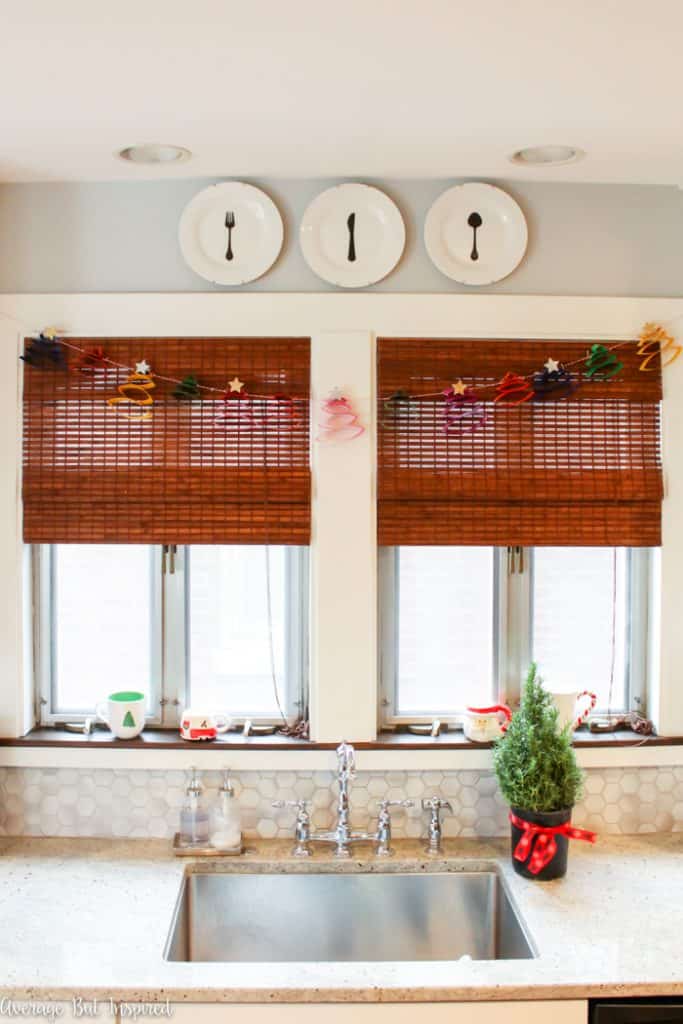 This simple project did not take much time at all, and I'm so glad I made it a priority because crafting is what lessens my stress!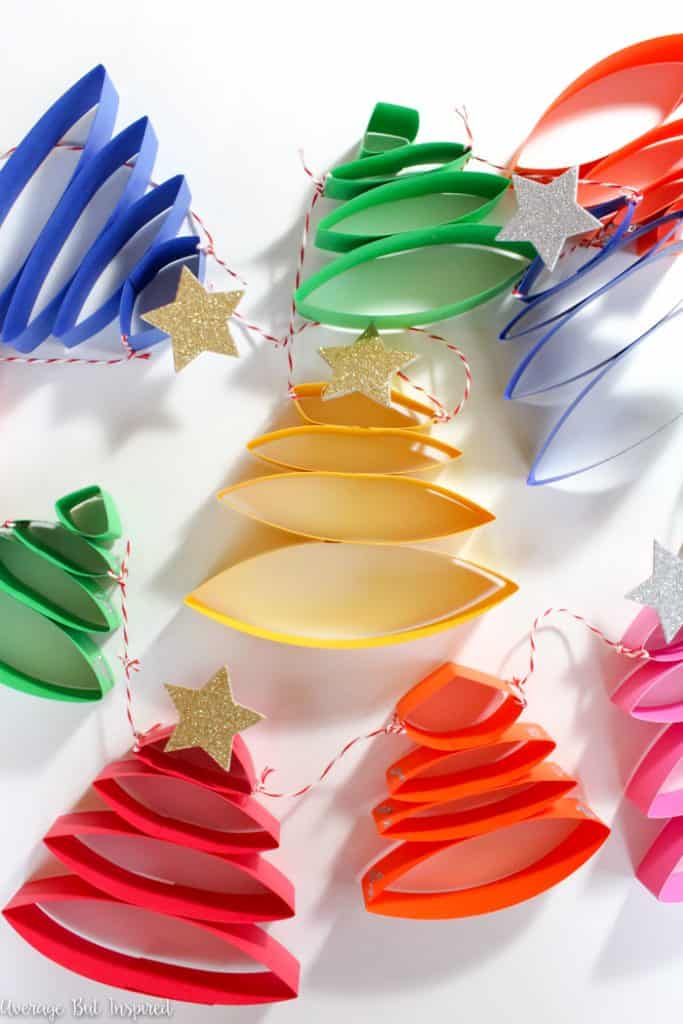 Taking time to do things I enjoy is part of what helps me keep my head on straight during the hectic holiday season. I hope you will do the same for yourself!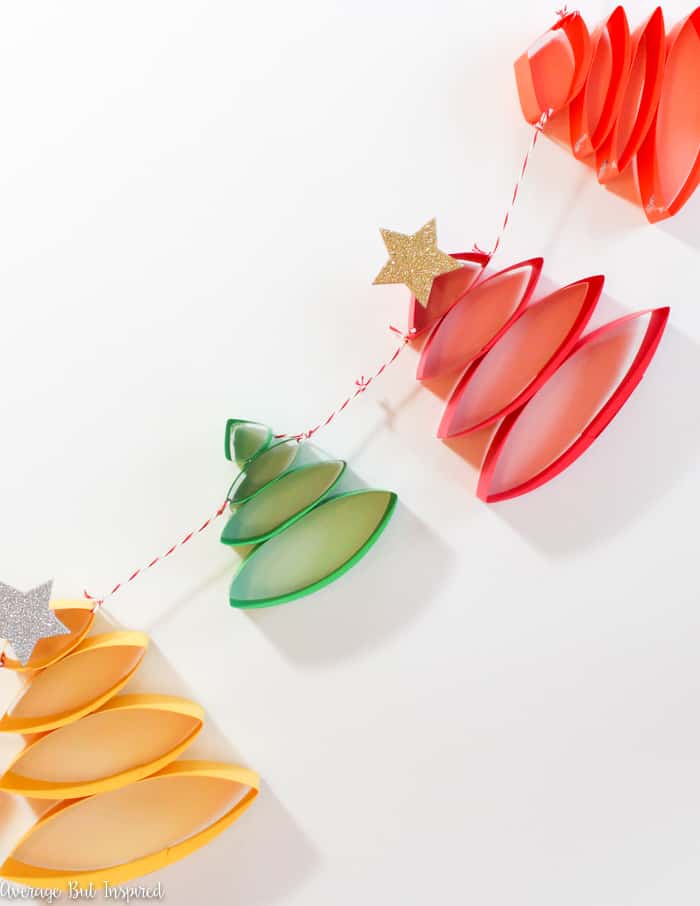 HEY! You May Also Like This DIY TOILET PAPER ROLL ORNAMENT. It's Perfect for 2020!!!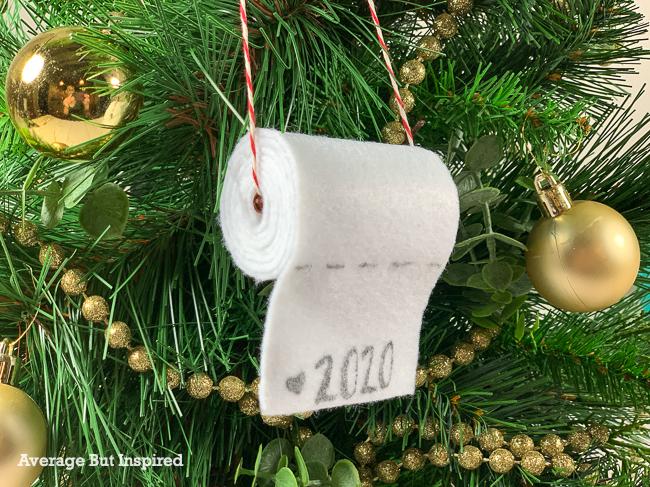 Watch This Video on How to Make a Paper Christmas Tree Garland!
-Bre