Spring is right around the corner and your mind is probably shifting away from winter coats and toward spring jackets, but is your closet? This is the time of year when coat closets are exploding – hats, gloves, boots, coats, and more overflowing! That's why it's the perfect time for a coat closet organization makeover. See how I turned my mess of a coat closet into a clean and organized closet that works so much better!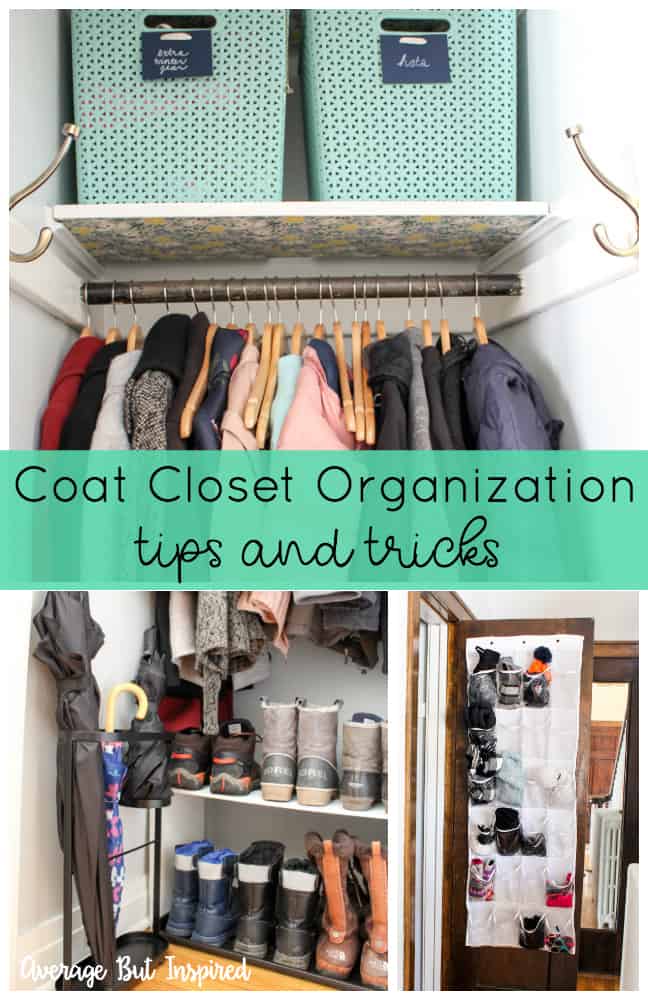 This post contains affiliate links. To read my full disclosure policy, please click here.
Before I show you the pretty and organized coat closet, I have to show you what I started with. I always show you the ugly truth on my blog, and this is no exception!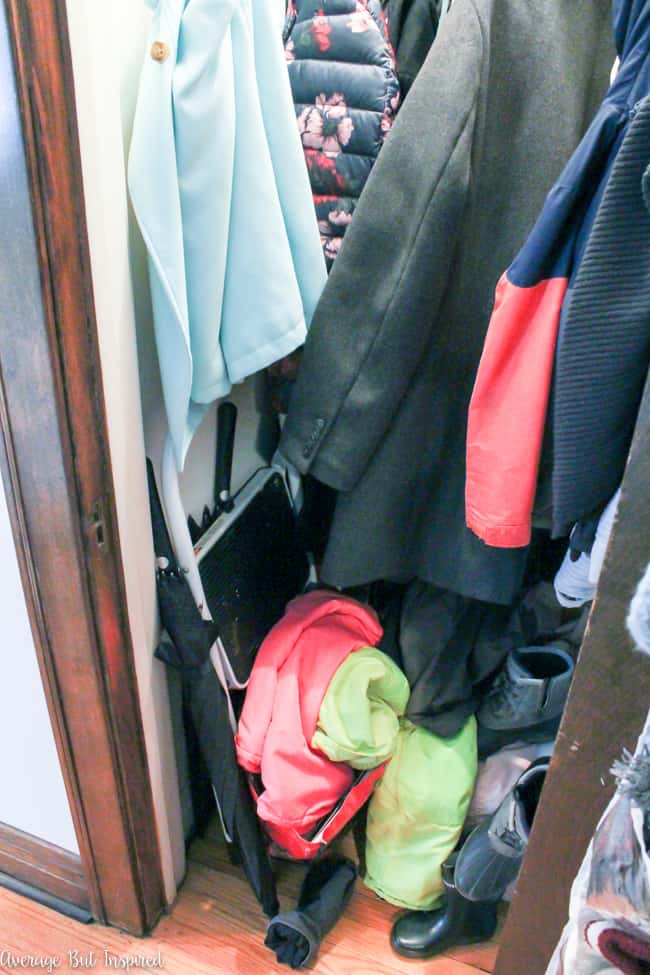 Such a DISASTER! There were so many objects crammed into this small coat closet that we couldn't even fit it all in properly. And the absolute WORST part was when I cleaned it out, I found a hole in the wall that was hidden by the shoe rack, and it was clear that mice had been using that hole as a home or escape route. So gross – especially because they had easy access to boots, snow pants, and whatever else was carelessly tossed on the floor!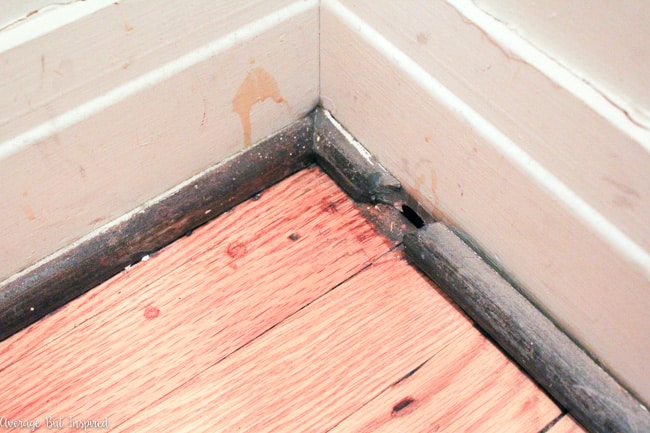 My husband had a fit every time he opened the closet door, and we had to get this space organized.
Coat Closet Organization Step 1 – Clear it Out
The first step was to clear everything out of the coat closet. Yes, it meant that coats were strewn about in various rooms, but as with my Linen Closet Makeover, this is one of the most important steps!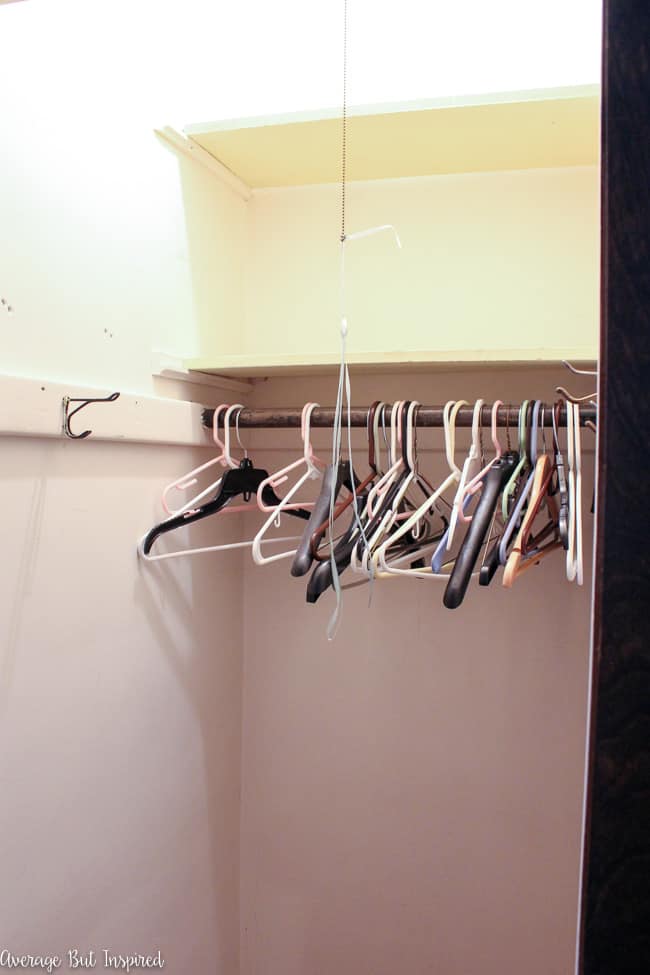 Once everything was out of the closet, I went through and donated coats and warm items that didn't fit or were no longer needed. I also tossed all of the wire hangers, and reassigned the plastic hangers to other closets. (More on that later in the post.)
Coat Closet Organization Step 2 – Freshen it Up
Next, I ripped off the piece of quarter round with the hole in it and replaced that so no more mice could enjoy the closet. Then I went to Home Depot and talked to a paint expert about what paint is best for a closet. She quickly steered me away from my plan to go dark on the walls (I wanted to hide scuff marks), explaining that lack of light in closets means you should go light or it will be even harder to see anything. Smart!
She also sold me on buying a premium paint with primer in an eggshell finish so that it would reflect light better and have better durability.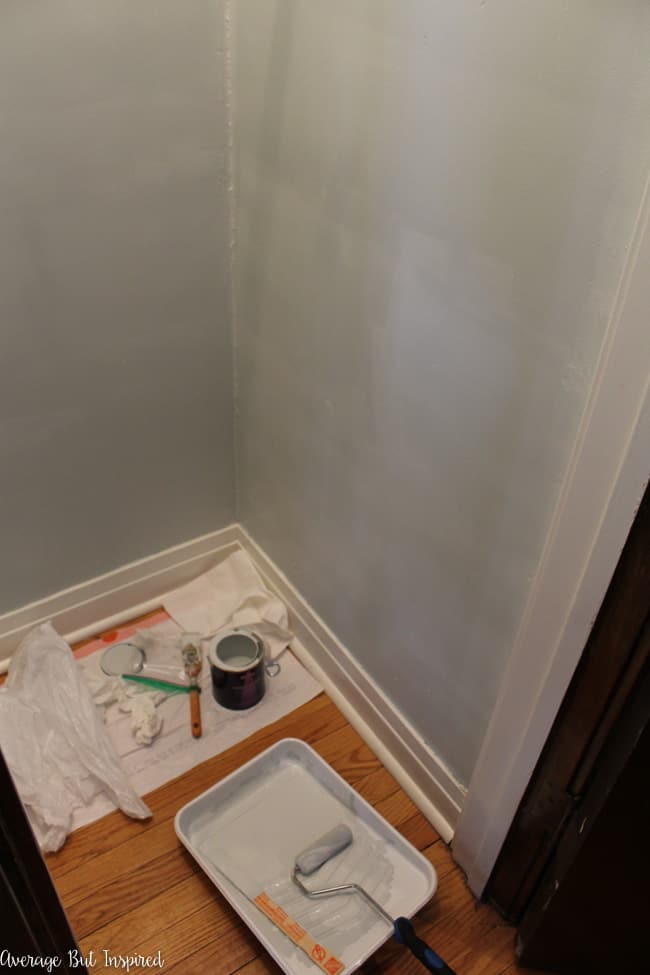 I gave the closet two coats of paint and it looked so much fresher! Because it isn't a visible spot, I even let my kids try painting the walls. My inner control-freak had to really concentrate on not correcting them too much. It was hard for me, but I think I did okay, and they enjoyed "helping" me.
Coat Closet Organization Step 3 – Make it Pretty and Functional
Once the paint dried and had a couple of days to cure, I added all new wood coat hangers so that coats would hang evenly in the closet and hangers would not bend and become deformed from the weight of the coats. For less than a dollar a piece, these hangers were such a deal and a welcome organizational addition to my coat closet!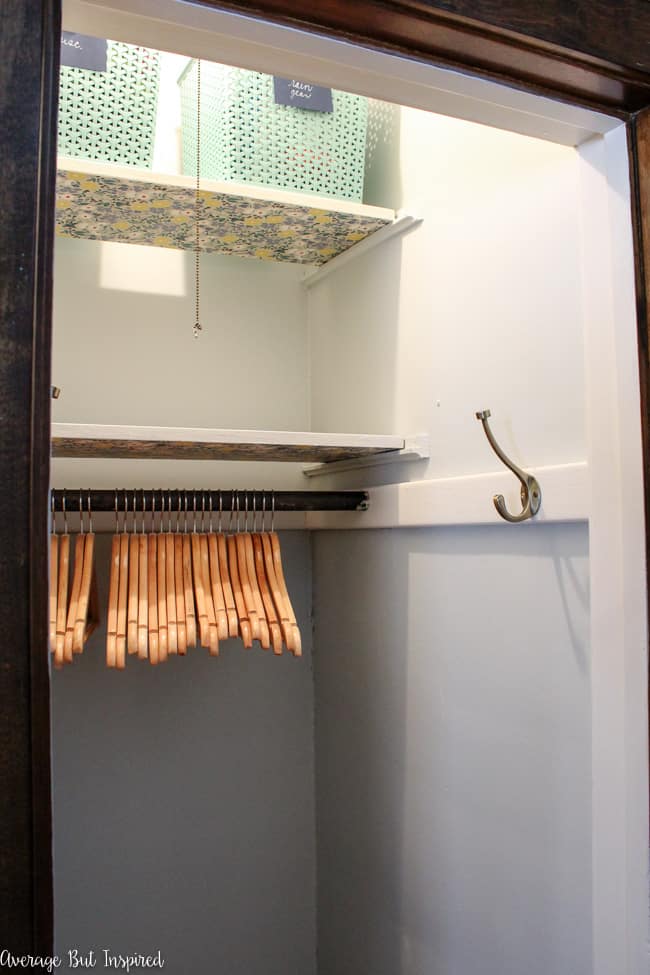 I also added decorative wrapping paper with spray adhesive to the undersides of the shelves for a playful pop of pretty! And, heavy duty coat hooks that I found on clearance at Target were added at the front of the closet for a convenient spot for my kids to hang their coats at the end of the day.
Coat Closet Organization Step 4 – Give Everything a Place
Previously on the coat closet shelves, I had mismatched soft-sided baskets. With the amount of stuff in them, they became misshapen. I swapped them with these inexpensive plastic baskets , which are durable and really great quality! Items that aren't used regularly go in these baskets that are harder to reach.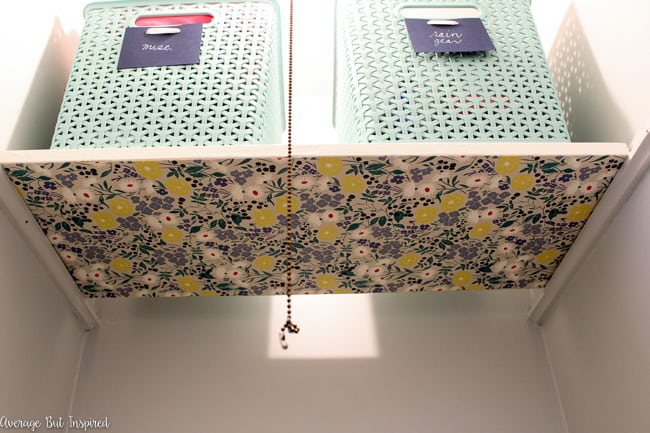 I added labels so everyone in my family will know what goes in each basket. I am a firm believer that labels help keep us all in check! In my experience, that is the key to keeping a space organized – give everything a spot.
Every day items, like hats, gloves, and scarves, go in a clear pocket shoe organizer that hangs on the door. Easy to access and easy to put away.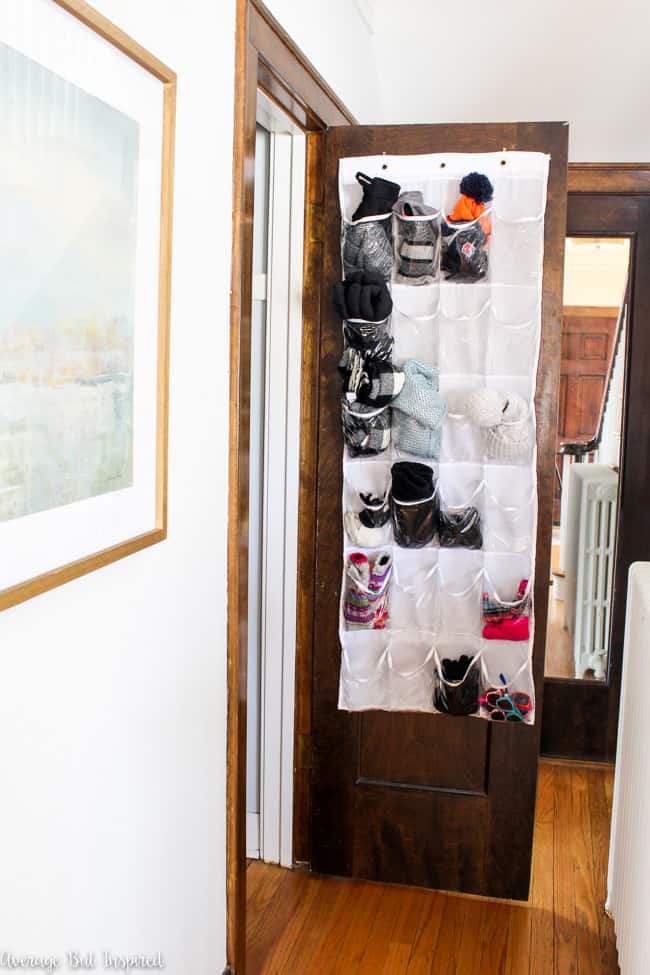 Coat Closet Organization Step 5 – Put it Back Together
Finally, everything was ready to go back into the coat closet! The coats were hung . . .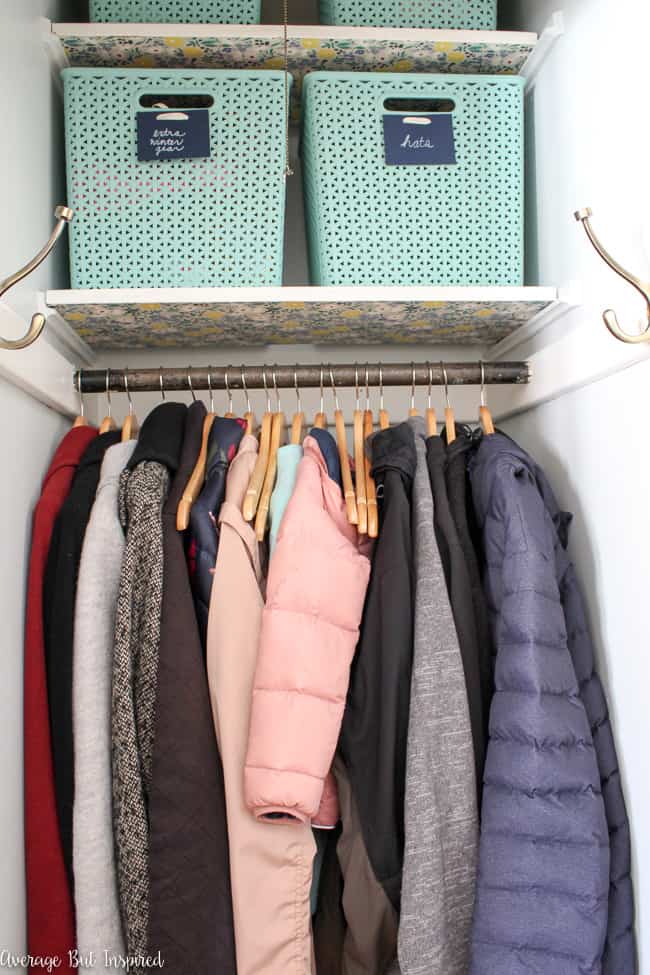 and the boots got a new space with a rubber boot tray and a (slightly wobbly) boot rack that I made with scrap wood. I had to build my own because there weren't any pre-made ones that maximized the space in my closet.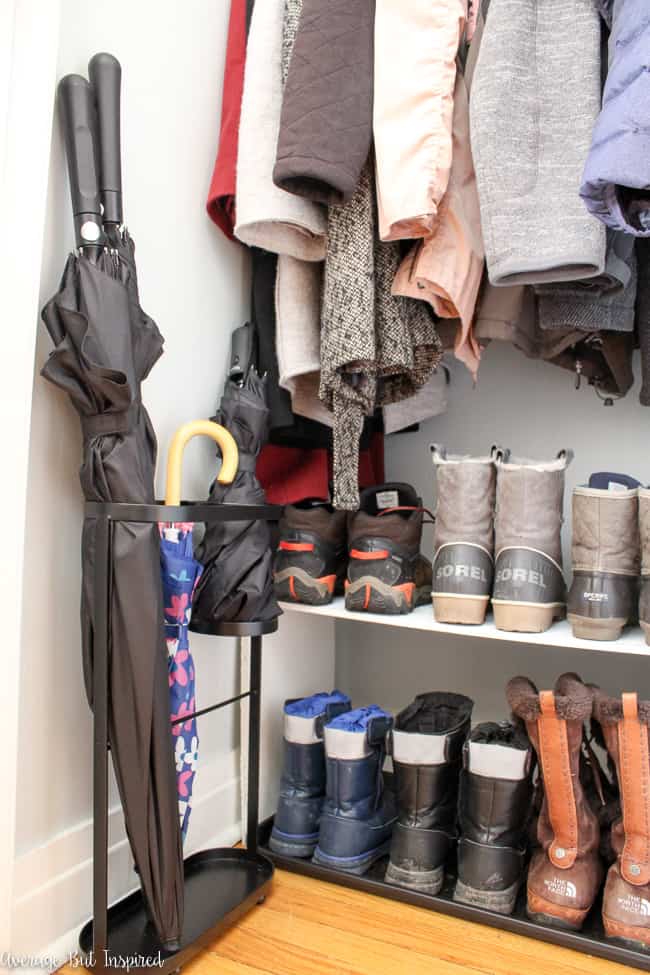 The umbrellas also found a perfect space in this narrow umbrella holder that accommodates golf umbrellas and smaller umbrellas!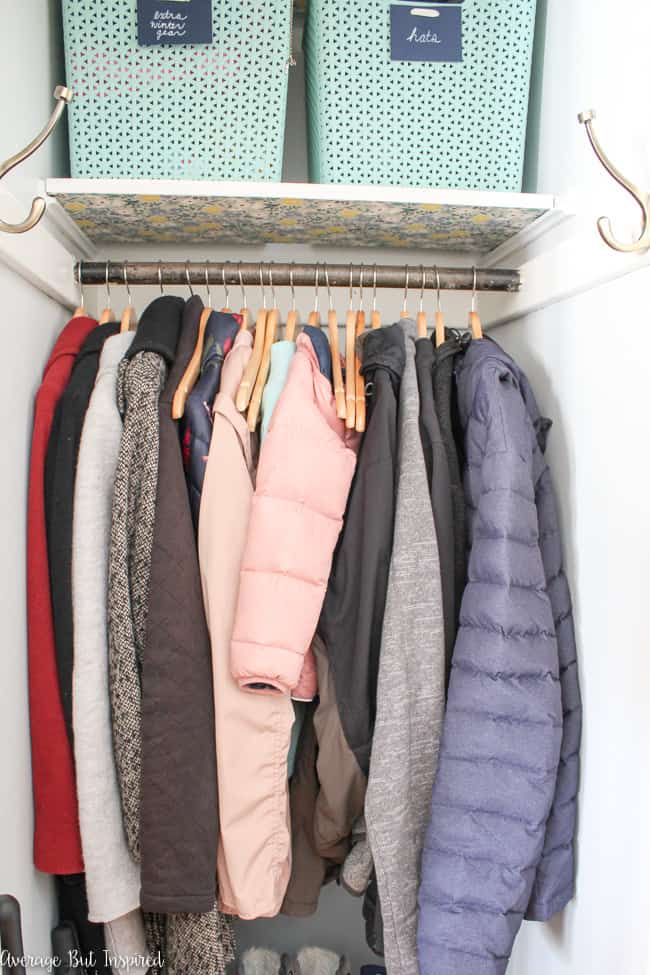 It's really hard to photograph a small space like a coat closet, so I hope you can tell what an improvement this is! I also hope these coat closet organization tips will help you make your coat closet a better storage space for you and your family.
Our coat closet is no longer a source of frustration, and it's really nice to be able to hang guests' coats in here now!
-Bre