The coffee table – it's the center of any good living space! Arguably the workhorse of the room, the coffee table serves as the TV remote storage spot, foot rest, snack holder, and, of course, repository of gifted coffee table books never intended to actually be read. Because this jack-of-all-trades piece of furniture performs so many important functions, it is imperative to pick exactly the right one for your space.
Because I have picked the WRONG coffee table for my living spaces (on more than one occasion), I am happy to have finally gotten it RIGHT, and I'm excited to share what I've learned about how to choose the right coffee table for your space with you!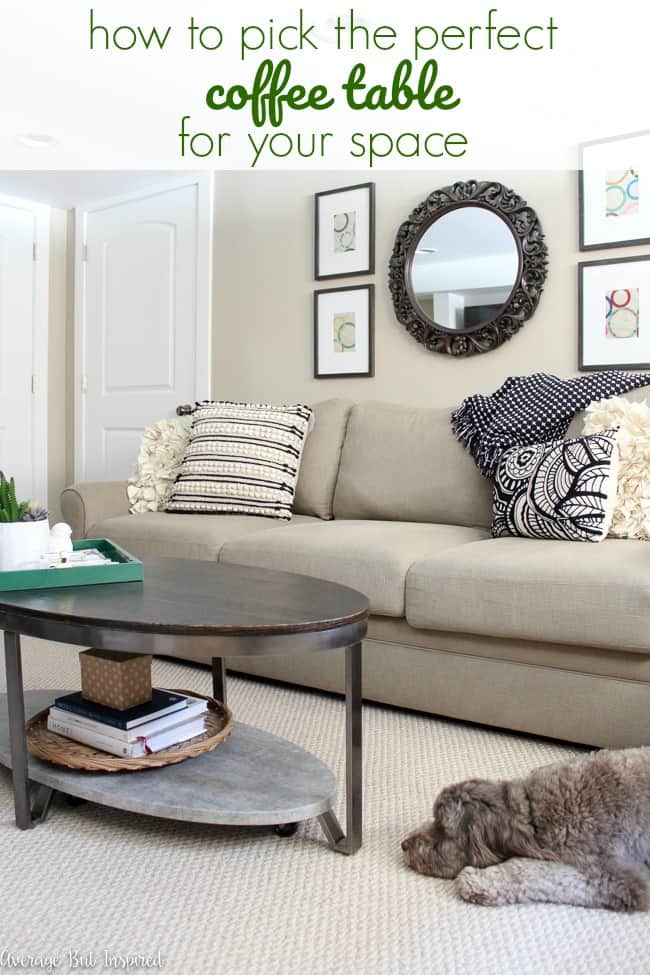 Thank you to Steinhafels for sponsoring this post. The opinions expressed are all my own.
As I mentioned, I've had coffee table mishaps in my past. Most recently, the coffee table I had in my basement living room comes to mind. Among other problems, the scale was ALL WRONG! Look how small the coffee table is in comparison to the couch. It was basically the length of one couch cushion, or 1/3 the length of the couch.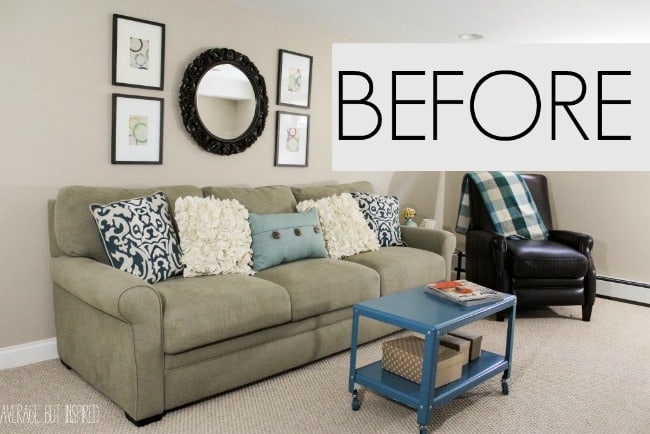 Thankfully, this poor excuse for a coffee table is no longer part of my basement living room. Instead, I now have the beautiful Jude Cocktail Table from Steinhafels tying everything together!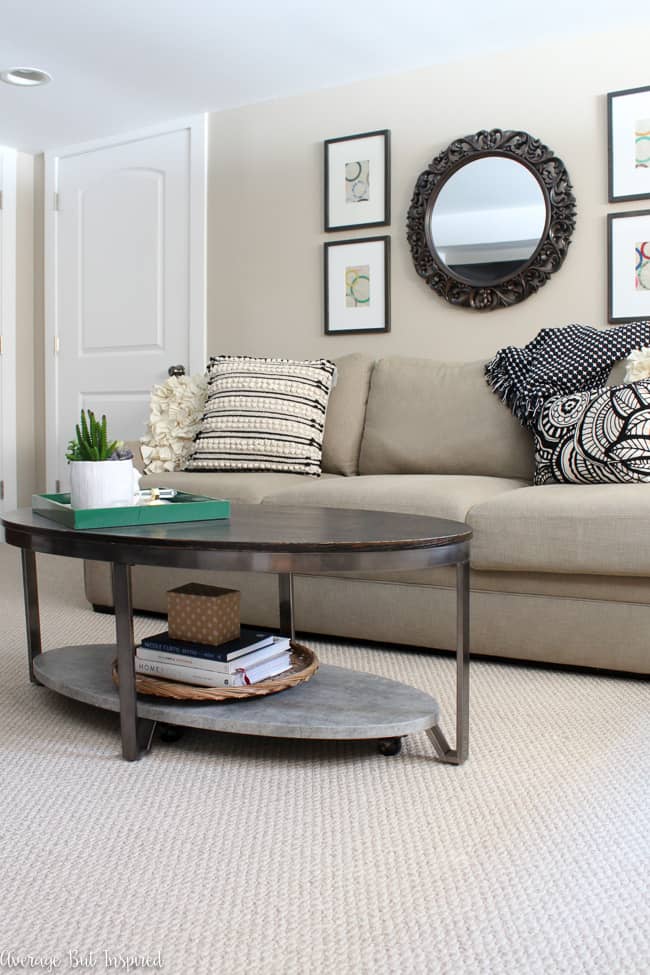 Before heading to their store in Vernon Hills, Illinois (Steinhafels has locations throughout Wisconsin and Northern Illinois –each with amazing kids' play zones, hospitality areas with coffee and cookies, and helpful but not over-the-top salespeople–and you can shop online, too!), I did my research on how to choose the right coffee table for this space.
Pick The Right Size Coffee Table
First, I made sure to pick a coffee table that is the right size for the room and sofa. I learned that the coffee table should be approximately 2/3 the length of your sofa. Clearly I had that ALL WRONG with my little blue coffee table pictured above!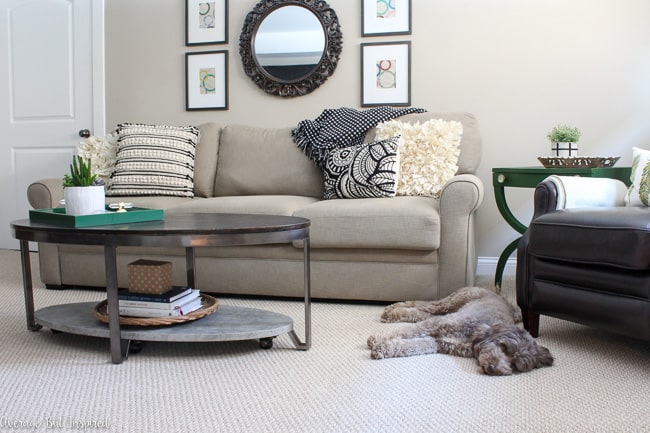 This new table works with the length of the sofa so much better!
Plus, I learned that the height of the coffee table should be the same as the couch, or 1-2 inches lower. Bingo! This coffee table is spot on.

When considering the size of the coffee table, the shape is another factor to consider. Because my new coffee table is in a small and narrow living room, the oval shape is absolutely perfect for avoiding bruises on the legs (this is a real problem for clumsy people like me!). If your room is large and can accommodate a bulky rectangular coffee table, then go for it! But if you have smaller scale living like me, you may want to consider an oval shape, round, or narrow rectangle coffee table.
Choose a Style That Complements the Room
Once you have the proper size coffee table nailed down, make sure to choose a table that works with the rest of the decor in the room. I picked the little blue coffee table because it was cheap – not because it worked style-wise. Big mistake! I regretted it almost from the moment I bought it.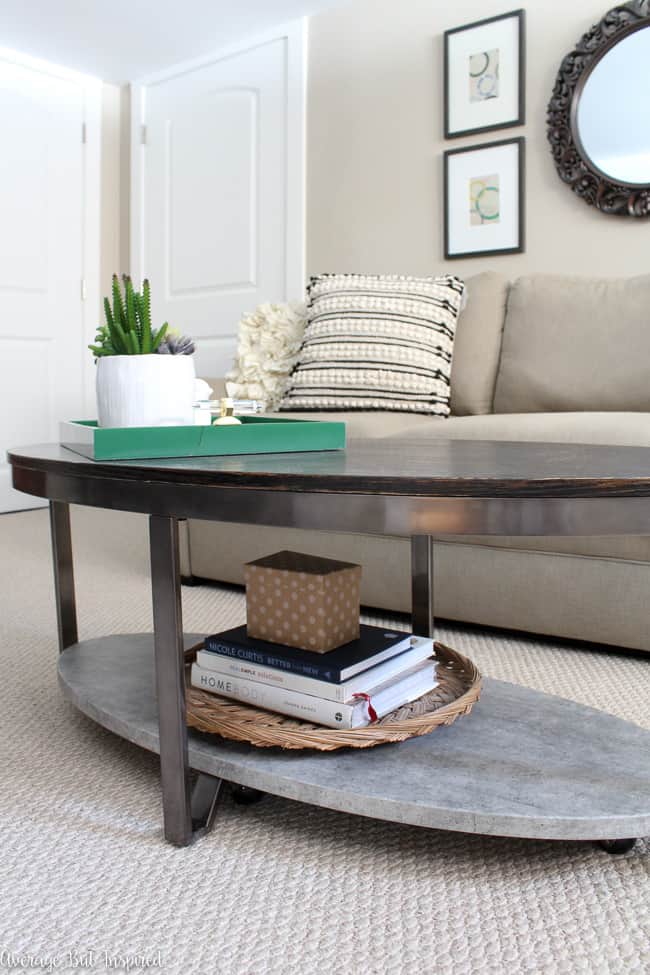 My new coffee table, with its wood, metal, and concrete-look finishes, blends with all of the furniture and decor in the basement living room. The transitional style will work for years to come, as it has just the right amount of modernity without being trendy.
When shopping for a new coffee table of your own, make sure to take into account the other furniture pieces already in the room and choose something that will blend with your decor style (but not blend in!)!
Think About How You Need the Coffee Table to Function
If your coffee table is going in a formal living room, a glass top table could be a wonderful choice for you. But if your coffee table is going in a high-use, family living space, you'll probably want to consider a more durable (and fingerprint smudge-proof) material for your table.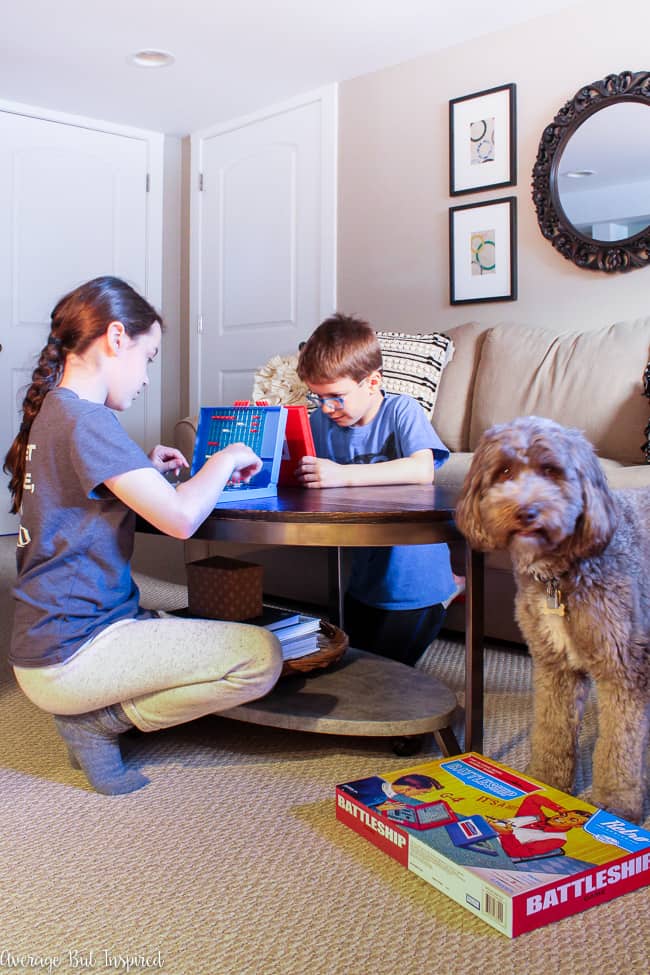 A HUGE benefit of my new Jude Cocktail Table is that it has casters underneath, which make it extremely easy to move!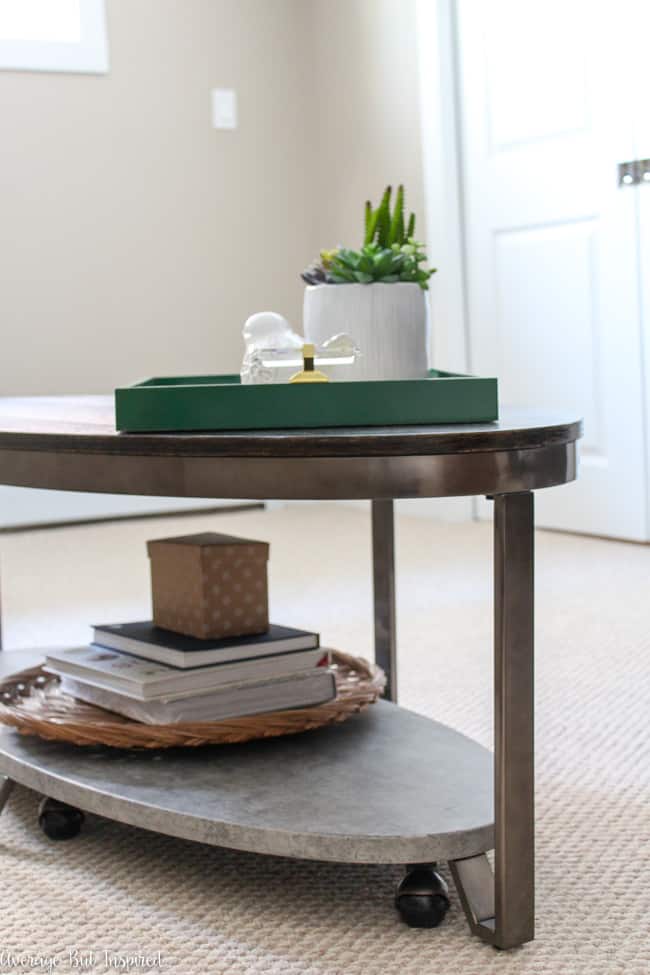 This is such an important feature for the coffee table in my basement living room, because this space serves many purposes, including as a guest room with the pull-out sofa. Being able to easily move the coffee table in any space is a game changer, and I'm guessing most of you could benefit from an easy-to-move coffee table, too! Watch this video to see just what I mean!
If you want more info on why castered coffee tables are a must in your space,
check out Steinhafels' blog
for some great info from one of their interior designers!
I'm so happy to have my basement living room freshened up with this beautiful new rolling coffee table from Steinhafels. It has made a huge difference in the look and feel of the room, and I know we'll be spending lots more time downstairs going forward! Thank goodness I ditched my little blue table and finally learned how to choose the perfect coffee table for my space. I hope these tips were helpful, and as always, let me know if you have any of your own to share!
-Bre