In my old house, you saw a beautiful staircase and arched doorways when you walked in the front door. In my new house, you see a large wall and a 1970's-style funky staircase with ugly carpeting. Not exactly the best first impression. (This is the photo from the real estate listing. Yes, multiple people asked if we'd be negotiating for the stager's "come in we are awesome" sign. :-))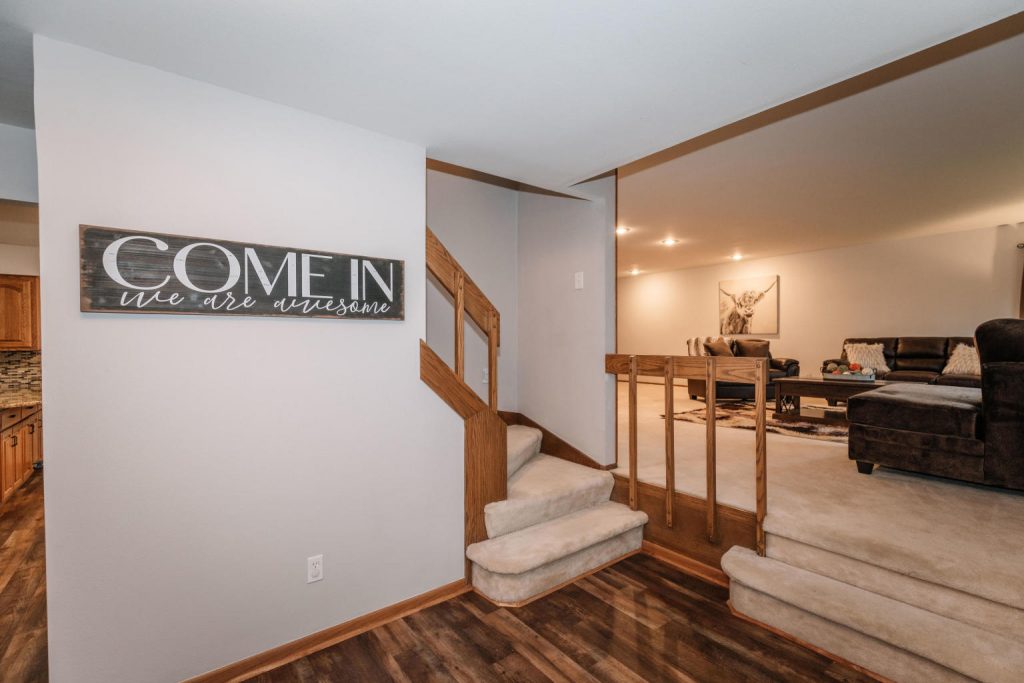 Because of that, I needed to make the foyer feel more like "us" – not too serious but still put-together (most of the time). On a whim I decided to paint a DIY accent wall to greet visitors to my home, and I think it turned out adorable! I used trash (yes trash) and craft paint to paint this fun grid accent wall, and I can't wait to show you how easy it was to add some style to my foyer!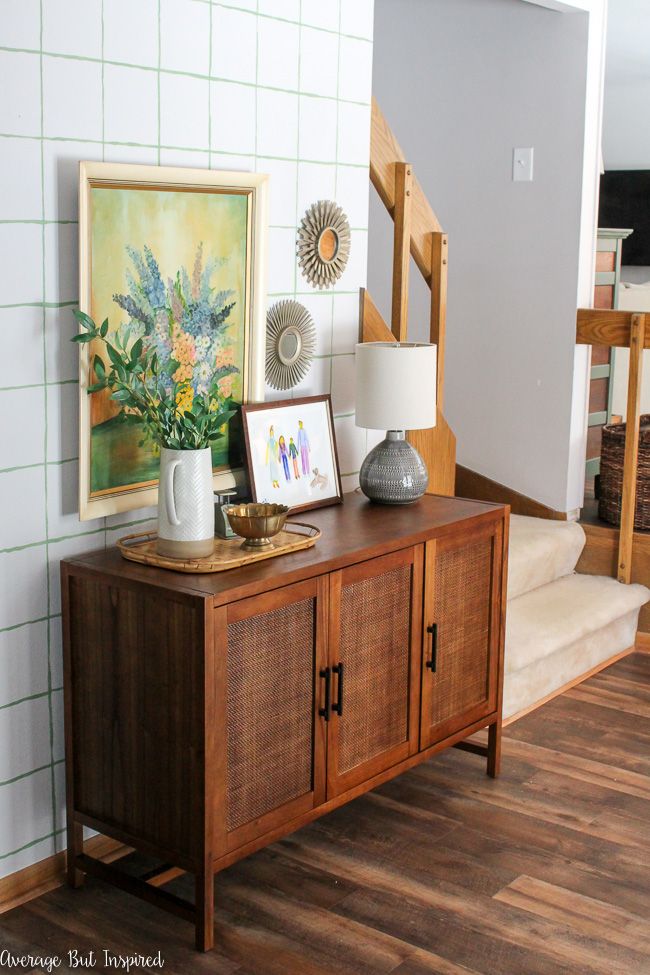 So first off, let me remind you that I'm no stranger to the DIY accent wall. A couple of years ago I added an adorable-but-subtle accent wall to my old home by putting up vinyl decals in a pattern to look like wallpaper. I loved the burst of personality this added to a large blank wall, so I figured I would like something similar here.
What Supplies Do You Need to Paint an Accent Wall?
This post contains affiliate links. To read my full disclosure policy, please click here.
To paint this grid accent wall in my new home, I only needed a few supplies:
Craft paint (I used DecoArt Multi-Surface paint in Cactus)
Artist's brush
Bowl of water
Pencil
Laser level (note: you could use a regular level if you don't have a laser level)
Junk cardboard, foam, cardstock, poster board – anything with a little heft will do!
How Do You Paint a Grid Wall?
To begin, I fired up my laser level (which also came in handy for my vinyl decal accent wall!), and centered the red line cross on the wall I was going to paint. When I had the red laser lines positioned where I wanted, I traced them onto the wall with a pencil.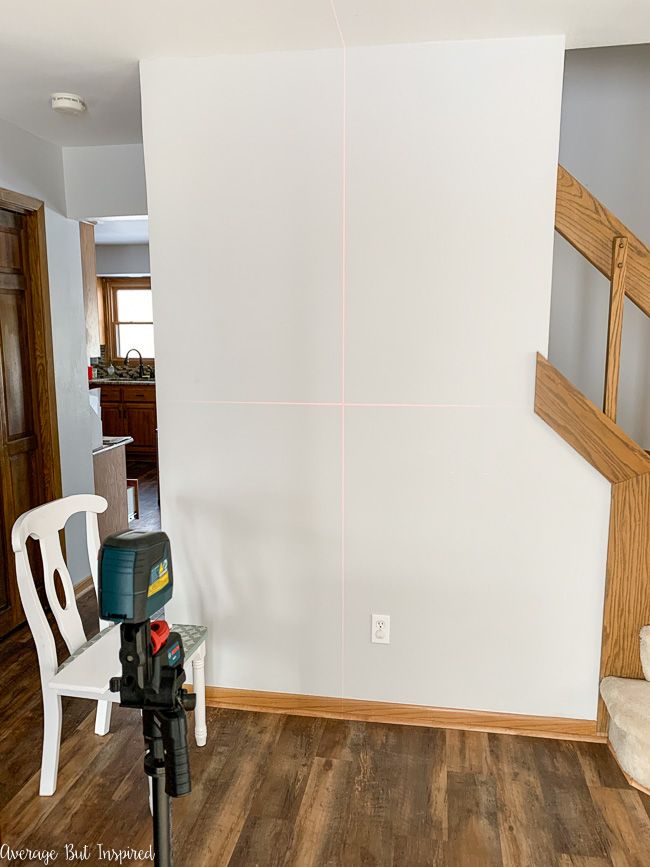 Next, I grabbed a rectangular piece of foam padding that was in the box for my beautiful new rattan media console, and I held it parallel to the first vertical line that I'd drawn. I traced along the edge of it, and brought it all the way down from ceiling to floor.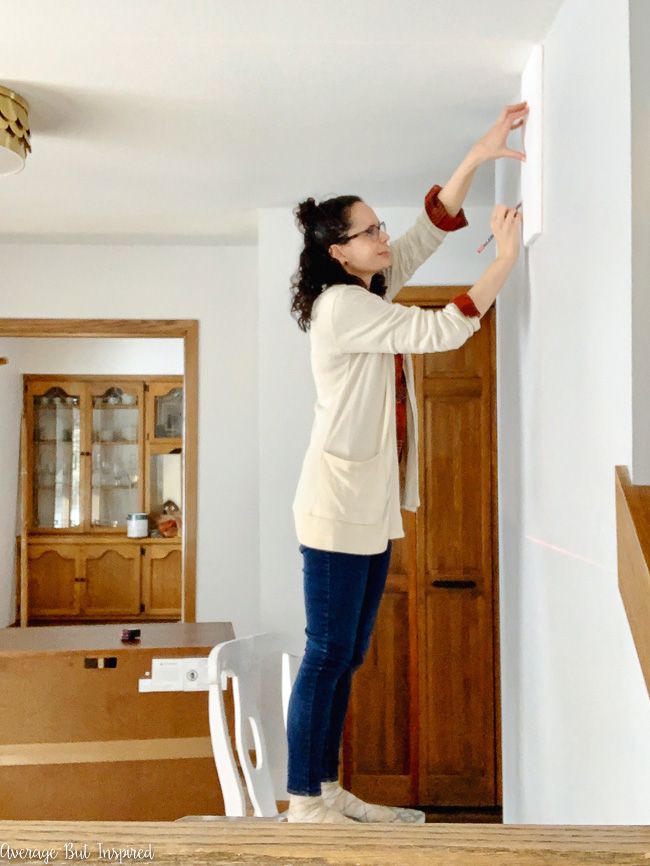 I repeated this "hold the foam, trace the line" process until the entire wall was covered in perfectly-spaced vertical lines. If you try this, you could use ANY rectangular piece of cardboard/foam/paper that has some heft to it, which will allow you to trace along the edge. You're not limited to trash foam from my media console – ha!
Then I did the same thing with the horizontal lines: I placed the foam parallel with the first horizontal line and traced along the edge; moving the foam from one side of the wall to the other.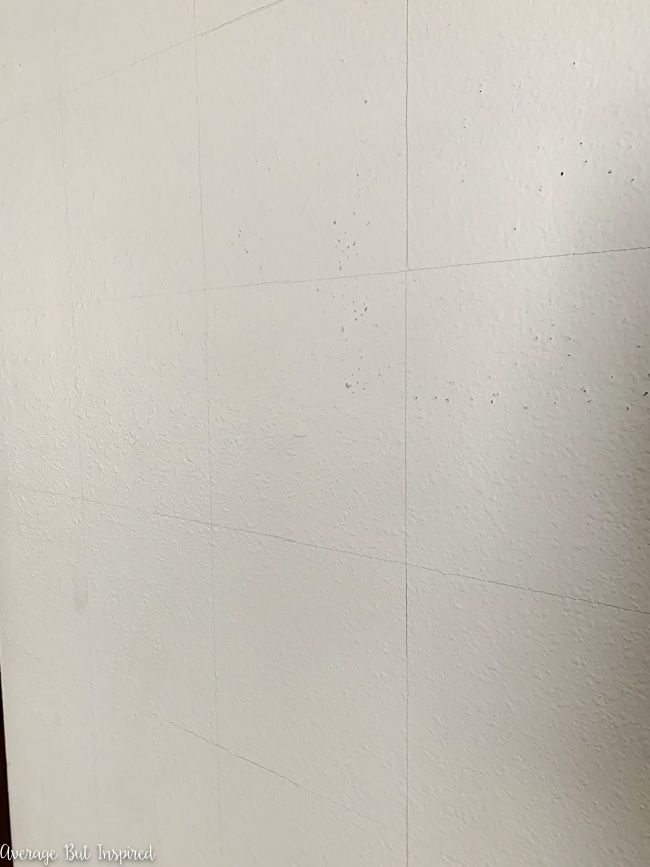 When this was finished, I had a pencil grid on the entire wall. This part of the process took about 20 minutes tops. So fast!
Next, I got out my craft paint stash and found this lovely shade of green craft paint. I used craft paint because I had it already and I didn't want to go to the store. 🙂 Regular latex paint would also work perfectly!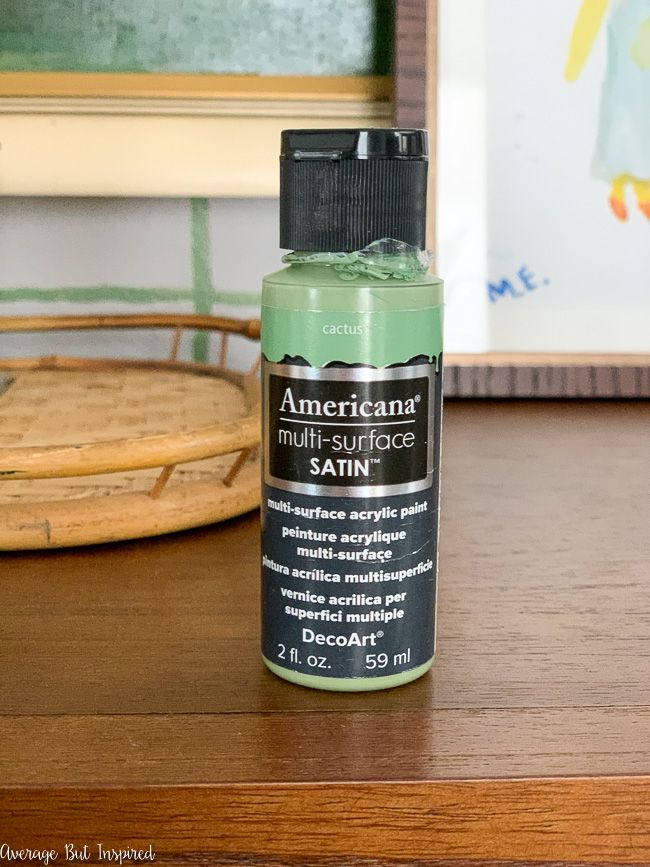 I started by painting over the vertical pencil lines, making sure to vary the thickness of each stroke. I intentionally wanted this DIY accent wall to be imperfect – no precise lines here!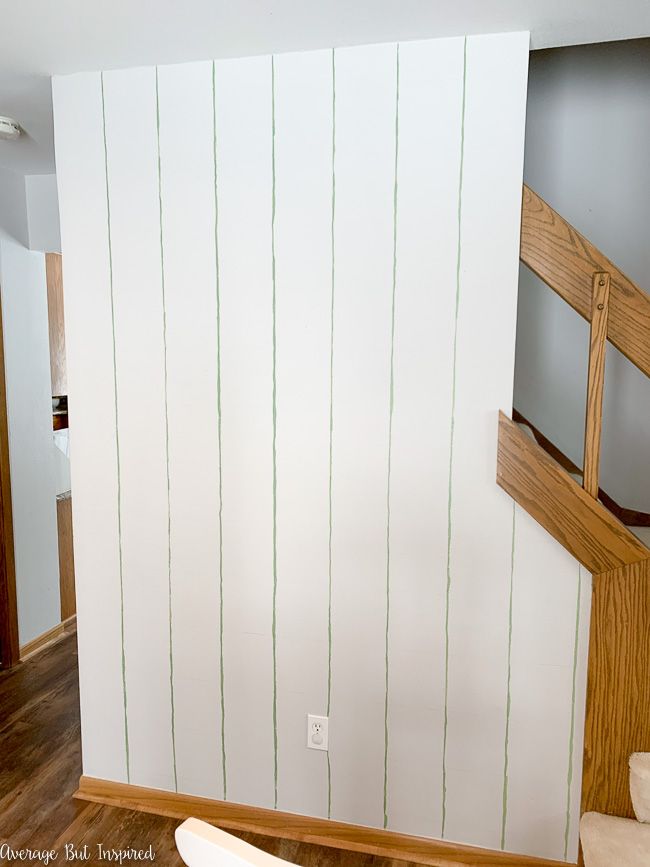 And then . . . you guessed it . . . I painted over the horizontal pencil lines . . . starting at the top and working my way down.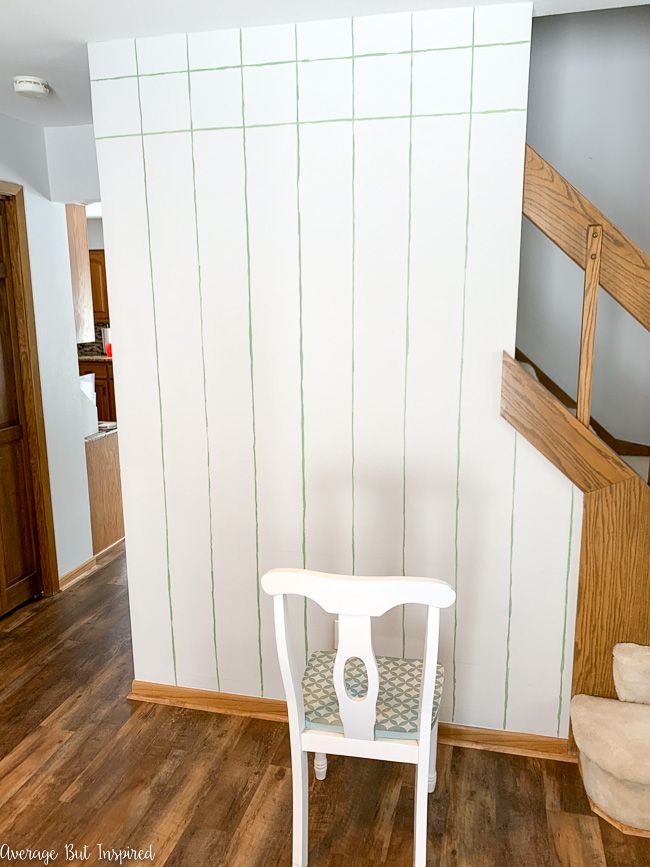 This entire painting process took around 40 minutes.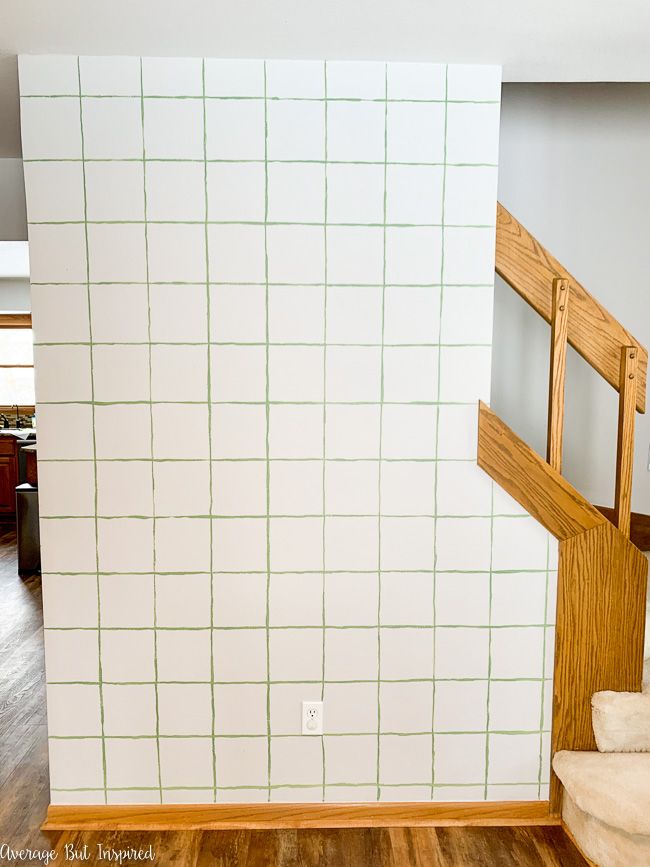 With my DIY grid accent wall complete, I moved my new console table into place.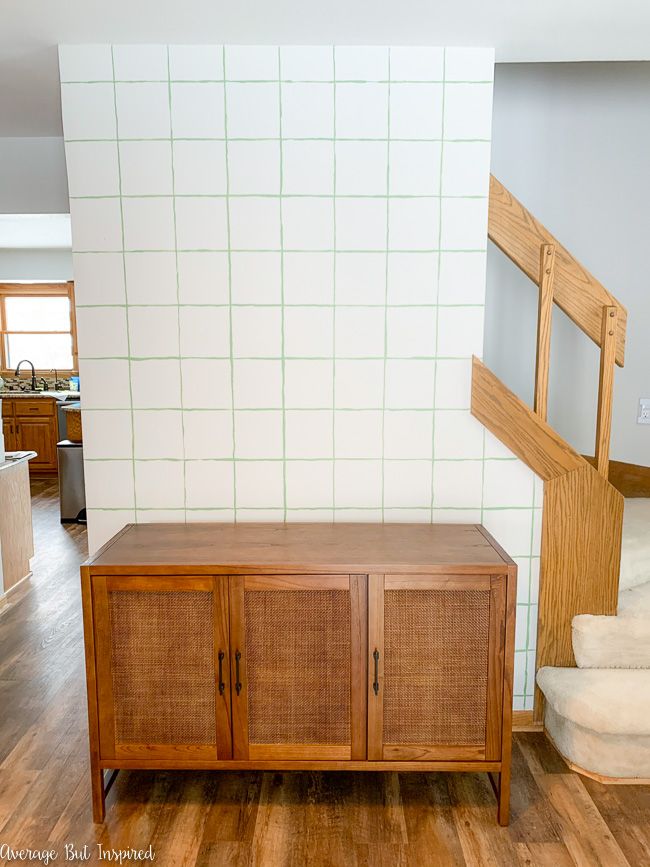 And then I got to work on my favorite part: accessorizing!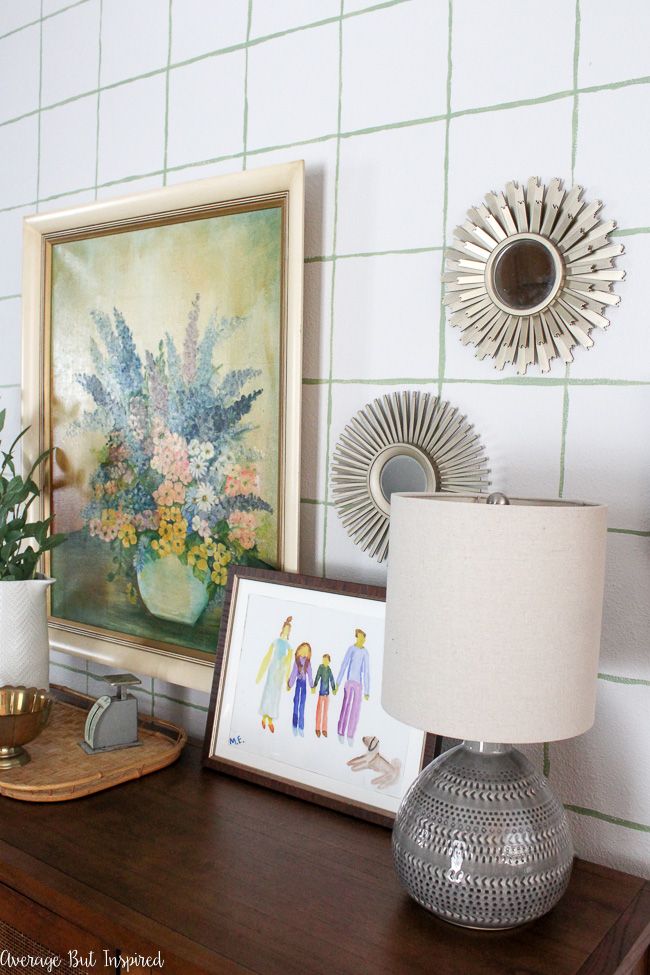 I rounded up a vintage painting I scored for $15, some other vintage finds (including the wicker tray, brass bowl, and postal scale), some big box store scores from years past (including the sunburst mirrors, pitcher and lamp), and my FAVORITE item: a watercolor family portrait painted by my nine-year-old daughter!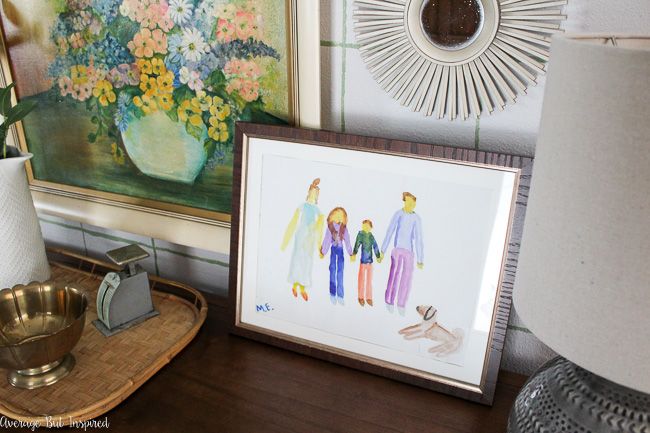 How CUTE is this little spot (and the doggie)???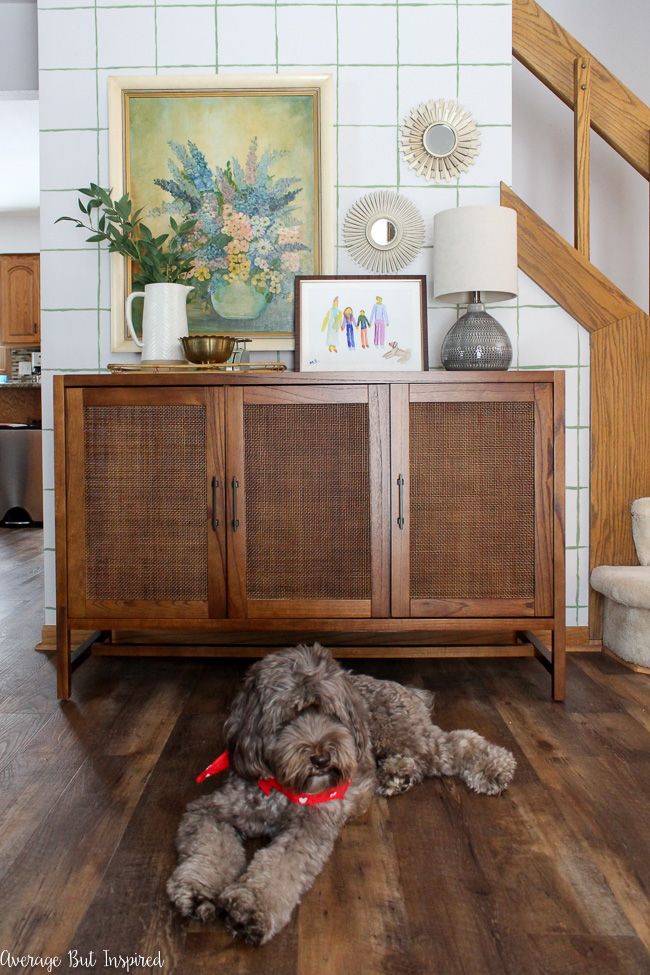 Let's do a quick recap: for $0 and an hour of time, I painted the cutest DIY accent wall in a fresh grid pattern. Not bad, right?
If grids aren't your thing, maybe you could try something different. Perhaps a brushstroke accent wall, imperfect polka dot accent wall, crosses – whatever! The point is that with no skill and no money (or very little money), you can add personality to your home. So be encouraged and go get it done! 🙂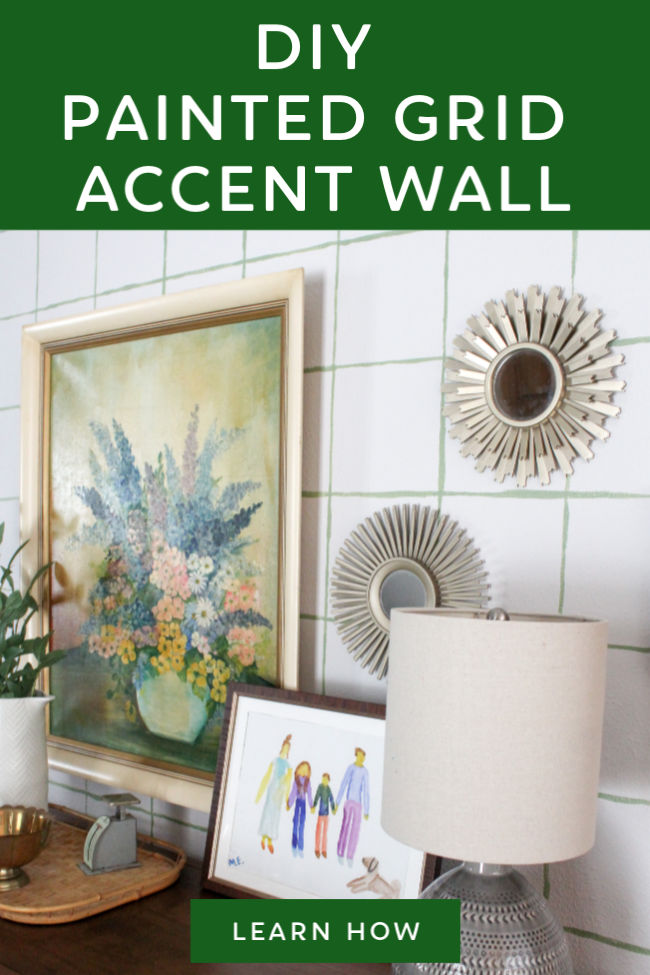 -Bre