Fall is my favorite season for everything! Decorating, food, clothing – you name it! Oh and I can't forget crafting, too. I LOVE coming up with fun fall crafts like this Floral Candy Corn Topiary!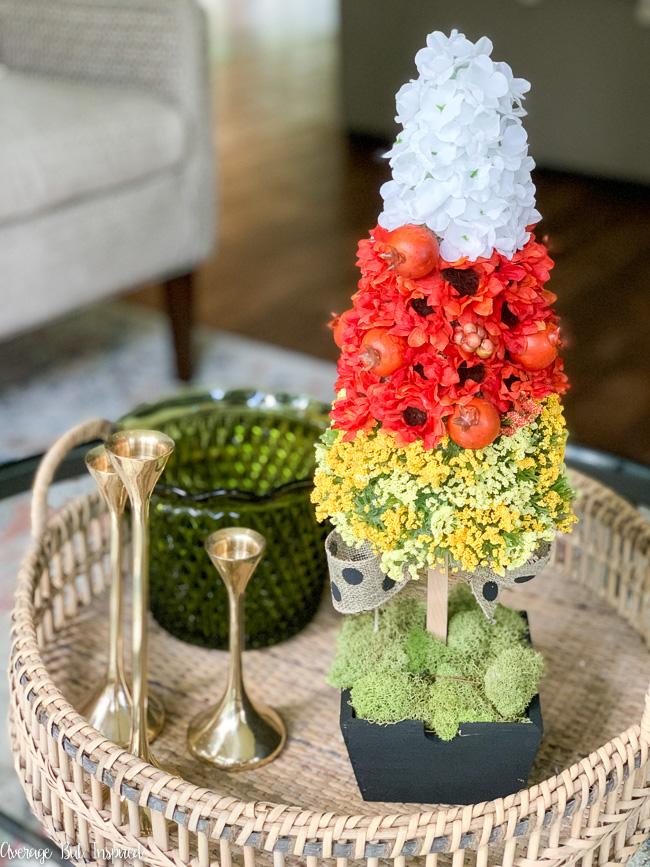 Love it or hate in, candy corn is synonymous with fall, so this darling topiary is the perfect touch for any fall space.
Supplies Needed to Make a Candy Corn Topiary
This post contains affiliate links. To read my full disclosure policy, please click here.
Faux flowers in yellow, orange, and white
Dowel
Container (pot or vase)
Black paint and paint brush
Decorative ribbon
Optional: hot glue and hot glue gun
Note: you can get all of these supplies at Dollar Tree except the floral foam cone. That you need to buy at a craft store or via the provided link.
How to Make a Candy Corn Topiary
I made this candy corn topiary as a video tutorial for my TikTok page, so I don't have complete step-by-step photos for you, but I do have all the information you need in video form, and also written form for added help! (PS I LOVE TikTok and am praying that it isn't banished from the U.S.!)
Candy Corn Topiary Video
Watch me make this topiary and then read the instructions below!
Candy Corn Topiary Written Instructions
Step one: cut yellow flowers short so that only a small part of the stem remains. Press yellow flowers into the base of the floral cone, about 1/3 of the way up the cone.
Step two: repeat this process with the orange flowers, and then with the white flowers. (Note: if any of the flowers don't have stems that easily push into the floral foam, simply hot glue them to the cone like I did for the white flowers.)
Step three: push a dowel into the bottom of the floral foam cone. Then, press the other end of the dowel into another piece of floral foam, which will rest inside the pot or container.
Step four: tie a bow on the dowel, just underneath the floral foam cone.
Step five: hot glue floral moss on top of the floral foam in the pot or container.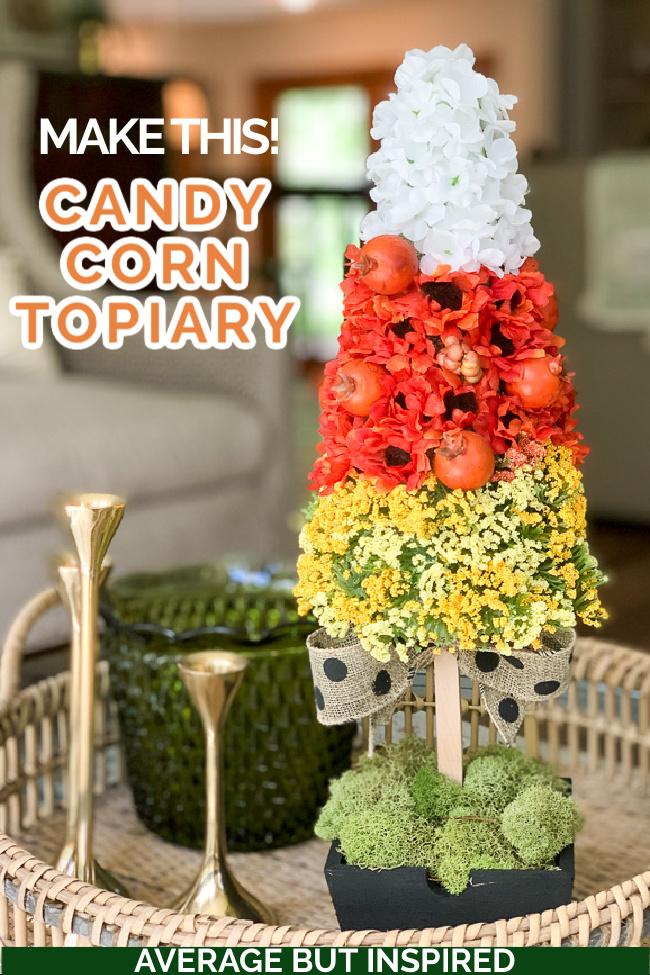 Let me know what you think of this cute DIY fall decoration craft! And . . . do you love candy corn or hate it? 🙂
-Bre
P.S. Check out my fall DIYs and crafts project gallery!