I will paint anything. Really. But being totally honest, I was nervous to spray paint my bathroom faucet and tub fixtures. Thankfully, it was a HUGE success, and I can't wait to show you the best way to spray paint a faucet and bathroom fixtures for a lasting finish!
I completed this tub fixture painting project months before writing this post so I could be sure the process actually works. I didn't want to give you bad advice about spray painting faucets (or any other bathroom fixture, for that matter)!
I stand behind this process and the products used, and I believe this inexpensive painting project can be an integral part of updating any bathroom!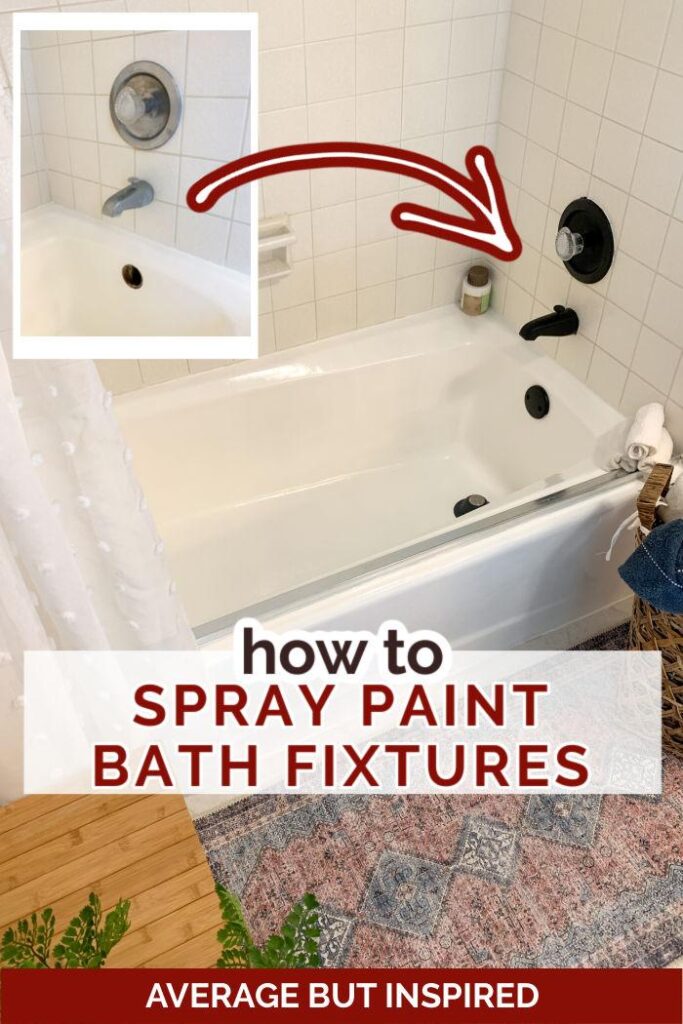 Spray Paint a Faucet: Supplies Needed
This post contains affiliate links. Read my full disclosure policy for more information.
To spray paint my bathroom fixtures as I show you in this post, these are the exact supplies I used.
How to Spray Paint a Faucet or Bathroom Fixtures
After I painted this bathroom's bath tub, the tub fixtures looked even dingier and gross than they did before. I was hesitant to try and remove them because they were strongly caulked in place, and I was worried about disturbing old plumbing and causing problems for myself.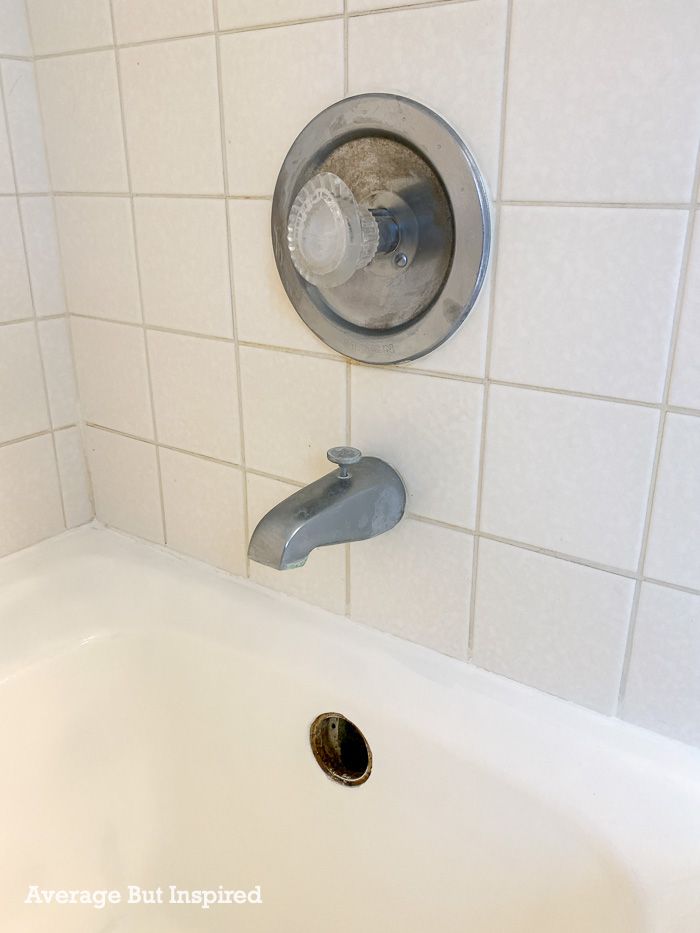 I worked up the courage to paint the tub fixtures, including the faucet, and I'm so glad I did! I was concerned that I'd accidentally get spray paint on my newly-painted tub or the shower tile, but it all worked out.
Step One: Clean the Faucet and Fixtures
As with any painting project, one of the most important things to do is clean the surface properly!
In this case I scrubbed the faucet and fixtures with Comet cleaner, and then followed up with Lime-A-Way to remove the calcium and lime buildup from the pieces.
The tub overflow plate was especially gross with tons of buildup, so I put that in a Ziploc bag and let it sit. The Lime-A-Way ate through the bag, but luckily I had it sitting on a plate so it didn't ruin the table I had it sitting on! Just be careful if you use Lime-A-Way as it seems pretty caustic.
Step Two: Sand the Bathroom Fixtures
Once the fixtures were clean, I lightly sanded them with 150 grit sandpaper and then removed all of the dust with tack cloth.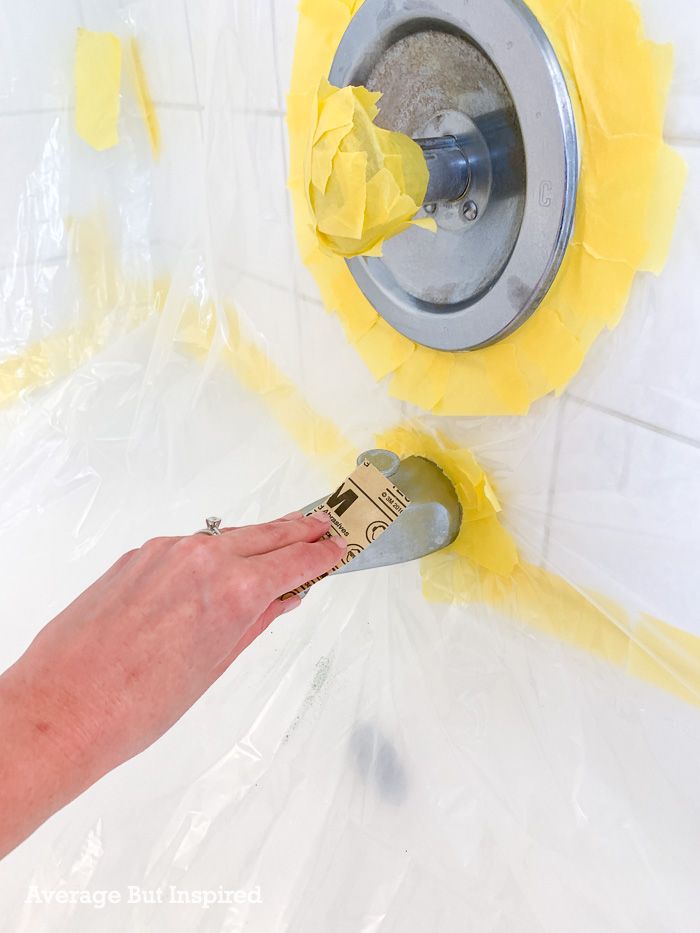 Step Three: Protect the Surrounding Area
Next to cleaning the fixtures, protecting the surrounding surfaces is probably the second most important thing to do!
For this, I hung masking film from the shower ceiling and sides, and then carefully cut small holes to push the tub fixtures through. Once the fixtures were through the masking film, I taped up the rest of the film on the opposite wall.

Then I draped masking film over and into the bath tub, and taped that to the masking film on the walls.
This was sufficient to protect everything from overspray – thank goodness!
Step Four: Prime the Faucet and Fixtures
Now it's prime time! For this step I sprayed the faucet, trim valve / handle, shower arm, and overflow plate with Rustoleum Automotive Primer. (Instead of painting the shower head, I purchased this matte black shower head, which I added to the shower arm after the fact.)

It dries very quickly, and I topcoated it (next step) within one hour of application. Note that if you don't apply a topcoat within an hour, you're supposed to wait 48 hours before topcoating.
Step Five: Spray Paint the Faucet and Bathroom Fixtures
And here is where the magic really started to happen! I spray painted the faucet and fixtures with Rustoleum Matte Finish Custom Shop spray paint in black.

I applied a light coat to everything, and recoated almost immediately. Unlike other spray paints I've used in the past, this spray paint allows you to recoat at any time.
Two coats of the automotive spray paint did the trick and covered the faucet and fixtures perfectly.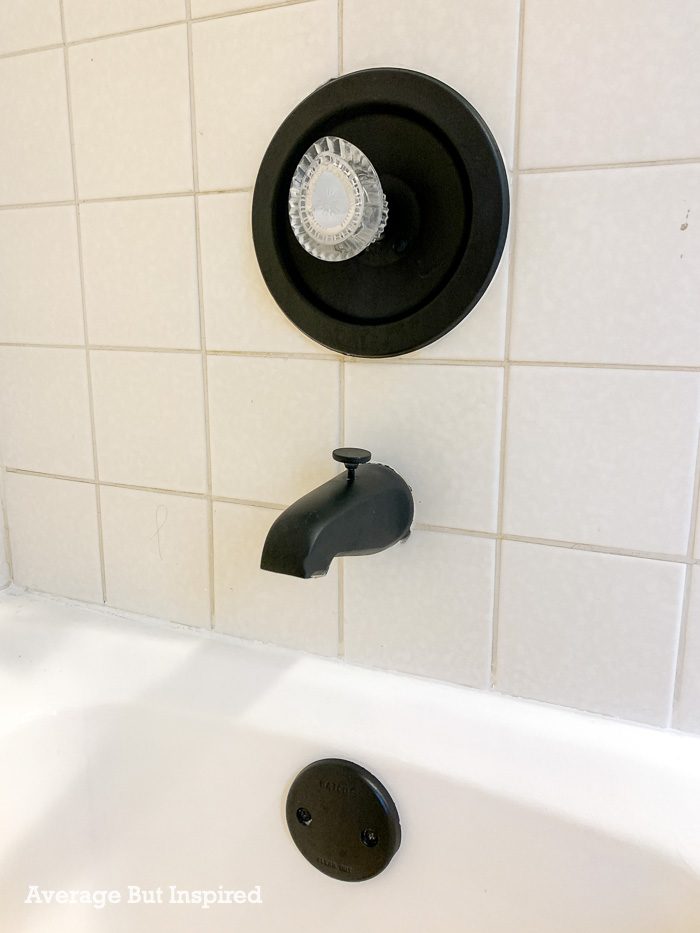 I let this dry for two days, which is longer than the spray paint can recommended. I figured better safe than sorry!
The spray painted finish is holding up absolutely perfectly on the tub faucet and fixtures. My kids use this tub/shower two times daily, so the paint finish is definitely getting a test.
Cleaning Spray Painted Faucets and Fixtures
Part of the secret to maintaining painted faucets and painted bath fixtures is using gentle cleaning products on them.
I clean both the painted bath tub and the painted fixtures with a mix of hot water and Mr. Clean concentrate, and apply with a sponge cloth. I wipe off water spots with a soft cloth and avoid using paper towels to clean these surfaces, as the paper fibers could scratch them (maybe?).

If these spray painted fixtures ever start to chip or flake, I will update this post. For now, everything looks amazing! If you're looking to give your bathroom a low-cost update, consider spray painting the fixtures!