I'm in the middle of a modern vintage bathroom makeover, part of which included refinishing the almond-but-once-avocado-green bath tub. Refinishing the tub made it look BRAND NEW, but the project was not without its challenges! I'm going to show you how to paint a tub with Rustoleum Tub and Tile, an epoxy tub paint, and give you tips to make your project as smooth as possible.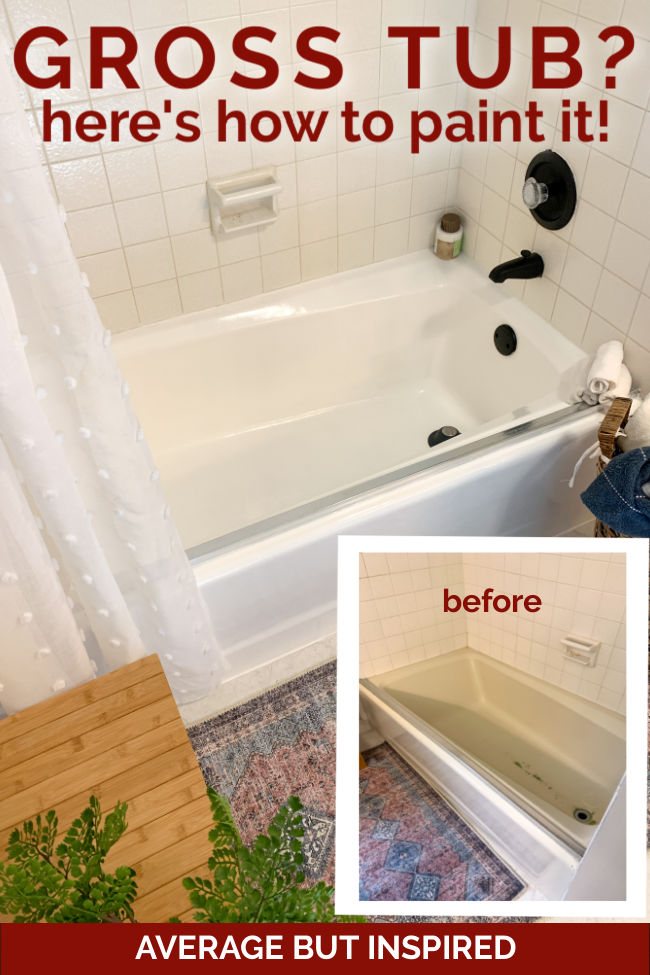 The Bath Tub Before Refinishing
The bath tub had already been reglazed or refinished at some point in the past. I guess the owners decided that avocado green was no longer their style! Unfortunately for us, that finish had started wearing off, leaving the tub with a very ugly, splotchy appearance.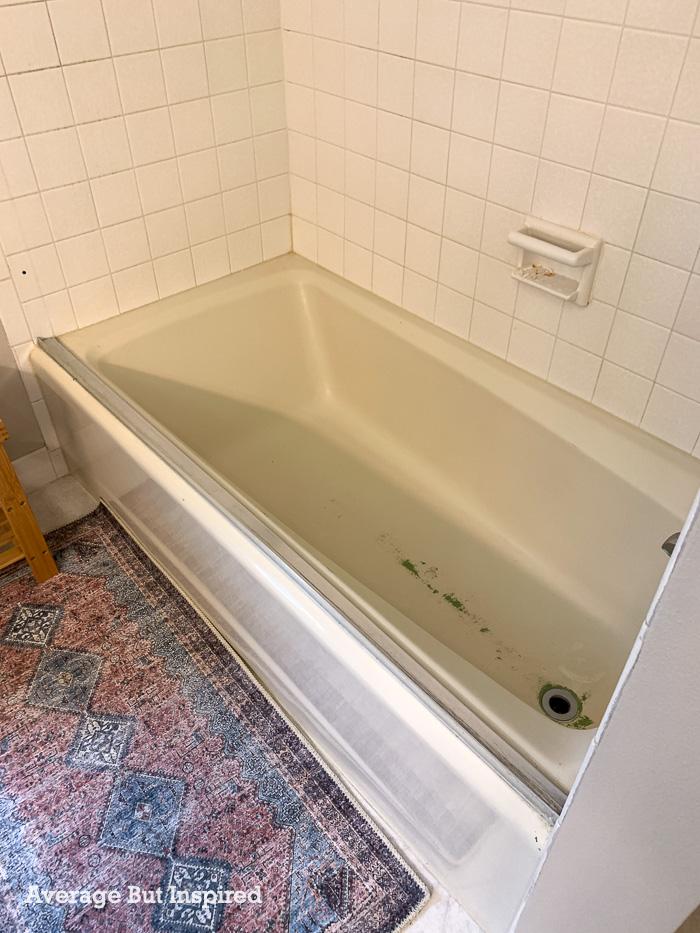 This post contains affiliate links. To read my full disclosure policy, please click here.
The original green tub finish was appearing on the inside more with every day that passed. Everything about this bath tub looked dirty. I decided to paint the tub with the Rustoleum Tub and Tile Kit to see if I could improve it, and figured I would hire a pro to refinish it if I failed.
Spoiler alert: with some bumps along the road, it ended up turning out beautifully! I'm so glad I can share my experience and instructions for how to paint a tub with you – I really think it will help!
Things to Consider Before Painting a Tub Yourself
Before you jump right in and start painting your tub, there are a few things you should consider.
First, the Rustoleum Tub and Tile Kit has terrible instructions. I was amazed at how inadequate they are. They do have a somewhat helpful video about repainting a tub, but otherwise the instructions are just bad. Reading blog posts like this and customer reviews on sites like Amazon and Home Depot may be very helpful to you.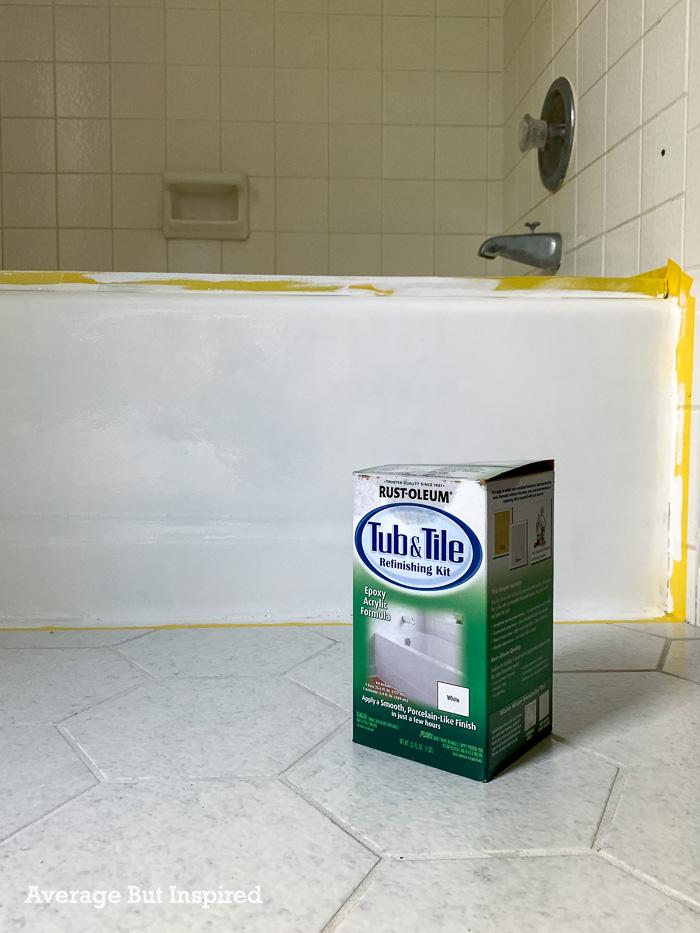 Next, you need to consider the timing of this project in terms of weather conditions and your availability. With respect to weather, you must do this project when the weather is good: not too hot and not too cold. I explain that later in this post (in the "Ventilate the Bathroom" section).
As for your availability, each step of the tub painting process needs to happen within specific timeframes, and there is a three-day period once you finish painting where you can't use the tub. You'll need to plan out how you can accomplish the painting and the waiting period so that this doesn't happen when you have a house full of guests arriving and no tub available.
Finally, understand that there is more cost involved than just one painting kit. Rustoleum makes it seem like you buy one kit and you have a brand new tub, but it doesn't work quite like that. As I explain later in this post, I needed two Tub and Tile Kits. I also purchased primer and then all of the supplies like paint brushes, etc. I still came out way ahead of having someone else paint the tub for me, but it was more expensive than the cost of one paint kit.
Supplies Needed to Prep a Tub for Painting
Now that you know a bit more about what to expect when painting a tub, let's talk about what you need to thoroughly prep the bath tub. These are the supplies I used to get the tub ready to be painted:
Caulk remover tool (or utility knife)
Rubber gloves, mask, protective eyewear
Optional: vacuum
How to Prepare a Tub for Painting
For this project, I did all of the prep work the night before I planned to paint the tub. It took around two hours to complete this portion of the project. The reason I prepped the night before was to ensure that the tub would have enough time to completely dry before priming and painting.
Clean with Comet
I started by giving the tub the best cleaning it's ever gotten. I scrubbed it like crazy with Comet powder cleaner, and then rinsed all of the nastiness down the drain.
Remove the Caulk
Next, I used a caulk remover tool to take out as much of the caulk around the tub as I could. I didn't do a perfect job, but I got most of the old caulk out.

This was a harder job than I expected! Once I finished with this part, I used a little industrial vacuum to suck up all of the caulk bits.
Clean with Lime-A-Way
We have well water and a whole 'lotta minerals in our water, so I made sure to do a second sweep with Lime-A-Way. I sprayed it on, let it sit for five minutes, and then scrubbed the tub again. It looked so clean I couldn't believe it!
Even if you don't have a lot of minerals in your water, a second cleaning is a really good idea. You need the tub to be spotless when you paint it. Any residue left on the tub will cause adhesion issues with the paint, so cleaning is key!
Sand the Tub
I wiped down the tub with a towel, and then sanded the entire thing with 400 grit wet or dry sandpaper. 400 grit sandpaper is a very fine grit sandpaper, and it helps to slightly rough up the surface before painting (giving it something to hold onto), and also to remove any flaking paint from a previous refinishing job.
Remove the Dust
Finally, the last tub painting preparation step is removing the dust. I washed everything down the drain, dried the tub, and then went over it with tack cloth to get any fine particles that were left.

Once I finished this, I let the tub dry overnight and poured myself a nice glass of wine. (Okay, maybe two glasses.)
Supplies Needed to Paint a Bath Tub
The next day I was ready to paint the tub and begin the beautification process! Here are the supplies I used:
How to Paint a Tub
As I mentioned above, the timing of this project is really important in terms of both weather (don't do it when you can't have the windows open) and product application (each coat needs to be applied within a certain timeframe). So keep that in mind if you decide to do this yourself!
Ventilate the Bathroom
The biggest drawback of this tub and tile paint is the terrible smell. Think of an awful smell and multiply that by ten. It's really bad.
I highly recommend doing this job in a window of time where you can have the windows in the bathroom and the rest of the house open for at least two days. Do not attempt it in the middle of winter or the dead of summer. Please.
Also, make sure to have a fan going and wear a ventilator or N95 mask.
If you can swing it, consider using an air purifier while painting a tub, too. I was gifted this Mi Air Purifier 3C and have loved using it during this bathroom makeover. The carbon filter helps remove odors, and the HEPA filter removes 99% of pollutants in the air (including bacteria and viruses). An air purifier pulls double duty because when I'm not using it for my DIY projects, it's amazing for my daughter who has terrible seasonal allergies.
Apply the Primer
Tape off around the edges of the tub with quality painters tape so you don't accidentally get paint where you don't want it.
Then, apply a coat of wipe on TubCast primer with a microfiber cloth. The Rustoleum Tub and Tile Kit does not come with primer and it does not say that you need to use primer. I have painted enough tricky surfaces in my day to feel like primer is a must have, so I researched and found this product, which has been tested with Rustoleum Tub and Tile paint. You can skip this step if you just want to apply the Rustoleum epoxy tub paint alone.

If you do apply the TubCast primer, it only takes twenty minutes to be ready for topcoating, so you don't have to wait long at all! You just wipe it on – it's not even like paint.
Mix the Rustoleum Tub and Tile Paint
Once the primer is dry (if you chose to do that step), it's time to mix the Rustoleum Tub and Tile Paint components. You will mix Part A and Part B for two minutes each, and then pour Part A into the Part B container, and continue mixing for two minutes.

On the package instructions it says that there is no need to wait to use the paint once it's been mixed. However, my experience was that the paint, as mixed, was extremely runny at the top of the paint can – almost like really thin milk – and that the runny part at the top would not blend with the thicker paint at the bottom of the can.
Apply Two Coats of Rustoleum Tub and Tile Paint
So, for the first coat of tub paint that I applied, it was practically transparent and – to be frank – awful. It was very runny and streaked all down the sides of the tub. I worked quickly with the foam roller to smooth out streaks and do the best I could.
The instructions said the second coat needed to be applied within six hours, so I left the first coat and the rest of the paint in the can, and took a two-hour break to pick up my son at camp and eat lunch. When I came back, the paint seemed to have thickened in the can, so I was hopeful that the second coat would apply thicker.
Indeed, it did! The second coat was much more opaque and provided more coverage than the first coat of paint on the tub. I again applied small parts of paint in the corners of the tub with the foam brush, and rolled the rest of the tub. The paint self-leveled nicely and I did not have an issue with streaks, drips, or runs with the second coat of paint.
Apply a Third Coat of Tub and Tile Paint
Because the first coat of paint was so thin, it was clear that I needed a third coat of paint on the tub. Because the paint, as mixed, has to be used within six hours, I had to use a second Tub and Tile Kit on the next day to get a third coat of paint.
Learning from the runny paint experience the day before (or so I thought), I mixed the paint per the package directions and let it sit in the can for about 1.5 hours. When I came back to get to work, it still seemed runny to me at the top, so I poured about half of the paint into a disposable plastic cup and set it aside on the vanity.
I then used the thicker paint that was at the bottom of the can to apply the third coat of paint to the tub. As with the day before, it went on nice and thick, and the third coat gave me the coverage I needed.
When I finished painting the tub, I got up and could not believe my eyes: tub and tile paint was all over the granite countertop, in the sink, and running down the front of the vanity I'd just painted. The epoxy paint had EATEN THROUGH THE CUP and gone EVERYWHERE. It was a disaster and I freaked out.

Thankfully my husband was home, and he heard me screaming so he ran in to help. We got most of the epoxy off of the granite and floors. I had to repaint the vanity and order new hardware, but it could have been much worse! Moral of the story: do not transfer this paint to any other container. It is extremely caustic! I really think Rustoleum needs to add this as a warning to its product information. This was a terrible experience!
Remove the Painters Tape
I was traumatized from the "epoxy on everything" experience, so I forgot to remove the painters tape from around the tub within an hour of applying the last coat.
I removed it about six hours later, and it was fine. Phew!
Caulk Around the Tub
The next day, once the paint was totally dry, I caulked all around the tub with DAP Kwik Seal Plus tub caulk. This made a perfect transition between the tub and tile, and tub and wall, and was the cherry on top of the tub paint job.
Let the Tub Paint Cure for Three Days
Finally, I let that tub paint cure and harden for at least three days. There was no way I was going to ruin this beautiful paint job after all the hard work and tears that went into it! As Tom Petty says, "the waiting is the hardest part" and that is true! Sharing a tiny bathroom with my kids while this paint was curing wasn't the most fun, but it was worth it!
In the waiting period, I spray painted the tub fixtures (I will have a tutorial on that soon), to freshen up this bathroom even more!
The DIY Painted Bath Tub
In the end, the results of this project exceeded my expectations!

This bath tub looks BRAND NEW. Really. I'm not just saying that because it was a tricky project.

I saved around $200 doing it myself, and absolutely love the results. The kids have been using it for about three weeks now, and there are no signs of chipping or flaking.
I'm optimistic that with gentle cleaning, this painted tub finish will last for several years.

If you're scared to paint your tub, I totally get it. Think about this: what's the worst that can happen? I think the worst thing happened to me (paint everywhere!), but you won't make that mistake because I filled you in! You can do this – give your tub a brand new life and look. You'll be so happy you did!