A huge selling feature of our home was the sunroom or three-season room. When the weather is right, that room is paradise!
But, a big drawback of this southern and western-facing room is the intense sunlight at the end of the day. It was so bright (and hot) that the room became unusable. (Look at my poor pup panting in the heat! Don't look at how dirty my windows were.)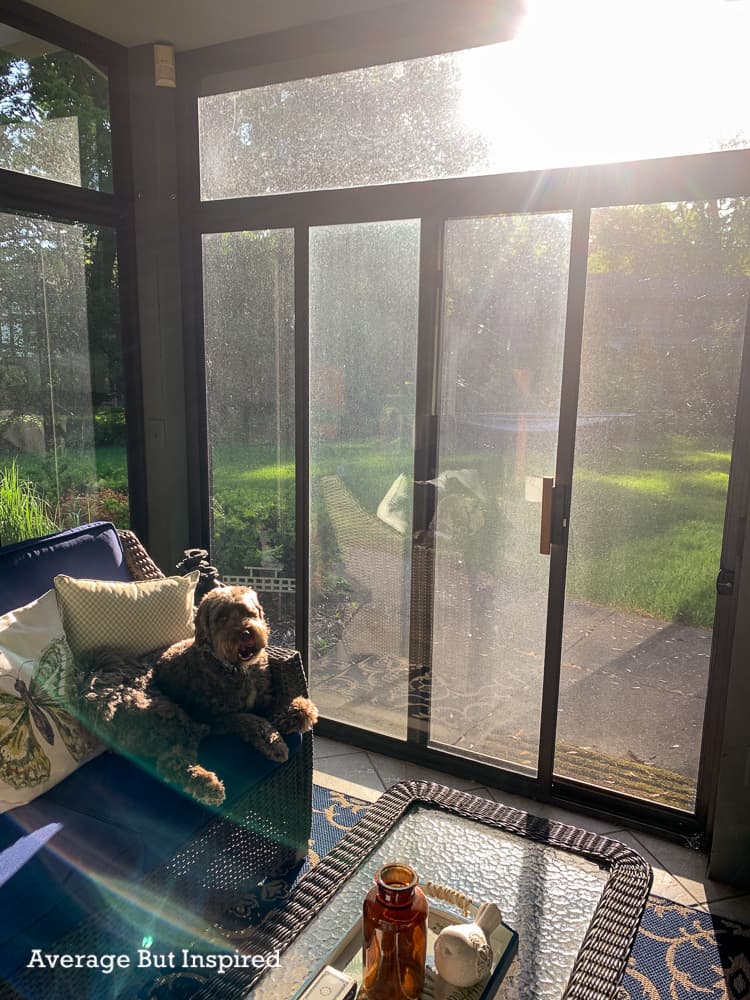 Thank you to Graywind for sponsoring this post. All information and opinions expressed herein are my own. In addition, this post contains affiliate links. For more information, please read my disclosure policy.
With the addition of Graywind motorized shades in my sunroom, everything changed! These rechargeable, remote-controlled motorized roller shades give us the light we want (when we want it), and the shade and privacy we want and need at other times.
Plus, Graywind blinds were named among the best motorized shades by Bob Vila, so you don't have to take my word for it! (I feel like I'm on Reading Rainbow with that line- ha!)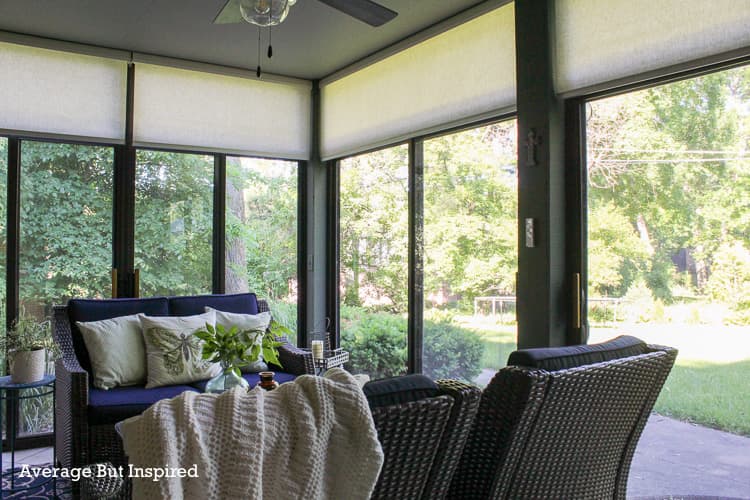 Whether or not you have a sunroom, I bet you have a room that gets too much light for your liking, that has hard-to-reach or extra tall windows, or that could use some extra privacy. Keep reading because you're going to find the perfect spot for motorized shades of your own!
Motorized Shades Installation
Before finding out about Graywind's motorized shades, I considered hanging curtains, but didn't like how much of the view they'd block. Then I looked into having shades installed, but didn't like the price tag.
When I discovered that I could install these motorized shades myself and save thousands of dollars, I was sold.
Plus, there were so many fabrics and styles to choose from that it was easy to pick the perfect look for my space. I chose the Graywind Motorized Light Filtering Shades in linen beige, and I the adore creamy color and beautiful texture my sunroom shades have!

Measuring was easy, thanks to Graywind's helpful measurement guide video, and shipping was extremely fast. I received my shades two weeks after placing my order. Considering that all of Graywind's motorized shades are custom made to fit your windows, that is very impressive!
Step One: Charge the Motorized Shades
Immediately upon removing the shades from the boxes, I plugged them in with the included USB charging cords. (Sidenote: with all of the USB devices we all have these days, I highly recommend getting a USB charging port like this! I also use it to charge my wireless under cabinet lights.)
I let the shades charge for the recommended 10-12 hours. With this amount of initial charge, the motorized shades should operate for 3-6 months (depending on frequency of use).

And don't worry – to recharge them once hung, you do not remove them from the wall or ceiling! The included USB cords are very long and allow you to charge them right in place!
Alternatively, solar charging panels are available to allow the shades to constantly charge. I have the Graywind solar charge panels and LOVE them! Watch my video on the solar charging motorized shades option to see just how cool it is!
Or, if you're fancy pants, you can have them hardwired into your electrical!
Step Two: Hang the Shades
While the shades were charging, I began the installation process. I'll admit that I was a little nervous about this. I'm not sure why, but once I got the first shade in place, all my fears went out the window. Installation was a breeze.
The shades came with all of the hanging hardware, which was brackets and wall anchors. Since I was hanging my shades from a plywood ceiling, I purchased short hollow wall anchors, but those will be unnecessary for most people.

I simply drilled pilot holes, pushed in the anchors, attached the brackets, and popped the motorized shades into place.

For the two extra-large motorized shades, I needed my husband to help me get them into place. I wasn't strong enough to lift and position them on my own. For regular size windows, an average-size woman like me should have no problem installing Graywind shades on her own!
Step Three: Hang and Configure the Remote Control
The last step is to install the included battery in the remote and hang up the remote control holder. I am SO glad that with a dedicated spot, this remote won't go missing like all my TV remotes – ha!
Then, you can configure the remote to control all of the installed shades (up to 15 shades!), AND you can raise and lower them all at once or individually! It is seriously awesome!

One other bonus of Graywind shades (that didn't apply to me because I don't have these things) is that you can also configure them to work with Amazon Alexa or Google Assistant. Mind blown.
Is it Worth Getting Motorized Shades?
I'll admit that before having motorized shades of my own, I thought they were a bit of a gimmick. I mean, how hard is it to close your own shades, right?
But now that I have them, I want them EVERYWHERE!
First off, roller shades on these extra tall windows would've been very difficult to close manually. The motorized opening and closing completely eliminates that issue.
I know motorized shades would be a lifesaver for elderly people and people with physical impairments, too.
Secondly, there is something so satisfying about seeing them all open and close at the same time (when I have that option enabled. Don't forget, you can control Graywind shades individually, too!).

Finally, it's actually a timesaver! I imagine that if you have a lot of windows with shades that you open and close daily, that could get tedious!

Since installing our Graywind motorized shades, my family has been spending a lot more time in the sunroom. And don't worry – I finally got around to washing the windows, too! Ha!
Make sure to check out Graywind motorized blinds for your home by visiting Graywind's website or Graywind's Amazon storefront.