As I've been talking about non-stop, I painted my oak kitchen cabinets and freshened up the space! Part of the kitchen makeover was enhancing the lighting, and I'm pumped to show you the EASIEST DIY under cabinet lighting that absolutely anybody can add to his or her kitchen for a little mood lighting and general fancy-pantsness.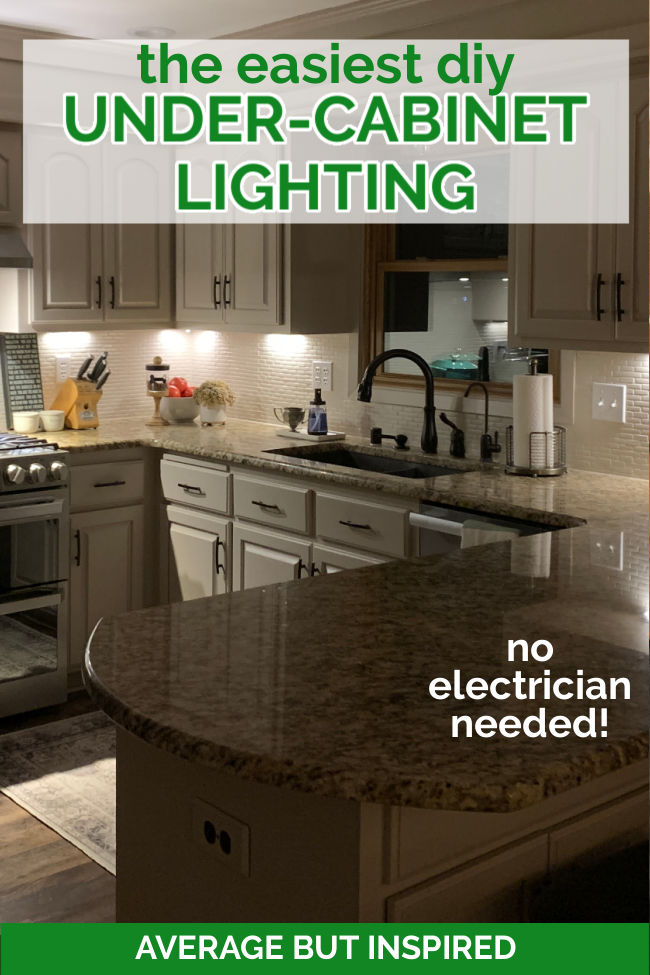 This post contains affiliate links. To read my full disclosure policy, please click here.
Now, being totally honest with you, I'd like to have hardwired under cabinet lighting that was installed by an electrician.
But, I had to pick and choose where I spent my budget for this project, and I decided that this luxury had to go. Never one to let a dream die easily, however, I figured out a way to add under cabinet lighting all by myself- and at a fraction of the price!
Because technology is amazing nowadays, I was able to purchase these remote controlled wireless under cabinet lights and install them myself – in about ten minutes!
And I am obsessed!
Let me tell you a little bit about the benefits of these wireless LED under cabinet lights.
How Do You Install Wireless Under Cabinet Lights?
You mount them to the underside of your cabinets with a self-adhesive magnet. So the sticky part of the magnet goes on the underside of the cabinet, and the light attaches to the magnet.
This makes the under cabinet lights super easy to remove for charging.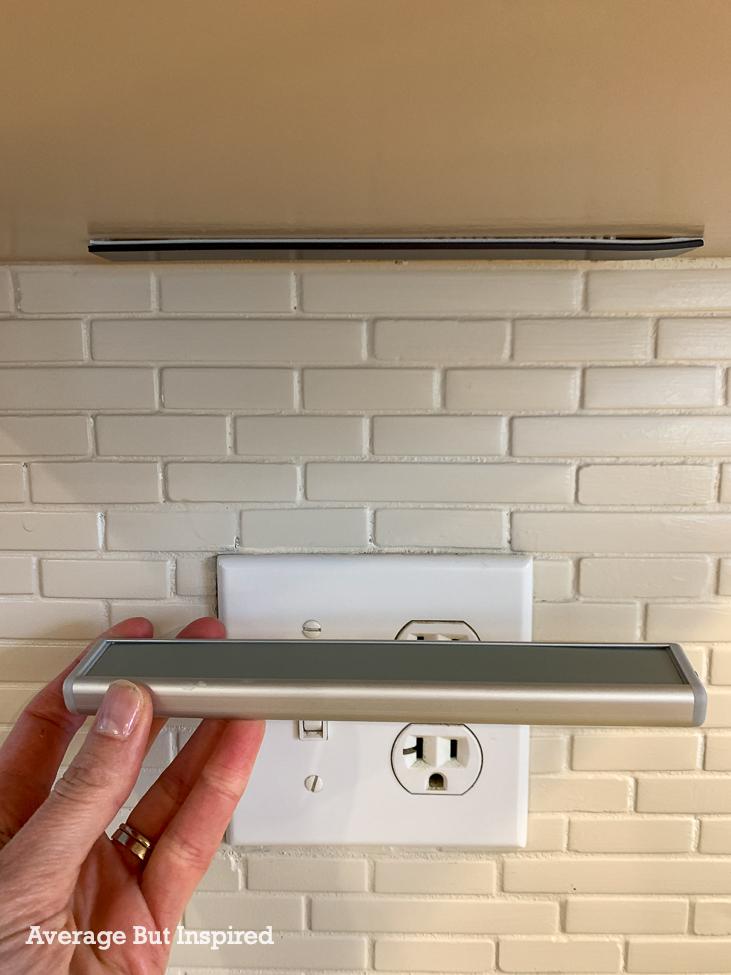 Are Wireless Under Cabinet Lights Rechargeable?
Yes! These lights are rechargeable! No swapping batteries.
You just plug in each of the under cabinet lights to recharge them. I find that each light lasts between 8-10 hours before needing charging.

I purchased this 6-port USB charger so that I can charge all of my wireless under cabinet lights at one time. This is SUPER convenient. It would be annoying to have to charge each one individually, or to find different outlets for each of the lights to charge at.
How Do You Turn On the Under Cabinet Lights?
Did I mention that these wireless under cabinet lights come with a remote control?  It's awesome! When I stumble into the kitchen each morning, I just grab the remote from the drawer and turn them all on at once! 

This means you do not need to turn on each under cabinet light individually, though you could do that if you lose the remote.
The remote also allows you to set a timer so that the lights turn off after a set period of time. I love this feature because I never have to think about turning off the lights or wasting the charge.
How Bright is This DIY Under Cabinet Lighting?
You can choose the color of the lighting (bright white light, warm white light, or a mix of the two for a hybrid look) on each of the individual wireless lights. I usually have mine set to warm white light.

You can also set the intensity of light, from 50% power to 100% intensity.
What are the Negatives of Wireless Under Cabinet Lights?
Well, the biggest negative of these under cabinet lights is that you have to recharge them.  It's not a huge deal to me, but it would be nice to never have to do that!  
That being said, I'm totally happy that I was able to add under cabinet lighting to my kitchen without hiring an electrician or blowing my budget in here!

If you'd like to add lights under your kitchen cabinets but don't want to spend a lot of money to do so, consider adding wireless under cabinet lights. I give them my stamp of approval!
Also, I recently added solar LED landscape lighting to my yard, and am so pleased with those wireless landscape lights! If you need to brighten up your yard, I suggest you read my post all about it!
-Bre
Check Out the Other Kitchen Makeover Posts in This Series!