Some of you are going to hate this project and think I've lost my mind.  So I apologize in advance.  Maybe I have lost my mind, but I prefer to think of this changing table upcycle as a smart way to reuse and repurpose something that was no longer needed.
You see, for about a year now I have been scouring Craigslist, Goodwill, and all of the local resale websites to find a console table for my living room, but I just could not find what I was looking for.  But then one day a changing table was posted for $20.  It was the perfect size for my space and I thought I'd take a chance and see if I could make it work as a console table.  So I sent my wonderful husband to go pick it up for me and bear the strange looks from the seller when he found out that this changing table was not going to be used for a baby.  (I'm thinking this guy was kicking himself for not coming up with this idea.  (Sure.))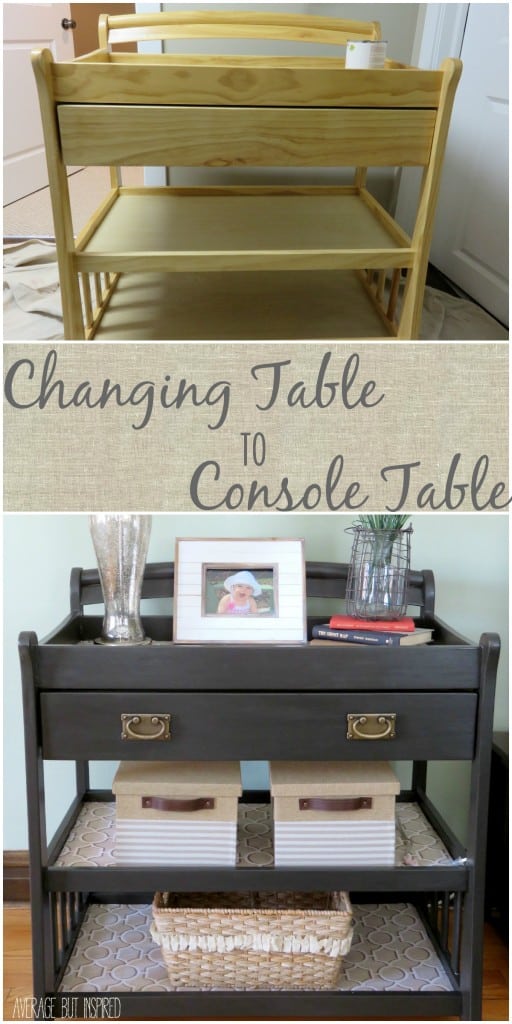 So this is what the changing table looked like when I bought it.  I feel sort of bad for the baby who had to get his or her bottom wiped on this sad table.  I knew it could be so much more!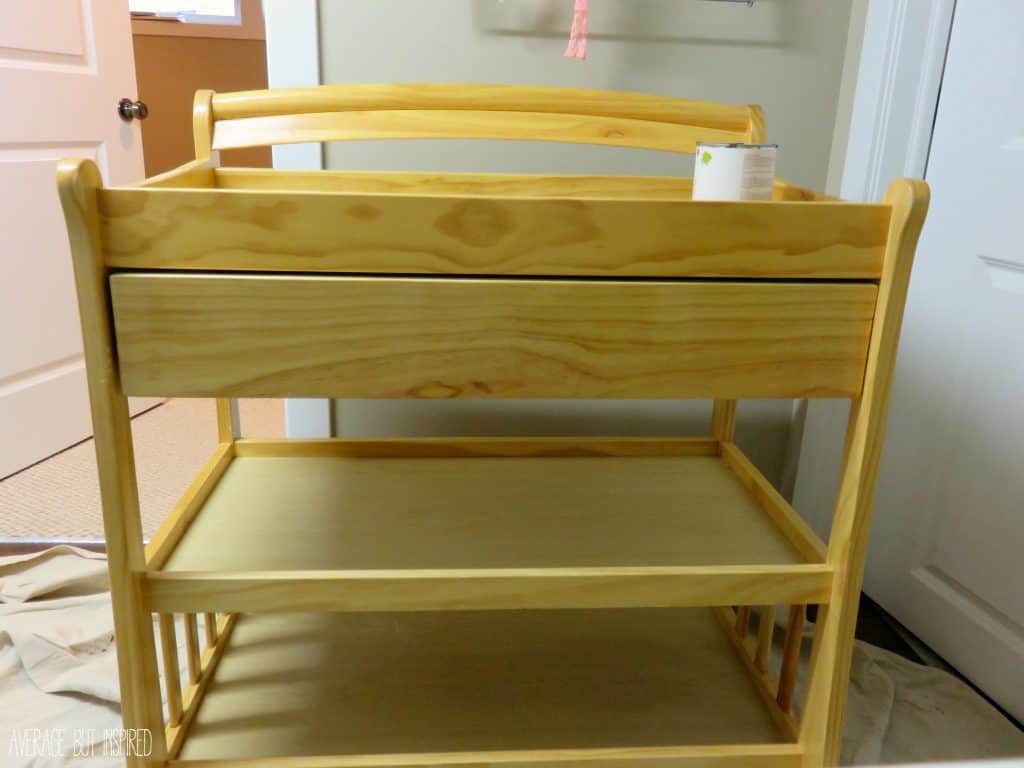 ** Thank you to the kind folks at Country Chic Paint for providing the paint I used in this post!  Also, there are affiliate links in this post, which means I earn a small commission if you purchase through them.  To read my full disclosure policy, please click here.**
I wiped it down with a wet rag and gave it a coat of Country Chic Paint in Dark Roast.  It is an amazing paint that goes on smoothly and covers brilliantly.  That is some good coverage for one coat!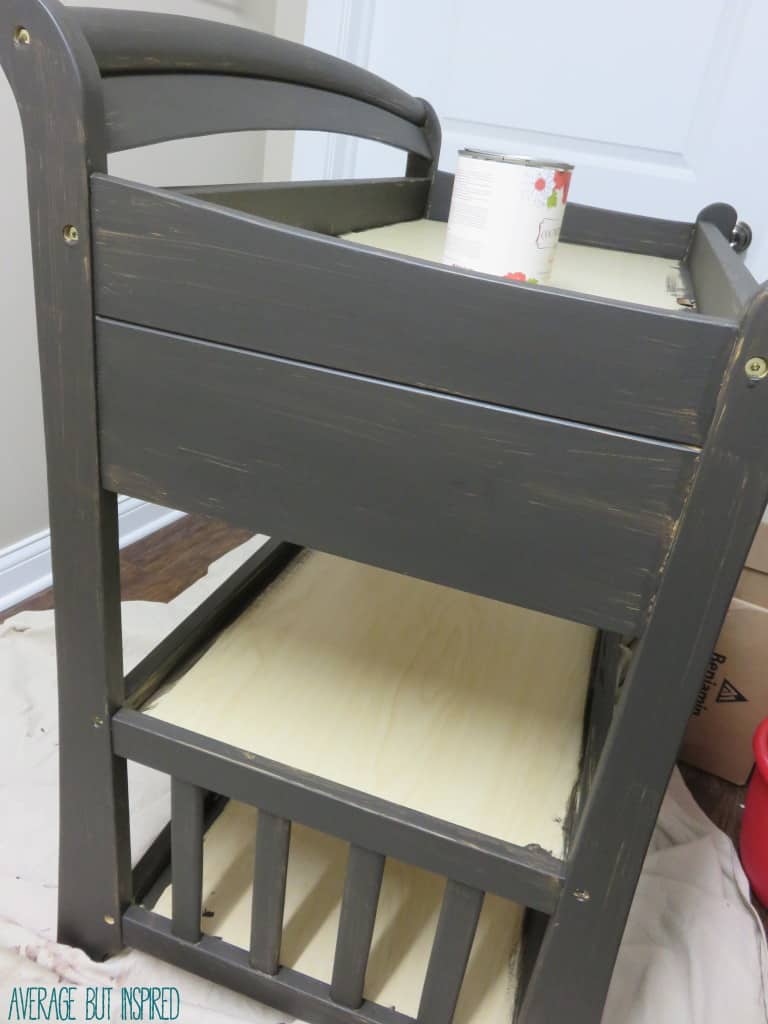 After that dried, I applied another coat of Dark Roast and was happy to find out that I wouldn't need to do a third coat. Booyah!
To seal the piece, I applied two coats of Country Chic Tough Coat.  Although I typically prefer to wax pieces that have been chalk painted, this stuff is supposed to help your pieces resist scratching and stand up to a lot of wear and tear.  Since this console table is in a high traffic area of my home, and since my kids will be digging in the baskets, I figured it was smart to apply a heavy duty sealer.
Once the painting and sealing was finished, I decoupaged fabric to each of the shelves.  Then I used the drill all by myself to make holes in the drawer for new hardware.  I was SO proud of myself for not screwing that up!  Aren't these handles awesome?!?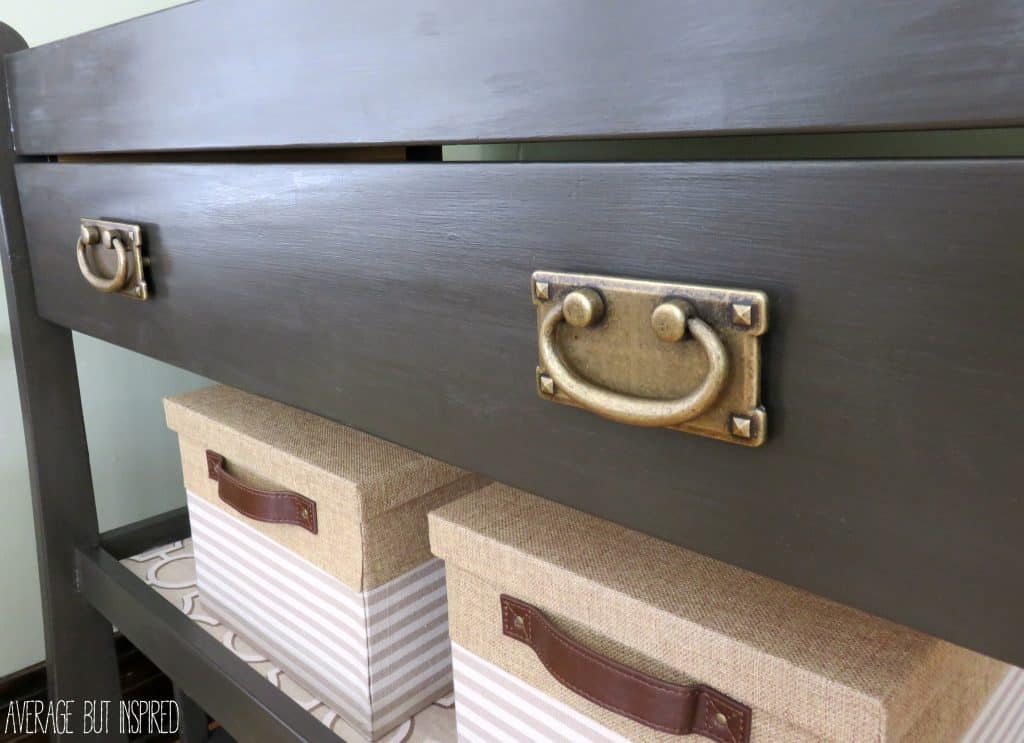 Here's a good shot of the fabric-lined shelves / table top.  I think it's kind of fun!  (And if you do, too, and want to learn how to apply fabric to furniture, make sure to check out this post.)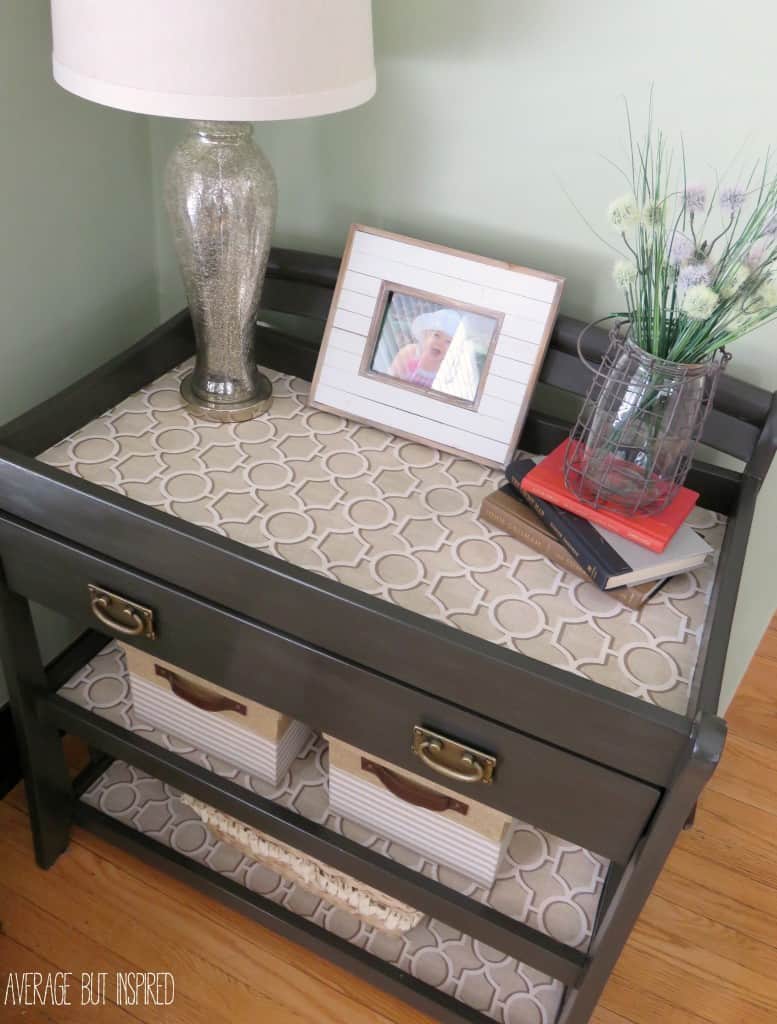 I think the sophisticated color transforms the piece from a nursery staple to a chic console table.  I couldn't be happier with my new table!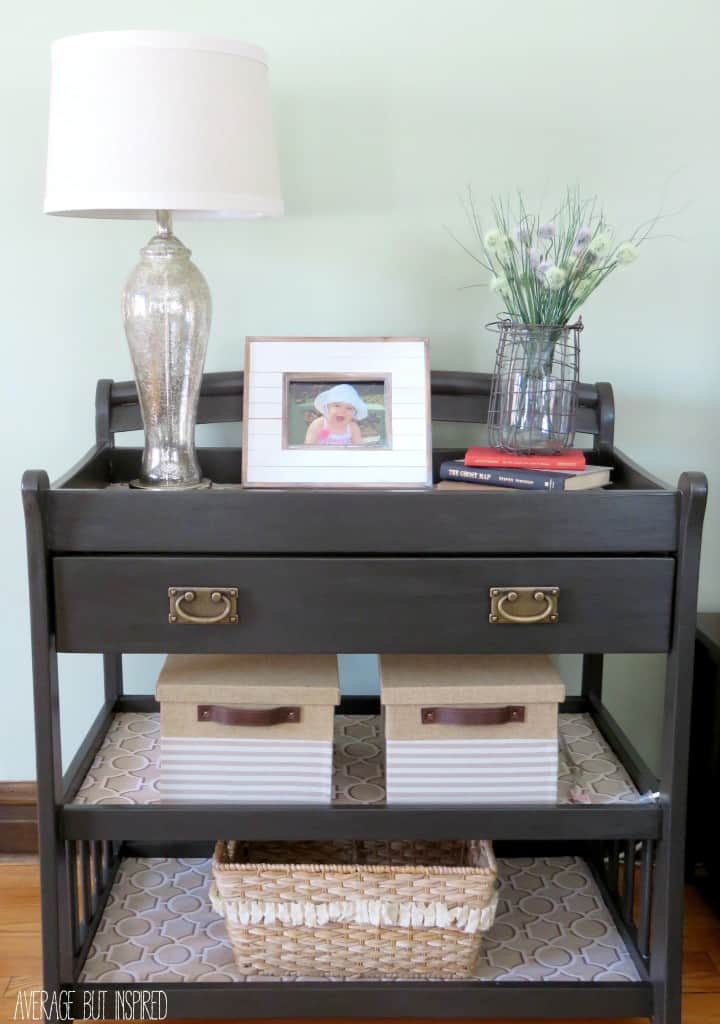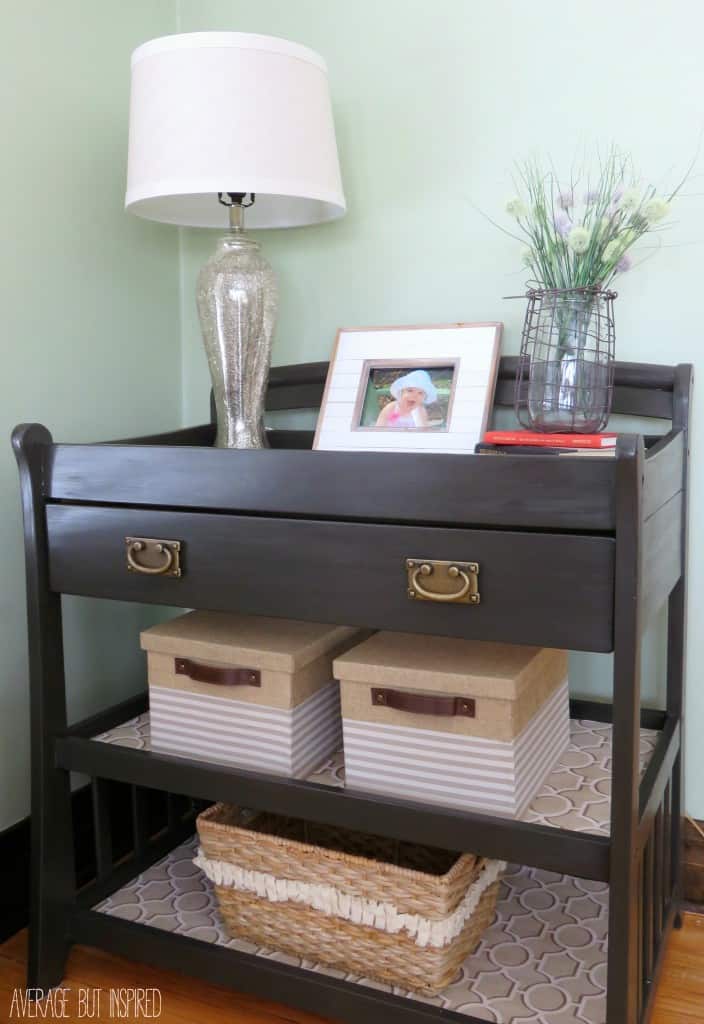 So what do you think?  Does it work as a console table or is it ridiculous?  It won't hurt my feelings too much if you don't like it.  I promise.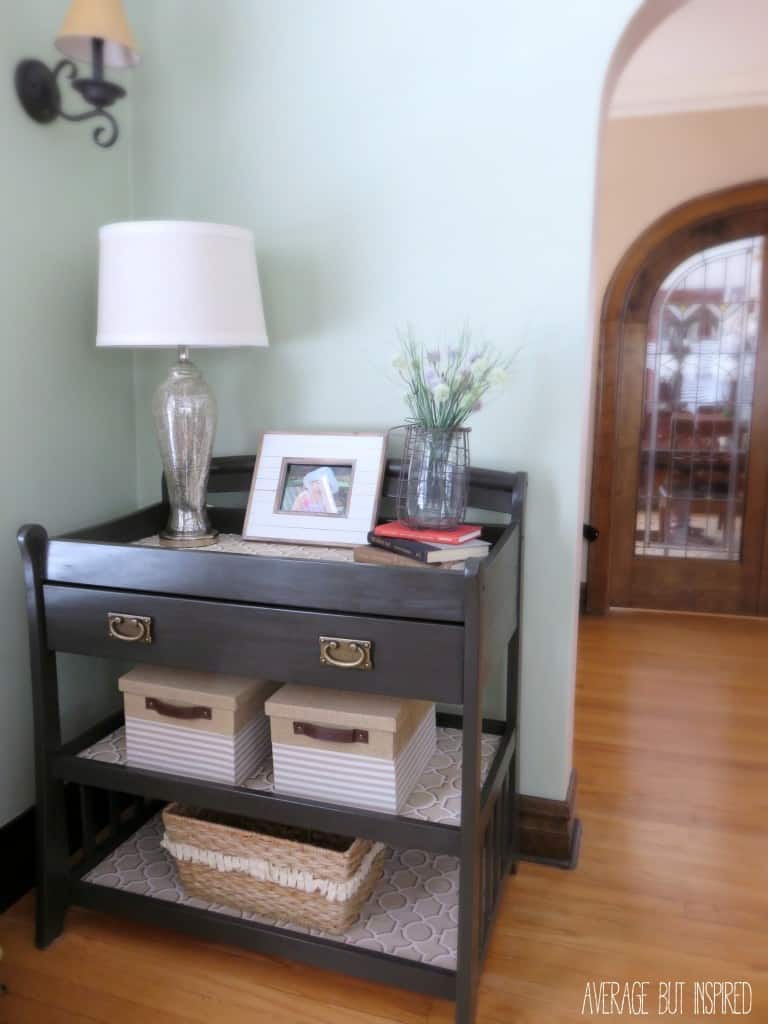 Country Chic Paint Prize Pack Giveaway!
November 21, 2016 – November 27, 2016
Now, because I'm such a fan of Country Chic Paint's products, I am SUPER excited to be co-hosting an amazing giveaway with them to help one of you lucky people WIN an amazing prize pack valued at over $250!  Enter below to win a prize pack that includes the following items:
3 pints of All-in-One Decor Paint
2 sample jars of All-in-One Decor Paint
8 oz jar of natural wax
4 oz jar of tinted wax
4 oz jar of metallic cream
4 oz jar of glaze
4 oz jar of crackle medium
17 oz jar of texture powder
4.25 oz jar of antiquing dust
small oval brush
apron
beeswax distressing bar
This giveaway runs from November 21, 2016 – November 27, 2016 and is open to residents of the United States and Canada.  Please make sure to see the Rafflecopter for complete terms and conditions.  And once you've entered, please be sure to visit Country Chic Paint's website to learn more about their products, and their YouTube channel to learn amazing tips and tricks for using their products!  Good luck!