I cannot tell you how excited I am to be back in action with the Monthly DIY Challenge! (If you're new here, every month some of my favorite blogger friends and I team up for a creative challenge that involves the same basic DIY supply or an item that comes from the same store.)  This month we hit up the DOLLAR STORE – dolla' holla'! 
I had to sit last month out, but I am ready to rock this month's dollar store challenge with my magnetic chip clip holder!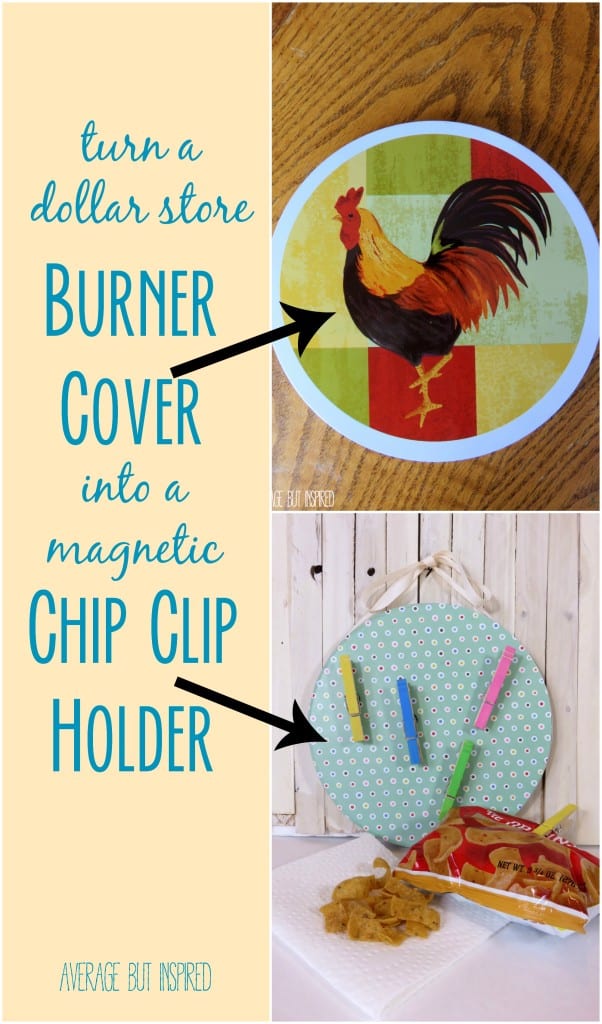 Alright, so people, I'm telling you that if you're not a regular Dollar Tree shopper, you need to become one, stat. It is my absolute favorite place for cheap party supplies, craft supplies, and gift wrap and accessories.  Oh and also for strange stove burner covers with roosters plastered all over them.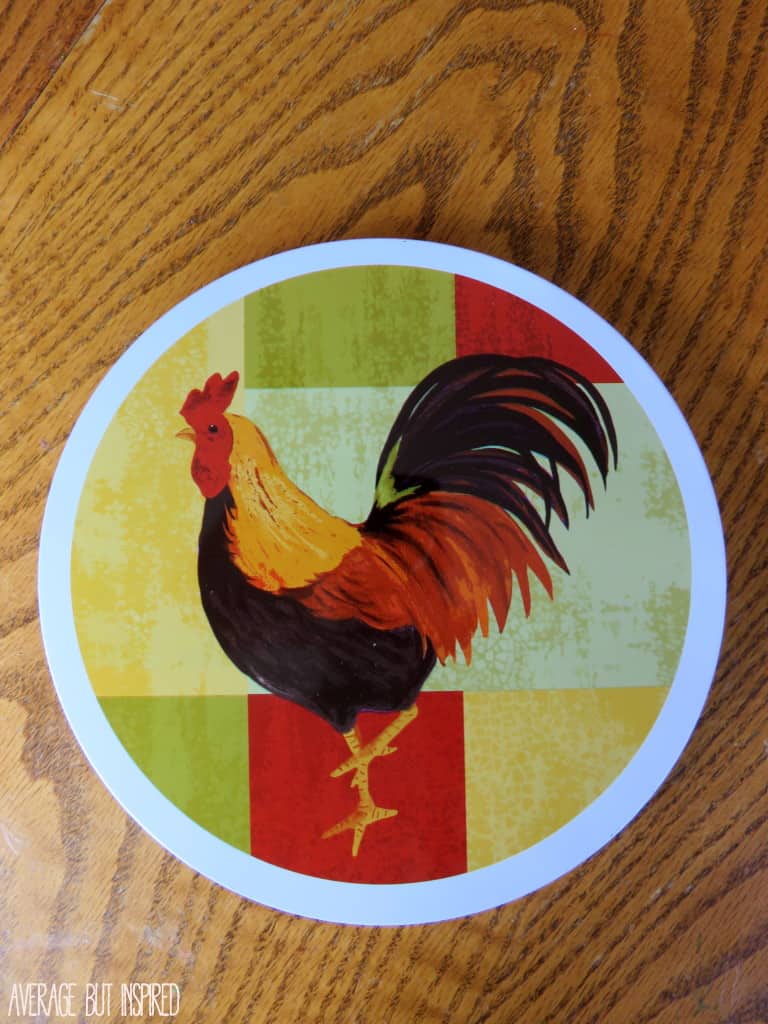 At the risk of sounding like an idiot, I really have no idea what you do with a burner cover. I'm guessing it's something for an electric stove. . . ?  I've never had one of those so I don't really know.  Yeah, so anyway, I bought a set of two of these burner covers for, well, $1, never planning to use them for their intended purpose.  Instead, I always planned to use them for something "magnety" (made up word referring to something that can be used with magnets.).
Anyway, these bad boys hid out in my china cabinet for about six months until a wonderful moment of inspiration hit.  You see, I was giving my children their 78th snack of the day when I got super annoyed that I couldn't find any more binder clips (my makeshift chip clips), in my junk drawer.  At that moment I knew that my world would become a better place if I always had easy access to chip clips so that my children's snacks could be easily resealed and not spill all over the pantry as they usually do.  Out of hiding came the rooster covers.
Supplies
Metal burner covers (purchased at Dollar Tree)
12″ x 12″ scrapbook paper
Decoupage Glue (Mod Podge)
Foam brush
Ribbon
Clothespins
Acrylic paint
Tiny magnets
How to Make Your Magnetic Chip Clip Holder
Since roosters aren't my favorite animal in the world, I decided to cover this bad boy up, pronto.  So I traced around the burner cover on a piece of 12 x 12 scrapbook paper, and then cut it out.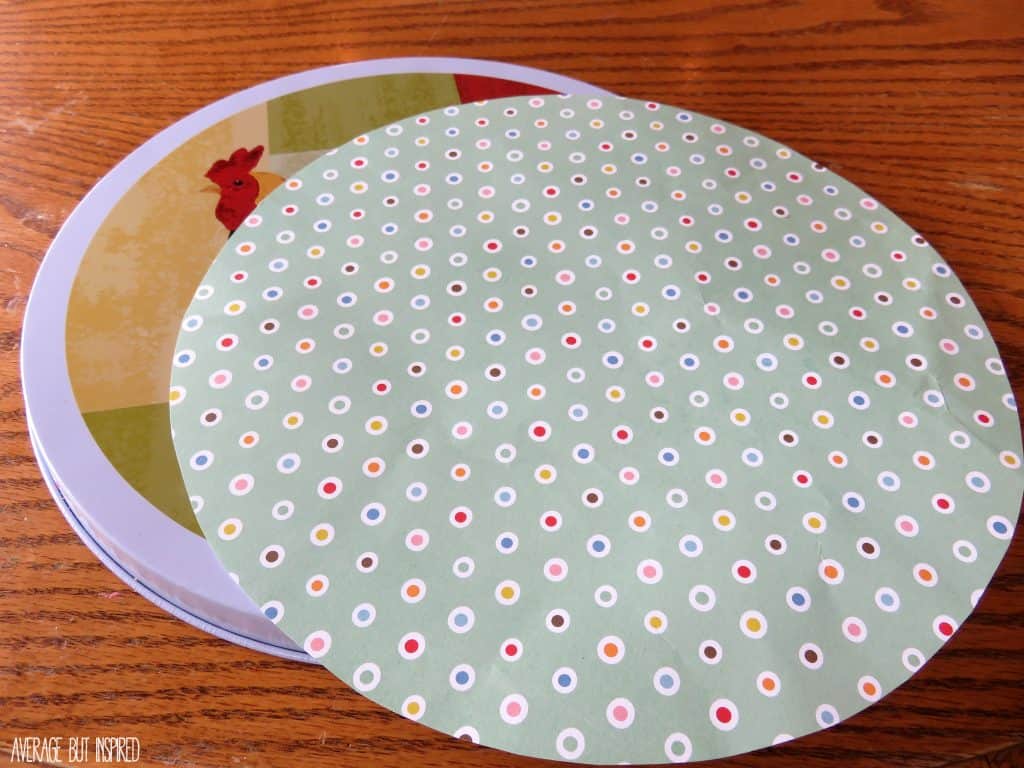 Next up, I applied a thin layer of decoupage glue to the top of the burner cover and put my scrapbook paper on top.  Bye bye, rooster!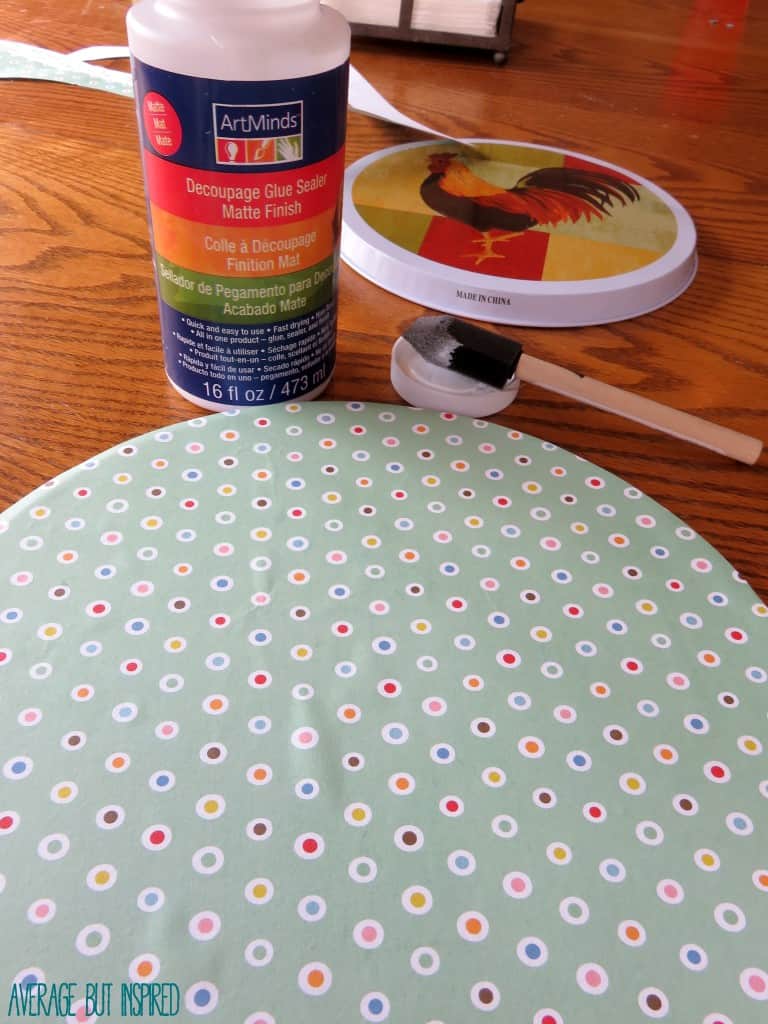 I smoothed out the wrinkles, and after it seemed dry, I put another thin layer of decoupage glue on top.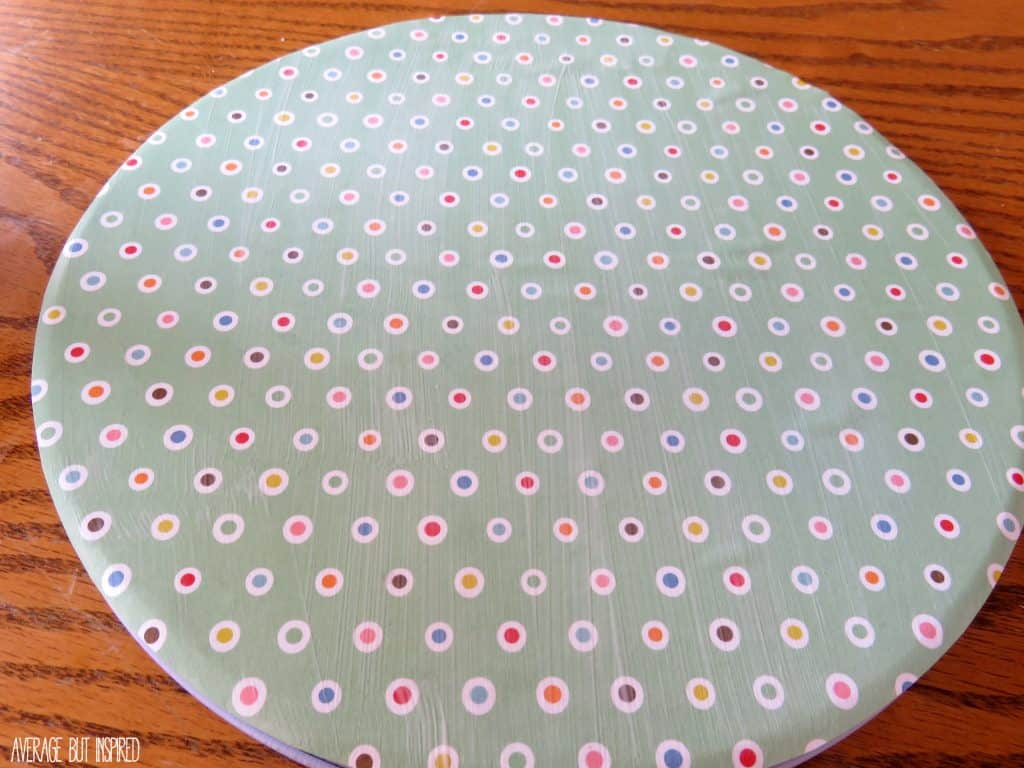 Once everything was dry, I hot glued a ribbon around the entire edge of the now-roosterless burner cover.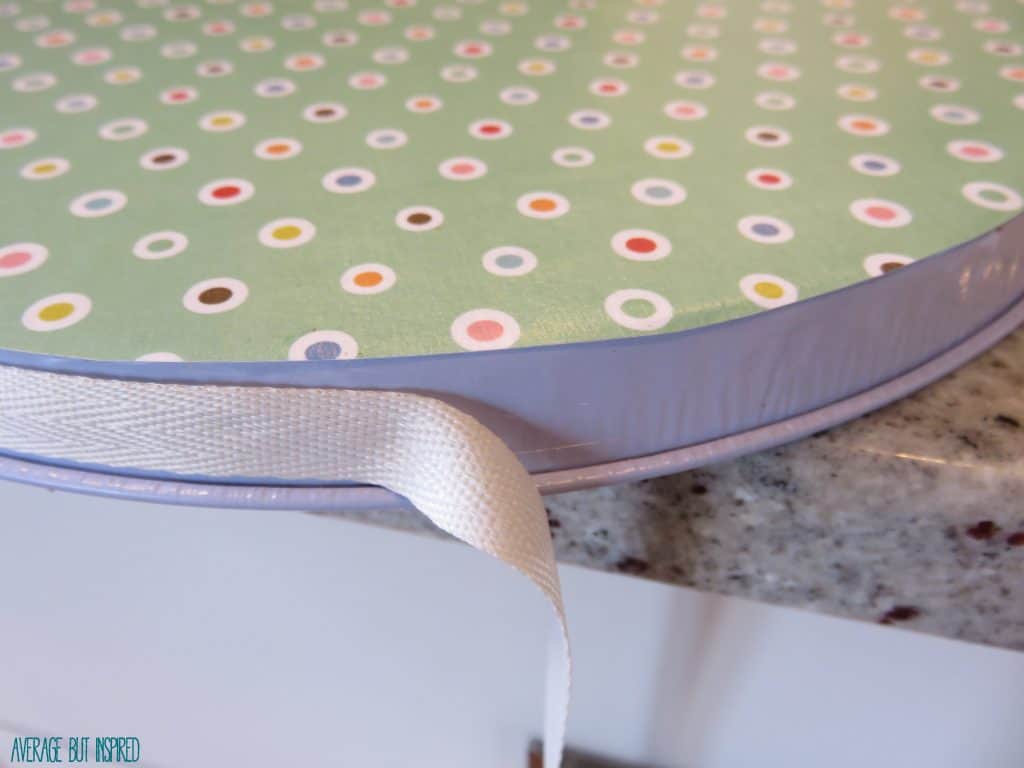 Then I painted some clothespins with acrylic paint and hot glued tiny magnets to the back of each one.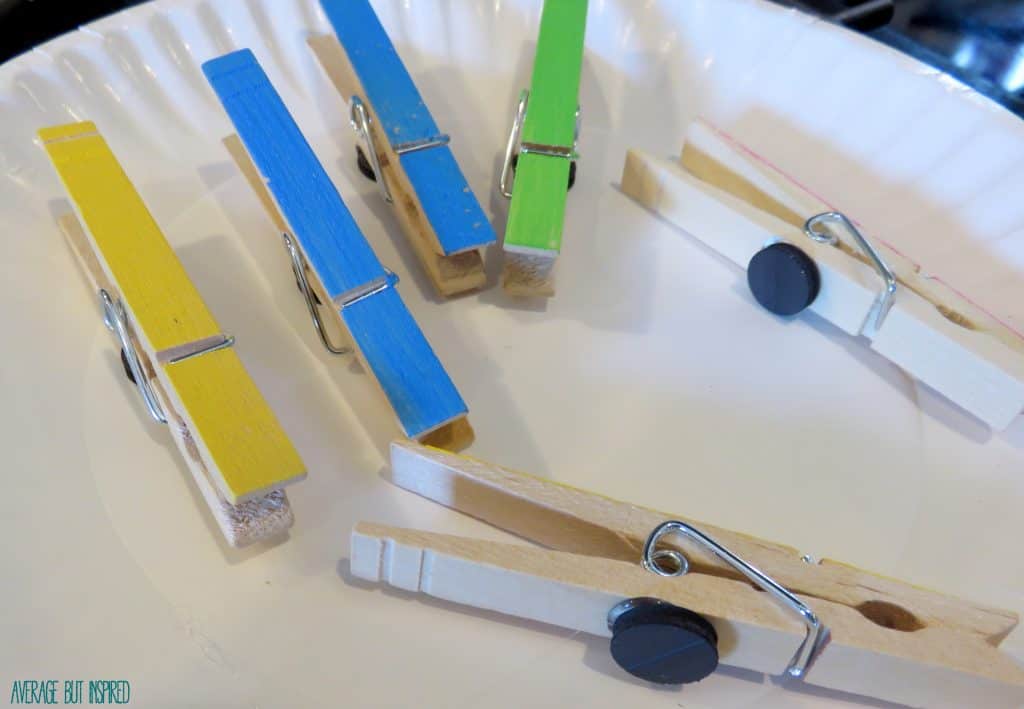 Super duper easy!  And you guys, for real, this has been a total game changer in the world of proper snack sealing and storage.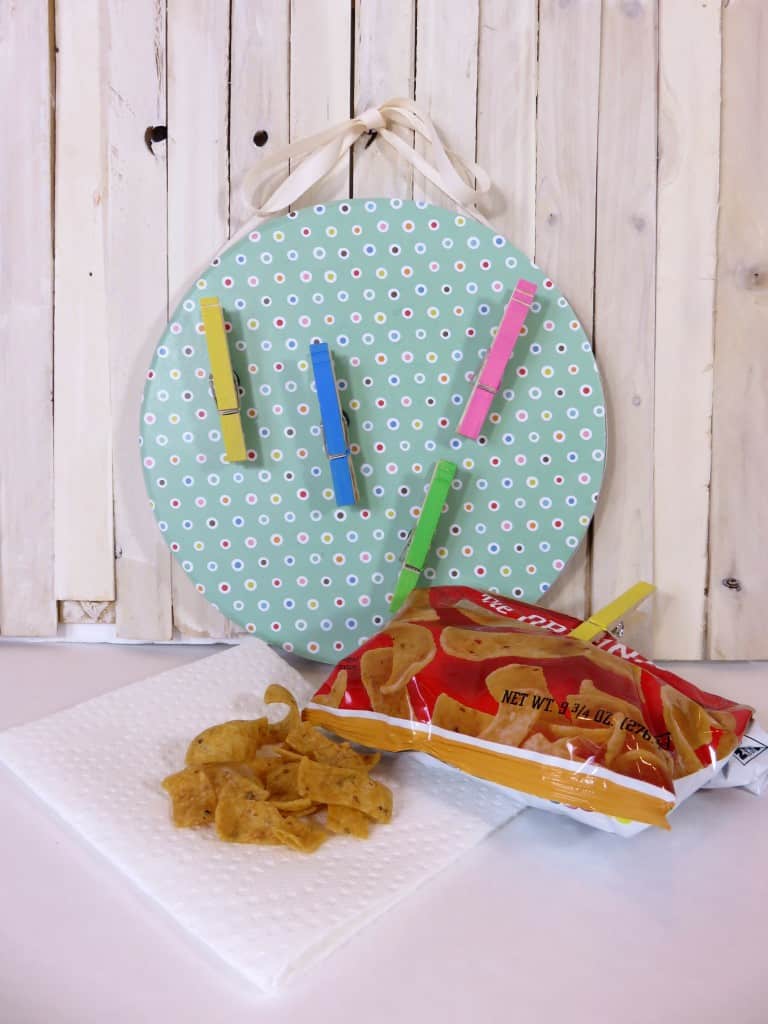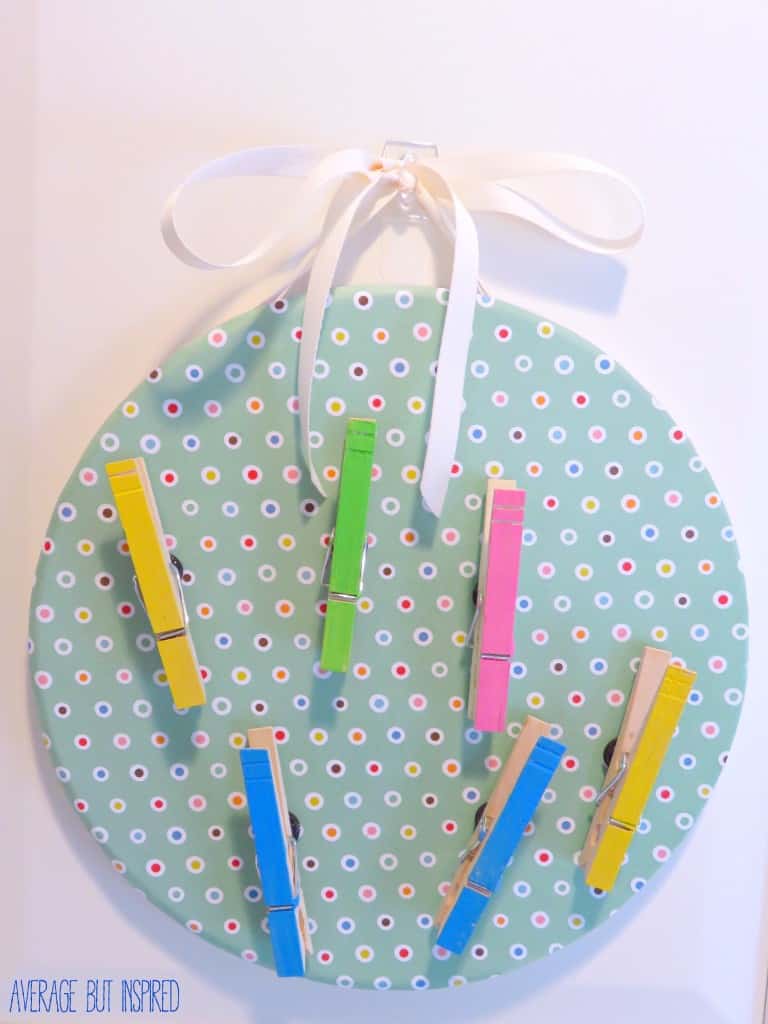 Well now that you've checked out my dollar store magnetic chip clip holder, please pay a visit to my friends and see their amazing dollar store creations!  I know they would love for you to stop by!



– Bre
To see where I may be sharing this project, please click here.