Almost four years ago I publicly proclaimed my love of Dollar Tree craft supplies when I wrote a post on 10 Craft Supplies You Should Buy at Dollar Tree.  I had no idea how popular that post would be; it is the number one visited post on my blog of all time!
Since that time, Dollar Tree has stepped up their craft supply game even more, and I realized it is time to update that post.  In most stores they've added an entire section called "Crafter's Square," and it's filled with amazing buys on craft supplies!
So, here I am, adding to the list of craft supplies you should buy at Dollar Tree, and filling you in on ten more craft supplies you should definitely buy there!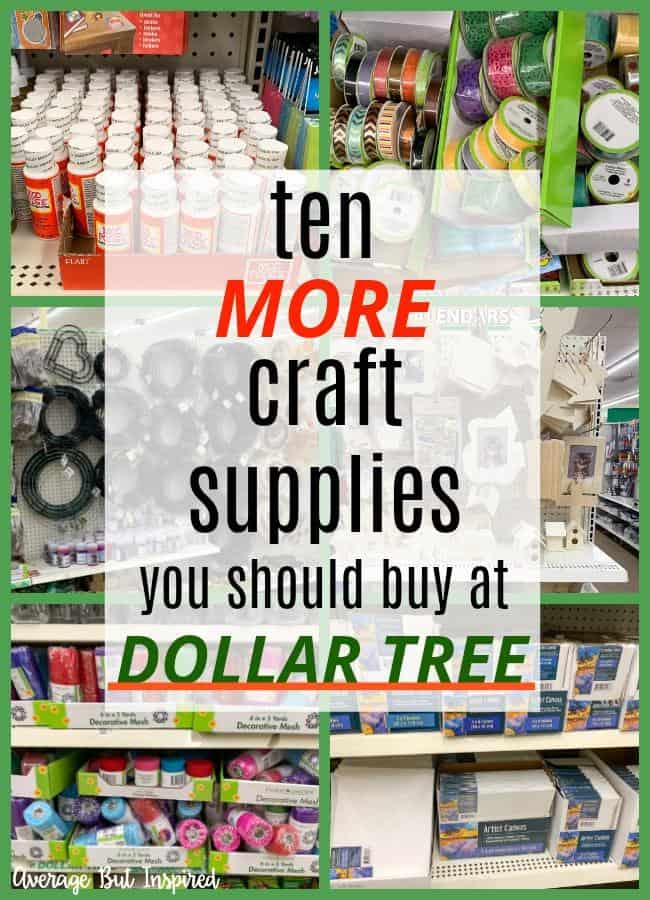 This post contains affiliate links.  To read my full disclosure policy, please click here.
If you haven't read the first post about my favorite dollar store craft supplies, make sure to check it out after you read this post!
Don't forget that all of these items cost just $1.25!  If you're not a regular Dollar Tree shopper, you might not know that unlike other dollar stores, everything in the store is actually $1.25!
1.  Dollar Tree Wreath Forms
If you've ever made your own wreath, then you know that wreath forms are surprisingly expensive when you buy them at the craft store.
Dollar Tree sells both wire wreath forms and natural wreath forms in various sizes.  And, at the holidays, you can find them in different shapes!  For example, this fall they have a 3D pumpkin wire wreath form, and for Christmas they have a candy cane shape wreath form!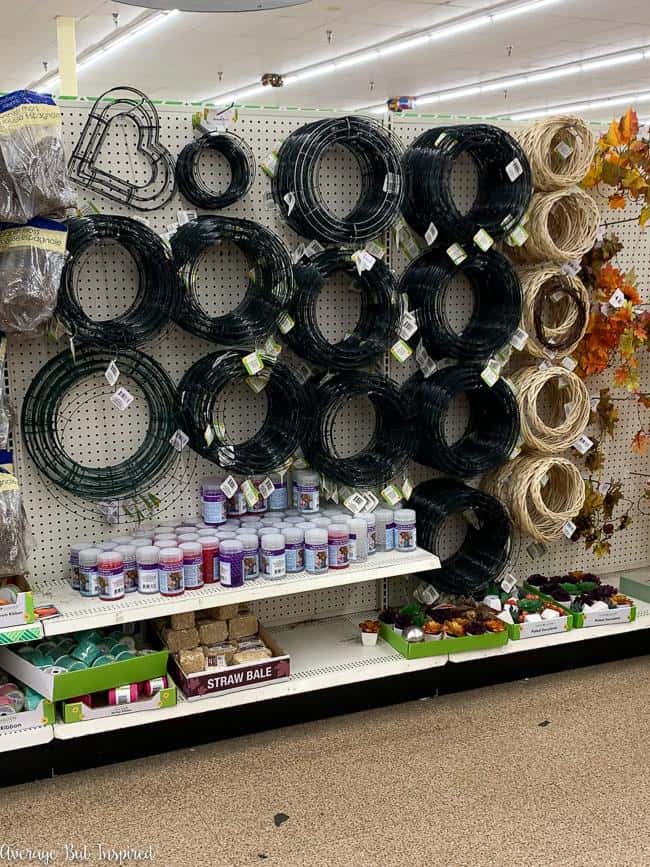 I have made so many projects using Dollar Tree wreath forms, like this Modern Metal Wreath (using the Dollar Tree heart wire wreath form), a Hanging Ribbon Chandelier (using the 4″ grapevine wreath from Dollar Tree), and countless seasonal wreaths (like this Fourth of July Tinsel Wreath).
I've saved so much money using their wreath forms instead of buying them at the craft store!
2.  Dollar Tree Deco Mesh Ribbon
Since we just talked about wreaths, I think this second craft supply makes sense – deco mesh ribbon!  If you haven't used it before, deco mesh is a super flexible woven material that feels like a cross between fabric and plastic.  It can be really pricey at the craft store, but lucky for us, Dollar Tree carries it, too!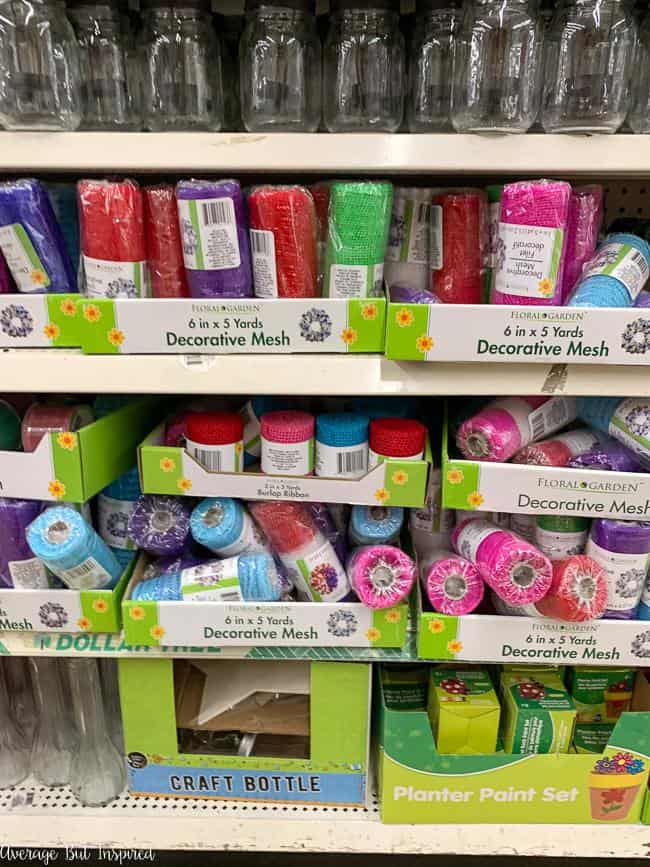 They typically have decorative mesh in the colors shown in that picture, and then for holidays and seasons they have different colors, too!
I used deco mesh to make an adorable Easter bunny wreath, and I also love to use it to dress up wrapped packages or gift bags.
3.  Mod Podge Decoupage Medium
I could hardly believe it when I saw that Dollar Tree carries Mod Podge – my favorite decoupage glue on the planet!  It comes in small bottles, but that's great because most of the time you don't need thaaaat much of it when crafting!

Some of my favorite craft projects that use Mod Podge are Dollar Tree decor crafts!  The decorative plates hanging over my kitchen sink and this adorable trinket dish are two that come to mind.  I definitely wouldn't have needed more than one of these small Mod Podge bottles for those crafts.
4.  Dollar Tree Canvas Panels
Canvas panels and stretched canvases are among the newer additions to Dollar Tree's craft aisle, and I couldn't be happier about it!
Although the largest size they seem to carry is 8×10, the canvases are good quality (unless you're a professional artist, in which case I'm sure you make your own canvases anyway!), and are perfect for crafters and kids projects!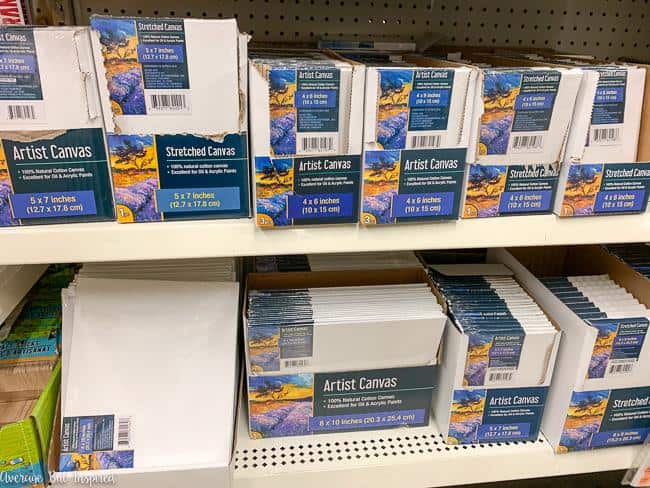 The canvas panels fit into Dollar Tree's wide selection of picture frames, too, which is great for finished projects!  And the stretched canvases can be displayed or hung just as they are (kind of like I did with this Dollar Tree Pumpkins Sign I made recently).
5.  Dollar Tree Hot Glue Sticks
One of my crafting mottos is that you can never have enough hot glue sticks!  Who agrees?  🙂
Dollar Tree now carries regular hot glue sticks AND glitter hot glue sticks!  How awesome is that?  Now these aren't hot glue sticks meant for industrial strength hot glue guns (like my Ryobi cordless that I use for big jobs!), but for those regular strength glue guns that most crafters use.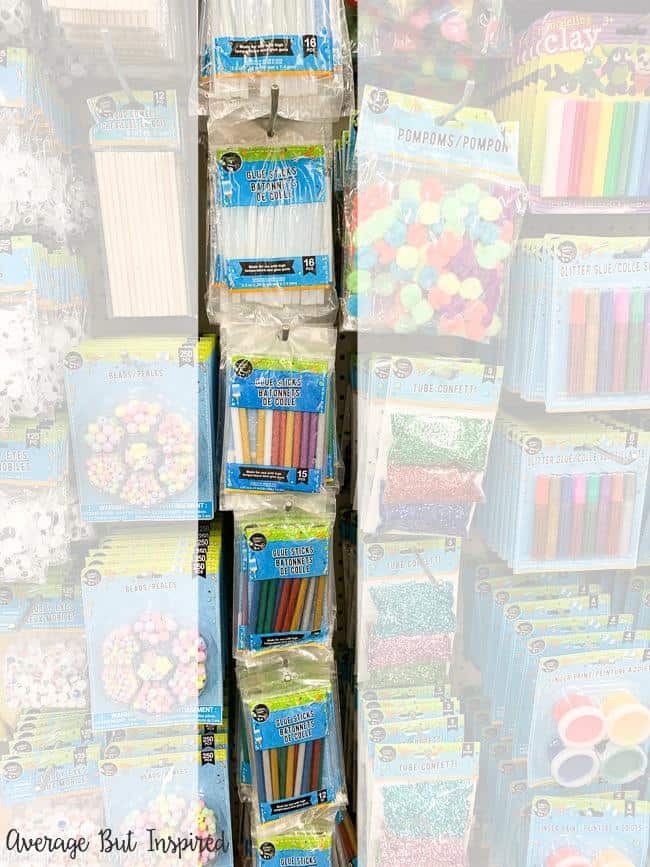 I hot glue just about everything, so I am always replenishing my hot glue stick stash.  I haven't tried the glitter hot glue sticks yet, but I think they look so fun!
This simple Glitter Word Art project from The Crafting Chicks looks like something you could easily do with the Dollar Tree glitter hot glue!  (Don't forget to pick up one of the artist's canvases while you're there, too!)
6. Dollar Tree Craft Wire or Floral Wire
Have you ever purchased wire at the craft store?  It is SO expensive!  Like jaw dropping expensive!
Dollar Tree sells floral wire that you can cut with scissors and use for so many different types of projects: wiring florals to wreath forms, making jewelry, adding embellishments, and more!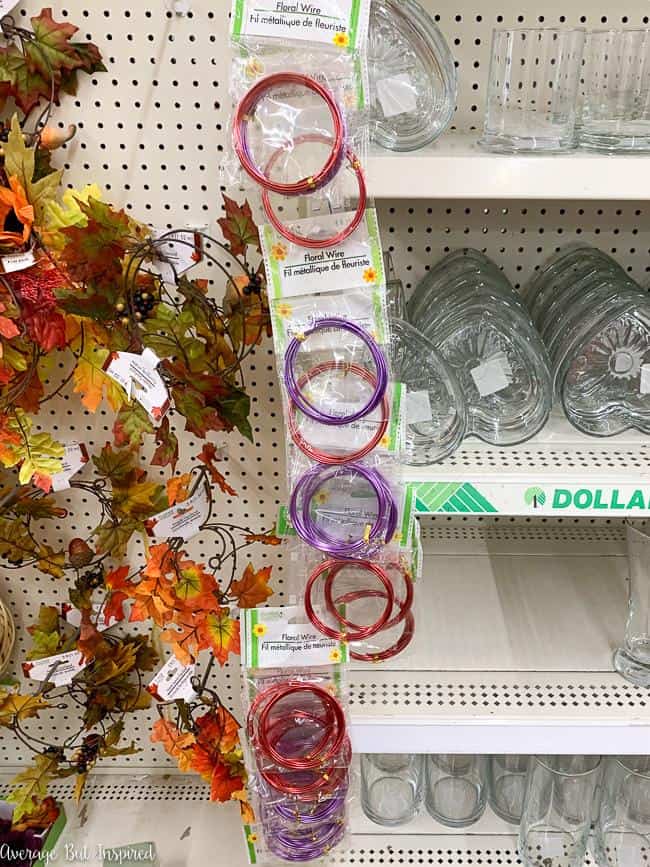 I've seen it in many colors, but this Dollar Tree where I took the picture only had it in purple and red.  I used some of the red floral wire to make a cute hanger for a Valentine decoration I made.
7.  Dollar Tree Craft Wood Shapes and Accessories
Craft wood at Dollar Tree is pretty much brand new – and from what I've been seeing in some Facebook Groups I'm in, the selection is only going to get larger!
It used to be that Dollar Tree carried a few wood cutouts around the holidays (like the wood heart I used in that Valentine Door Hanger video posted above), but they are BLOWING IT OUT of the water now with an extremely expanded selection of craft wood items!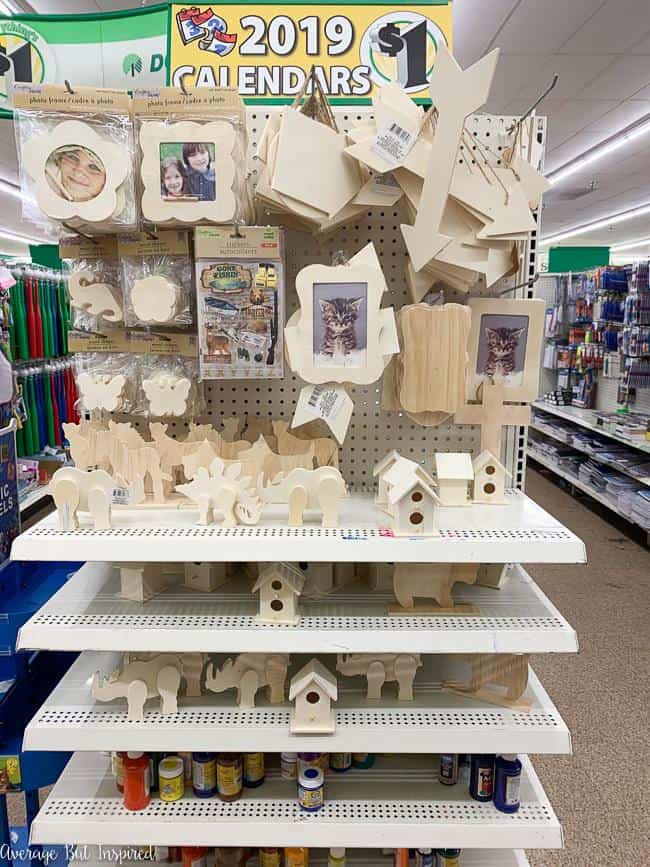 Unfinished wood picture frames, wood bird houses, unfinished wood plaques, 3D wood figurines and more!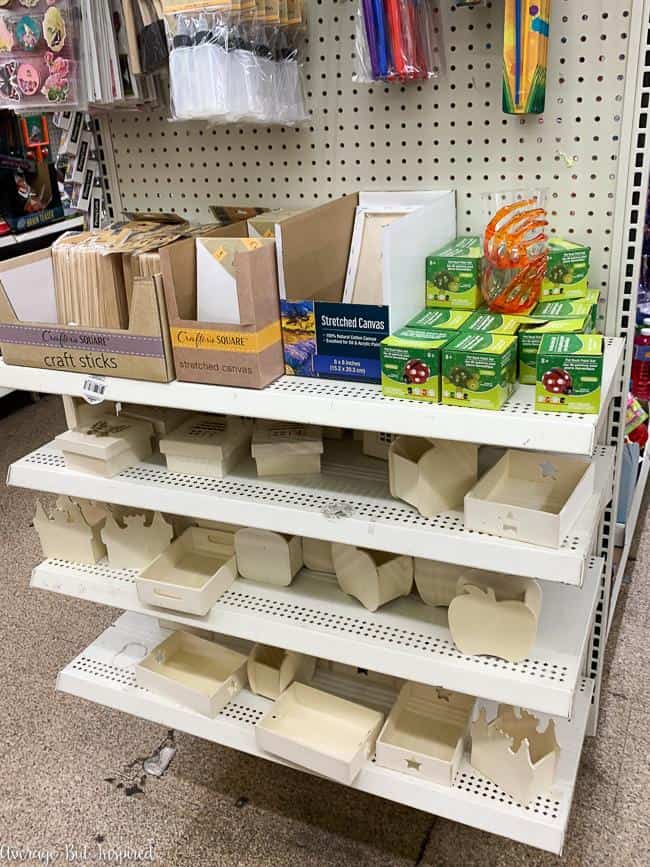 I even saw unfinished wood letters and numbers.  These are crafting staples that cost so much more at the craft store!
Stock up on these items and you can make projects like these cute labeled picture frames or this little "hello" welcome sign!
8.  Dollar Tree Craft Storage Containers
Anyone who crafts knows that you need a lot of storage for all of your STUFF!  Am I right or am I right?
I absolutely love Dollar Tree's craft storage items because they keep my stash in check and actually let me have some semblance of organization.  Their plastic locker-style bins are perfect for holding larger items, their pencil cups are my go-to for paint brushes, pens, and scissors, and their tiny plastic containers with lids are what I store gems and beads in.
So while storage containers may not technically be craft supplies, they are essential to the crafting process, so I'm including them!
9.  Decorative Ribbon
My favorite time to buy decorative ribbon at Dollar Tree is for holidays.  The ribbon they have out for celebrations is usually cuter than the ribbon they have during the regular times of year.
Now, being perfectly honest, I haven't found their wide wired ribbon to be the best in quality (sometimes the wired edge separates from the ribbon itself), but I do like their 5/8″ wide grosgrain ribbon and some of their other decorative ribbons (like their burlap and lace ribbon).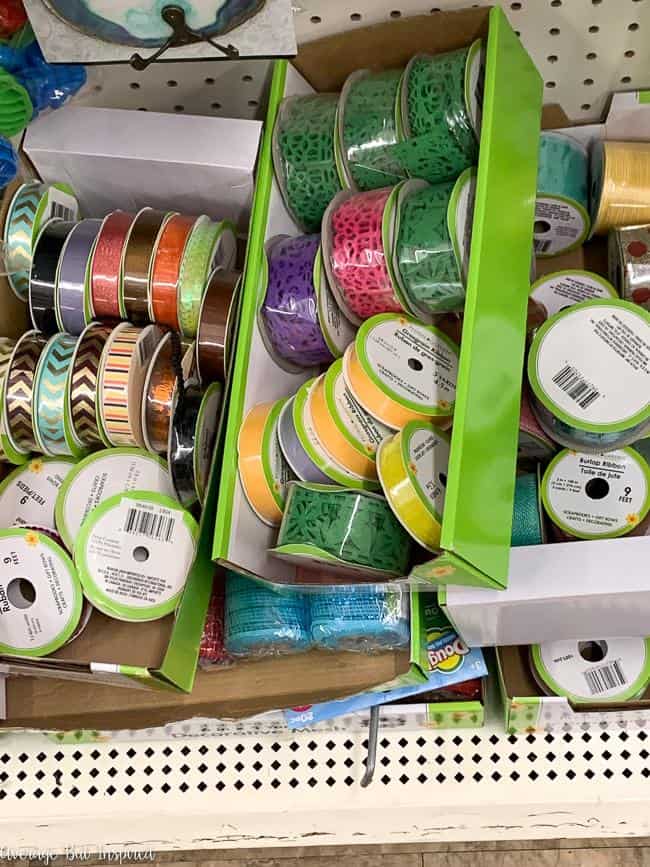 Ribbon like this typically runs $3.99 and up at the craft store, so these spools are a bargain at $1.25 a piece!
10.  Dollar Tree Faux Flowers and Faux Greenery
OK, Dollar Tree's faux flowers are not always the most realistic, and I do not advocate using them in your home decor in place of real flowers or greenery or in place of realistic-looking faux flowers.  HOWEVER, there are many times that Dollar Tree's flowers look great for decorative craft projects!  Some of the flowers are much more realistic than others!
Take, for example, the faux flowers I used in my Dollar Tree Salt and Pepper Shaker Bud Vases.  Those are very realistic!  Or look at the fake sunflowers on my sunflower wreath, which are also from Dollar Tree.  Those look great, too!
You just have to look at the fake flowers closely and take care to choose ones that don't look totally unrealistic.  When you do that, you get a great-looking end result and you save a lot of money because craft store fake flowers can cost a lot!
***
So there you have it – ten more must-buy Dollar Tree craft supplies.  You're going to be saving so much money on your projects – I can feel it!  And, if you haven't done so already, don't forget to read the companion post to this post on Ten Craft Supplies You Should Buy at Dollar Tree!
-Bre