Last weekend my brother got married!  It was a totally gorgeous wedding out in Laramie, Wyoming, and we had the best time celebrating with family and friends.  The best part of it all is that I now have another sister, whom I adore.  I was a bridesmaid, and my kids were the flower girl and ring bearer.
And because I like to make a lot of extra work for myself and create unnecessary stress, the day before we left town, I decided to make my kids some totally cute t-shirts to help notify everyone they were part of the wedding party.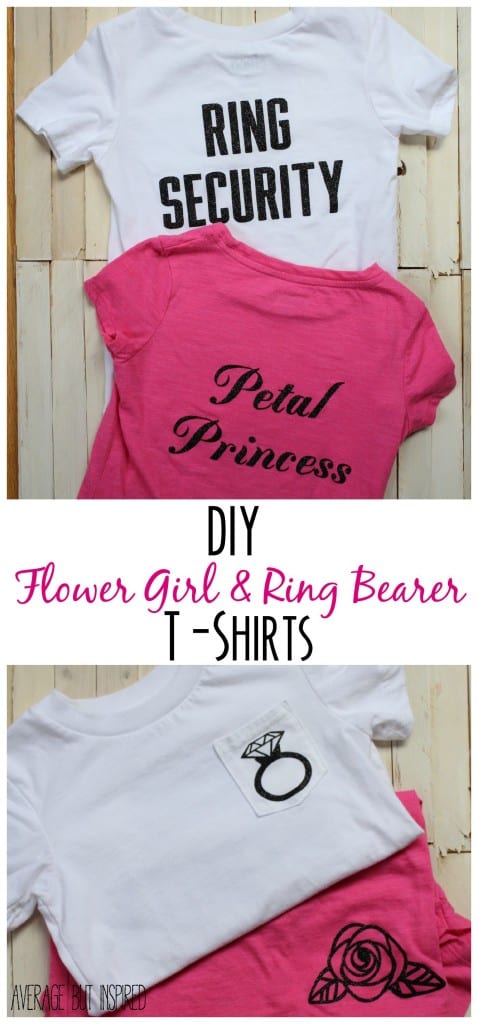 SUPPLIES NEEDED FOR DIY FLOWER GIRL AND RING BEARER T-SHIRTS
You really don't need much to make these adorable shirts.  I used an electronic cutting machine to make mine, but that isn't necessary to get a similar look.  Please note that some of these links are affiliate links, which means that I earn a small commission if you purchase through them.  To read my full disclosure policy, please click here.
HOW TO MAKE DIY FLOWER GIRL AND RING BEARER T-SHIRTS
As I mentioned above, I used an electronic cutting machine to make my kids' t-shirts.  If you don't have one, then just purchase iron-on letters and follow the instructions on the package to make your own shirts.  If you do have a cutting machine, here's how I made these!
First, I designed the text I wanted in my cutting machine's software, making sure to mirror image the text.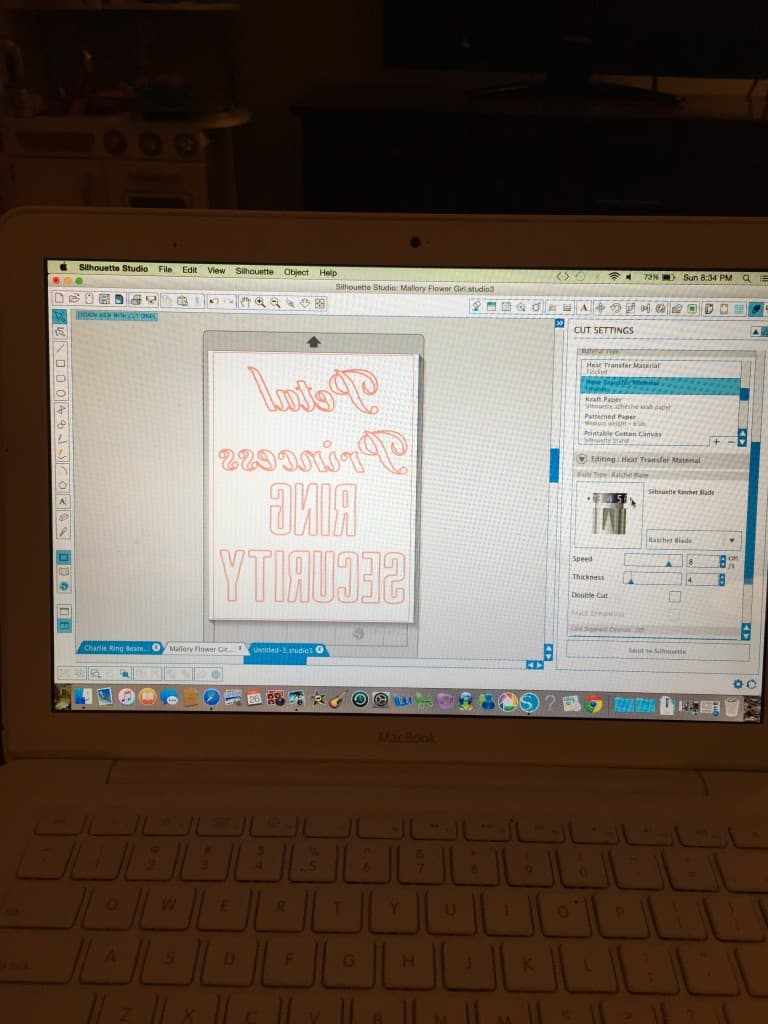 Next, I cut my iron-on vinyl. With a brand new blade, it cut perfectly on the settings suggested by the cutting machine software.  (Notice the My Little Pony convention happening right next to my machine?) I also downloaded a ring design and a flower design and cut those.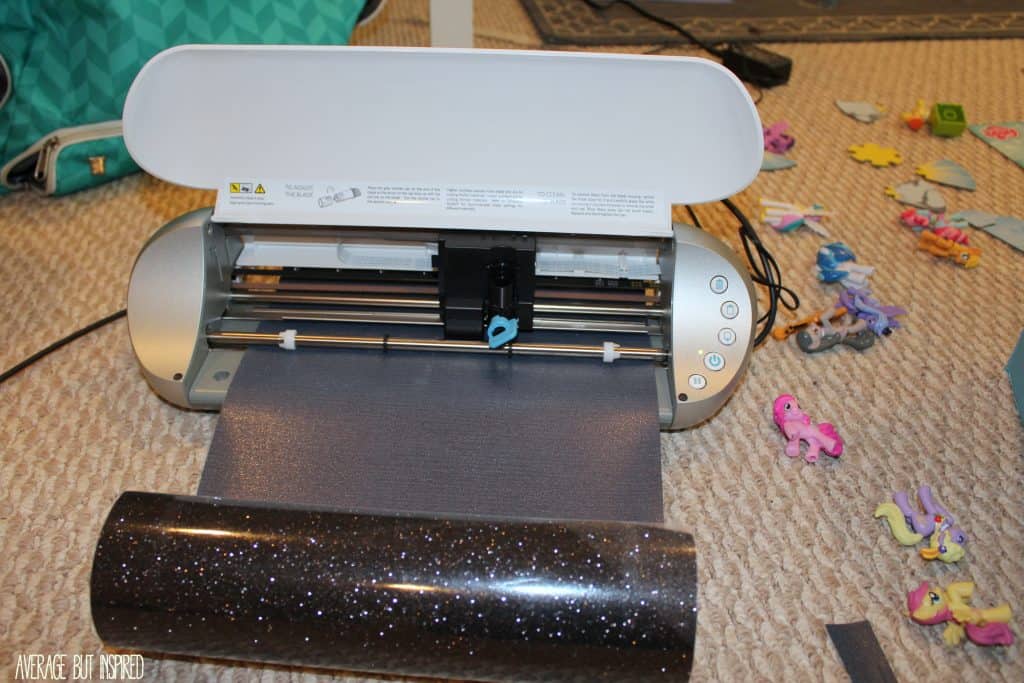 Then I ironed my text on to the back of my shirts, and the ring and flower designs on the fronts of their respective shirts. I followed the directions on my iron-on vinyl's packaging, and the designs adhered perfectly! (Even after washing they're still holding on strong!)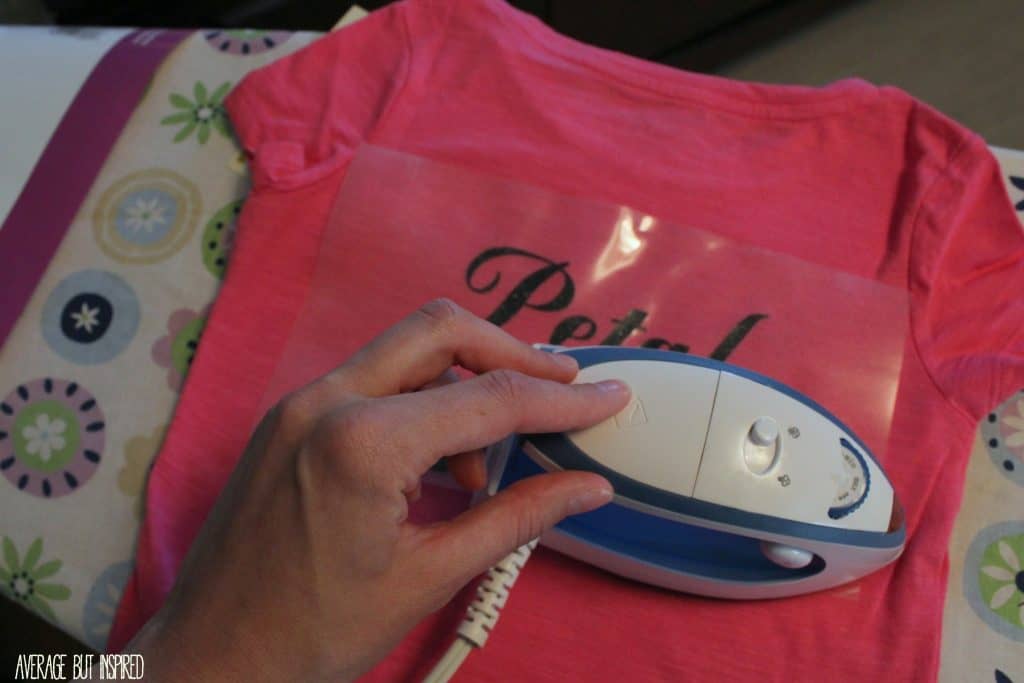 They turned out SO cute! I definitely high-fived myself on a job well done.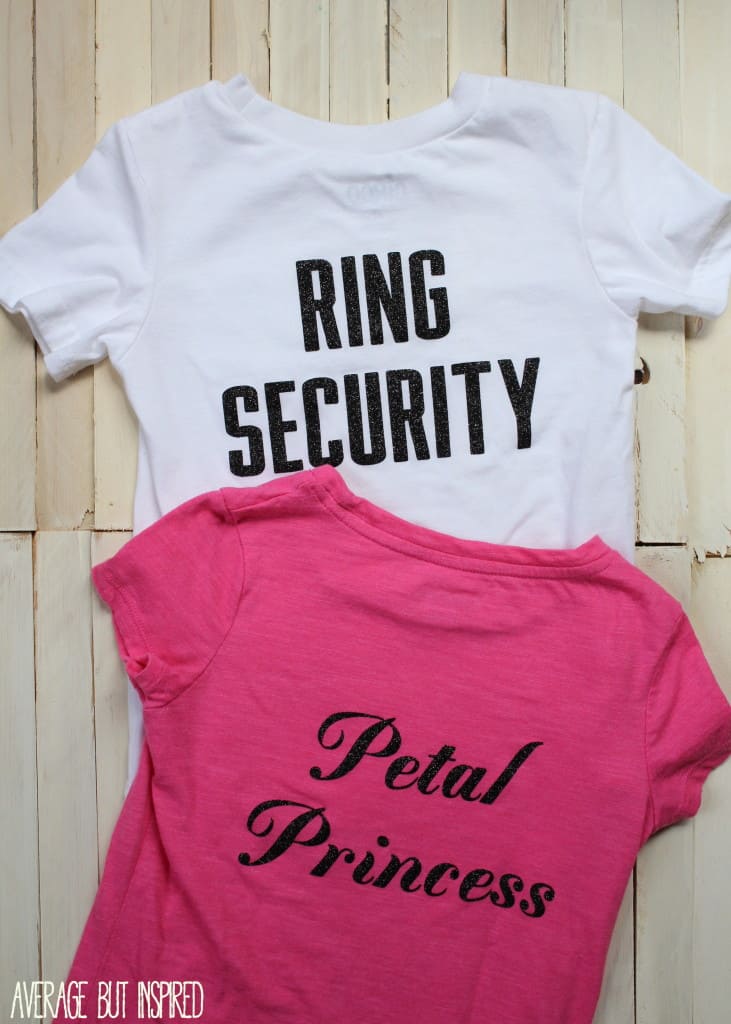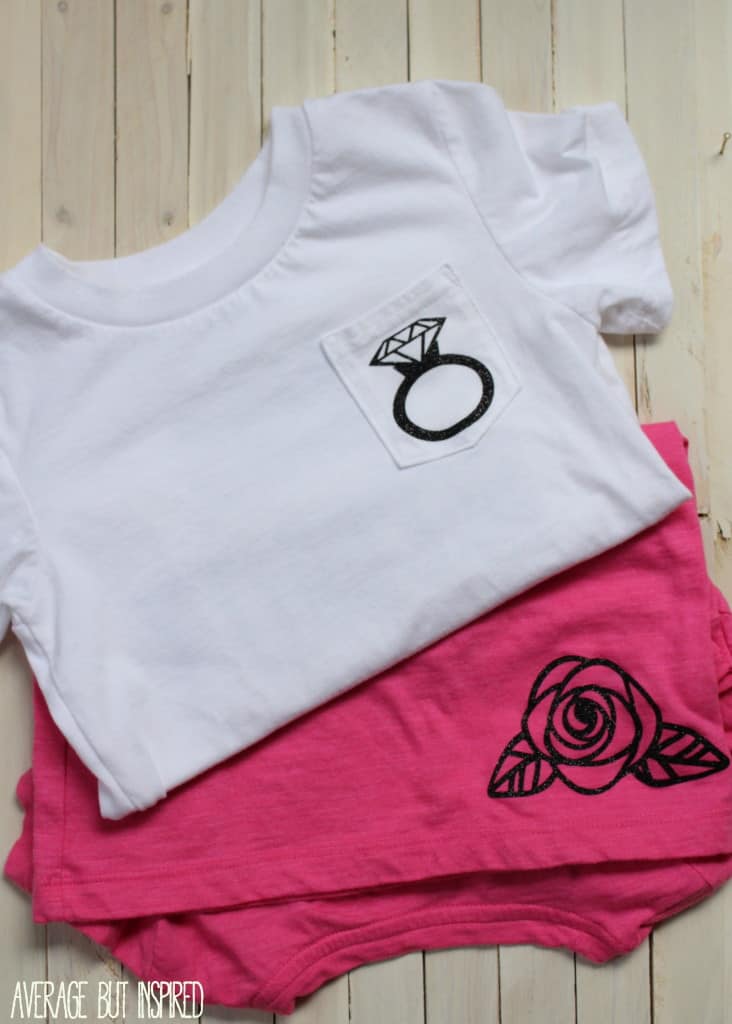 I let my kids wear these the day of the rehearsal dinner while we did some rock climbing in Medicine Bow National Forest. They loved them because they got so much attention from everyone they saw that day.  As if they needed any more attention.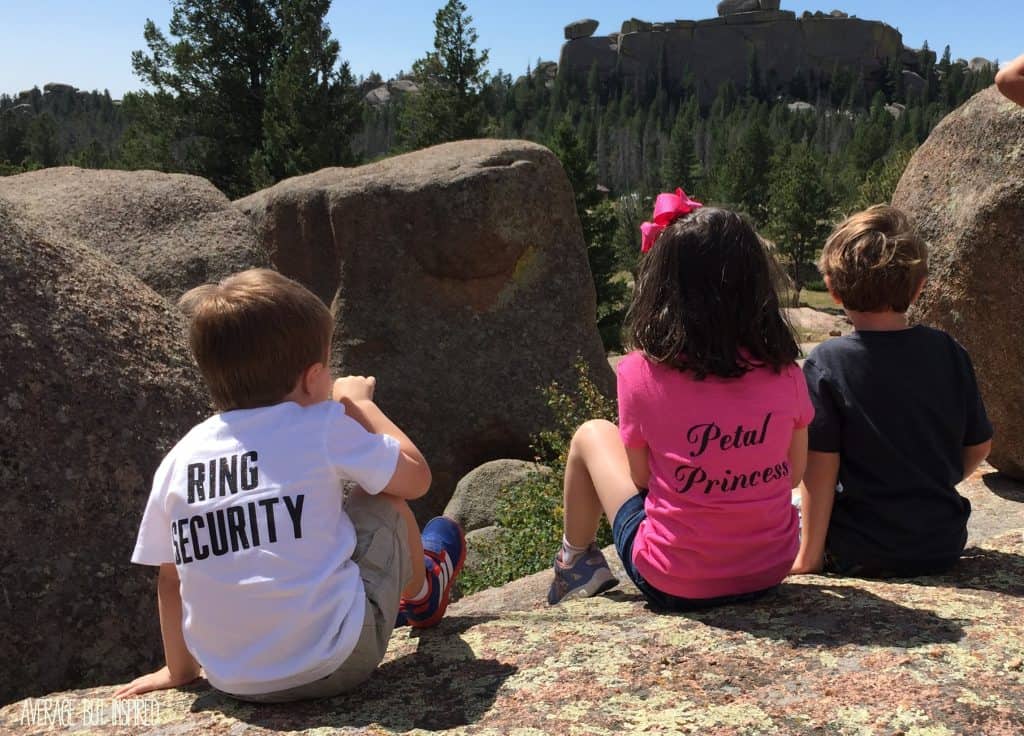 And just for fun, here's a picture of the kids and me after the wedding ceremony. It's the only one I have so far from the day! Of course somebody had to be making a strange face.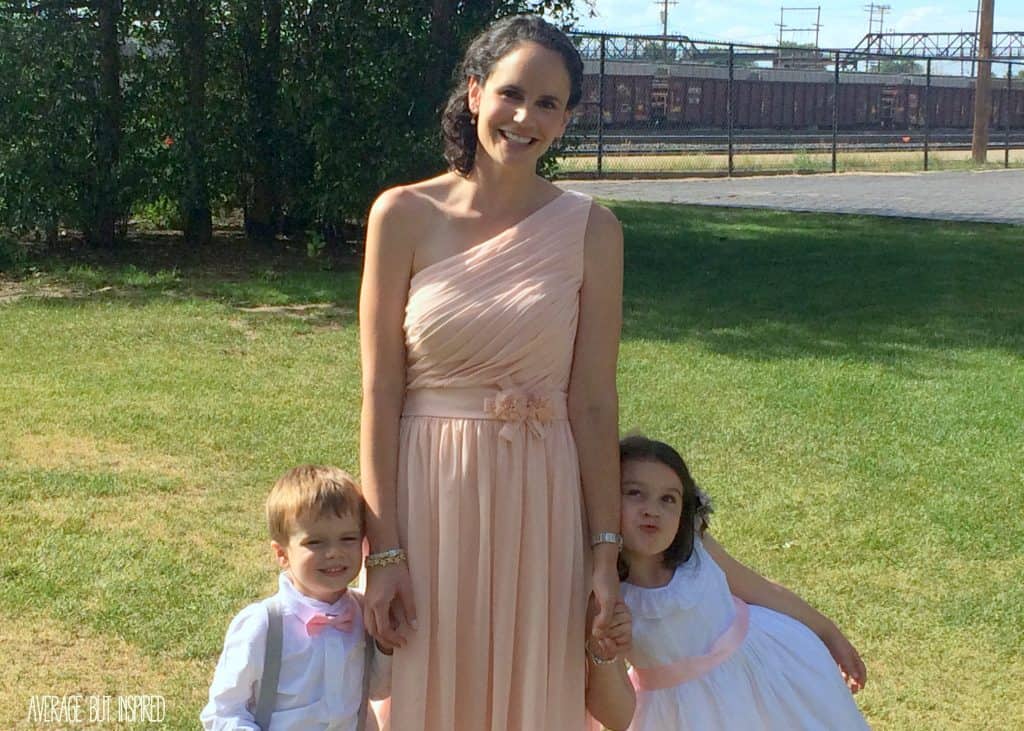 Of course t-shirts like these are totally unnecessary, but they were a fun part of the celebration, and for that reason I'm glad I decided to make them at the last minute!
– Bre
Linking here.