Friends!
I am so excited to launch a new series on the blog today – Dollar Store-ganization. What is Dollar Store-ganization, you ask? Well, it's lots of AWESOME ideas for organizing your home and life with products from the dollar store! The goal of this series is to show that there's no need to break the bank to get your life in order, and each month I will give you a new organization idea to try!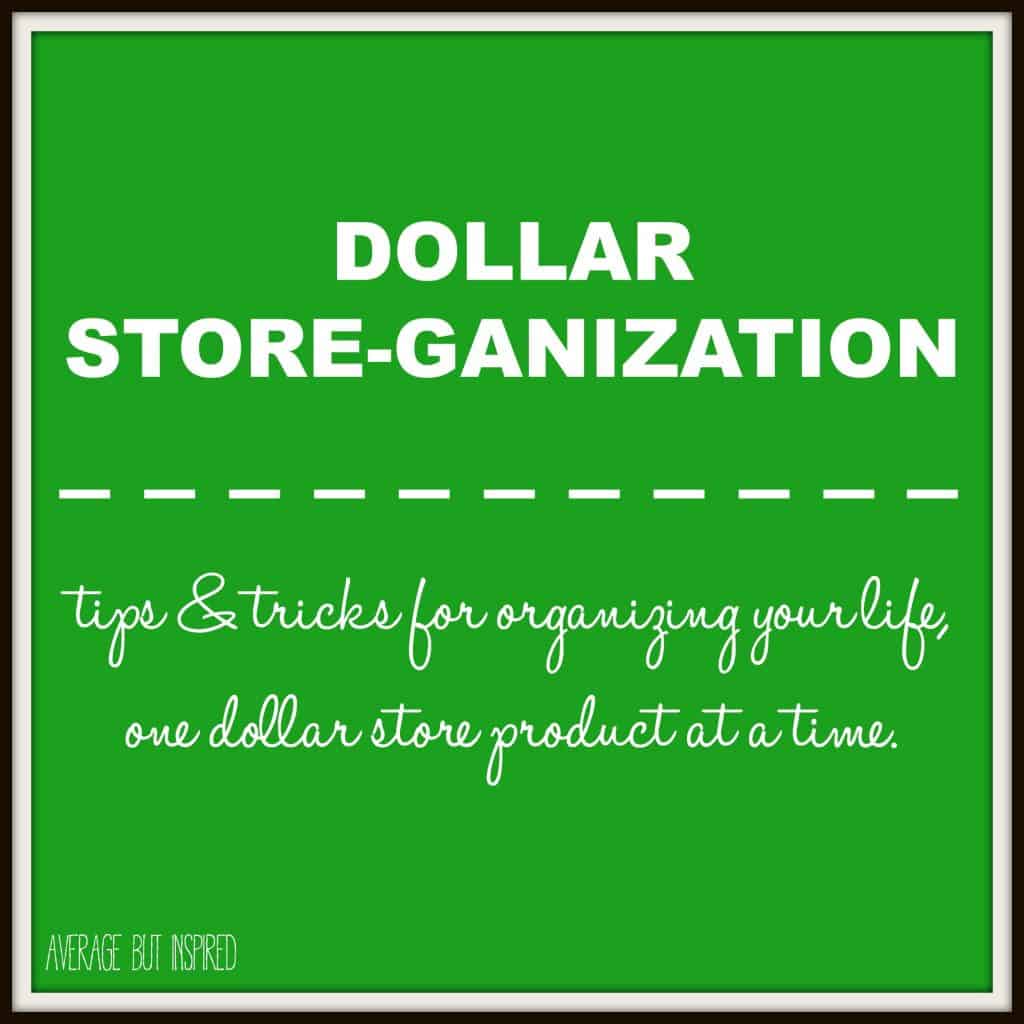 Although this is the first post in this series, I am no stranger to using items from the dollar store to get organized. You may remember my Splatter Screen Earring Organizer, Chip Clip Organizer, and Spinning Art Supply Caddy – ALL created with dollar store items!
This month I'm tackling something a little bigger, though – the hall closet!  From the outside, this closet looked fine, but the inside was a WHOLE different story.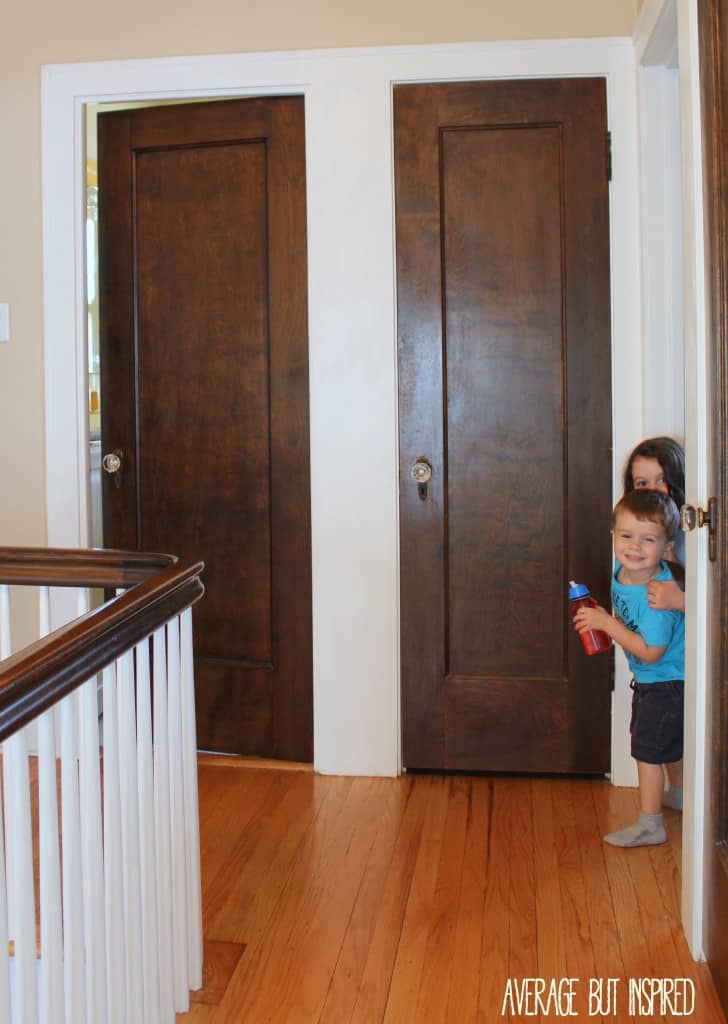 Honestly, I can't even believe I'm showing you this MESS that I let exist behind closed doors.  It is totally embarrassing!  Stuff was everywhere and things would fall out ALL.THE.TIME.  I also could hardly ever find what I was looking for.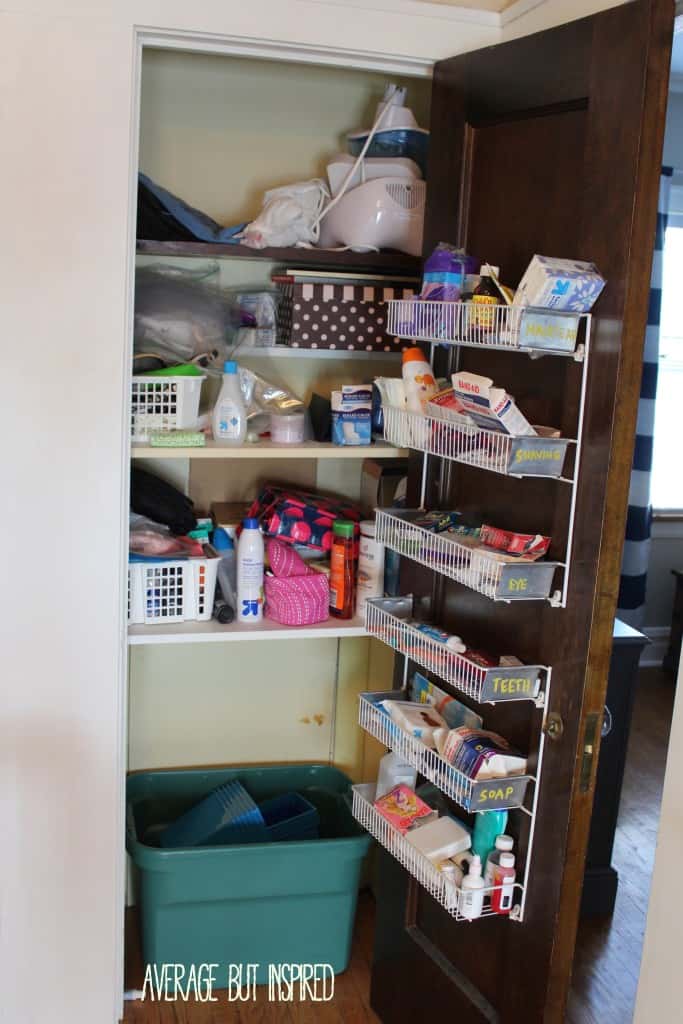 But with some inexpensive supplies from Dollar Tree and about two hours of my time, I got this closet in tip-top shape now!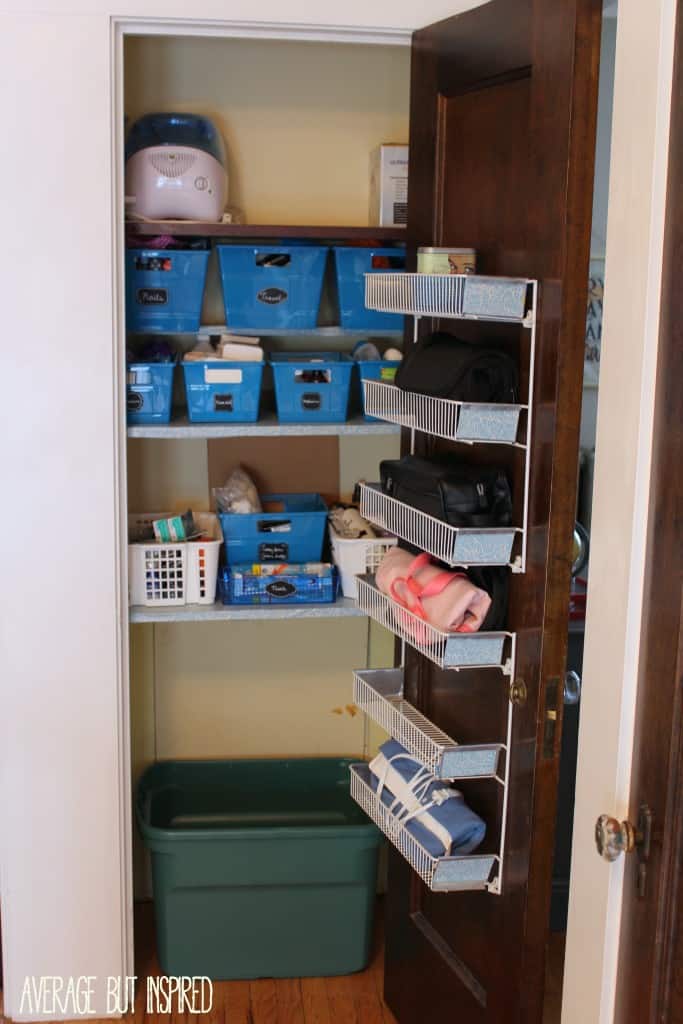 First up, I took EVERYTHING out of the closet and tossed the things that were expired, no longer needed, or just plain disgusting.
Next, I lined the shelves with a pretty patterned Contact paper. Dollar Tree has lots of varieties of Contact paper – it's a good place to pick it up because it's much cheaper there than at Target or the hardware store!  (TIP: Lining shelves is a great idea because the shelves can easily be wiped clean, and it's an opportunity to bring in some pattern and color to the space.)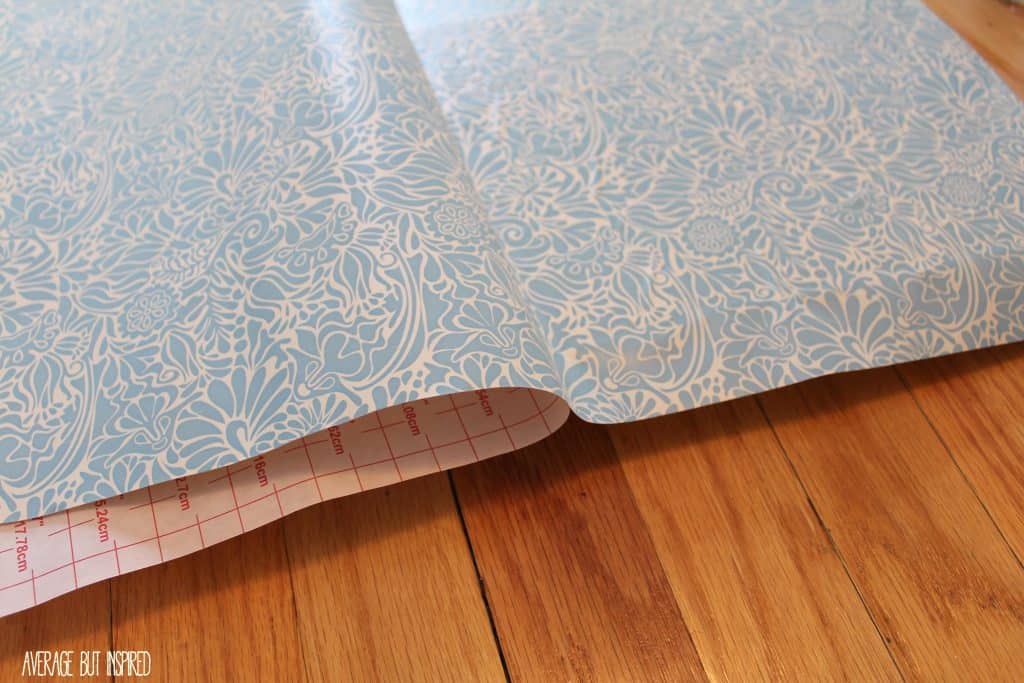 I also covered up the previous owners' handwritten labels on the door organizer.  Why they had an ENTIRE shelf devoted to "EYES" is beyond me.  In any event, their labels weren't working for me and I had to get rid of them.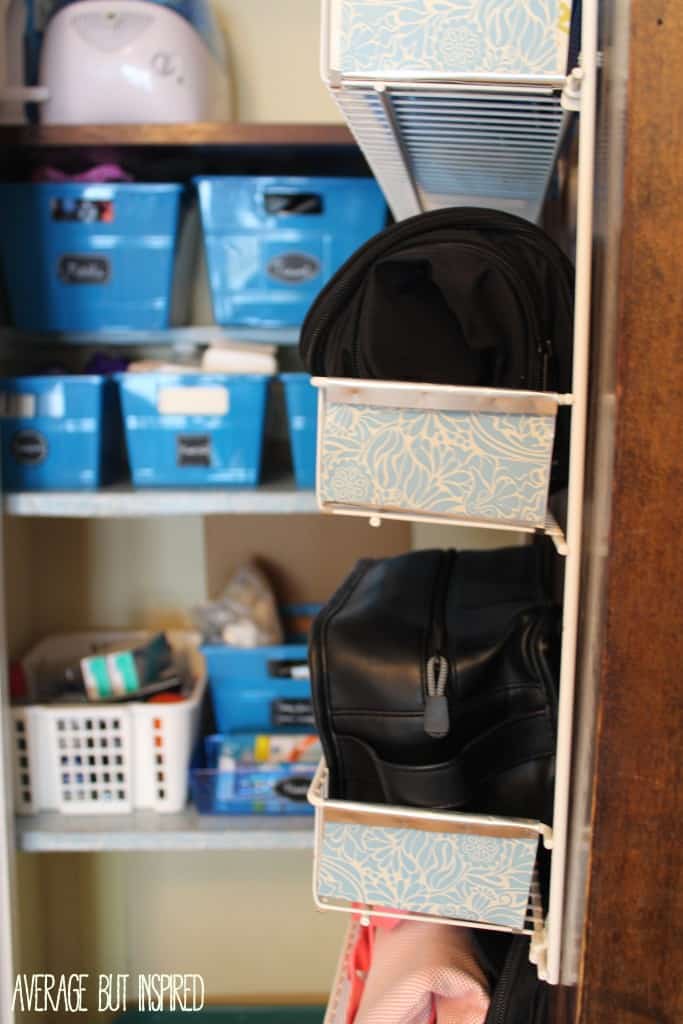 After I put the shelves back in, I figured out where the bins I purchased at Dollar Tree would fit. (TIP: measure your shelves and space prior to purchasing storage containers so you get exactly the right size and amount!) (TIP: plastic bins work perfectly in a hall closet because if anything spills or leaks, the bins can be easily cleaned up!)  For this closet, I used three sizes: deep bins, shallow bins, and small drawer baskets.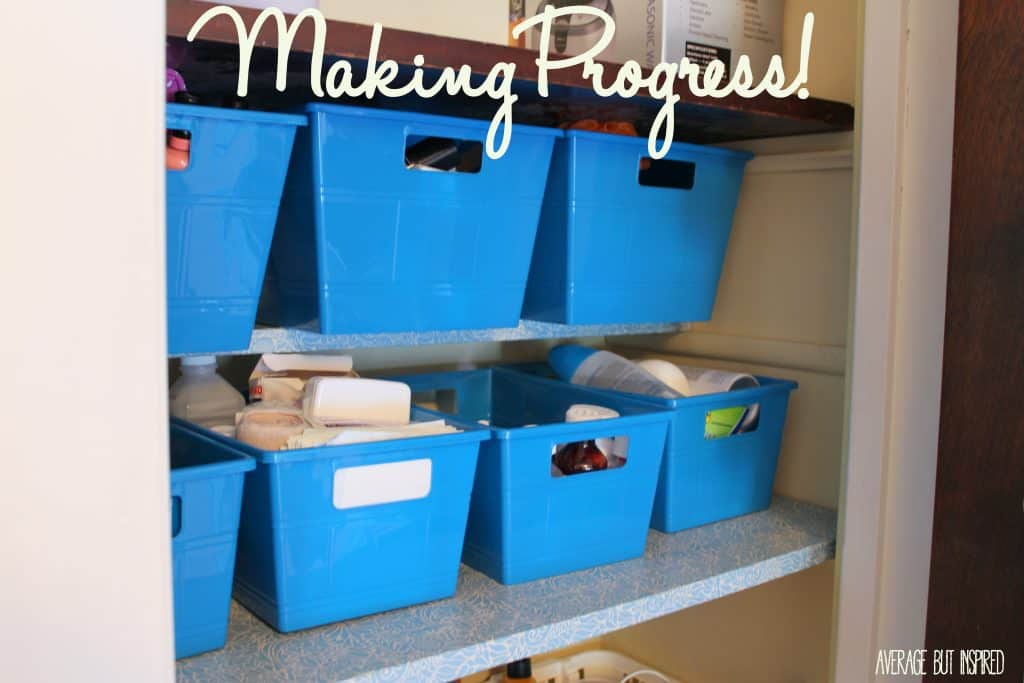 I sorted the closet's contents accordingly and gave various categories their own baskets. To make it easier to find things and keep the closet organized, I added chalkboard labels that I got on clearance for .59 at Michaels.  (The dollar store has labels, too.  They probably aren't as cute though.  Cute wins.)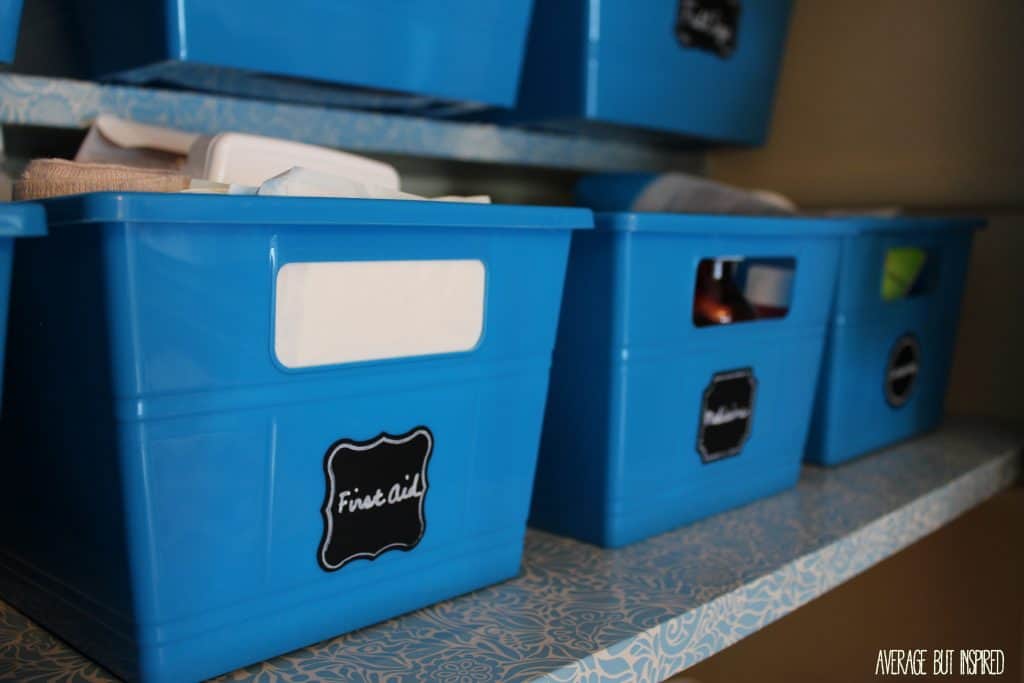 Giving everything its own, dedicated space has made it SO much easier to keep things in order!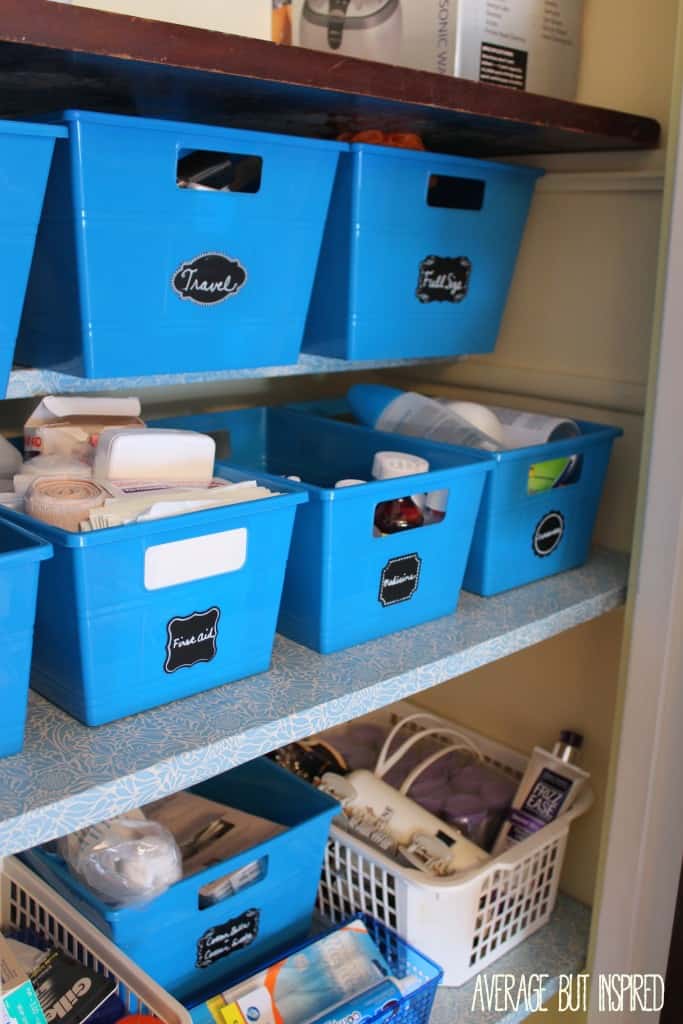 And I'm happy to report that three weeks later, everything is still in perfect order. Buckling down and organizing this closet has made it SO much easier to find things, and has protected my head from falling objects on more than one occasion. These plastic bins are a lifesaver, and at $1 a piece – a bargain.
I truly hope this post inspires you to get some plastic bins at the dollar store and get a messy space in order!  I also hope that you'll come back next month to see the next Dollar Store-ganization idea that I have for you!
– Bre