One thing I love is giving a plain object new life and personality with a simple change. Stenciling the seats of my beat up kitchen chairs is precisely that kind of project. With just a little patience and some paint, I was able to take my kitchen chairs from boring to beautiful in no time.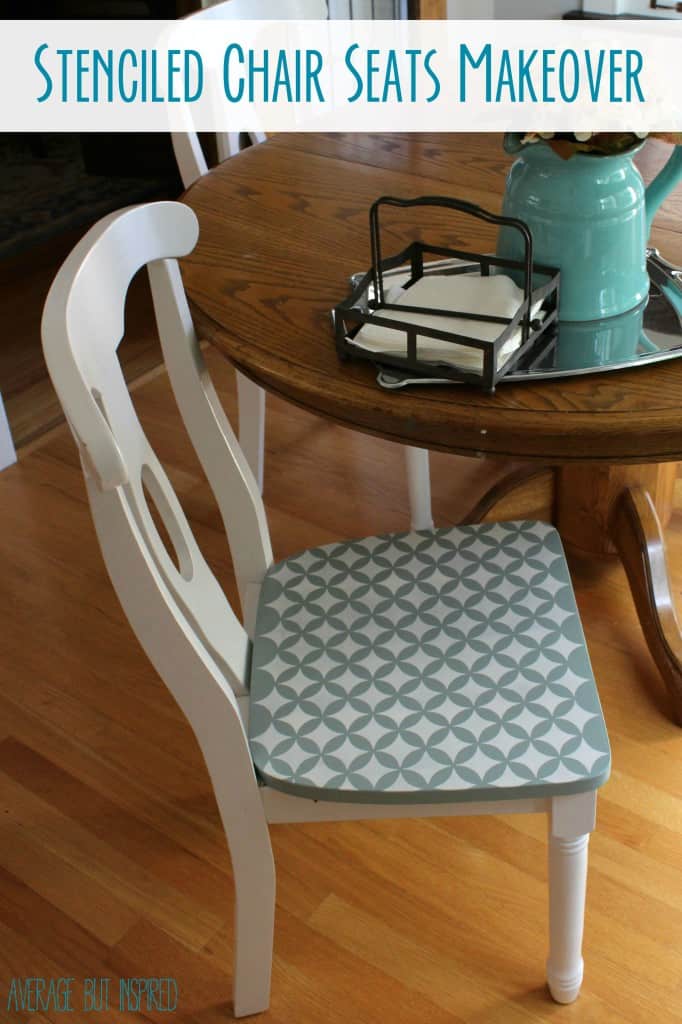 Thank you to Cutting Edge Stencils for providing the stencil used in this project. The project and opinions are all my own.
This all came about because after six years of use, my white kitchen chairs were getting a little beat up.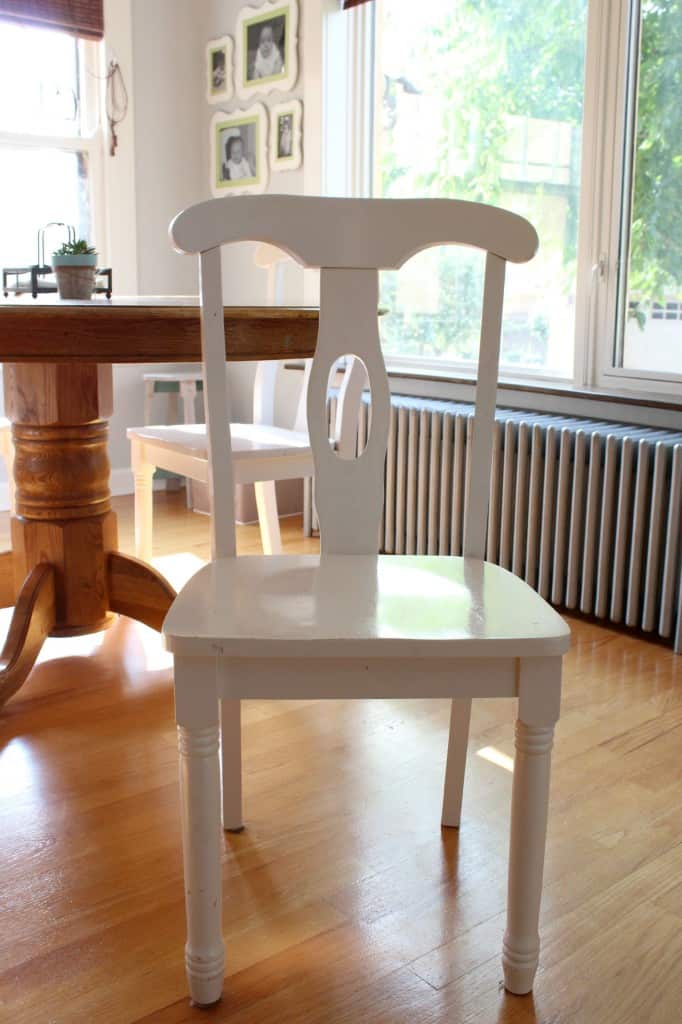 The seats were in especially poor condition due to my kids' use of a portable booster seat on top of them. It scratched the finish off of almost every seat.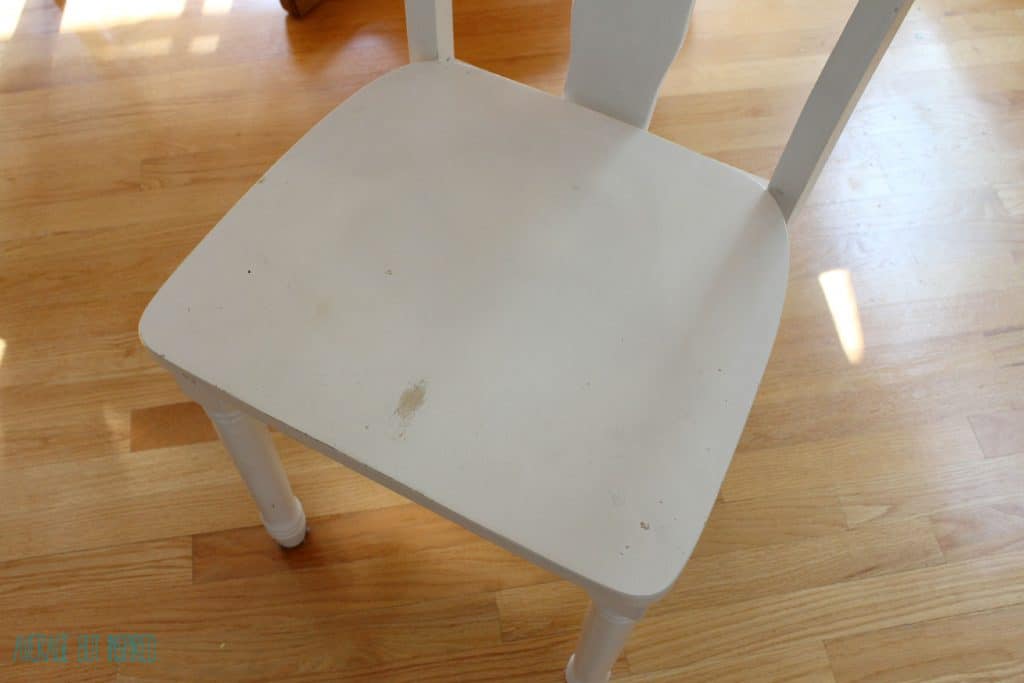 I always toyed with the idea of repainting the chairs, but I pretty much despise spray paint because I never do it correctly (duh). Since the easy way out wasn't an option, I was just going to leave them. Brush painting these chairs was too much work for me.
But then I got the opportunity to try out Cutting Edge Stencils' products and a lightbulb went off in my head: stencil the chair seats to fix the problem left by the booster seat and give the chairs a totally cool new look at the same time!
Products I Used for my Stenciled Chair Seats
Links noted with an asterisk are affiliate links. To read my disclosure policy, please click here.
How I Stenciled my Chair Seats
First, I read the directions that came with my stencil and watched a Cutting Edge Stencils' video on how to actually do this. Then I got to work and unscrewed the seats from the chairs, which made them incredibly easy to work with. I lightly sanded them and painted them all over with two coats of Americana Decor Chalky Finish Paint in Vintage.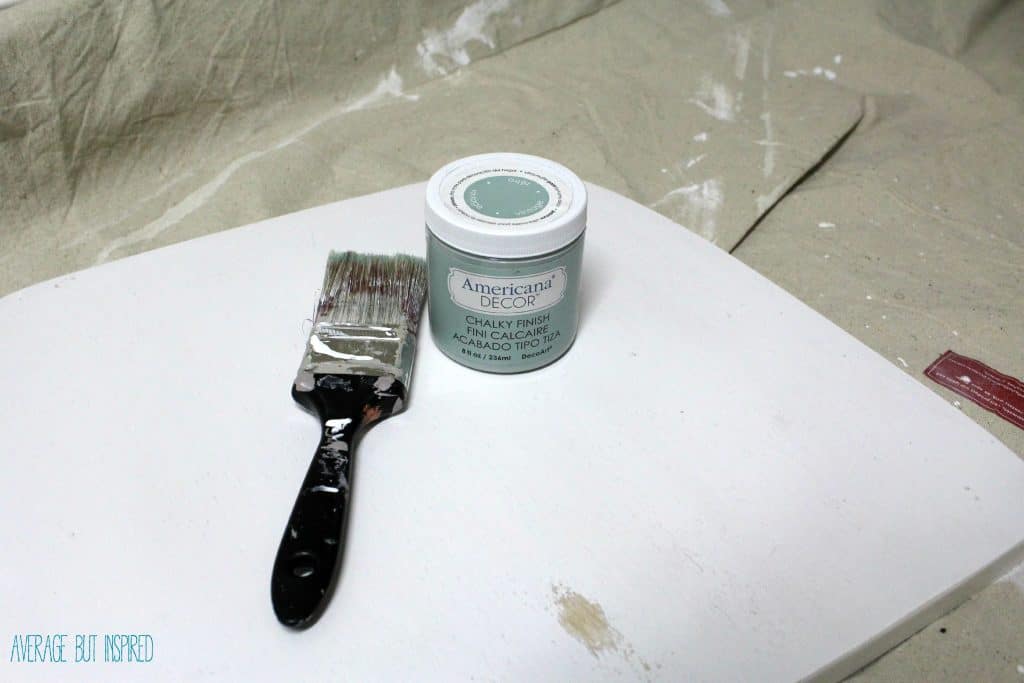 Once the seats dried, I applied a light coat of Elmer's Spray Adhesive Craft Bond to the back of my Nagoya Stencil. I pressed that onto the middle of the chair seat. I put a couple of pieces of painter's tape on the edges of the stencil for extra hold. Probably unnecessary but I like to play it safe.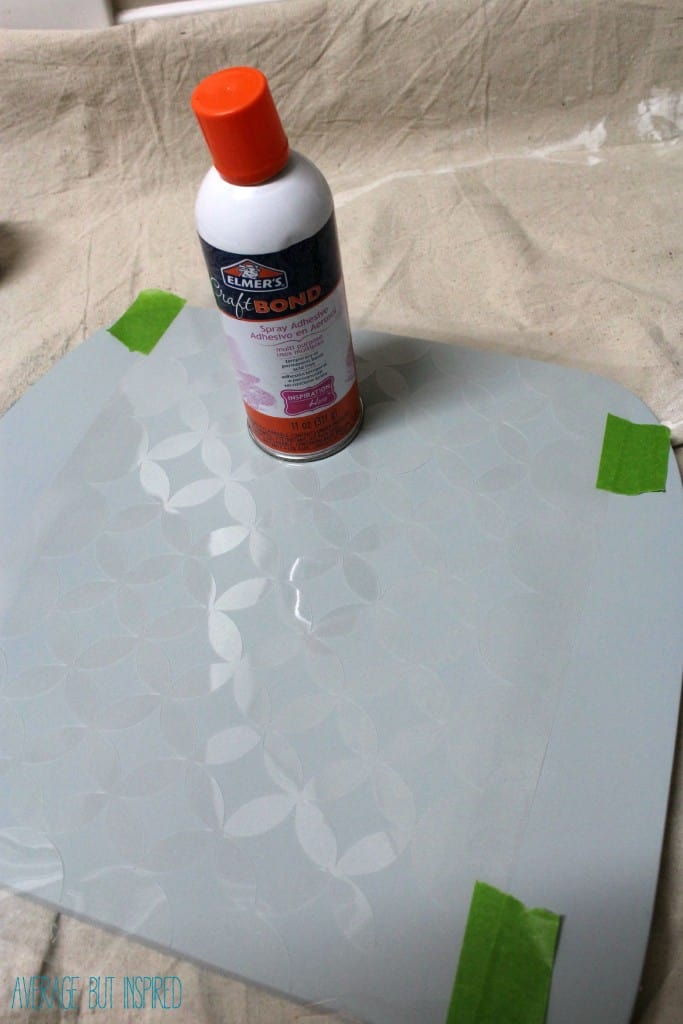 Next, I dipped my roller into the Americana Multi-Surface Paint and made sure it was evenly applied on the roller with no visible wet patches. Then I gently rolled it over the entire stencil. Once the first coat dried, I applied another. TIP: If you're impatient like me, get out your hair dryer and speed up the drying process.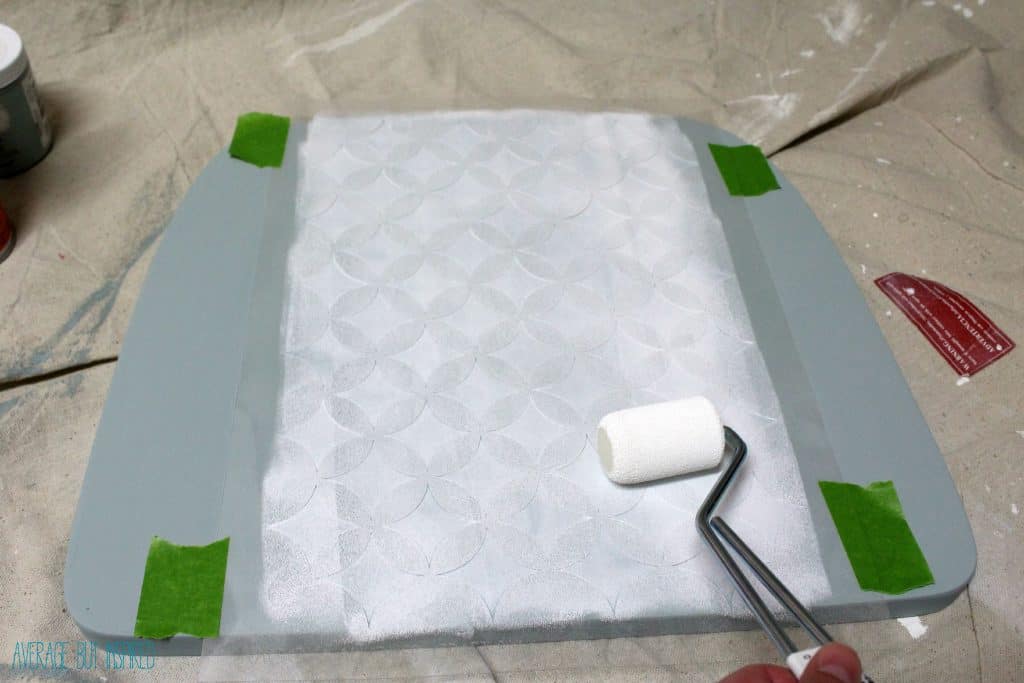 After that paint dried, I gently removed the stencil, matched it up with an already painted edge, and stenciled the right side of the seat. I repeated the process for the left side as well. TIP: I used the Americana Multi-Surface Paint on the first seat and switched to the Ben latex paint for the remaining seats (because I ran out of the Americana paint). I prefer the Americana Multi-Surface Paint SO MUCH MORE. The finish is much better, in my opinion. It was easier to apply, less "goopy" and resulted in much less bleed through. It comes in 2 oz. bottles at the craft store, however, so you probably have to estimate one bottle per seat. I linked to it in the supply list at an 8 oz. size, which should get you four seats.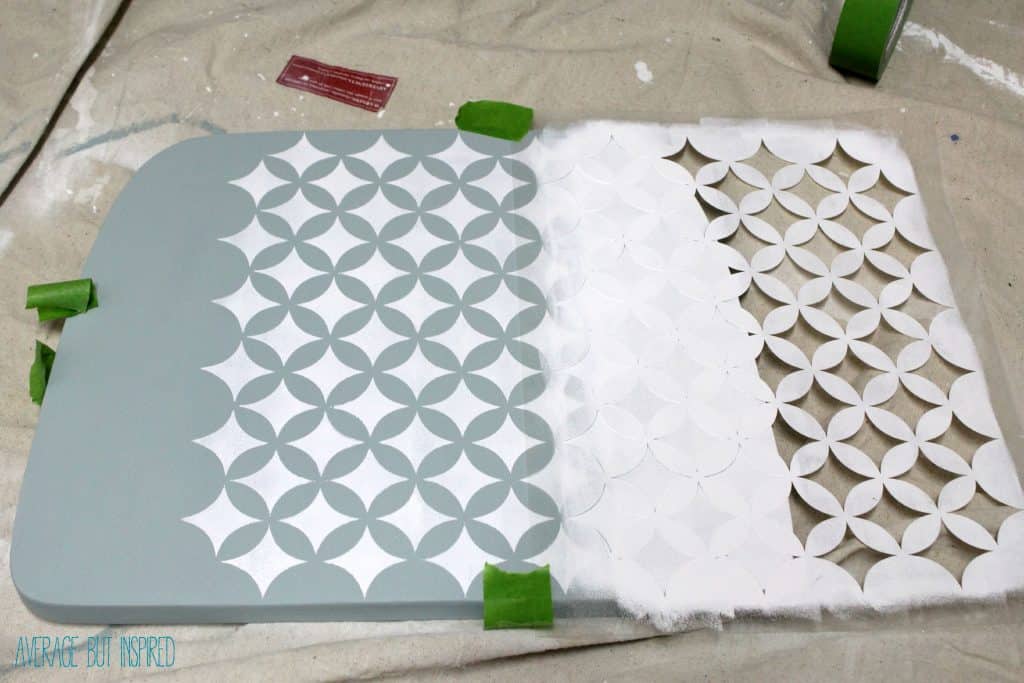 After I finished all of my stenciling and the paint dried, I sealed each of the seats with polyurethane and then reattached them to the chairs (which I Magic Erasered, by the way!).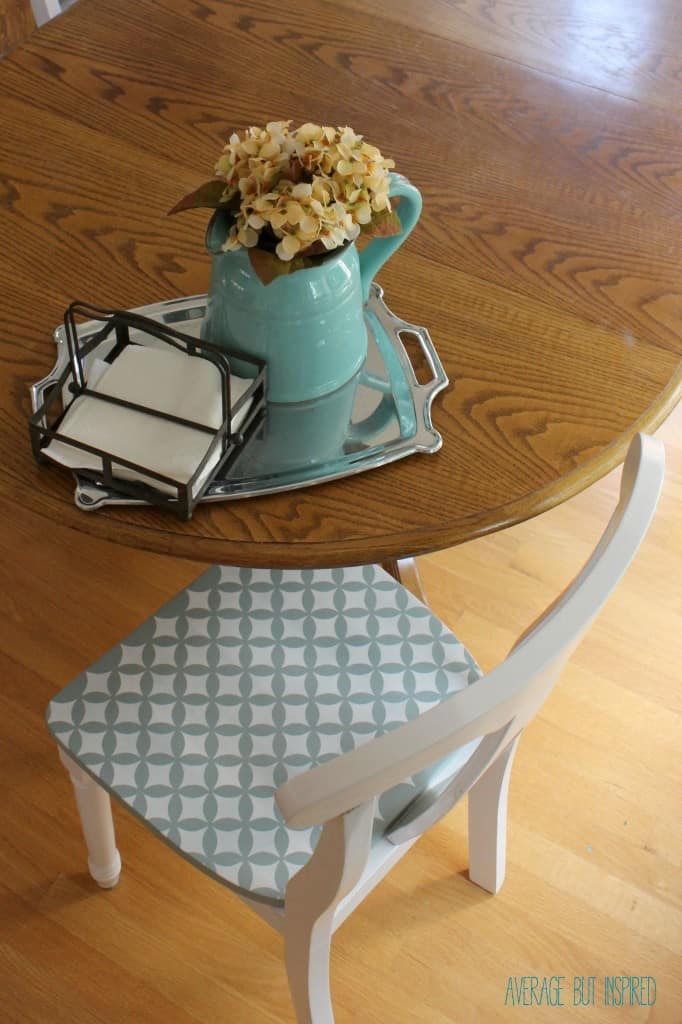 I am in luuuuuurrve.


Now I want to stencil ALL.THE.THINGS. (The chairs look cute with my Pipe Strap Kitchen Art, don't you think?)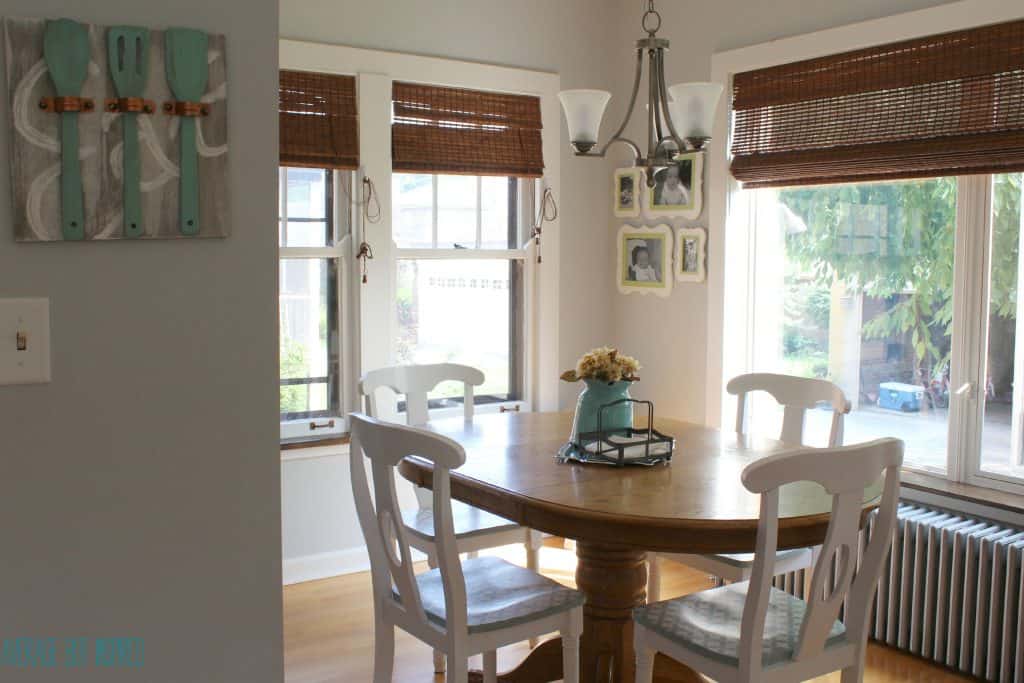 Even my husband likes them, which shocked me. I fully expected him to "veto" this project, but he is actually happy with them!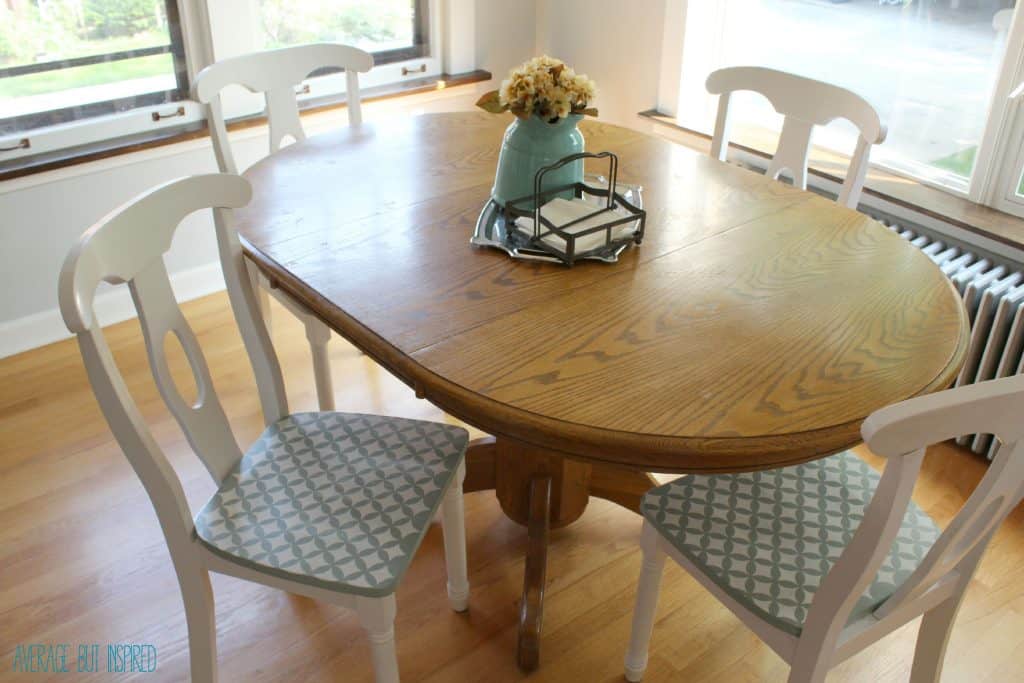 Thanks for reading and good luck!
– Bre