So . . . the gallery wall trend is still going strong and it doesn't seem like it's going to let up anytime soon.  If you haven't jumped on the gallery wall bandwagon yet, you probably should.  I mean, everyone else is doing it, right?
No, but seriously, I love gallery walls.  I think they're an amazing way to showcase a wide variety of things that are meaningful to you and your family, and you can get as creative as you want with them!  Because they require so many pieces, however, they can get pretty pricey to put together!  But lucky for you, I just finished a gallery wall in my basement, and I've got lots of tips on how to save a bunch of cash and make a practically FREE gallery wall!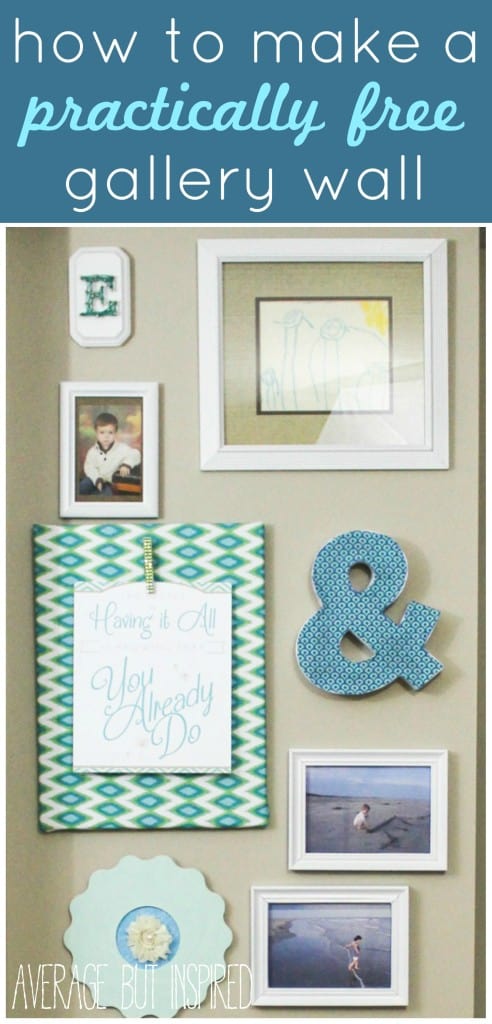 Find Free and/or Inexpensive Picture Frames
Whatever your gallery wall style, you will need lots of picture frames to pull it together.  And as my mother drilled into my head as a young child, "frames are expensive!"  Well, she's right about that, if you're buying brand new frames at a department store.  But if you're smart about it, you can get frames for your gallery wall at a fraction of the price!
Search and/or post on local resale websites:  whether it's Craigslist, a local resale Facebook page, or a garage sale app like Varage Sale, you're bound to find somebody unloading some frames.  I got almost all of the frames in my basement gallery wall for FREE from a woman who was unloading them on a local resale page.  If you're not finding posts from people trying to get rid of frames, make your own post asking if anyone has frames they'd like to give away.
Check out local thrift stores:  All I need to say is 99 cent picture frames, people!  And you can find good quality frames, too!
Stalk the clearance end caps at stores like Target, HomeGoods, and Marshalls.  You can find perfect picture frames hiding at the ends of random aisles if you're willing to look hard!
Ask your mom what she has sitting in her attic.  I bet she's got a million old frames that are looking for a new home!  
Free Printables Are Your Friend
You guys, there are some seriously talented graphic designers GIVING AWAY their talents for FREE on the Internet!  If you haven't discovered the treasure trove of free printables just waiting for you online, you have been missing out.
I scored a totally cute printable for my gallery wall from Designs By Miss Mandee, and have downloaded other awesome things from her site, too.
Three of my other favorite free printable resources are Elegance & Enchantment, The Graphics Fairy, and Brepurposed (search "Fab Freebies" on her site to find the printables).  And of course, any "free printables" search in Pinterest is likely to turn up thousands of fabulous results!  You can also check out my printables board on Pinterest to see some of my favorites!
Create Your Own Wall Art
DIY wall art does not have to be intimidating!  You can make incredibly simple pieces that are stunningly beautiful – and you do not have to be an artist to do so.
Case in point – I created this Braided Fabric Scrap Sign for my gallery wall with a wood plaque, fabric, and glue.  EASY!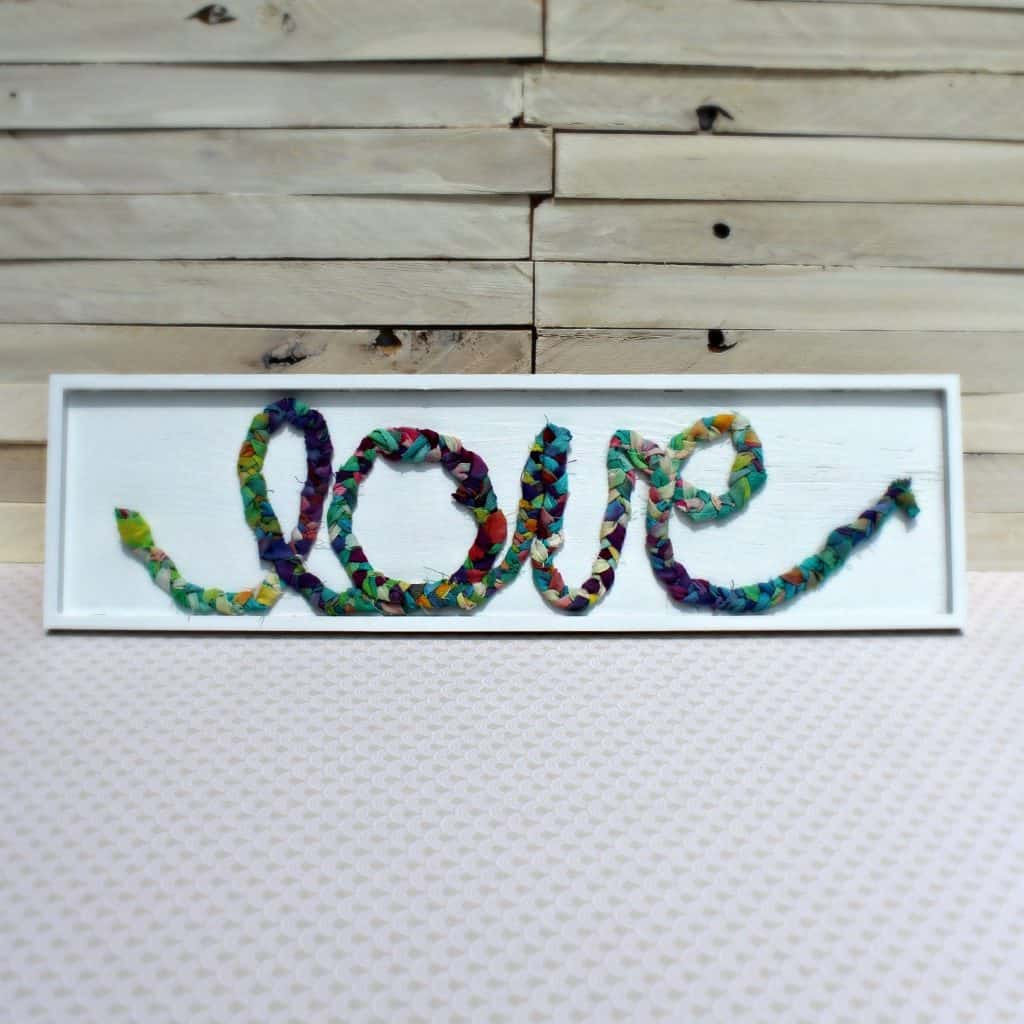 And again, a search on Pinterest for DIY wall art will bring up thousands of ideas to spark your creativity!  Make it, own it, love it.  You'll be proud to have a piece of your own displayed with your family photos!
Display Your Children's Artwork
If your kids (or any kids in your life), are like mine, then they are artwork factories. I swear, the amount of art that goes to the "treasure box" (aka recycling bin), on a daily basis in my home is enough to create ten new notebooks!
If any of that art is especially meaningful, however, a gallery wall is the perfect place to display it!  You'll have a free frame filler and the child(ren) will feel SO special to have some of their art displayed.  It's a win win!
Be Willing to Modify Frames and Decorative Accessories
If you're dedicated to making your gallery wall as inexpensive as possible, chances are you're going to need to make some alterations to the items you'll be hanging in it.
I spray painted every.single.frame in my basement gallery wall.  Because this gallery wall is right next to the TV, I wanted the frames to have a uniform, neutral look and not be a major distraction from the television.  But there was no way I was going to find all white frames for free.  So I made them white myself!  Problem solved.
Similarly, I found this cute ampersand art at Target on clearance for $1.99.  I did not love the black and cork look, however, so I changed it!  I spray painted it and then Mod Podged fabric to the top to cover the cork.  This way it blended in perfectly with the theme of the gallery wall.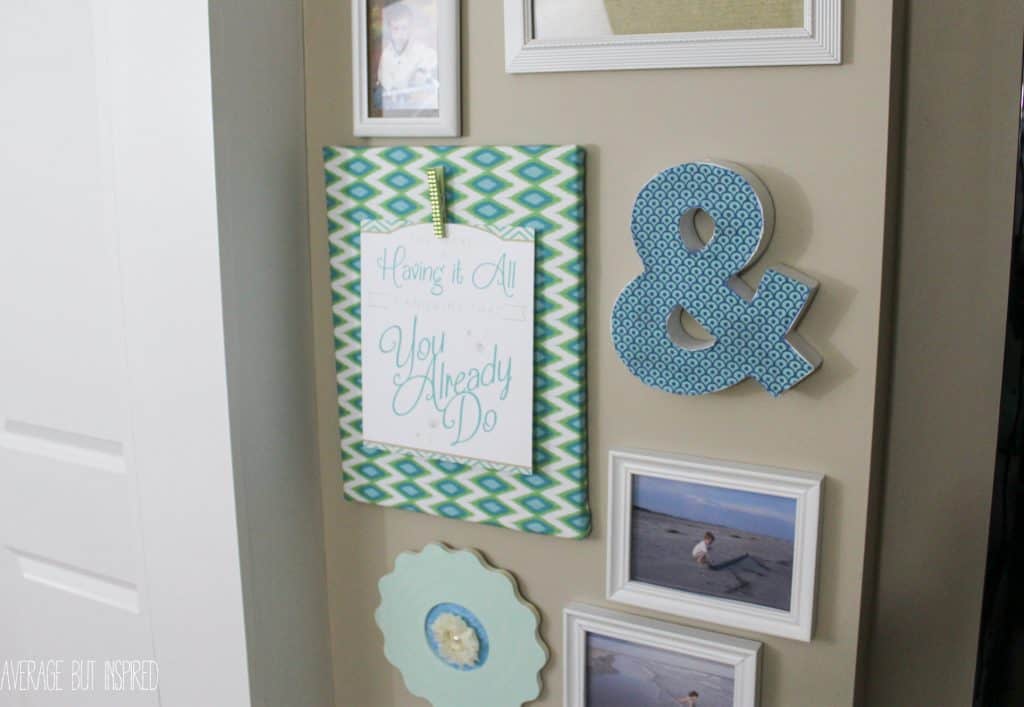 The bottom line is don't overlook a bargain frame or decorative accessory for your wall just because it isn't exactly the right color or look.  If you can easily modify its appearance, go for it!
Unlikely Items Can Make Beautiful Art
When I was five or so, I distinctly remember my mom framing a set of greeting cards to hang in my room.  I always thought that was so clever!  Greeting cards (especially at upscale paper shops), can be stunning, and the most you'll likely pay for one is $5.  Pop one in a frame and you've got instant art!
Similarly, items like post cards, fabric, and high-end wrapping paper can be turned into beautiful pieces of art.  The frames flanking the mirror over the couch in my basement are filled with wrapping paper!
Search Your Personal Collections
Finally, rummage through all of your old boxes of stuff to find meaningful things to display in your gallery wall.  For example, your grandmother's old brooch would look beautiful in a frame with the glass removed, or the hats your babies had on at the hospital when they were born would be perfect in a shadowbox.  The point is that whatever you already have that's important to you can likely be turned into hangable art for your gallery wall.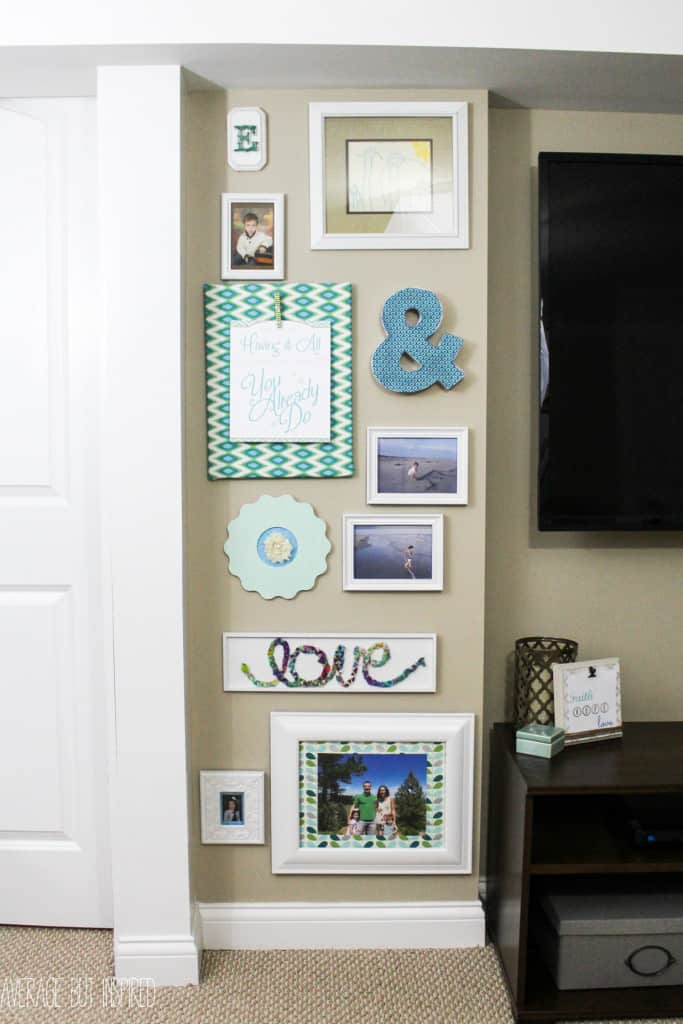 Well, now that I've given you these ideas for a practically free gallery wall, let me know if you have other suggestions on how to make a gallery wall on a major budget.  I love to hear your ideas!
-Bre