I am SO excited to be participating in a crazy fun challenge with several other bloggers, where Hickory Hardware sent each of us an IKEA Rast dresser and told us to transform it using their hardware, Pittsburgh Paints Trim Door and Furniture Paint, and supplies from Menards.  A big thanks to both Hickory Hardware and Pittsburgh Paints for providing the materials I used on this project!
I transformed my plain IKEA Rast into a fabulously fun bar cart!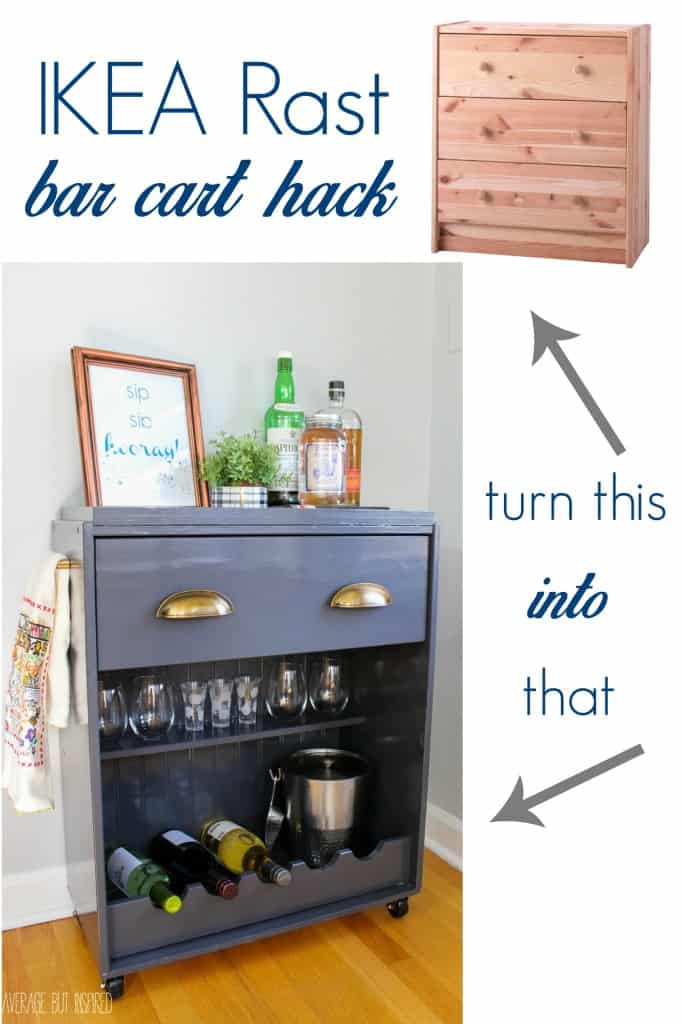 So, when assembled, the IKEA Rast dresser is extraordinarily basic and very small in scale.  Honestly, it's more like a nightstand than a dresser.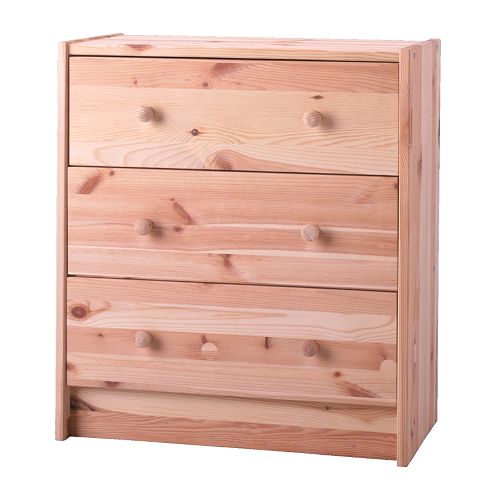 From the get-go I knew I wanted to make mine a bar cart.  So with the help of my three-year-old son and his plastic tools (yes, seriously), I assembled the majority of the dresser, but left off the back particle board, the bottom two drawers, and the bottom lip (that goes under the bottom drawer).  I assembled everything else according to IKEA's directions.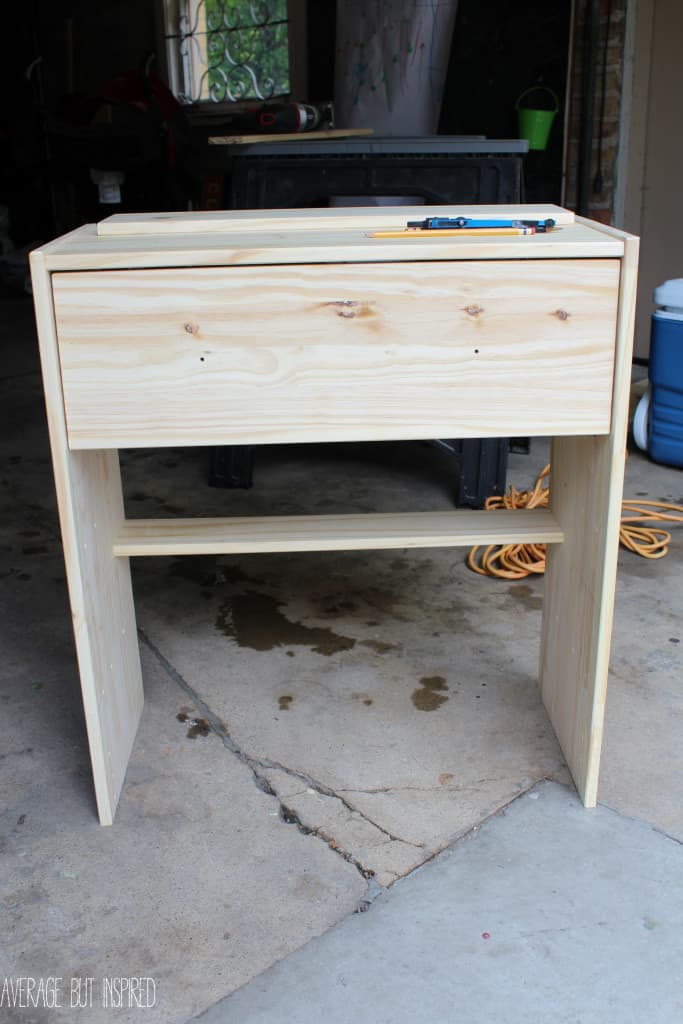 With the basic shape of my bar cart in mind, I set aside some supplies I had on hand and also went shopping at my new Menards (which is amazing, by the way), to take my IKEA Rast from Plain Jane to amazing.  Here's what I used to transform my Rast.
Wood filler
Putty knife
Nails & screws
Hammer
Electric drill
Wood glue
Clamps
Miter box
Hand saw
Circular saw
Jigsaw
Oil-based primer
Synthetic-bristle paint brushes
Three 1″ x 36″ square dowels
So first up, I filled the preexisting hardware holes in the drawer and along the inside of the dresser (where the bottom two drawers would have been).
Next, using the jigsaw, my husband helped me cut semi-circles out of the bottom lip of the dresser.  This will become the wine bottle holder!  I then put that piece onto the bottom of the dresser, right in its designated spot.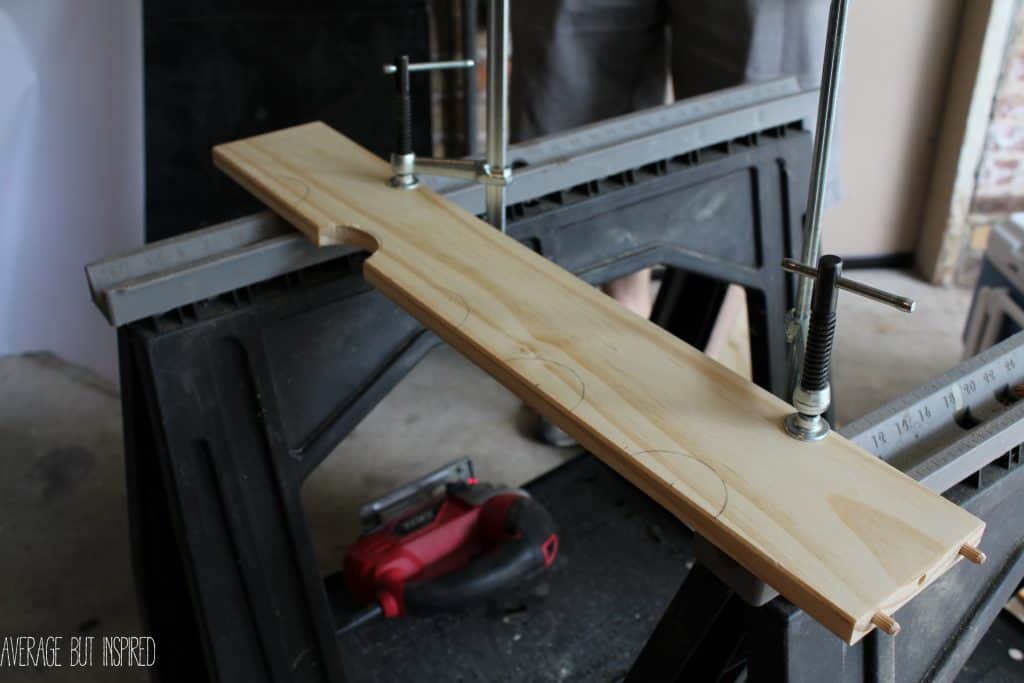 Once that dried and I sanded it all down, I primed everything with a coat of oil-based primer.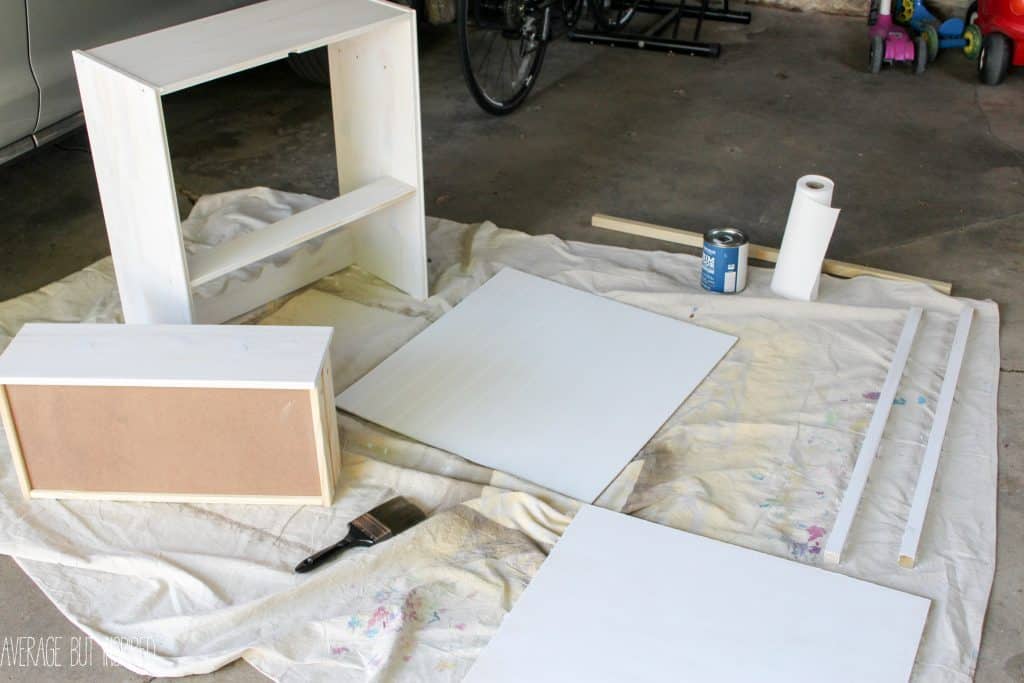 Next up, my husband cut the beadboard (for the back of the bar cart), and birch plywood (for the bottom of the bar cart), to size for me. He was not thrilled about this and kept lecturing me about how I need to learn to use the power tools. I bought him some beer to calm him down. Anyway, after that was cut, I nailed the beadboard into place and screwed the bottom onto the cart.
Then came the worst part. I had to do a lot of measuring (I really do not like math), in order to make a tray-type trim around the top of the bar cart. My husband was cracking up at me trying to "measure twice, cut once" and took this lovely photo of me. (OK, he actually took like 50 because it took a super long time. You don't need to see all of those.)  And even with all the time spent, I still messed up a couple of times.  Good thing I had an extra dowel.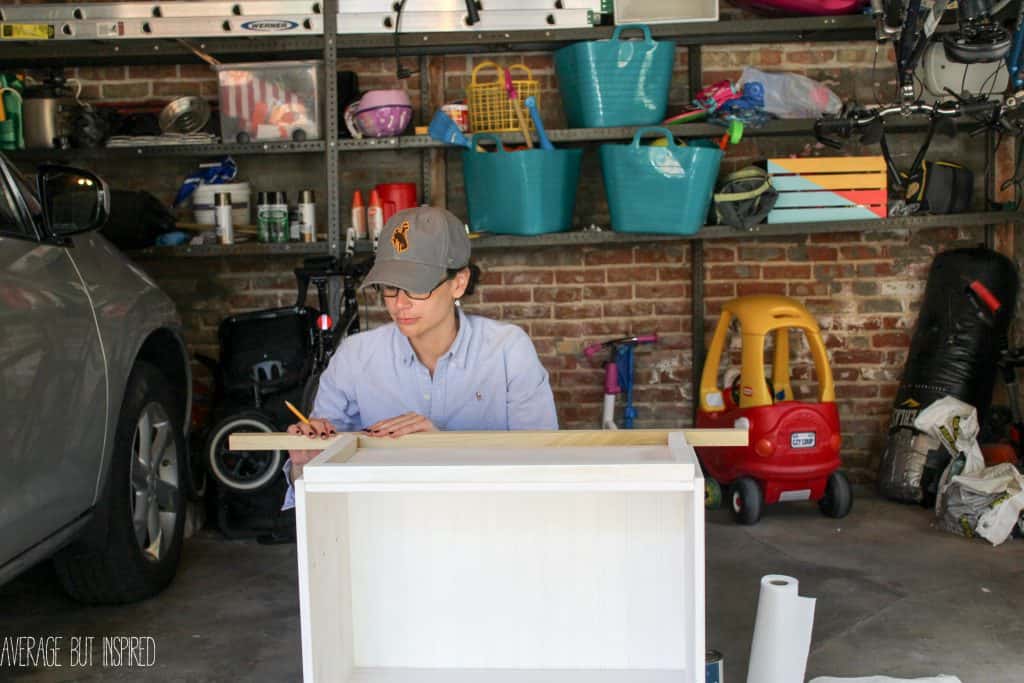 And then, I think simply for his own amusement, he had me hand saw the square dowels in the miter box so that I'd get a perfect fit for the tray trim on top.  I seriously think I pulled a muscle from all that sawing.  But I have to admit that he was right – using the miter box was the way to go.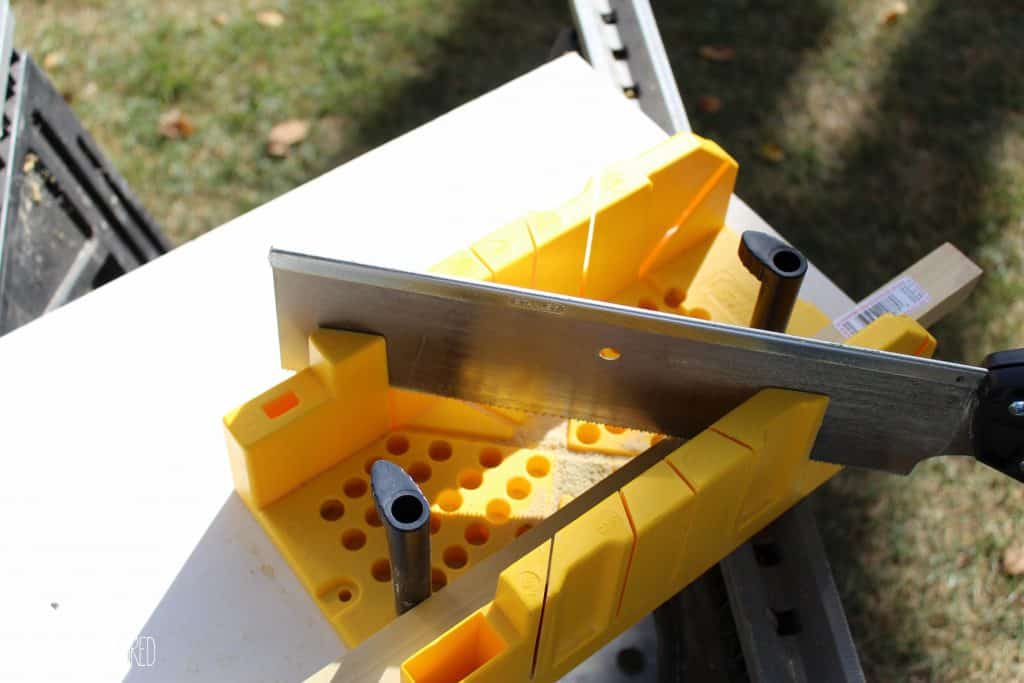 I adhered the dowels to the top of the dresser/bar cart with a thin layer of wood glue and clamped (and weighted) them down to make sure they'd really stick.  (Can you see the bribery beer in the top right of this picture?)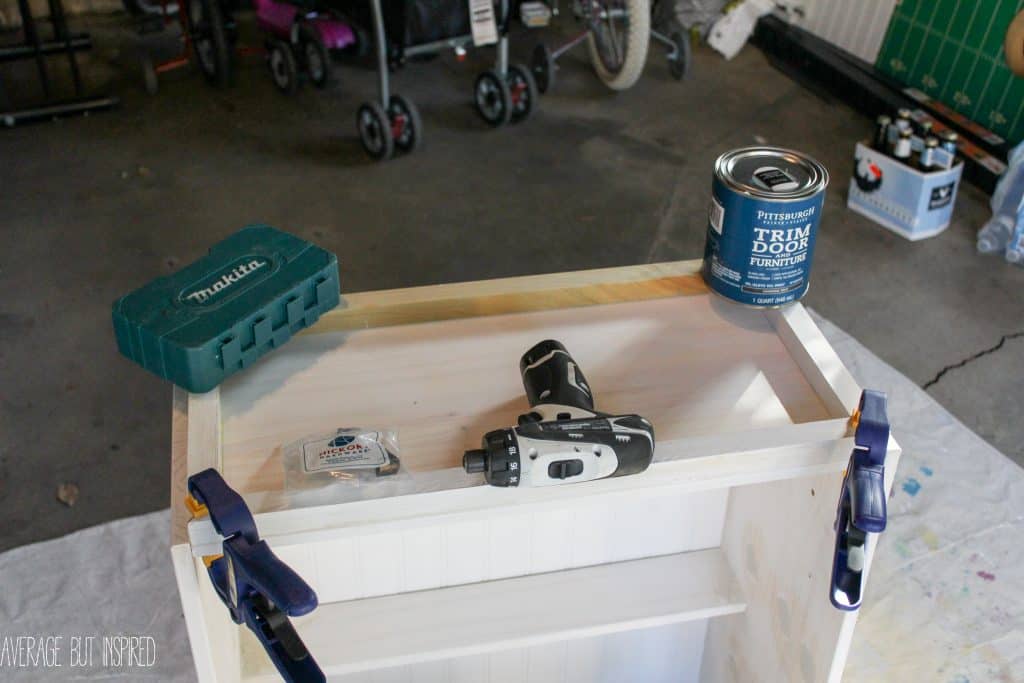 After I was convinced my dowels were not going anywhere, I drilled holes for my new hardware in the drawer and on the left and right side of the dresser/bar cart, drilled holes for my casters on the bottom, and got ready to add some color!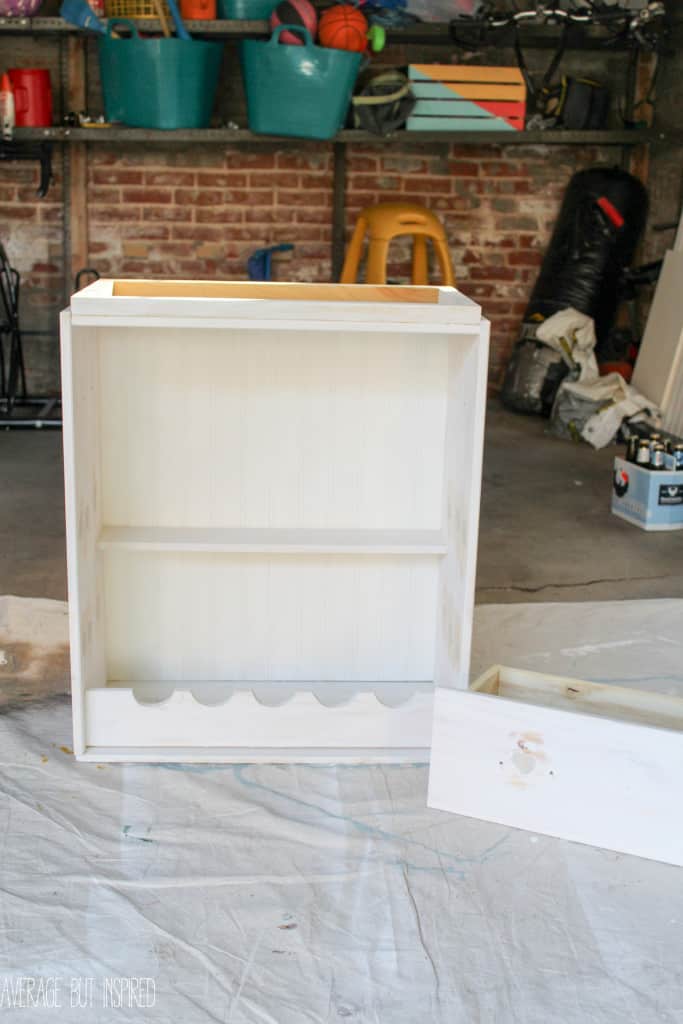 I gave the dresser/bar cart two coats of Pittsburgh Paint Trim Door and Furniture Paint in Charcoal, and that was it. Because it's a gel-type consistency with a hard finish, no topcoat was needed!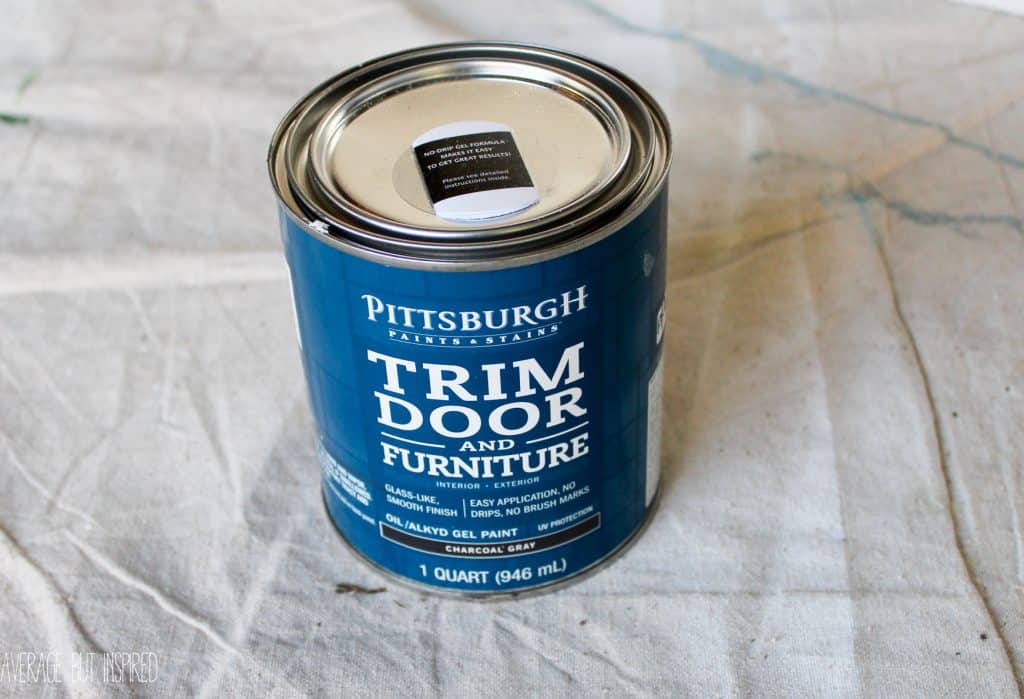 After letting it thoroughly dry, I popped in my new hardware from Hickory Hardware and my casters, and rolled my bar cart inside!  Isn't she cute?!?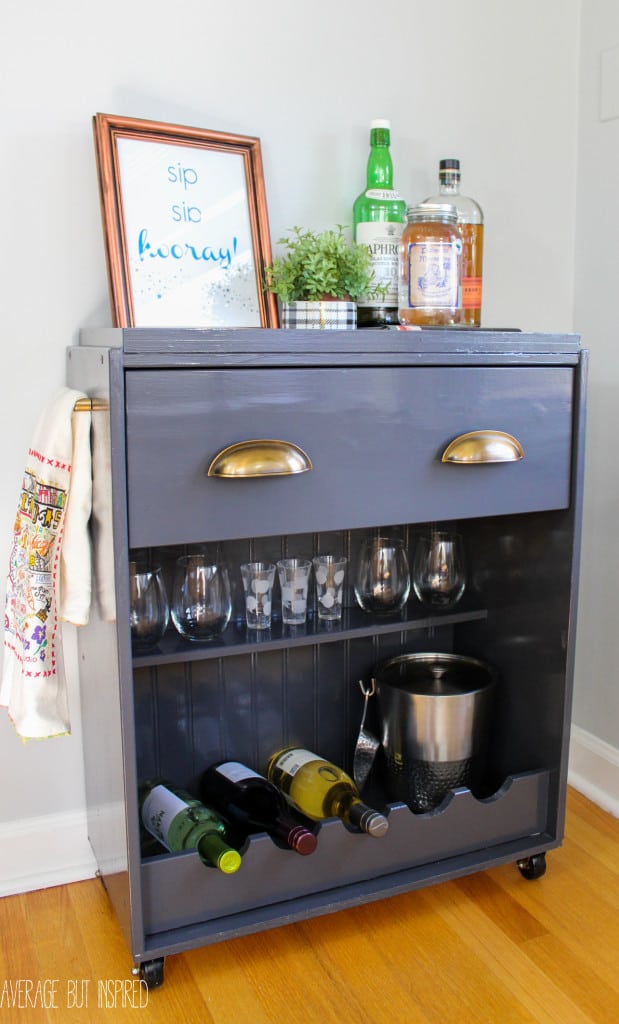 She's so perfect for a small at-home bar, too!  Wine rests in the bottom scalloped shelf, and glassware fits right in the little shelf above.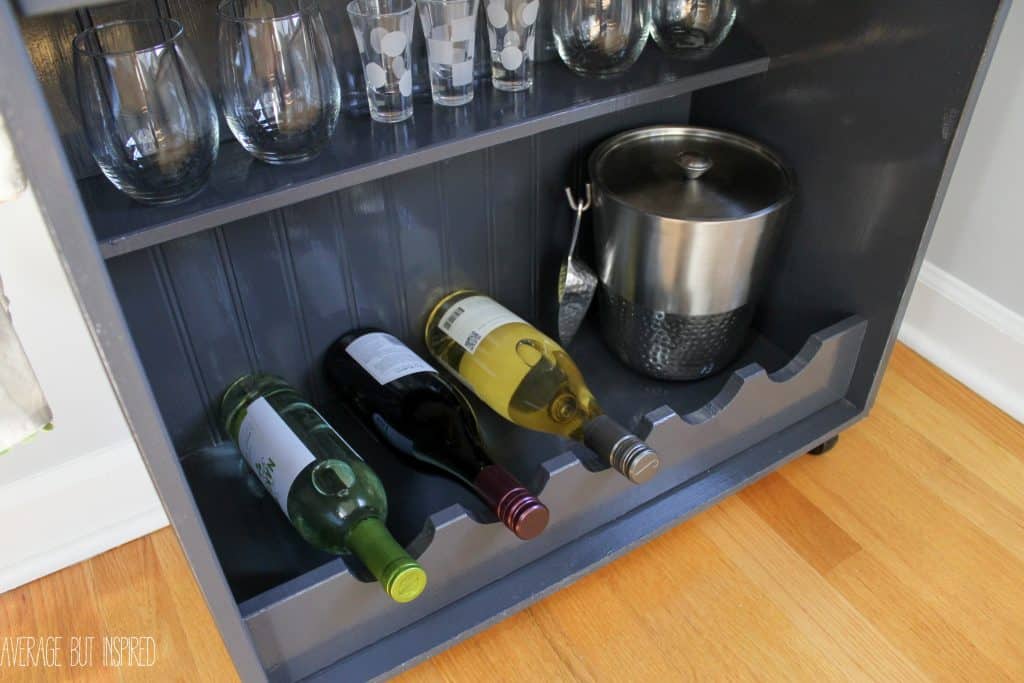 The drawer is the perfect spot for storing things like bottle openers, wine stoppers, martini shakers, coasters, etc. And I just LOVE how the gorgeous hardware pops against the charcoal finish of the piece!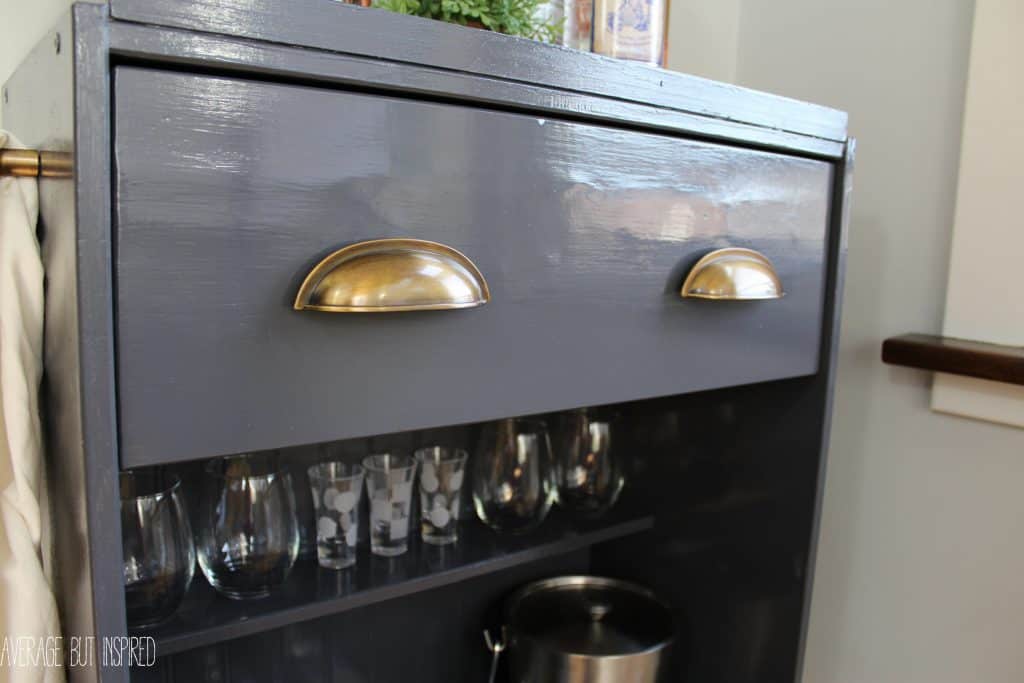 The drawer pulls I added to each side are a great place to hang tea towels. They also serve as handles for moving the bar cart around. Double duty!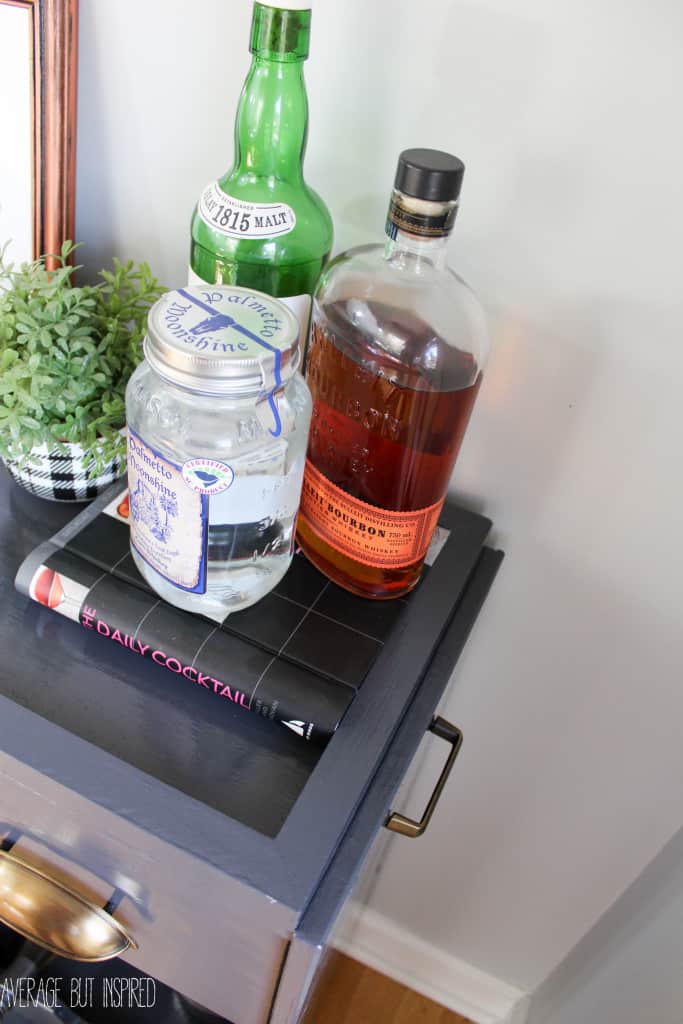 And the little tray-edging I added around the top is a great way to prevent things from falling off the cart when it's moving.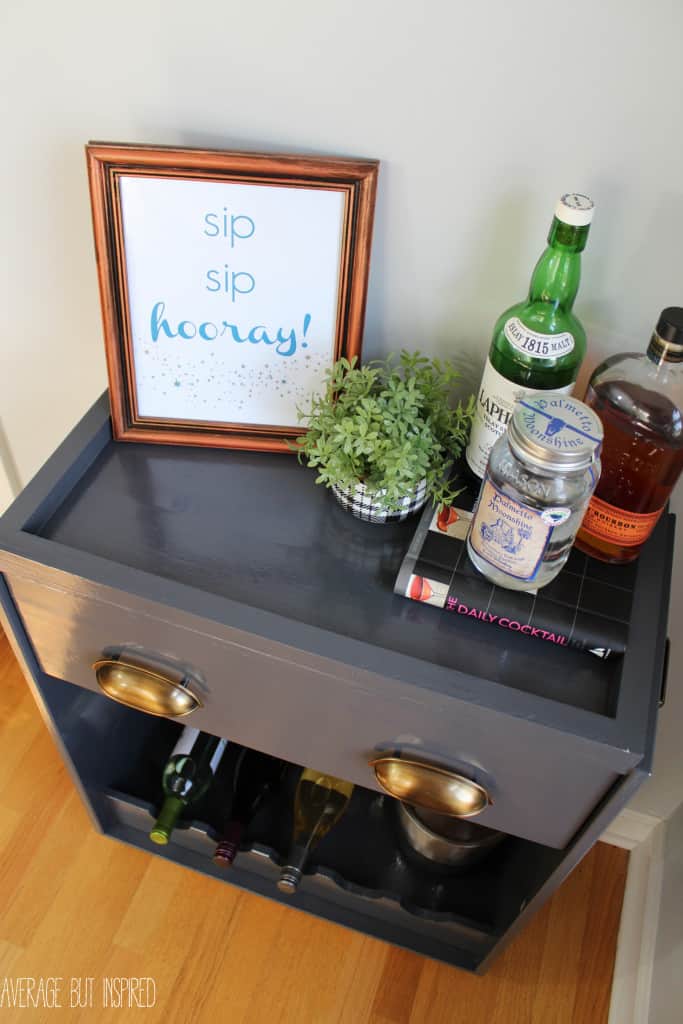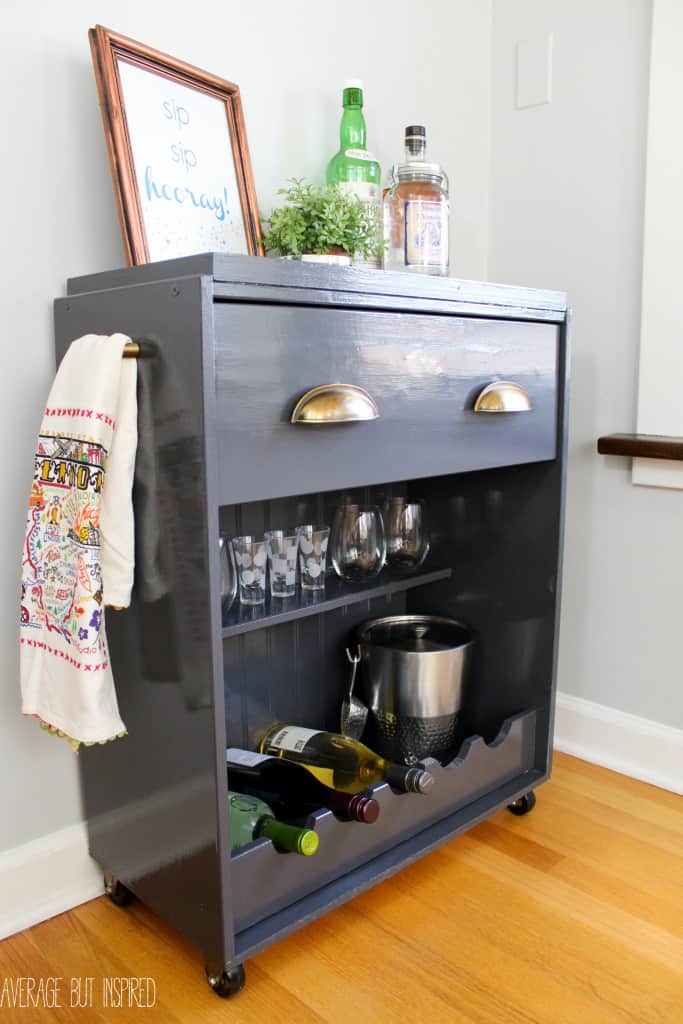 I'm so happy with how my Rast hack turned out!  Can we raise a glass and cheers to that?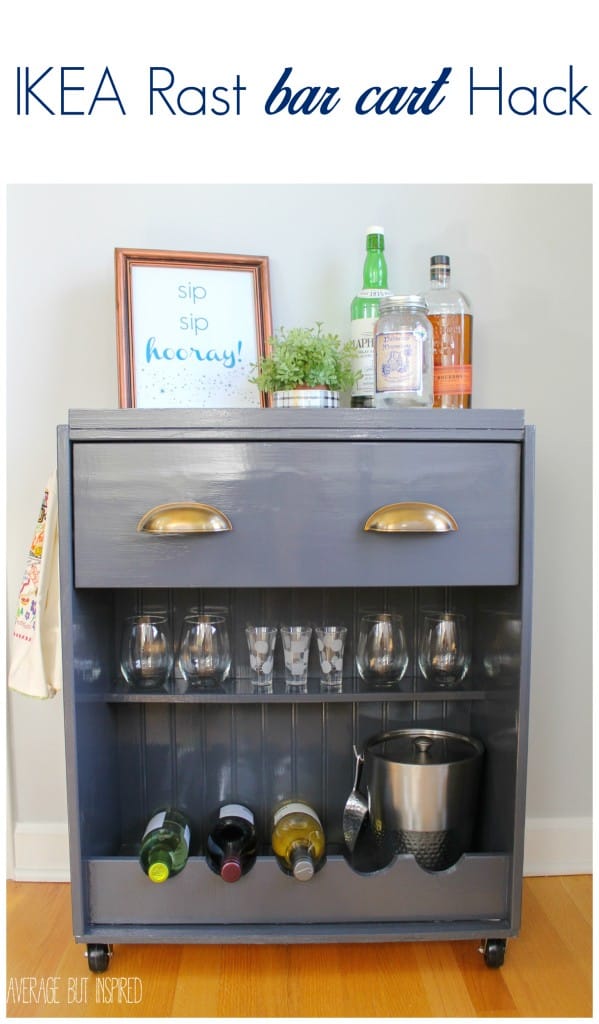 I really hope you enjoyed this IKEA Rast hack! Now go have a drink.  Cheers!
– Bre