One of my favorite things to do is paint furniture. I LOVE transforming ugly, forgotten, or outdated pieces into beautiful assets for any space.
But sometimes painting a piece of furniture isn't the best idea or just isn't an option. Maybe it's a family heirloom that would be "ruined" with color, or maybe it's an antique that shouldn't be altered in such a way. (Or maybe you have a husband who is sick and tired of you painting every surface in your house. Not that I'd know anything about that. . . .)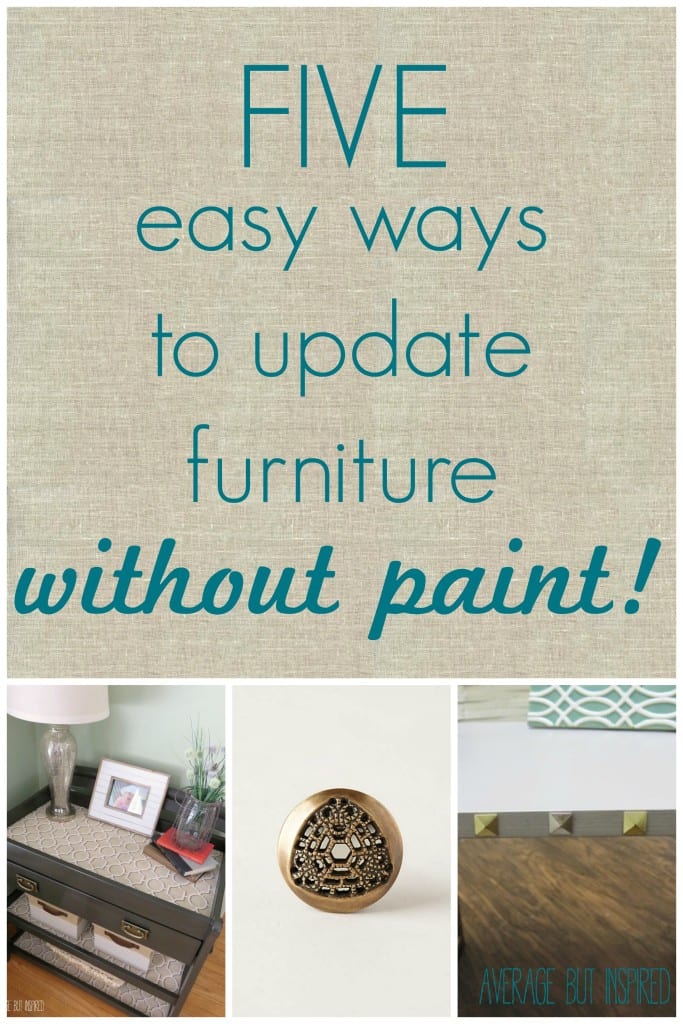 But even if you "can't" paint a piece of old or outdated furniture for whatever reason, you don't have to live with it the way it is! There are lots of ways to update furniture without paint. And they're awesome!
This post contains affiliate links. To read my full disclosure policy, please click here.
1. Update Furniture with Washi Tape
Washi tape is a FABULOUS way to give furniture a new look!  It comes in a million colors and patterns, and removes without damaging the surface.  
Use it to add Greek key detailing, a chevron pattern, or even simple lines!  Wrapping it around the legs is also a fun way to use washi tape on furniture.
Canary Street Crafts has a great post on exactly how to add detail to furniture with washi tape. Look at how beautiful it can be!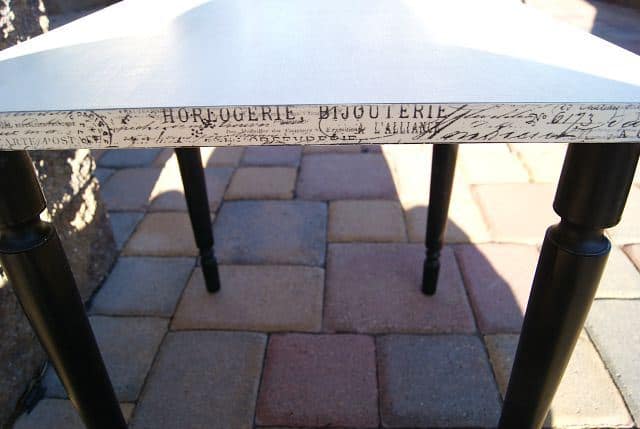 And how about using washi tape to add some pop to plain bookshelves like Honey We're Home did?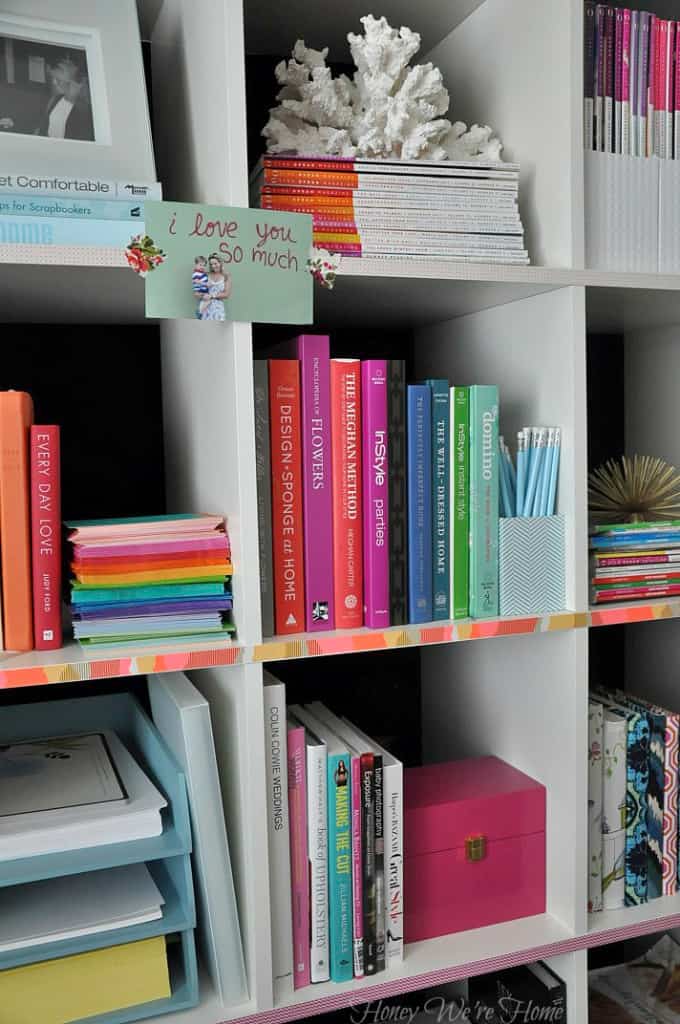 2. Use Furniture Tacks or Nailheads to Update Furniture
If you don't mind a piece getting a little "holey," furniture tacks (nailheads) , upholstery tacks, or pushpins can be a great way to give a piece of furniture a new look!  
Furniture tacks can be found in the hardware aisle at any home improvement store, and decorative pushpins are at any office supply store or even Target!
I used some cool pushpins to update this table that desperately needed a new look and some detail!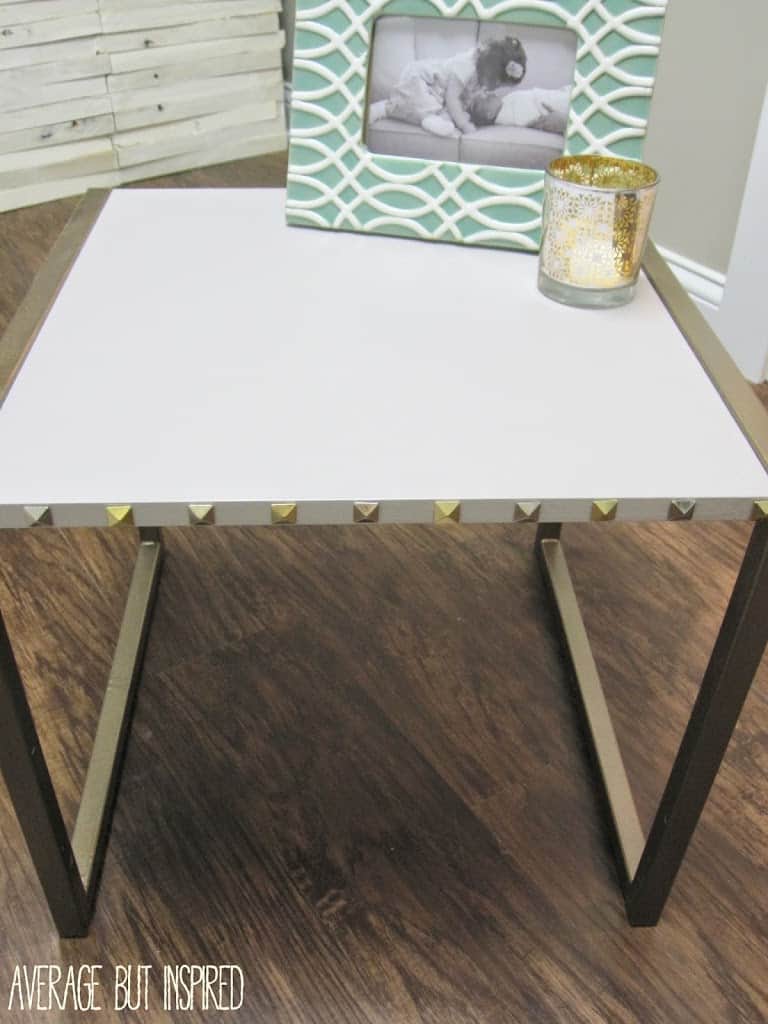 And look at how stunning this nailhead table makeover is!  Mad in Crafts nailed it.  (Sorry, I couldn't resist.)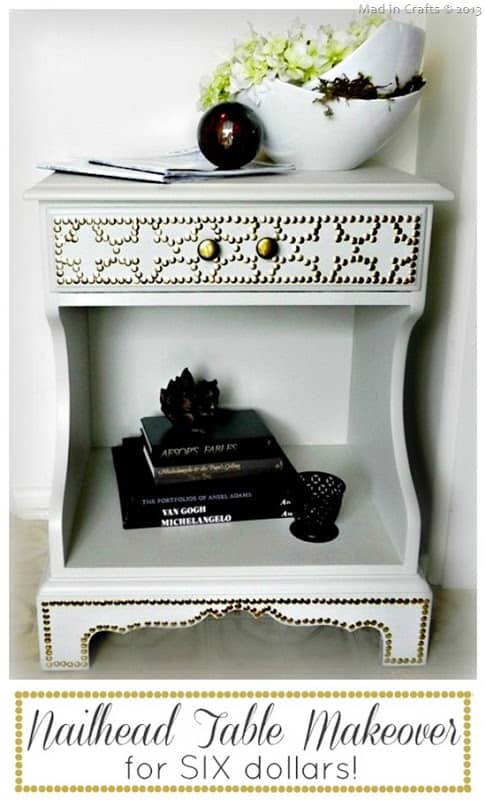 3. Use Fabric or Paper to Update Furniture
Another great way to add color or pattern to furniture without paint is with fabric or paper!
I have a full tutorial on how I added fabric to my changing table turned console table!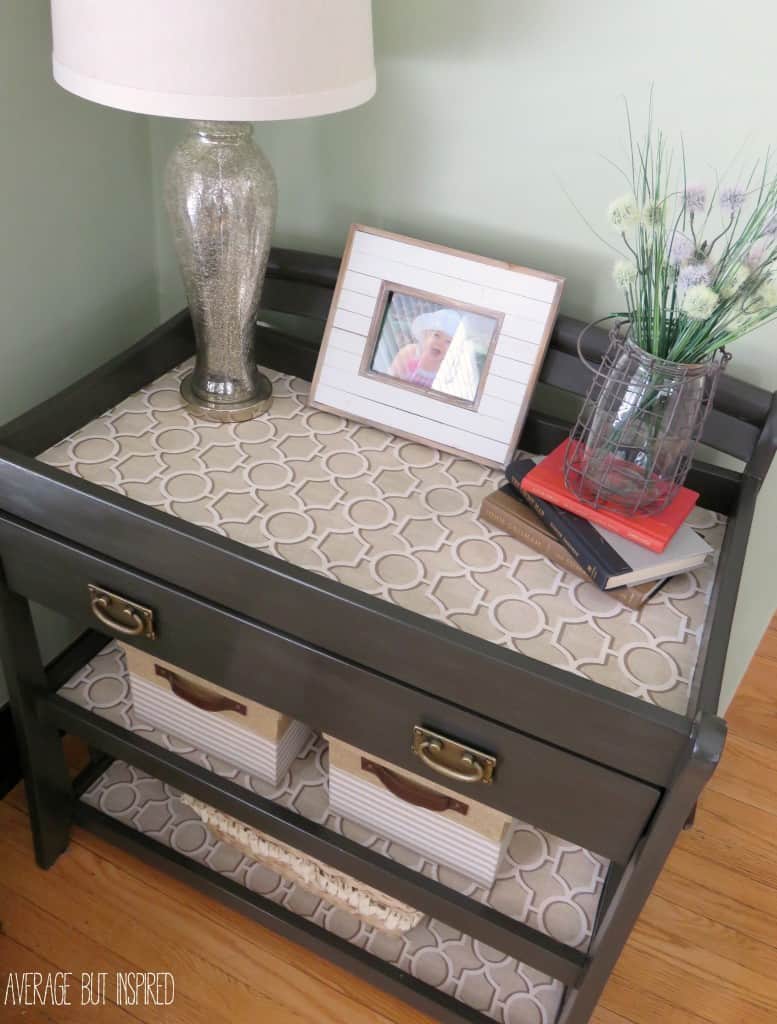 I used the same method to add gorgeous wrapping paper to the drawer on my grandma's old side table.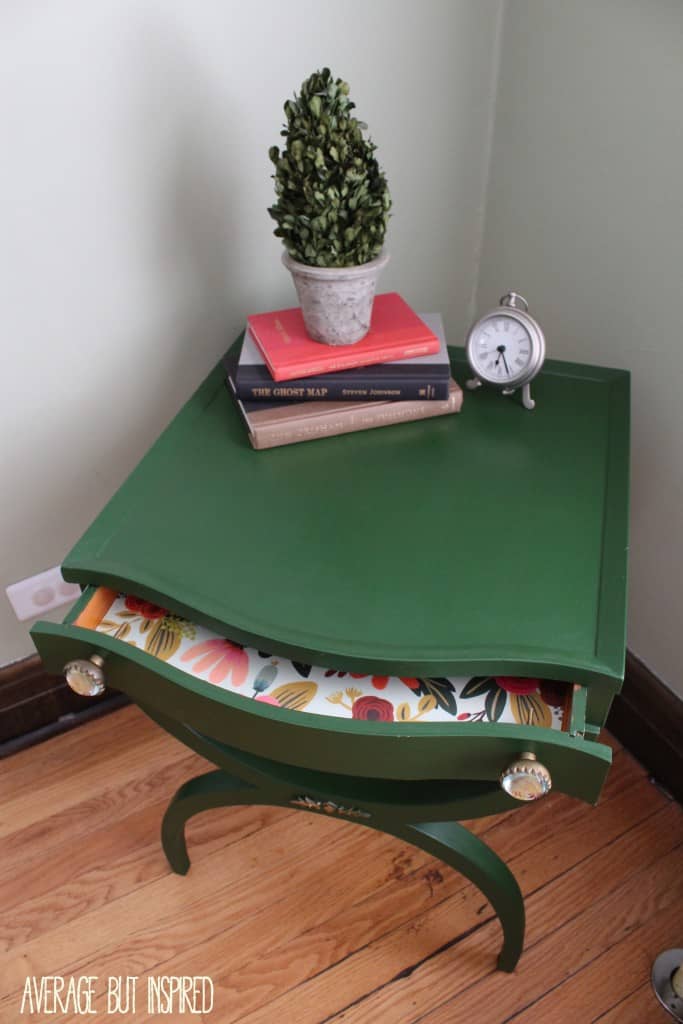 Just look at how amazing some fabric looks against a wood finish! This table makeover from Brepurposed is proof that a little color and pattern goes a long way to updating a piece!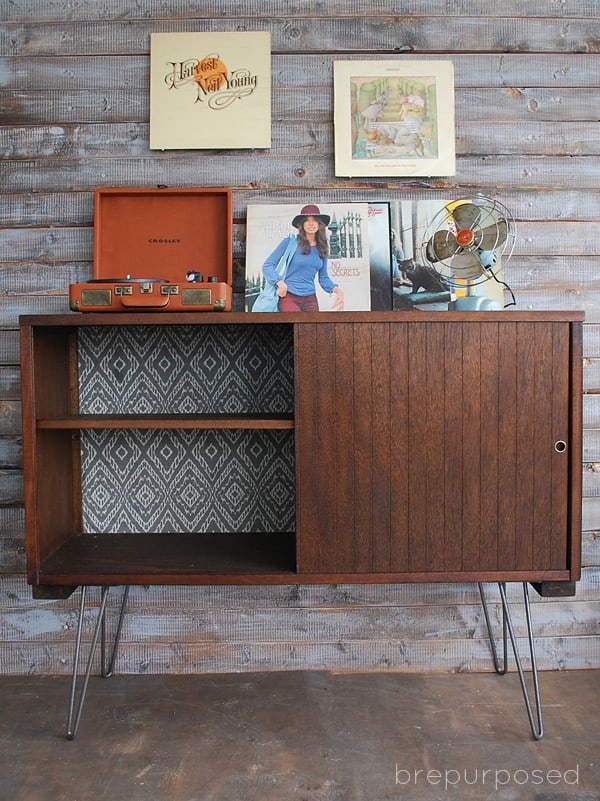 4. Use New Hardware to Change the Look
Hands down the EASIEST way to update furniture without paint is with new hardware! Hardware is seriously like jewelry for your furniture. Change it out and LOVE your furniture!
When we renovated our kitchen four years ago, we insisted on saving the original, built-in china cabinet because we're doing the best we can to maintain the vintage charm of the home. So we kept the walnut-colored finish and just updated the hardware to match that of our new cabinets. It was the perfect solution! Now we have the original piece with a slightly updated look.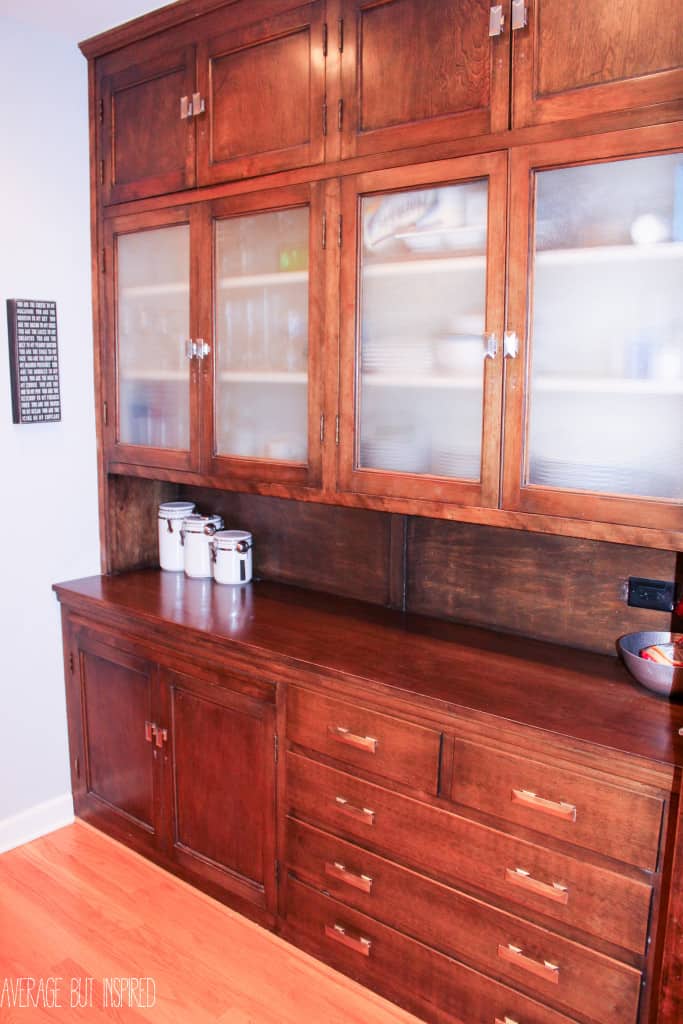 Some of my favorite resources for amazing hardware are Anthropologie, D. Lawless, World Market, and Amazon. Check them out and be amazed at how quickly you can change the look of a piece!
5. Use Baskets (or Accessories) to Update Furniture
Another easy way to change up the look of furniture is to replace drawers with baskets (if there are any drawers).
Creative Home Expressions plucked this beauty off the curb, even though it was missing two drawers, and made it her own with some new baskets!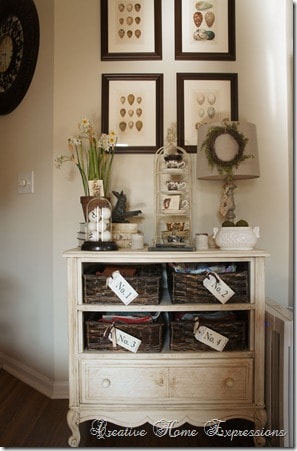 If your piece of furniture doesn't have drawers that can be replaced with baskets, try adding some new accessories on or around it. This will give the piece an updated look that you can change out whenever you feel like it!
So what do you think of these ideas for updating furniture without paint? Would you try any of them on your own furniture?