Thank you to Royal Design Studio for sponsoring this post. The project and opinions are all my own.  Also, this post contains affiliate links for your convenience; please click here to see my full disclosure policy.
**If you're visiting this post from Hometalk – thank you and welcome!  I'm so happy you've stopped by!  Please consider signing up for my weekly newsletter to receive a FREE Beginner's Guide to Chalky Finish Paint!  No spam – ever!**
Welcome back to another edition of the Monthly DIY Challenge, where some of my best blogger buds and I team up to create projects that revolve around a particular item or theme.  In the past we've tackled things like metallic paint and plumbing pieces, and this month we're all sharing projects that use stencils!  I cannot wait to fill you in on my stenciled tile fireplace makeover; I think you're going to love it!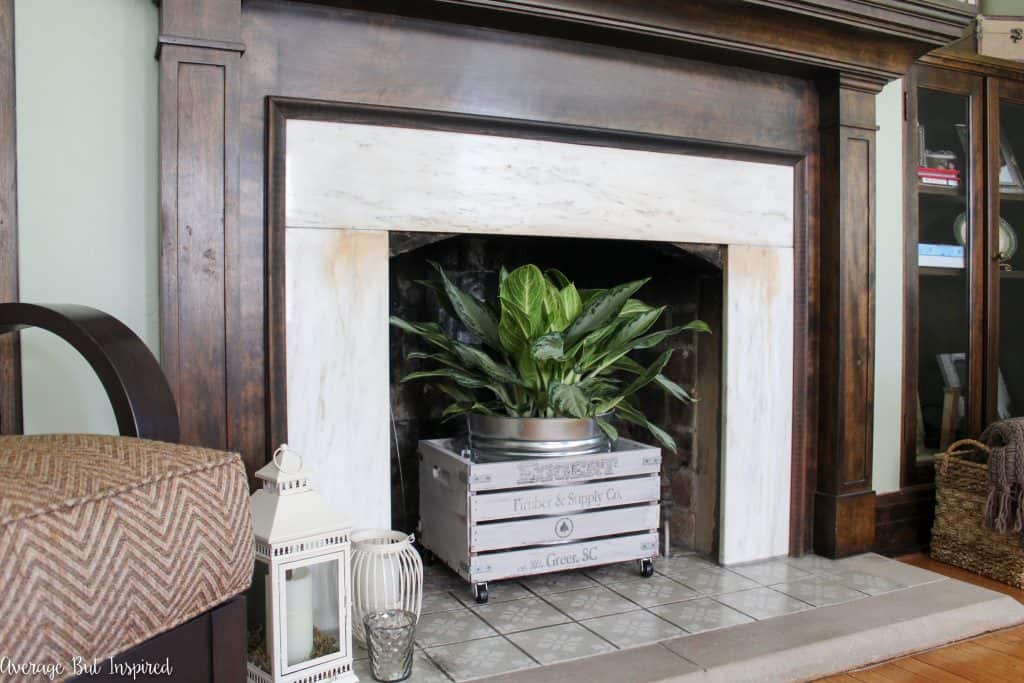 Before we get to the nitty gritty on how to paint tile and stencil it, let me give you a sneak peek of my friends' stencil projects, too!  You'll also find direct links to each of their projects at the bottom of this post.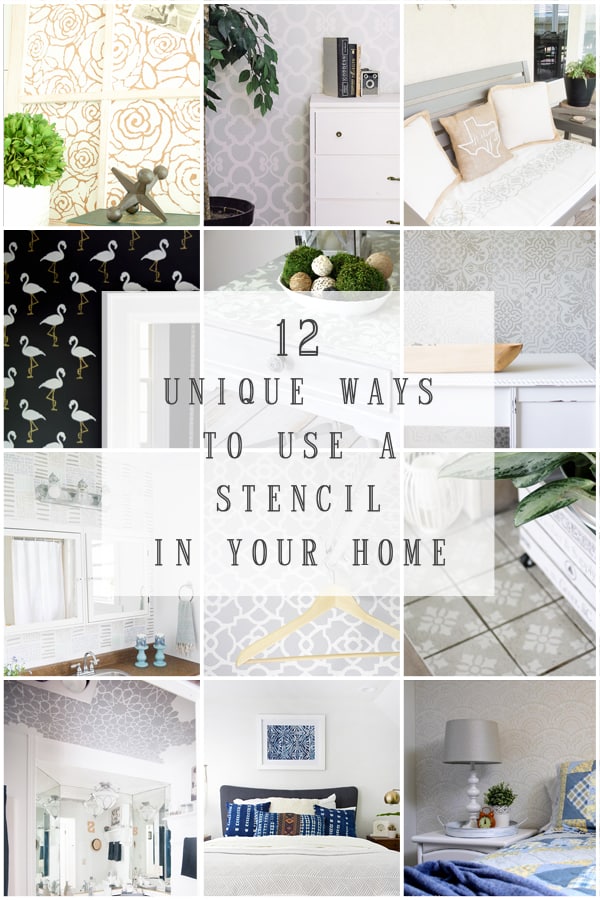 Now I know you're excited to check out all of the other projects, but first, let me show you how I gave my plain jane fireplace tile a faux cement tile look at a fraction of the price!
Here's the BEFORE photo – as you can see, the tile was a solid color.  Nothing too exciting at all.  It's original to the house (built in 1927), and was super dingy with random black marks all over it.  And just so you all know and don't leave me a comment that I could burn my house down by painting the hearth tile, the fireplace doesn't currently work.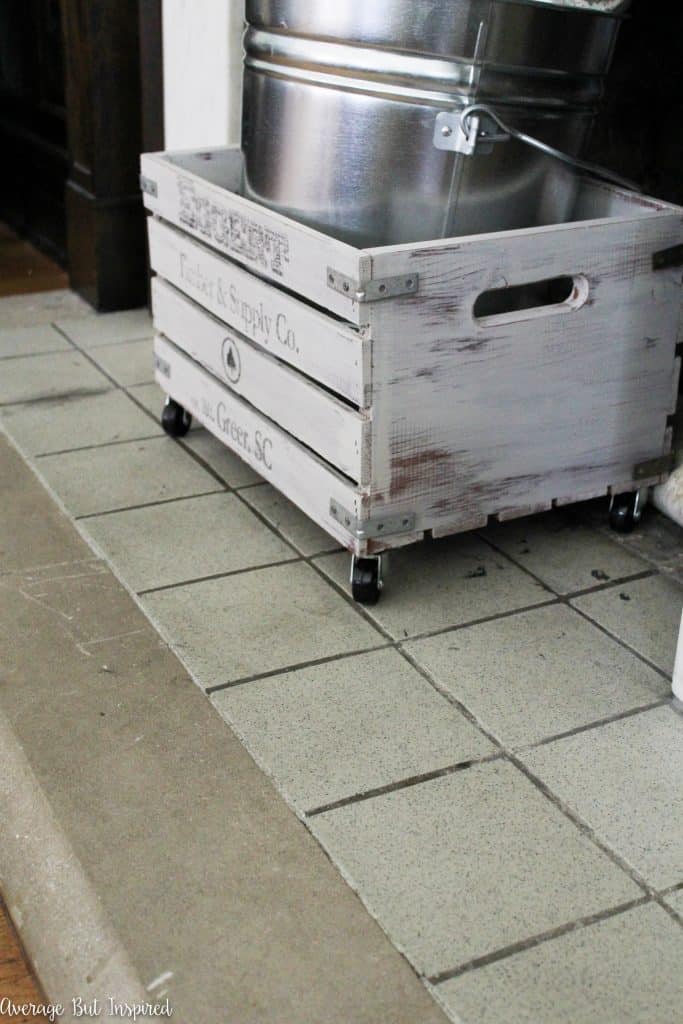 So anyway, I started by giving my tile a hardcore cleaning with TSP (Trisodium Phosphate), which is a special cleaning agent that you should use before painting things that are really dirty, like a dingy fireplace hearth that was covered in old ash and grime.  When cleaning with TSP, you definitely want to wear rubber gloves.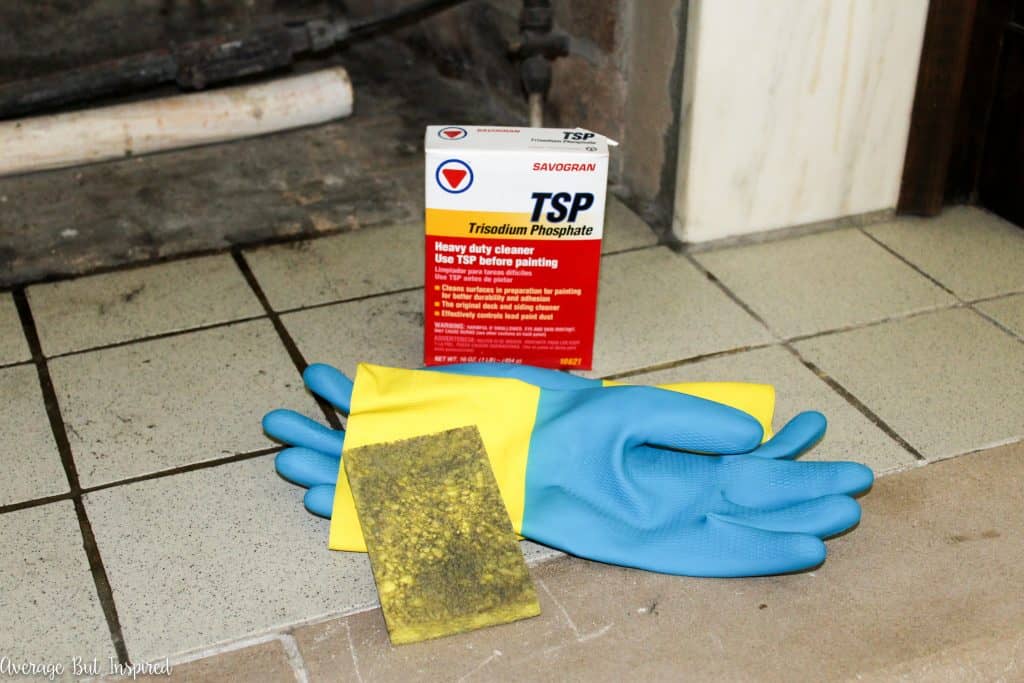 After I scrubbed and scrubbed, a lot of the disgustingness came off (thank goodness), and I was embarrassed that I hadn't cleaned that tile sooner.  Shame.
I let the tile sit overnight to dry, just to make sure it was SUPER DUPER dry.  Then the next day, I got down to business.  I started by using this painter's tape to tape off the grout of one tile.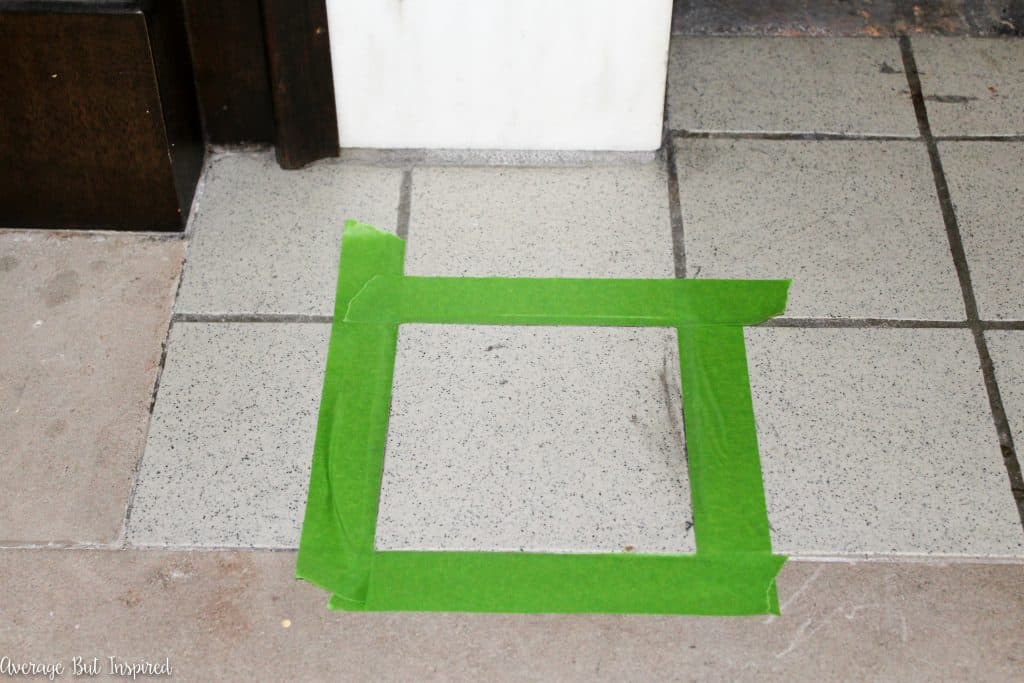 Next, I studied the contents of my Mediterranean Tile Set from Royal Design Studio and decided which of the four patterns included in the set I wanted to use on my fireplace hearth.  While I loved all of the options included (and could have used all of them in this project), I ultimately settled on the one I did because it goes best with my home's style and era!  Once the decision was made, I gave the back of the stencil a light spray of this spray adhesive.
I pressed the stencil into place on the tile and made sure that all of the edges were firmly on the tile.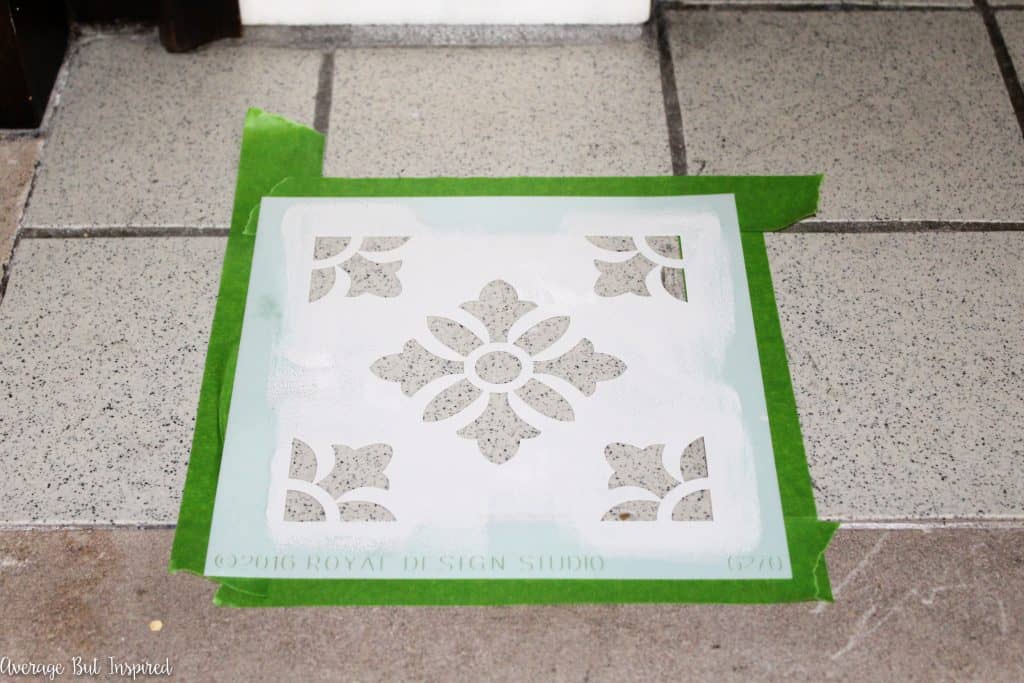 Then I mixed up a batch of these ivory and white chalky finish paints (only because I didn't have enough of one color), and applied a light coat over the stencil with a tiny foam roller.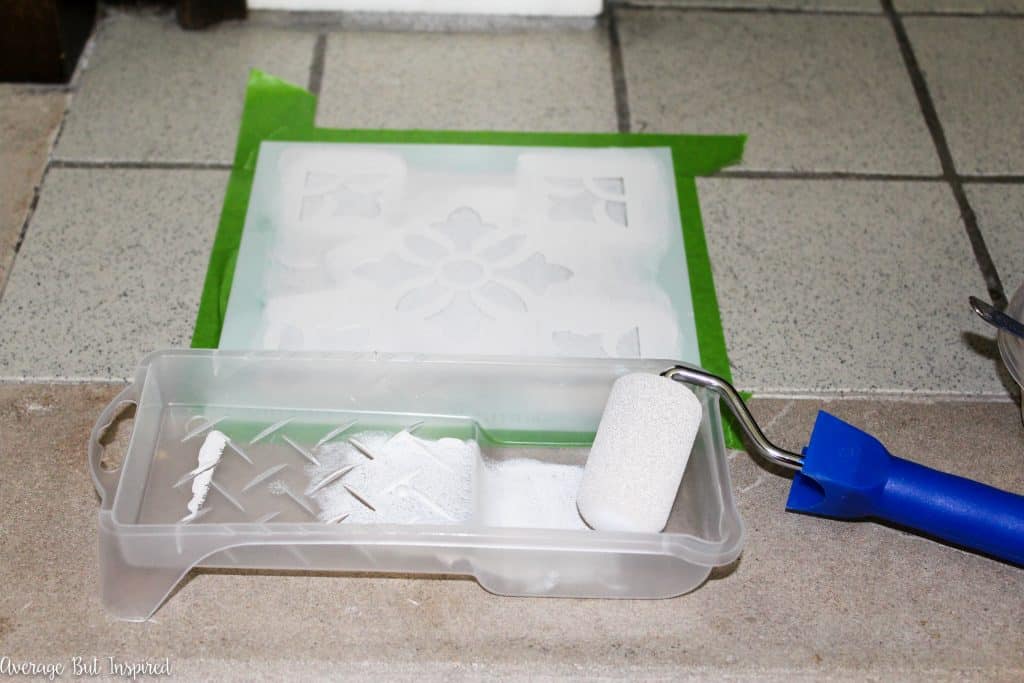 Once that first coat of paint dried, I applied another light coat.  Before the second coat was completely dry, I removed the stencil.  (In my experience, it's easier to remove the stencil before the paint is totally dry because it comes off cleaner and there's less of a chance of removing paint than when the paint is dry.)
I repeated the taping, spray adhesive application, and rolling process across all of the tiles.  I had to work on the tiles in a random order because I had to be careful about placing tape on or too close to fresh paint.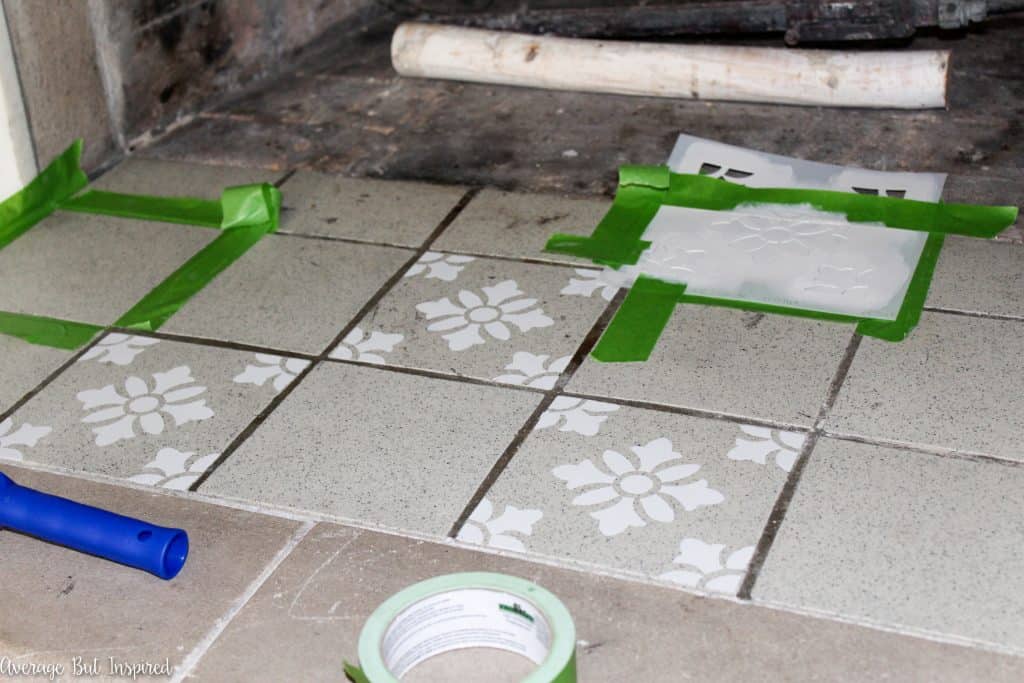 I made sure to stencil all of the regularly shaped tiles first, and then I moved on to the trickier ones in the corners.  For some of them I simply had to bend my stencil and press it into place where it wouldn't lie flat.  On the parts of the design that I couldn't use my foam roller, I drew in the design with a pencil and free painted those spots with a small artist's brush.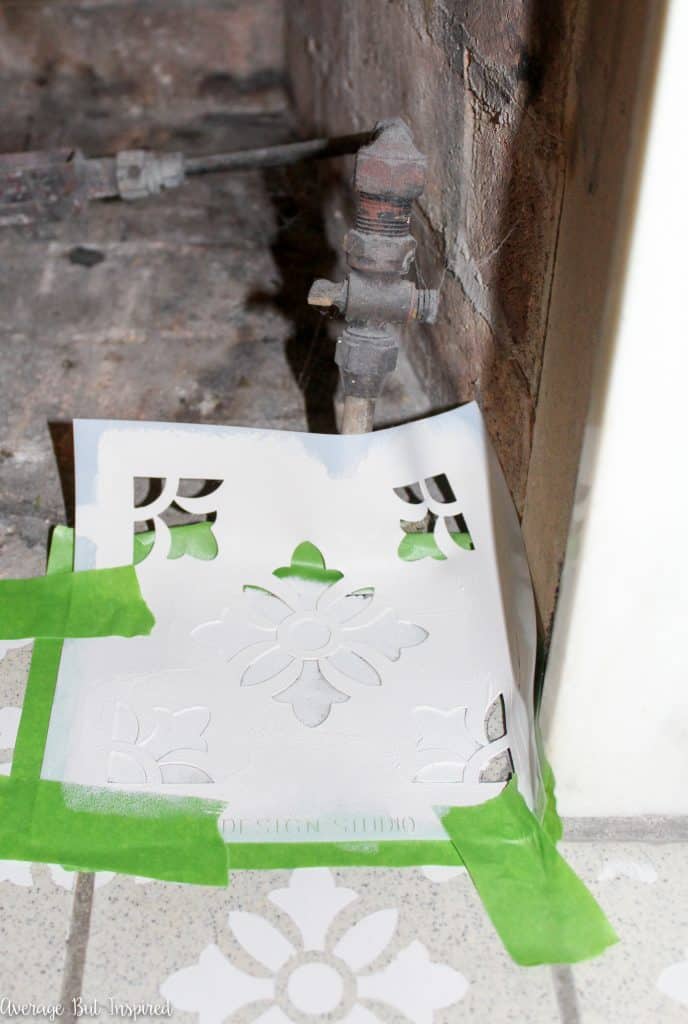 And then, for the really tricky tiles that were not square or rectangular, I cut the stencil to fit.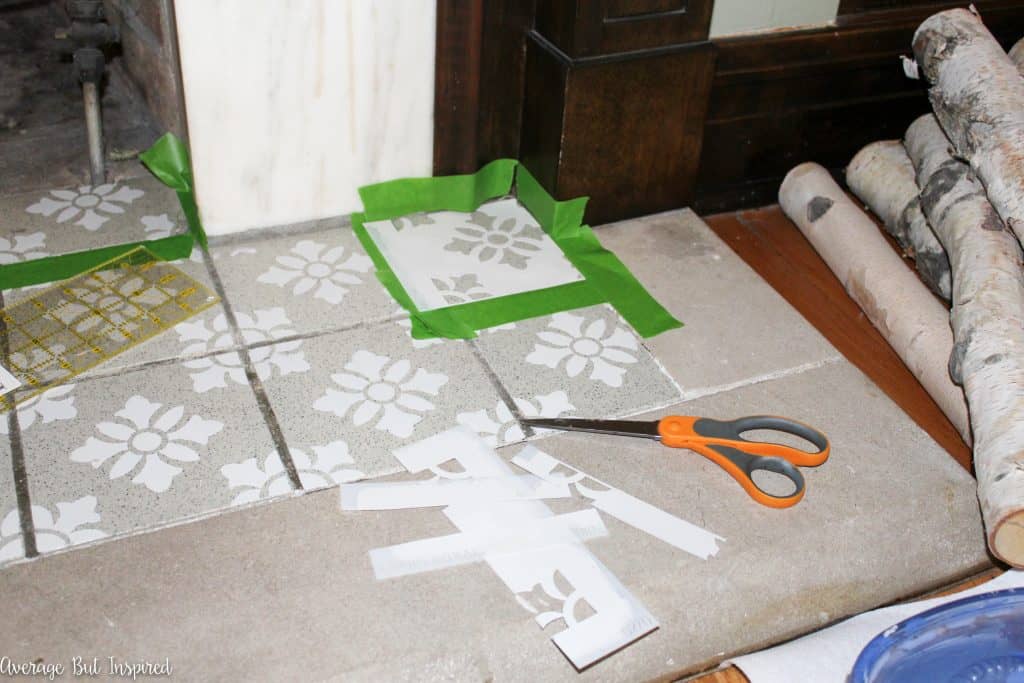 When I needed the stencil that had been cut for another tricky tile, I just pressed the pieces back together and onto the tile.  It worked like a charm, but I am so glad I saved the cutting until it was absolutely necessary.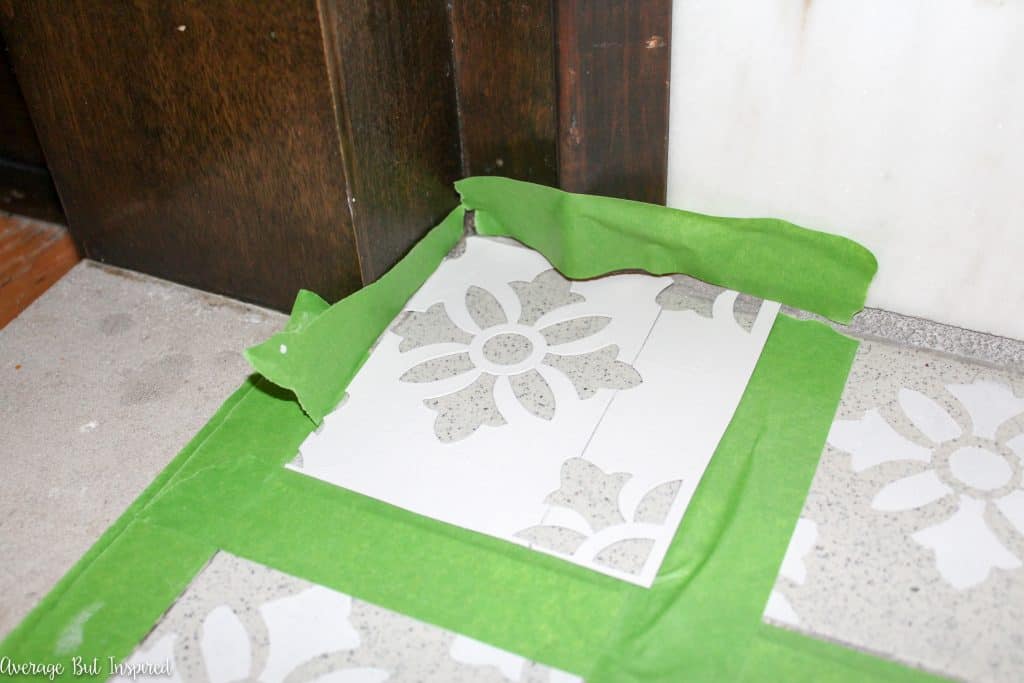 I let the painted tiles sit overnight to fully dry, and then I applied three coats of matte finish polycrylic over them to ensure that they will be durable and properly sealed.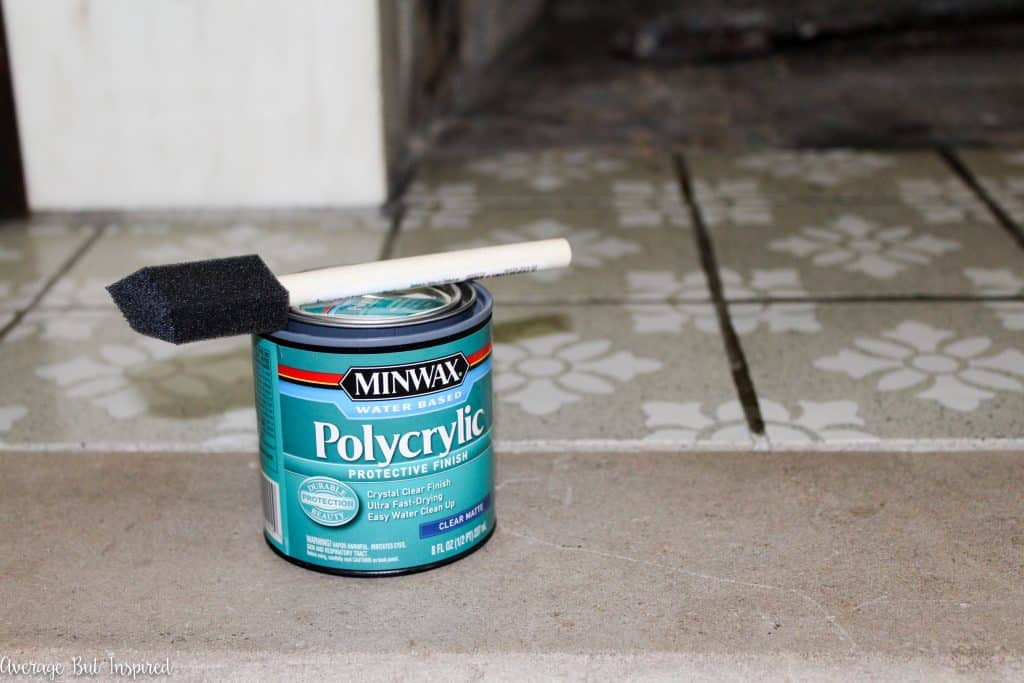 And then my fireplace tile looked so refreshed!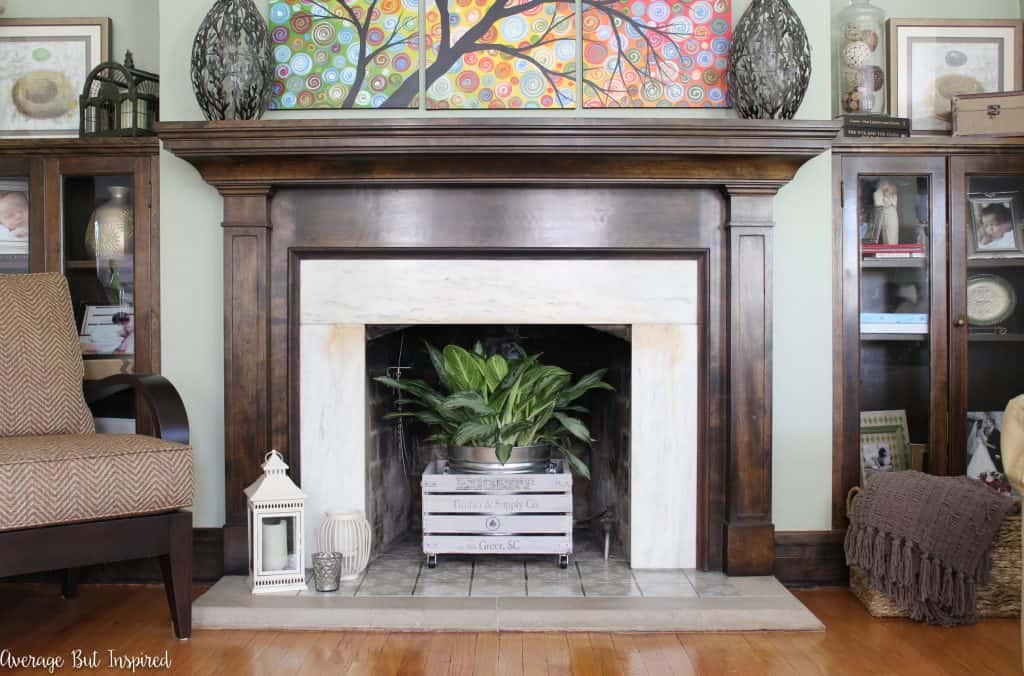 I am absolutely in love with the finished product, and could not be happier that I have the trendy cement tile look in my home as a result of using this awesome stencil set.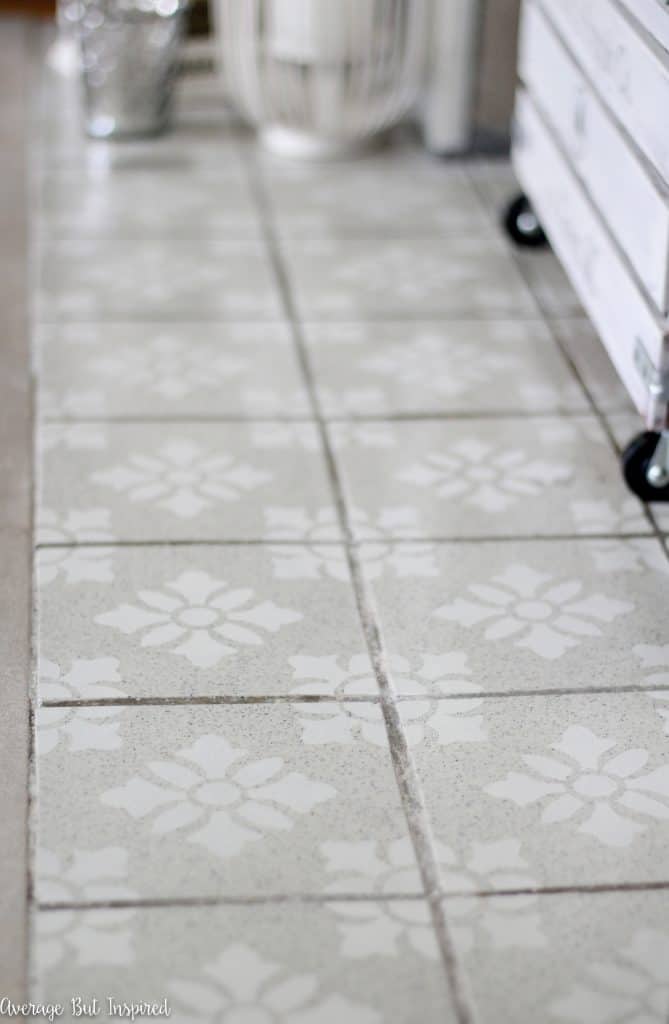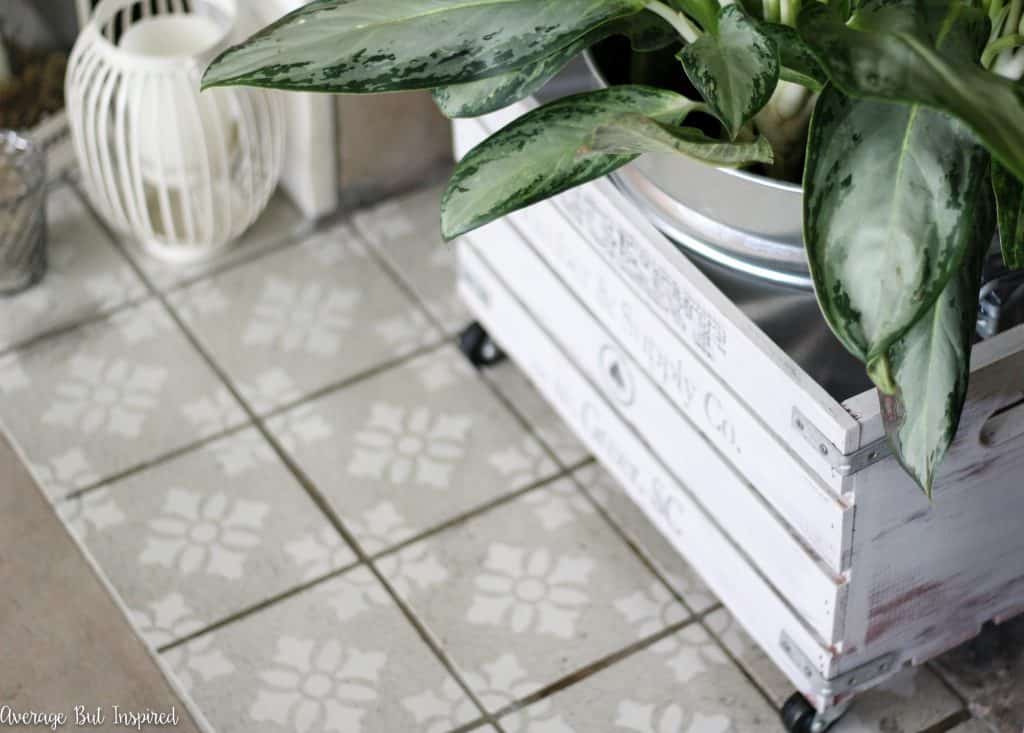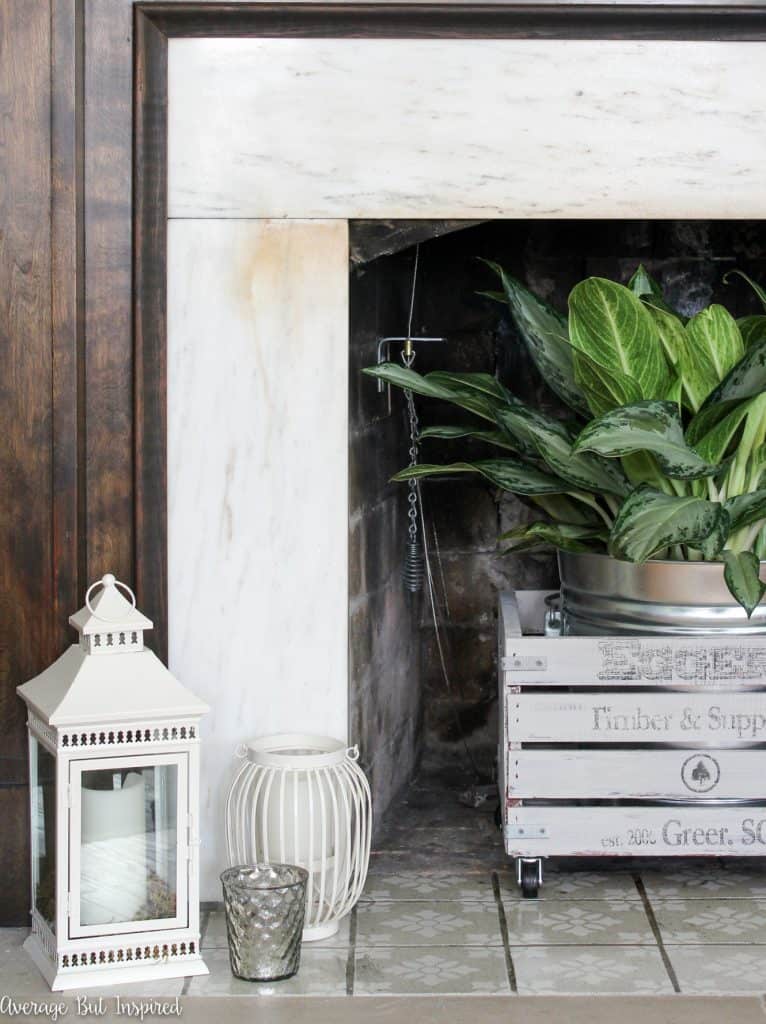 I think this stenciled tile fireplace makeover was a huge success!  Although I loved the look of my fireplace before, I am even more in love with it now.  The subtle character the stenciled tile adds brings it up a notch, in my opinion.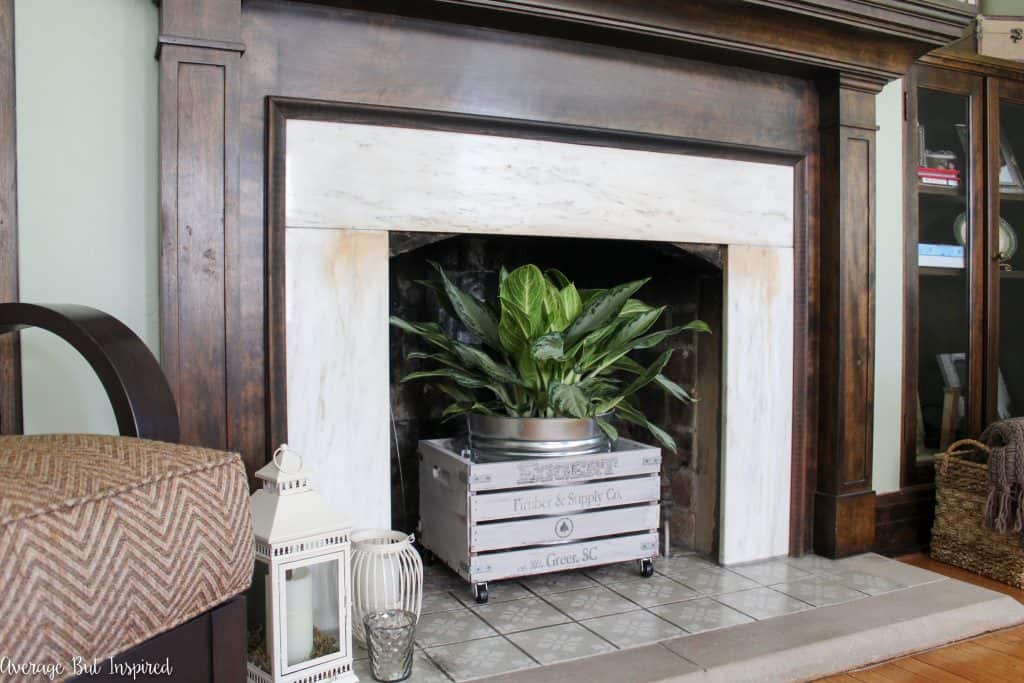 If you want to get the cement tile look for less or want to add some pattern to plain or ugly tile in your home, I would definitely recommend checking out Royal Design Studio's tile stencil kits and giving your tile a makeover, too!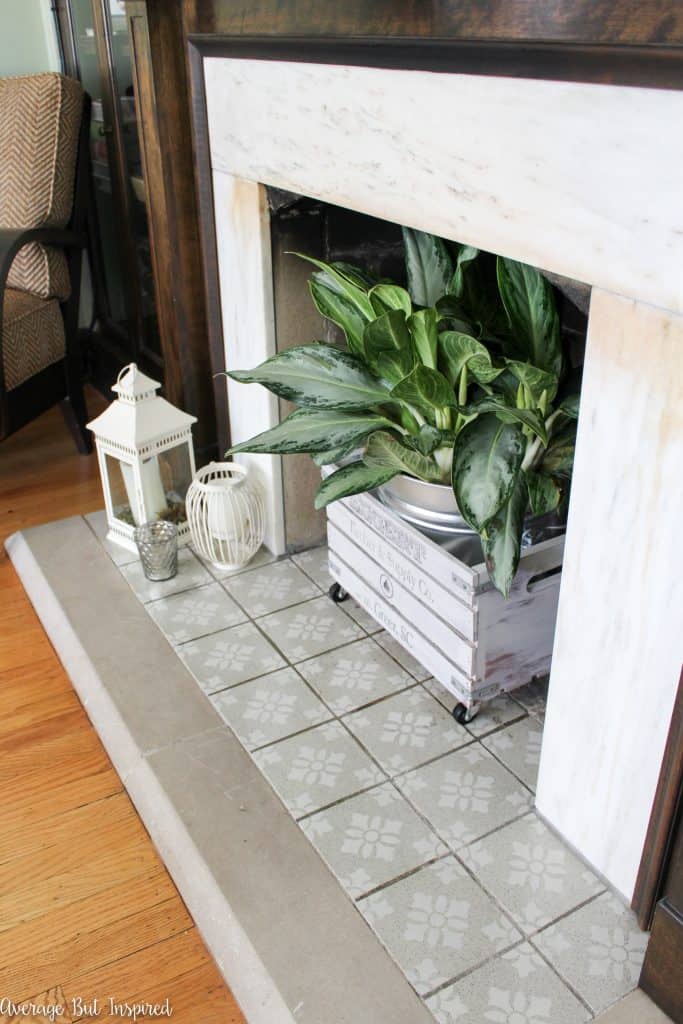 And if you enjoyed this post and think you might give stenciled tile a try in your home, please make sure to pin this post for later!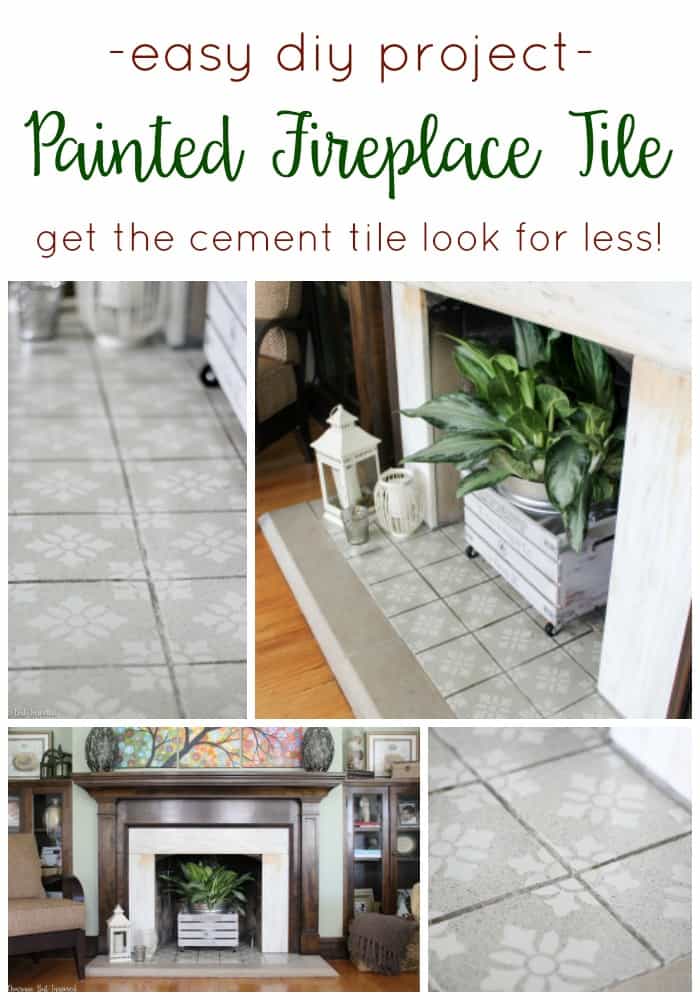 Now that you've seen how I used my stencil to achieve a beautiful fireplace makeover, please pay my friends a visit to find lots of other stencil inspiration!  I know they'd love to have you stop by.

Also, you may like to see how I fixed scratched hardwood floors with this easy idea!
-Bre