I recently shared the first makeover in my new house – my limewashed stone fireplace – and I am thrilled with the impact it made in the living room! As part of that makeover, I also had to paint the marble fireplace hearth because it stuck out like a sore thumb once the orange stone on the fireplace facade was limewashed. See what I mean in this before picture?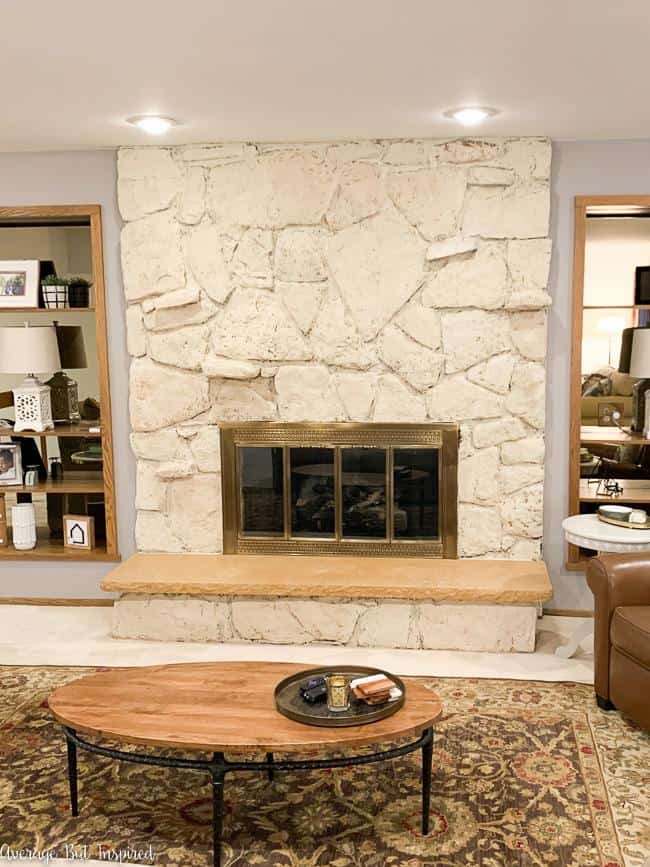 Painting the marble hearth was a little risky because I wasn't sure if it would actually work, but I painted and stenciled the tile hearth in my old home, so I decided to chance it here, too!
I'm happy to report that the painted marble finish is beautiful and it's holding up fantastically. One caveat: we haven't made a fire yet, so I can't vouch for the durability of the finish with heat yet. BUT . . . I am pretty sure it's going to be OK because the hearth never got very hot anyway! I will report back once we've had a fire and confirm or tell you not to do this if you want to have fires.
How to Paint a Marble Fireplace Hearth
It was so easy to paint my fireplace hearth, and it only took four steps. You can do this project in a matter of hours! The hardest part is waiting for the paint to dry!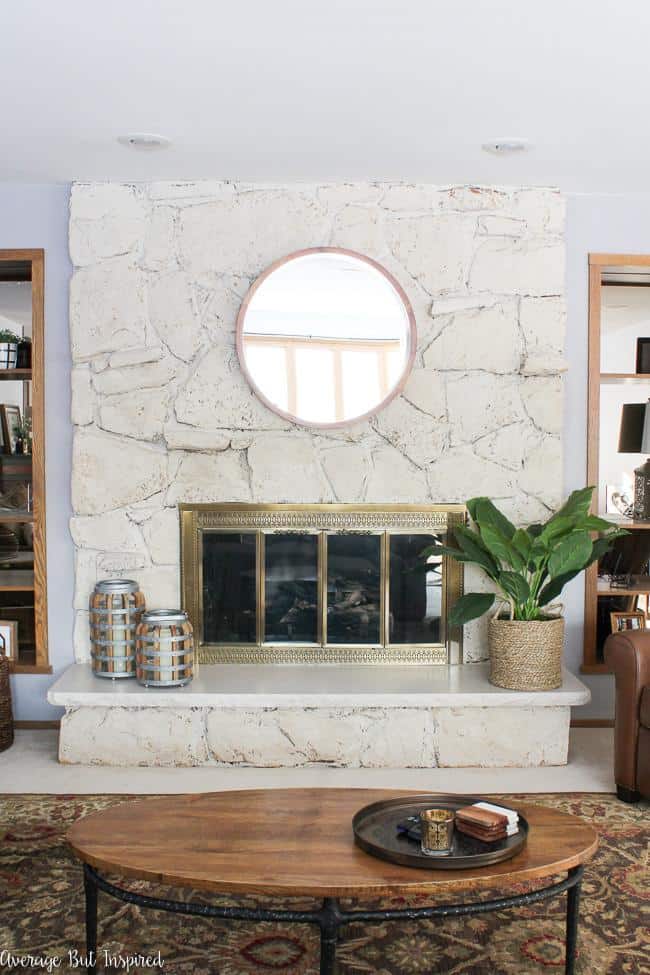 This post contains affiliate links. To read my full disclosure policy, please click here.
Supplies Needed to Paint a Marble Fireplace Hearth
These are the supplies I used to paint my fireplace hearth as shown in this post:
Step One: Sand the Marble Hearth
As with all painting projects, the first step is preparation. Preparation is so important for getting a quality finish! I always want to get to the "pretty part," but for a slick surface like marble, this step is not to be missed. So, make sure to use a fine grain sandpaper and lightly rough up the marble hearth.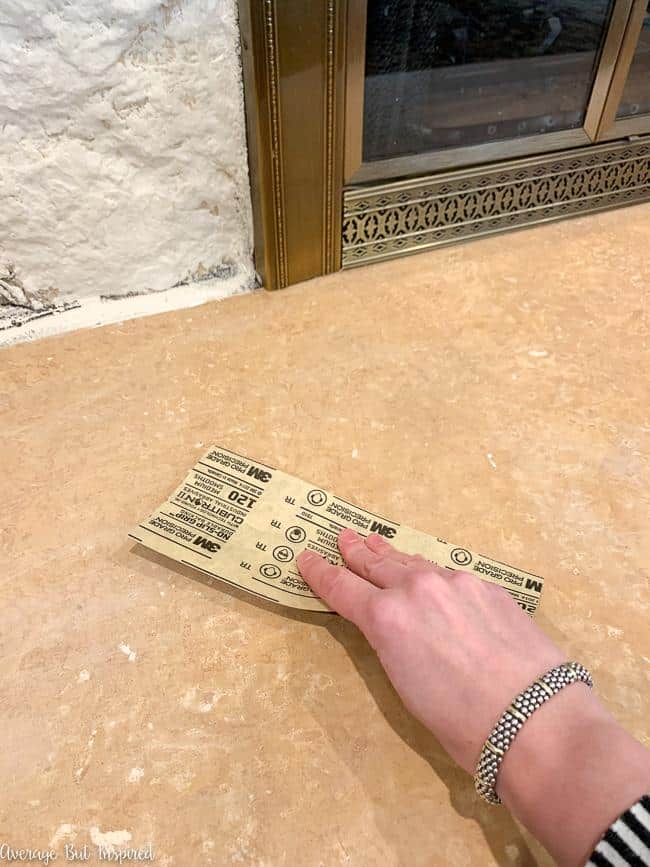 Step Two: Clean the Hearth
Next, you need to clean the hearth. Think about the gross stuff that accumulates on a hearth over time. Dust, dirt, ash . . . the list goes on and on. And, with the roughed up surface you've just created by sanding, you definitely don't want to skip this step.
Mix up some TSP, which is a great cleaner to use before painting (it even says so on the box – ha!), and wash the entire hearth.
Step Three: Prime the Marble Hearth
Next up comes priming! Because marble is porous and slick at the same time, you MUST PRIME before painting! I don't care if you're using paint that tells you don't have to prime (like chalk paint), you absolutely must prime the hearth prior to painting it.
For this project, I used Behr Multi-Surface Primer because it specifically says that it works on glossy surfaces. I wanted to make sure that the primer and paint I used didn't wipe right off, so I gave the product a try.
First I applied a thin coat of primer with a brush along the rough edges of the hearth.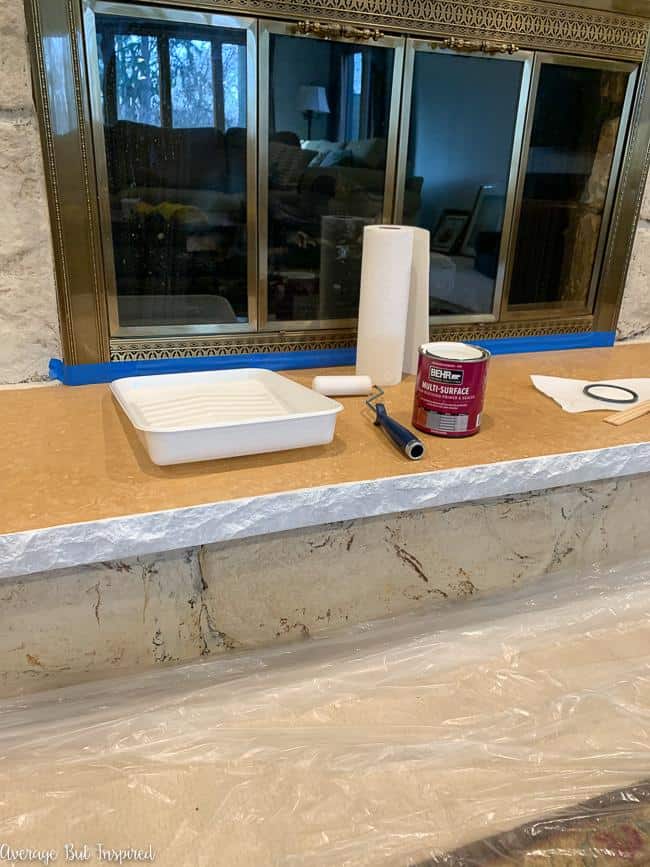 Then, I applied a thin coat on the top of the hearth with a tiny foam roller, and it worked wonderfully.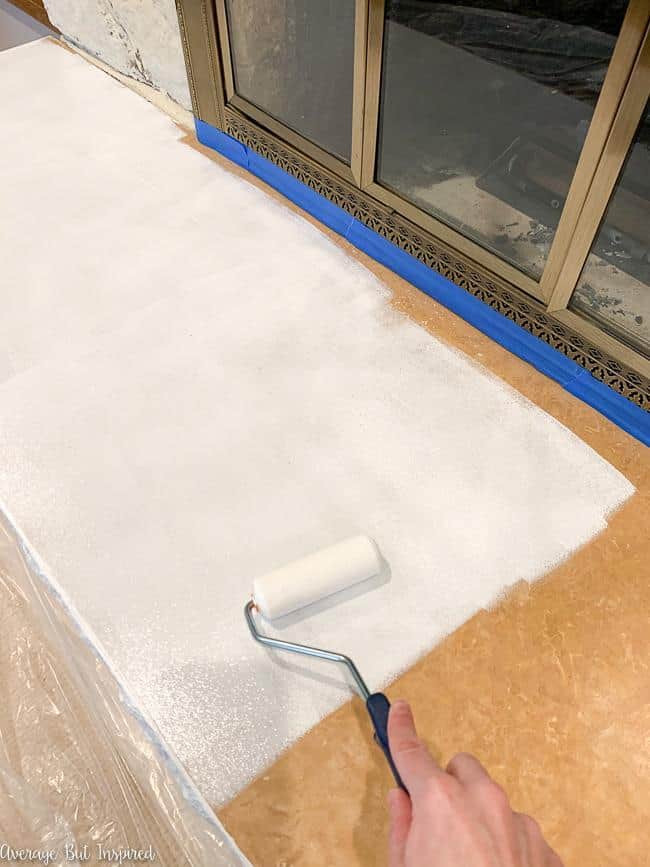 I let the primer dry for a few hours until I was sure it was ready for a topcoat. The fireplace looked better with just primer on it.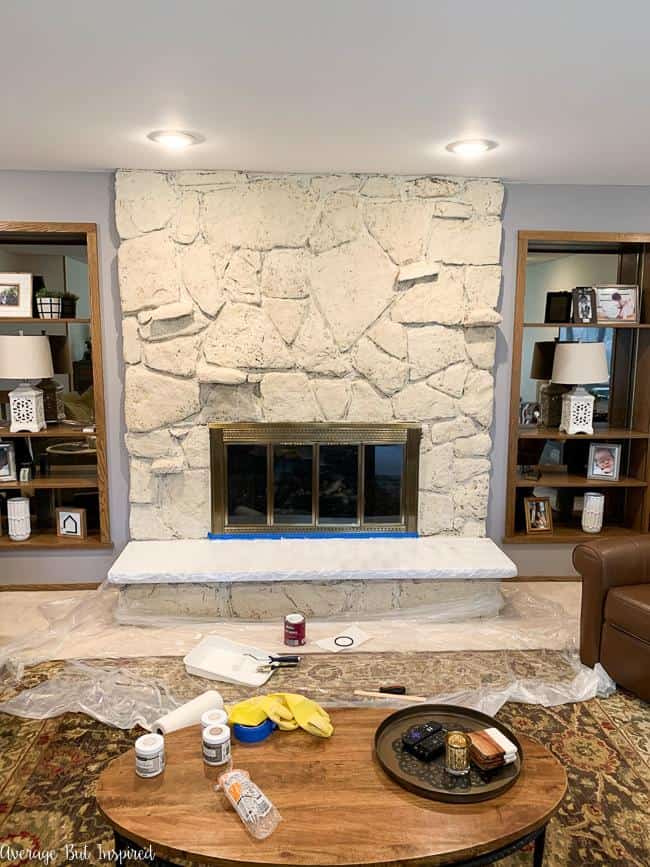 Step Four: Paint the Marble Hearth
Finally, the moment you've been waiting for! The actual paint gets to be applied!
For my marble fireplace hearth, I chose to use Americana Decor Satin Enamels Paint in Neutral Beige. I used this paint because it's a multi-surface paint that self-seals – meaning it doesn't need a topcoat! I previously used this paint on my blue painted bathroom vanity makeover and in my mom's bold powder room green vanity makeover, so I knew it has a durable finish with a sheen that I like.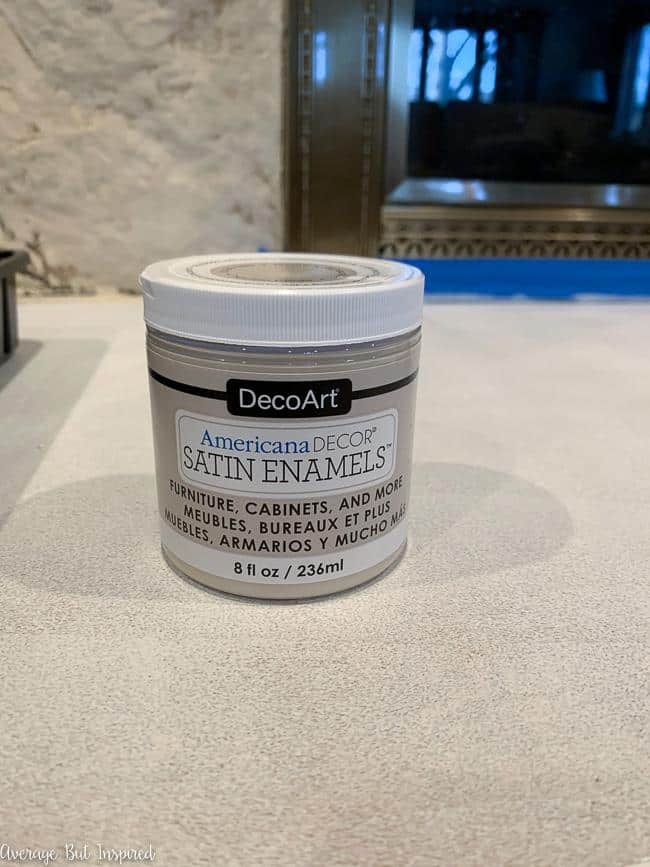 I used the same process of painting the edge of the hearth with a brush and rolling the paint on the top of the hearth with a foam roller.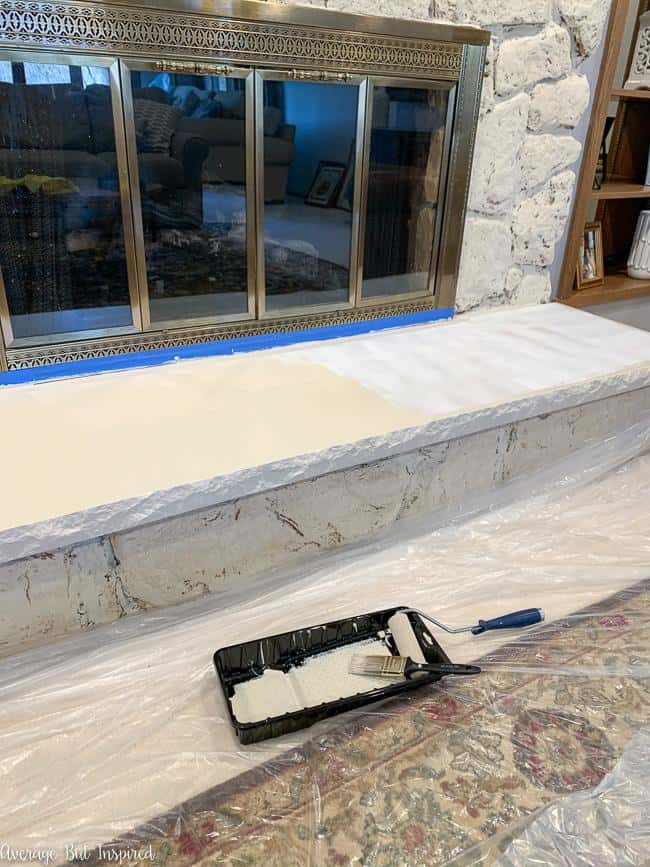 After two coats of paint the marble was flawless and looked amazing with the newly limewashed fireplace stone. Thank goodness the orange marble was gone!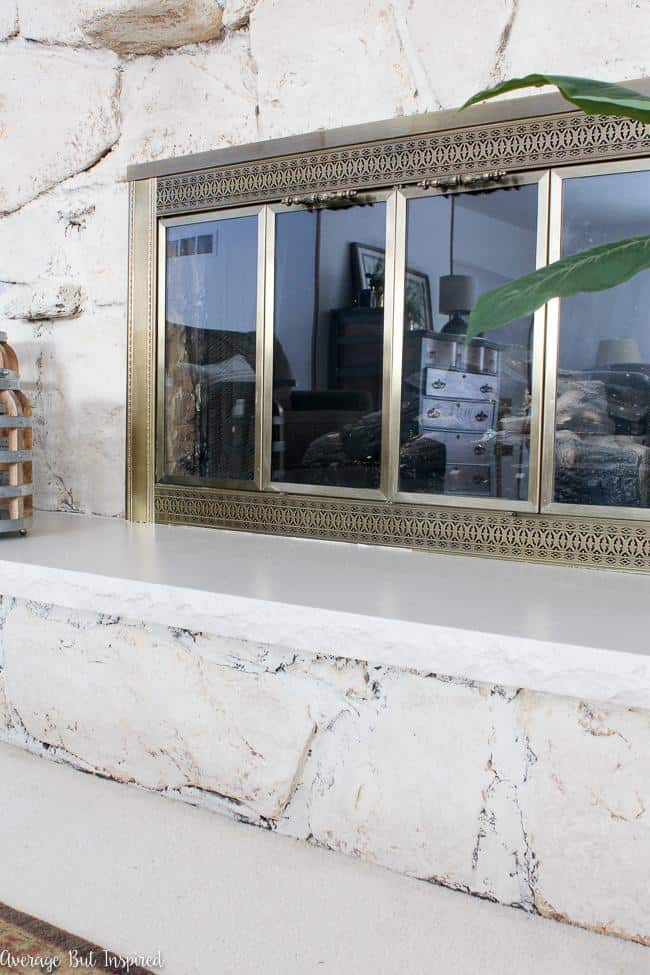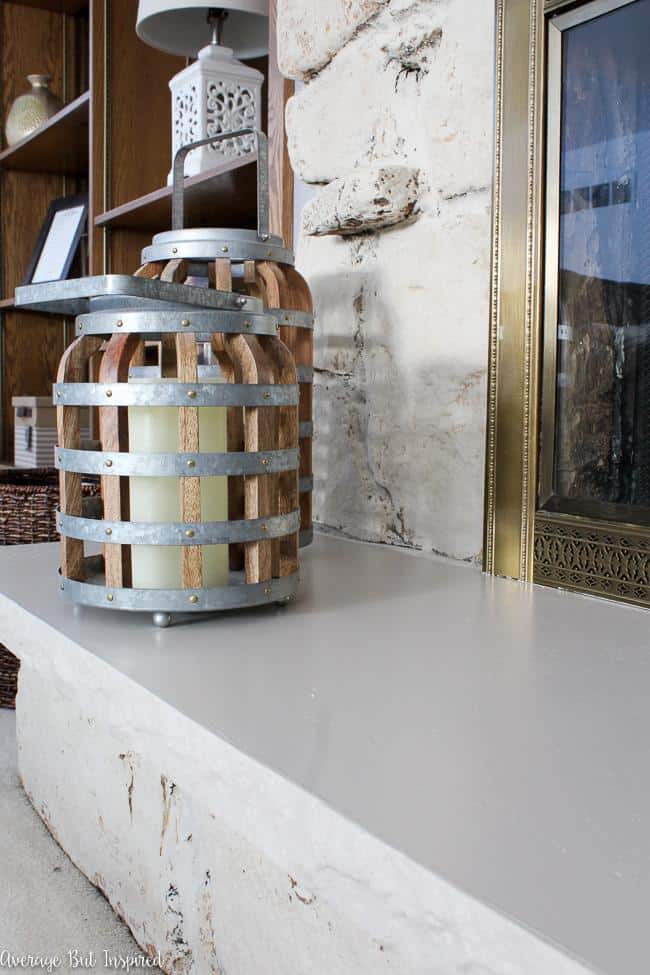 I know marble is not typically a surface that gets painted, but in this case, I just had to update it.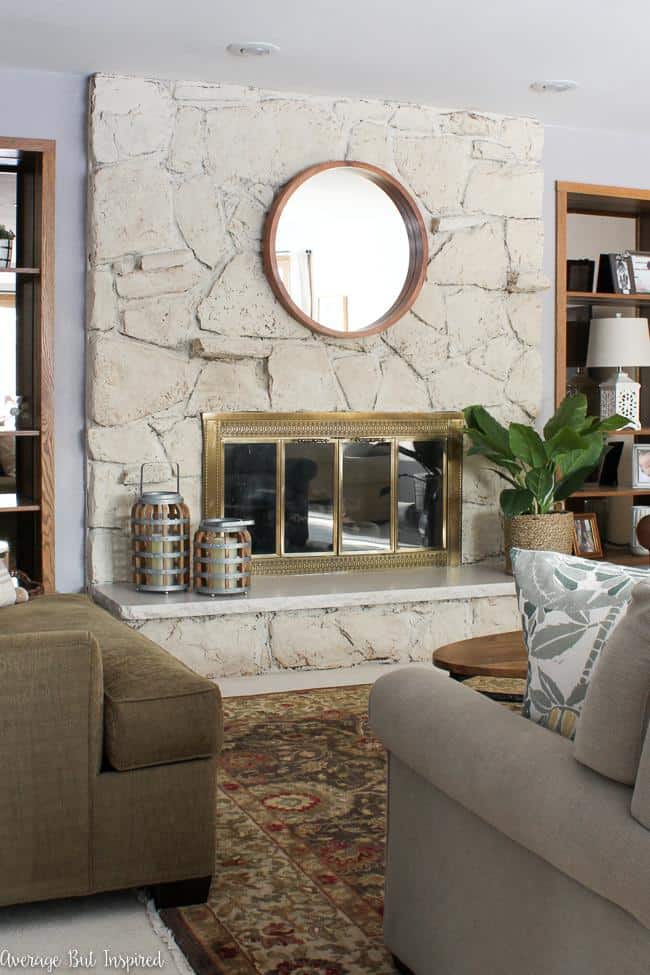 I have a feeling there are others out there living with dated marble fireplace hearths or ugly marble fireplace surrounds, too, who are hesitant to paint their marble. I say just jump in and do it! This is an easy project with a huge return.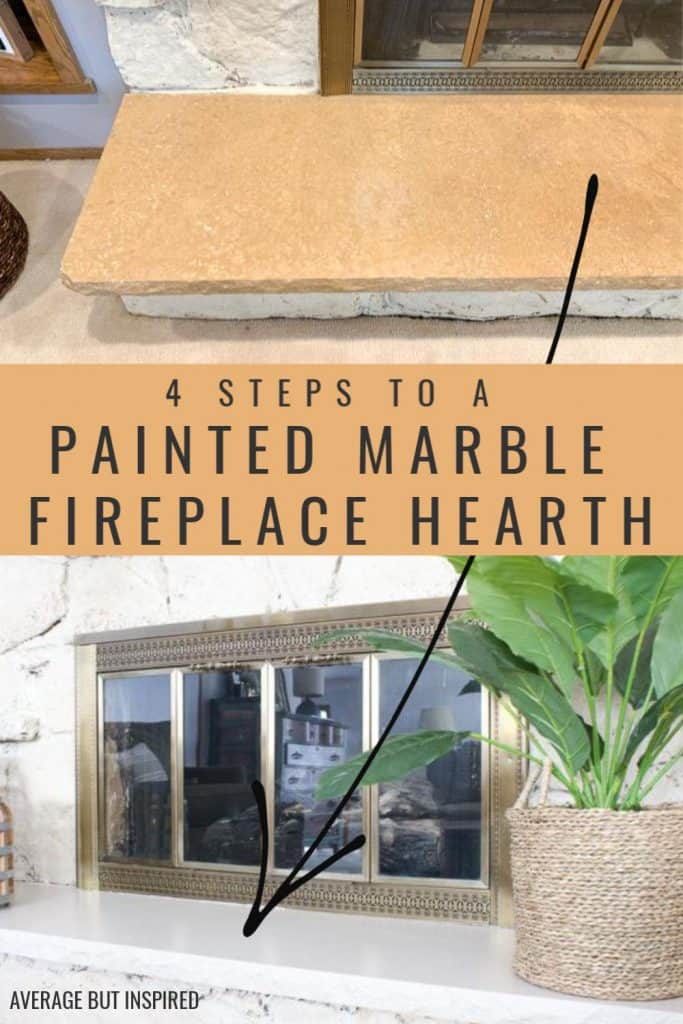 Next up, I will be showing you the makeover I'm giving the built-ins that flank this fireplace! They're looking beautiful so far!
-Bre
You May Also Like Learning How to Refinish Your Front Door the Easy Way!