Flea market season is in full swing!  Having gone to my first flea market just two years ago, I am now officially addicted to them.  I love searching high and low for unique items for my home! Shopping a flea market can be a great experience, but if you're not prepared, it can lead to frustration and a bad time.  So I decided to share my best flea market shopping tips in hopes that it will help some of you novice flea market shoppers!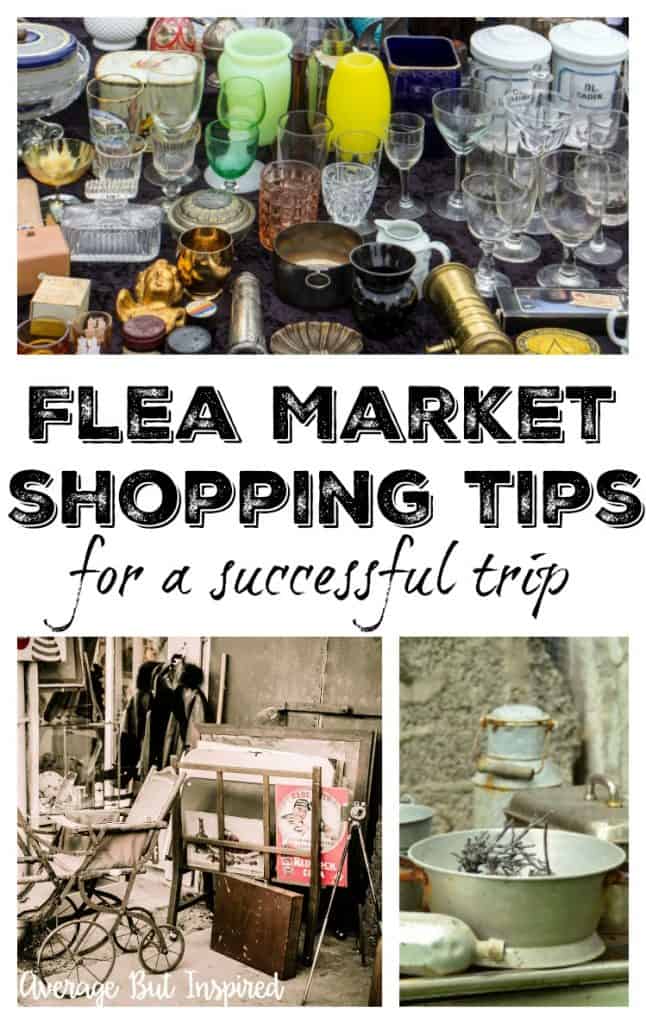 This post contains affiliate links.  To read my full disclosure policy, click here.  
Flea Market Shopping Tip No. 1 – Clean Out Your Car
Before you head out for your flea market adventure, be sure to empty your trunk, remove any car seats (unless you're bringing your small children with you), and put the back seats down if you're feeling ambitious.  This way, when your shopping trip is over, you'll be able to quickly pack everything into your car and avoid the hassle of moving things around when you're hot and tired.
Flea Market Shopping Tip No. 2 – Wear Comfortable Shoes
I wore flip flops to my first flea market.  BAD!  Not only did my feet hurt from walking all over the place, but they got so dusty and dirty – it was disgusting.  Definitely wear comfortable (closed toe) shoes – your feet and back will thank you for it!
Flea Market Shopping Tip No. 3 – Bring Cash in Many Bill Sizes
Some flea market vendors are equipped to take credit cards, but many are not.  Make sure to have cash on hand so you don't have to hit up the flea market ATM, where you will likely face high withdrawal fees.
Also, have many types of bills on hand.  If you haggle with a seller for a lower price on an item, the last thing you want to do is ask for change.  It's definitely best to have a variety of bills in your pocket so that you can pay the exact amount.
Flea Market Shopping Tip No. 4 – Bring a Large Tote or Collapsible Wagon
Some of your flea market finds may be bulky and less than convenient to carry around.  If you're very prepared, bring a collapsible wagon like this or folding personal shopping cart like this to cart your purchases around in.  Alternatively, a large canvas shopping tote like this is a good way to carry lightweight items with you as you shop.  Some flea market vendors may have plastic grocery bags for you to carry your purchased items in, but don't bank on it.
Flea Market Shopping Tip No. 5 – Bring Water, Food, and Headache Medicine
Check the rules of the flea market you're going to, but if you're allowed to bring food and water inside, definitely do it.  Flea market shopping is draining and you'll want to stay hydrated and fed (hey, nobody wants to deal with hunger-induced rage).  Also, if you're prone to headaches like me, make sure to bring some Advil or other headache medicine with you.  Nothing kills the fun like a killer headache.
Flea Market Shopping Tip No. 6 – Don't Hesitate
If you see something you LOVE and must have, don't hesitate to buy it.  If you wait, it may not be there when you get back.  I violated this rule recently and paid the price.  The super cool decorative container I wanted for my mantel was gone by the time I got back to purchase it.
Flea Market Shopping Tip No. 7 – Hesitate
Yes, I just said the opposite of what I said in tip no. 6!  If you see something that you like but don't absolutely have to have, wait and go back to the booth later in the day to see if it's still there.  If it is, try to haggle with the seller to see if you can get a lower price.  At the end of the day, sellers are more willing to discount their items because they'd typically rather sell something than have to re-load it and haul it back home.
Flea Market Shopping Tip No. 8 – Don't Buy Counterfeits
Flea markets can be full of counterfeit items like purses, sunglasses, etc.  These items are cheaply made, divert sales from designers and retailers who invest a lot of money in product development and marketing, and have been linked to helping terrorism efforts.  Save your money for authentic goods – please!
Flea Market Shopping Tip No. 9 – Bring Measurements and Paint Colors
If you're looking for an item for a particular place or room, make sure to bring space measurements and paint colors with you!  Chances are you won't be able to return anything you buy at a flea market, so if you buy the wrong size or color of something, you're stuck.  (Check out this post for a great way to keep paint swatches organized in your purse!)
Flea Market Shopping Tip No. 10 – Remember Where You Parked Your Car
On my most recent flea market shopping tip, I was so excited to get in the fairgrounds and get shopping that I didn't pay close attention to where I parked my car.  Then, when I was leaving with my rusty metal projector cart that I had to carry (it wouldn't roll over the gravel in the parking lot), I was perplexed to realize that I could not find my car.  I carried that projector cart all over, pressing the alarm button on my keychain until I could hear my car and locate it by sound.  SO embarrassing and SO painful.  My arms still hurt!
So what do you think of these tips?  If you're a pro flea market shopper, what would you add to my list?