Today I'm feeling a little shocked about two things: (1) I blinked and we're ten days into August; and (2) it's again time for The Monthly DIY Challenge. If you're unfamiliar with The Monthly DIY Challenge, each month some of my best blogger friends and I team up to create projects that revolve around common items or themes. Recently we've worked with things like blank canvases of all sizes and air dry clay, but this month we're all updating home decor items with spray paint! I can't wait to show you how I gave a rusty old metal projector cart a fresh new look and purpose as a craft cart!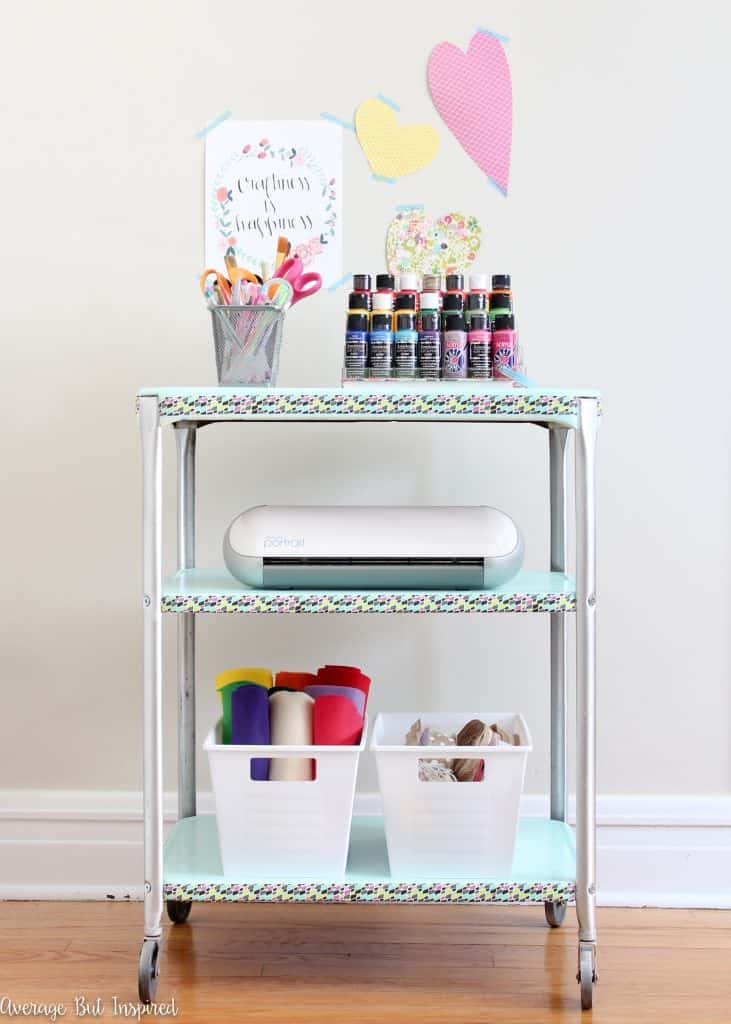 And thanks to the generosity of HomeRight through its sponsorship of this challenge and my post, I just know you're going to L-O-V-E my friends' projects, too! (If you'd like to read my full disclosure policy, you can do so here.)
Alright, well let's get down to the dirty details of this project, shall we? Let me show you the BEFORE photo of my vintage projector cart. Warning: it isn't pretty.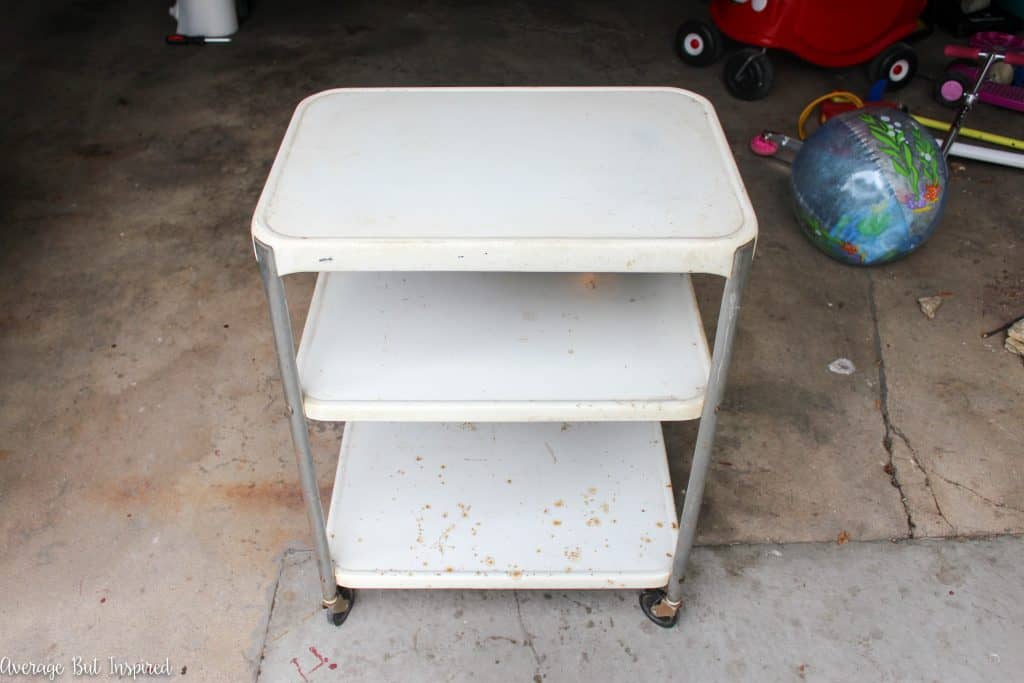 I picked this guy up at the Kane County Flea Market back in July, and my husband would not stop making fun of me for it. "You went all the way to Kane County to buy that?" (It's probably and hour and twenty minutes away.) Some people (my husband, for example), have no vision.
Materials Needed for a Vintage Projector Cart Makeover
Please note that some of these links are affiliate links, which means I earn a small commission at no added cost to you, should you purchase through them. To read my full disclosure policy, please click here.
Spray primer (I used this kind)
Spray paint of your choice for the shelves (I used this color)
Spray paint of your choice for the legs (I used this color)
(As an alternative to spray paint in a can, you could use the HomeRight FinishMax Sprayer and paint of your choice. I ADORE my FinishMax Sprayer, and you can read about my experience with it right here!)
Patterned masking tape or washi tape (I found my patterned masking tape at Target)
Instructions for a DIY Vintage Projector Cart Makeover
First of all, if you're working with an old projector cart, you'll need to clean it really well. Mine was disgusting and I had to wash it about three times. Once it was clean, I took it apart.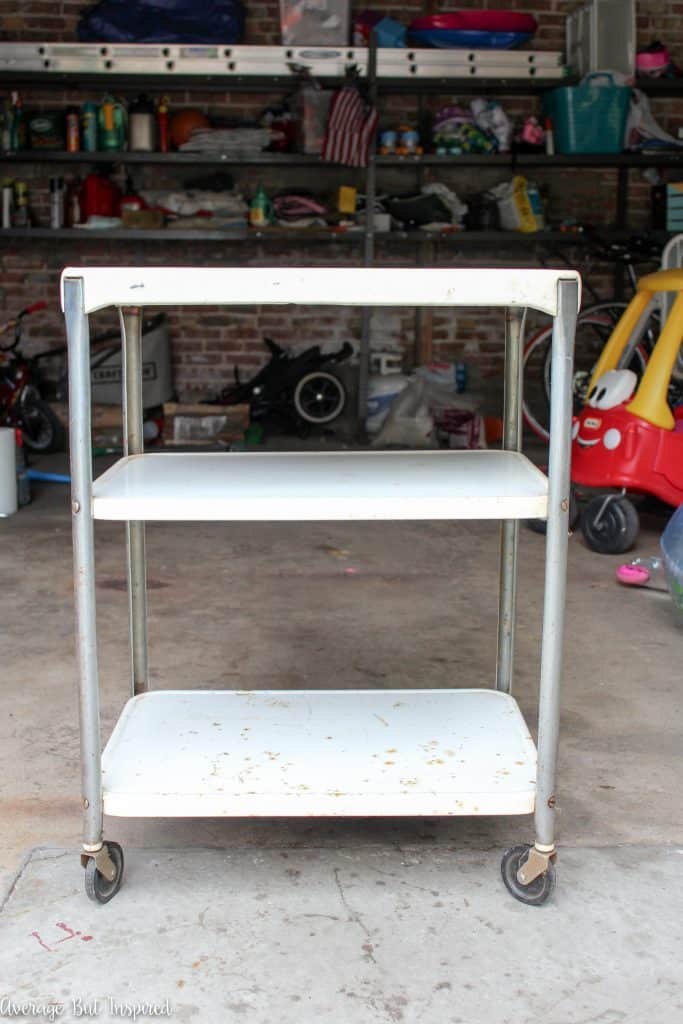 Next, I got to work protecting my garage from the spray paint bonanza that was about to ensue. I laid down a drop cloth and got to work assembling my HomeRight Spray Shelter. It stores easily in a small bag, and it went together quickly so that I could get to work on making this projector cart pretty!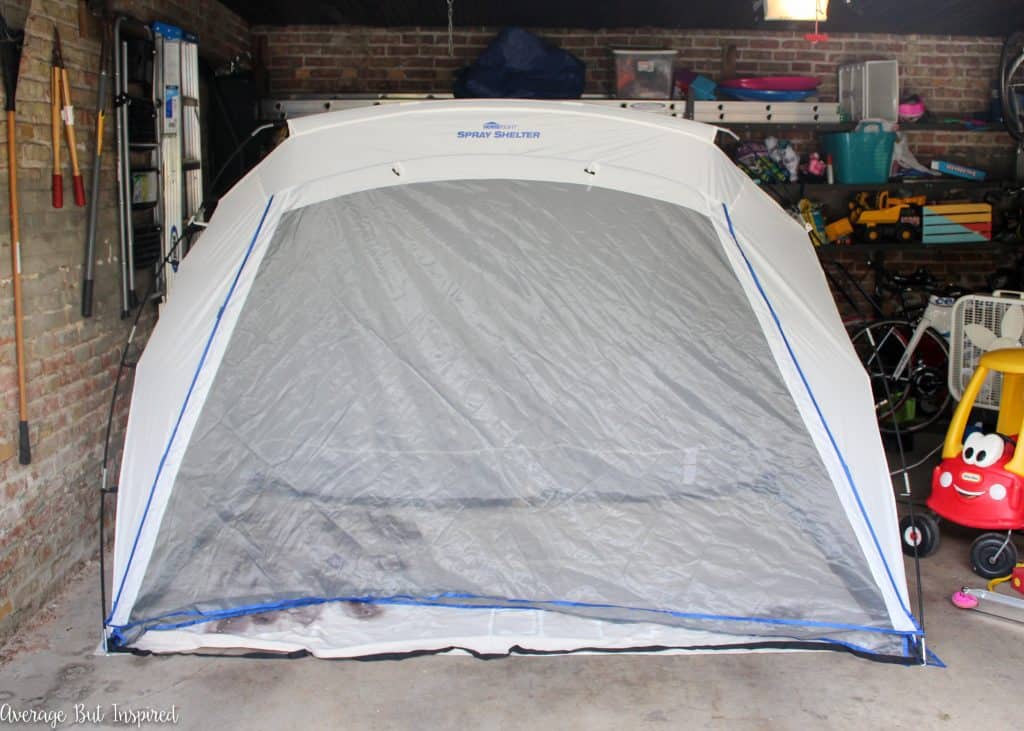 I started by spraying the shelves and legs with primer. Because I was working with metal (and rusty metal at that), I wanted to make sure that the pretty colors I had chosen wouldn't chip off!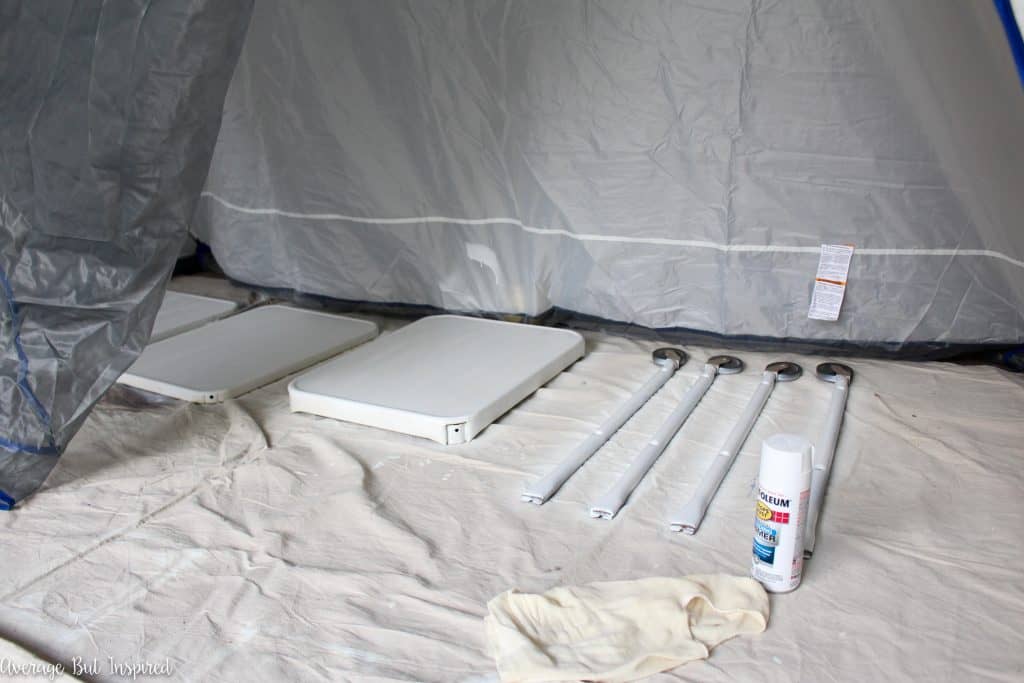 After the primer dried, I went back inside the tent to check things out. I was SO excited to find that, for the first time in the history of me spray painting anything, my pieces were perfect. Typically I spray paint outside and something always goes wrong; whether it's leaves or debris in the air landing on the wet paint, the drop cloth flying up and sticking to the wet paint, or an animal using my project as its bathroom (thanks, birds), something always goes wrong. But not this time – the pieces were pristine because I sprayed them in the HomeRight Spray Shelter.
Because of that great primer finish, I sprayed the shelves and they looked ah-maaaa-zing!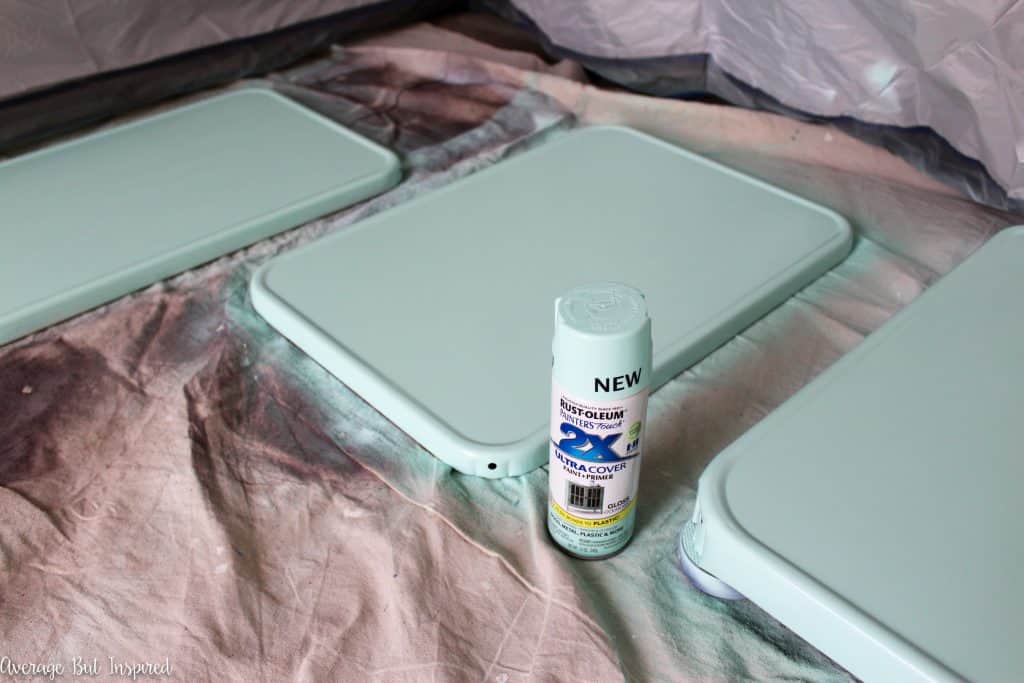 Next up, the legs. They were really gross and needed a fresh coat of silver, so that's what they got.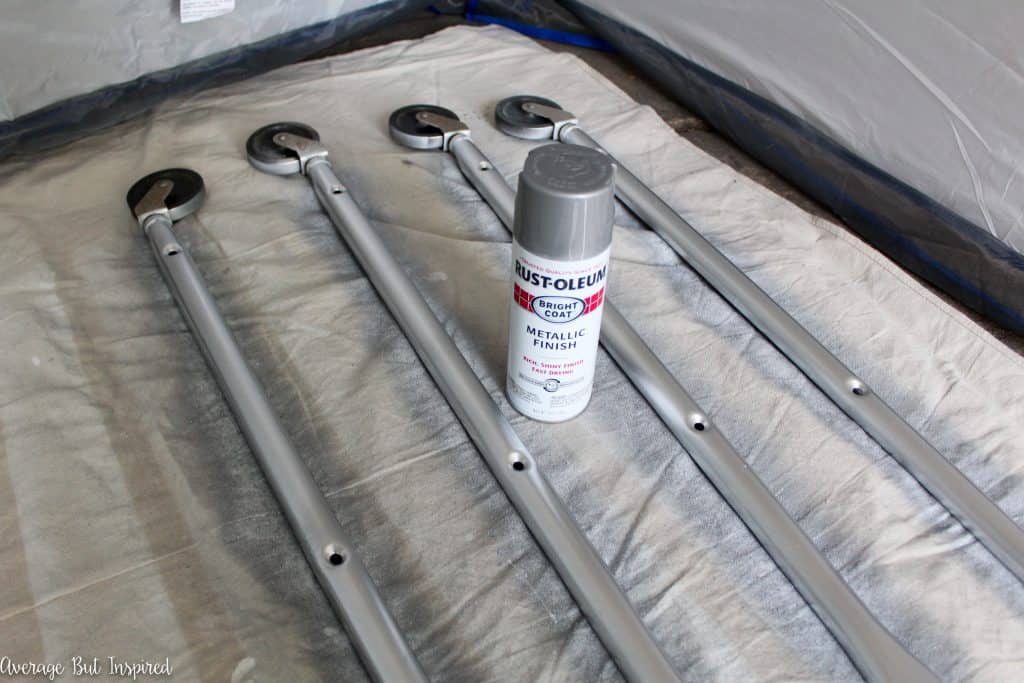 While I waited for the pieces to dry, my kids dreamed of all the ways that THEY could use the HomeRight Spray Shelter. ("Can we camp in it, mommy?" Um, no. Sorry – this mama does NOT camp.)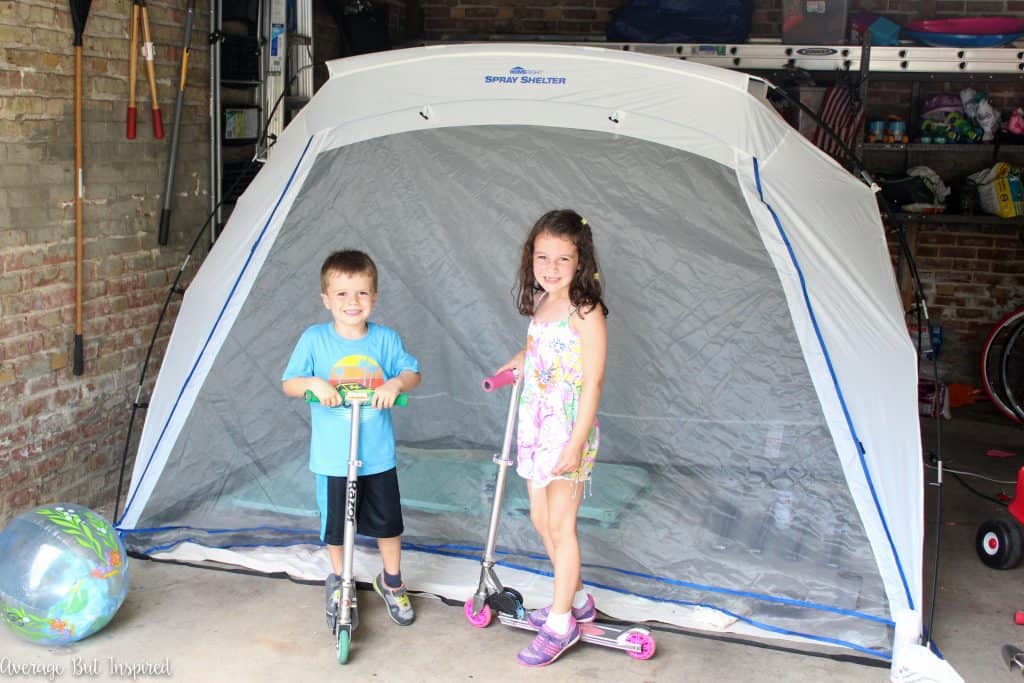 They were happy when I called them inside the Spray Shelter to help me reassemble the projector cart once it had dried. (Not pictured here: me getting irrationally annoyed with the assembly process.) After a few failed attempts at putting it back together, I finally got it done and brought the newly beautified projector cart inside, where I embellished the edges with patterned masking tape. (Note: do you see how smooth my finish is? No leaves or debris on this baby!)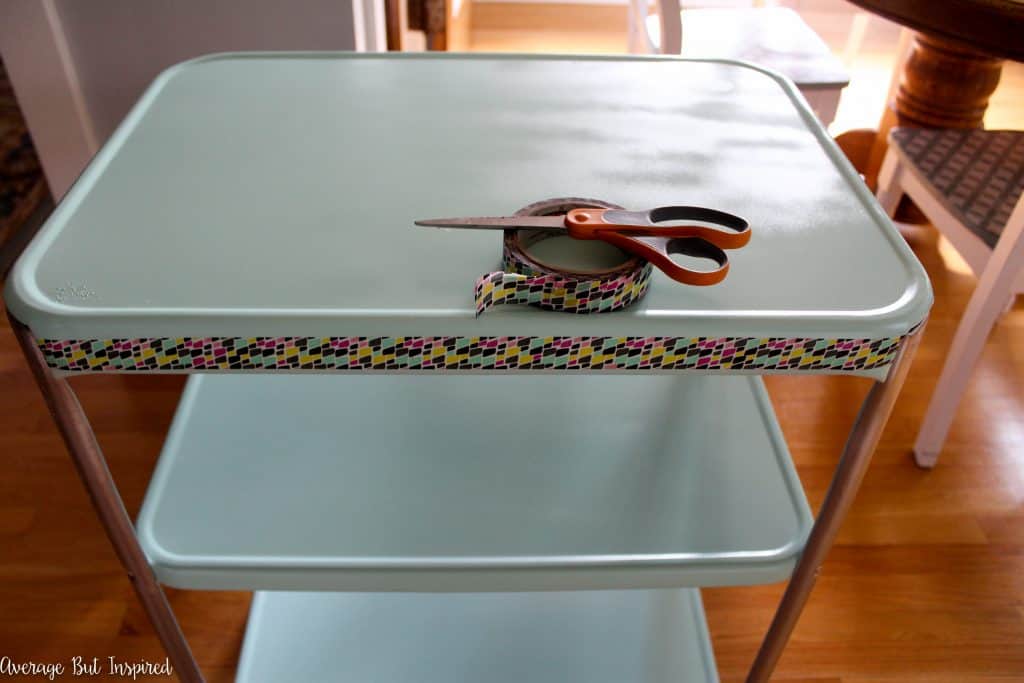 And just like that, I gave that vintage projector cart a beautiful new look and a great new purpose as a craft cart for some of my favorite supplies!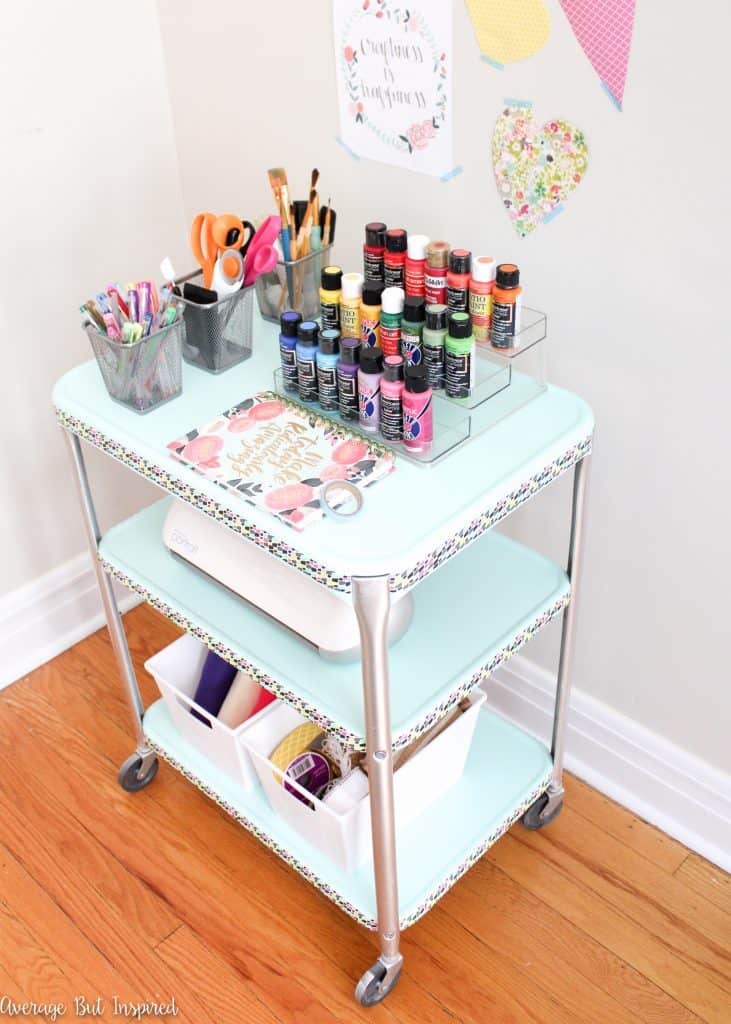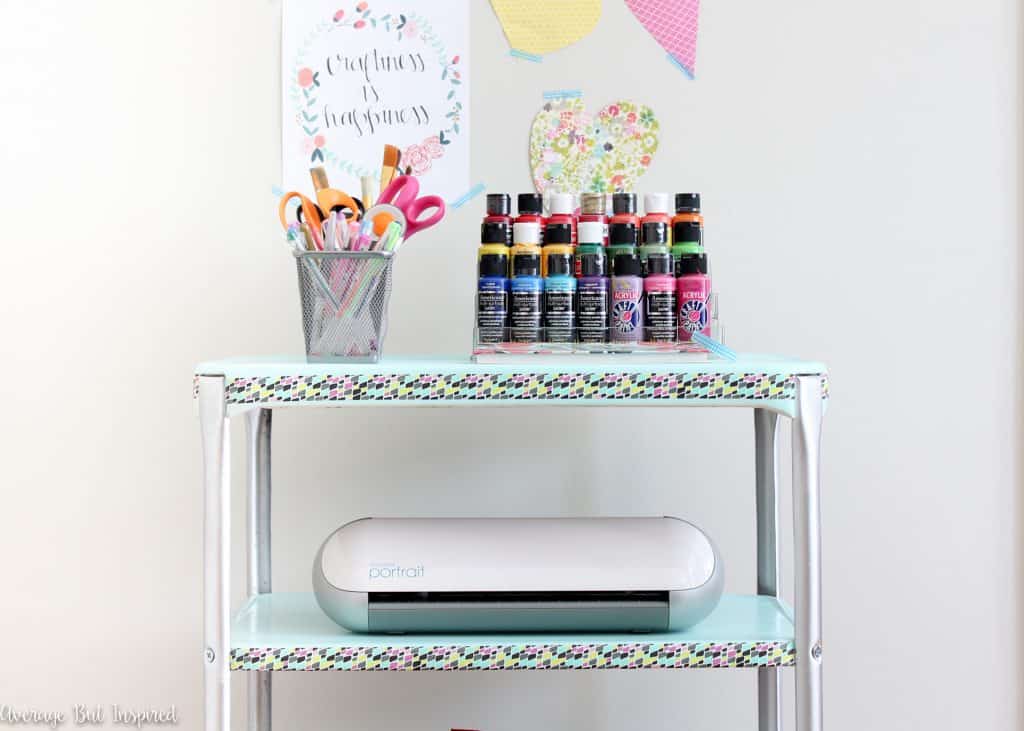 Can you believe this is the same projector cart I showed you above?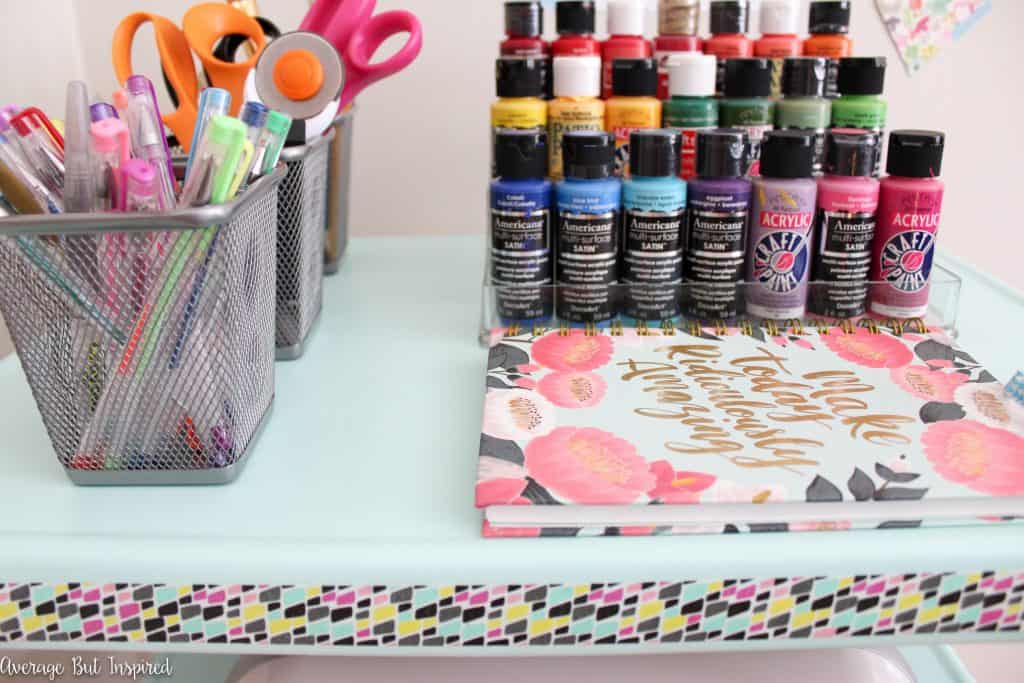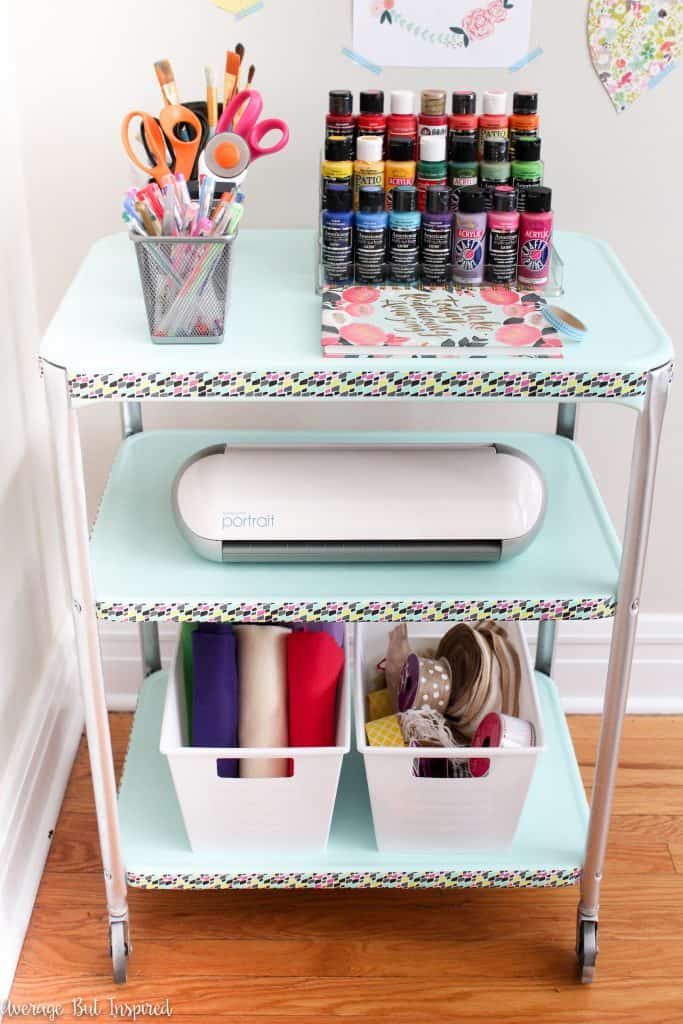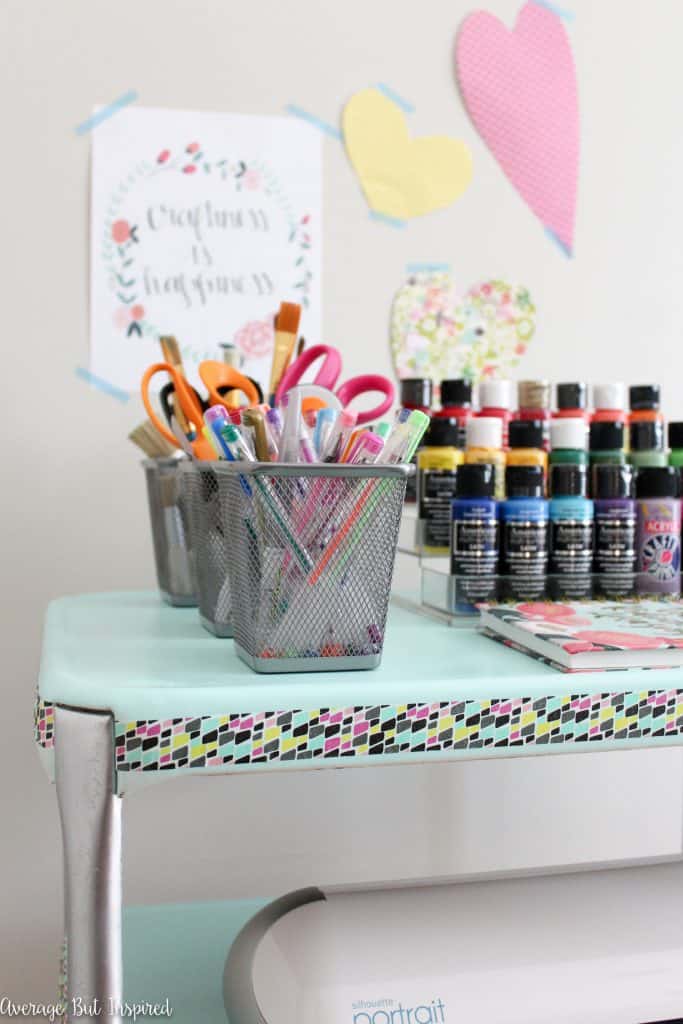 I am so happy with the perfect finish I got on this vintage projector cart to craft cart because of using the HomeRight Spray Shelter. I am telling you that it made the biggest difference in my opinion of spray paint projects!

And for small projects that I spray, like lamps and decor accessories, I will be using the BRAND NEW HomeRight Small Spray Shelter, which you can use right on top of a table! It just pops right open and is ready to use!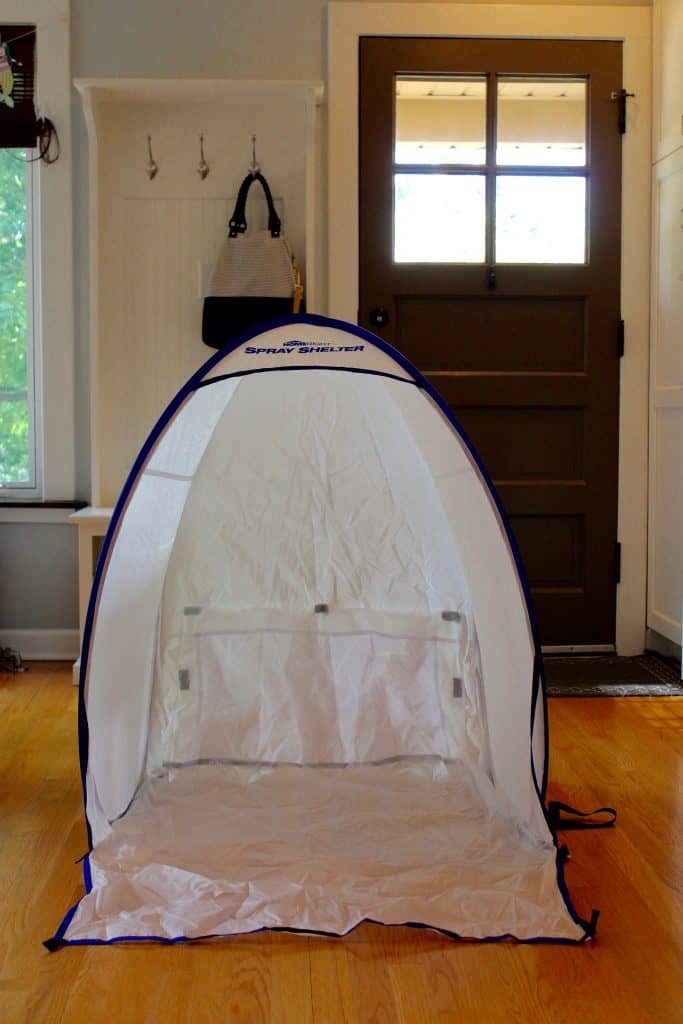 -Bre