Holy moly, you guys! We're into Week Four of the One Room Challenge already! If you've been following along with my master bathroom makeover over the past several weeks – thank you! And if you've just made your way here for the first time – welcome! This week I'm sharing how I went from dark trim and walls to light and airy with mildew resistant paint that's PERFECT for a bathroom!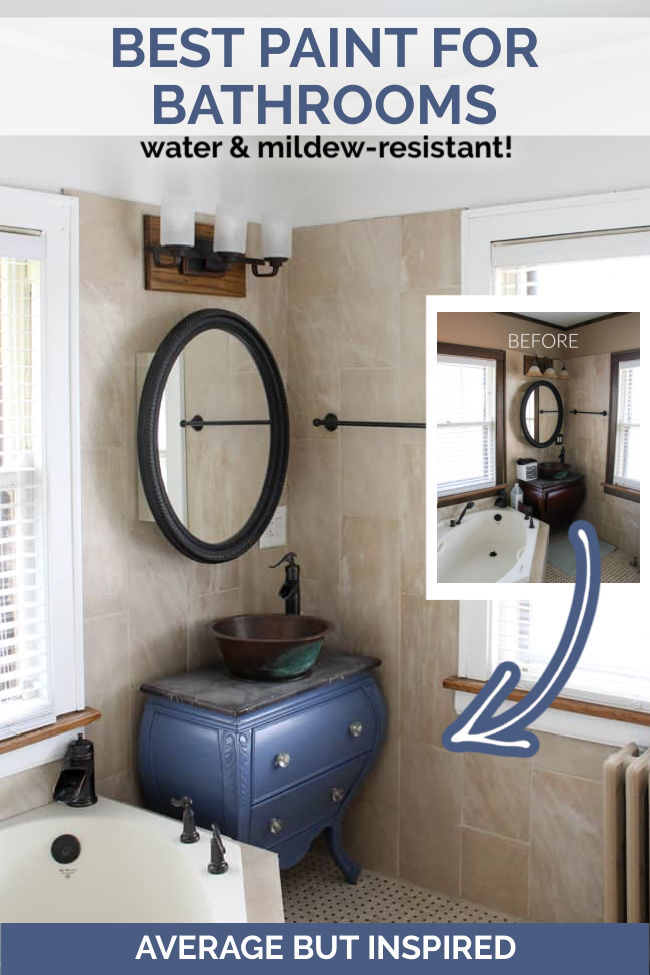 I can't wait to fill you in on how I'm kicking my bathroom's mold and mildew problem to the curb with paint that's formulated to resist that grossness.
But first, let me quickly recap what I've accomplished so far, and what I still have left to do for this master bathroom makeover.
Bathroom Makeover Progress So Far
Painting the Bathroom Walls and Trim
Now that you've seen what I've done so far, let me tell you that this week I worked myself to exhaustion – no joke! By Sunday evening I was absolutely D.O.N.E and was actually crying over this bathroom.
Trying to do all of this work by myself while working and running my household is getting to me! But I feel like I'm over the hump now (famous last words), and with two weeks left to go I'm trying to give myself a pep talk to finish strong.
Anyway, my HUGE progress this week was priming and repainting the bathroom walls, molding, and windows. If you've ever taken a room from dark to super light, you know just how much work goes into it!
Before I show you the incredible difference a paint job made in this bathroom, let me remind you of what the paint, trim, and molding looked like when I started this challenge.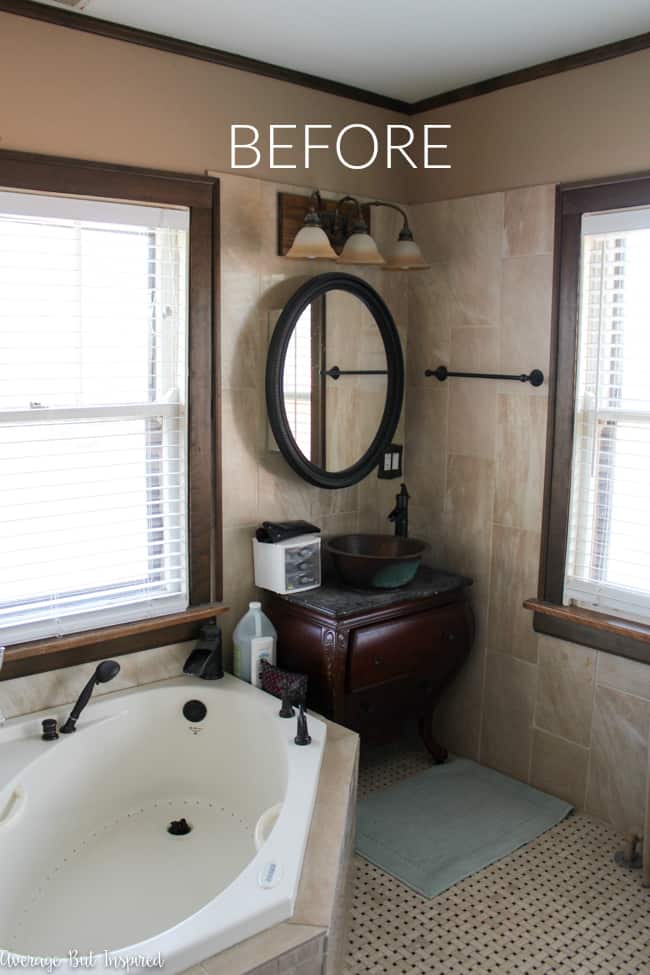 Thank you to Sherwin-Williams for providing the paint used in this project. The opinions in this post are entirely my own.
And here's what it looks like now!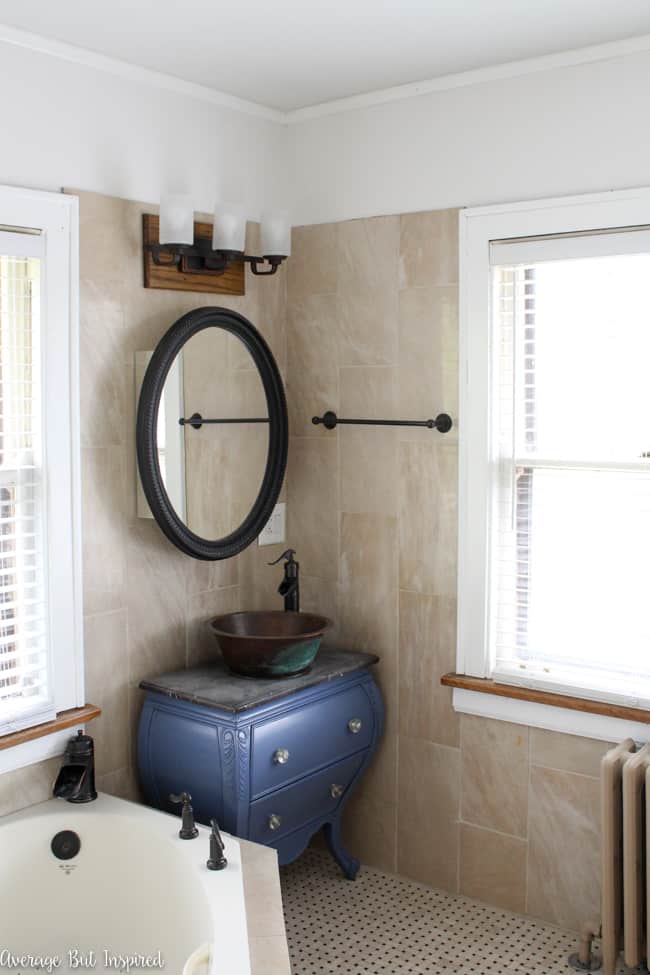 It's like a night and day difference (get it – dark to light? So funny!)!
Painting the Bathroom with Sherwin-Williams Mildew Resistant Paint
Not only does the fresh paint look good, but it's going to actually function well in this bathroom.
Do you remember how I disclosed the mildew problem we were having in this bathroom (if not, check it out in Week One's post)? The poor ventilation was leading to a cracking ceiling and mildew on the ceiling and walls. So gross.
Because of that I did some research on how to combat mildew in bathrooms, and I was surprised to find out that you can actually buy paint that inhibits mold and mildew growth, and it's perfect for bathrooms! How brilliant is that?
Mildew-Resistant Paint Products Used
Armed with this knowledge and my makeover plan, I headed into Sherwin-Williams and picked up all of the supplies I needed to help mildew-proof my bathroom walls:
How to Paint a Bathroom to Resist Mold and Mildew
And then I got to work. Big time. Despite this bathroom not having a lot of paintable surface area, this was no small task.
Step One: Prime with Water Blocking Primer
I started by priming all of the dark wood moulding and trim with Sherwin-Williams LOXON Water Blocking Primer/Finish. This primer reduces odors and blocks moisture, which is EXACTLY what I need to happen in my bathroom.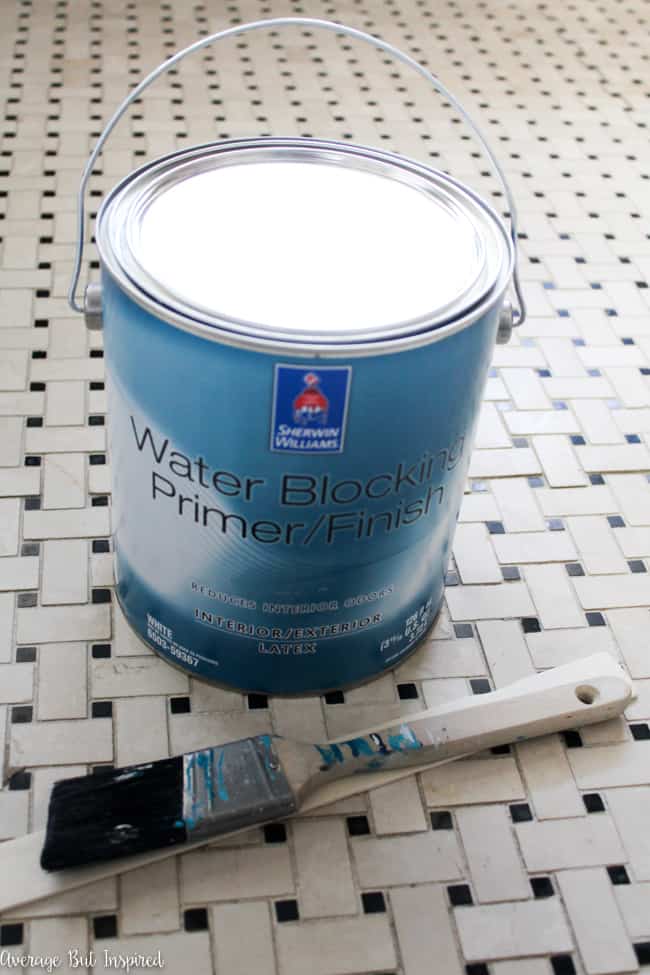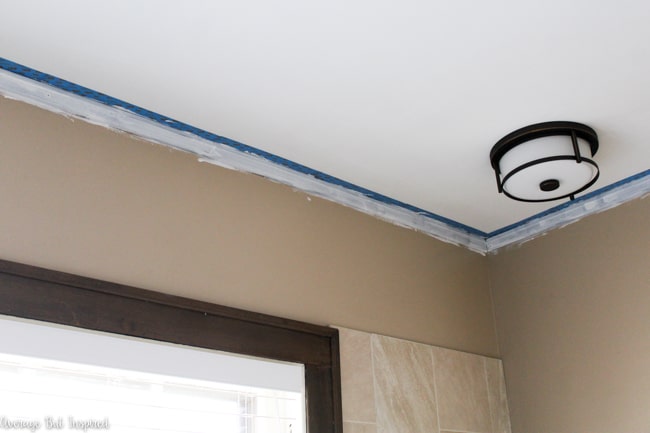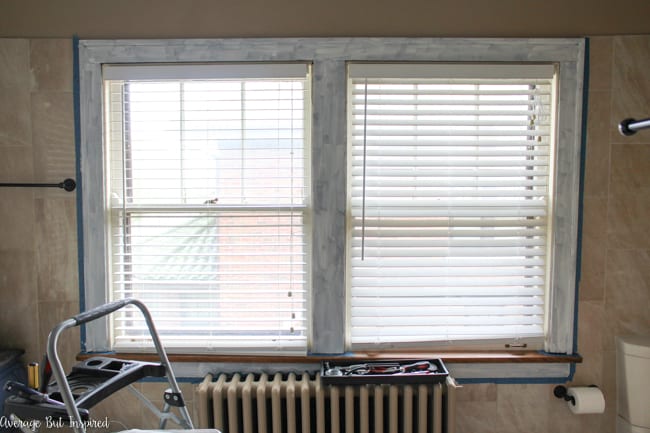 Not so glamorous, but necessary.
Once the primer dried on the moulding and trim, I moved onto the walls. (This was strategic to do as little taping as possible. It made sense in my mind to do it this way.)
Step Two: Paint with Mildew Resistant Paint
I used Emerald Interior Acrylic Latex Paint in a creamy white called Snowbound. It's a paint and primer in one that has stain-blocking technology built in, contains agents to inhibit the growth of mold and mildew (SCORE!).
It's also really easy to wash and clean. In short, it is the perfect paint for any bathroom!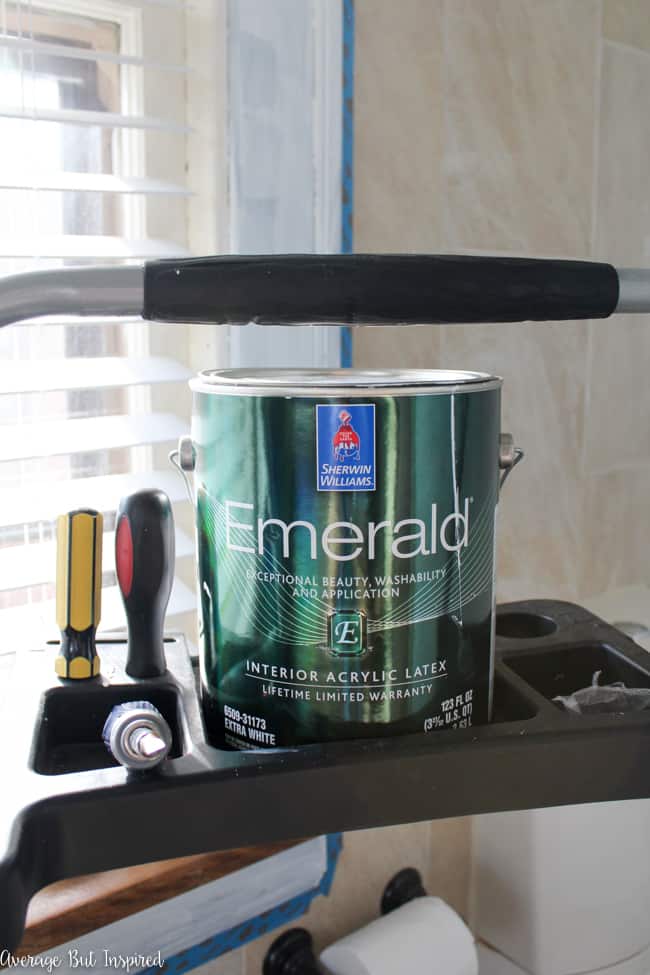 Look at this beautiful white wall! (And try not to notice the 100% illegal electrical panel on that wall. I told you before that this previous owner's DIY bathroom was a DISASTER!)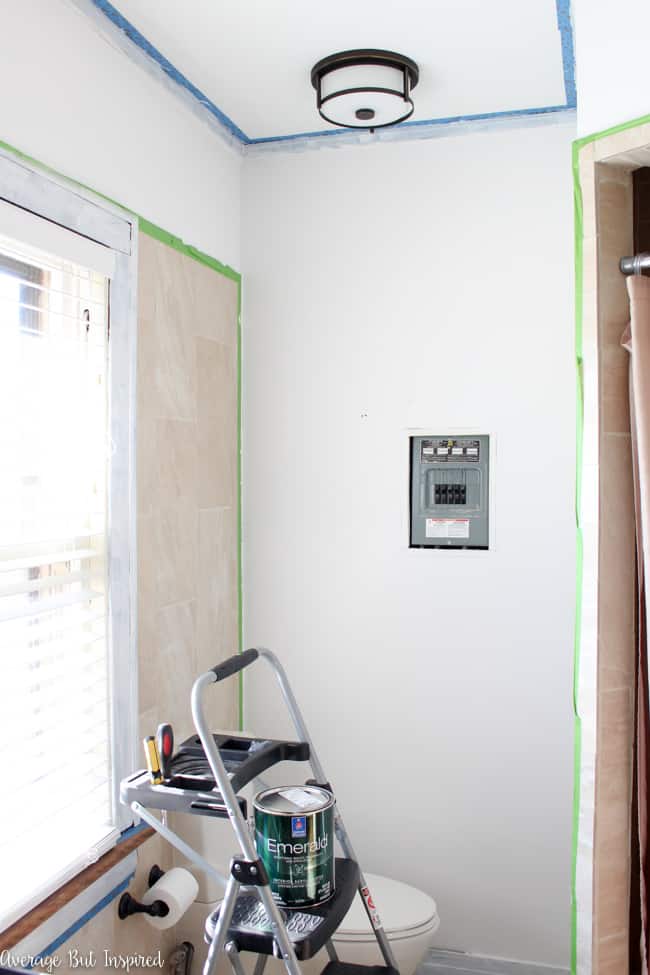 The Emerald paint went on smoothly and evenly, and I cannot wait for it to do its mildew-preventing job!
Step Three: Paint the Molding and Trim
Once I finished painting the walls, I moved onto actually painting the molding and trim.
For this I used ProClassic Alkyd Interior Enamel, which is a great paint that goes on very smooth (minimal brush marks), and has great durability and washability. When you're going extra white, that's important!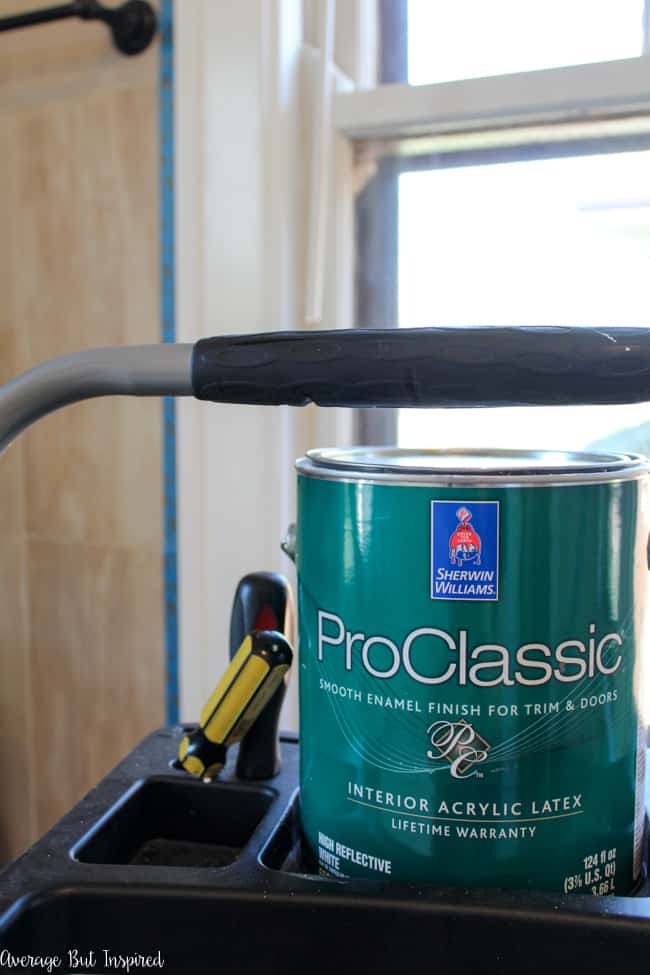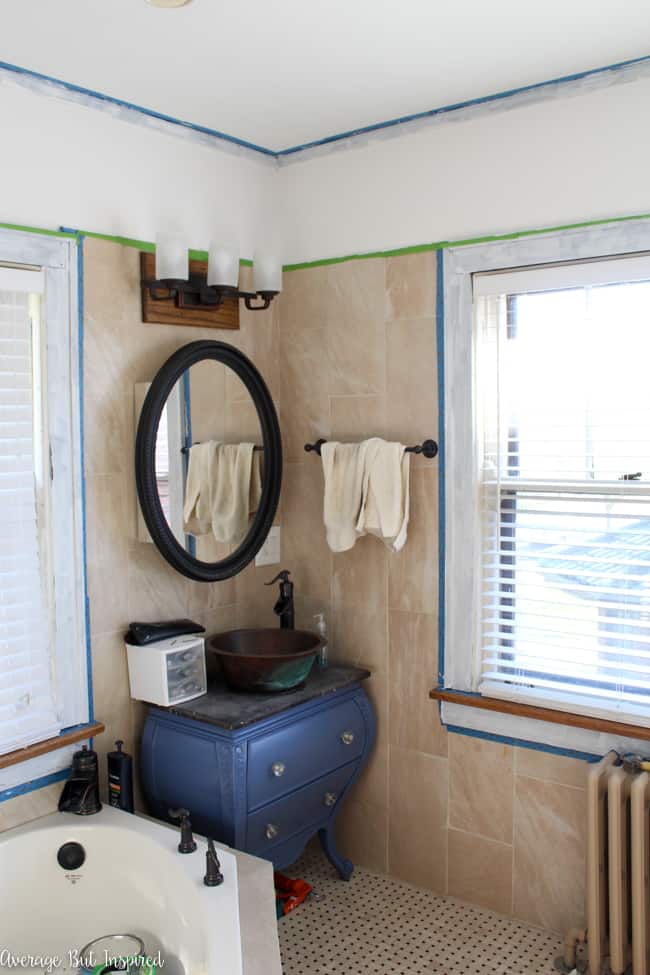 After working most of Sunday to get the moulding and trim from dark to bright white, I was ecstatic to have a smooth and glossy finish on my trim and windows! (See the smile on my face in the mirror? I'm so happy.)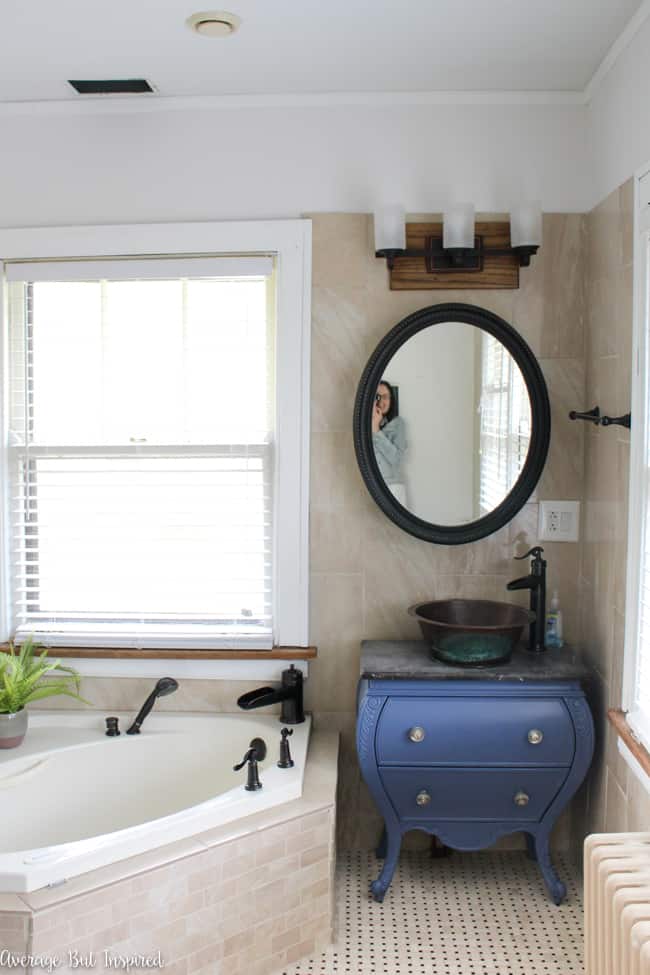 I still have some touchup work to do on the trim and windows (filling some gaps, putting another coat on some missed spots, etc.), but on the whole I'd say this painting job is done! It looks good and I am thrilled that it will help prevent the mildew we were seeing before.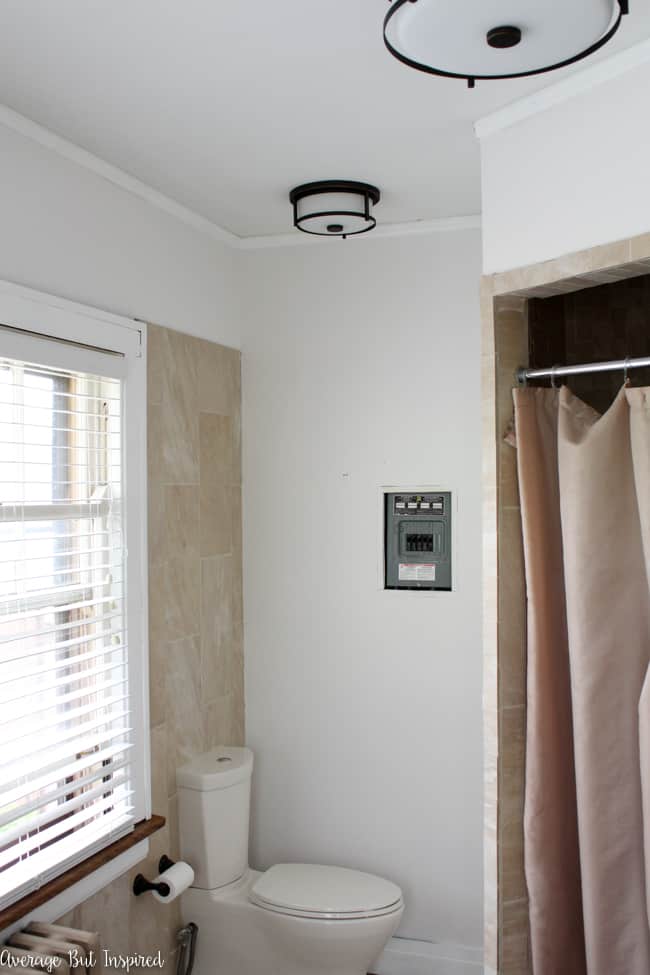 And that means the pretty details will be working their way into my master bathroom soon!
Bathroom Makeover To-Do List
Let's take a look at the to-do list now that the painting is finished:
Patch drywall
Scrape ceiling
Re-paint ceiling
Paint moulding
Paint windows
Paint walls
Paint pocket doors (or maybe replace these . . . )
Re-stain window sills
Change light fixtures
Paint vanity
Make cornice boards for over windows
Create art to replace mirror near toilet
Tailor shower curtain to fit non-standard shower entry
Shop for decor for bathroom
With two weeks to go I feel like I am in pretty good shape. But . . . I am traveling this weekend so maybe I'm not. We'll see.
Anyway, thanks for checking out this week's progress! I hope you'll come back next week to see some of the fun decorative elements making their way into this bathroom!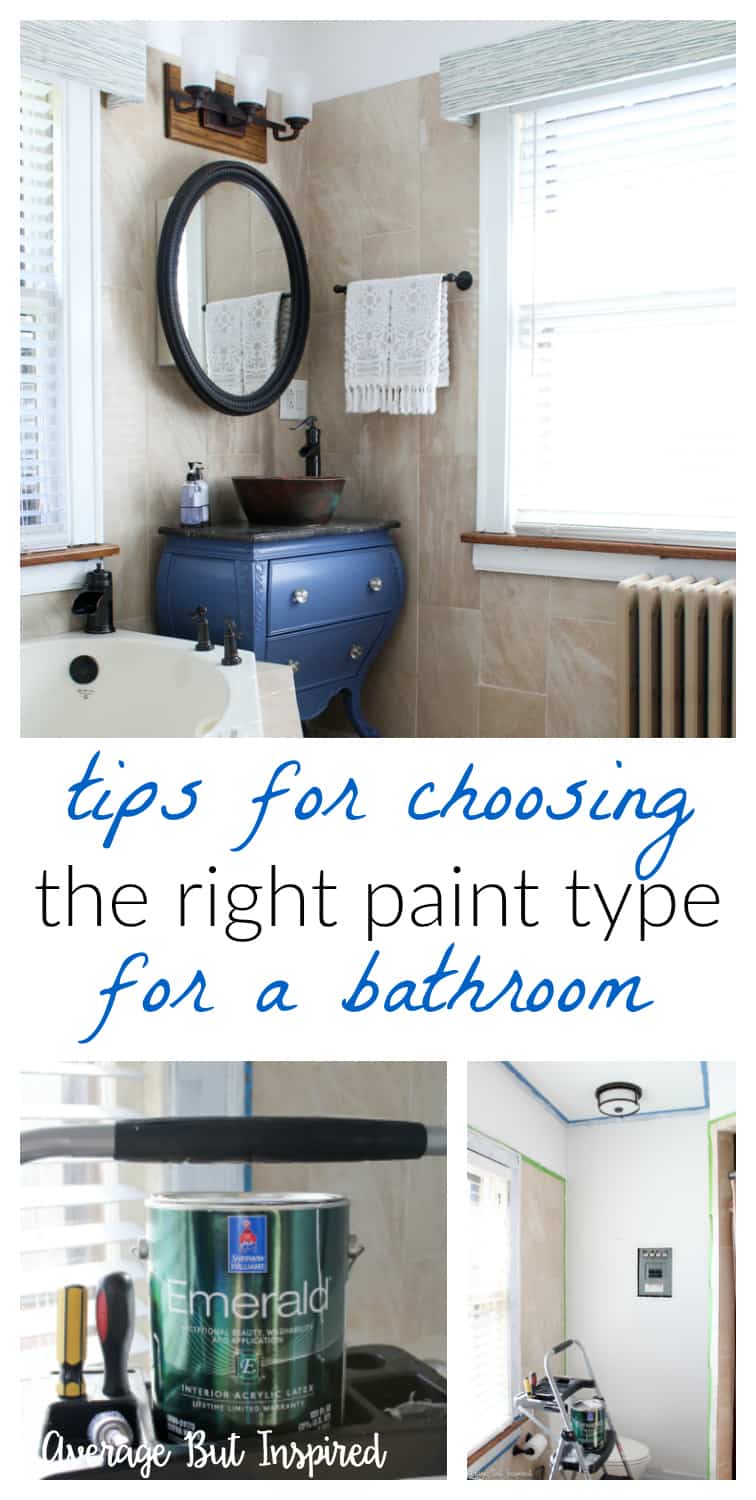 -Bre