It's Week 5 of the One Room Challenge hosted by Linda at Calling it Home, and I am finally seeing a light at the end of this master bathroom makeover tunnel!  In case you have missed what I've been up to, over the past five weeks I've been giving my boring beige master bathroom a complete new look!  Week One's highlight was sharing embarrassing photos of the space in its "before" state, Week Two's highlight was scraping and patching holes in walls, Week Three's highlight was painting the bathroom vanity, and Week Four's highlight was taking the dark walls and trim to super bright with mildew-resistant paint!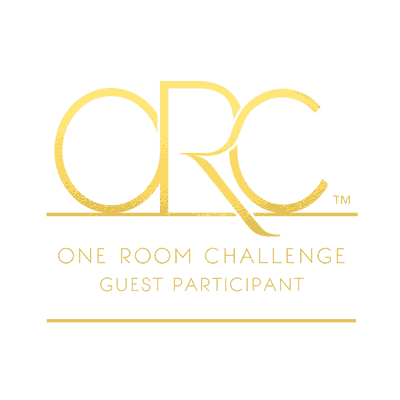 This post contains affiliate links.  To read my full disclosure policy, please click here.
Week Five didn't see as much progress, but that's probably good.  Week Four took it out of me, and I really needed to dial it back a bit to rest and refresh.  My sister-in-law's out of town baby shower was the perfect distraction and gave me a reason not to push it so hard this week.  But . . . that's not to say I didn't get anything done!
The biggest thing I accomplished was finding some awesome art to cover that illegal electrical panel next to the toilet.  When I spotted this extra large blue and gold beauty, I had to have it!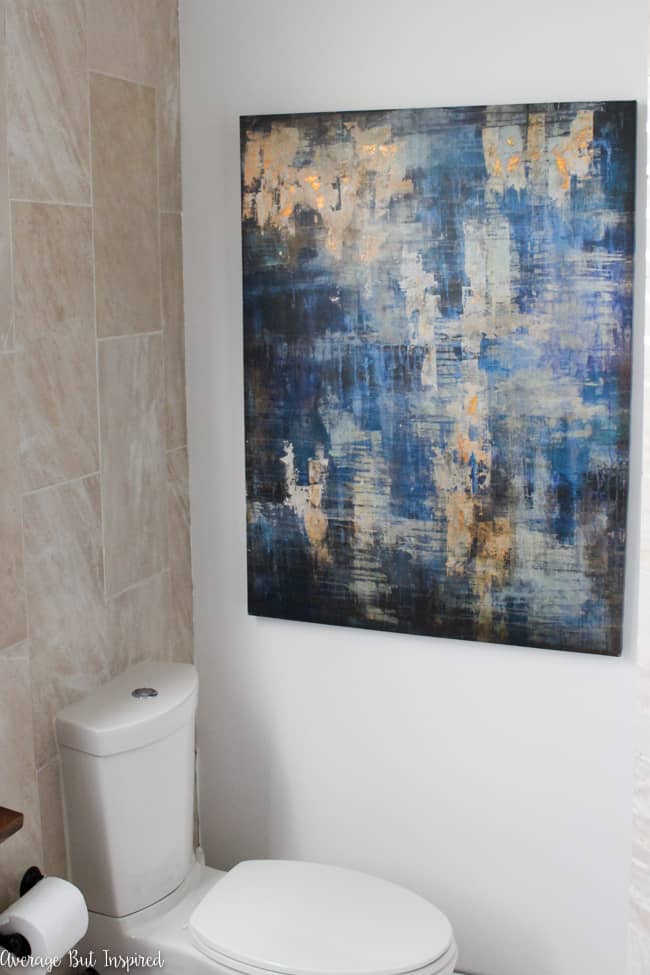 I love how modern it is.  It's unlike anything else I have in my house and I think it's the perfect pop of color on my now white walls.  I am definitely a color lover, so it was important to me not to make this master bathroom too neutral!  When you see the painting with the new blue vanity, it looks even better!  And now listen, if you've been following along, you might recall that I originally planned to make artwork for this space.  Well, friends, I decided to take a shortcut and just buy some.  It looks better than anything I would have made and I am running out of time to DIY!
Moving right along, the other progress I made (if you can call it that), is buying seven different rugs to try out in the space.  Yes – that's right – seven rugs.  I just could not tell which rug would be best by looking at them in the stores, so I brought them all home with me.  Instead of a crazy cat lady, I am becoming a crazy rug lady.  I'll spare you photos of all of them, so here's a sneak peek of some of the top contenders.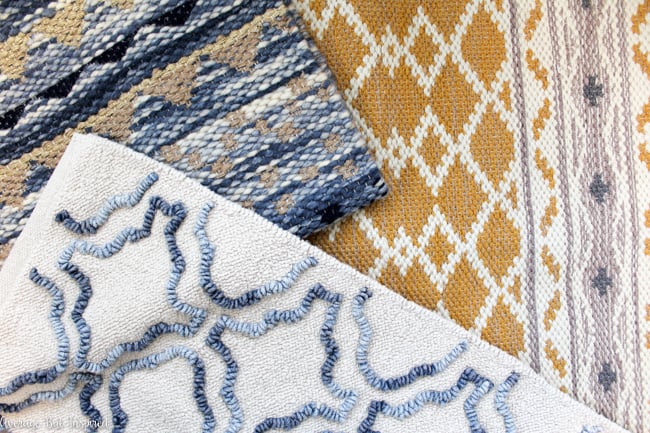 Blue Rug – clearance find | Yellow Abstract Rug | Stonewash Bath Rug
You'll have to wait until next week – – the big reveal – – to see which rug won in the Rug Showdown!
Aside from art and rugs, the only other thing I did in this bathroom during Week 5 was rejuvenating the stained wood windowsills.  I was going to re-stain them because they were really weathered, but instead, I found this MIRACLE product that brought them right back to life!  No smelly stain needed and lots of time saved!
So there you have it.  Week 5 was full of shortcuts and changes of plans, and I'm thinking that my master bathroom is going to look much different than I envisioned it in the Mood Board I shared in Week One.  Here's what I still have to accomplish for the big reveal next week:
Patch drywall
Scrape ceiling
Re-paint ceiling
Paint moulding
Paint windows
Paint walls
Paint pocket doors (or maybe replace these . . . )
Re-stain window sills
Change light fixtures
Paint vanity
Make cornice boards for over windows
Create art to replace mirror near toilet
Tailor shower curtain to fit non-standard shower entry
Shop for decor for bathroom
You'll have to come back and see if I make it to the finish line next week!  And in the meantime, stop by the link up page to see what the other One Room Challenge participants have been up to this week!
-Bre
Thank you to these sponsors for providing product for my Master Bathroom Makeover!  




YOU MIGHT ALSO LIKE TO SEE THESE ONE ROOM CHALLENGE POSTS